Most of the time when someone is looking to create a private WordPress blog, we can pretty much guess why; they want to blog about their baby or something but don't want the world to see it. Understandable. And we'll help you figure out how to make your blog private for that reason in this article.
But let's think outside the box for a moment. There are more reasons you or your clients may want to consider privatizing a blog, or portions of a WordPress blog. It doesn't have to be forever, but there are both personal and business purposes for doing this. We'll delve into that and make suggestions for how to go about implementing these strategies and functions on your blog.
But first of all….
Understanding how private "private" is when it comes to online sharing
Ok, so you want to post private pictures and diary entries online so you can easily distribute it to your friends and family, but don't want to use Facebook or Instagram. It's not uncommon and certainly you have more control over what happens to your content when it's on your own site than when you post it on a social network. While some social networks may have policies on the ownership of the content you post on their platforms, keep in mind they may not affect you in practicality that much. Mike Falzone has had hilarious commentary to make about this as it regards Instagram's rules.
But still, it's your call. Personally, I agree with the ideology that unless you want the world to see something, then you just shouldn't post it on the Internet, ever. As my brother Matt often teaches in his social media seminars, your ultimate privacy setting is to not post or upload anything private, anywhere.
This principle can clearly be seen by recently retrieved nude pictures of celebrities who thought their iCloud accounts were secure. But…they weren't. It took something that big for Apple to implement an optional two-step verification process to help tighten things up a bit on their platform.
Why are we de-railing this article to discuss this? Because you should know that whether you post on Facebook or post on your own private WordPress blog, there is always the chance that someone, somewhere, can gain access to it, somehow. With social networks, apart from personal privacy settings, the consideration is more about ownership and usage rights. With everything else (and that too I guess) it's about what teenagers or unemployed, bored adults can do to bypass security measures. You are always at risk though.
What does WordPress offer for blog privatization?
WordPress has a checkbox you can use to "Password Protect" a blog post. See, I'll show you: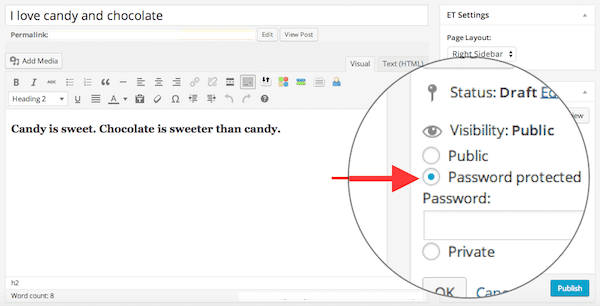 It's a wonderful tool to have in an absolutely free, state-of-the-art content management system (CMS). But when I show this to my clients, I always try to remind them that this is not Homeland Security. If someone wants to hack into the post, they probably can, with enough skill. Probably.
So don't ever put things on a password protected WordPress post or page with sensitive information on it.
WordPress also has a button to hide your site from search engines. Remember, that just helps search engines ignore your content. It doesn't stop people from visiting your pages directly. You can find this under Settings > Reading (as of the latest version of WordPress at the time of writing):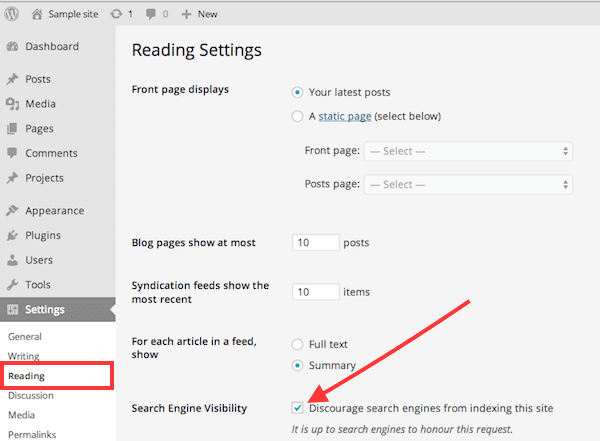 To make a WordPress blog even more private, here is what you do:
Tools for making a private WordPress blog
You're going to need to start with some plugin installations. Plugins help extend the functionality of your WordPress site. So in this case, you have a few options.
But, keep in mind; despite what we list below, if plugins or themes you are using aren't built well, they can result in plugin conflicts. If you are having a plugin conflict that causes your site to not work the way you want it to, or to break, we can't help you there. If you're over-using plugins, or trying to use too many similar plugins, you might need to scale back, or start from a clean slate. Or, hire someone to help you out.
Side note: If you're using WordPress.com, remember it can't take plugins, and the system likes to encourage 'followers.' Read their instructions on privatization settings for more info. Also see our article on the differences between WordPress.org and WordPress.com
Ok, disclaimers are over. Here we go:
Elegant Themes' shortcodes feature
Using one of our themes? Don't forget we've got a shortcode to password protect pages, which asks users to login, not just enter a password. Its super easy to use too, which is always nice.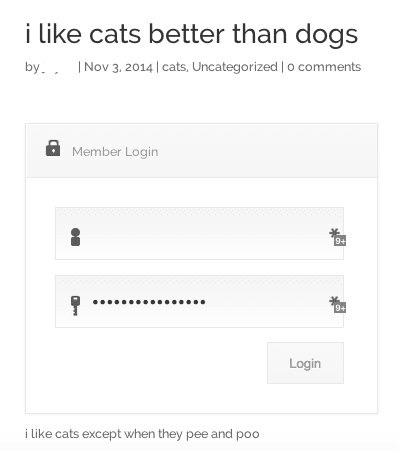 Private Only
This plugin is the one mentioned by other WordPress sources on the web, such as by the WPMUdev blog and WPBeginner. It's useful because it stops your posts from showing up in RSS feeds, and also allows you to customize your login page. You can have a public page too, just in case you need it.
Absolute Privacy
This is another option for blocking content and locking down a site with registration requirements. It is recommended by WP Engine on their site.
More Privacy Options
This is a helpful plugin if you need to make sites private on a network installation using WordPress multisite. The plugin description page does enough justice to its capabilities that we don't need to repeat them here.
Private Content
This plugin restricts content based on user roles. But, the ultra cool thing is that you can block content mid-post by using a shortcode that only certain logged in users can see. So you can show some of your baby photos and stories to the entire world, and then hide the cutest stuff for privileged family members only 🙂
Simple Download Monitor
This plugin is for password protecting downloads only. Why use this? Because you can technically have your post be public, while making downloads only available to certain users. Think forms that are only used internally by employees (e.g. hours log sheets, holiday application forms, client sales info, etc.). You don't want the world to see these, or your competitors to have access to them, since they could reveal your processes or sensitive company info.
Tips and Tricks HQ goes into detail on how to use this plugin for password protecting downloads. Check out their article here.
WP Members
While its name indicates this is a membership plugin, in reality, it can be used to block content from non-logged-in users too. It can also handle a longer registration form, which is helpful for site administrators who want to approve 'applications' to become a member of a site. For example, I've used this plugin in conjunction with a WooCommerce wholesale plugin so that distributors can approve longer retailer applications, and not just e-mail registrations. This is to verify these are legit storeowners trying to shop at lower prices.
Also useful is that you can have the membership-only areas be controlled on a per-page and per-post level, so it's not an all-or-nothing choice.
Yes, there are other great WordPress membership plugins out there, but this one is free, and works pretty good. According to me. So it's worth checking out.
User Role Editor
Ok, this plugin isn't exactly for making your entire blog private, but it is helpful if you want to control what logged in users can access on the back end. This is especially since some higher-level access roles can still see password-protected posts and pages in WordPress.
This type of plugin is mostly used when you want to have contributors to a blog, but don't want all those contributors to have full access to all back end features in WordPress. So for example, if you have employees using a website, you wouldn't want them all to have "administrator" privileges. WordPress has user roles built in to its software. However, you can create new user roles, or alter abilities of existing user roles with this plugin.
Coming soon plugins
This is kind of a cheater way to make your site private, but totally could work. You can install a plugin meant for sites in development. They show a simple one-page design that basically says they are on their way to becoming live. We have one here at Elegant Themes called Anticipate.
There are way more of these types of plugins in the WordPress.org repository, so take your pick. Some allow you to create totally custom messages and designs on your coming soon pages. That means, in theory, they don't have to say "coming soon" but can say something more along the lines of, "you're not allowed to look here."
Some other tips about making a private WordPress blog
You'll want to consider a good WordPress host:
Managed WordPress hosts advertise they know WordPress well. Since they specialize in only hosting WordPress sites, you can usually expect a higher level of service quality from them.
This is important because they'll usually implement security features to prevent hacking into your back end as much as possible, which is relatively easy to do with open-source software like WordPress. Here is an example of what WP Engine does to protect its customers' hosted sites.
This point may not have so much to do with people accessing your content but is more about people trying to damage your site. If your site is vulnerable, your content will be too, by extension.
Decide on other security measures:
Security plugins can help take care of technical things that may be too mind-boggling to figure out for most of us. And let's face it, we're not all computer science majors, but that doesn't mean we don't want to use computers in a healthy and safe way. So security plugins can be a big help in some cases.
On the other hand, they can also be a headache, if you don't know what you're doing with them. Again, I'd suggest reading this article to learn more about their potential pitfalls, and alternative things you can do to keep your site secure.
Set up a Robots.txt file
We wrote about this in detail here. Check it out; it's useful, especially when you only want parts of your site to be private. It's also great for hiding backend areas of your site that no crawler needs to find, like your login pages. Here's an example of a robots.txt file in use on a 'real' website with only some areas being private.
Using plugins can also control robots settings. For example, the WordPress SEO by Yoast plugin allows you to add robots rules to individual posts, pages and archives in WordPress, without having to know any code. You'll want to read this article to understand the difference in using these plugin settings though, versus manually making a robots.txt file.
Keep regular backups
In my opinion, there is no excuse to not be backing up a site regularly. This is not just a business prerogative. Unless you don't mind losing all your blogging work, then you need a WordPress backup plugin, always.
This also doesn't necessarily pertain to keeping a blog private, but it's important to know that you could lose everything. And if that happens, you'll want a way to restore your site, even if it's meant to be private. Of course, this does potentially create more copies of your site out on the web, since backup files are usually stored off-site. For the ultra paranoid that can be a nerve-wracking thought. But if you know enough, you can work around this by saving backups to a private server or local drive.
Why have a private WordPress blog other than the obvious reasons?
Glad you asked, so I can answer!
Blow is a list of reasons I can think of that you'd want to use all the tools and methods mentioned above. Remember you can have some from of privacy on a site, whether or not it's for completely locking down an entire blog:
Marketing
Believe it or not, holding things back from people makes them want it more. If you create specialized content that not everyone is allowed to have, you can encourage more customer engagement. This is the concept behind Facebook fan gating of content. This tactic was used a lot in the last few years for marketing purposes, but is no longer allowed.
One example of a company that uses a marketing strategy with private blog posts is 4Cats Art Studios. They encourage people who have taken their art classes to watch videos on particular artists on their website. However, each of these is password protected, making them 'privileged' content.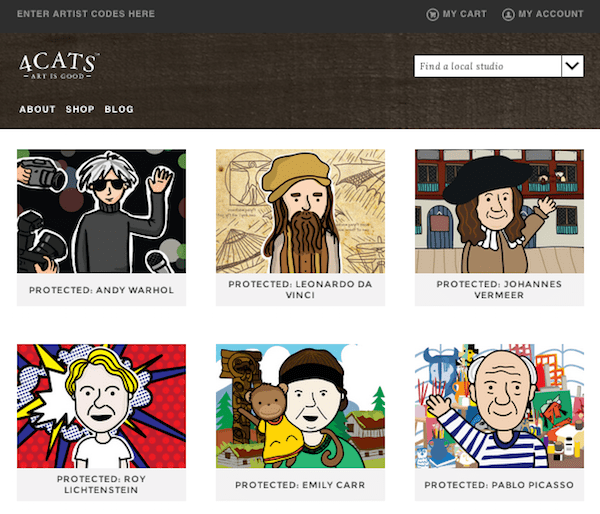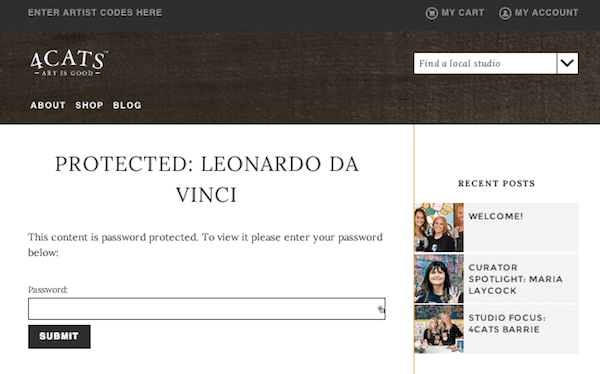 Development and staging sites
Sometimes your team wants to work on ideas for a site, or build a new site or landing page. Just looking at a Photoshop mockup of a design can't give the full website experience. It helps a lot when design ideas are clickable, and multiple users can interact with them. It makes editing and commenting easier, and helps give an idea of what the intended audience might experience on the site when it finally does go live.
But of course, you wouldn't want your site-in-progress to be revealed publicly, or found in any searches, no matter how obscure the URL is. So privatizing these sites helps in that regard.
'Product launching soon' sites
This is an off-shoot of the reason mentioned above, but you can take it a step further. Instead of just having a 'coming soon' page on a site-in-development, you can build anticipation for a product launch by having a landing page designed only to gather subscribers for your upcoming product or service. This is similar to the Launchrock service, only you could set it up on your WordPress site with a 'coming soon' plugin.
Team training and reference sites
Private sites are also great for hosting information that only needs to be seen internally within a company or organization. It allows people to access things like meeting notes, policies and procedures, documents, and so on. You could even post private events with a calendar plugin that employees or organization members need to RSVP to. Basically you can use all the functionality available with WordPress plugins and keep it behind a login 'wall.'
Course training
For this one you'll need to look into a learning management system (LMS) plugin. The idea is that you can sell courses online (or even give them away for free, but require registration first). The course content can be 'hidden' behind a login system.
Note: I've written three in-depth articles on the most popular LMS plugins for WordPress, starting with WP Courseware here. In that process, I learned it's very important to know all their features and differences before deciding on one, or taking a recommendation for one at face value. They each come with their own set of benefits and shortcomings that can greatly affect an organization's teaching methods down the road.
Community building
With the BuddyPress plugin, and others, you can create a mini community on your WordPress blog. It comes complete with forums and social profiles that can be hidden behind a registration 'wall.' We wrote about BuddyPress here.
Forums can encourage discussion in a more private environment if you want to interact with a group of like-minded individuals for your business or organization. Creating an insular group for your fans, even if it's open to anyone, can be great for mimicking a sense of 'belonging' and stirring up brand influencers.
Also, if you're a content producer on another medium, such as on YouTube (which WordPresser's need to get on more), you can use a system like BuddyPress for your fan base to interact with each other. Examples (though not using BuddyPress specifically) are the Rhett and Link community, or the Nerfighteria forums, where YouTubers are encouraging more fandom through their websites.
To conclude: private WordPress blogs can be awesome
So there we have it; privatizing a WordPress blog doesn't have to be entirely for undercover agents J We can all use these tools in one way or another to enhance our marketing and WordPress experiences.
Tell us the tools you use to make your site private, and why you do so. We love your comments, as they help turn our articles into better resources for all.
Note: You'll also want to check out our article with more advice on this topic titled, How To Restrict Access To Areas Of Your WordPress Website.
Article image thumbnail by simo988 / Shutterstock.com