As you may know, we have been working hard on our upcoming theme Extra, as well as our upcoming social sharing plugin Monarch. You will be excited to hear that we have also been dedicating a lot of time towards Divi, and we are pleased to release version 2.1 of the theme today. Divi 2.1 introduces several new features, as well as a ton of improvements and bug fixes, making it the most stable and feature-rich version of Divi yet! Most notable are Divi's new One Page Website features, including Floating Side Navigation, Smooth Scrolling Anchor Links and a new Back To Top Button.
Preview The New One Page Features
Floating Side Navigation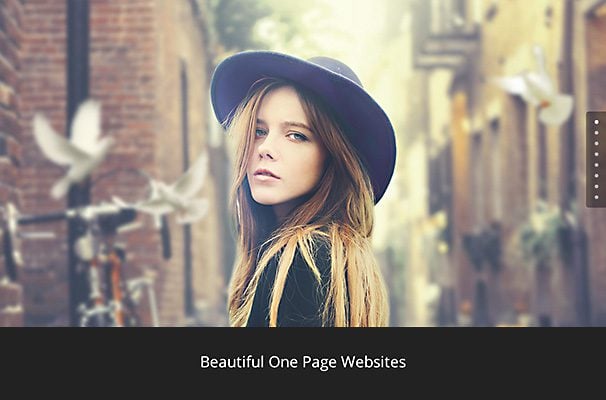 This new feature lets you turn on a floating side navigation bar on a per page basis. This navigation bar auto detects the sections on your page and creates a dot indicator for each. The highlighted dot indicates the current section, and each dot is linked to its respective section. When clicked, these navigation items transport you to their relevant sections using a smooth scrolling animation.
Back to Top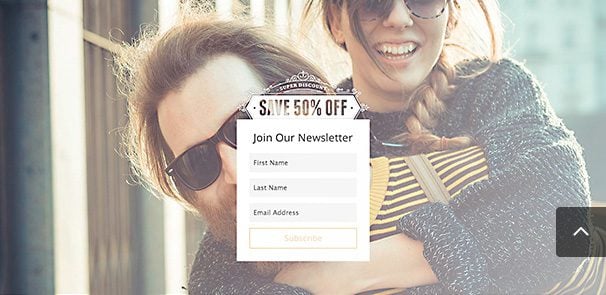 In addition, you can now enable a "back to top button." Now your page header is only one click away for your viewers. This is a global feature that works great when combined with section navigation. Amidst the popularity of long-format, single-page websites, these features are the perfect compliment.
Smooth Scrolling Internal Links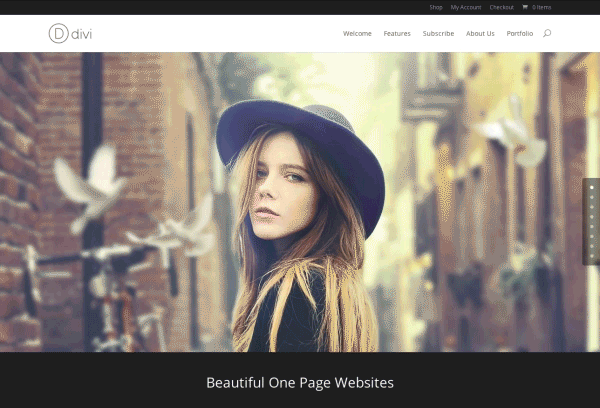 With this update, the browser will smoothly scroll to any internal page links you add. You can assign a unique ID selector (i.e. section-id) in section and module settings, allowing you to link directly to that element. To link to this item, simply add a hashtag before the ID selector (i.e. <a href="#section-id">Visit This Section</a>). This is great for adding primary navigation items that link to specific sections or modules of a single-page website. By creating custom anchor links, you can easily create single page websites with Divi.
For everything One-Page related, I have added a new in-depth tutorial in the Divi documentation.
Sticky Images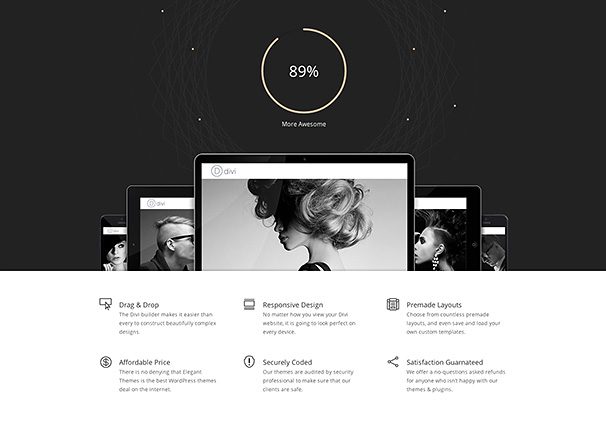 This is a very simple feature, and yet it opens up so many fun possibilities. We have added a new setting to all image modules that allows you to remove the space from below the image, letting it sit directly above the module or section below it. This lets your images "break the frame" in a controlled fashion.
Countless Improvements & Bug Fixes
Divi's new One Page Website features are just a tiny part of this update. The majority of our time was spent on fixing bugs that have been reported since the release of Divi 2.0. For a complete list of changes, please refer to the changelog below.
version 2.1 ( updated 07-22-2014 )
– Added "Back to top" button
– Added Side Navigation on single pages
– Fixed the issue with button arrow position in Chrome
– Don't show page builder code on search results page
– WYSIWIG mode in Page Builder is now saved, it defaulted to Visual before
– Gallery module: Fixed the issue with "Random Order" option
– Fixed 1/4 column slider appearance
– Fixed html list appearance on index page
– Fixed the issue with Firefox not saving the layout if modules were moved
– Fixed the issue with double quotes, used in Page Builder settings
– Modified Page Builder elements to be responsive
– Added transparent background option to Sections
– Added Close button to the Specialty Section Modal window
– Image Module: Added Title Text option
– Added smooth scrolling for internal links
– Subscribe Module: Integrated Mailchimp 2.0 API
– Added the option to enable smooth scrolling
– Image module: Added "Remove space below the image" option
– Filterable Portfolio: Fixed animation issues in Firefox
– Fixed Widget Area Select ( dropdown ) styling issues
– Added the option to enable/disable background-size: cover for "body"
– Circle Counter: Added limit to the number field
– Circle Counter: Fixed the issue with lazy loading animation
– Disabled the Lazy Loading effect on mobile devices to improve usability
– Filterable Portfolio: Fixed the animation in FF browser
– Pagination: Added localization for Previous and Next links
– Fixed the issue with scrolling to the top of window, when the user clones a section or a row
– Fixed "Menu displayed behind the embedded videos in IE" issue
– Users shouldn't create sidebars with certain names. Added a note to the Widgets page.
– Fixed Woocommerce notification bar appearance
– Fixed the issue with separator in postmeta
– Fixed "Link color" option in the Customizer
– Added sidebar on WooCommerce category pages
– Fixed some styling issues on the category page
– Section Module: Fixed Background Color option description
– Blog Module: Fixed the width of posts in 4/4 column
– Comments are now visible on pages, where they have been disabled, if there is at least 1 comment on the page
– Map Module: Fixed the issue with custom ID/Class settings
– Blurbs Module: Fixed settings description
– Fixed the issue with inactive secondary menu items on mobile devices
– Fixed the issue with lightbox on pages with several gallery modules. Lightbox scrolls through the images from a single gallery now.
– Slider Module: Added parallax option
– Fixed the issue with jumping image in the slider module
– Pricing Table Module: Fixed layout issues
– Fixed the issue with jumping slides during transitions
– Secondary navigation: Added email link
– Map Module: Added mouse zoom option
– Fixed mega menu width on iPad
– Filterable Portfolio Module: Now it displays only selected categories, not all the categories selected projects assigned to.
– Blog Module: Added option to display the read more button if "Show Excerpts" option is selected
– Login Module: Fixed the module appearance for logged in users
– Map Module: Centered infowindow above the pin
– Fixed the issue with module settings window visibility. It's not hidden below the WordPress menu anymore.
– Project Page: Fixed the issue with the space on top of the page
– Fixed the issue with the search field display
– Fixed the fullscreen editor visibility issues
– Portfolio Module: Fixed portfolio layout issues
– Renamed icon font files to fix the issue with cache
– Accordion module: Fixed some animation glitches
– Countdown Module: Fixed issues in Safari and IE
– Fixed fonts options in the Customizer
– Fixed the issue with content visible on some password protected posts pages