This post is part of our Customer Spotlight series. If you have an interesting story to tell and would like to share your experience with WordPress and Elegant Themes on our blog, please contact us!
I am Maria Wulff Hauglann, a computer specialist from Northern Norway, now a world traveller together with my boyfriend.
After finishing our Master's degrees in Computer Science in 2005, we took off traveling through Asia for five months. That trip changed our life, and from that moment we were hooked on traveling, adventures and pushing our limits from the safe and normal life at home. Since then we have been traveling every year, taking advantage of the five weeks of holiday Norwegians get each year. In 2013 we took another big step towards satisfying our never ending craving for traveling, taking leaves from our IT jobs in Norway, and heading out into the world once again for a long trip. We left our safe Norwegian harbor October 2013, with not much planned or booked, only a one-way ticket to Asia. So far the plan is to travel till August 2014.
After a few months of traveling, our friends and family started to nag about pictures and news from our travels, and we figured out we wanted to make a travel blog. That way they, and everyone else who wants to, can follow along and hopefully be inspired by our journey.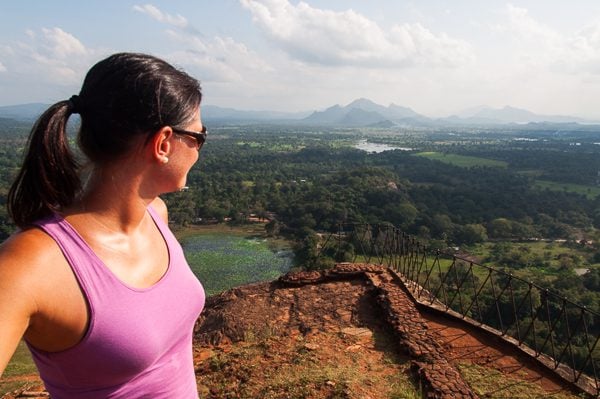 To reflect our personalities, and help us stand out a little from the jungle of travel blogs out there, we came up with the name Nerd Nomads, a travel blog written by nerds for nerds. And by nerd we mean anyone that is truly passionate and curious about the world we live in. Be it its diverse culture, its food, languages, sports, pop culture, music or technology. "Nerd. One whose unbridled passion for something defines who they are as a person, without fear of other people's judgment." —Zachary Levi. Our definition of "nerd" is not stigmatized by a perceived lack of social skills, but rather one that celebrates the mad, the inspired, and the passionate!
We wanted a webpage where we could geek out on any and all things interesting we come across on our journey! The people we meet, the cultures, the sights, the beaches, the food, and the hotels and shopping.
Why WP and Divi?
We didn't learn much about web design and web development at the University where we both took our Master's degree in Computer Science. We mainly did software programming in languages such as Java and C.
But of course most people assume you know how to create a website, simply because you have a degree in Computer Science. So I have over the years helped friends and family set up their webpages, teaching myself along the way. First it was all Photoshop and Dreamweaver, and then I discovered a little known CMS called ModX and built a site with that. It was all HTML and CSS, so it was an easy CMS to get started with.
However ModX's lack of plugins and pre-made themes made it less than ideal for our new travel blog. For Nerdnomads we needed something more powerful and flexible. WordPress being the most dominant CMS was the obvious choice, and after a short test run, we knew it would be a perfect match for us! Easy to install, free, and web based, yet very powerful and customizable.
After setting up WordPress, we started looking around for pre-made themes, but soon found out there is an endless jungle of themes out there! We couldn't really afford to buy and try out every theme that caught our eye. Elegant Themes offered a great solution with their subscription model. When we first signed up, Divi had just been released, and was making a lot of buzz.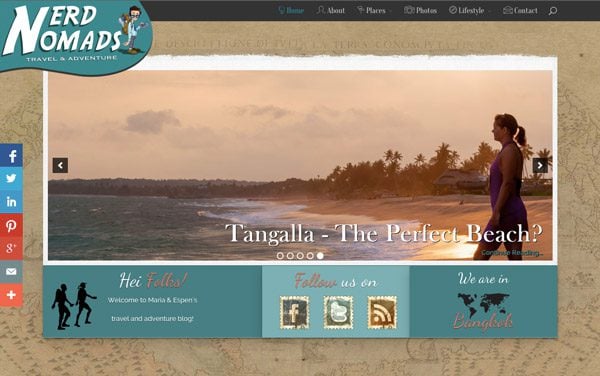 It sounded like the perfect theme for us with it`s nice design, extreme flexible layout options, and it`s potential for customization. We needed something that would be easy to use, and that we could start using immediately. And Divi delivered! We particular like the page builder module! It`s so easy to customize each page and make quick changes by moving things around.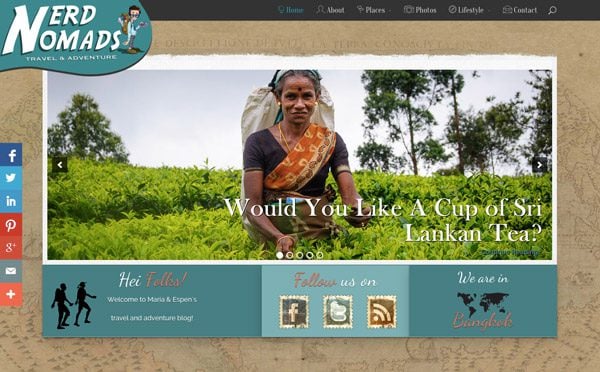 As for our design, while we liked the look of Divi right out of the box, we wanted our site to be warm and "cozy", like our "web-home", as well as having a travel feel and vibe to it. So we made quite a few changes to the Divi theme in CSS. Thanks to the great support from the support forum, we were able to make exactly the webpage we wanted! In today`s digital world, where everyone uses their mobile and tablets for web surfing, it was also very important for us to find a theme that is responsive, and looks good on these portable devices, which Divi does.
We are so pleased with how Divi works, it satisfies all our needs! With the upcoming Divi 2.0 soon to be released, I`m sure we will continue using Divi as our travel blog evolves, and our travel around the world continues.