With a little bit of luck and a lot of hard work you may find yourself facing a very particular scenario: having a popular website in your hands and not knowing how to monetize it. As far as scenarios go, that's a very desirable one for any entrepreneur to find him (or her) self in.
If you find yourself in this scenario (or are on your way there), affiliate marketing might be just what the doctor ordered. It's one of the most time-tested methods for monetizing websites and has a low to non-existent barrier of entry. What's better, it works both for content creators and those simply looking to market products online.
With that in mind, let's kick things off with an introduction to the world of affiliate marketing, before we cover the eight best WordPress affiliate marketing plugins you'll find around right now!
Affiliate Marketing Explored
Affiliate marketing is, at its core, a very simple business: if you're a content creator, you pay affiliates a set price or a percentage of each sale they help you make, which naturally gives them an incentive to get your product out there in front of as many eyes as possible.
If, on the other hand, you're an affiliate, your main concern is to find the perfect channels through which to market the products you've carefully chosen for your own unique audience. Both parties have one ultimate goal: make as many sales as possible and prosper together in a symbiotic relationship.
Most affiliates work through a network, which in return for providing a platform through which they can operate, takes a cut of their earnings. You're already familiar with some of the biggest names in affiliate marketing even if you're not aware of it (Amazon and eBay, anyone?). Other heavy hitters in the sector include Rakuten Linkshare, CJ by Conversant, Avangate, and ClickBank.
Does affiliate marketing sound like the kind of opportunity you'd like test out for yourself? Good! Then let's take a look at some of the best WordPress plugins available out there to get you started, followed by a guide that will help you narrow down your choices.
The Best WordPress Affiliate Marketing Plugins

ThirstyAffiliates is a solid solution for website monetization via affiliate linking. It's capable of handling link cloaking, product customization, and categorization; basically, all you need to get started plus some advanced features for power-users.
Features:
Automatically shortens (with customizable prefixes) and cloaks your affiliate links.
Inbuilt tool to pick the correct affiliate link.
Enables you to easily add all sorts of media files to your affiliate links (i.e. informative mouse over pop-ups).
Since the plugin was developed specifically for WordPress databases, it won't create any unnecessary bloating.
The development team behind the plugin also has several premium add-ons available for it, which you can browse here.

If you're interested in running your own affiliate program (rather than subscribing to one), Affiliates Manager has got you covered. This useful little plugin can handle every step of the process, from recruitment to payouts, saving you thousands of dollars in web development fees for a custom-made platform.
Features:

This plugin offers a nice solution for managing your affiliate links with a few additional bells and whistles. That being said, it's mostly aimed towards those users looking for simplicity.
Features:
Cloak your affiliate links using shortlinks.
Assign custom categories to your links for easier management.
Enables you to track monthly and lifetime clicks for all of your affiliates.
The plugin's developer has also stated that he's working on the integration of features such as in-depth link analytics, geo-targeted links, split testing for links, and a broken link checker.

The team behind Affiliates may not have strained any muscles while coming up a name for their plugin, but thankfully, they did put a lot of effort into creating a solid affiliate platform. Affiliates will help you set up and manage all the day-to-day aspects of your own affiliate program from within WordPress.
Features:
Out-of-the-box integration with WooCommerce, Jigoshop, WP e-Commerce, Ecwid, eShop, and Contact Form 7.
Up-to-date reports on the performance of all your affiliates (including total commissions earned and link statistics).
Have new affiliates register on their own or add them manually. There's not limit regarding the number of affiliates you can sign up to your program.
The plugin comes with an API for easy integration with additional e-commerce platforms if you're up to the challenge.
There's also premium and enterprise versions of Affiliate available for those with more specific needs. The basic premium version integrates support for Pay per Click, TheCartPress, and Events Manager (for booking-based affiliate programs).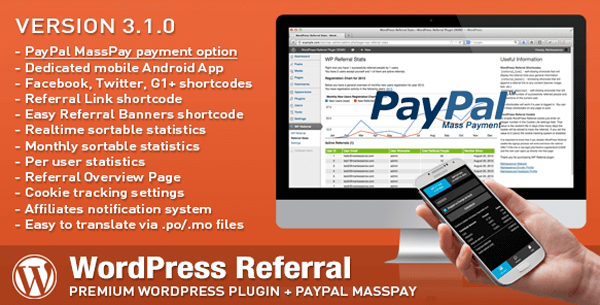 WordPress Affiliate & Referral plugin is a premium solution for managing affiliate programs and all the day-to-day operations this entails. Plus, you can monitor your operation anytime using an integrated Android app.
Features:
Dedicated Android app allows you to keep track of your statistics and monitor affiliate performance on the go.
Integrated PayPal MassPay option to handle affiliate payments in the most efficient manner possible.
Includes support for WooCommerce, WP e-Commerce and pretty much any other e-commerce plugin that handles its registration process through WordPress.
Enables affiliates to share their links via Facebook, Twitter, LinkedIn, and Google+.
As the admin, you can set up a compilation of referral links and banners for the use of your affiliates.
Includes and option to track affiliates that don't sign up directly via links, using cookies.

Unlike our other picks for this list, Pretty Link Lite isn't a solution dedicated solely towards affiliate programs. However, its suite of tools for handling links is strong enough to warrant it a place amongst our other choices.
Features:
Create simple, short URLs for 301 and 307 redirections.
Automatically creates unique slugs for all your links.
Tracks clicks and views for all links, this information is then provided to you via a reporting interface and can be filtered with several different criteria.
Export data in CSV format for easier analysis.
Enables you to send affiliate links via email directly from your WordPress interface.
The Best Amazon Affiliate Plugins for WordPress
Since Amazon is such a huge player in the affiliate marketing industry, we've split the best plugin offerings available into its own wee section. Check 'em out below!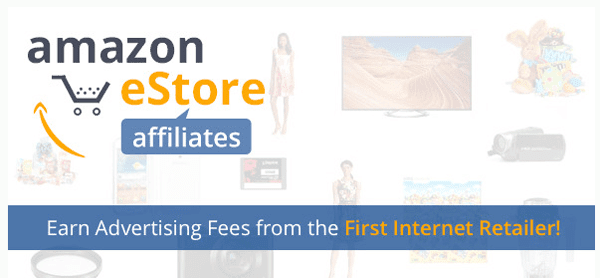 Amazon eStore Affiliates is a premium plugin tailor-made for those who hope to make a living as an Amazon affiliate. To this effect, it includes a plethora of unique features that differentiate it from other plugins, such as its powerful content-spinner tool.
Features:
Includes a unique content-spinner that automatically replaces the product information of linked Amazon products in order to differentiate you from other affiliate marketers and obtain better SEO results. You can also modify this content manually.
Enables you to check up on the performance of individual Amazon products, which in turn helps you identify better marketing opportunities.
Import Amazon products en-masse and integrate them into your website using the "Advanced Search & Bulk Import Module".

The creatively named Amazon Link is a useful tool for (you guessed it) including Amazon product links within your own WordPress posts. All links include your unique Amazon affiliate ID in order to track sales.
Features:
Compatible with Amazon UK, US, Brazil, Canada, China, Germany, Spain, France, Italy, India, and Japan.
Automatically translates product descriptions depending on the readers' location.
Product details are cached in order to keep loading times low.
Includes a powerful search function to easily locate and add product links to posts.
Which Affiliate Plugin Will Work Best for You?
Which plugin you'll want to pick will depend mostly on which area of affiliate marketing you're interested in. If you intend to make your fortune by adding third-party affiliate links to your content, Thirsty Affiliates, Easy Affiliate Links, or Pretty Links will suit your needs just fine.
Thirsty Affiliates contains by far the most amount of features amongst these three when you take into consideration its premium add-ons. However, if you don't want to mess around with a lot of options you might never really need, Easy Affiliate Links or Pretty Links are more than up to the task as well.
If you're the kind of entrepreneur who's looking to strike gold with your own affiliate program, your choice lays between Affiliates Manager, Affiliates, and WordPress Affiliate & Referral Plugin. When it comes down to the sheer number of integrated e-commerce solutions, Affiliates Manager takes the cake with ease. On top of being an overall solid platform, this makes it a good choice for those looking for an option that will play nice with other plugins.
WordPress Affiliate, however, doesn't fall far behind in this category either. It's got its own API, which enables you to integrate it with third-party solutions if you're up to it. On top of that, it's got solid reporting features to keep track of the performance of your affiliates. Finally, WordPress Affiliate & Referral Plugin comes with its own Android app, which lets you monitor your affiliate program's performance from anywhere.
When it comes to the Amazon affiliate program we narrowed our own picks down to two plugins, which should make life easier for you, they are Amazon eStore Affiliates Plugin and Amazon Link. The first is a premium plugin, which includes unique features such as its product description spinner tool and the ability to look at in-depth statistics for unique products. It's overall a perfect choice for Amazon affiliate power-users.
If you want a simpler solution without any complicated features, Amazon Link will take care of all your needs when it comes to including Amazon affiliate links: cloaking, tracking, and product searches.
Conclusion
Affiliate marketing is by no means a one-size-fits-all solution. That being said, it's right up there with ads as far as online monetization methods go and should be seriously considered as a possibility if you either want to market your own content or that of others.
Getting started is pretty easy too. All you have to do is either sign up to an affiliate network, upload your product, or choose from amongst those available whichever you think would interest your user base the most. Once you've installed your affiliate plugin, you can then use its tools to include your affiliate links or handle your own program directly from WordPress. Then sit back and watch that cash roll in.
Do you have any experience with affiliate marketing? Let us know in the comments.
Article thumbnail image by Tippawan Kunkeaw / shutterstock.com