Giveaways are the lifeblood of marketing. Whether you're a brick-and-mortar store trying to drum up sales or an online boutique who wants an influx of new customers, free stuff is almost always guaranteed to expand your reach. When it comes to online giveaways, two of the biggest competitors are Gleam.io and Rafflepress. Let's break down the two services and see which one is the better option for you and your brand.
Gleam.io
Gleam.io is an incredibly slick giveaway platform. From the moment that you load it up, you see that it's a premium app through and through.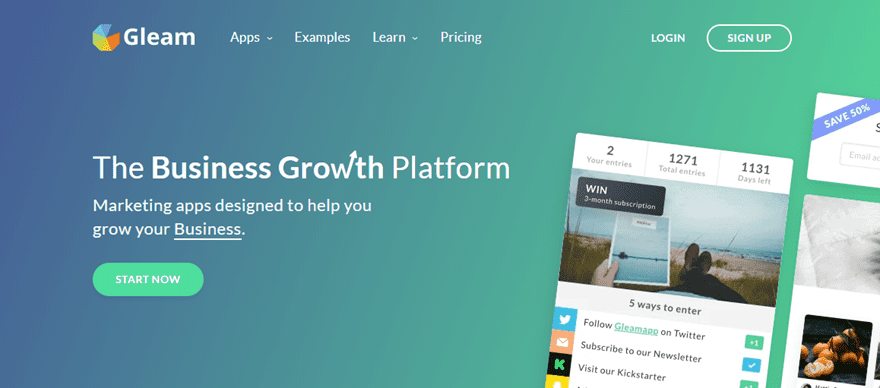 The platform is probably the most robust giveaway software out there. You can collect emails, crowdfund, provide instant rewards for entrants, and display various pieces of content for the visitors to the contest. Giveaways are a marketing tool before anything else. And these kinds of features are incredibly useful at showing the value your brand provides outside of the prize those people are entering to win.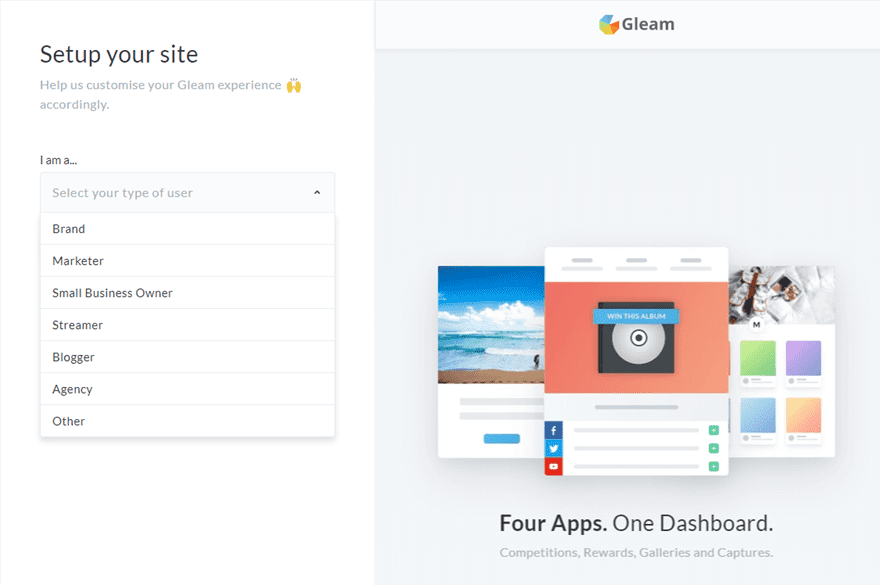 Don't be put off by the idea of it being a premium app. The pricing page shows the various features and tiers they offer, going from a hobby plan for $10 a month (or really, $120 a year) to $399 per month. This can be expensive, but you get a very polished and stable platform for the cost.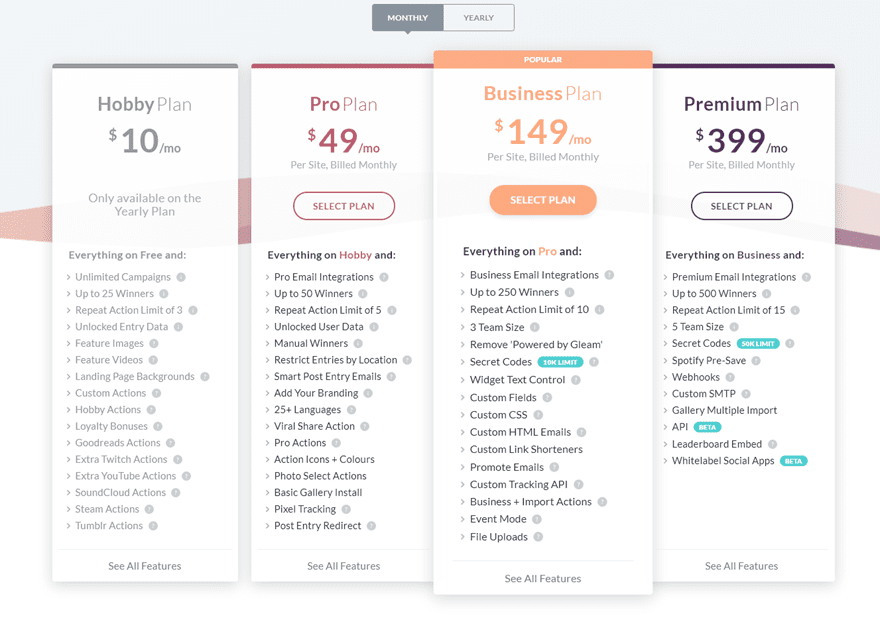 While the best features are locked behind memberships, there is a free option. You just don't see it mentioned anywhere on the site. However, when you sign up and select your role, you are taken to the dashboard where you can see that you are on the free plan. This dashboard is where you can begin creating and publishing contests immediately.
Creating Contests
You have access to various templates for competitions, as well as the ability to create a generic one from scratch by pressing the New Competition button in the upper-right corner of the dashboard.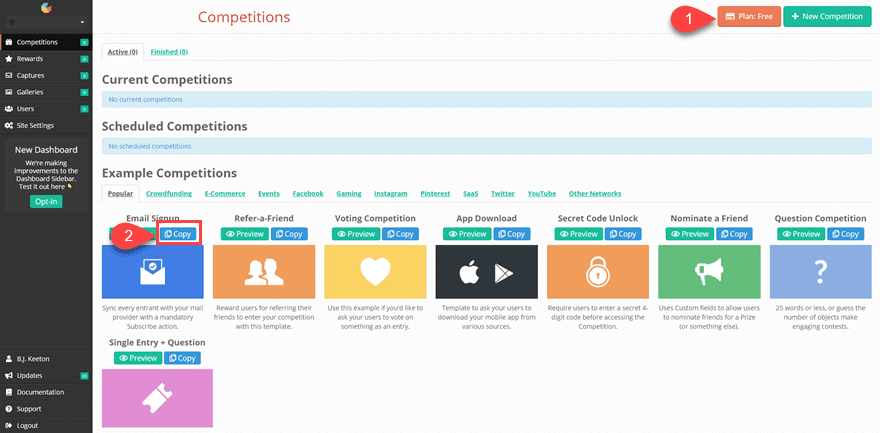 If you want to use one of the pre-made templates, you just need to click the Copy button to get started. Note that the templates are mostly premium. The features that drive them are locked behind various membership levels.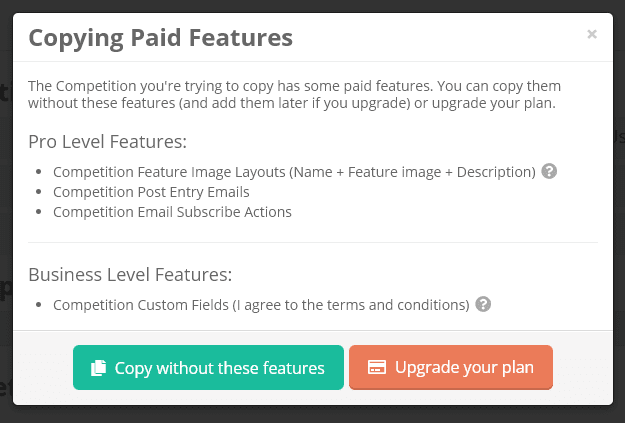 However, you can always copy without using those features to get a basic template that you can fill out with other actions that work for you. After that, it's very straightforward to get the contest set up.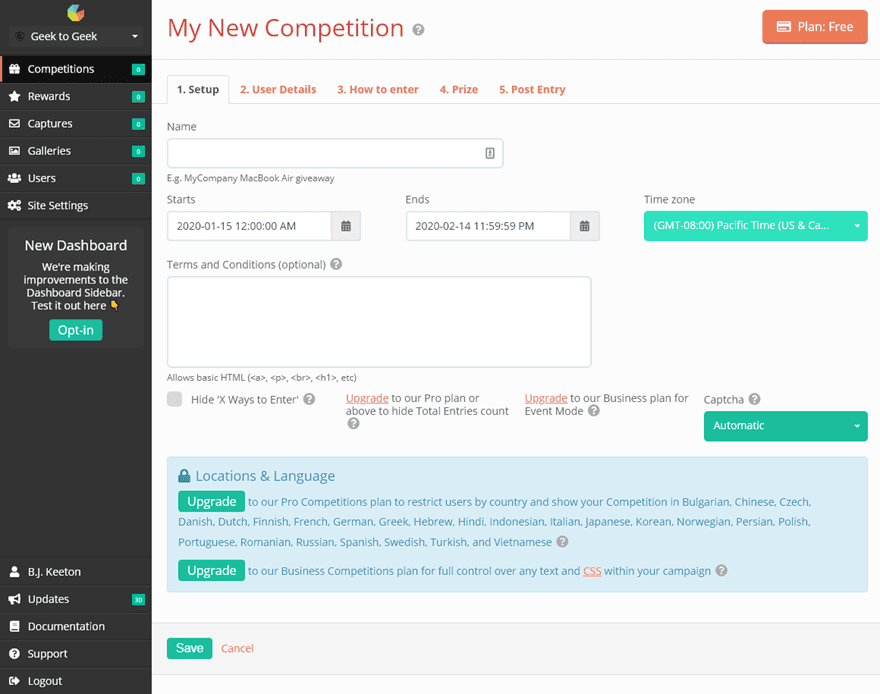 Basic settings such as name, date, terms and conditions, and even showing how many entries people are allowed. On upgraded plans, you get translated content and CSS customization.
After that, custom fields (for paying members) are available for you to grab any information you need from the user. You can also verify who the users are in some way via Twitter, email, or other social means.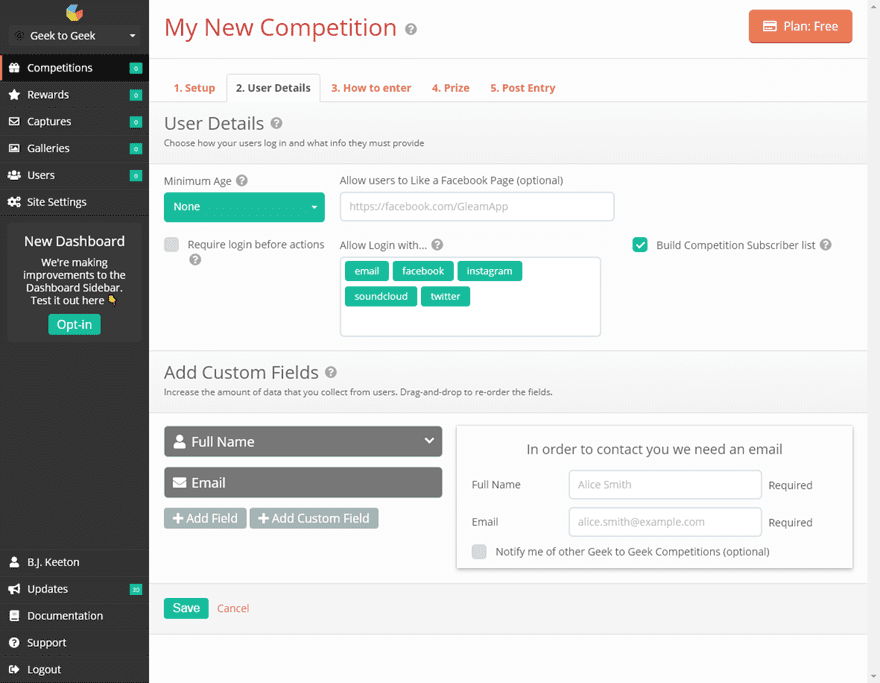 Entering the Contest
The real strength of Gleam.io is the massive number of entry possibilities.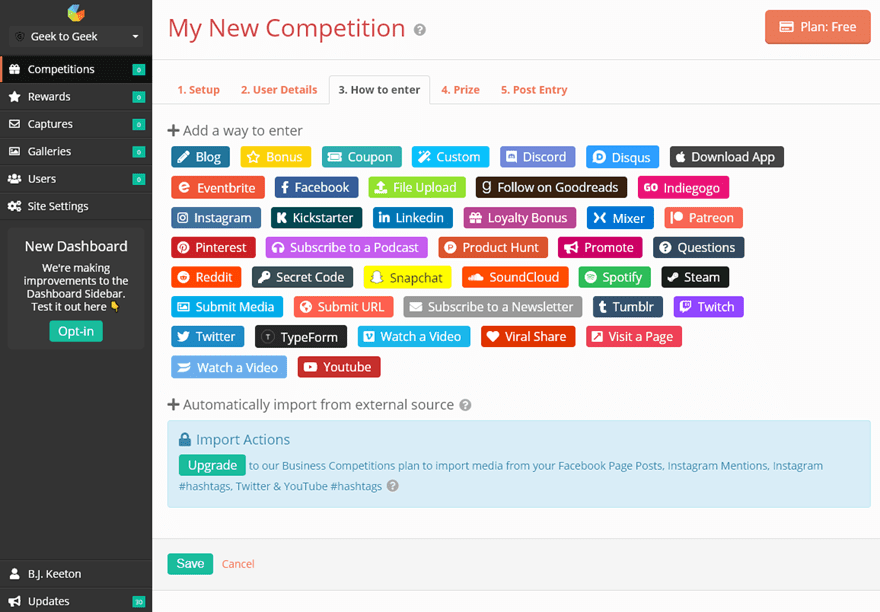 From redeeming loyalty points, sharing the contest, watching a video, viewing a Twitch stream, to any number of others. Many of these are locked behind membership, yes. But even free members can run a solid giveaway using Gleam.io because of the sheer number of options.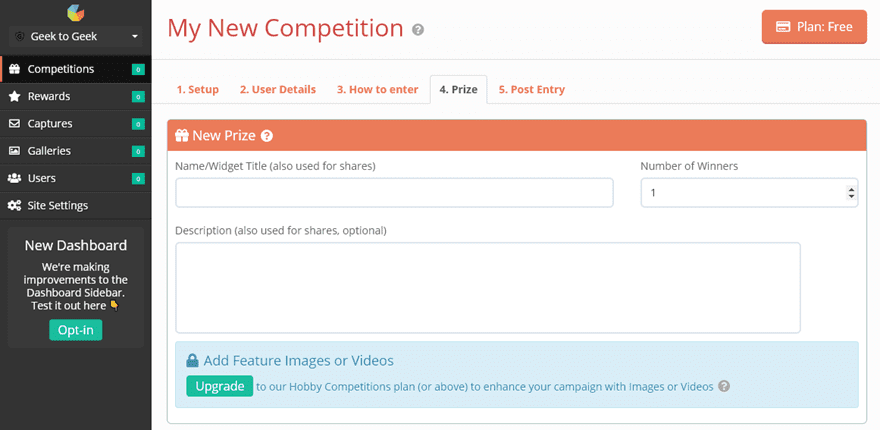 You can set the prizes that you're having them enter for. Paid members get images and videos to go along with it. The final tab, Post Entry, is entirely for paid members, too.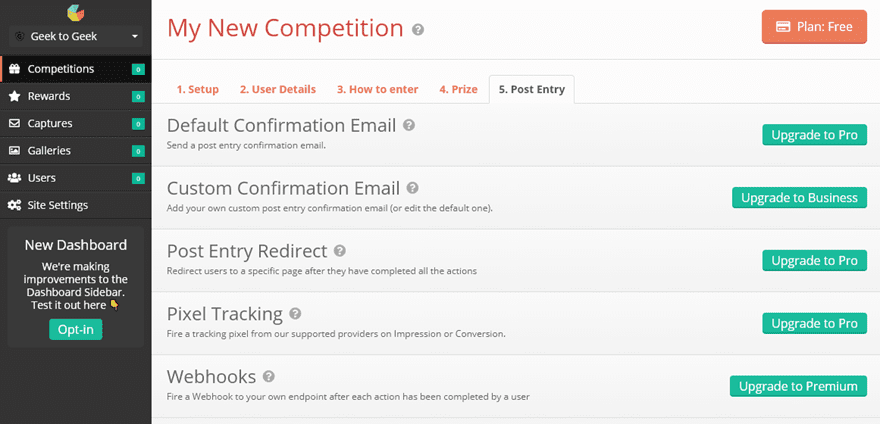 This tab contains the options for what happens after people enter your contest. Again, because contests are marketing tools, you want to be able to direct them to where you can convert them most easily. In many ways, this is a necessary feature for a 100% successful giveaway. However, it's not necessary to convert new users or make the entire thing worth the time and effort.
Embedding the Contest
Installing the contest is very easy. When you press Save, Gleam.io gives you a snippet of code for you to paste into your website.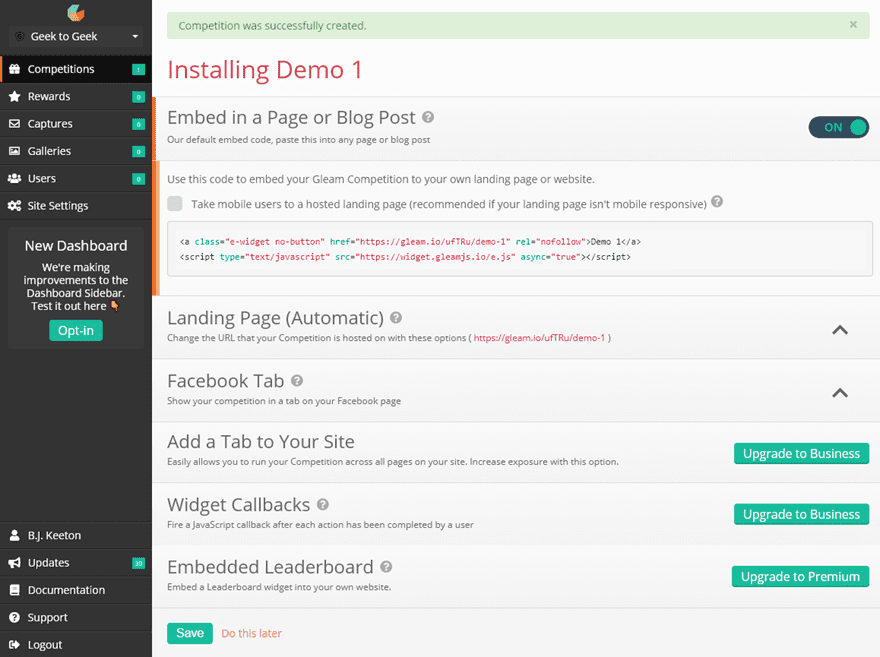 You can also direct users to a hosted landing page if you don't have a webpage or expect more traffic than yours can handle. And also the Facebook Tab option is incredibly useful if you take advantage of Facebook marketing at all. Which you should.
And when it's installed, you will see a widget very similar to this: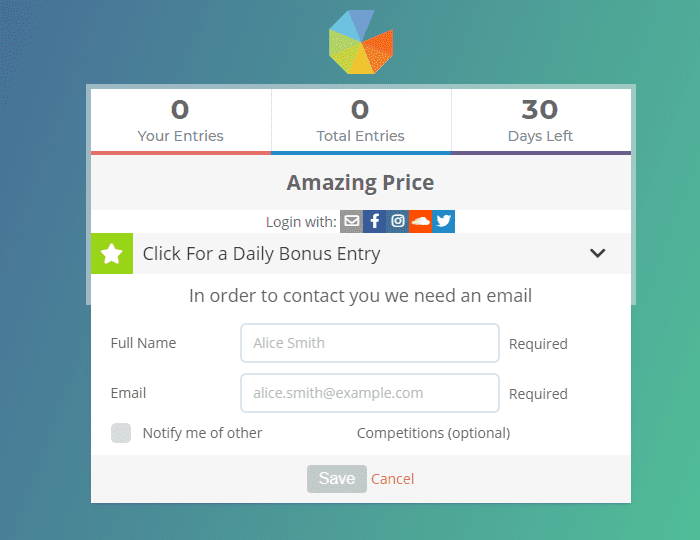 Rafflepress
Now, Rafflepress is a bit different (not to be confused with Rafflecopter). Whereas Gleam.io is a platform for anyone out there, regardless of where they host their website, Rafflepress is a WordPress plugin. As you could probably tell from the title.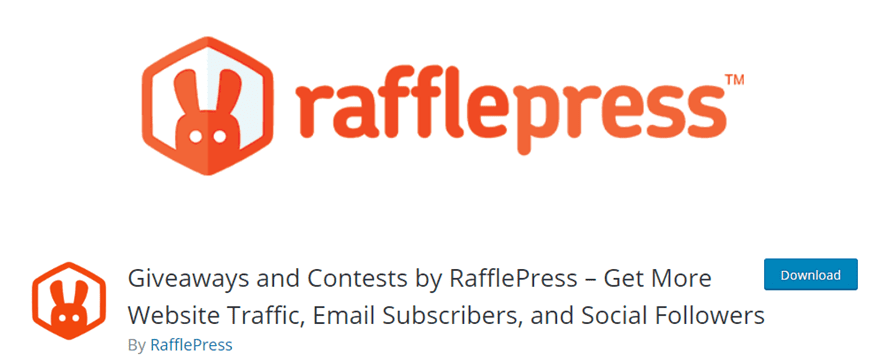 Rafflepress has both a free and premium version, you can install the free one directly from the WordPress.org repository. Once installed, you have a new Rafflepress menu in your WP dashboard, the homepage of which gives you a list of features that you will be able to take advantage of.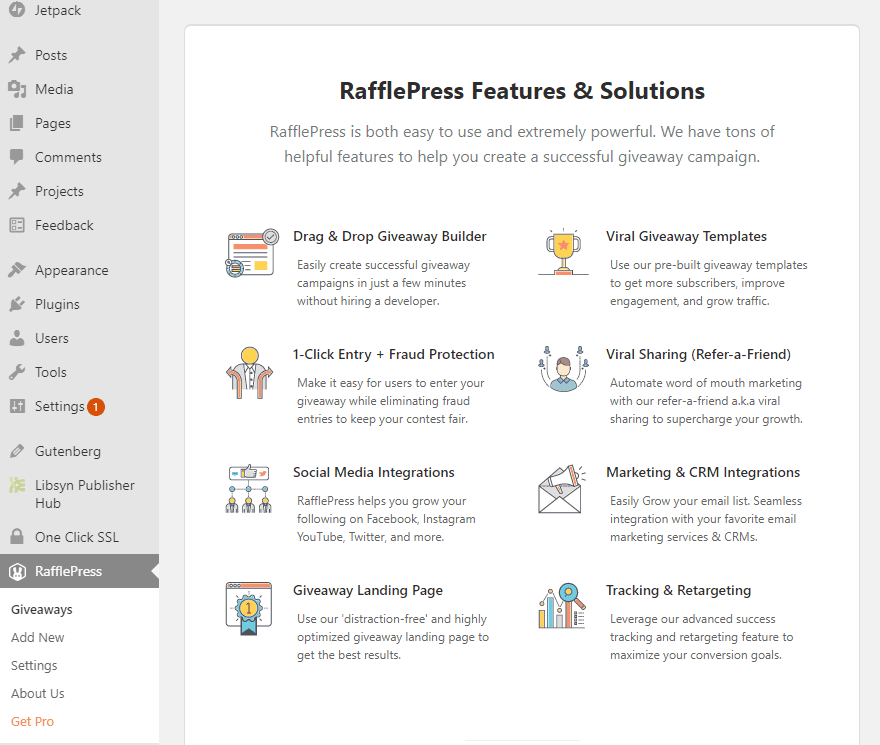 Again, many of the more advanced are saved for the premium version. However, Rafflepress has a much more affordable pricing plan in many ways than Gleam.io, with an annual license starting at $39.20.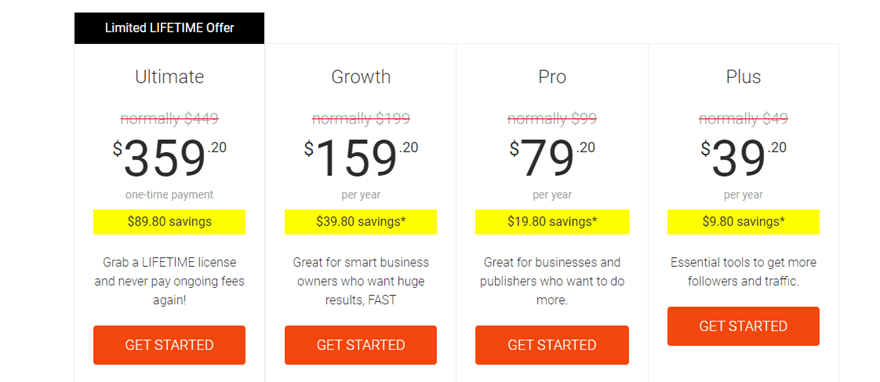 Using Rafflepress
For WordPress users, the dashboard you use will be very familiar. Just press the Add New button to be taken to the incredibly smooth builder for the plugin.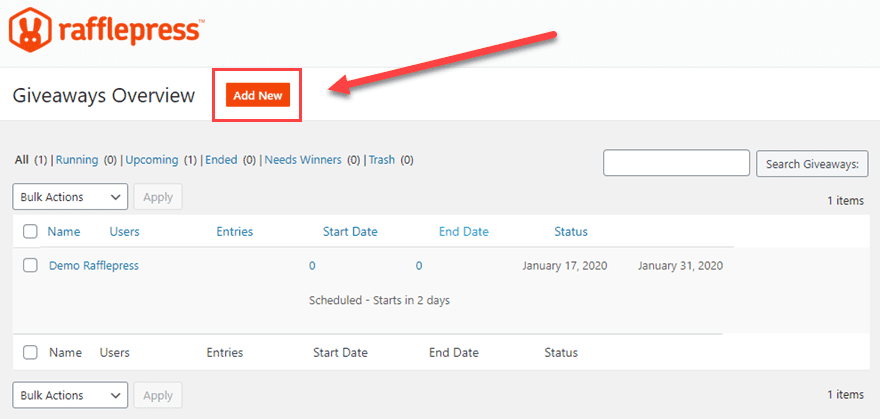 You will then need to choose what template you want to use for the giveaway. Unlike Gleam where you can copy template pieces without the advanced features, Rafflepress only gives users the Classic Giveaway for free. Honestly, though, most online giveaways use this kind of template, and you should be fine using it for at least a trial basis.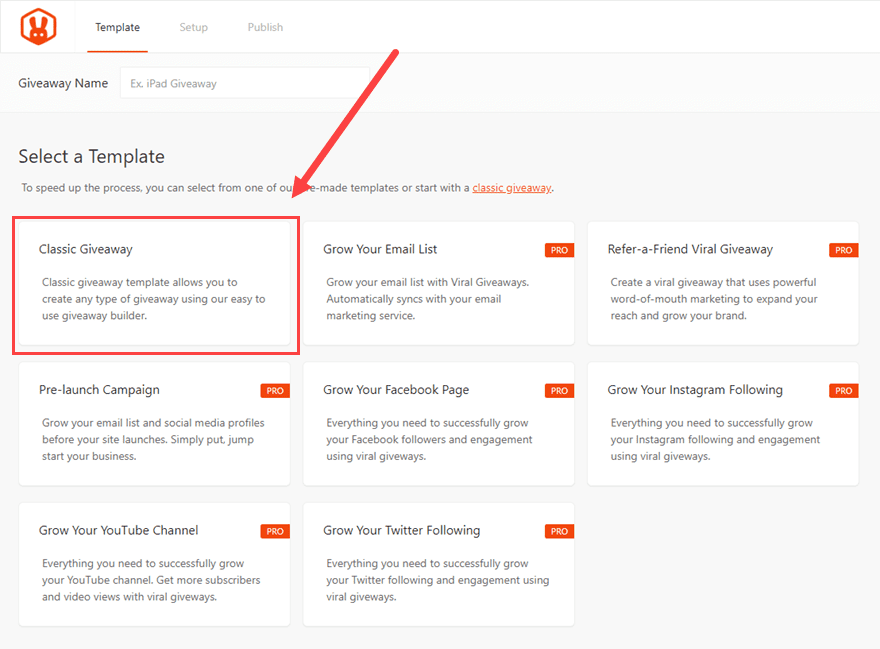 From there, you have 4 tabs down the left of the screen that you move through to customize your giveaway. The builder here is a bit closer to what WP users will be used to, in that it's a live preview of the changes.
If you use a page builder like Divi, then the drag-and-drop and real-time editing will be like second-nature. After that, it's choosing the kinds of actions you want. Rafflepress separates the entry types in terms of what you want to get out of them. Social engagement, subscribers on various platforms, or simply traffic to your site or a specific page.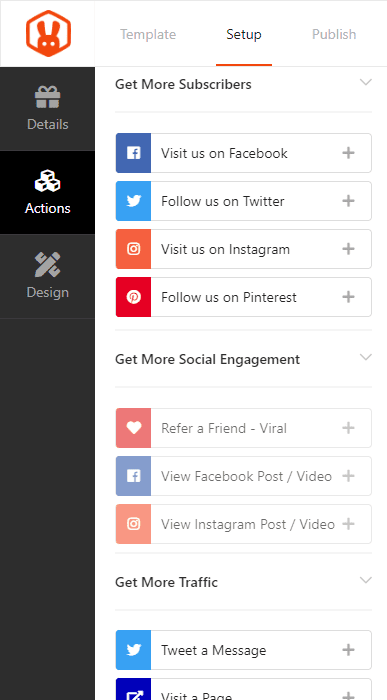 We feel like this is a stronger way to display the information than the big cloud that Gleam uses, though Gleam has a wider variety. This one just ends up being a little more user-friendly in the long run.
Design and Settings
The Design tab, though, is very limited for free users. Which is generally fine. If you don't need a lot of customization, you won't be missing out on much without changing the font or background color. This is a small weakness in comparison to Gleam, though, in that the customization and content display they offer is front-and-center. But if that's not what you're trying to do, Rafflepress offers the same kind of customizations for premium members, pretty much.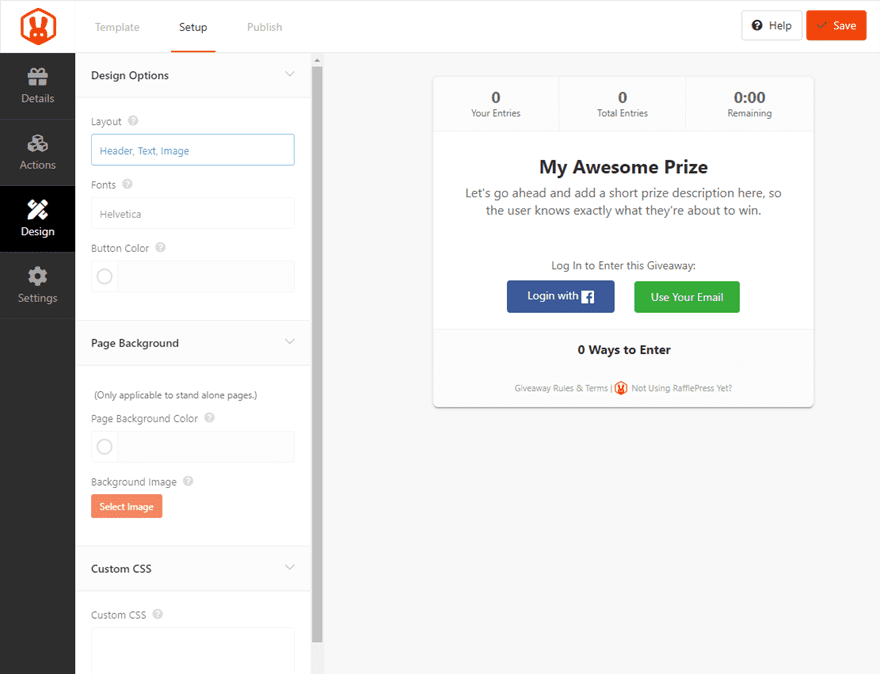 The same thing can be said of the Settings tab, too. You can't alter success tracking, email verification, which social networks you let them log into, or where you redirect. Again, these are key elements of huge giveaways, so grabbing a premium license is worth it for when you're giving away huge prizes that will draw a higher-than-normal level of visitors.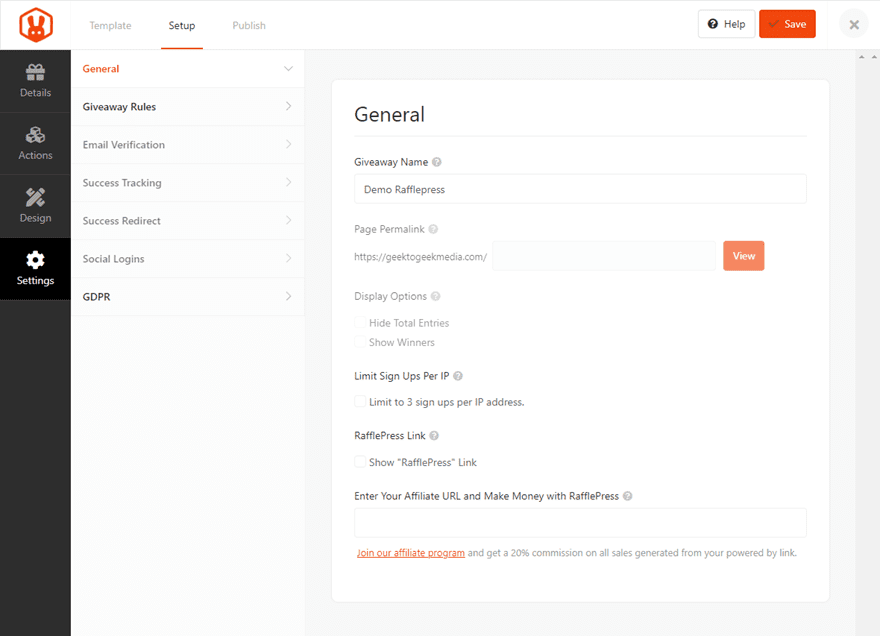 The GDPR tab gives you the option of requiring GDPR opt-in before users can even enter the competition.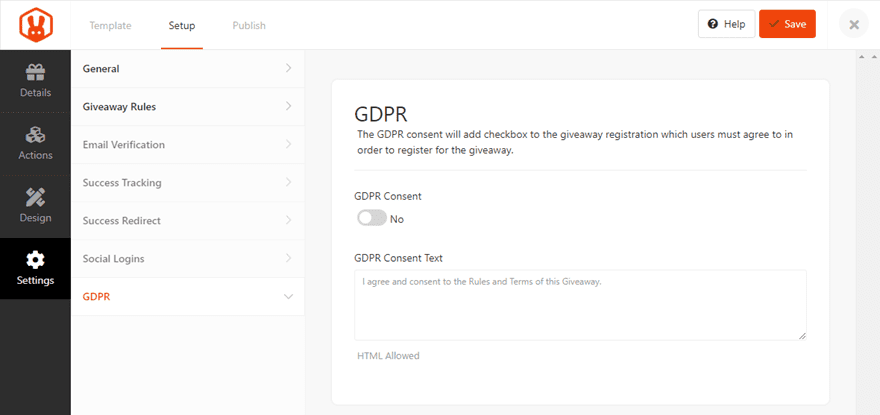 This is a very important option to enable because GDPR is an opt-in regulation, not opt-out. Be sure to check out our post on privacy policies to learn more about these regulations and what you can do to protect yourself.
Installing the Rafflepress Contest
To get the actual widget on your WordPress website, you will need to go back to your primary Rafflepress dashboard. You can find it at Rafflepress – Giveaways in your WP admin panel. From there, click the Embed link for the contest you want to showcase.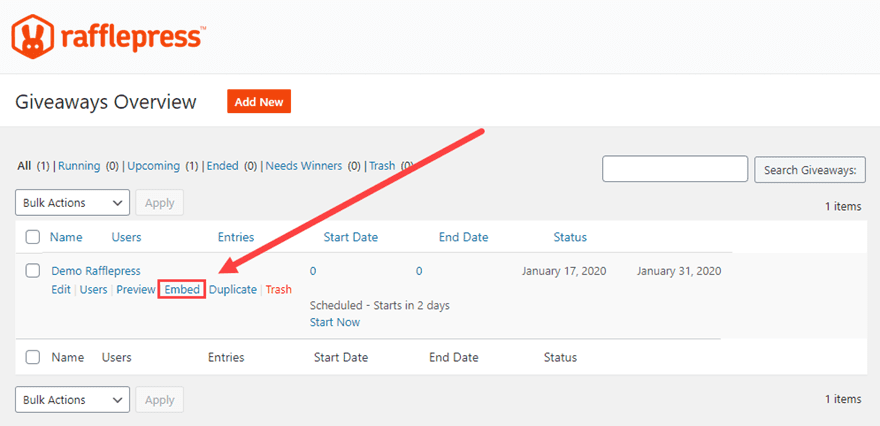 Since Rafflepress is built on WP, you have a few options on how to embed your competition widget.

If you choose to use the Shortcode, it's as easy as using the built-in WordPress block. Just paste it in wherever you can render shortcodes.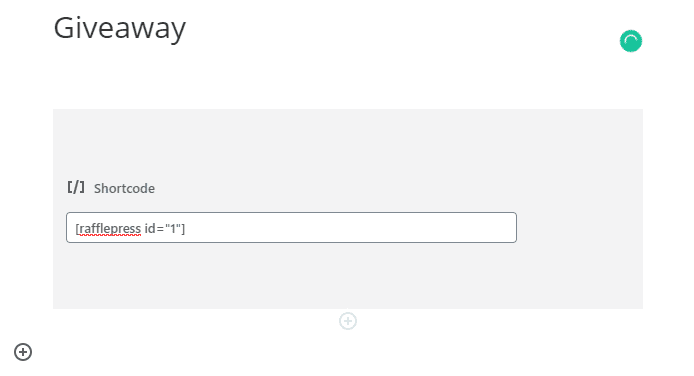 And the front-end of your site will display the widget. It should look identical to what you saw in the builder.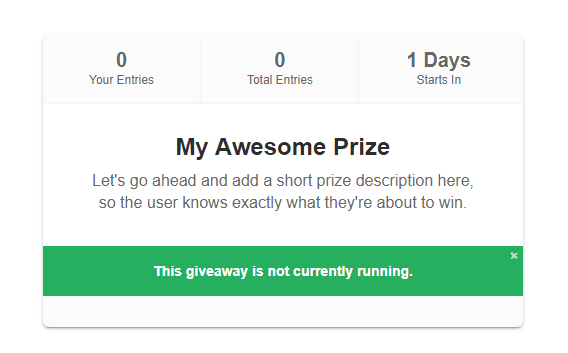 Just start sending visitors there, and you're good to go.
Conclusion
In the end, both platforms offer a very similar experience to one another. Rafflepress is probably the more user-friendly option of the two and has a lower cost, but Gleam.io provides a slicker, more polished marketing package all in one, but you pay for that polish. But price being an issue, you could absolutely use the free versions of both to see which fits with you better. You really can't go wrong with either platform, as long as you run the giveaway well. And it's not too hard to give people free stuff, so we expect you'll do just fine with whichever app you choose.
What do you think about Gleam.io vs Rafflepress? 
Article featured image by Visual Generation / shutterstock.com