Winning anything is exciting, even if it's small – that's why those carnival games with the teeny stuffed animals make so much money. For solopreneurs, startups and small- or medium-sized businesses, there are a number of reasons to run a giveaway – people love getting something for free, and that freebie can lead to increased engagement, a bigger following, more reach and the potential for your content to go viral.
So much goes into running a giveaway, though. You have to create an appealing, professional entry form and landing page; collect and safely store information for all entrants; and figure out a way to randomly choose a winner. Big businesses have departments dedicated to setting up and running giveaways, but small businesses have much less support. Rafflecopter manages giveaways in an easy-to-use way, no dedicated department, designer or programmer necessary.
How Rafflecopter Works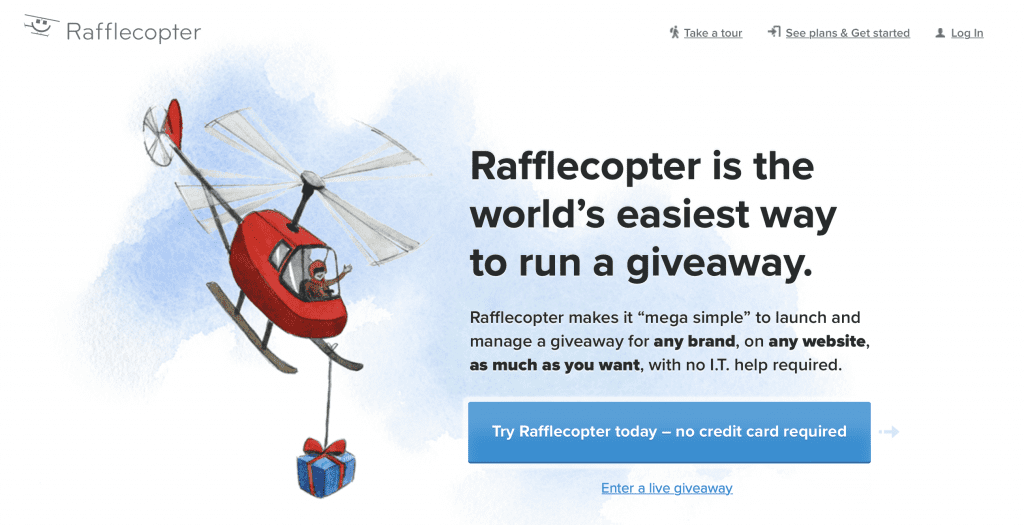 Rafflecopter lets you set up a sweepstakes widget for your website or Facebook page, complete with prize information, entry requirements, timeframe and Terms and Conditions. Entrants can enter using Facebook or their name and email address, plus whatever additional information you require. As people enter the giveaway, Rafflecopter will collect and store the entries in your account. When the giveaway has ended, you'll get the tools needed to select a winner or multiple winners at random. You can then use the widget to announce the winner, but you should also contact them via email (which they'll provide when entering).
It's also important to know why you're running a giveaway so that you can pick and choose the right requirements and optional tasks. Without a goal and a plan, why make your audience members jump through hoops? We have an article about how to create a successful giveaway on WordPress, with tips for choosing your objectives.
Contest vs. Giveaway vs. Sweepstakes
Before you use Rafflecopter, it's important to understand the differences between contests, giveaways and sweepstakes:
Contests are based on skills instead of random chance – for example, a contest may ask people to create a logo for a brand.
A giveaway, also called a sweepstakes, is based purely on chance. Entrants are not judged on submissions, as they are in a contest.
"Giveaway" is the more casual term for sweepstakes, and to protect yourself legally it's best to refer to your random drawing as a sweepstakes.
You can create sweepstakes with Rafflecopter, but not contests.
Getting Started with Rafflecopter
To get started, go to Rafflecopter.com. Click the blue button that says, "Try Rafflecopter today – no credit card required." You'll go to the Plans and Pricing page.
There are four options, including a free version and three paid versions (Basic, Grow and Premium), and you can test any of the plans during a seven-day free trial. Each plan comes with unlimited giveaways and entries; the ability to choose random winners; and integration with Facebook and Twitter. Paid plans have Pinterest integration; the ability to take polls and surveys; a Terms and Conditions template; and customization when designing the Rafflecopter widget. With the Grow and Premium plans, you can also integrate your email list management tool. Learn more about pricing here and compare the plans here.
After choosing your plan, you'll go to your dashboard, where you can create your first giveaway.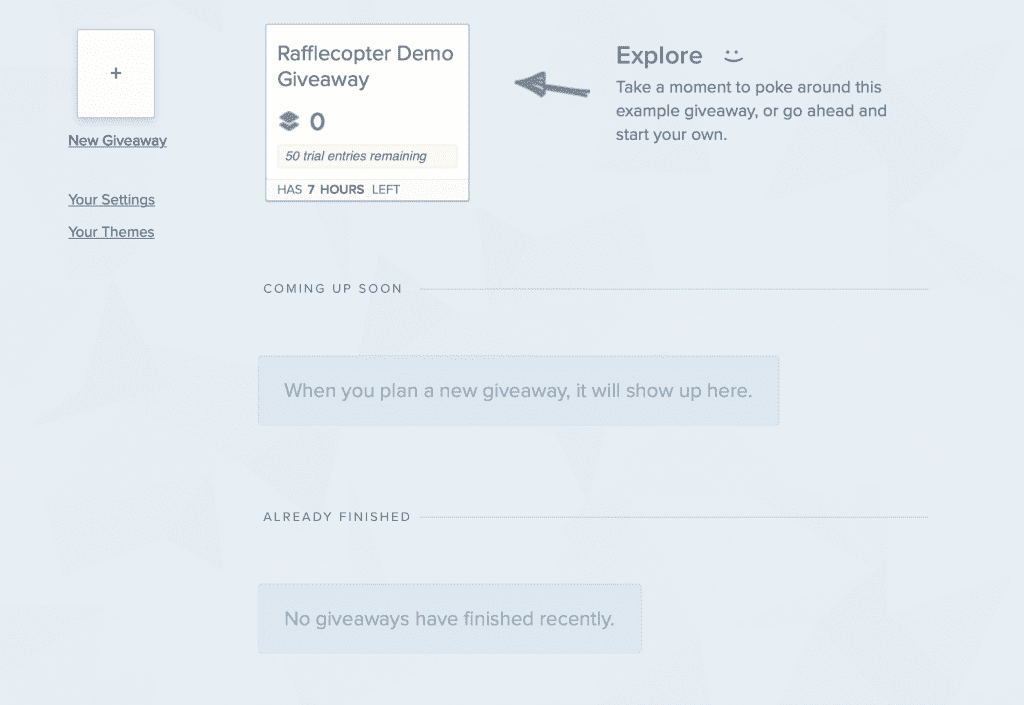 Creating a Giveaway with Rafflecopter
The widget you use to set up your giveaway couldn't be simpler or easier to work with: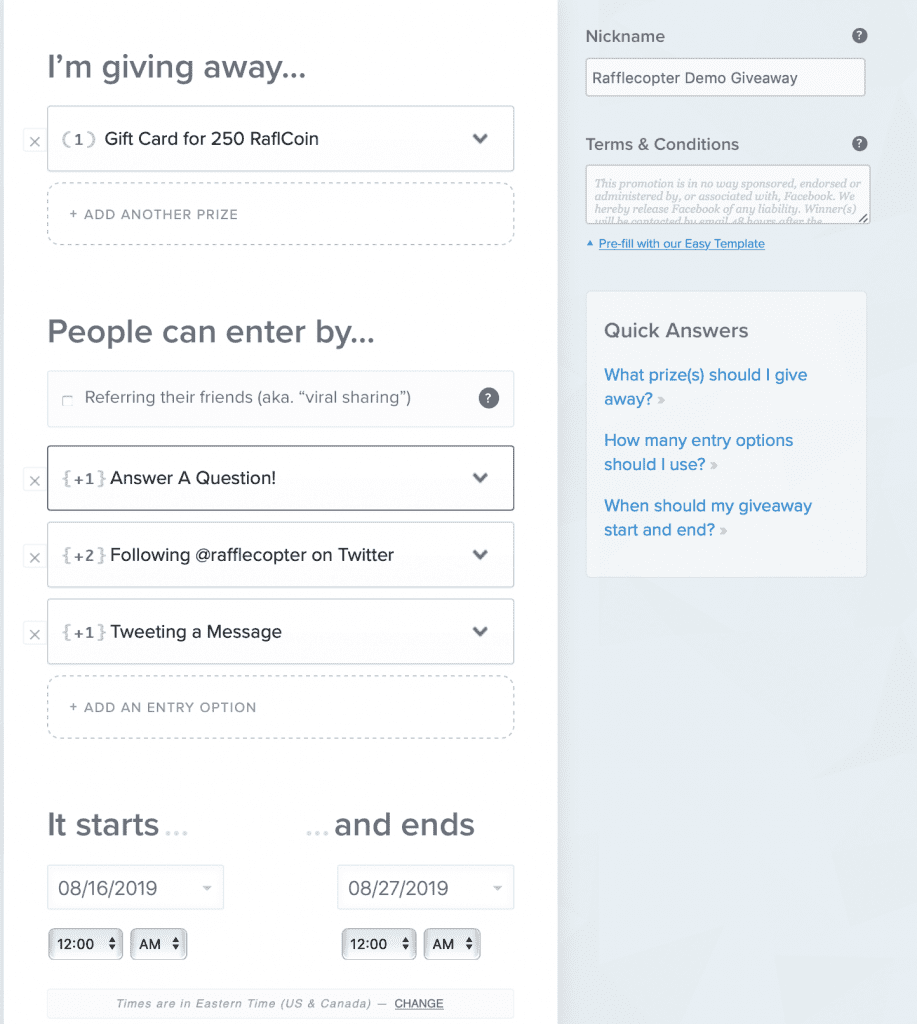 You can also customize your own widget template. There are several to choose from, and each has additional customization options.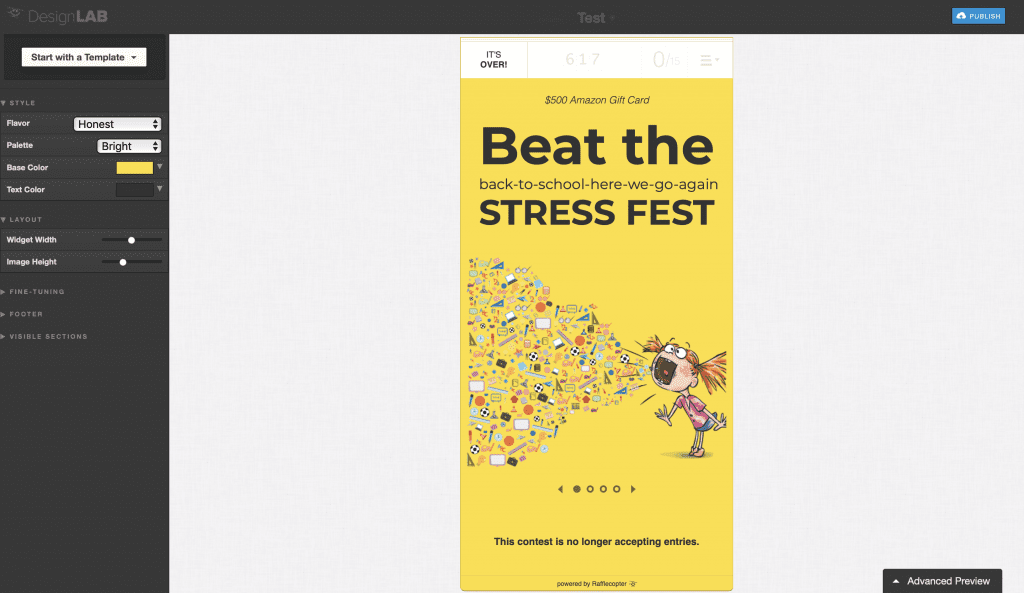 Adding Prizes
When creating your prize(s), you can use multiple lines to name and describe each one, and you can use all caps or italicize words. You can also add an image (depending on your plan), but it wouldn't let me finalize the crop on mine and I wasn't able to save it.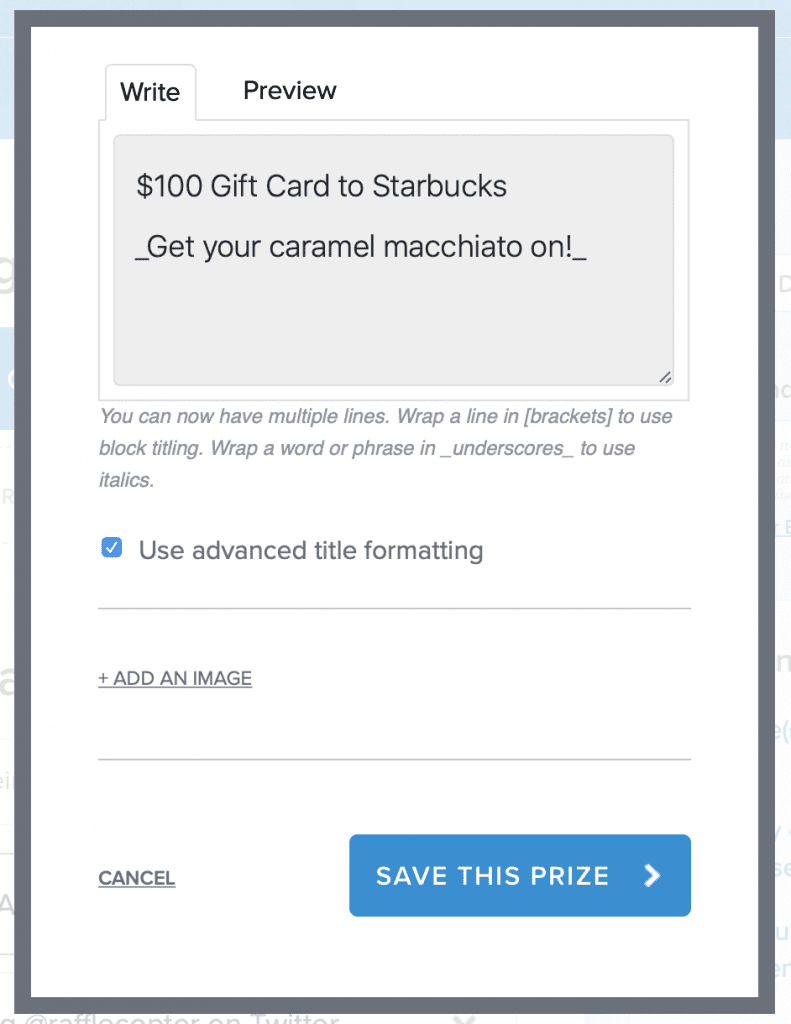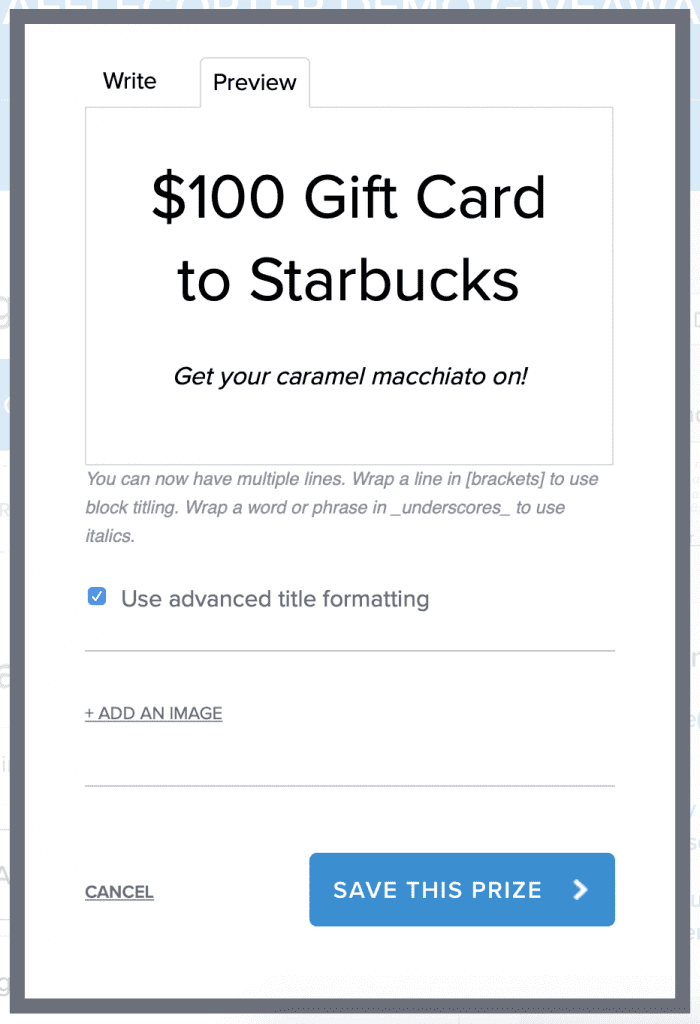 Setting Requirements and Optional Tasks
Next, decide how people can enter your sweepstakes. If you have a Premium account, you can check the refer-a-friend box – every time a person's pal enters, the original person will get additional entries.
There are several options that you can add when creating a giveaway, and you'll set whether they're mandatory or optional:
Answer a poll
Comment on a blog post
Follow a Pinterest account
Follow @rafflecopter on Twitter
Follow another Twitter account
Pin an image on Pinterest
Subscribe to a mailing list
Tweet a message
Visit a fan page
There's also an "Invent Your Own" option, and you can use this to ask the entrant a question: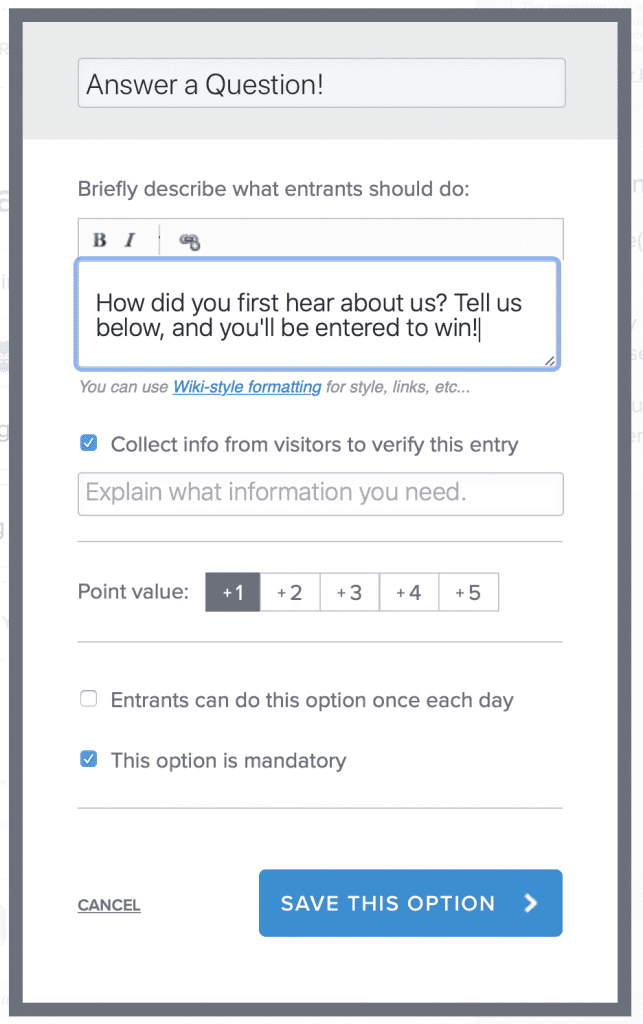 For some tasks, you can let the entrant perform it more than once for additional chances to win. For example, an entrant can share a post about the giveaway every day on social media.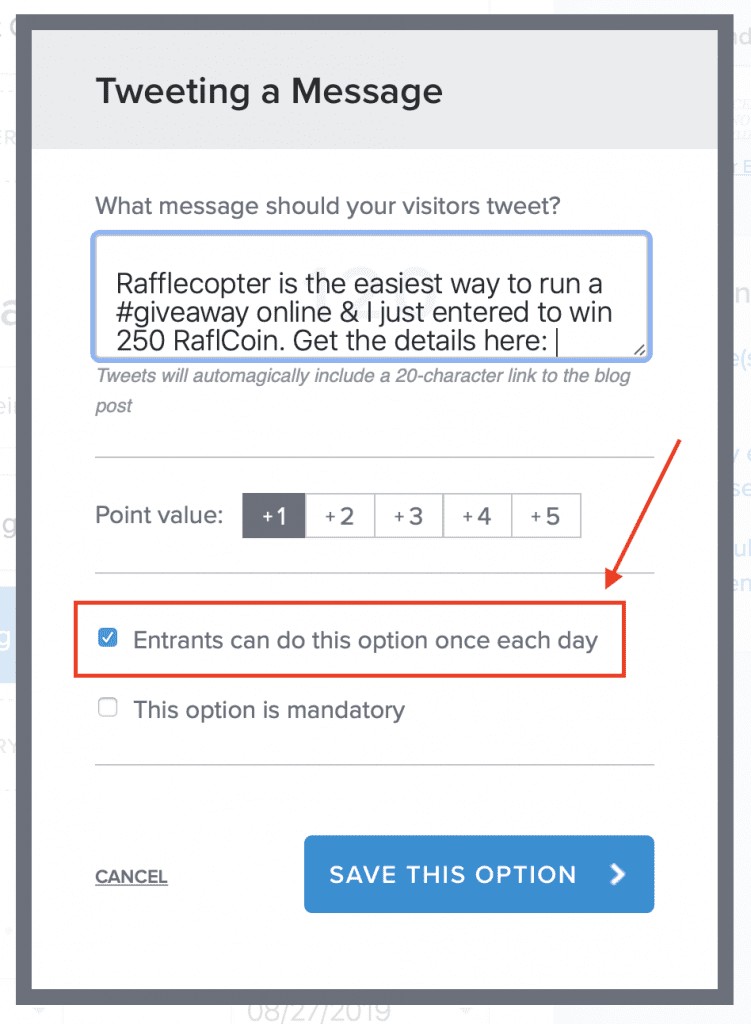 Deciding Which Tasks to Include
While entering a Rafflecopter giveaway is generally easy for the entrant, the more requirements you create, the longer it'll take to enter. Even if you make most of the tasks optional instead of required, it can still be frustrating for the entrant. They may feel like it's unfair that some people get extra entries by going through more steps. If they feel their chances of winning are slim, they may not bother entering at all.
According to Rafflecopter, aim for three to six entry tasks. When deciding which tasks to include, don't choose for the sake of exposure alone. Think about what will help you accomplish your goals without overwhelming entrants.
Choosing a Timeframe
Before finalizing your Rafflecopter widget, you'll choose the giveaway's timeframe. Select the start and end dates, as well as the start and end times in 15-minute increments. Make sure to update your time zone, too.
Creating Terms and Conditions
There's a lot to clarify when running a sweepstakes:
Eligibility requirements, including age and geography
Description of the prize(s)
Timeframe of the giveaway
How the winner(s) will be selected
Depending on the subscription you have, you can opt to easily generate the Terms and Conditions. You'll fill in details about sponsors, eligibility requirements and the value of the prizes, and Rafflecopter will automatically create Terms and Conditions that will be linked to at the bottom of the giveaway widget.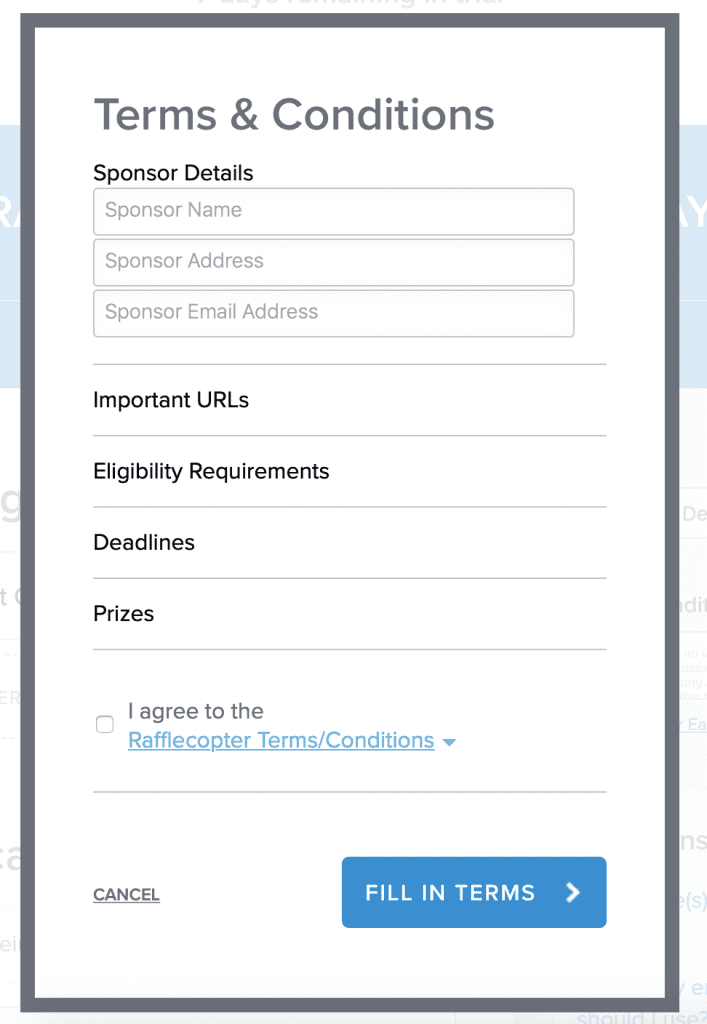 It's also not a bad idea to have a lawyer look over your Terms and Conditions. Sweepstakes laws vary by state, and you want to make sure you're in compliance when it comes to advertising, contracts with partners, official rules, etc.
Finalizing the Widget
When you're finished, click "Preview and Install." Scroll down to see a preview. To see the tasks the entrant has to complete, click "Preview All Options" on the top left. The preview is interactive, so you can click a task to see what the entrant will see.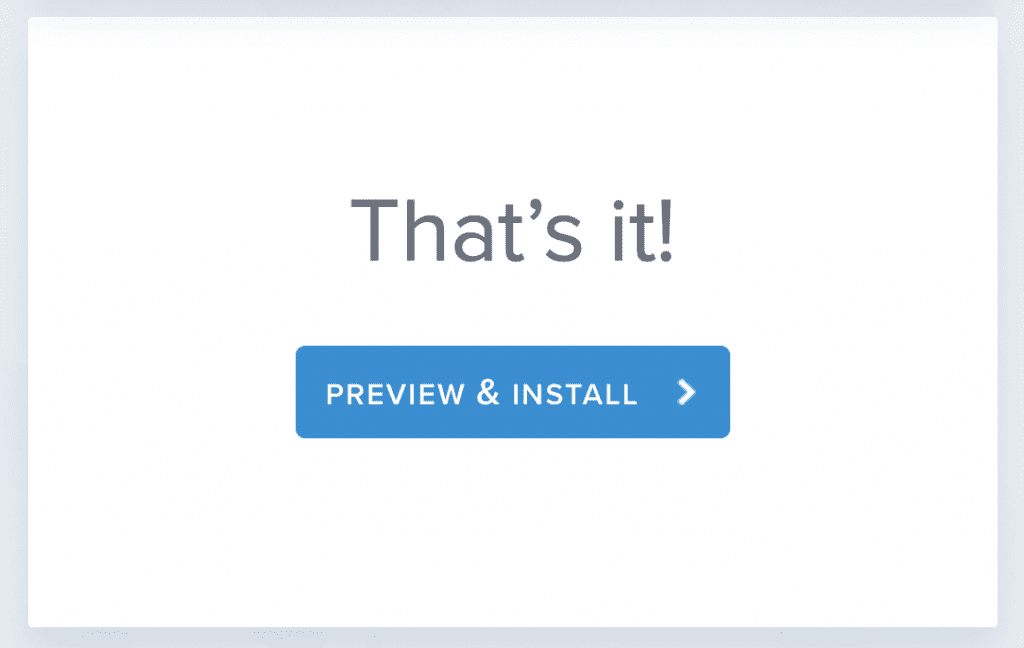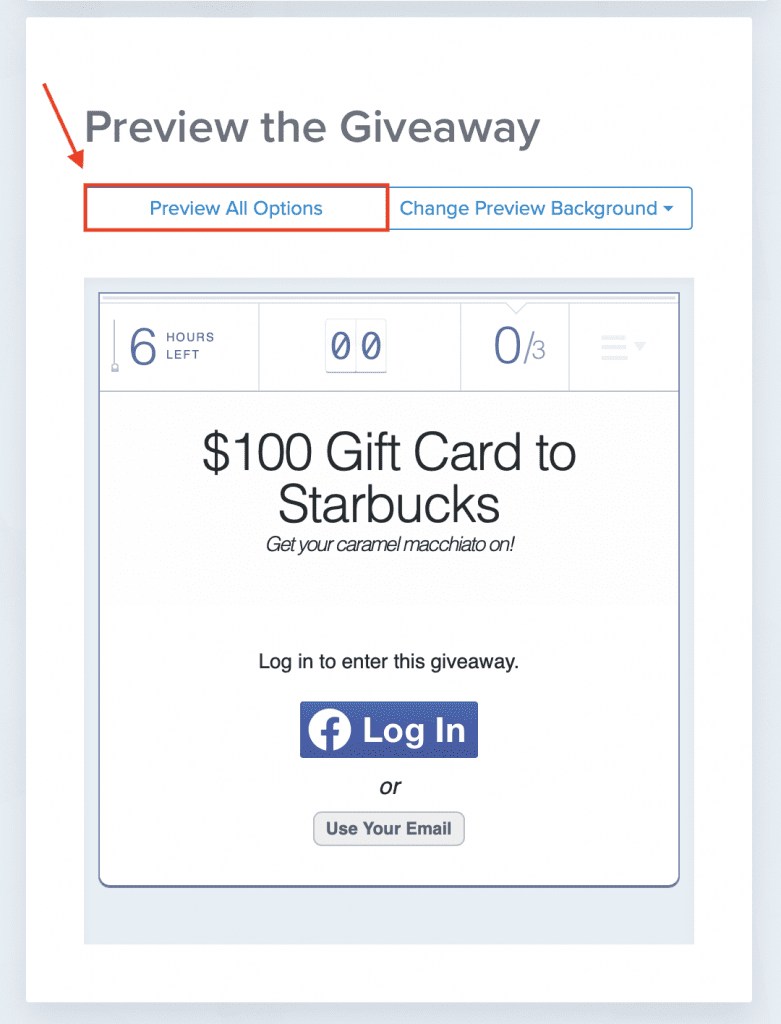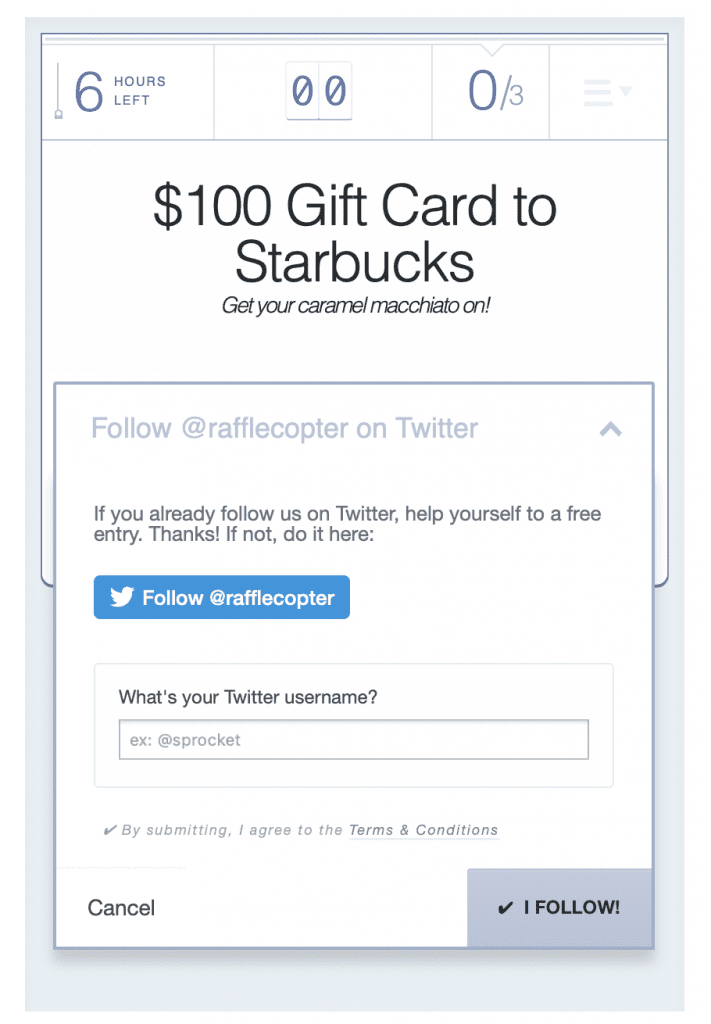 Adding the Rafflecopter Widget to WordPress
Toward the top of the preview page, you'll see an HTML code, which you'll use to embed the widget on your WordPress website. You can also run the giveaway on a Facebook page or link directly to it.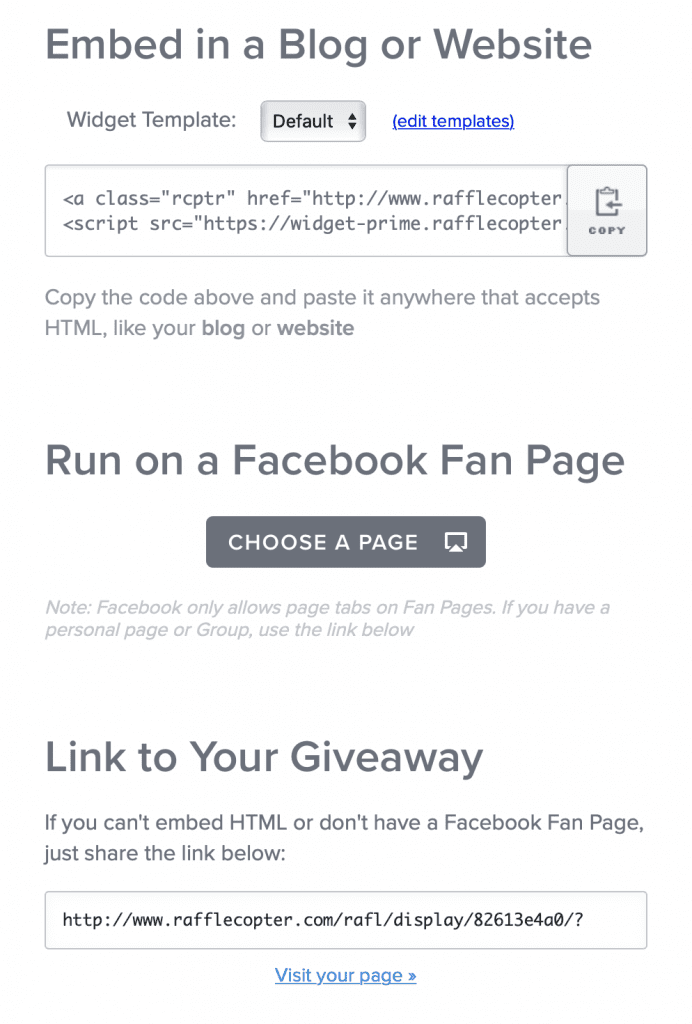 Log into WordPress, choose the blog post or page where you want to feature your giveaway, and then copy and paste the code. If you're using the Gutenberg block editor, hover over where you want to create a new block and then click "HTML" on the right. Paste the code in that block.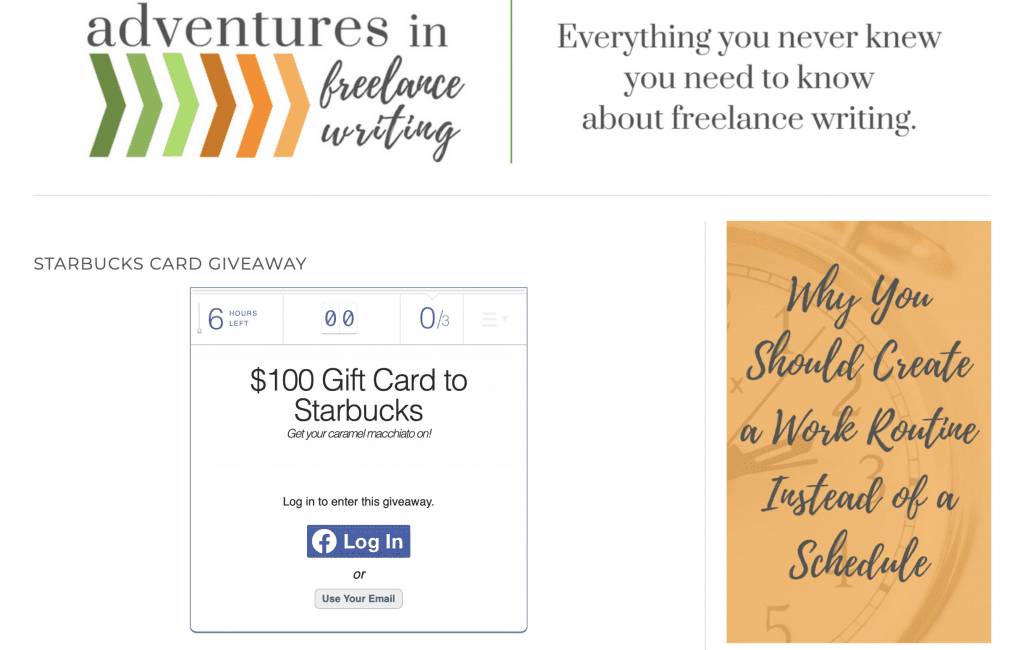 Updating the Widget
If you have to make changes to your giveaway, you can do so until the day the giveaway starts. The widget will update automatically when you make changes, so you don't have to replace the HTML in WordPress.
Wrapping Up
With a sound purpose and a solid objective for creating a giveaway, Rafflecopter can help you reach your marketing goals, connect with your audience and attract new customers, clients or readers. It's easy to set up and add to your website, and being able to make changes without replacing the HTML is convenient. The Basic plan is just $13 per month and it has just about everything you'll need, with the exception of email list integration. The plain widget is a little boring, but any of the paid plans let you create a custom widget with plenty of themes to choose from. Overall, I loved Rafflecopter, and the ease of use can't be beat.
Have you used Rafflecopter? Let me know about your experience! Looking for even more ways to run contests and giveaways on your website? Take a look at our list of the best WordPress contest plugins.
Featured image via Truevector / shutterstock.com