As a business owner, driving traffic and increasing engagement are likely among your top priorities. Doing so can be challenging, however, which is why you might consider running an online giveaway. Thanks to WordPress contest plugins, you can easily use these events to create a sense of urgency among your audience, generate excitement, and even enhance brand awareness and loyalty.
In this post, we'll discuss the benefits of incorporating giveaways into your online marketing strategy. Then we'll introduce eight of the best WordPress contest plugins you can add to your website.
Let's get started!
The Benefits of Running Contests and Giveaways
When you want to capture the attention of both existing and potential customers, sometimes you need to get a little creative. To increase your audience's interest in your content, it helps to offer something of value. That includes "freebies" – after all, who doesn't appreciate an opportunity to win free products or services?
There are many benefits to running online contests and giveaways. First, it's a powerful way to gain more exposure and promotion for your brand. It's also a cost-effective strategy. You can create and manage a giveaway or competition with little to no investment. Contests are win-win; you get more visibility and engagement, and your audience gets the chance to receive a free product.
WordPress contests can also be a successful tactic because their interactive nature helps you spread the word organically. For example, you can ask users to share or engage with a specific post for a chance to win, and even require them to contribute User-Generated Content (UGC) such as posting about the giveaway using a contest-specific hashtag.
8 Best WordPress Contest Plugins
There are various types of giveaways, such as sweepstakes and photo contests. Deciding which ones you're most interested in will making choosing the right WordPress contest plugin easier.
In addition to features and functionality, you'll want to consider your budget so you know whether to opt for a free or premium solution. It's also important to find a tool that is reliable, well-maintained, and supported.
That can be a lot of work, so we've done the heavy lifting for you to make your decision easier. Below are eight of the best WordPress contest plugins for every type of giveaway, experience level, and budget. They've been chosen based on the variety of features they offer, as well as their ratings and reviews, popularity, and consistent support from their developers.
1. RafflePress

RafflePress is perhaps the most well-known WordPress contest plugin on the market. You can see how it stacks up against the competition here. This freemium tool lets you quickly create contests and giveaways within minutes on your website, and then integrate them with popular email marketing services and social media platforms.
This plugin is user-friendly and comes with a drag-and-drop builder that is easy to pick up, even for beginners: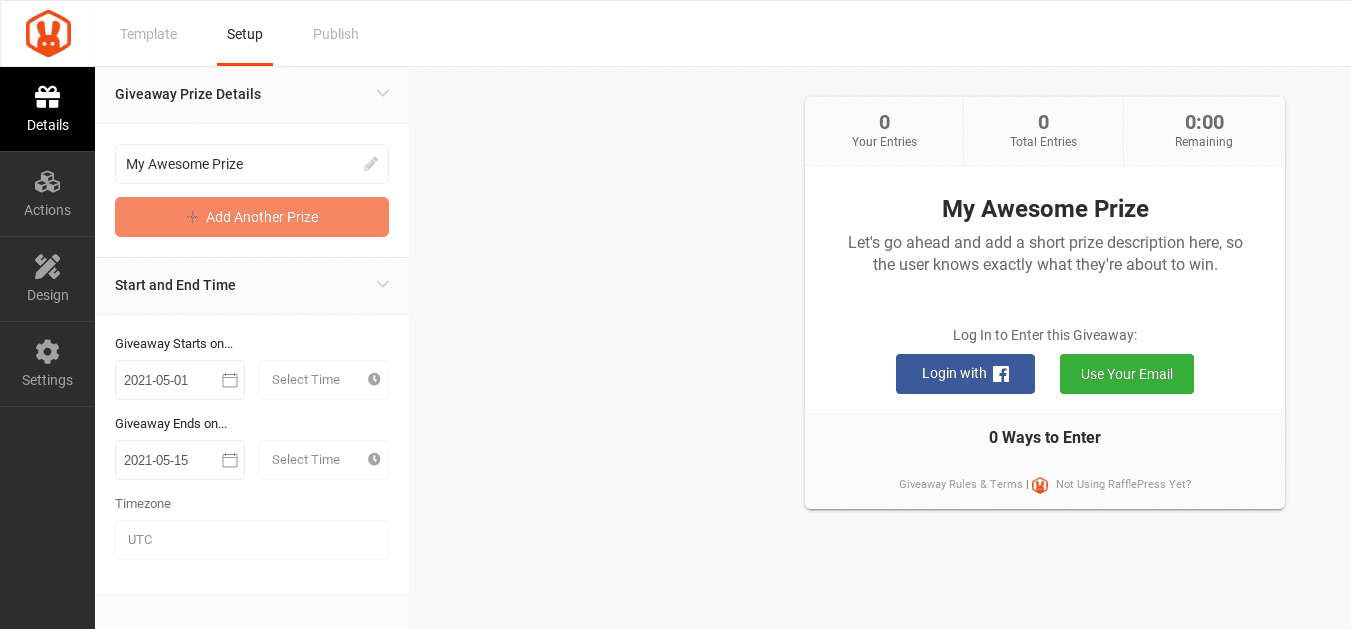 You can select a template to use based on your contest goals, and then use the editor to customize its appearance to your liking. The plugin also ships with built-in fraud protection, which can help keep spam out of your online contest forms and entries.
Key Features:
Offers a drag-and-drop builder, as well as a library of built-in templates and landing pages based on various giveaway goal(s)
Includes a refer-a-friend giveaway feature
Integrates with popular email marketing, WordPress form, lead generation, and Customer Relationship Management (CRM) tools
Provides success tracking, social share buttons, and the option to extend with custom CSS
Has built-in fraud protection and email verification
RafflePress is for you if…
…you're looking for a robust, reliable, and flexible plugin that lets you run multiple contests and offers plenty of customization options. While we can't wholeheartedly recommend the free version due to some user-reported problems, we'd suggest giving the premium version a look if it fits your budget.
Price: Free plugin available, with the premium version starting at $39.20 per year | More Information
2. Photo Contest WordPress Plugin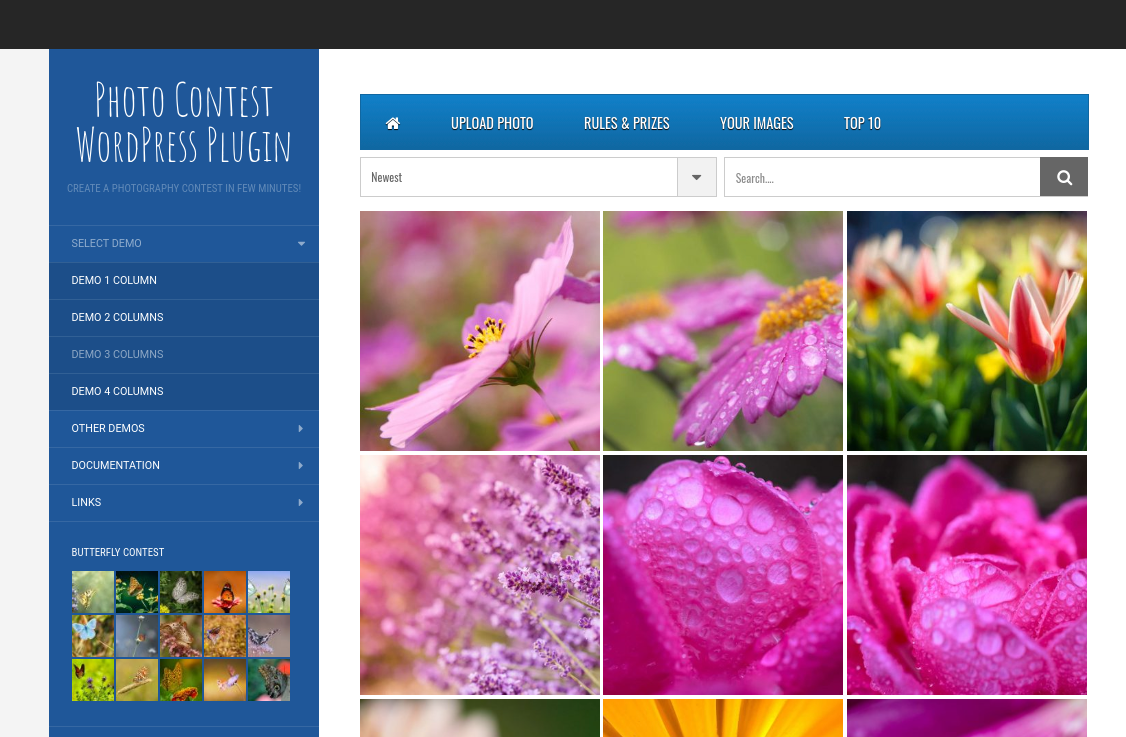 Next up, Photo Contest WordPress Plugin is the perfect tool if you're looking to run an image-related contest. For example, you can give people the opportunity to show off their creative or artistic abilities for the chance to win a product or service.
This plugin enables you to create a contest in which participants upload their photos as entries: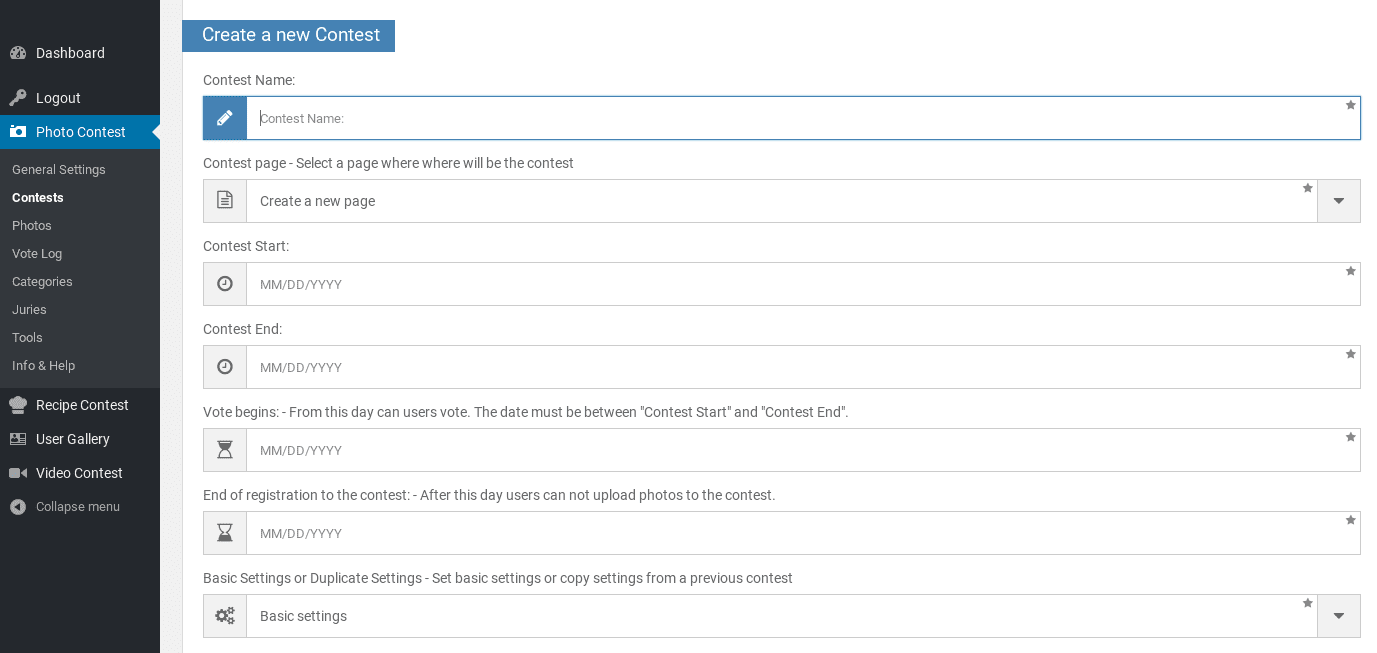 You can easily configure the contest duration times, define the restrictions, rules, and requirements, and even control the voting process. For example, you can decide whether the winner will be based on votes from the public or only from individuals taking part in the contest.
Key Features:
Provides complete photo and voter control and multiple voting methods
Enables you to review entries and limit entries per participant
Offers email notifications and social sharing options (Facebook, Twitter, Pinterest, etc.)
Includes nine layers of fraud protection
Features support for multiple languages
Photo Contest is for you if…
… you know that the giveaway you want to run on your website is a photo contest or a similar skills-based competition.
Price: $39 | More Information
3. Video Contest WordPress Plugin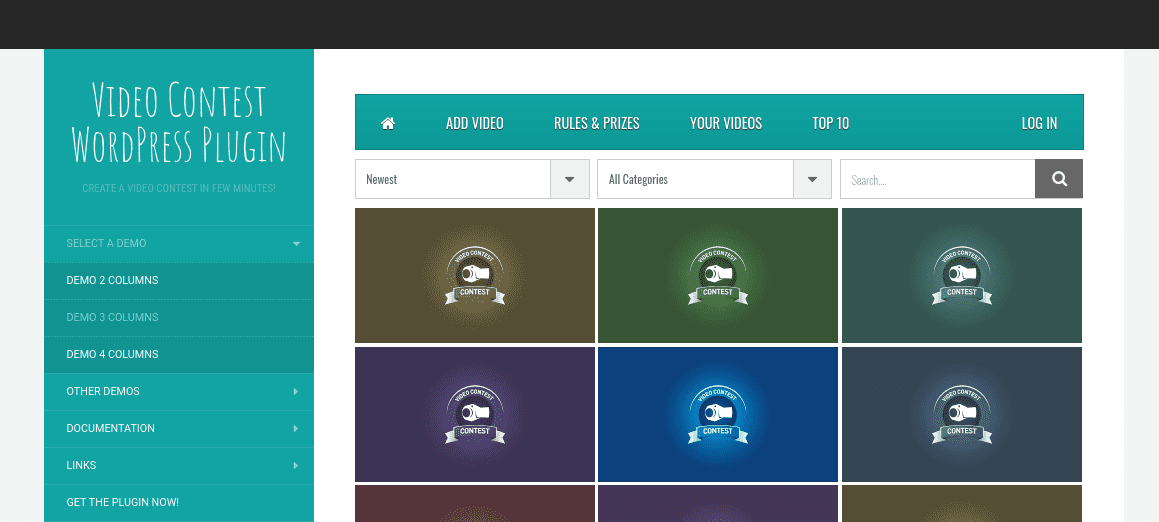 Made by the same developers as Photo Contest, Video Contest WordPress Plugin is a tool designed specifically for running video-related competitions. As the name suggests, you can use it to create and manage video contests on your WordPress website.
Just as with Photo Contest, you have complete control over the rules, parameters, and voting settings: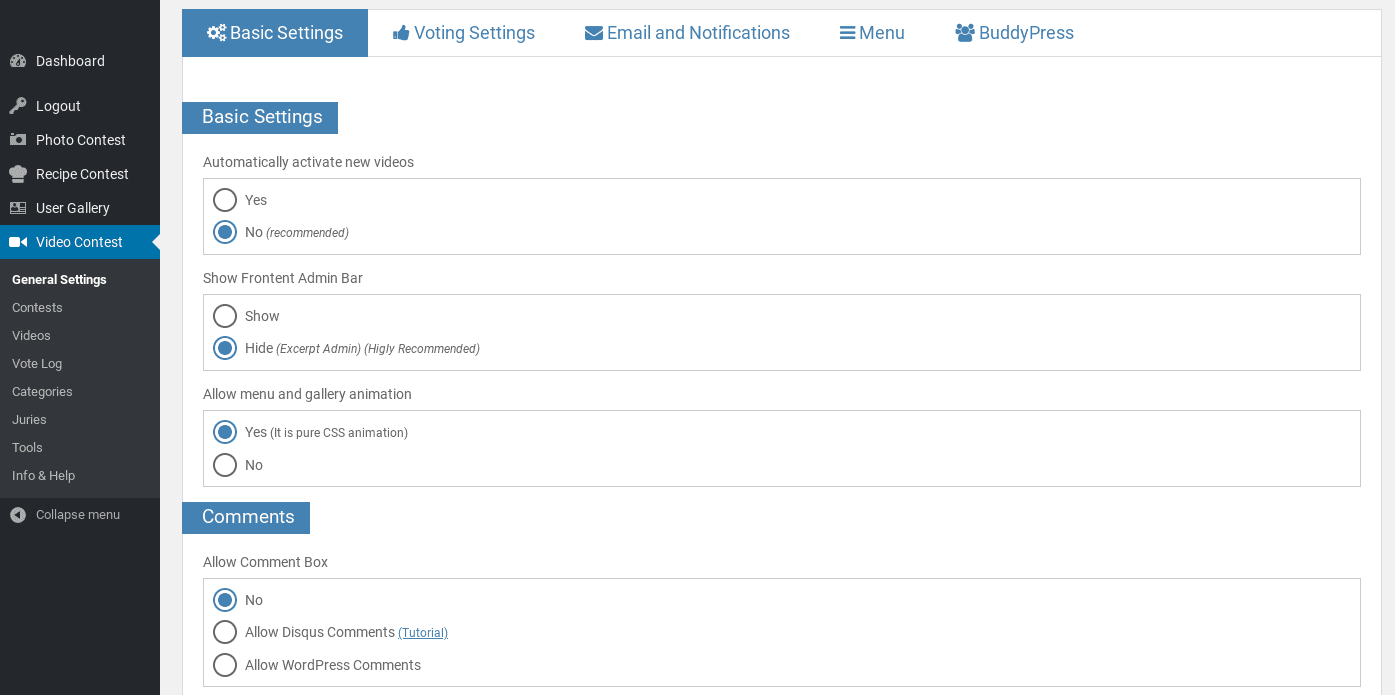 You can also manage the comments, video sources, and submission requirements. Participants can upload their videos, and then users will be able to cast votes for their favorites.
Key Features:
Enables you to create unlimited contests
Offers various voting modes
Includes email notifications and social media integration (Facebook, Twitter, etc.)
Features an intuitive admin panel
Offers nine layers of fraud protection
Is translation-ready and supports nine languages
Video Contest is for you if…
… you need a high-quality plugin for running video contests on your site, or want to run unlimited competitions.
Price: $39 | More Information
4. WP Contest Creator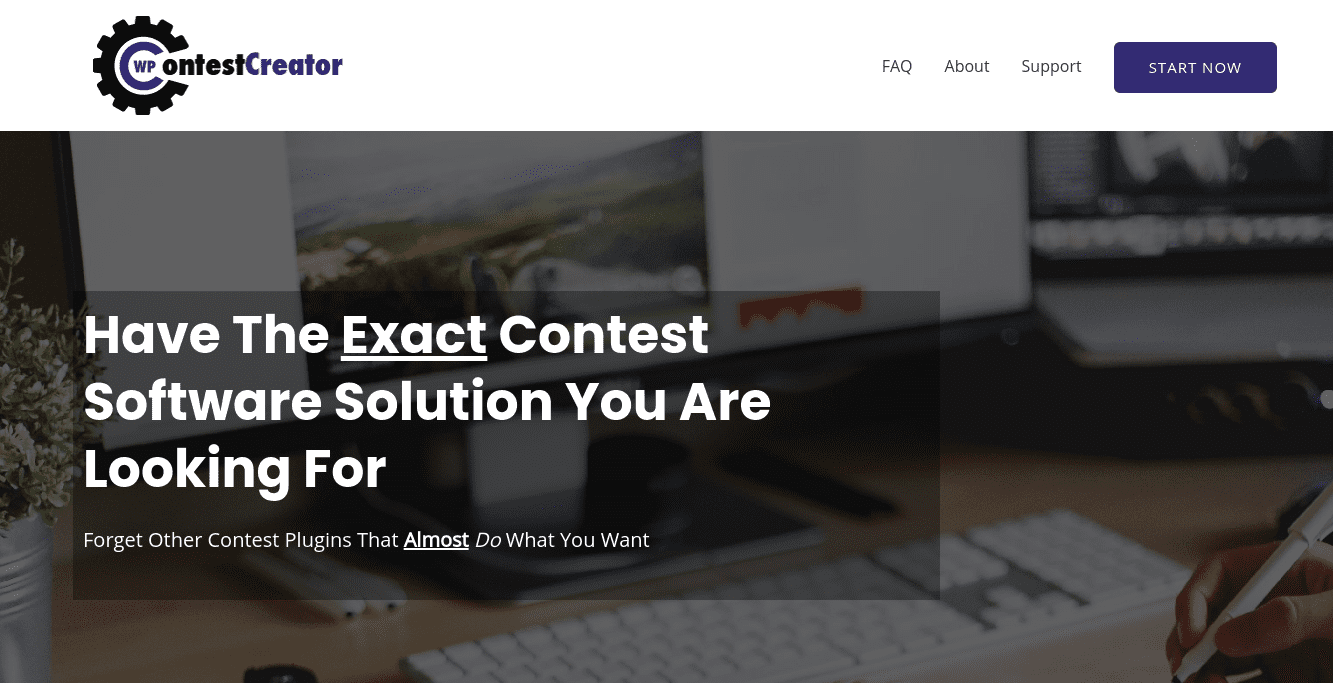 When it comes to customizable solutions for creating and running WordPress contests, it's hard to beat WP Contest Creator. This plugin provides a user-friendly platform that you can use to build a giveaway or contest according to your specific needs.
WP Contest Creator works a bit differently than other options on this list. Rather than asking you to pay a fee for a cookie-cutter premium plugin, the developers build one for you, using the base plugin as a starting point. You'll tell the developers what you need and answer any questions they have. Then you'll receive a quote for your custom WordPress contest plugin.
Key Features:
Provides a custom solution tailored to your needs
Offers three- to five-week completion
Integrates with popular email services and social platforms
Includes the option for gamification through leaderboard displays
WP Contest Creator is for you if…
… you're looking for a custom solution, but don't have the time or expertise to create your own plugin from scratch.
Price: Contact the developer for a custom quote | More Information
5. KingSumo Giveaways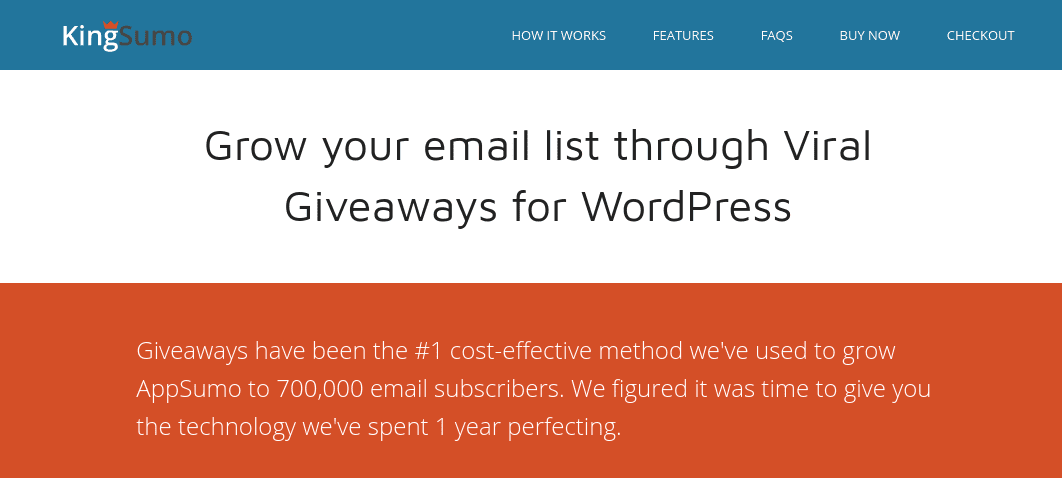 KingSumo Giveaways is a premium giveaway and referral marketing tool that you can use to grow your email list significantly. Along with its clean and intuitive User Interface (UI), this plugin's key advantage is that you can use it to create a giveaway in less than a minute.
Once your giveaway is ready, you can begin promoting it via your website, social media, and email. Every time one of your visitors shares the giveaway, you get another opportunity to expand your subscriber list.
Key Features:
Enables you to create unlimited giveaways
Includes social sharing options (Facebook, Facebook Messenger, Twitter, etc.), as well as integration with popular email services
Offers customizable start and end time scheduling
Features proprietary technology to increase the chances for vital content
KingSumo is for you if…
… your main goal is to grow your email subscriber list.
Price: $198 | More Information
6. WooCommerce Lottery

Next on our list, WooCommerce Lottery is a popular extension among WooCommerce users. If you own an e-commerce store, you can use this tool to create competitions, lotteries, and other types of contests to run directly from your shop: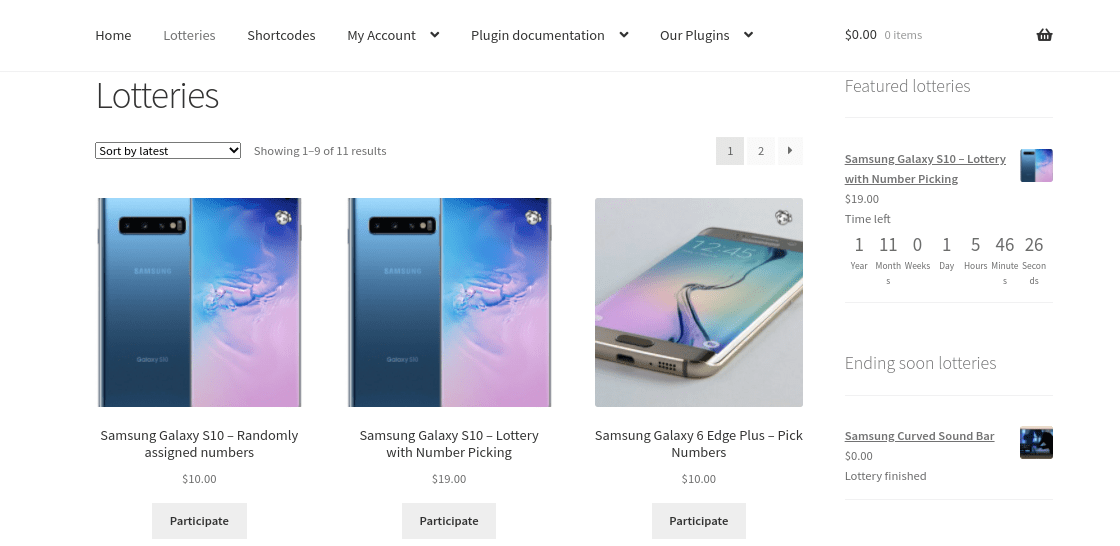 WooCommerce Lottery is also beginner-friendly, making it nearly effortless to set up and use (even if you're new to WooCommerce). In fact, the plugin enables you to install, configure, and begin your lotteries in less than half an hour post-purchase.
Key Features:
Provides seamless WooCommerce integration
Includes the option to define lottery winners
Enables you to offer single or multiple prizes, as well as refundable tickets
Lets you define lottery start and end times
Offers email notifications
Includes starting/ending soon widgets
WooCommerce Lottery is for you if…
… you're looking for a contest plugin for your WooCommerce store, or want to run lotteries through your online shop.
Price: $23 | More Information
7. Simple Giveaways

Simple Giveaways comes in a free, limited version that covers the basics of creating and managing a giveaway on your WordPress site. However, in order to unlock the full suite of features, you'll need to upgrade to the paid version.
One of the benefits of this plugin, aside from how affordable it is, is its simplicity. It boasts a clean UI that is excellent if you're looking for something without too many bells and whistles:

Simple Giveaways lets you create numerous methods for giveaway participants to submit their entries. Also, thanks to its social media integration options, you can connect your contest with networks such as Facebook and Twitter. This plugin offers support for popular email marketing services and tools as well.
Key Features:
Includes options for giveaways, contests, and sweepstakes
Provides social media and email marketing integration
Offers a customizable giveaway landing page, as well as a giveaway shortcode and block
Lets you offer multiple ways to submit giveaway entries
Includes referral sharing links, fraud protection and built-in CAPTCHAs, and tracking and reporting features
Simple Giveaways is for you if…
… you're looking a basic, easy-to-use solution that doesn't require any complex setup.
Price: Free, with a premium version starting at $49.99 | More Information
8. Contests by Rewards Fuel

Last but not least, Contests by Rewards Fuel is a powerful and impressive plugin that lets you build and run giveaways directly from your dashboard via a visual editor: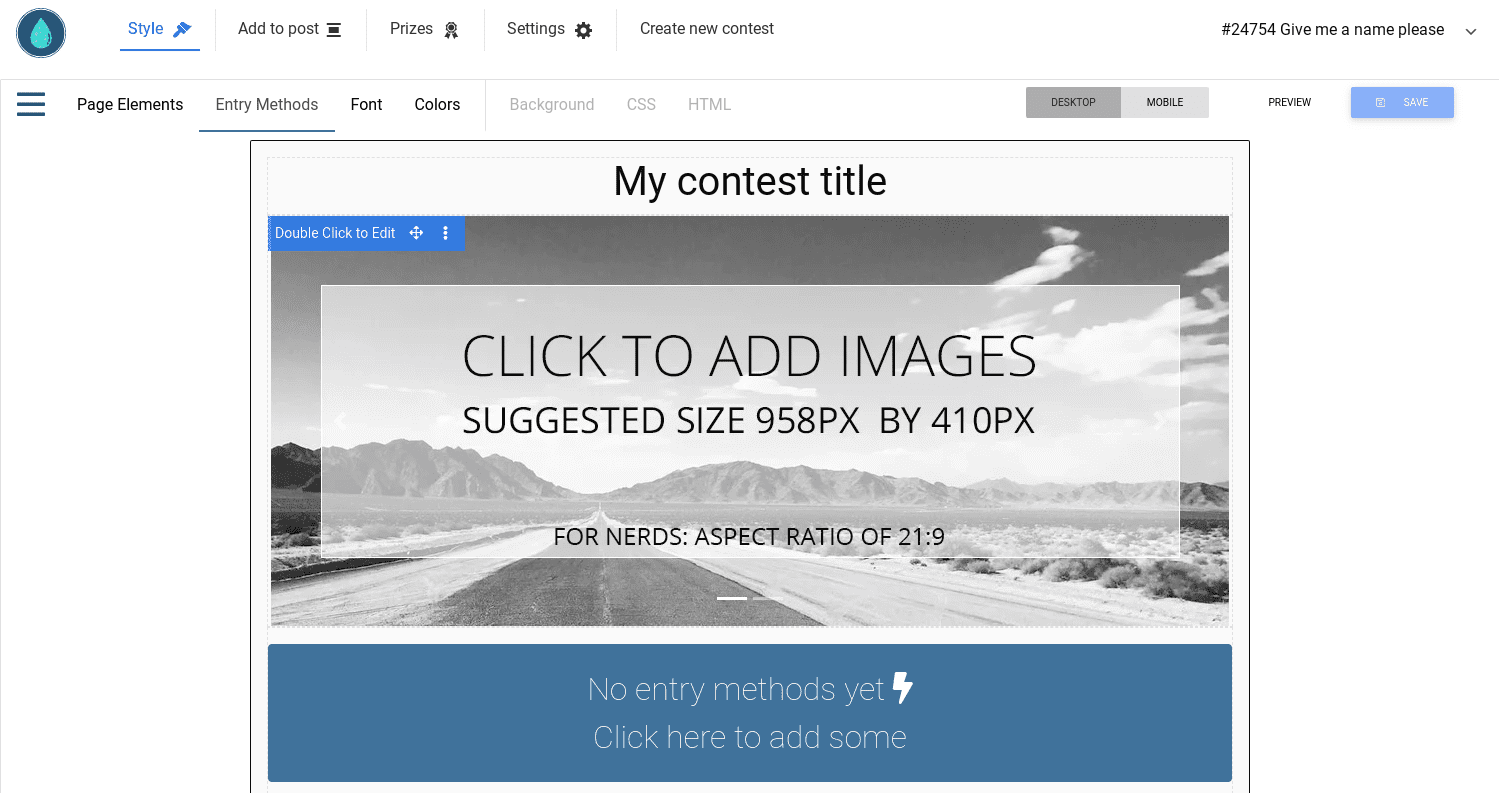 Not only is this tool easy to use, it also enables you to create a variety of competitions and tailor them to meet specific goals. You can focus on increasing site traffic, growing your social media following, and so on. You can also choose from a wide selection of entry methods:

Although the free version is less popular than some of the other WordPress contest plugins on this list, it does have favorable ratings. It's also a highly scalable option thanks to Rewards Fuel's various plan options.
Key Features:
Provides 35 entry methods and entry verification options
Lets you offer digital prizes (tickets, software, gift cards, etc.)
Includes contest performance statistics and reporting
Offers features to encourage viral social sharing (Facebook, Twitter, Instagram, etc.)
Features location selection for targeting or blocking certain countries, and support for multiple languages
Includes contest duplication, a dedicated contest block, and custom terms and conditions
Enables contest automation via built-in scheduling
Contests by Rewards Fuel is for you if…
… you plan to reward your winners with digital prizes, and social media is a significant part of your outreach initiatives.
Price: The plugin is free, while Rewards Fuel itself offers a free solution as well as premium plans starting at $11.63 per month | More Information
Conclusion
When you're managing an online business, uncovering new and effective ways to increase traffic and engagement is sometimes difficult. One strategy you can use to attract attention and boost interactions among your existing audience is to run a contest. There are many benefits to doing so, but your results will depend on whether you select the right tool.
As we've seen, there are many WordPress contest plugins you can use to create an effective online giveaway. Each is suited to different needs and goals. If you're looking for a quick and easy solution, for example, Simple Giveaways might be worth a try. On the other hand, WP Contest Creator provides you with a fully custom contest solution.
How do you plan to incorporate contests into your marketing and promotion strategies? Let us know in the comments section below!
Featured Image via LanKogal/shutterstock.com