An affiliate program is one of the best ways to get sales, subscriptions, and conversions. When done right, it can enable you to grow your business much faster than it would organically or through traditional online marketing. The only problem is that WordPress doesn't offer an affiliate system out of the box. That means you'll need to choose a WordPress affiliate plugin to use, based on what type of program you want to run and what you're promoting.
Easy Affiliate is a newcomer to this niche, and it has a lot of useful features that make it stand out from the pack. In this article, we'll introduce you to this plugin and discuss its features, pricing, and ease of use.
Let's get to it!
An Introduction to Easy Affiliate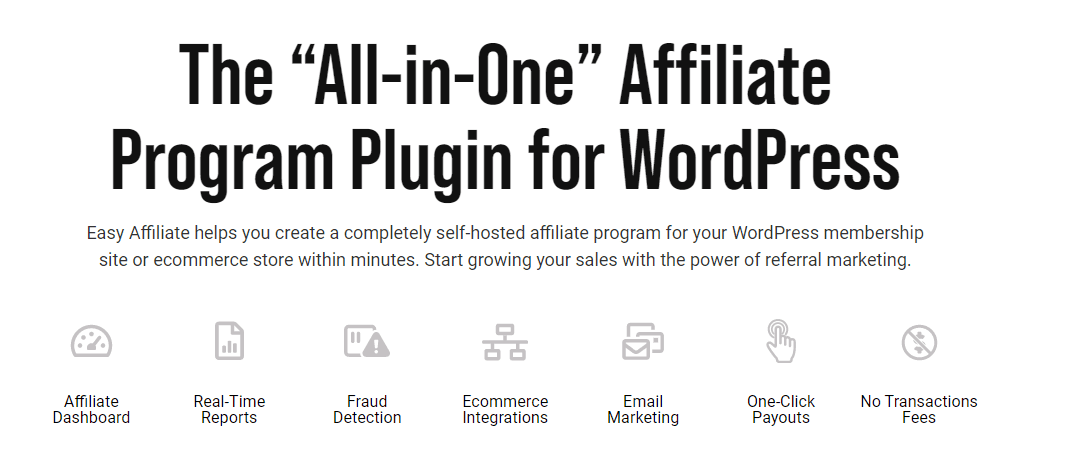 Easy Affiliate is a WordPress affiliate program plugin from the same team that created MemberPress, Pretty Links, and several other popular tools. Initially, the MemberPress team developed Easy Affiliate for internal use. However, once they realized they had such a useful solution on their hands, they decided to release it as a separate product.
By using Easy Affiliate, you can set an affiliate application process to help you recruit the right people. Each member gets access to a personalized affiliate dashboard, including marketing and link management tools. Affiliates can generate new links on demand, and the plugin can track payments that users make via MemberPress, WooCommerce, and Easy Digital Downloads.
What This Plugin Brings to the Table
There are already plenty of WordPress affiliate plugins to choose from, so new contenders need to bring interesting features to the table. Easy Affiliate stands out thanks to its simple setup process and advanced fraud detection functionality. The plugin can flag and reject suspicious transactions automatically, so you don't have to spend time poring over every new lead.
Easy Affiliate was designed to make paying affiliates as easy as possible. The plugin supports PayPal Mass Payments, One-Click PayPal payments, and offline payments. In theory, you can simply log in once a month, check to see if the plugin has flagged any transactions, and pay every member with a single click.
In addition, Easy Affiliates integrates with Mailchimp, ActiveCampaign, and ConvertKit. Those integrations make it easy to reach out to your affiliates and inform them about updates to the program, problems with their signups, and more.
In a nutshell, this plugin includes all of the features you'd expect to see in a third-party affiliate program platform. More importantly, it works seamlessly with many popular tools, including WordPress e-commerce plugins and email marketing platforms.
On paper, all of these features make Easy Affiliate a great pick for any business that wants to launch an affiliate program through WordPress. However, before making a recommendation, we'll test the plugin ourselves and show you what it looks like in action.
Key Features:
Set up an application process for new affiliates
Configure custom rates for affiliates using different sets of rules
Give affiliates access to a custom dashboard
Create marketing materials for affiliates to use
Enable members to generate affiliate links on demand
Integrate your affiliate system with popular e-commerce plugins
Integrate your affiliate system with popular email marketing services
Get automatic fraud detection for commissions
Pay affiliates with a single click using PayPal
Price: Plans start at $99.50 per year for one site | More Information
Easy Affiliate in Action (3 Key Features)
Easy Affiliate offers a lot of features. With that in mind, we'll test the plugin for ourselves and focus on some of its most critical functionality. We'll show you how the plugin's setup works, and explore its custom affiliate application process. We'll also go over how to set up commission rules for new affiliates. Let's get to it!
1. Setting Up Your Affiliate Program
Installing and activating plugins is easy. However, the configuration process that comes afterwards varies a lot. The more complex the plugin is and the more features it adds, the longer it usually takes to configure.
Easy Affiliate takes some time to set up, because you get so many systems to play with. However, the plugin provides a handy setup wizard and a video tutorial, both of which streamline the process.
The first thing you'll need to do is enter your Easy Affiliate license key. Once you do, the plugin will check to see if you have another affiliate tool installed, and let you migrate its data: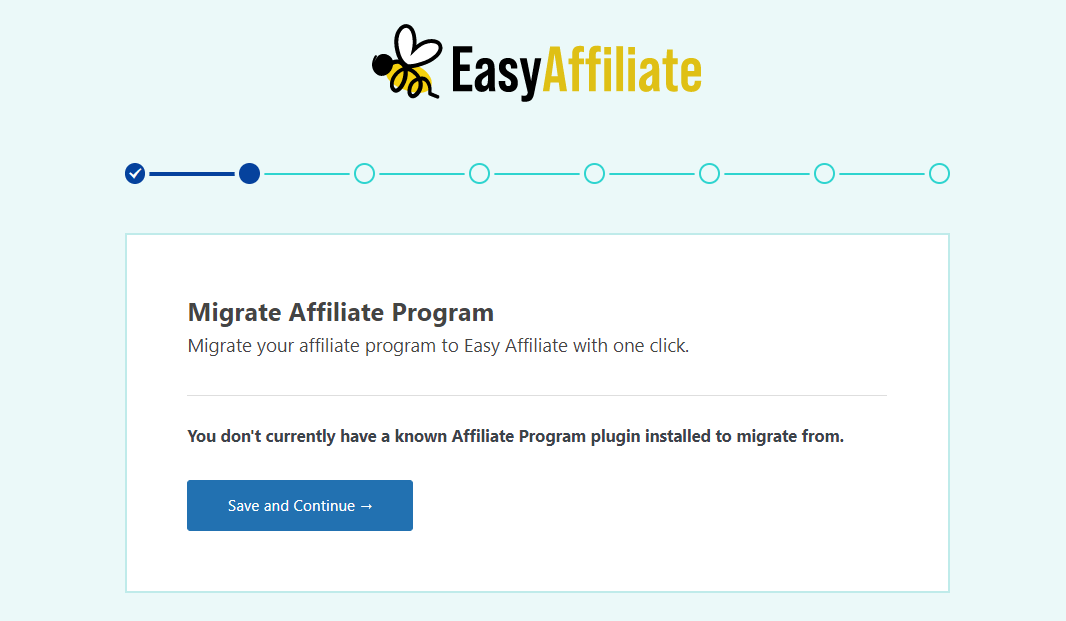 Next up, the plugin will check to see if you're using WooCommerce, MemberPress, or Easy Digital Downloads. If so, you'll see an option to enable payment integration for it: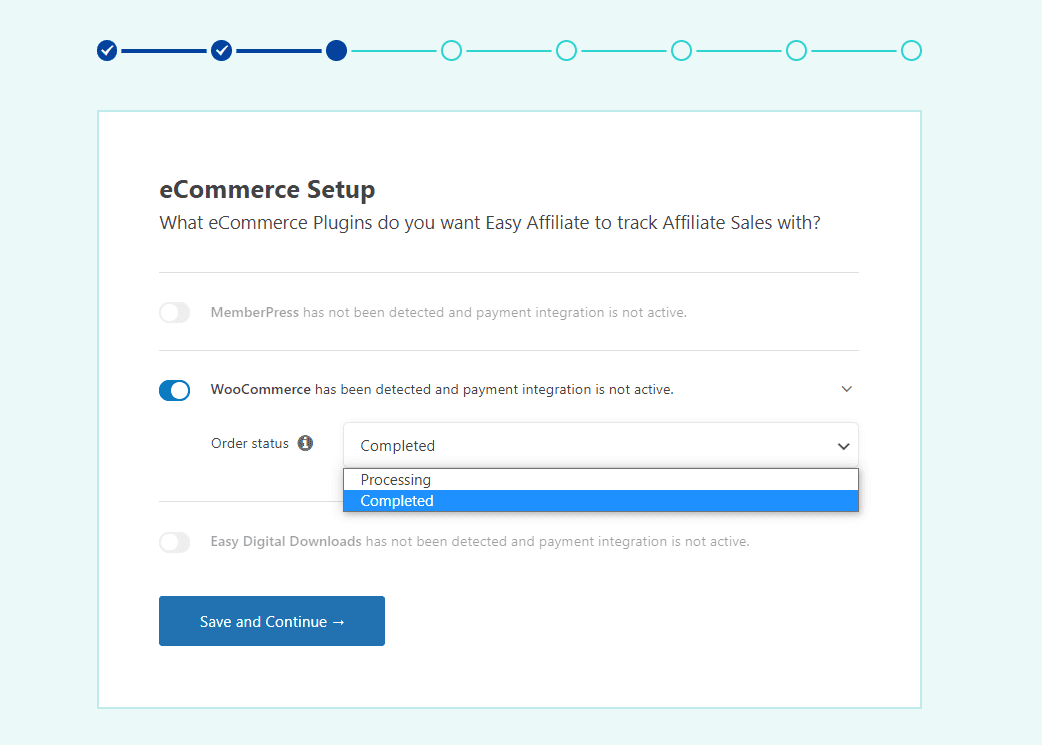 Then it's time to fill out some basic forms. Easy Affiliate will ask for your business' name, its address, and other basic details it needs for accurate record keeping: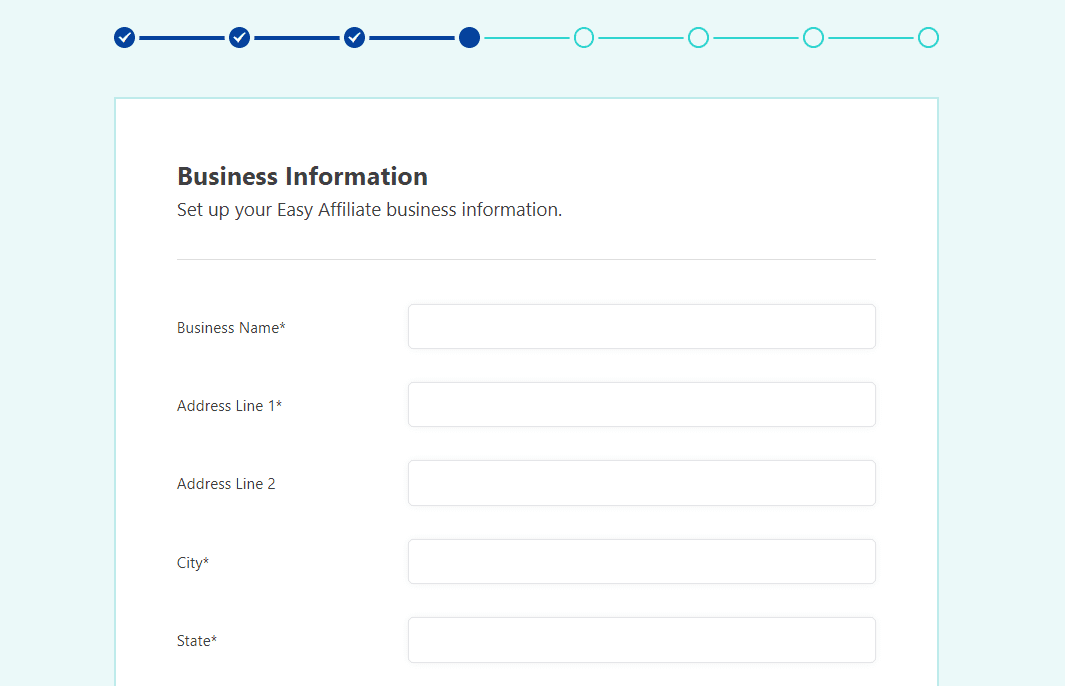 Afterward, it's time to decide what type of application process you want to offer affiliates. You can have an open registration system that doesn't require approval, ask members to submit applications to you, or add them manually.
Moreover, the plugin can collect address and tax information from new affiliates during registration. You can even create your own affiliate agreement and require members to read it before signing up: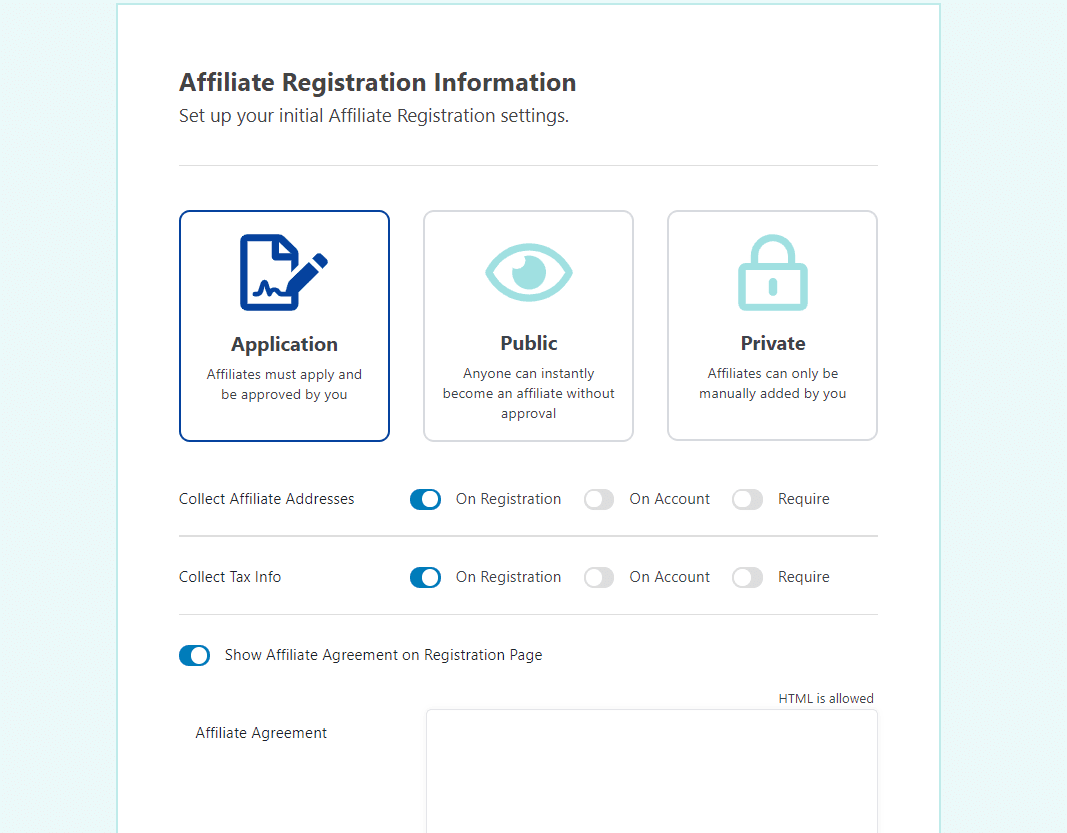 During the next step, Easy Affiliate will ask you to configure your general payout and commission settings. You can set up commissions to work on a percentage or flat fee basis. For subscription commissions, the plugin lets you decide whether to pay affiliates for the first month only or on a recurring basis: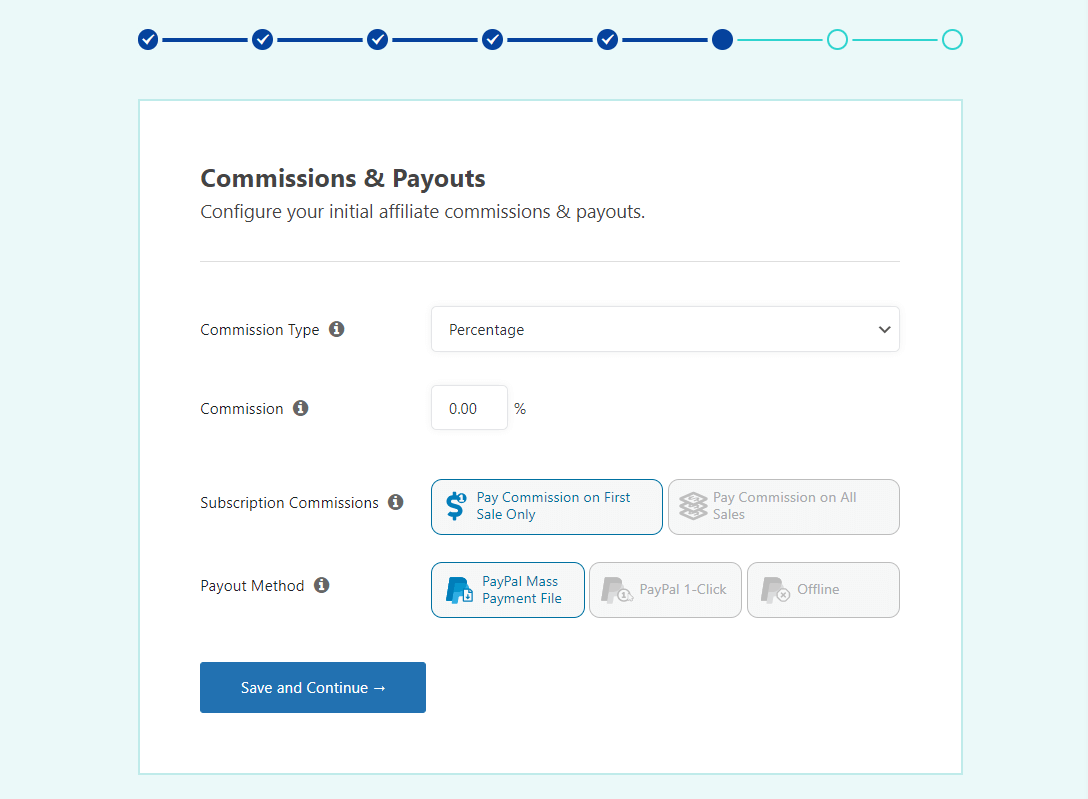 Finally, you can upload any marketing files or copy you may want affiliates to use. If you haven't begun working on creatives yet, don't worry – you can come back to any of these settings later: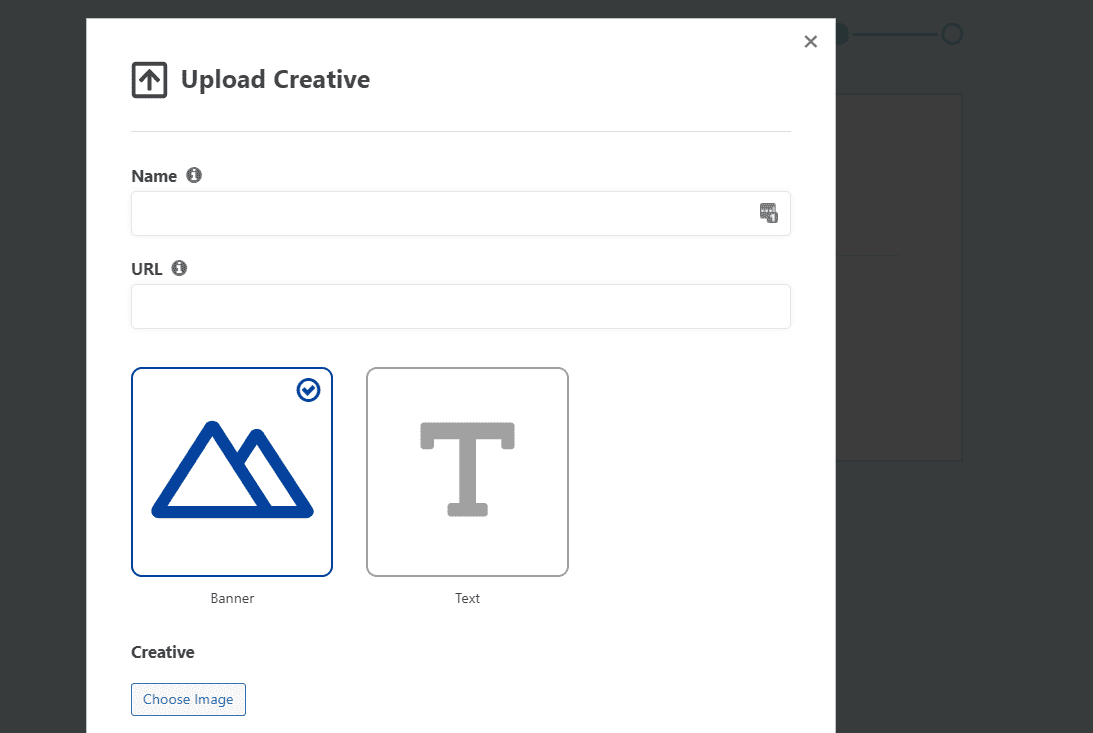 That's it! The final step of the setup wizard will provide an overview of the settings you just went over. Now you're ready to start signing up affiliates.
2. Signing Up New Affiliates
If you went through the Easy Affiliate setup wizard and you enabled affiliate applications, the plugin will automatically generate an Affiliate Signup page for you. Here's what that page looks like out of the box: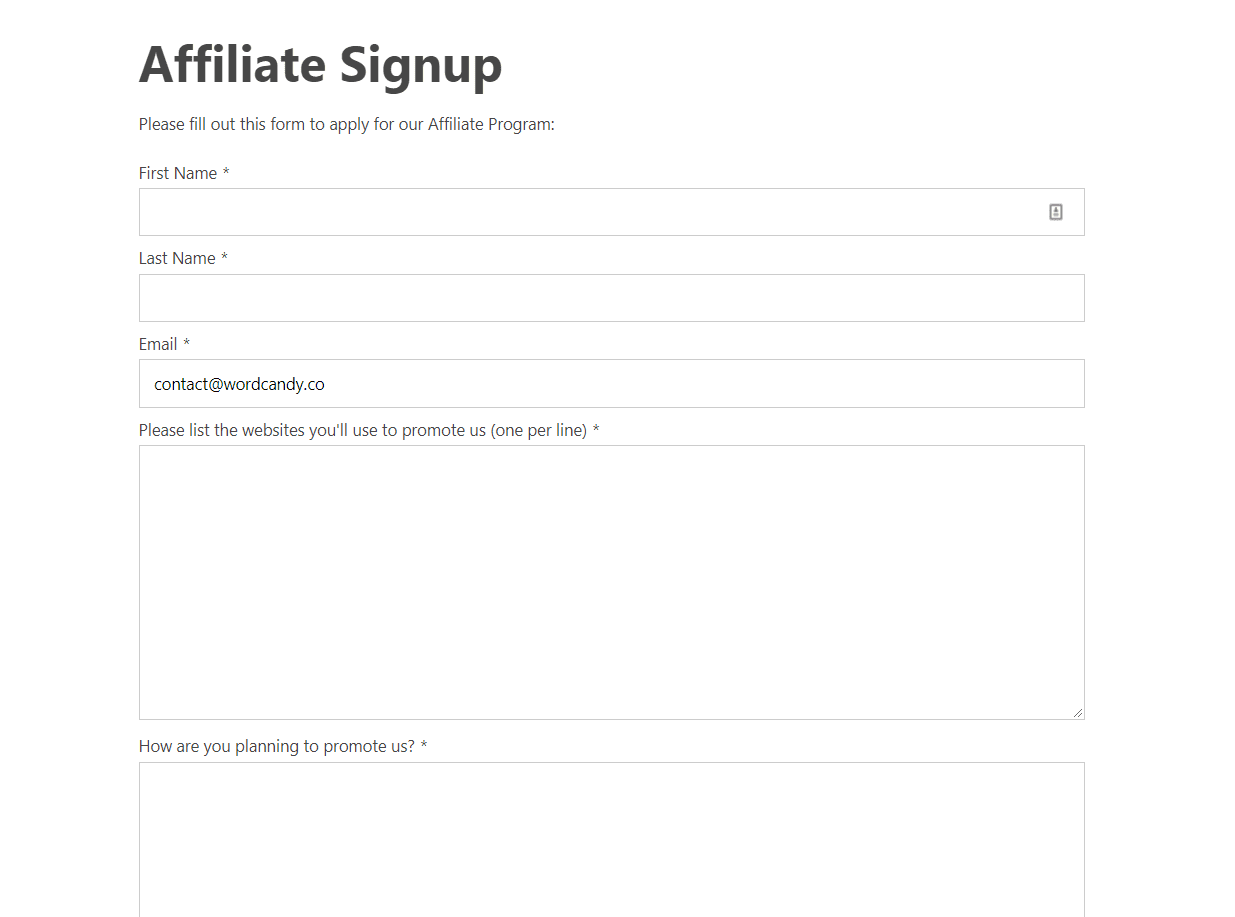 The application form enables you to get to know new affiliates with a basic set of questions. However, the plugin doesn't enable you to add new fields to the form through its settings. That's a missed opportunity, in case you want to ask potential affiliates more in-depth questions about their qualifications, past experiences, and more.
Once a user fills out an affiliate application, the plugin will send you an email to let you know you have a pending task. You can also enable an option in Easy Affiliate that informs applicants if you approve their membership: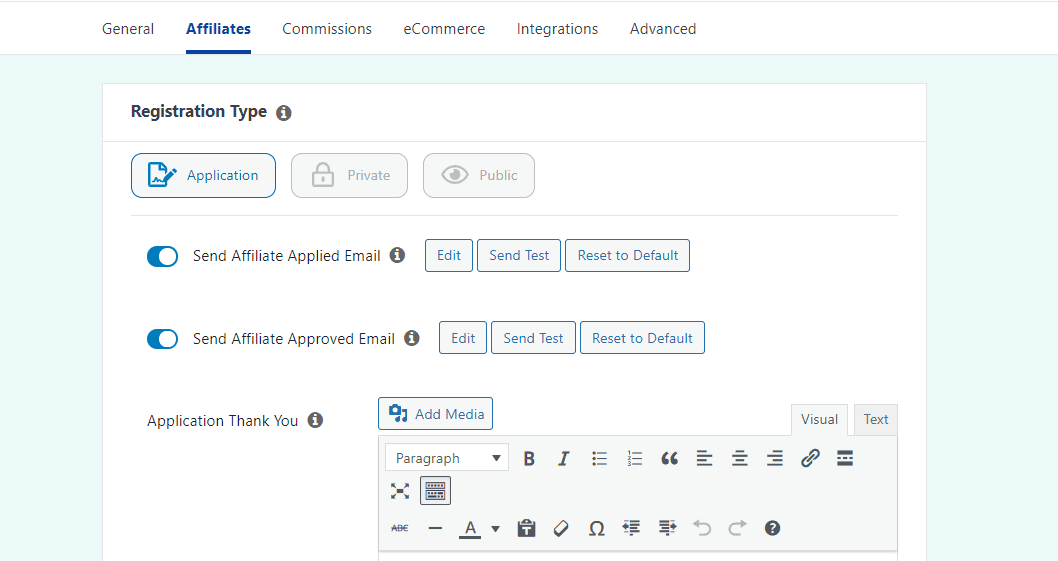 When you get a new application, you can check it out by going to the Easy Affiliate > Affiliates > Applications tab in the dashboard and clicking on it:

Selecting an application will show you all of the information submitted by the user. From this screen, you can change the status of an application to Approved or Ignored: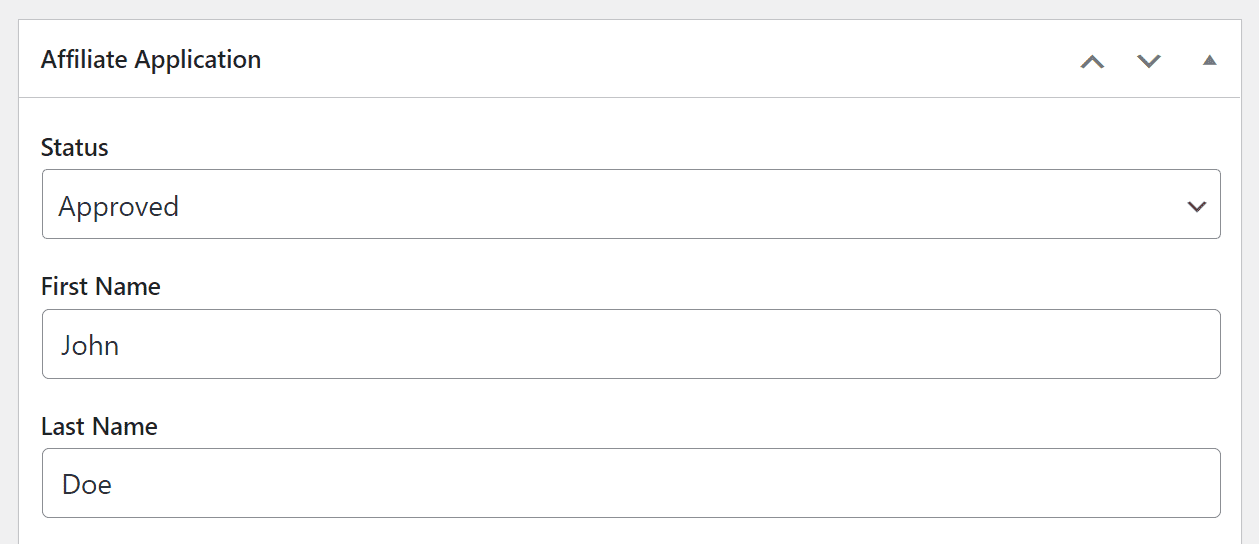 Keep in mind that Easy Affiliate doesn't inform applicants if you decide to ignore their submissions. Once you approve an applicant, they'll receive an email notification and be able to log into your website and check out their affiliate dashboard: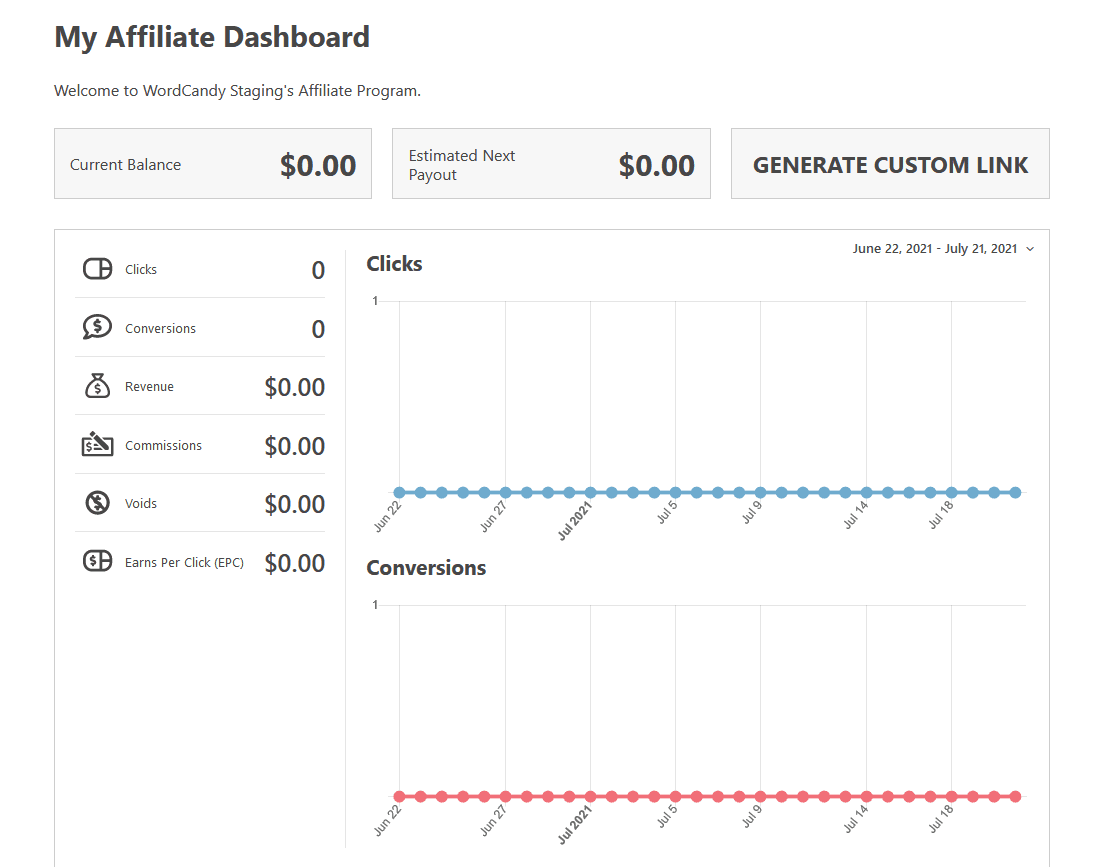 Now that we have our first affiliate set up, we can go on to customize their commissions. Let's go over that process in the next section.
3. Customizing Your Affiliates' Commissions
During the setup wizard, you can set up global commission rates for all of your affiliates. However, Easy Affiliate also lets you configure rates on a user-by-user basis. To do so, go to Easy Affiliate > Affiliates and click on any of your existing members.
The plugin will open the WordPress user editor screen, which now includes several sections devoted to your affiliate program: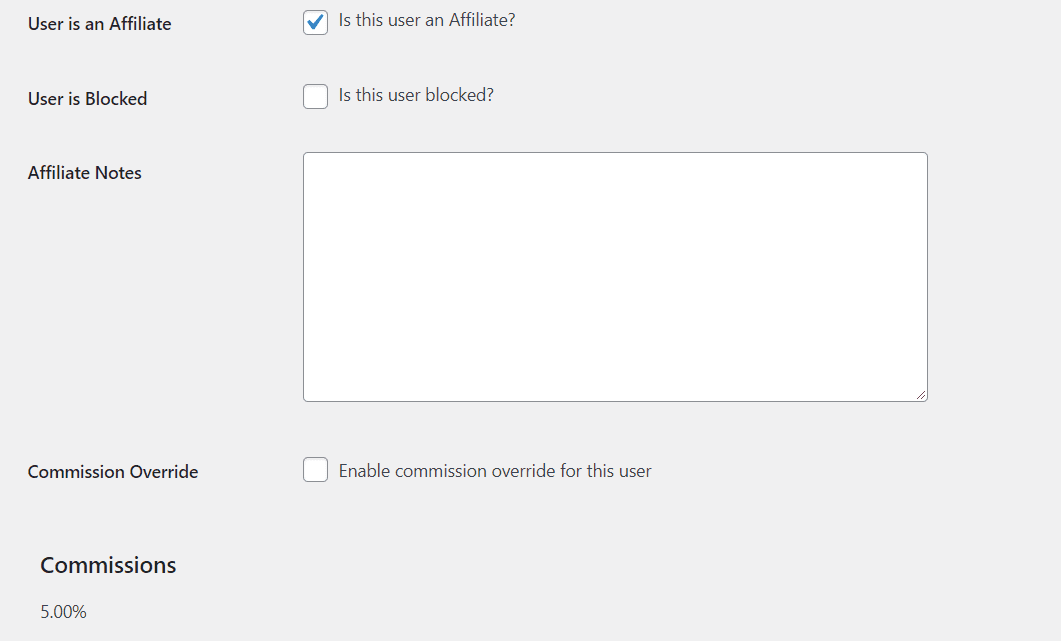 If you check the Enable commission override for this user setting, the plugin will let you set up custom commissions for that particular user:
This system will enable you to offer better commissions to your top affiliates. It's easy to use, and depending on what license you buy, you may also be able to create custom commission tiers.
Who Should Use This Plugin To Build Their Program?
This is one of those cases where a plugin's name perfectly matches what it offers. Easy Affiliate enables you to set up a fully working affiliate system in a matter of minutes. That's not an exaggeration – this plugin offers perhaps the easiest onboarding experience that we've seen so far among affiliate plugins
Especially if you're already using MemberPress, WooCommerce, or Easy Digital Downloads, you can use Easy Affiliate to enable affiliate marketing without skipping a beat. As far as integrations go, this plugin is also a great option if you're already using MailChimp, ConvertKit, or Active Campaign.
Of course, it's important to keep in mind that we're talking about a relatively new plugin. Given its pedigree, Easy Affiliate is already pretty polished. However, there's still plenty of room for new features and changes. For example, we'd like to see the option to customize affiliate application forms. It's also easy to miss the fact that you can configure custom affiliate commissions unless you already know the feature is there.
It's also worth noting that the Basic Easy Affiliate plan doesn't offer fraud prevention and affiliate tier functionality. For those features, you'll need to opt for the plugin's more advanced licenses. However, aside from those caveats, the Basic tier should be perfect for a growing e-commerce business.
Conclusion
Affiliate programs are an amazing way to drive growth for your online business. If you're willing to pay affiliates a fair commission, they'll be highly motivated to help you find new customers. However, for that to work, you'll need to find a way to integrate an affiliate system into WordPress.
There are plenty of affiliate plugins that do just that. Easy Affiliate is the latest to join their ranks, and in our opinion it offers one of the most intuitive setup experiences we've tested so far. The plugin also integrates out of the box with WooCommerce, Easy Digital Downloads, and MemberPress. If your business relies on any of those plugins, Easy Affiliate is a safe bet.
Do you have any questions about Easy Affiliate? Let's talk about them in the comments section below!
Featured Image via VectorMine / shutterstock.com