You've spent weeks, if not months, working out a business plan that'll earn you a profit. You have your products ready. You know for a fact that selling your goods online is the way to go. Now the big question – how do you get started?
Breaking into e-commerce can be a daunting proposition for beginners, but fortunately, WordPress gives you a large range of options for putting your goods in front of the world. The platform has come on in leaps and bounds over the last few years in this regard and has emerged as an extremely viable e-commerce platform in its own right.
In this article, we'll cover everything you need to know for turning a standard WordPress site into an online store. We'll cover all the tools you need in WordPress itself and introduce you to crucial core e-commerce concepts to help get you orientated.
Let's get going!
Why WordPress Is a Great Fit for E-Commerce
With fully hosted options such as Shopify and Big Cartel gaining in popularity, the amount of e-commerce options available to site owners has never been greater.
Dedicated options are certainly tempting for many, but there is also an awful lot to be said for running things entirely through WordPress – you'll benefit from the platform's inherent flexibility, have complete control over your content, and can take advantage of support from a thriving community.
The recent purchase of WooCommerce by Automattic has also moved e-commerce very much to the forefront of thinking in the WordPress world. WooCommerce is already powering an astonishing 30% of online stores, proving that WordPress is more than capable of powering serious e-commerce sites.
You'll have to do a little work in terms of setup to get WordPress ready for e-commerce, but it's more than worth it. Running your own online retail environment puts you in the driving seat and means you can target customers directly without having to sacrifice a cut of the profits as you would with retailers such as Etsy, Amazon, and eBay. You'll be the one making decisions about stock, pricing, and shipping, and are free to mix things up and expand as you need.
Let's start looking at getting WordPress set up to sell.
Preparing WordPress for E-commerce
As we mentioned above, WordPress isn't an e-commerce solution right out of the box. There are two main elements you'll need to incorporate to get things going:
Product pages: This is where you'll be looking to entice customers in with a mix of compelling copy and attractive product images. WordPress' native page functionality gets you off to a good start here and is at the core of most e-commerce solutions for the platform.
A shopping cart and checkout process: Obviously, once users are happily browsing your pages, you need a mechanism for them to actually select products and complete a transaction. The shopping cart takes care of the first part of the equation and some sort of checkout process that securely integrates with a payment provider is the final step. We'll look at payment gateways in more detail shortly.
As with most things WordPress related, the key to putting this all together lies in plugins and themes. Let's look at three of the leading candidates.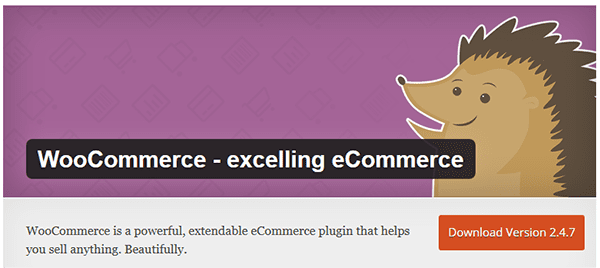 WooCommerce is a full-featured e-commerce plugin that provides the necessary backend for your product pages, shopping cart, and checkout process. With over ten million downloads and well over a million active installs, it's by far the leading WordPress e-commerce solution.
WooCommerce is almost a platform in itself these days and has a wide range of specialized themes and extensions (both free and premium) available to handle pretty much every possible requirement of an online shop.
It's worth mentioning at this point that we offer high-quality WooCommerce themes here at Elegant Themes. These custom themes provide a distinct look to your e-commerce site with attractive options for your product pages and shopping cart, along with integrated social sharing features.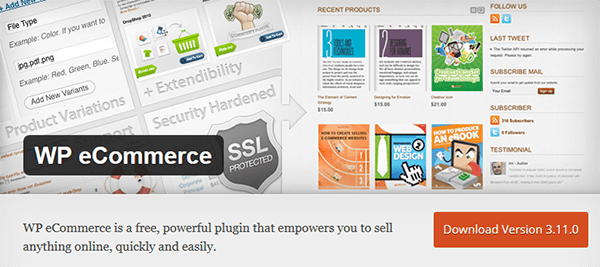 It doesn't have quite the range of features and functionality that WooCommerce boasts, but WP eCommerce is another popular choice for implementing an online store in WordPress. It will also cover your needs in terms of product pages, shopping cart, and checkout functions for an e-commerce site.
Premium plugins are also available to handle things like offering subscriptions and downloadable products and the software integrates with all leading payment processors.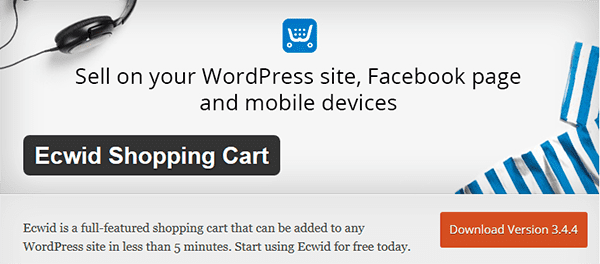 Ecwid tackles the problem from a slightly different perspective than our previous two picks. Rather than building from the bottom up with WordPress pages, it provides you with a remotely managed online store that you then embed in your site using the Ecwid Shopping Cart plugin.
It's an interesting separation of concerns and makes for a very tidy integration if you have other areas of focus besides e-commerce on your site. It also means that, strictly speaking, you're not tied to WordPress as a platform.
Sign-up and use are free for up to ten products and tiered monthly pricing (without transaction fees) is available thereafter. Ecwid includes support for 40 international payment options and 45 languages (useful if you plan to sell products worldwide), real-time shipping integration (to calculate the most accurate shipping prices), and a host of other features.
With an e-commerce plugin installed your WordPress site is just about ready to sell products, but there are a few other vital elements you'll need to consider. Let's move on to the big one.
Accepting Payments
In order to actually receive money from eager customers, you're going to have to engage the services of a payment gateway. Payment gateways can be a confusing topic for newcomers to e-commerce. What are they? Which one should you use? How much can you expect to cough up in transaction fees? There's a lot to take on board so let's get the basics out of the way.
A payment gateway is a service that takes care of the transactional component of a purchase for you. It will securely receive a customer's information (usually via credit card, but other methods such as direct bank transfer and Bitcoin are also possible), make the appropriate charges, and then pass the money on to you.
If you stop to consider the potential complexity involved in doing this, you'll quickly see the benefit in having a trusted provider take care of this for you. The number one feature to look for when selecting a payment gateway is security. You want a service with an outstanding track record that's trusted by customers worldwide.
For many shop owners, the simplest option to start off with is PayPal. If you select PayPal as your gateway, the customer will be required to use their PayPal login or submit credit card info through the company's website. It's a secure solution accepted worldwide and relatively easy to get set up with. As with any of these services, you'll incur transaction fees on each purchase.
There are pros and cons with choosing any payment gateway and you'll want to consider factors such as monthly fees, transaction fees, recurring billing options and card types accepted. Formstack have put together a good comparison of the major providers that's worth exploring further if you're coming to this subject for the first time.
You're also free to select multiple options if you feel this will better serve your customers (though it will require more maintenance on your end). You'll also obviously want to be sure that your e-commerce plugin supports the gateway you end up choosing. Plugins such as WooCommerce support all common providers but be sure to check compatability before you sign up to a particular solution.
Inventory and Shipping
When it comes to meeting your customers' needs, how you handle the fulfillment process is critically important. Making sure your products are sent out in a timely manner helps ensure satisfied shoppers and repeat purchases. Getting this wrong can result in headaches for both you and your customers.
There are general rules you should keep in mind when managing physical inventory: always store your merchandise in a safe, secure location and actively manage inventory numbers to make sure the information on your e-commerce site is current.

Tools are available to make inventory management easy so it's worth investigating them. Most e-commerce plugins have built-in inventory features and you can expand on these with extensions. TradeGecko for WooCommerce, for example, is an effective cloud-based solution that offers real-time tracking of your stock.
Shipping is another area that can trip up e-commerce newcomers. The actual costs involved often come as a nasty surprise to less experienced shop owners. A good approach is to offer three basic shipping tiers: Standard (cheapest), Priority (middle-priced), and Express (most expensive). This gives your customers a solid range of options and helps expedite things during crunch periods like the holiday season or Black Friday.
You're spoiled for choice when it comes to plugins for managing shipping options in WordPress. For WooCommerce, one of the standout options is ShippingEasy, an extension that offers shipping options for all major carriers. It enables shipping via USPS, FedEX, or UPS, integrates with your inventory system, and helps produce easy to print shipping labels.
Best Practices to Boost Sales
With the major elements of your WordPress e-commerce site up and running, the next step is maximizing sales. This will be an ongoing concern over the lifetime of your store and consistently using a few tried and tested tactics will go a long way in getting customers to hit the Buy Now button.
Only use high-quality photos: Great product photos do more than make your site attractive. They help communicate the value of the product to the customer and entice them to buy. Be sure your photos are high resolution with the product firmly in focus and provide multiple views. For more details on taking great product photos, check out this guide.
Consider product videos: A product video gives you the opportunity to showcase what you're offering with as much detail as you want and, more importantly, they're proven to boost sales. If you're offering a service, a video is a vital way of explaining its value to the customer. For more information on product videos, check out this article.
Write engaging product descriptions: Your descriptions should cover the basics of the product, i.e.: size, weight, quantity. They should also be thorough, listing the overall quality of the product, where or how it was made, and how it stands out from the competition. Writing great product descriptions is an art, but it can be learned.
Respond quickly to customers: From fulfilling orders to answering pre-sales questions, make responding to your customers a top priority. You might not be able to solve everyone's problems, but responsive communication will go a long way in helping a customer feel satisfied. Also, be sure to provide an FAQ page on your e-commerce site addressing common questions or problems a user might have about your products. This should also cover things like returns and shipping times.
Conclusion
There's no getting around it, starting off with e-commerce is a serious proposition but WordPress take a lot of the heavy lifting out of things. Add-ons like WooCommerce also give you best-of-breed tools that stand comparison with any other e-commerce platform. Let's recap the main points we covered for getting started with e-commerce:
Select the e-commerce plugin you'll use to power your shop. WooCommerce is the leading contender.
Get yourself set up with a payment gateway.
Make sure you're ready to handle inventory and shipping.
Relentlessly seek to drive sales by following best practices once the site is live.
Are you thinking of taking the plunge running your own e-commerce WordPress site? What are your favorite tools or plugins? Do you have any tips to share? Be sure to let us know in the comments, along with any questions you might have.
Article thumbnail image by Zakharchenko Anna / shutterstock.com