Data tables continue to be an effective way to visually represent information on a website like product features, pricing, and other comparisons. But it can be tedious to build a table from scratch. That's why it's important that you have the best WordPress table plugin for the job. Table plugins can be powerful tools for creating tables with advanced functionality and better user experience to accurately showcase your data.
We've gone through the hard work of finding the absolute best free and paid solutions for you, comparing key features, pricing, and more. Hopefully, you'll find the best plugin for adding tables to your websites.
Why Use a Table WordPress Plugin?
Tables are an essential tool for displaying information on websites, as they allow website owners to organize and present data in a clear, skimmable format. They are often used in combination with charts to help visualize data.
Tables can be used to showcase:
Product Features and Specifications
Pricing Comparison table
Schedules
Raw Data from Research
and any sort of information that can be organized easily by a row and column format
By using a table plugin (not to be confused with a table of contents plugin), website owners can ensure that their visitors can easily understand the information being presented in one simple place. This leads to increased engagement and a better user experience.
WordPress has a table block as a core feature of the WordPress editor to build a table from scratch. But the block is limited and difficult to style without custom code. This is where a table plugin comes to the rescue.
The Best WordPress Table Plugins

Subscribe To Our Youtube Channel
Some of the plugins on this list are incredibly packed with features while others focus on specific edge cases. Determine your needs and compare features as you look through these excellent options.
The Best WordPress Table Plugins Listed In Order
Expand List
1. wpDataTables Pro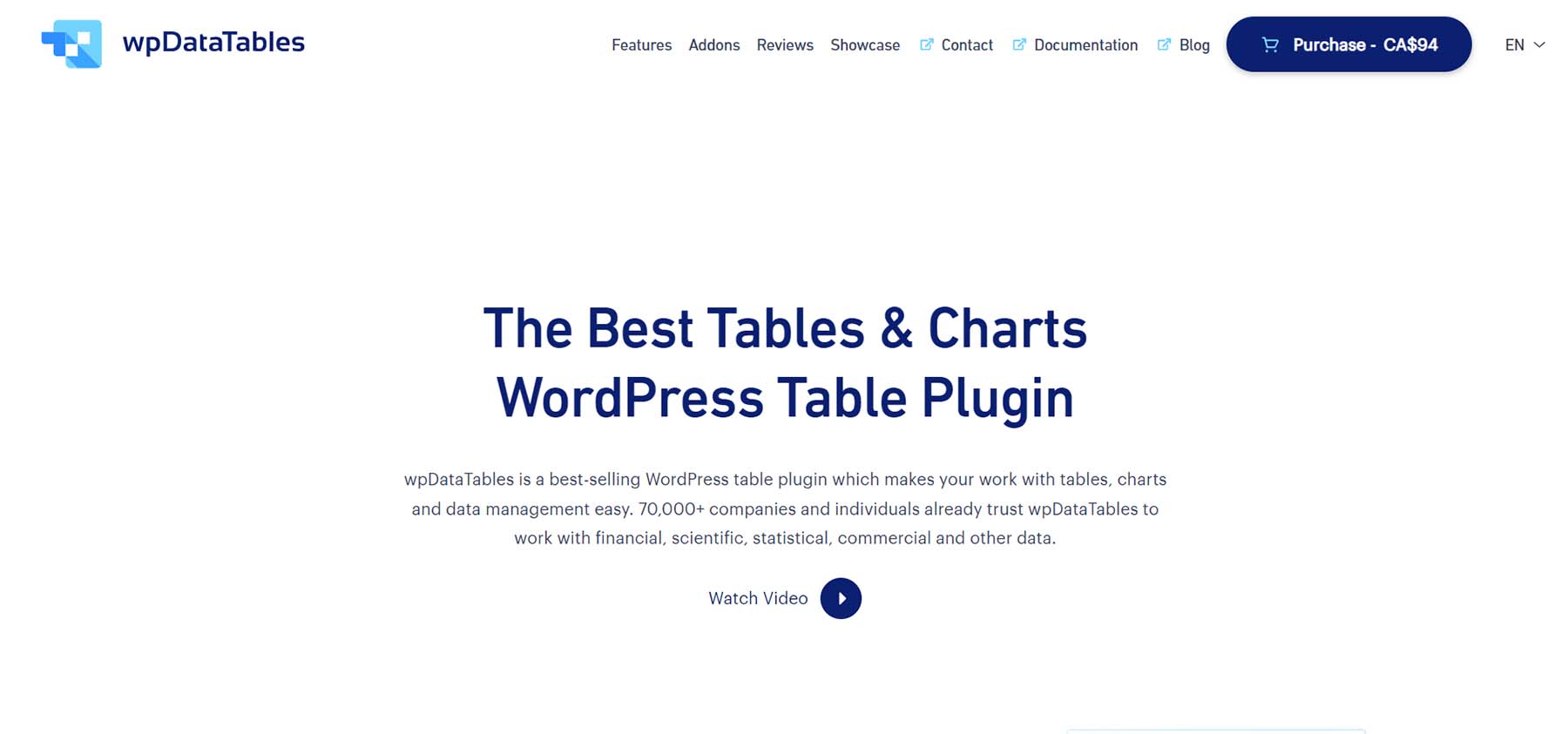 wpDataTables is a unique table builder plugin that creates visually appealing tables without needing any custom code. It provides a quick and easy solution for users who need to add tables to their WordPress website. It is a freemium plugin with essential functions present in the free version, but it truly shines when upgrading to the pro version.
Key Features for wpDataTables Pro:
Easy import of data from external sources
Interactive tables that can be sorted, filtered, and searched
Conditional formatting of cells based on cell value conditions
User role permission for table editing
Export tables and charts to PDF or Excel
Include formulas as cell values
Integrates with Divi page builder for more design options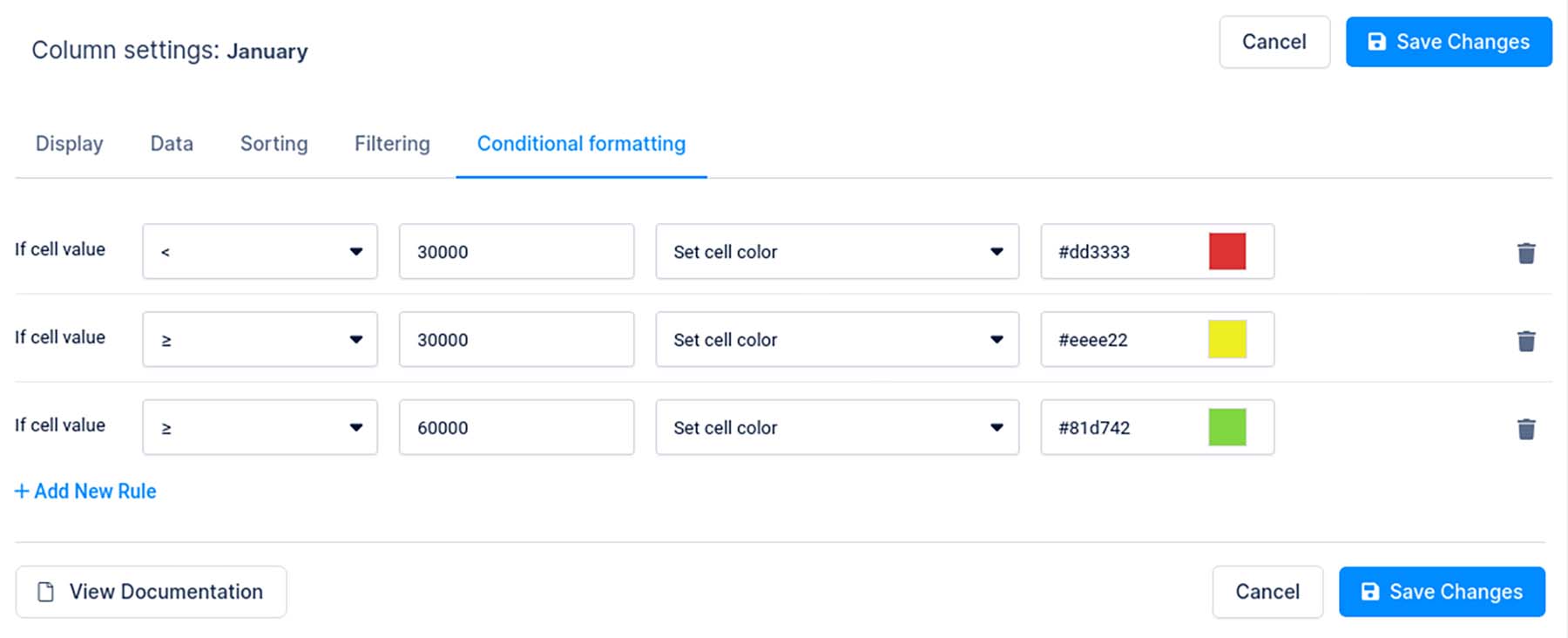 A standout feature for wpDataTables is its conditional formatting feature which allows you to highlight specific data points in your tables based on certain conditions, such as values greater than or less than a certain number. This feature can help make your data easier to understand and make it simpler for them to find the information they need from your tables. It saves time by letting values be automatically formatted based on conditions rather than manually formatting each cell.
wpDataTables is for you if you…
Need a premium table solution for WordPress that does not disappoint
Will be pulling in external data to your tables and want to apply automation
Want an attractive table creator to please your site visitors
Pricing: From $94 a year
2. Ninja Tables Pro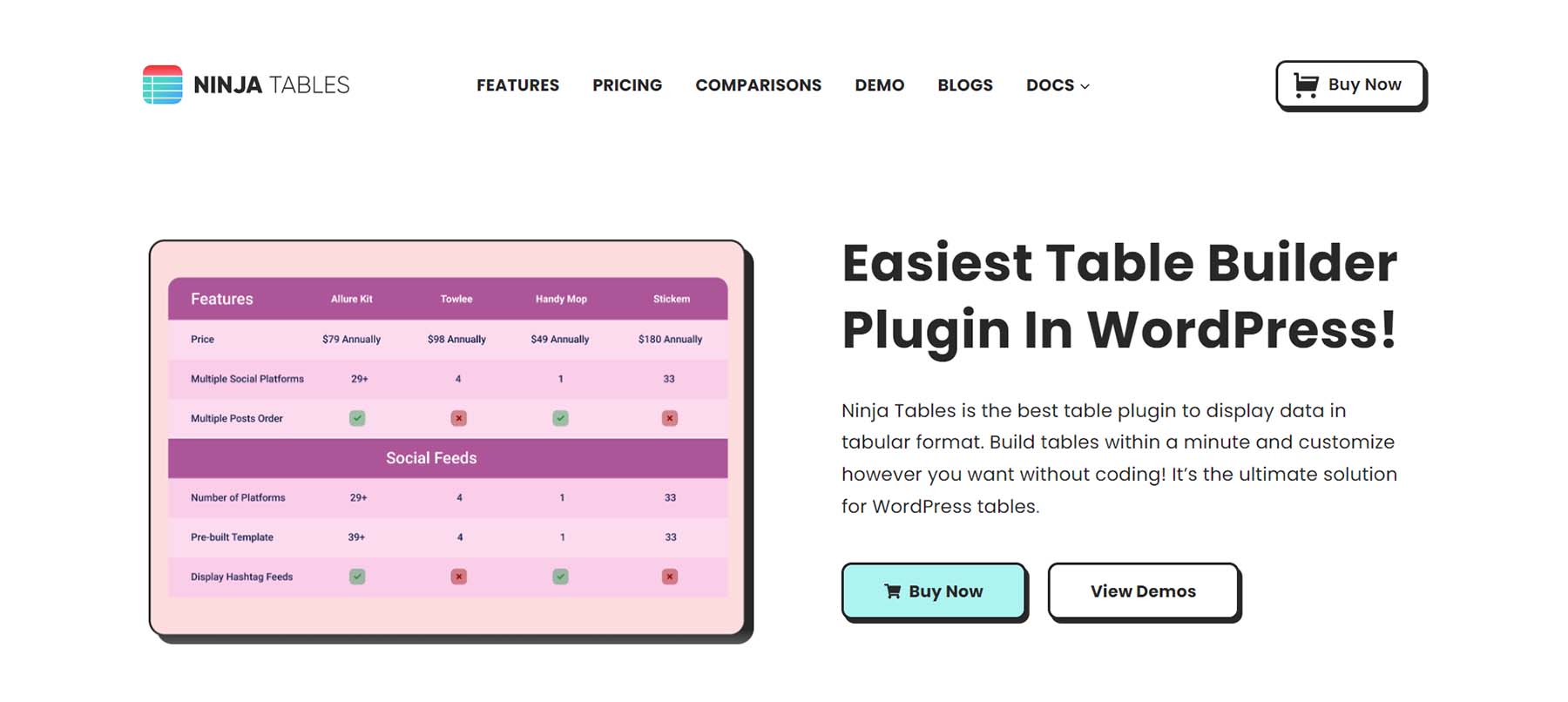 Ninja Tables is an admiringly customizable WordPress table plugin that includes an easy-to-use, drag-and-drop table builder. The free version of the plugin is impressive and offers basic functions such as uploading data into tables, sorting, pagination, and basic filtering. Ninja Tables is a widely-used plugin that provides a user-friendly interface, making it easy for beginners to create stunning tables. It is also built by the same folks behind Fluent Forms and FluentCRM.
Key Features for Ninja Tables:
Integrates with popular third-party services (like Mailchimp, WooCommerce, and Google Analytics)
Pagination controls for best site performance and user experience
Multiple value content types including text, images, and buttons
Features for large datasets including lazy loading and server-side processing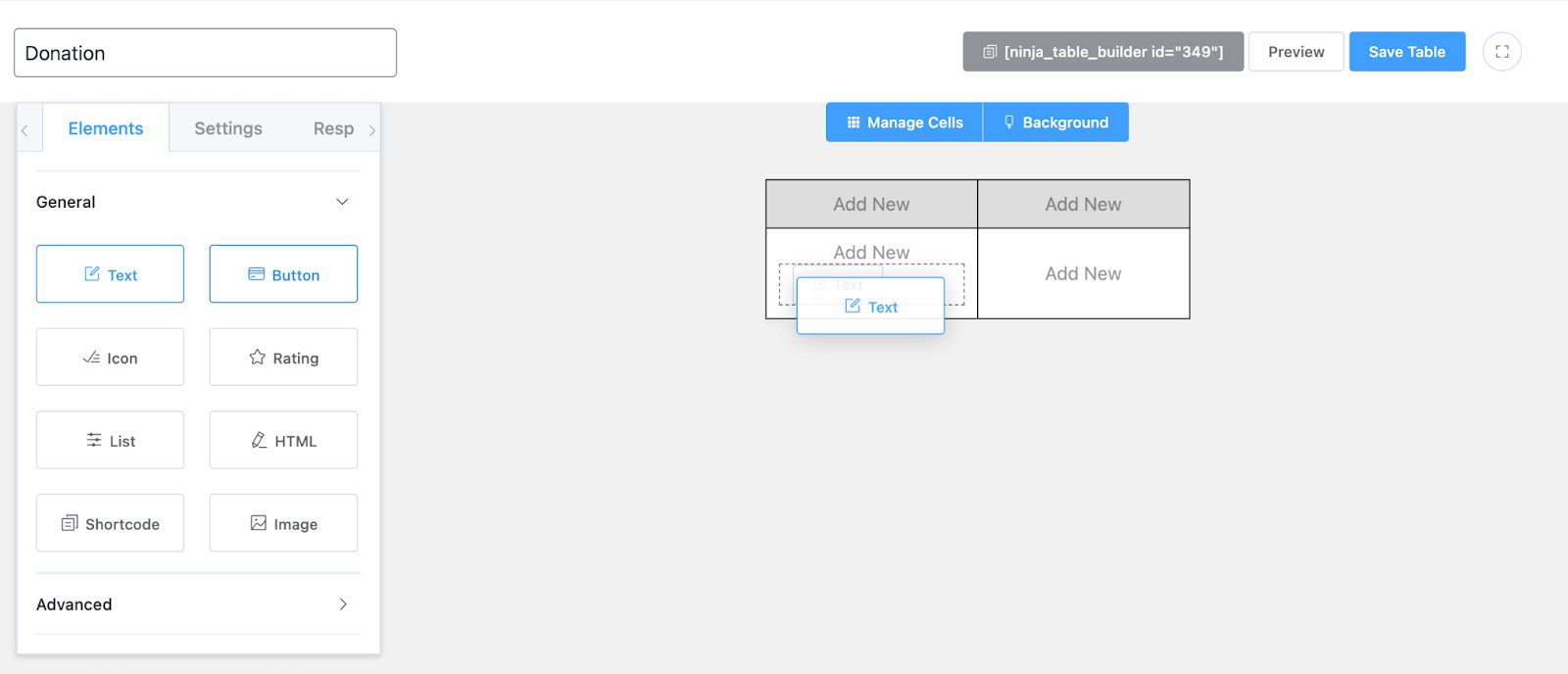 Ninja Forms is ideal for creating visual (as opposed to data-rich) tables. The drag-and-drop builder makes it easy to add text, buttons, ratings, and custom HTML to individual cells. For data automation, importing, and validation, we still recommend our first choice above, wpDataTables
Ninja Tables is for you if you…
Need an easy-to-use visual table builder
Want to build easy WooCommerce-enabled product tables
Enjoy other WPManageNinja products
Pricing: From $79 a year
3. TablePress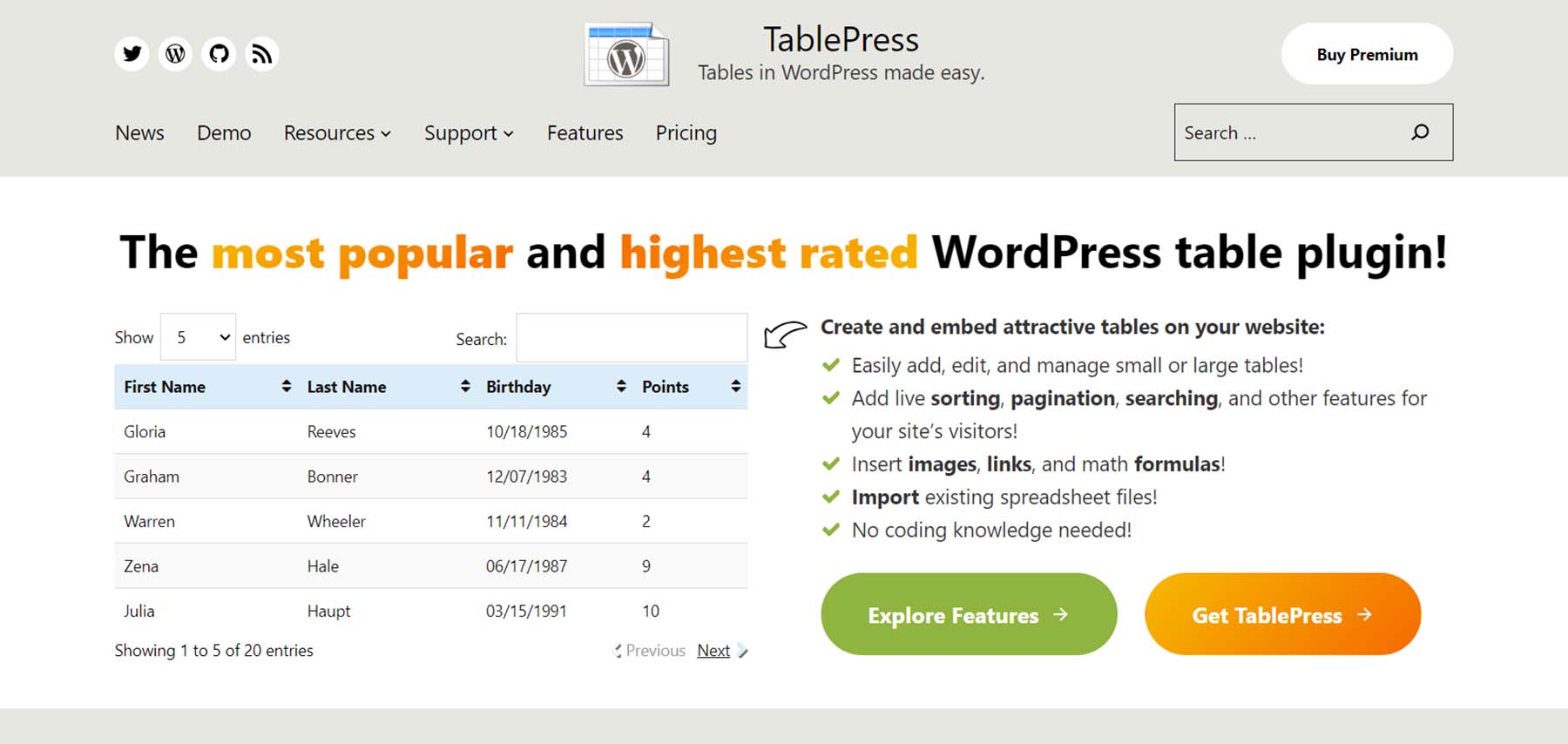 TablePress is arguably the most widely used table plugin for WordPress with over 800,000 active installs. It is easy to use and is packed with features. It will only take a few minutes to get a fully functional table on your site that is searchable, filterable, and has pagination. The free version allows you to create unlimited tables with basic formulas and table options. You'll have to upgrade to the pro version if you want front-end styling. It even integrates with the Divi page builder using TablePress Styler which allows TablePress users even more control over visually stylizing their tables.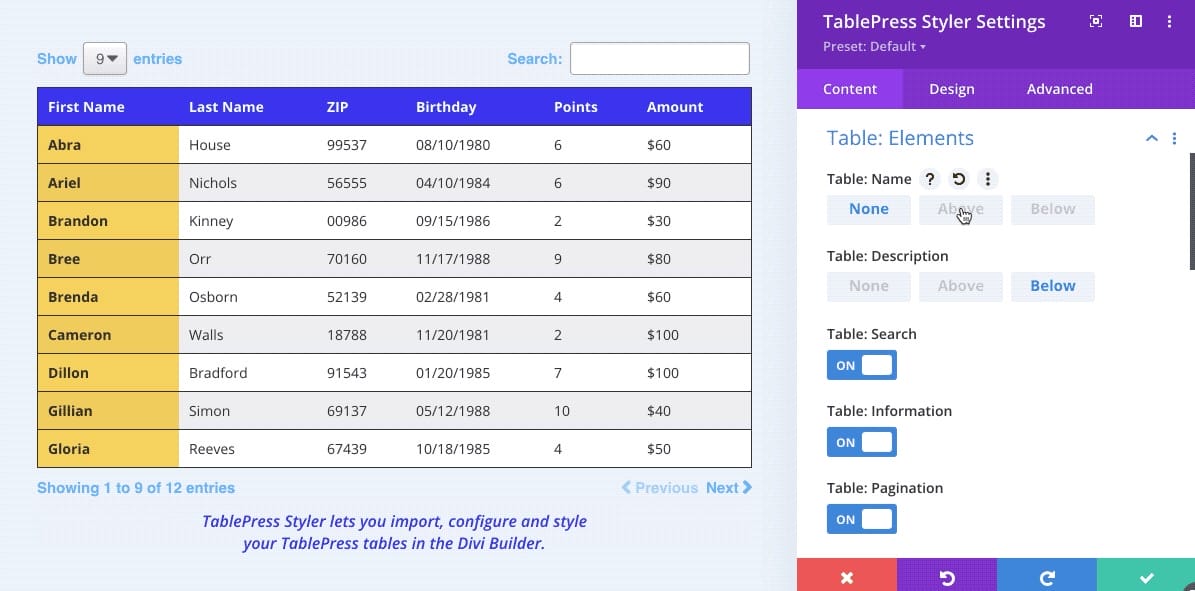 Key Features for TablePress:
Conditional formatting to highlight certain cells or rows, based on specific criteria or rules
Includes a built-in JavaScript library that allows you to add custom JavaScript to your tables
Users can filter and sort tables
Uses pagination to split large tables into smaller pages
Manipulate data in the table with features like merge, split, and duplicate cells
Seamless integration with Divi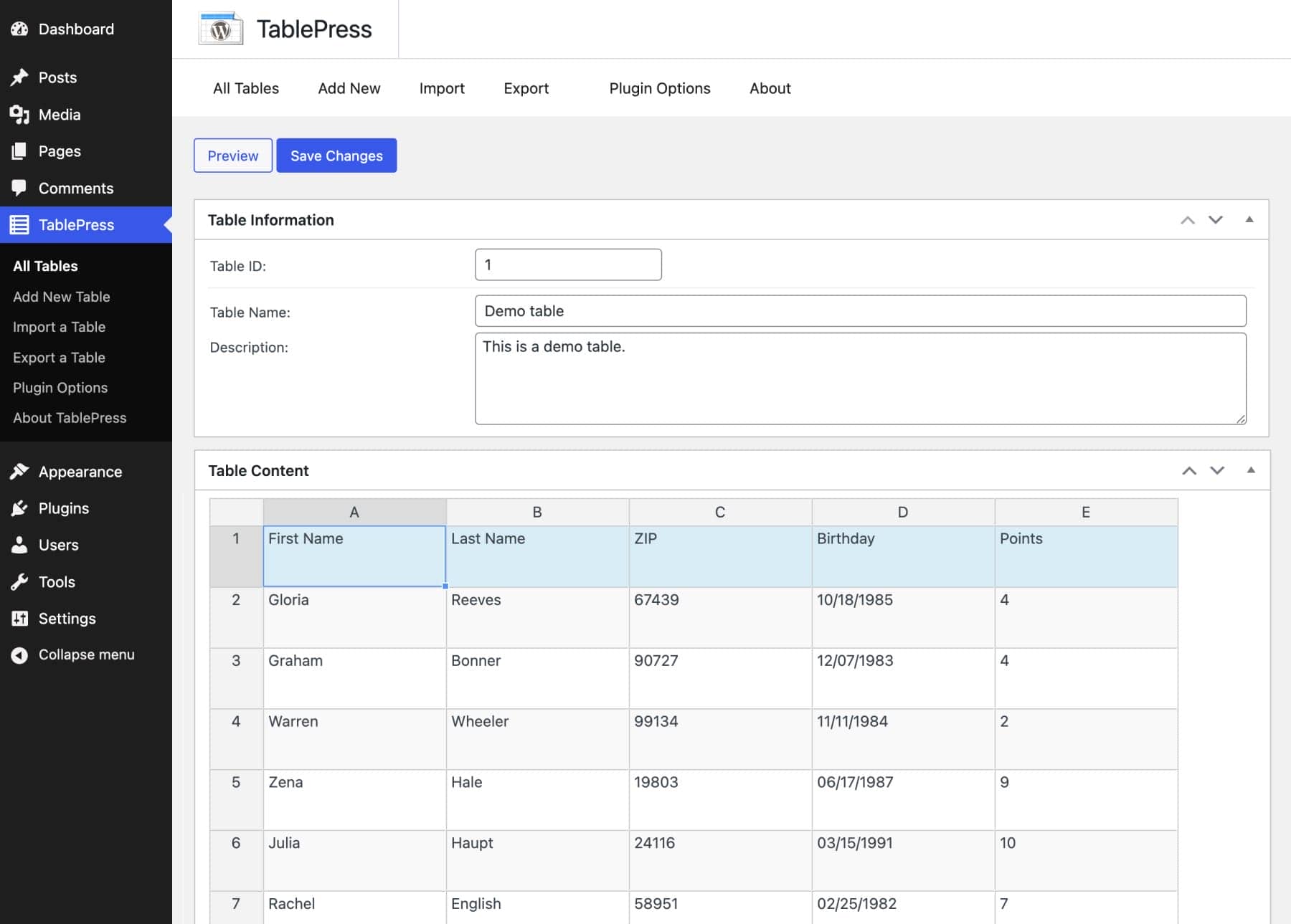 TablePress offers some features that allow you to use mathematical functions and formulas in cells within tables (much like Excel). This gives you even greater flexibility and precision when working with complex data tables on your WordPress site. You have complete power to display your data and information to your visitors.
TablePress is for you if you…
Want a Free, powerful table plugin
Don't mind paying for better front-end style options.
Use Divi and are interested in advanced table styling using TablePress Styler
Enjoy a slightly lower-priced solution than the most expensive ones on this list
Pricing: Free, Pro from $79 a year
4. Visualizer
Visualizer is a heavy-lifting plugin that lets you build both tables and charts. Developed by Themeisle, the plugin makes possible fully interactive tables, animated charts, and colorful diagrams. This is a great choice for those who need a little more than just tables on their WordPress website. Check out our full review of the Visualizer plugin and how to use it.
Key Features for Visualizer:
Customize the content of your cells by choosing from a variety of content types, including plain text, HTML, images, and links
Easily rearrange the order of columns in your table using a drag-and-drop interface
Display a total row at the bottom of your table, showing the sum or average of each column
Make your table headers sticky, meaning they stay visible as users scroll down the table
Display summary information for each column of your table, such as the total or average of the values in the column
Create multi-level headers for your table to organize and group related data
Perform calculations on your table data, such as adding or multiplying values, to create more complex data sets
Connect tables to external data sources, such as Google Analytics or Facebook Ads, to automatically display real-time data
Add interactive tooltips to your table cells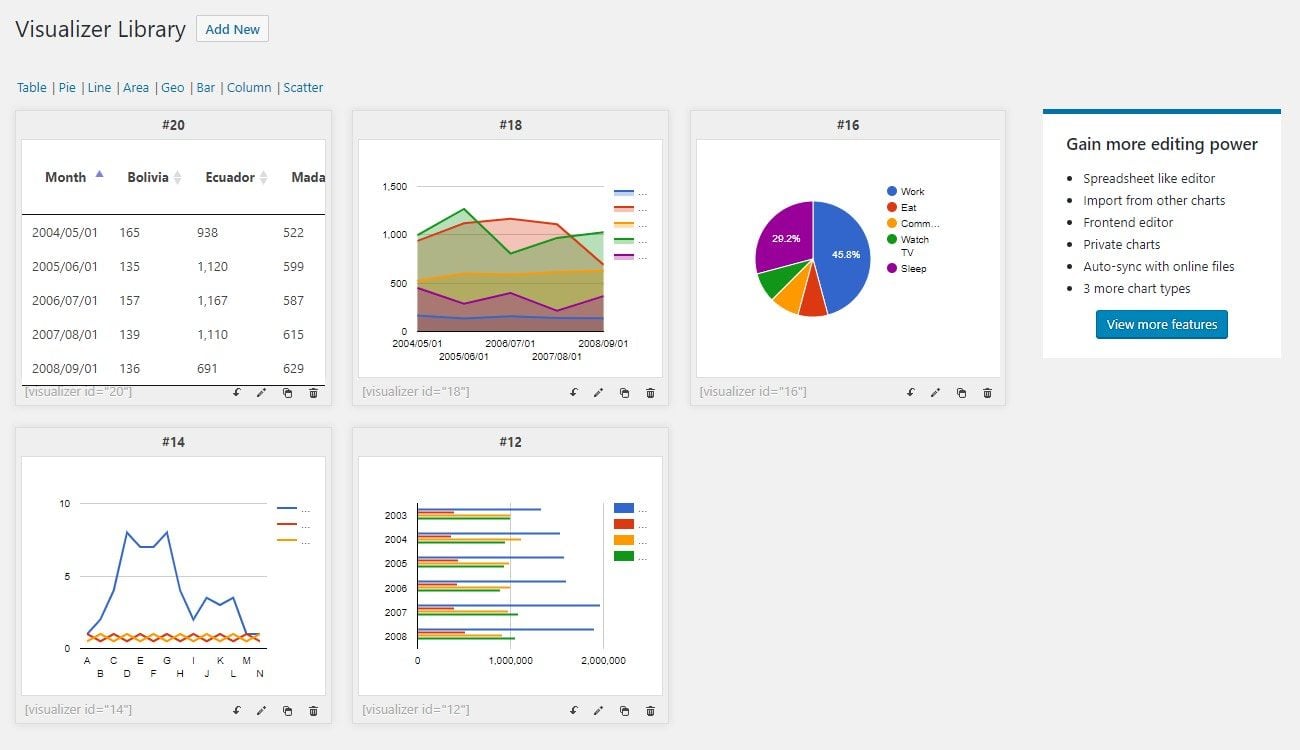 The key differentiator of Visualizer compared to other plugins is the ability to display data more visually. There are several types of tables and charts that you can build, even in the free version, with even more in the premium version of the plugin. This doesn't pigeonhole you into one way of visualizing data but allows you to choose the best representation that will be important for your visitors' user experience.
Visualizer is for you if you…
Have a lot of data that needs to be visualized for your site visitors
Need quality tables built but also something that goes beyond them
Pricing: From $129 a year
5. Post Tables Pro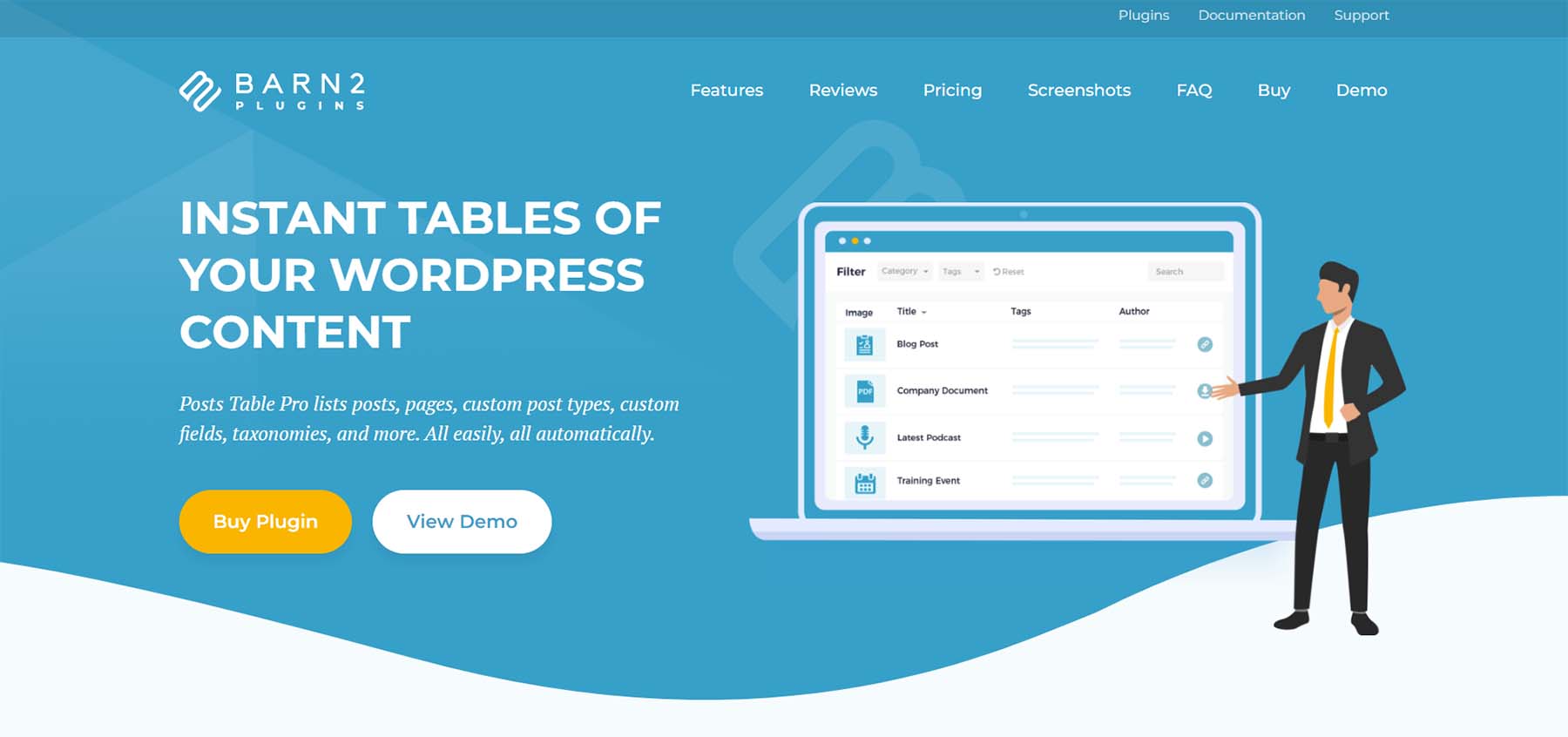 Post Tables Pro is a freemium table builder that is uniquely built to display your posts, pages, taxonomies, and custom post types. What makes this plugin unique is that it can pull the data from your existing posts in WordPress to be displayed in tables. This is an excellent choice for website owners with lots of content that want to organize and display posts in clear ways. But the plugin isn't limited to just blog post content. You can pull data from custom post types, custom fields, and more.
Key Features for Post Tables Pro:
Dynamically adds post content to tables
Can attach a search bar to search and browse entries
Integrates seamlessly with WooCommerce allowing the use of pricing and product tables
Can create anchor links that jump to a specific cell
Lightbox integration that displays images or multimedia content in a lightbox directly from your table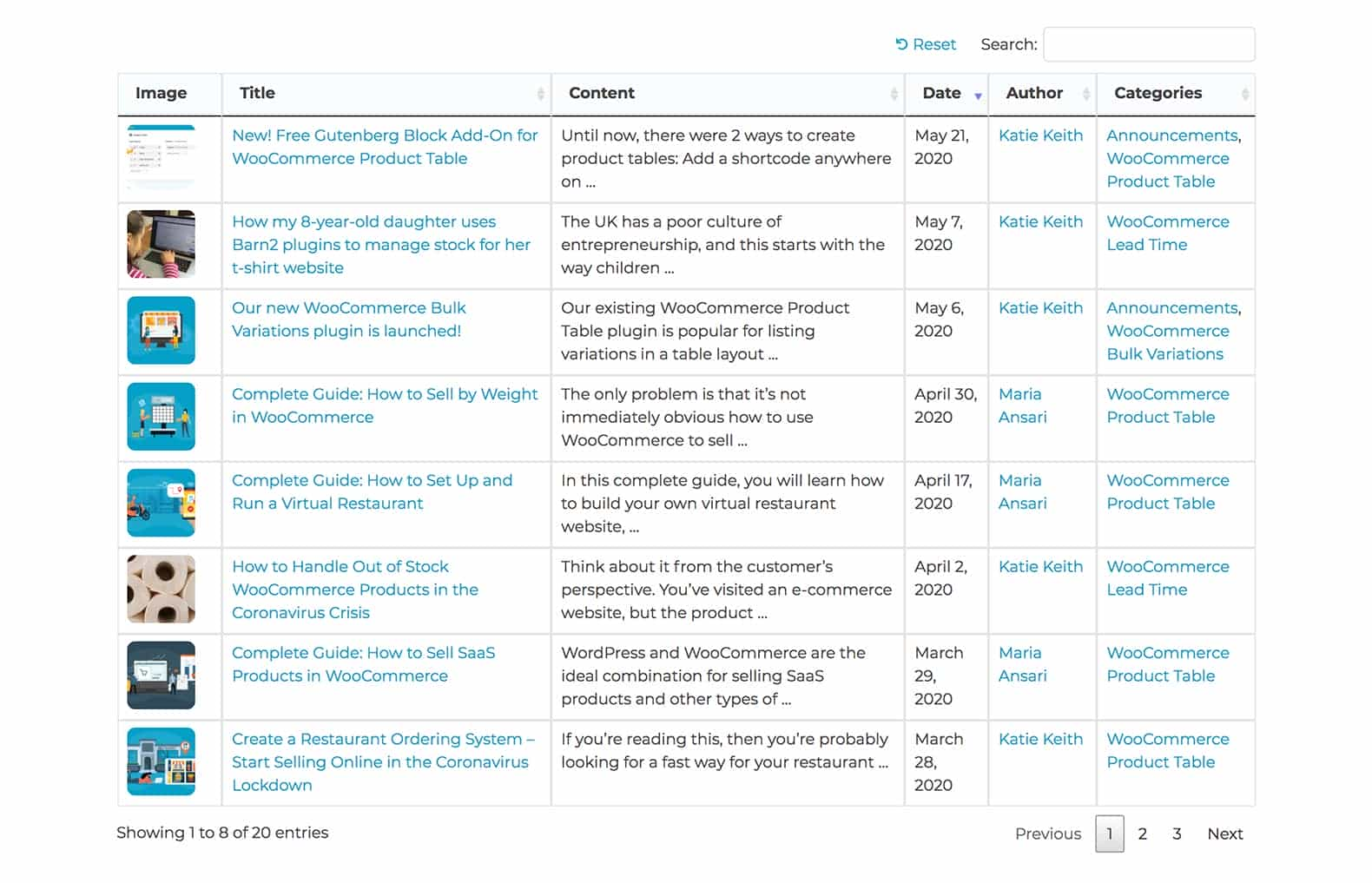 The only real feature you need to know about to determine if you need it is that it uses your posts as a data source. This can be helpful for course creators, large websites, and any application where creating paginated, and filterable tables is desirable. If you need other types of tables created, this isn't for you. But…
Post Tables Pro is for you if you…
Want to display your posts, products, and custom post types in a table format
Pricing: From $79 a year
6. WooCommerce Product Table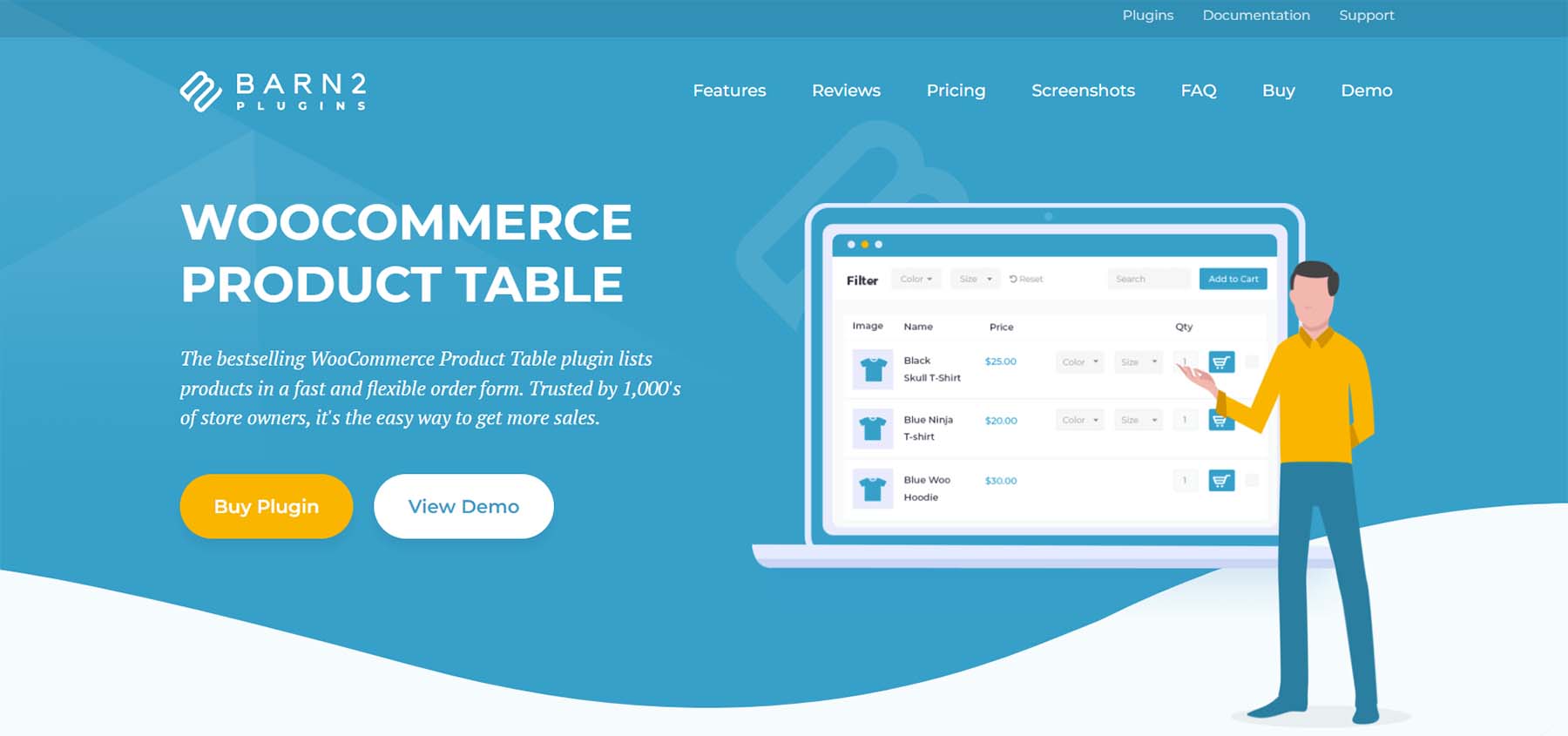 WooCommerce Product Table is another table plugin by Barn2 that can build tables for your WooCommerce product data. And it does it well. This differs from Post Tables Pro in that it is 100% focused on WooCommerce products and provides only the essential features that pertain to eCommerce websites.
Key Features for WooCommerce Product Table:
Display basic and variable products in tables
"Quick view" allows customers to view detailed product information in lightboxes
Add dynamic add-to-cart buttons that work with your store settings
Display custom product fields in the table, such as SKU or weight, etc.
Compatible with multi-vendor marketplaces like WooCommerce Product Vendors, YITH WooCommerce Multi Vendor, and WC Vendors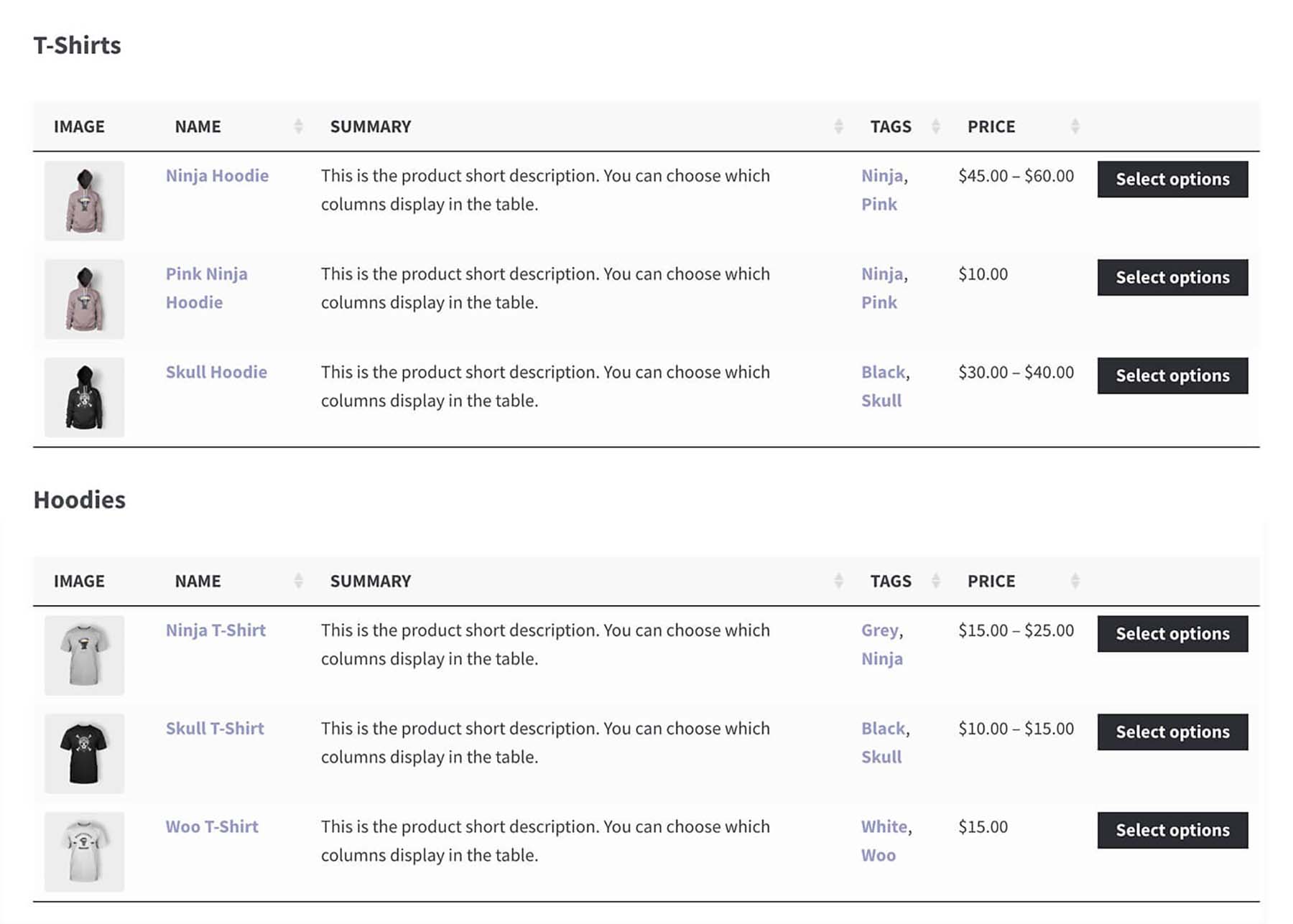 The WooCommerce Product Table provides a range of options that allow you to customize the products displayed in the table. You can choose to display products based on a specific category, tag, custom taxonomy term, custom field, date (year, month, or day), or status. Additionally, you can show or hide specific products in the table based on their ID and exclude specific categories. And, every column can be filterable to help your customers find exactly the products that they are after.
WooCommerce Product Table is for you if you…
Have a WooCommerce store and want more ways to display your product information
Trust and use other Barn2 plugins
Want to dynamically create product and pricing tables based on specific products in your store
Pricing: From $49 a year
7. TableMaker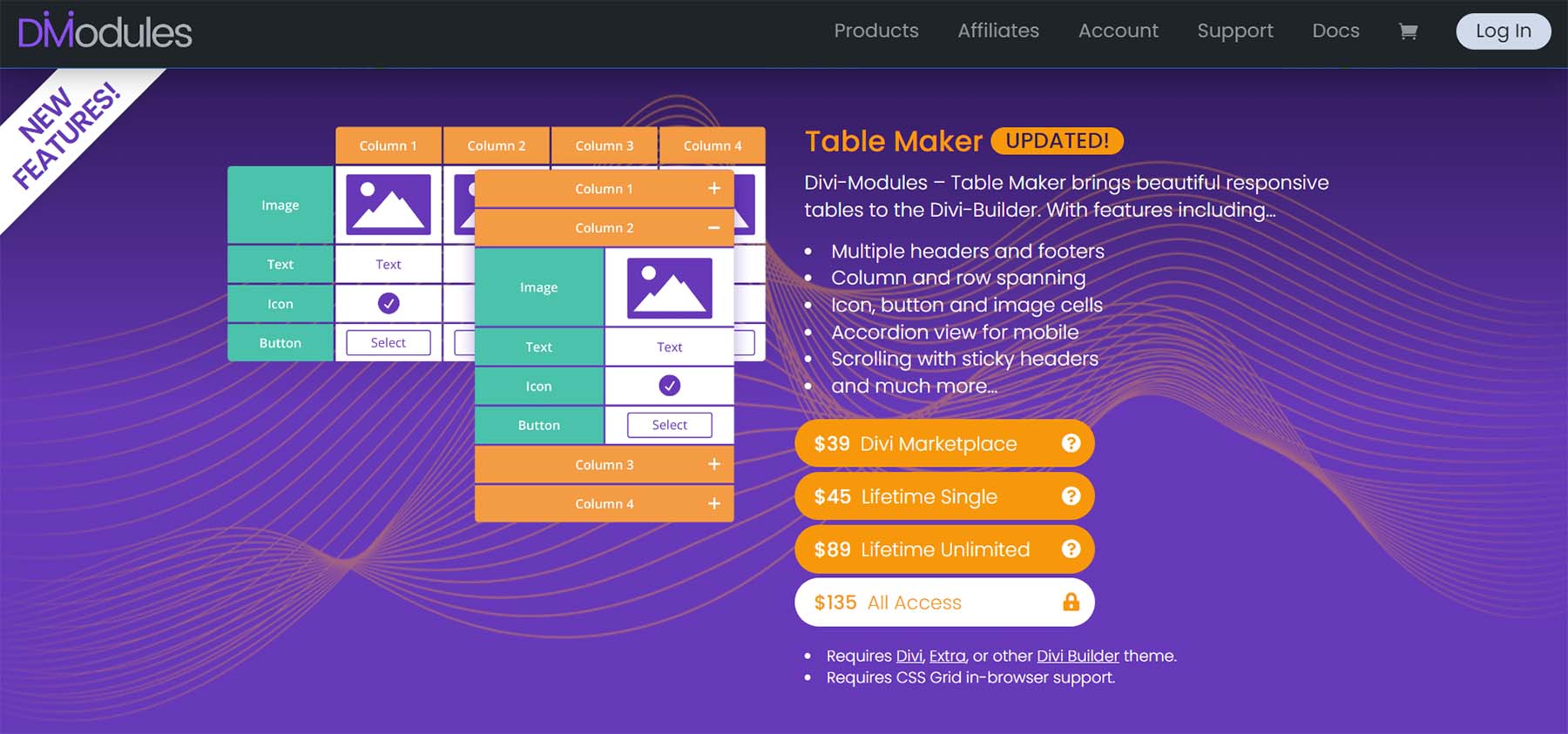 TableMaker is another Divi Marketplace item that excels at the table-making experience. Divi theme users will love the ability to create tables with the advanced styling that is expected of the Divi editing interface. This is made by the same folks who created the Divi TablePress styler—so they know a thing or two about making WordPress-powered tables.
Key Features for TableMaker:
Creates beautiful responsive tables in the Divi Builder
Include in table cells text, buttons, images, and icons
Enable accordion view for mobile devices
Enable sticky headers for tables when scrolling
Style, hide, or show the corners of your table
Use alternate row or column backgrounds using: tints, blend modes, or pure color.
Apply a hover effect to rows and columns within the table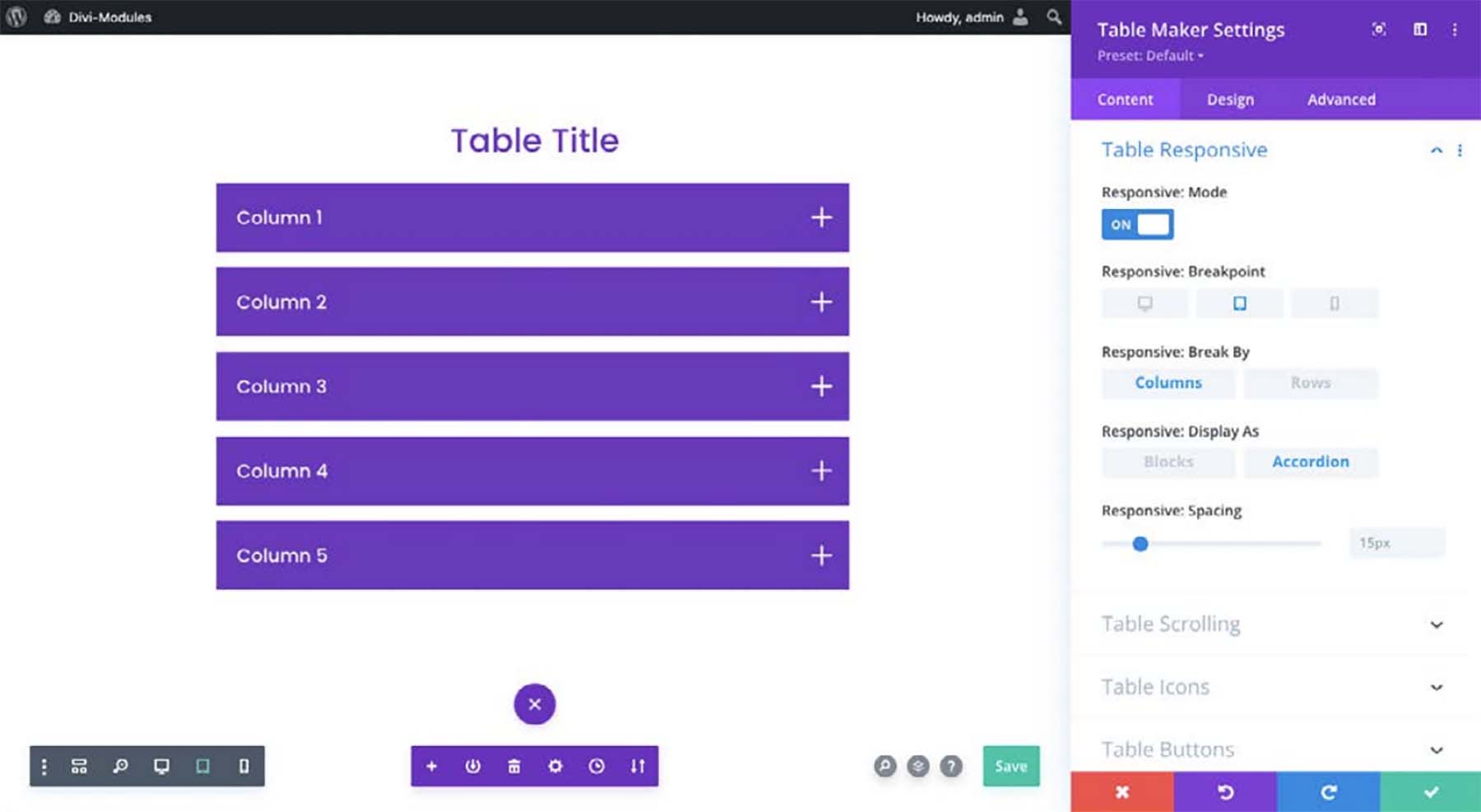 TableMaker is one of the most powerful table builders for Divi. An impressive feature of the builder is the responsive feature. TableMaker adds several options to customize the table's display on different devices. You can choose to enable table responsiveness, set the table breakpoint at which the table will display as blocks or accordions, and specify whether to break the table by columns or rows. Additionally, you can set the spacing between each block or accordion section.
TableMaker is for you if you…
Use and love the Divi visual builder
Like the idea of the TablePress Styler but only want to install one plugin
Pricing: From $39 a year
8. WP Table Builder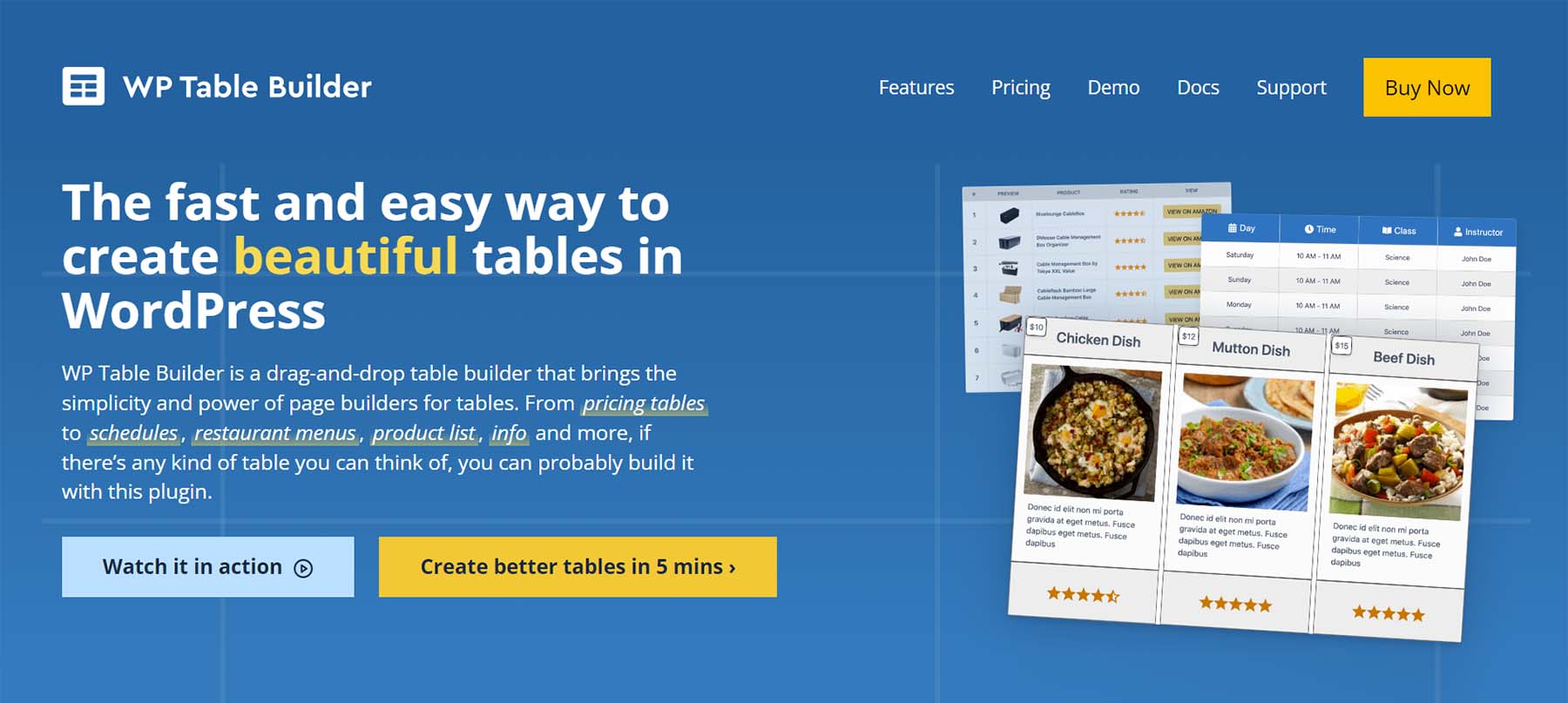 WP Table Builder is a well-respected drag-and-drop table maker for WordPress websites. It does multiple things well and is ideal for those displaying mixed media type tables (text, images, buttons). It can be used to create pricing tables, schedules, and even restaurant menus (but there are better restaurant menu plugins for that).
Key Features for WP Table Builder:
Visual table editing experience that lets you see what you are building in real-time
Use formulas to perform calculations on table data
Pagination and sorting features for your tables
Copy and paste data from other sources, such as Google Sheets or Excel spreadsheets, directly into your table
Inline editing allows you to edit table data directly from your website's frontend
Merge or split cells in your table to create custom designs and layouts.
Set conditions for table elements to show or hide depending on user input or data
Enhance site performance by enabling lazy loading for your tables, so tables will only load data as the user scrolls down the page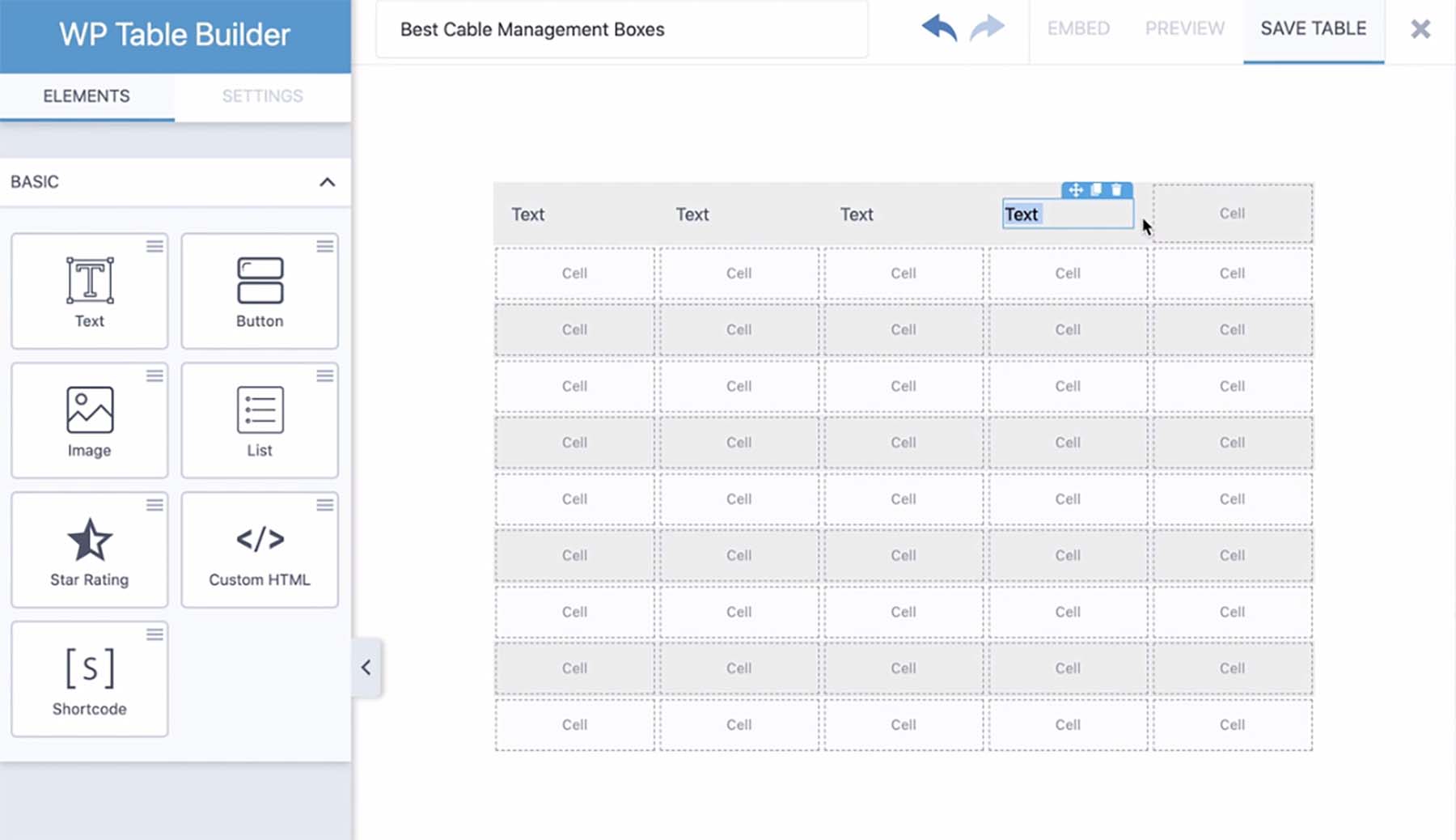 WP Table Builder's intuitive drag-and-drop editor enables users to easily customize their tables by adding or removing rows and columns, rearranging the table structure, and adjusting the table styling, all without needing any coding skills or technical knowledge. Adjust the size of each cell and add custom content, such as text, images, and videos, directly within the builder. Additionally, the builder lets you change the font, color, and background of each cell.
WP Table Builder is for you if you…
Want a well-rounded table builder
Prefer a visual editing experience
Want to create multiple types of tables with ease
Pricing: From $49 a year
9. Data Tables Generator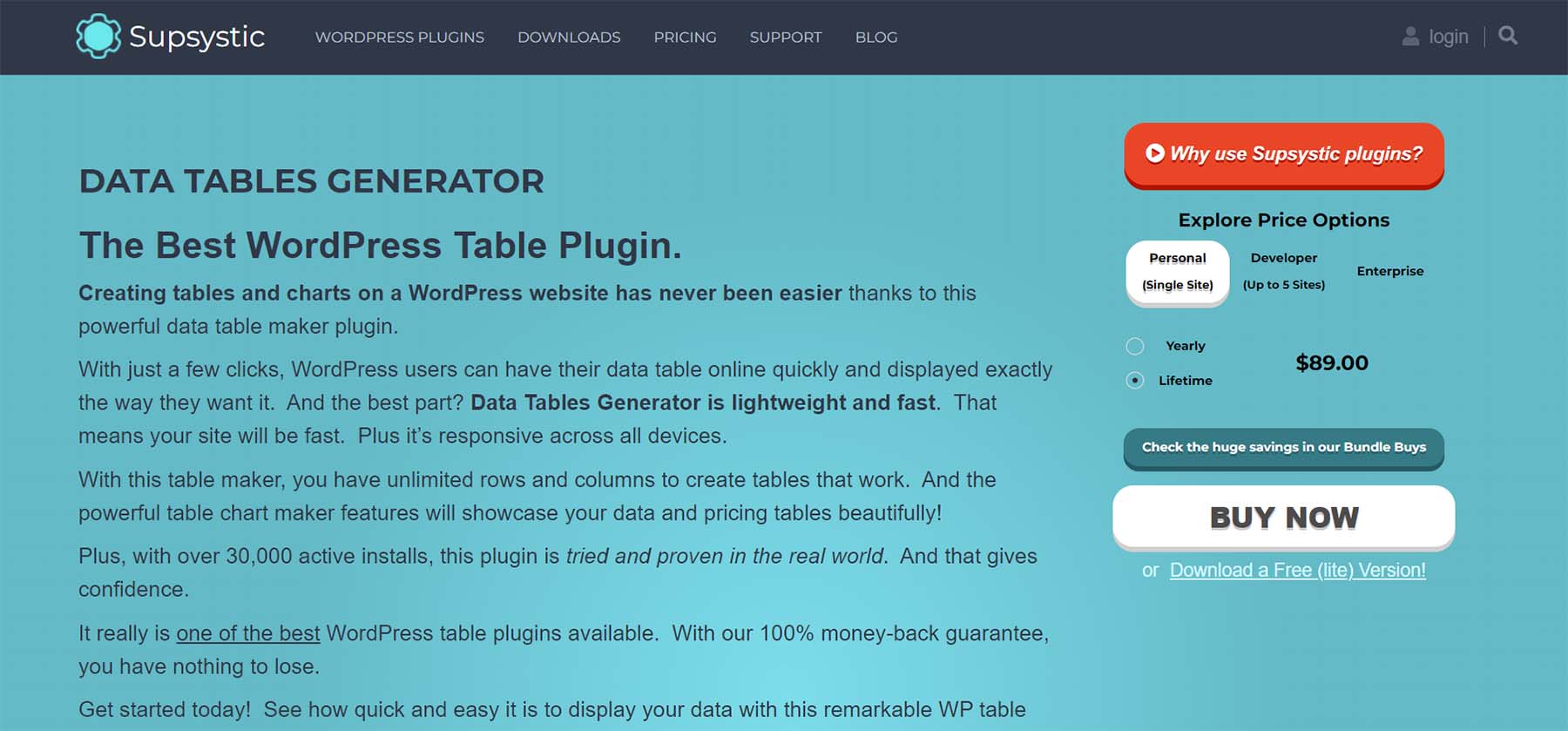 Data Tables Generator is a table and chart plugin for WordPress. It is also a freemium solution (offering a free and premium plugin). Like many on the list, it majors on the majors for a table builder and lets you add all sorts of data types to your tables.
Key Features for Data Tables Generator by Supsystic:
Drag-and-drop interfaces for creating and managing your tables and charts
Customize the design of your tables and charts by choosing from a variety of styles
Edit multiple cells in your tables and charts at once, making it easy to update large data sets
Real-time collaboration of your tables and charts
Conditional formatting with the use of icons to indicate the status of data
Comes with data analysis tools to perform statistical analysis on your data and create pivot tables
Compare two or more tables side by side, making it easy to identify differences and similarities in your data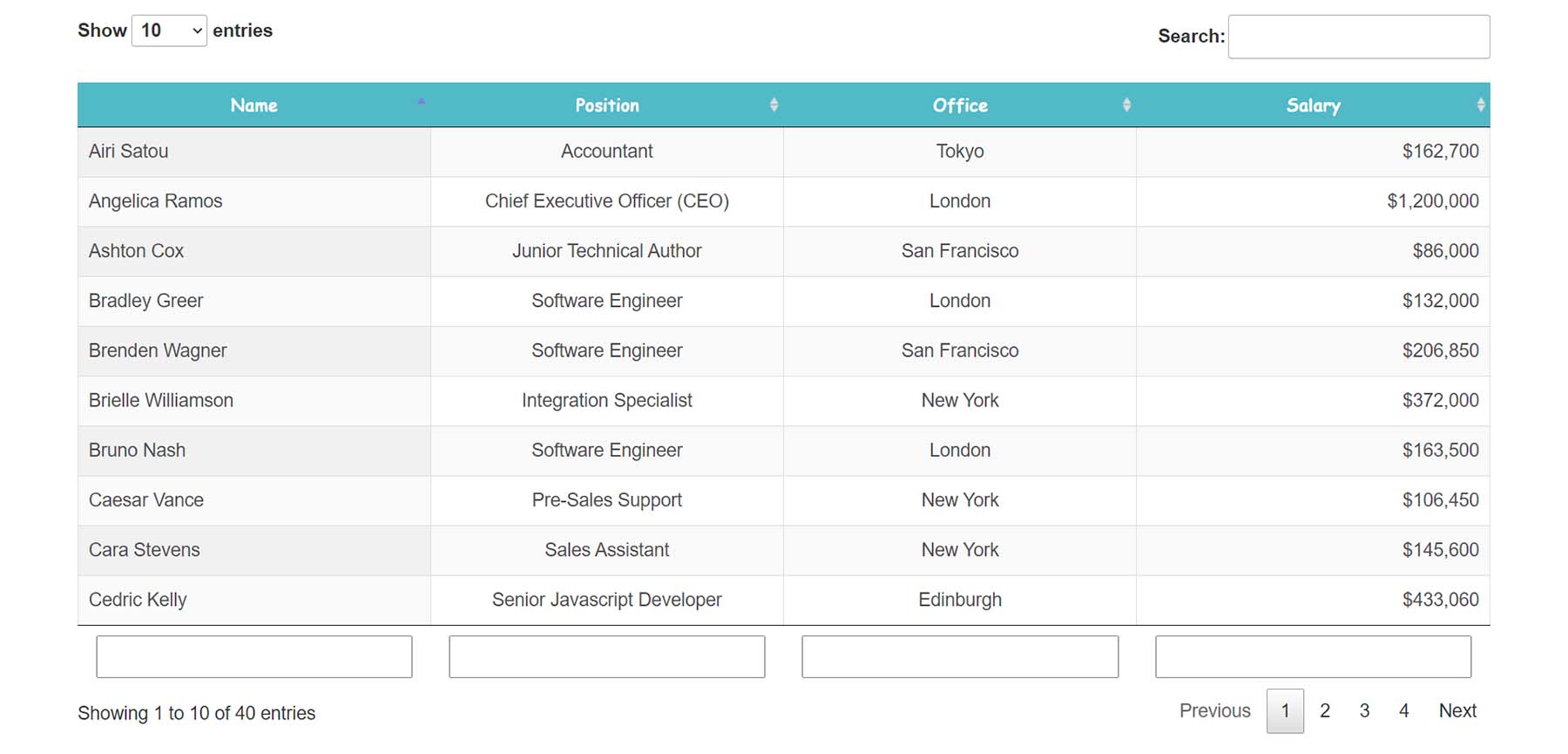 The Data Tablet Generator offers filtering, search, and pagination features that enhance table navigation and overall user experience. The pagination feature easily limits the number of displayed rows (at a single time). The search option is useful for tables with numerous columns and rows, and the table sorting option enables data to be displayed in the desired order.
Data Tables Generator by Supsystic is for you if you…
Want a low-cost yet reliable table plugin for your WordPress website
Like real-time collaboration and data analysis tools for your advanced tables
Pricing: From $49 a year
Get Data Tables Generator by Supsystic
WordPress Table Plugins Compared
If you want to create tables on your website that are both visually appealing and well-organized, then using a WordPress table plugin is essential. The best WordPress table plugins offer a blend of performance and user engagement to ensure your data is presented accurately.
WordPress Table Plugins Pricing
Whether you're searching for a free or premium table plugin for WordPress, our comprehensive list caters to all your needs. To assist you in navigating through the many options, we've created a comparison table that includes pricing details and clear indications of the plugins available for free.
Top 3 Table Plugin Features
wpDataTables is the main contender for those looking for a truly impressive and good-looking table builder for WordPress. It is highly customizable and works well with different themes and plugins, making it easy to use on any of your websites. And if you are looking to create more stylish tables (especially product tables) using an impressive UI, we recommend Ninja Tables. Rounding out the top three, the TablePress plugin is a great way to build tables, especially if you're a Divi user. Using the TablePress Styler plugin available in the Divi Marketplace, you can harness the power of Divi's no-code Visual Builder to design gorgeous tables within Divi.
What is the Best WordPress Table Plugin?
If you don't have the time to research our picks, let us make a suggestion. wpDataTables Pro is the most advanced table plugin available today. Thanks to a user-friendly interface, you can create stunning interactive tables that users can sort, filter, and search. It works with Divi and other page builders, allows for exporting tables to PDF, and provides a handy conditional formatting feature. This allows you to highlight points of interest based on conditions, making it easier for your site's visitors to comprehend.
If you're looking for the best WordPress plugins on the market, for all types of purposes, make sure to check out our recommendations!
Frequently Asked Questions (FAQs)
Before we wrap up, let's answer some of your most common questions regarding the best WordPress table plugins. Did we miss one? Leave a question below, and we will respond!
What is the best table plugin for WordPress?
The best table plugin for WordPress is
wpDataTables
. It creates tables of all kinds and packs a lot of advanced features into them. wpDataTables' best features are: easy import of data, filtered and interactive tables, conditional cell formatting, table exporting, mathematical operations & formulas, and it has integrations with page builders like Divi.
What is the best free WordPress table plugin?
wpDataTables
offers what we consider the best free table plugin for WordPress websites. It's pro version is also expansive so there is plenty of room with the plugin to use more features as you need them.
How do I add a table to WordPress?
To add a table to your WordPress site, use the built-in table block that comes standard with WordPress. Alternatively, consider installing a WordPress table plugin - such as
wpDataTables
,
Ninja Tables Pro
, or
TablePress
- which offers a broader range of features and customization choices than the standard table block.
How do I create a pros and cons table in WordPress
A pros and cons table is one of the easiest tables to create in WordPress. You'll need a table plugin to easily create the table. In the table, you'll want 2 columns (one for 'Pros' and one for 'Cons') with the top row holding the labels for pros and cons. Then, you'll add rows based on the number of items in the longest list. If your pros column has 7 items but your cons column has 12 items under it, you'll need a total of 13 rows (to fit the 12 items plus the heading labels).
What are the top features to look for in a WordPress table plugin?
Knowing what features are essential before choosing a WordPress table plugin is necessary. Here are some significant features to consider when selecting a WordPress table plugin: a convenient interface, customization options, data import and export, interactive features, and a responsive design.
What is the best WordPress plugin for creating pricing tables?
Ninja Tables Pro
stands out from the rest as it is a user-friendly drag-and-drop table builder that makes creating tables a breeze. With its intuitive interface and features like filters, pre-made templates, integrations, and fast loading times, this plugin offers the most efficient way to display your pricing options.
How can I create a table in WordPress without plugins?
Creating a table in WordPress doesn't require any additional plugins. Simply navigate to the post or page where you want to add a table. You'll find the option for the table block type, which you can click to add a new table to your post or page. However, while these tables are easy to create, they only offer basic functionality and limited customizability. If you're looking for more advanced features and data input options, use a plugin such as
wpDataTables
or
Ninja Tables Pro
instead.
How can a pricing table WordPress plugin help increase conversions?
Using a WordPress plugin like
Ninja Tables Pro
for pricing tables can significantly impact your conversion rate. By allowing visitors to compare your products or services quickly, they can decide which option best suits their needs. This will increase sales and conversions.
Can pricing table plugins be customized to match my website's style?
Most pricing table plugins offer the flexibility to tailor the tables to your website's aesthetics. You can tweak the colors, fonts, and layout to blend with your site's style. Additionally, you can spruce up the tables with images, animations, and other design elements to make them visually appealing.
Are WordPress tables plugins responsive?
The majority of WordPress table plugins are designed to be responsive. That means they'll adapt to match the user's screen size, whether on a desktop or a mobile device. This is a vital feature, as it guarantees that your tables are user-friendly across all platforms.
Which WordPress Table plugin can pull dynamic data?
Looking for more great plugins? Check out our entire collection of the best plugins for WordPress.
Featured Image via SpicyTruffel / shutterstock.com