Getting your restaurant business online can help you boost sales, grow your brand recognition and gain loyal fans. When looking for the best WordPress restaurant plugins, you are in search of the right tools to help you get the job done. Whether you need online ordering, WooCommerce integration, menu editors, or social proof, our list of the best WordPress restaurant plugins will help you make the right decision for your food business. Set up your website for success by checking out these plugins before building your next restaurant website.
Why You May Need a Restaurant Plugin
Restaurant needs are a lot more robust than the average small business website. They take just a little bit more work but that work is well worth it. Being able to leverage technology that the average person in 2023 expects is a must if you want to stay relevant (and busy). Here are some things that your website may need to have to be at its best:
Online Reservations: Restaurants may want a way for customers to make reservations online, whether it's through a third-party service or a restaurant reservation plugin on the website.
Mobile Ordering: With more and more customers using their smartphones to order food, restaurants should have a mobile ordering system that has a fully responsive design for mobile devices.
Displaying Menus: A restaurant should showcase its menu in an easy-to-read format that entices customers to come in and dine. This can be done through a custom plugin or simply by formatting the food items in a clear and concise manner. This is very important if you use QR codes in your physical location in lieu of printed menus.
Showcasing Locations: If a restaurant has multiple locations, it should make it easy for customers to find the nearest one. This can be done through a custom plugin that integrates with Google Maps or through a simple "Locations" page on the website.
High-Quality Images: Restaurants should use high-quality images of their food, locations, and staff to entice customers and give them a sense of what the dining experience will be like. The more mouth-watering the better! Just make sure those images are optimized for performance.
Customer Reviews: Displaying customer reviews on the website can really help restaurants build trust with potential customers and encourage them to pay you a visit.
The Best WordPress Restaurant Plugins
As we explored above, WordPress restaurant plugins can have a multitude of functionalities. We've made sure to gather some of the best plugins on the market that cover many different use cases. Here are our top picks for restaurant plugins on WordPress:
The Best WordPress Restaurant Plugins Listed In Order
Expand List
1. WooCommerce Restaurant Ordering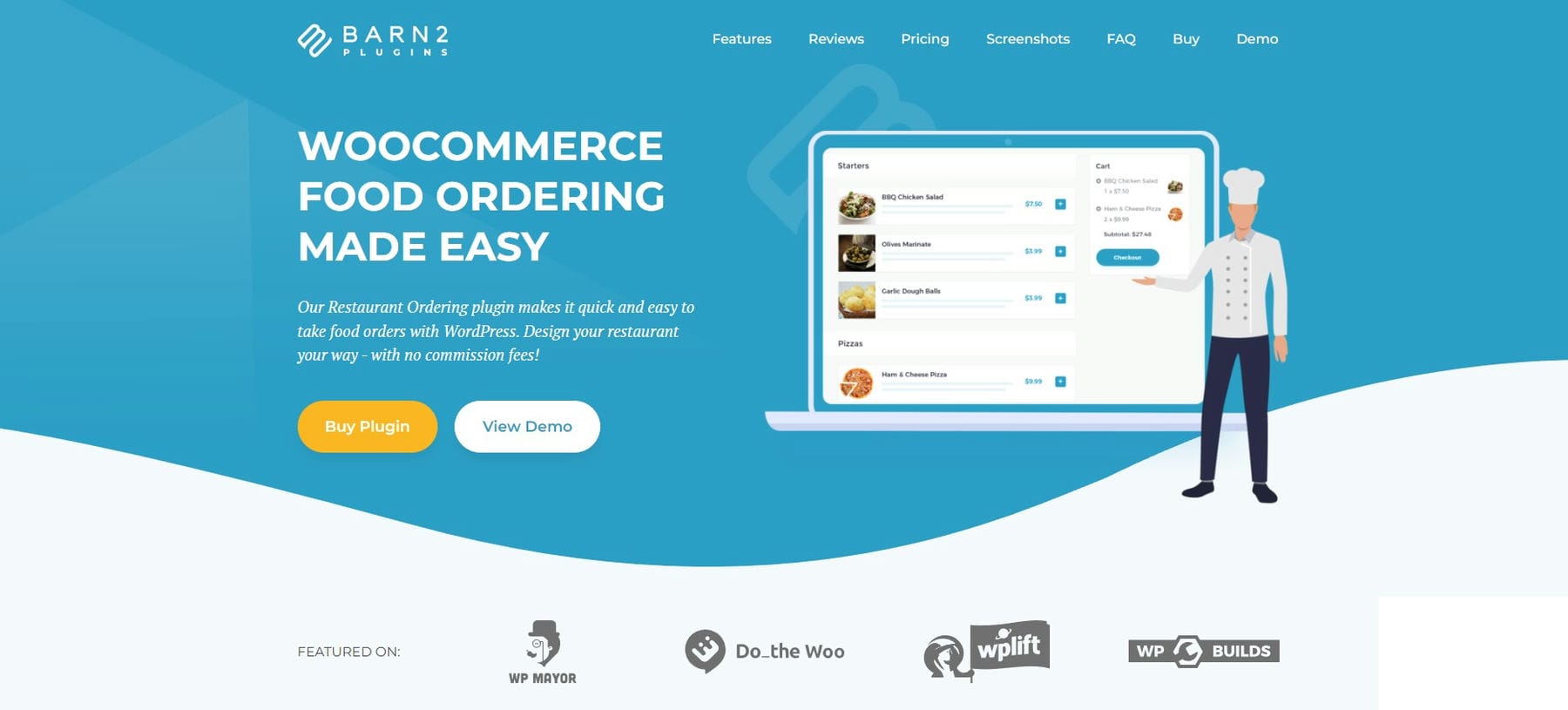 The WooCommerce Restaurant Ordering plugin by the excellent folks over at Barn2, is a fantastic solution for restaurants and food outlets looking to take their business operations online. It turns a typical WooCommerce store setup into a restaurant's dream for online ordering.
Key Features for WooCommerce Restaurant Ordering:
Fully integrates with WooCommerce and other WooCommerce plugins
Designed to be as familiar as the DoorDash and Uber Eats UIs
Layouts for lightbox or on-page ordering
Set open/close times so orders don't come in when you are closed
Works with WooCommerce product variations and options ("options" require an additional plugin)
Pulls in and works with WooCommerce delivery settings (ex. "delivery" or "collect in person")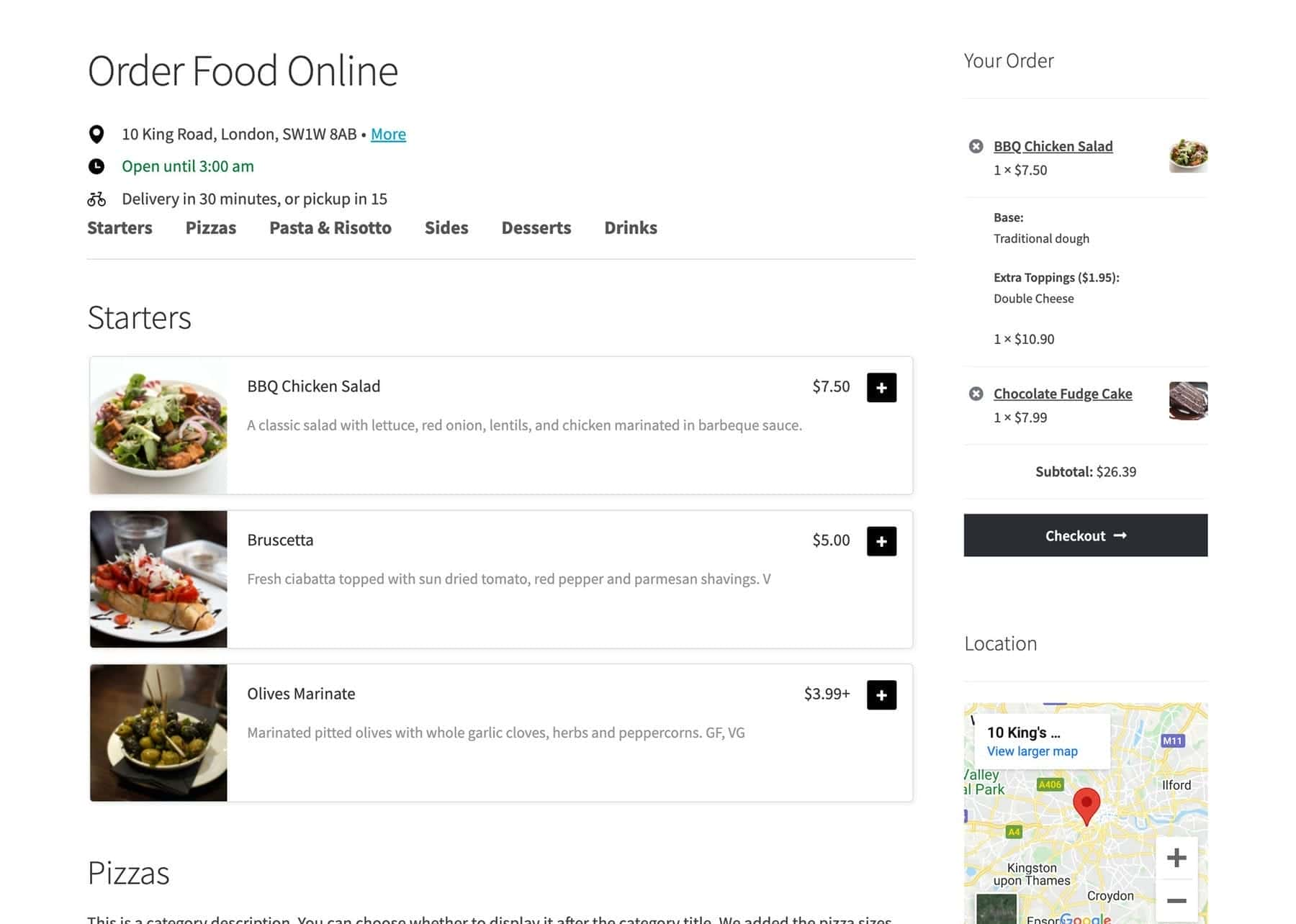 WooCommerce Restaurant Ordering makes displaying your menu items and checking out very easy. By default, the plugin's UI is amazing and very intuitive. Extra functionality can be achieved with other Barn2 plugins such as WooCommerce Product Options and WooCommerce Fast Cart. In fact, all of these Barn2 plugins
WooCommerce Restaurant Ordering is for you if you…
Need the ability to create online orders
Enjoy the flexibility of WooCommerce and other extensions
Pricing: $129 a year
Get WooCommerce Restaurant Ordering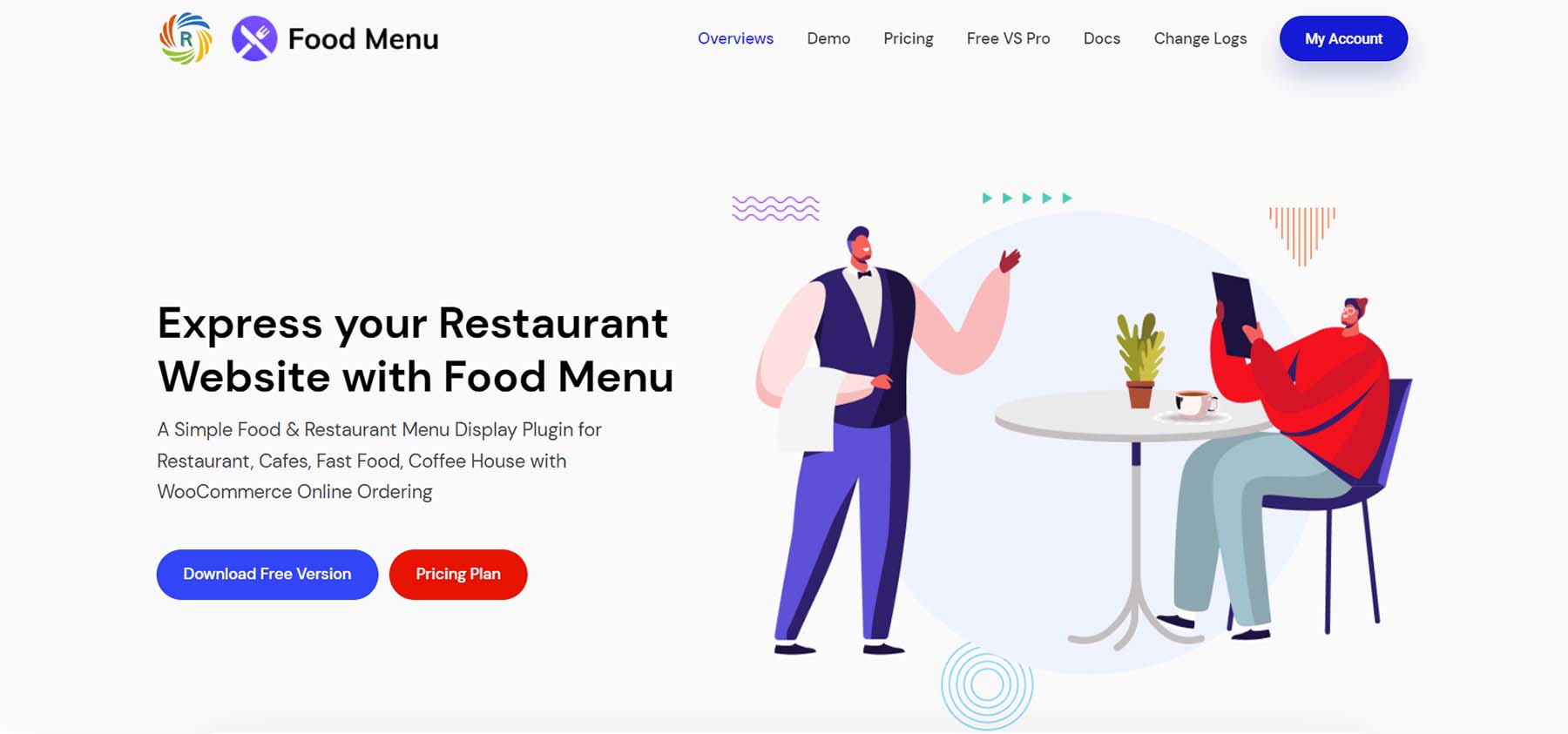 Food Menu is an effective plugin for restaurants and food industry businesses that makes it easy to create online menu boards. You can add images, descriptions, and prices—everything you need to share your menu with the world. Most of the standout features come in the premium version but you can also try out their free to see if it is a good fit beforehand.
Key Features of Food Menu:
Use WooCommerce product data for easy menu creation (Premium version)
Allows for clicking open expanded views of products in a lightbox
Drag and drop menu builder
Display ingredients and nutrition information
Multiple layouts powered by Ajax category filtering and pagination
Shortcode generator for embedding unlimited menus
This is a very simple plugin that majors on the majors. It creates very attractive menus with the functionality that is absolutely required. The Ajax filtering makes menus created with Food Menu incredibly easy to use.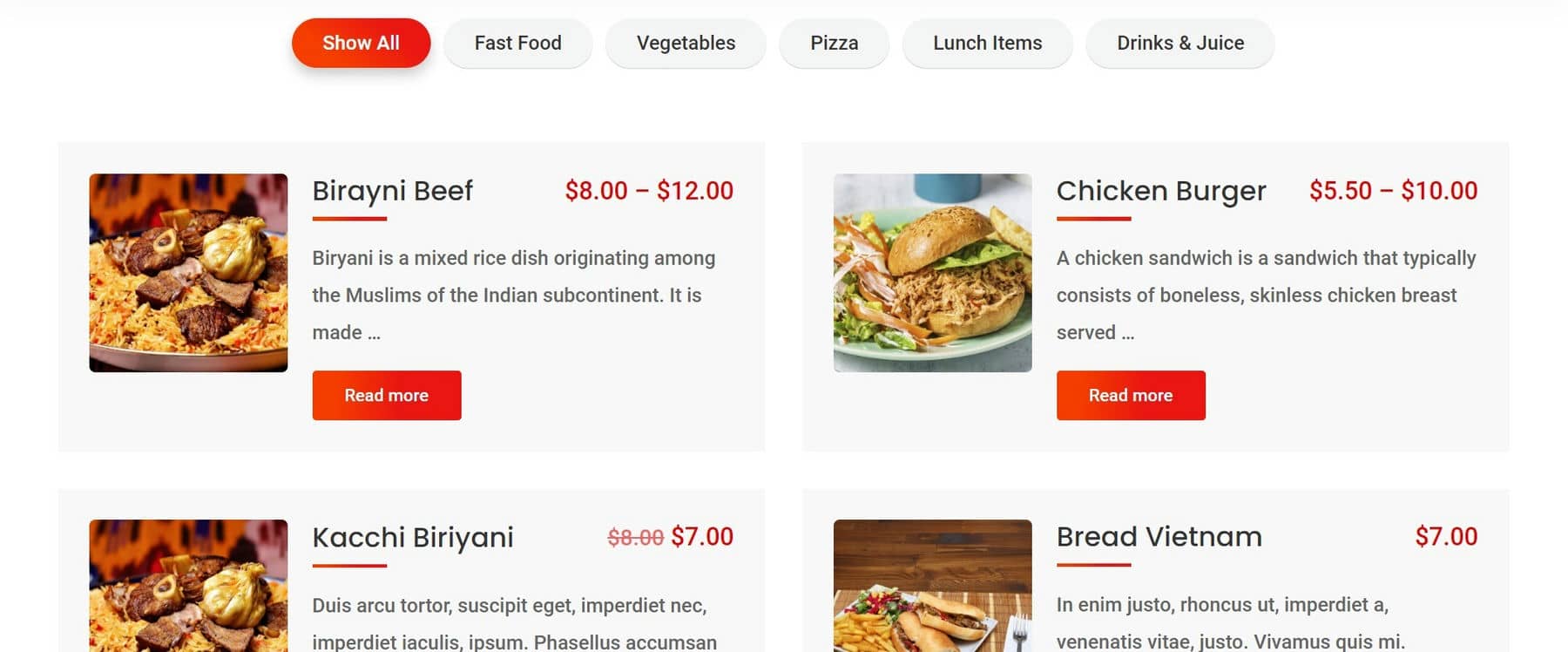 Food Menu is for you if you…
Want a simple way to present your restaurant menus
Need a menu that can work in conjunction with WooCommerce
Want an easy way to add, categorize, and display menu items
Pricing: Free, Pro Version from $24 a year
3. WPCafe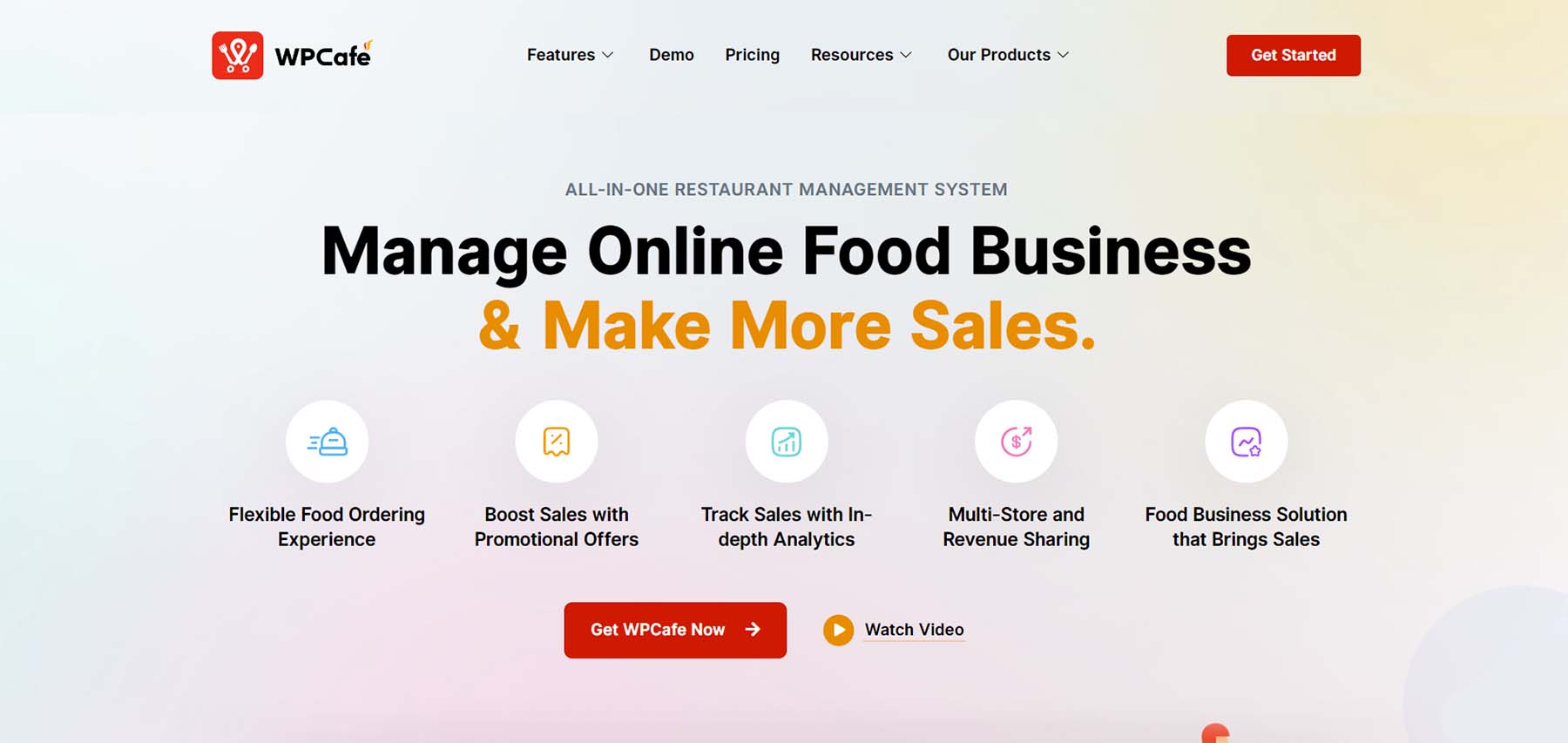 WPCafe is a complete restaurant solution that offers a full range of features to help manage virtually every aspect of a food business. With its combination of reservation management, menu creation, online ordering, and pickup/delivery capabilities, this plugin is a must-have for any restaurant or cafe that wants to fill up the order queue for their kitchen.
Key Features for WPCafe
Comes with customizable menu styles and layouts
Customizable mini cart module when checking out and browsing (making add to cart super easy)
Advanced search and filter for menus
Customers can visually see open tables ready for reservation
Google Maps integration for store location and customer address auto-complete
Manage discounts, keep track of payments, and turn on tipping
Customizable reservation forms
Integrates with Gutenberg blocks to help build website content.
The beauty of WPCafe is that it turns a great eCommerce solution (WooCommerce) into an industry-leading restaurant management system. Its ability to use Google Maps in the checkout process is very streamlined. We especially like that it simplifies WooCOmmerce's standard checkout process with what they call "Mini Cart" checkout. It brings in a quick side pane, instead of loading a new page, when a customer is ready to checkout.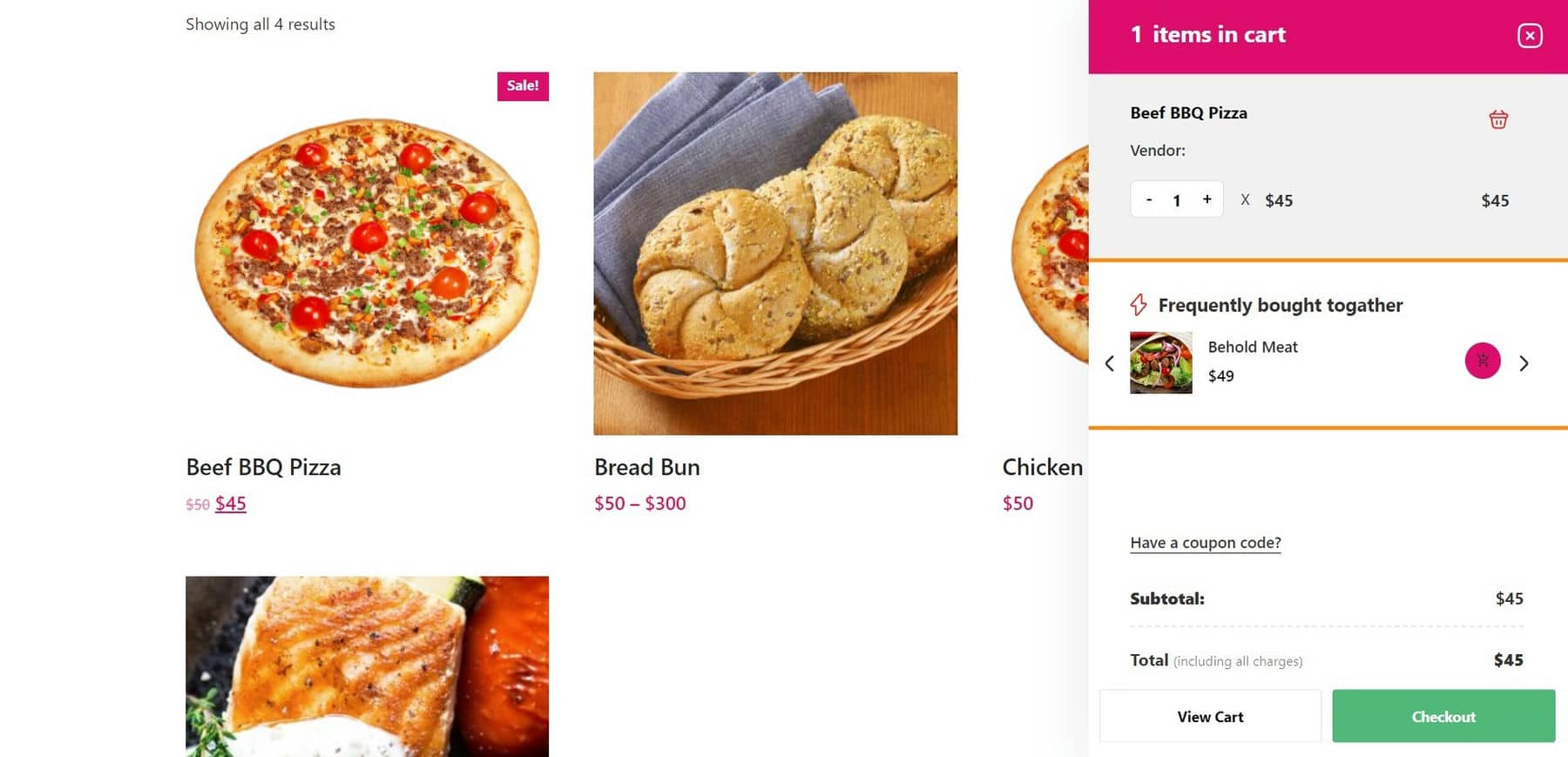 WPCafe is for you if you…
Need a total solution without a bunch of plugin combinations
Want a reliable plugin that "gets" restaurants and their needs
Pricing: Free version with Pro at $59 a year (Lifetime pricing available)
4. ProveSource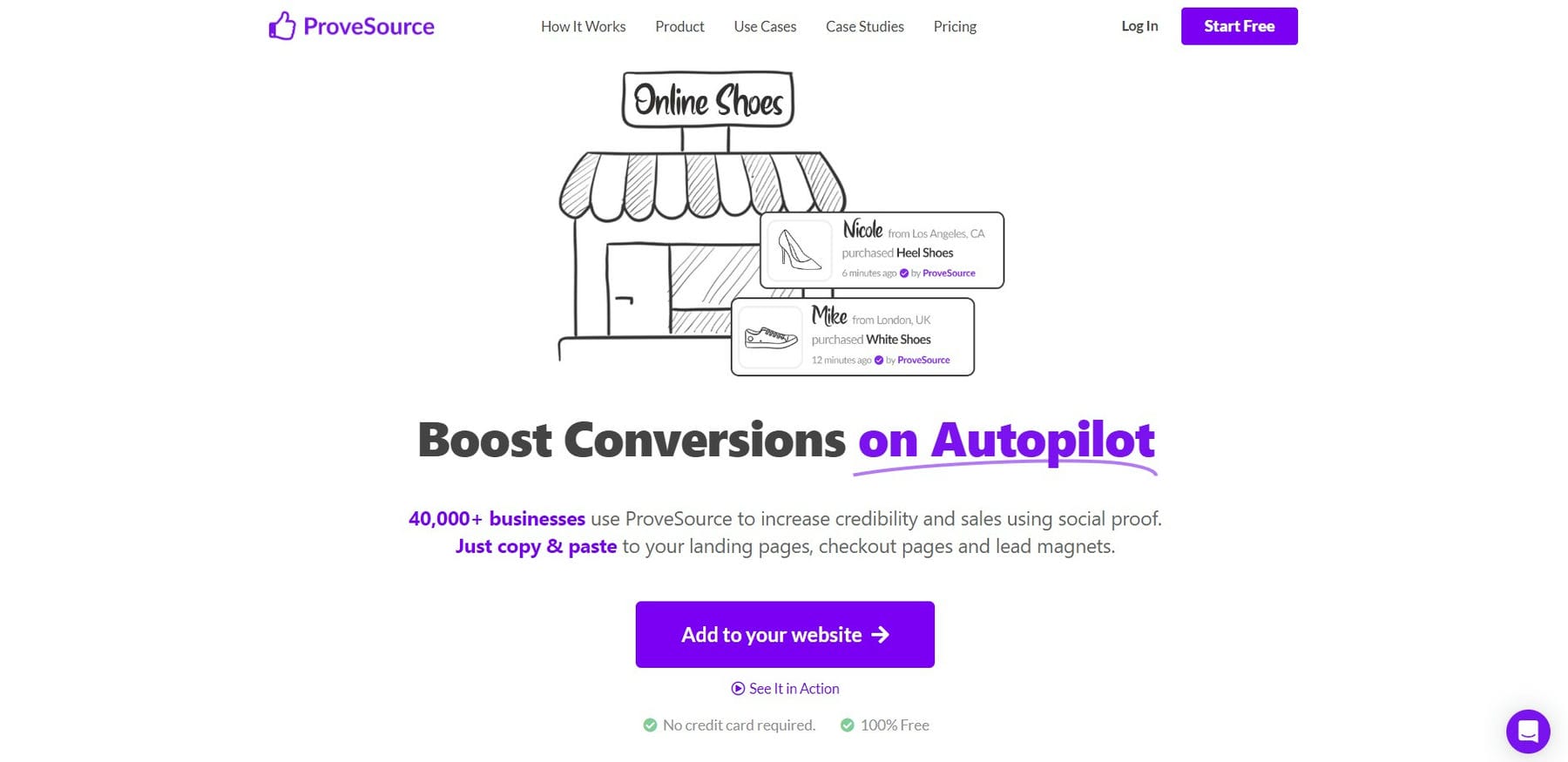 ProveSource is a social proof plugin for WordPress that pulls recent orders to display them as social proof to site visitors. This creates a positive signal for visitors that will help boost sales and increase your conversions. ProveSource is commonly used in traditional eCommerce stores but can be used to great effect for WooCommerce-powered restaurants.
Key Features for ProveSource:
Showing recent orders and the current number of site visitors
Customize order popups with position, timing, colors, and images
Supports over 22 languages with Localization and translation
Use a nudge style that is friendly to your brand and store design instead of obtrusive popups
Integrations with popular payment gateways and email marketing platforms
ProveSource is specially designed to show high-converting social proof on mobile devices. The truth is that most of your customers who are submitting mobile orders are doing so on their phones. This plugin and service help you make the most use of your mobile website and capture interest using data that your store already is generating. You can create multiple types of banners and display each based on specific rules. Additionally, you have a good amount of control over how they look.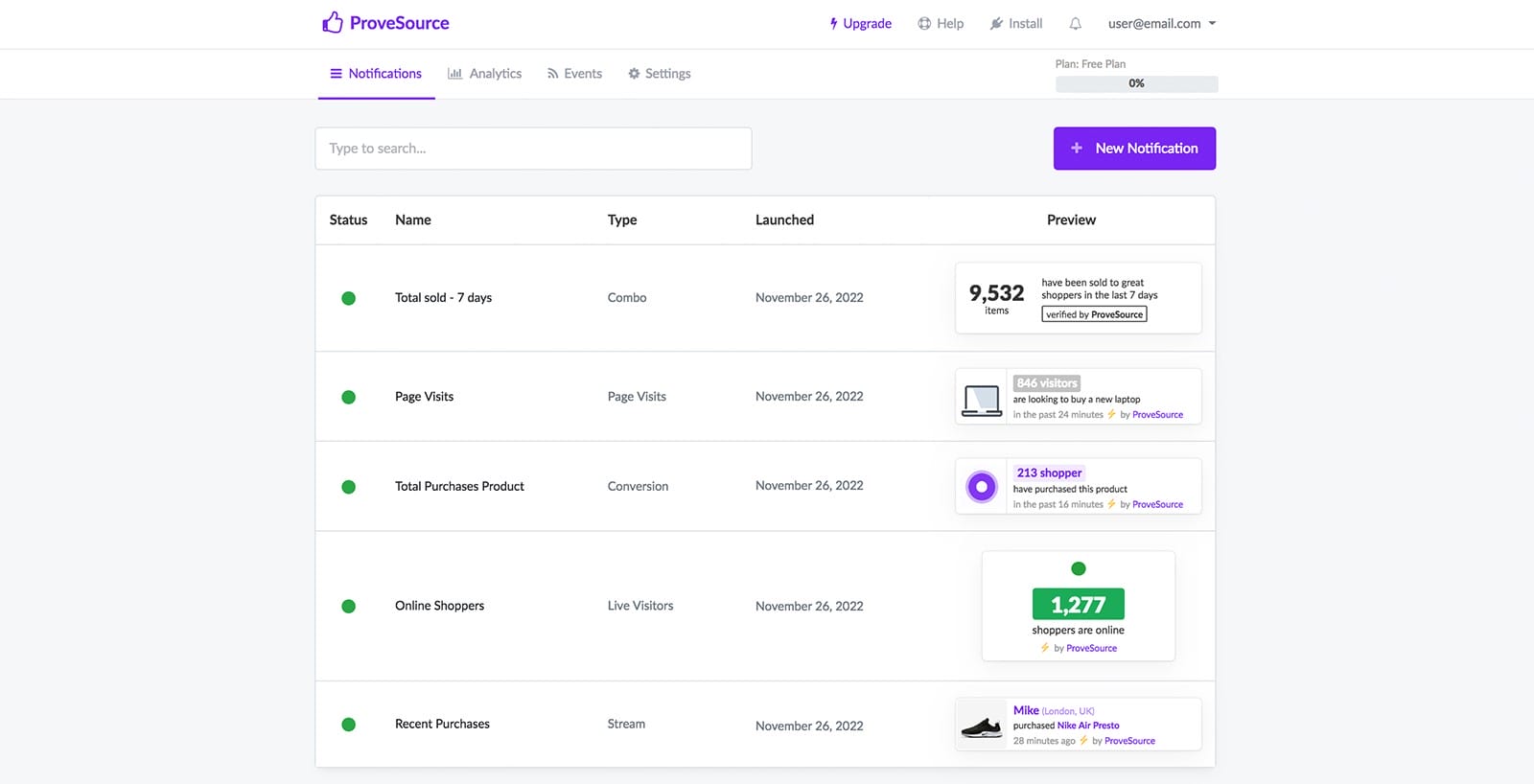 ProveSource is for you if you…
Use WooCommerce to power your mobile order system (deliveries or pick-up orders)
Have low website conversion rates and want to increase sales
Pricing: Free plan, Paid plans starting at $24 a month
5. WooCommerce Location Picker

Location Picker for WooCommerce offers WooCommerce store owners a more precise location of customer locations. This is useful for delivery offered by local restaurants. With this plugin, customers can intuitively select their exact location using Google Maps during the checkout process, without the need for additional contact.
Key Features for WooCommerce Location Picker:
Geolocation feature to accurately detect user's location during the checkout
Autofill Address Details to save time and reduce input errors
Translation Ready for use in multiple languages
View on Map Button for Admin to visually track and confirm delivery locations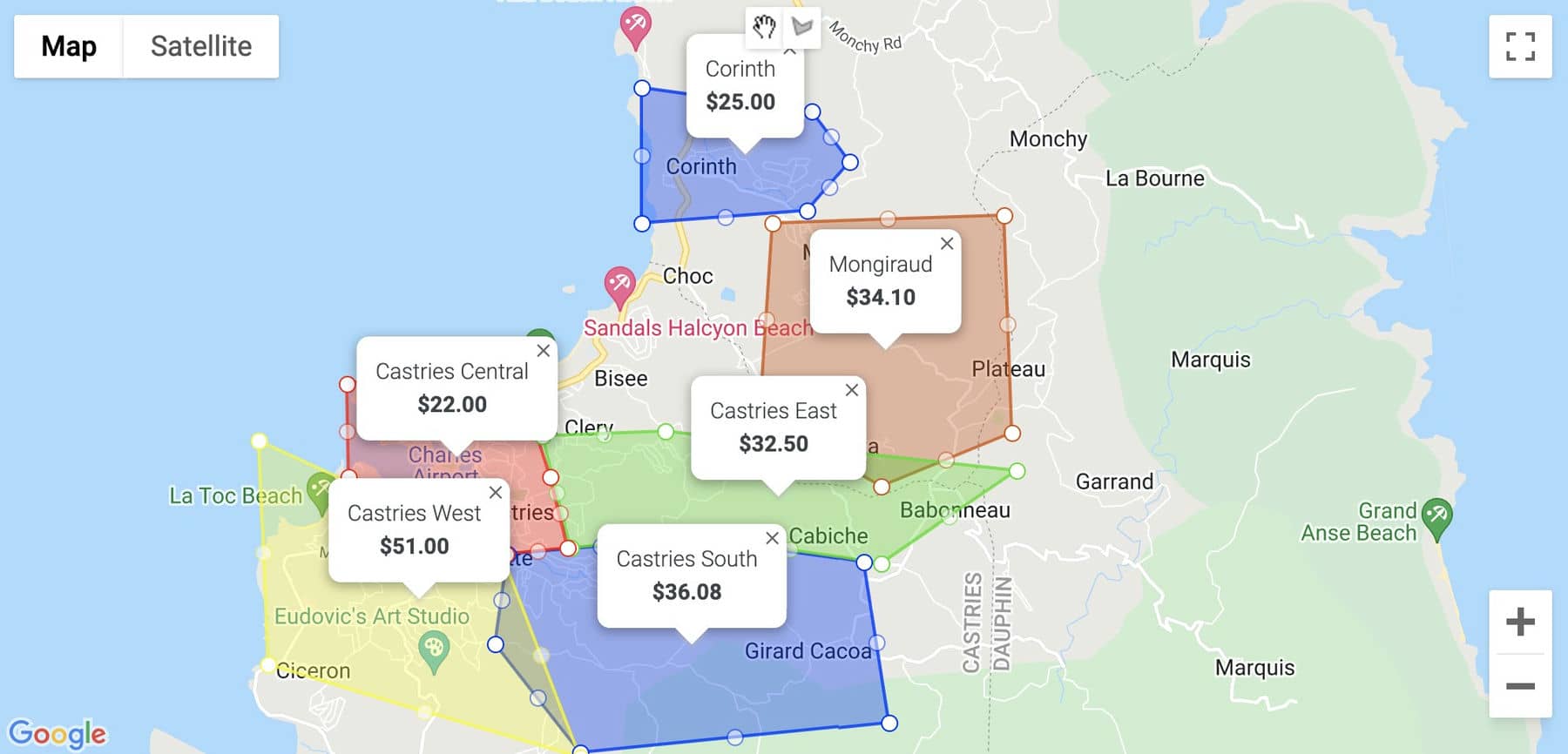 Location Picker can be set up to automatically detect the customer's location on the checkout page load while also allowing customers to make any necessary corrections. This feature helps to ensure that the delivery is accurate, providing a smoother and more efficient transaction for both the customer and store owner. Delivery boundaries may also be set up to ensure that you aren't delivering orders to customers well outside your delivery range.
WooCommerce Location Picker is for you if you…
Offer delivery services from your website
Have had bad experiences being able to find the exact locations of customers who may be in public places like libraries, workplaces, and parking lots
Pricing: Free plan, Pro starting at $39.99 a year (Lifetime options available)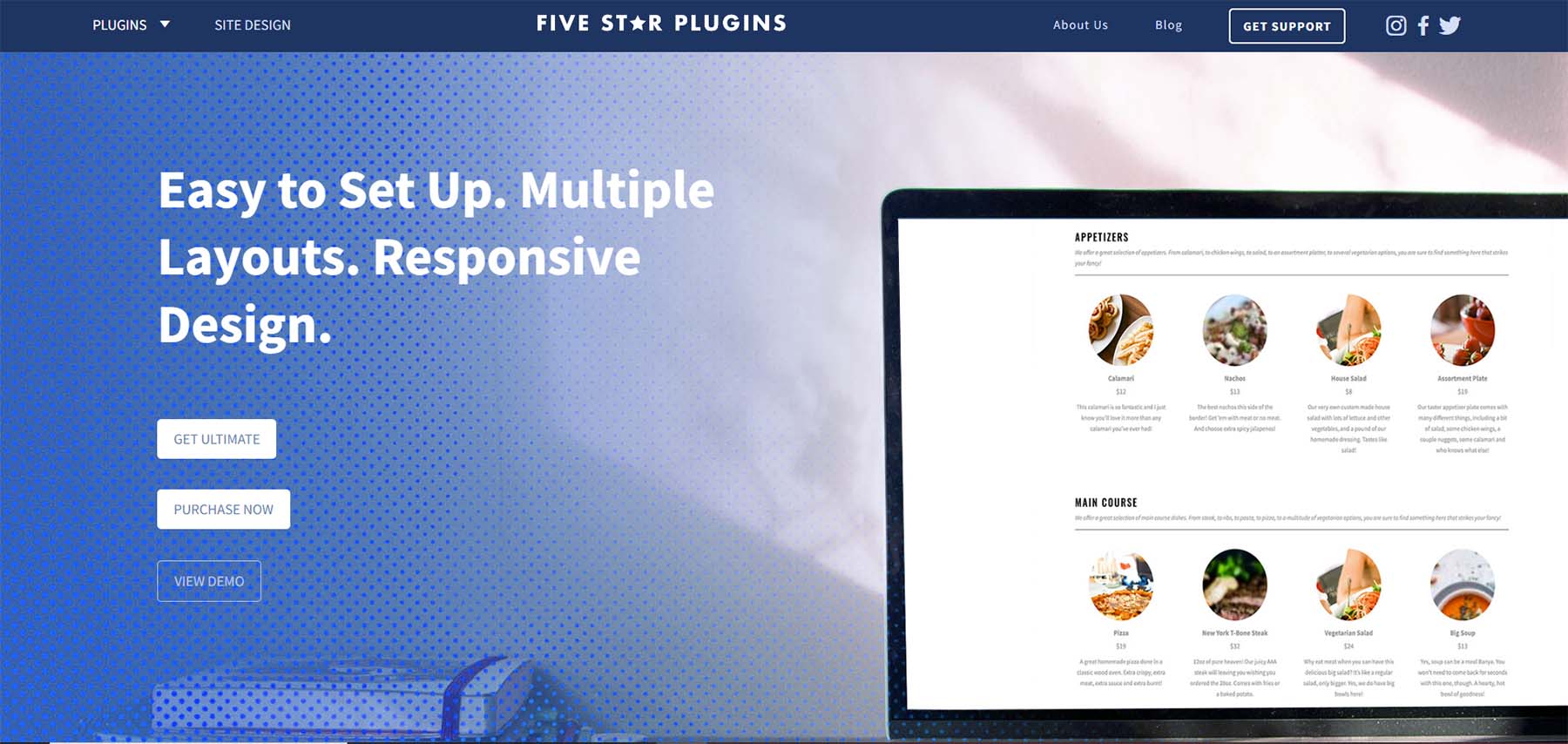 The Five Star Restaurant Menu plugin is a block editor-based WordPress plugin that allows restaurants to quickly and easily set up responsive restaurant menus. It provides everything you need to set up your restaurant menu and beautifully showcases it on your website. The "Ultimate" version also comes with its own ordering system and app.
Key Features for Five Star Restaurant Menu:
Advanced menu Layouts and styling
Sorting and filtering options for your menu
Display dietary icons within your menu
Accept orders directly from your menu page
Display sale/promotional pricing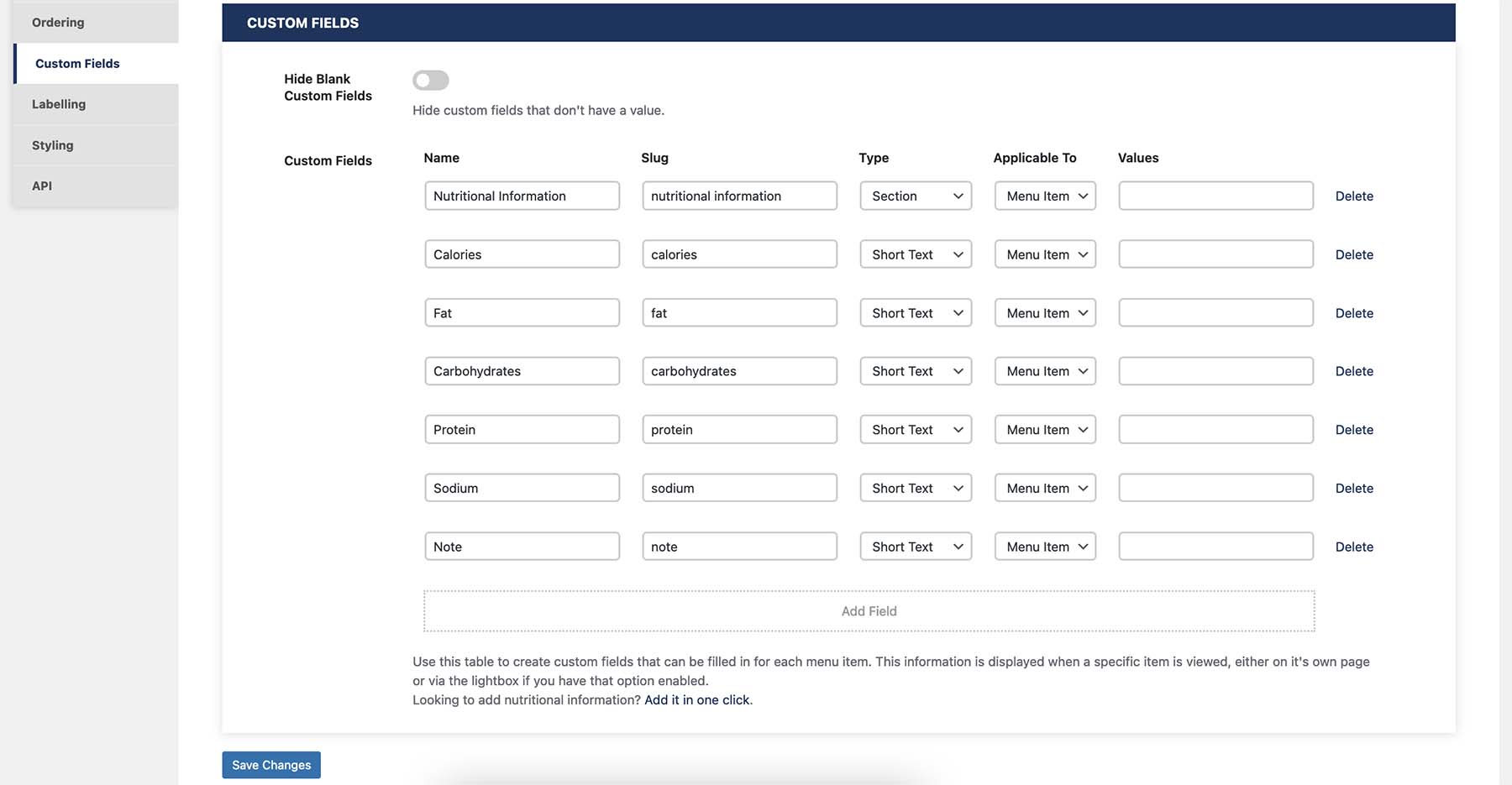 Five Star Restaurant Menu lets you create and use custom fields for your menu items so you can display detailed information. Use these custom fields for info like nutrition, ingredients, and guidelines, and use them to set up templates for your menu items.
Five Star Restaurant Menu is for you if you…
Primarily want an easy and good-looking way of displaying menu items
Already use or are planning to use other Fiver Star products like Reservations and Reviews
Pricing: Free version, $67 Lifetime for Premium, and $297 a year for Ultimate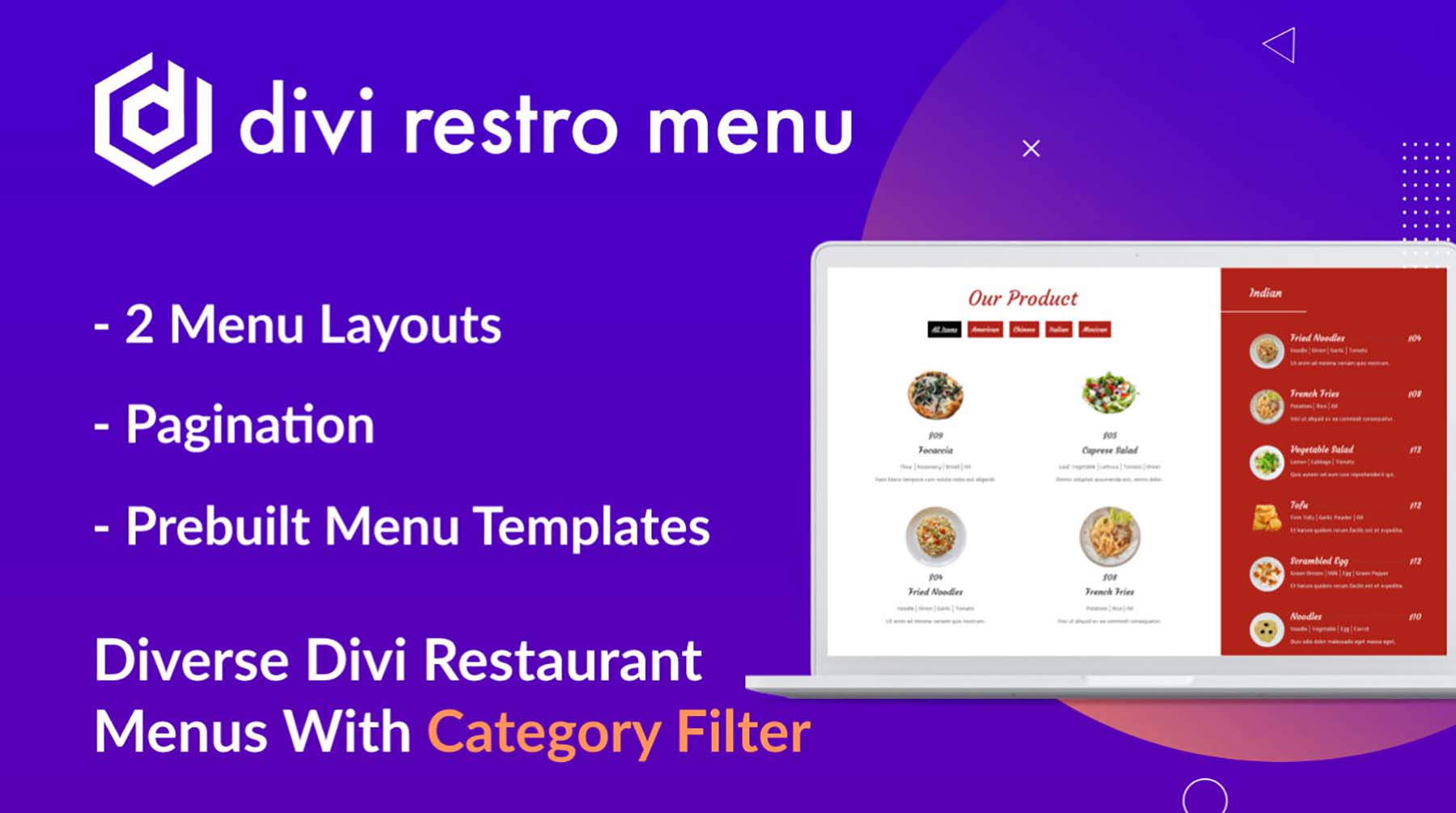 Divi Restro Menu has one purpose—to make creating attractive online menus on Divi as easy as possible. Users of Divi's WordPress theme or plugin will have no trouble using this plugin as they better showcase their menus digitally.
Key Features for Divi Resto Menu:
Has 2 customizable menu layouts
Creates a menu custom post type for easy menu item management
Ajax-powered pagination, categories, and filtering
Easily show ingredient list and item description
Display menu item images
Divi Restro Menu expertly handles your menus and menu items. The frontend experience for site visitors is especially pleasing since they can adjust the view of the menu based on filter options. Simply click a menu category and all that is visible are the items in the category.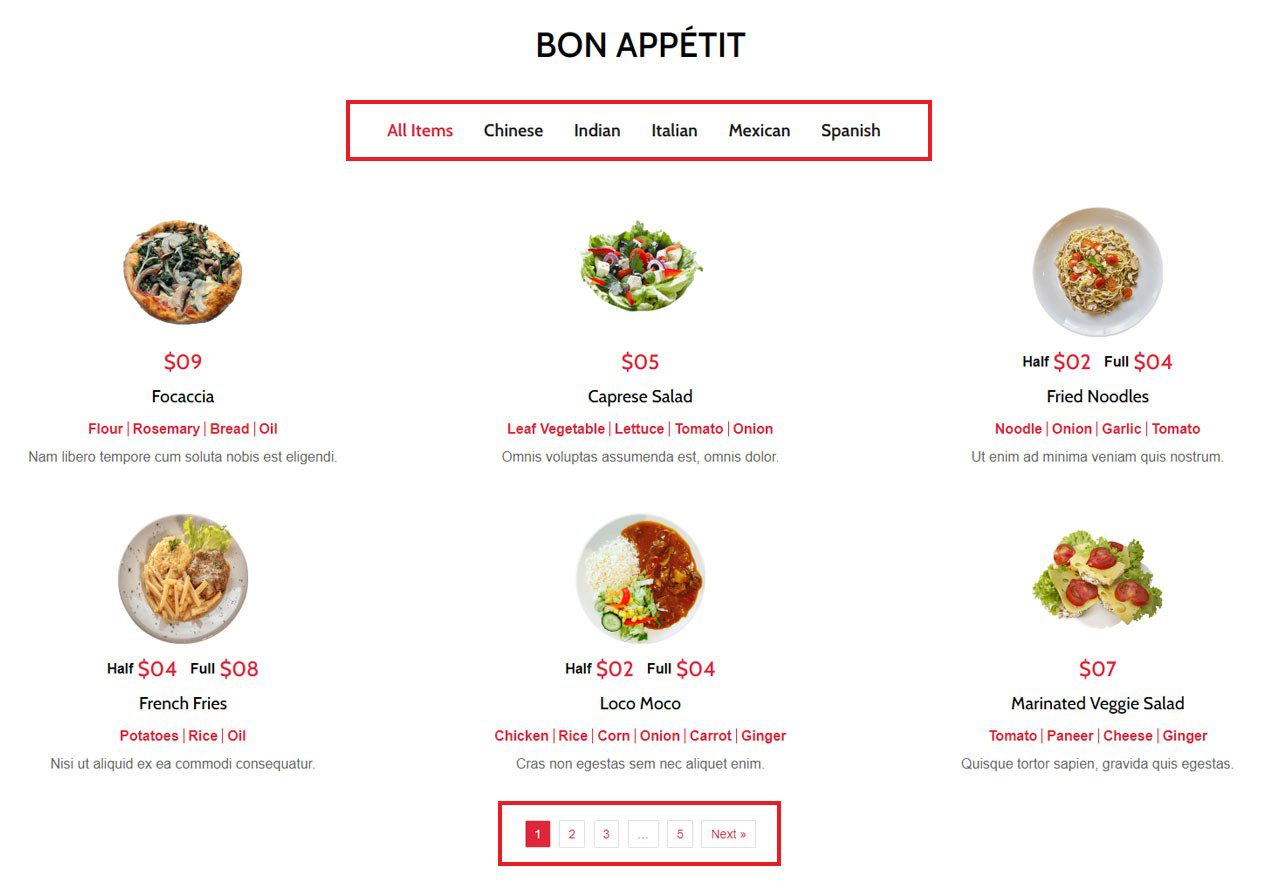 Divi Resto Menu is for you if you…
Use Divi for your restaurant website
Want the easiest way to display menus and menu items
Pricing: $39 a year
8. WooCommerce Food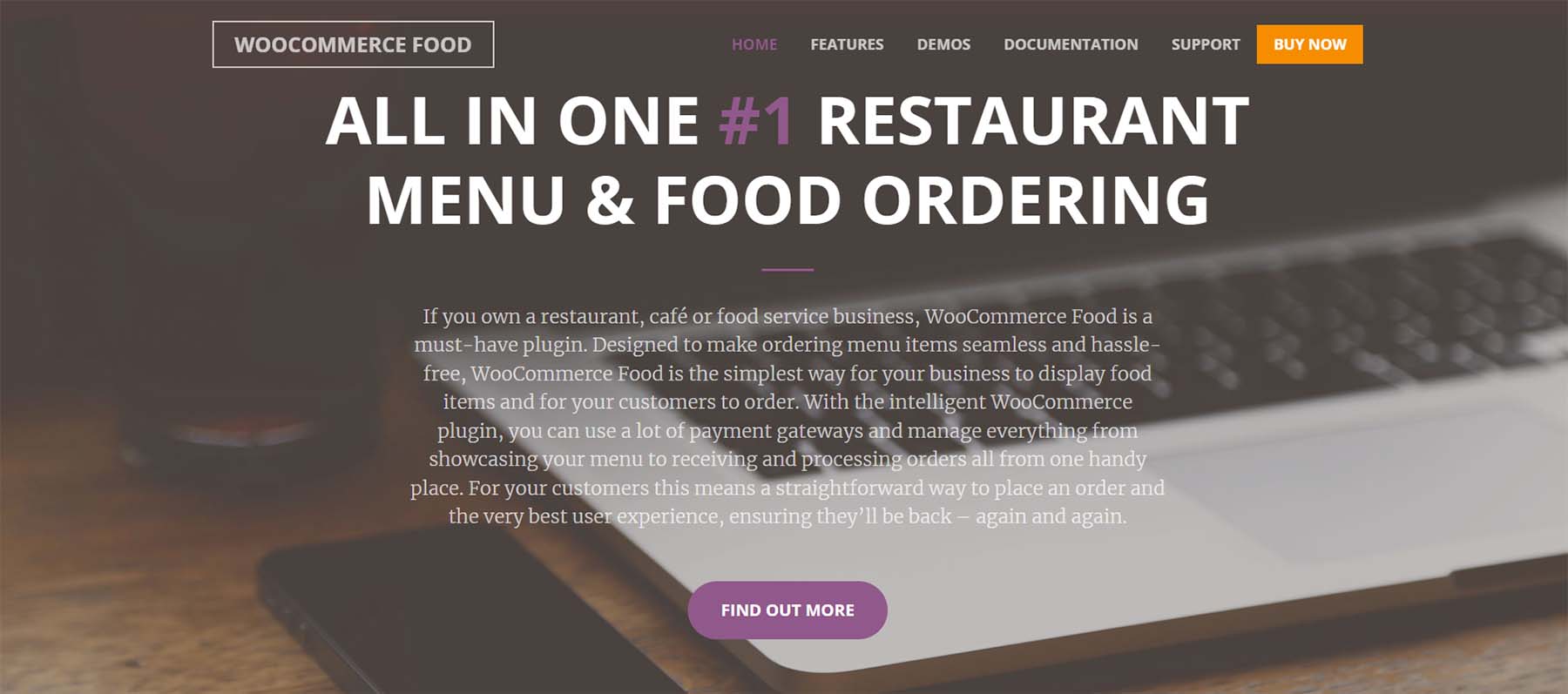 Like WPCafe, mentioned above, WooCommerce Food is a highly recommended WordPress plugin that creates and manages an entire ordering system for your website. The plugin makes it easy for restaurants, cafes, and food service businesses to display menus but also accept online orders through its WooCommerce-powered backend.
Key Features for WooCommerce Food:
10+ food and menu display styles
Users can choose an order method: pickup, delivery, or dine-in
Set and limit delivery zone with Google maps
Supports multiple locations with differing menus
Set custom opening and closing times
Compatible with WPML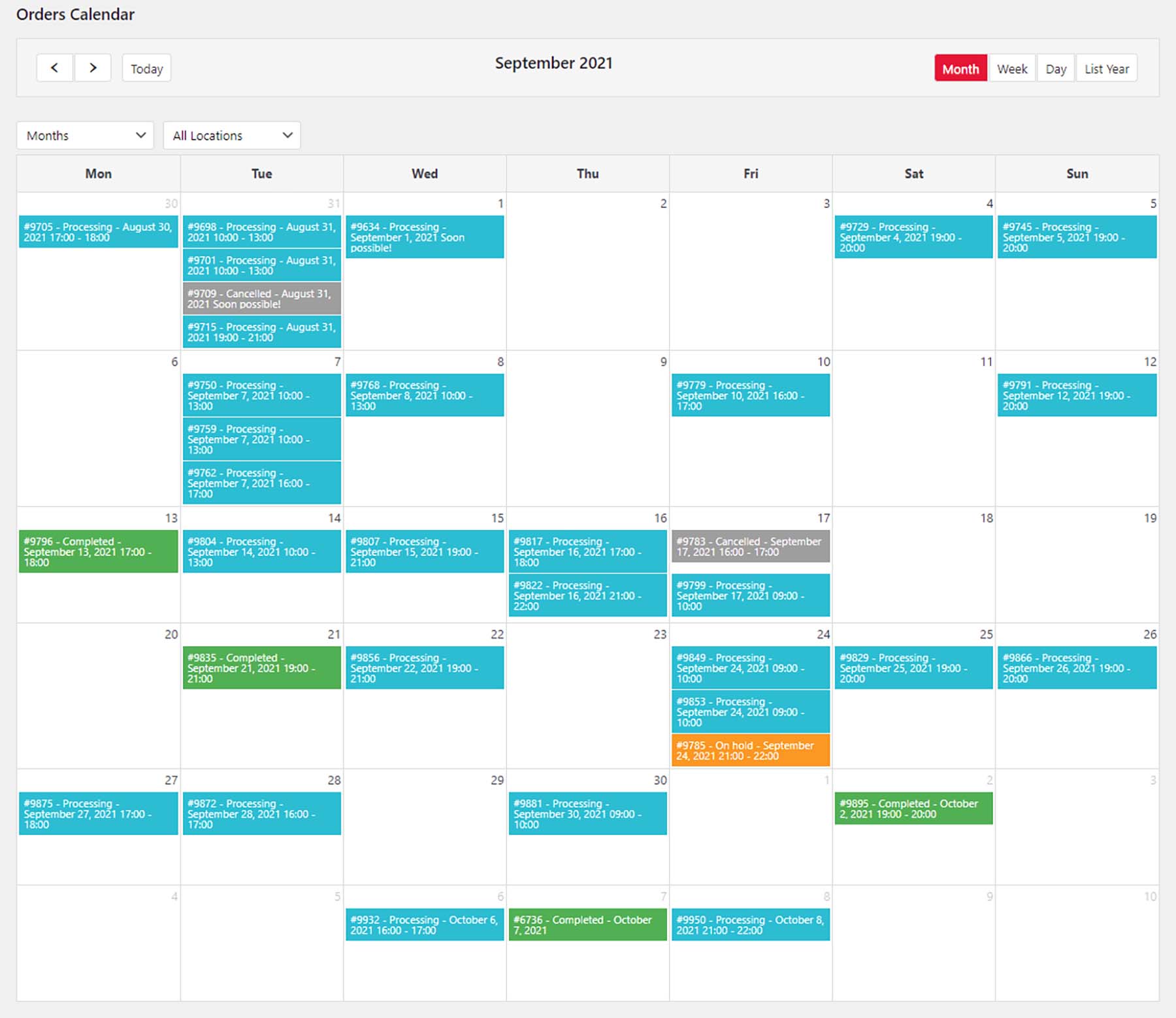 WooCommerce food gives you a preview of all your orders and their status, date, time, and order number from one convenient calendar. Filter through orders placed on your website by "day" or look at your past and future views using the "week" or "month" views.
WooCommerce Food is for you if you…
Need a cheap online ordering system
Want a solution that is built on top of and extends WooCommerce
Pricing: $49 Lifetime (6 months of support)
9.  DoorDash for WP

DoorDash is a major provider that connects local restaurants with customers. It offers a reliable app that allows customers to find restaurants, place orders, and tracks the status of food delivery. Restaurant owners in the past had to signup as a vendor through their app in order to tap into the customer base that DoorDash has created. The DoorDash plugin for WordPress lets restaurants provide the option for delivery via DoorDash and then does all the heavy lifting of moving the order into DoorDash. Just a simple delivery fee is charged to the restaurant owner (no other fees for using DoorDash!).
Key Features for DoorDash for WP:
Provide a convenient and reliable delivery experience to your customers
Eliminate in-house delivery costs and pay only per delivery
Get status updates and live tracking URLs for every delivery
Own the end-to-end customer shopping and checkout experience
Offer delivery from multiple store locations

DoorDash's WordPress plugin can completely manage your delivery operation for your restaurant. Without needing to worry about a delivery workforce (and all the headaches that come with one) you can easily focus on making quality food and getting it out the door. It can even manage multiple locations so their Dashers (what they call delivery drivers) know where to pick up the order.
DoorDash for WP is for you if you…
Are looking for a way to outsource delivery
Already use WooCommerce on WordPress
Pricing: Free, Service fees apply per order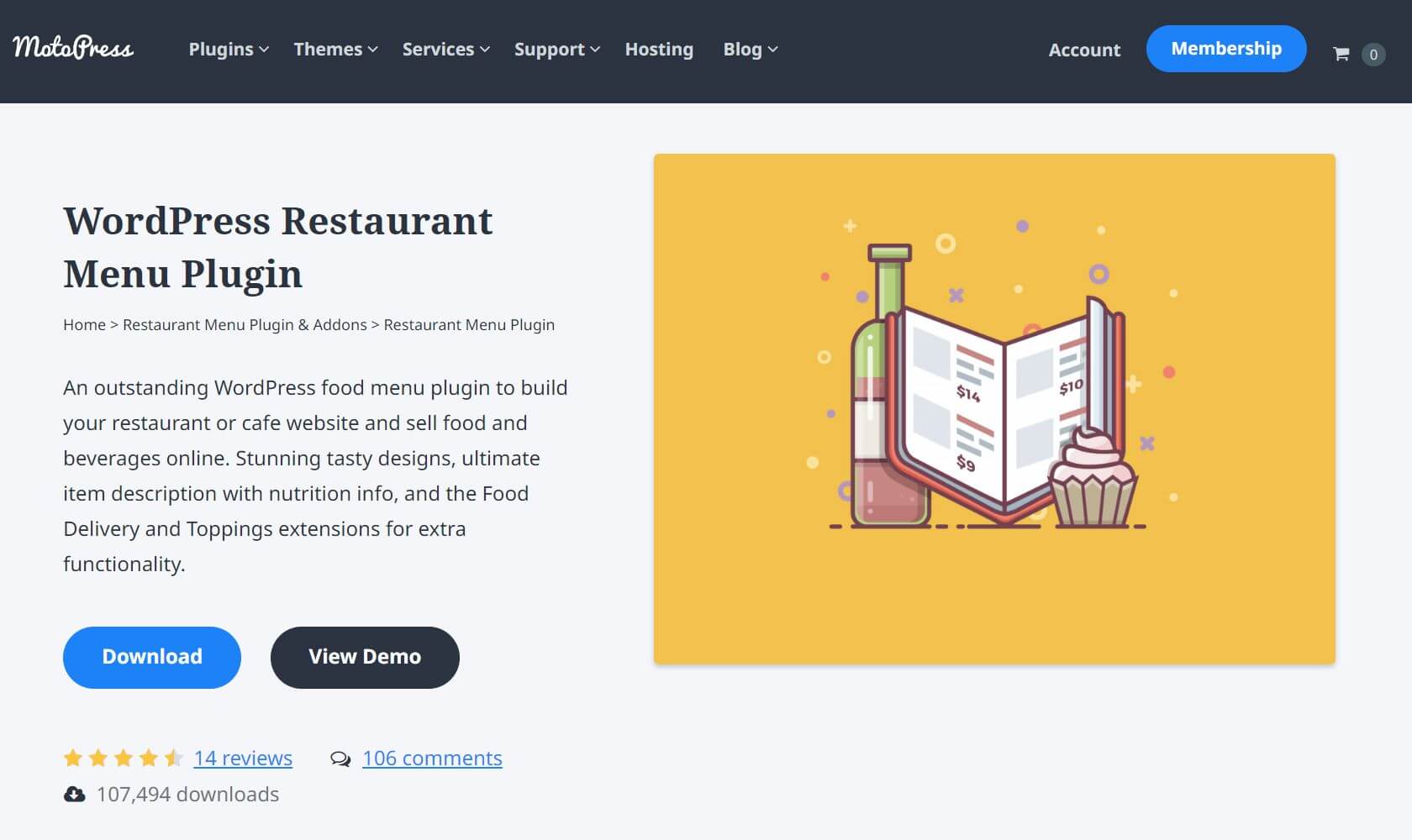 The WordPress Restaurant Menu by MotoPress is a free and easy-to-use food menu plugin. Create and manage all of your menu offerings on the backend and showcase menus anywhere on your WordPress theme. It includes built-in functionality for pizza ordering, fast food ordering, and more. Sell food and drinks with PayPal and cash on delivery methods for free. Additional add-ons are available at a reasonable price.
Pricing: Free, Paid add-ons available
Get Restaurant Menu by MotoPress
Which WordPress Restaurant Plugin is the Best?
Overall, when it comes to total online order management, both WPCafe and WooCommerce Restaurant Ordering are the clear winners. These plugins offer everything a restaurant needs to manage online orders, from taking reservations to managing menus and delivery options. Make sure to get them today so you can start building your online ordering platform.
However, if you're simply looking to create and display online food and drink menus, both Divi Restro Menu and Food Menu are excellent options, each with their own set of unique features and customization options. No matter which plugin you choose, incorporating one of these tools with your website is going to set you up for success.
The plugin recommendations don't stop there. Check out these top WordPress plugins to meet all your website needs.
Frequently Asked Questions (FAQs)
Before we wrap up, let's answer some of your most common questions regarding the best WordPress restaurant plugins. Did we miss one? Leave a question below, and we will respond!
Which is the best restaurant plugin for WordPress?
WooCommerce Restaurant Ordering
by Barn2 is the best restaurant plugin for WordPress. It extends your WooCommerce store to allow online ordering of your food. It uses a familiar UI for mobile devices by emulating a DoorDash or UberEats experience. It also works with product variations so customers can order food to their specifications. You will love that it can also handle carry-out and delivery options.
What is the best free WordPress restaurant plugin?
Food Menu
is regarded as one of the best free WordPress restaurant plugins. It allows you to showcase your menu effectively by adding images, descriptions, and prices. With this plugin, you have all the necessary features to share your restaurant menu with the world, making it an ideal choice for showcasing your offerings on your WordPress website.
Why do you need a restaurant plugin?
A
restaurant plugin
is a software tool that helps restaurants manage their online presence. It can be used to create and manage a restaurant's website, menu, and online ordering system. Restaurant plugins can also be used to take reservations, manage customer data, and track sales. There are many benefits to using a restaurant plugin. For example, plugins can help restaurants:
Generate more sales
Increase online visibility
Improve customer service
Provide better local restaurant SEO
Why do you need a WordPress restaurant menu plugin?
A restaurant menu plugin does wonders for WordPress site owners by quickly displaying your menu items and their essential details on your website. Users expect to see an easy-to-use and navigate food menu when they visit your website. If they can't get that, they may get frustrated and choose to dine elsewhere. Many restaurant menu plugins also either come with an online ordering system or integrate with one you may be using, making it very easy for customers to browse and then buy.
Is WordPress good for restaurant websites?
WordPress is an excellent choice for restaurant websites due to its flexibility and user-friendly nature. It offers numerous restaurant themes, and an extensive collection of useful plugins for restaurant websites, allowing restaurant owners to customize their websites according to their needs. WordPress provides an intuitive interface and robust features, making it a popular and reliable platform for creating engaging and functional restaurant websites. For more in-depth information, refer to our
article
on the advantages of using WordPress.
How do I add a restaurant menu in WordPress?
You can use the
Food Menu
plugin to add a restaurant menu to WordPress. After installing and activating the plugin, you can add menu items by entering their name, description, and image. Publish each item after entering the details. To add more items, repeat the same process. To display the menu, go to Food Menu » ShortCode Generator and click "Add New." Customize the display options and enable online ordering if desired. Finally, use the generated shortcode to display the menu on your WordPress site.
How do I create a restaurant website with WordPress?
To create a restaurant website with WordPress, follow these steps: 1. Plan your website, determining its structure and content. 2. Choose a web hosting plan that suits your needs. 3. Select and register a domain name for your restaurant. 4. Install WordPress on your hosting server. 5. Choose a theme that aligns with your restaurant's branding. 6. Customize your WordPress theme to match your desired look and feel. 7. Write compelling copy for your website's pages. 8. Identify and install necessary plugins for added functionality. 9. Test your website thoroughly for responsiveness and functionality. 10. Publish and promote your restaurant website through various marketing channels to attract visitors and customers.
What is the most popular restaurant reservation plugin for WordPress?
While there are several popular restaurant reservation plugins for WordPress,
WPCafe
stands out as a top choice due to its comprehensive features and focus on meeting the specific needs of restaurants and cafes. With reservation management, menu creation, online ordering, and pickup/delivery capabilities all in one plugin, WPCafe offers a complete solution. It eliminates the need for multiple plugin combinations. It provides a reliable solution that understands the unique requirements of restaurants, making it an ideal choice for streamlining operations and maximizing kitchen efficiency.
What is the best restaurant menu plugin for WordPress?
Five Star Restaurant Menu
is considered one of WordPress's best restaurant menu plugins due to its impressive features and user-friendly setup. It enables restaurants to easily create responsive menus, providing advanced layout options and styling for a visually appealing presentation. The plugin offers to sort and filtering options to enhance menu navigation for customers. Additionally, it allows the menu to display dietary icons, facilitating easy identification of specific dietary options. With the capability to accept orders directly from the menu page and display sale/promotional pricing, Five Star Restaurant Menu provides a comprehensive solution for showcasing and managing restaurant menus on WordPress websites.
What is the best WordPress restaurant plugin for taking online orders?
WooCommerce Restaurant Ordering
is considered the best WordPress restaurant plugin for taking online orders. It seamlessly integrates with WooCommerce, transforming a regular WooCommerce store into a powerful online ordering platform tailored for restaurants and food outlets. Its extensive features provide an ideal solution for restaurants expanding online business operations.
Featured Image via graficriver_icons_logo / shutterstock.com