More and more restaurants are starting to rely on pickup and delivery to keep business going during the COVID-19 pandemic. It's a vastly different experience from sit-down dining and many businesses aren't prepared to process online orders. To make this transition, you need access to the best restaurant online ordering system you can get.
In this article, we'll introduce you to five of the best restaurant online ordering systems you can use. We'll also share a couple of WordPress plugins that provide restaurant ordering functionality and help you choose the right solution for your business.
Let's fire up the grill!
Why Restaurants Are Adapting to Curbside Pickup and Delivery
Restaurants are one of the hardest-hit industries by the COVID-19 pandemic. Most of them typically rely on in-person dining to generate revenue, but social distancing guidelines prevent people from congregating, especially in close quarters.
Businesses that were already offering delivery and pickup services managed to adapt the fastest. However, many restaurants were left scrambling. Although there are a lot of apps and platforms you can use to offer food delivery services, they tend to charge high fees. Plus, implementing a new system takes time no matter the circumstances.
The solution for most restaurants isn't to keep their doors closed. Unless you have a lot of cash to burn, you can't afford to stay shuttered for months on end and still pay rent and salaries, never mind making a profit.
However, if you already have a built-in clientele, they likely don't care whether you use Uber Eats, Postmates, or your own restaurant online ordering system. They want your food, and if you make it possible for them to order, they could keep your business afloat.
Setting up your own system lets you reduce the amount of money you spend on service fees. Fortunately, flexible platforms such as WordPress enable you to adapt your existing website so customers can place orders online.
5 Best Restaurant Online Ordering Systems for WordPress
The hallmark of a quality restaurant online ordering system is that it's easy to use. If ordering food on your site is a pain, you'll likely miss out on sales. Customers are growing used to making quick orders from their phones, so it's important to streamline the process as much as possible.
When selecting platforms for the list below, we prioritized options that provide a high-end mobile User Experience (UX). Since many small businesses are on tight budgets at the moment, we also sought out some of the most affordable options. Here's what we found.
1. Restolabs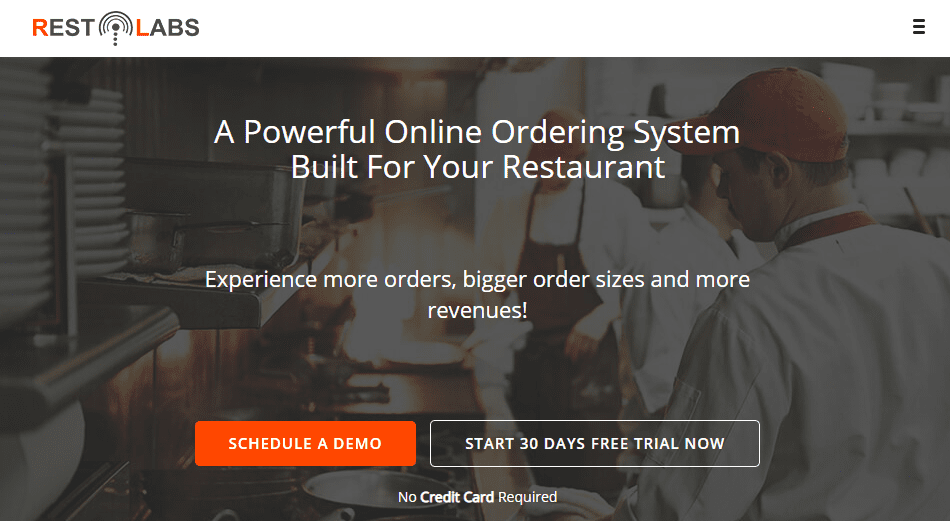 Restolabs enables your customers to place orders online for pickup, delivery, or even pre-paid dine-in. This is a platform that can easily improve your business not only during the current health crisis, but also in the future as restaurants start to reopen.
The ordering process with Restolabs is simple. Customers can select what type of order they want to place. If they need delivery, they can enter their address via an interactive map. Then, they can select the menu items they want, confirm their address, and enter their payment details.
Using Restolabs, you can process credit card payments or let customers pay with cash upon pickup or delivery. The system supports email notifications and automated phone calls to inform you of new orders and can print tickets for your kitchen automatically.
Pros:
Enable pick and delivery orders
Process credit card or cash payments
Set up real-time order notifications
Offer coupons and rewards for repeat customers
Access order analytics
Cons:
Driver management options are only available for the Premium plan and up
Price: The Basic Restolabs plan costs $45 per month per store | More Information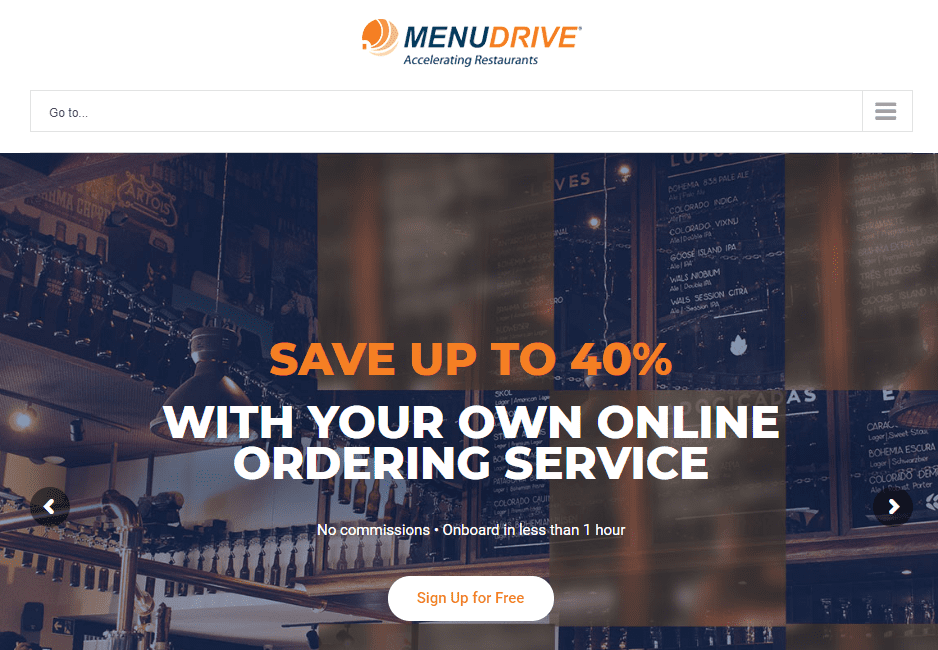 MenuDrive supports both delivery and takeout orders. Using this restaurant online ordering system, you can set up menus that are readable across all types of devices, making it easy to use for customers on smartphones.
The system enables you to configure what types of notifications you want to receive and process credit card payments. With MenuDrive, you can configure your available delivery areas, as well as your operating hours.
What sets MenuDrive apart is that it also offers site hosting as well as email and social media marketing functionality. This makes it ideal if you're just now starting to build your restaurant's online presence, and need to do so in a hurry.
Pros:
Set up delivery and pickup order processing
Accept credit card payments online
Configure what type of notifications you want to receive
Access email and social media marketing functionality
Enable group orders
Set up a customer-loyalty reward system
Cons:
The Basic MenuDrive tier limits you to a single user and one location
MenuDrive charges a 4.5 percent credit card processing fee, which is slightly higher than the industry standard
Price: MenuDrive plans start at $39 per month | More Information
3. GloriaFood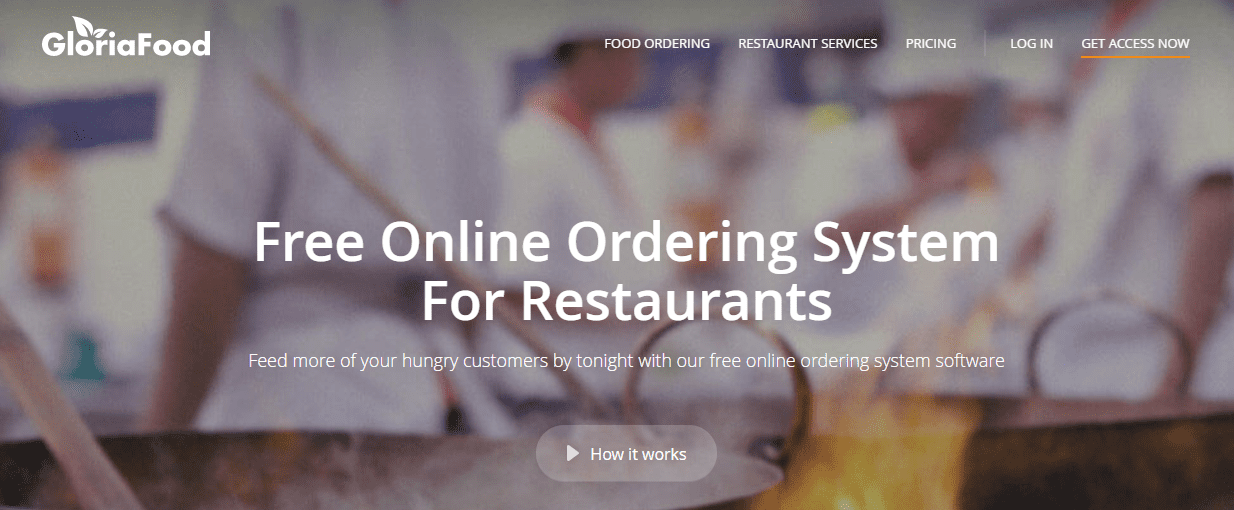 Unlike most other restaurant online ordering systems, GloriaFood is free. The base platform enables you to process delivery and takeout orders, as well as table reservations. Customers can even use it to order food in advance so it's ready when they arrive at your restaurant to dine in – a useful feature for reducing wait times once you're able to fully reopen.
On your end, the platform enables you to keep detailed reports about order activity on your own smartphone or tablet. You can also run promotions, and receive orders through your website or Facebook. The downside is that GloriaFood doesn't include native credit card processing.
If you want to process payments online, you'll need to pay for an add-on that costs $29 per month (plus any fees your payment gateways charge). If you want to use the platform for free, you can have delivery drivers carry Point of Sale (POS) devices or stick to cash.
Pros:
Supports delivery and takeout orders
Enable users to reserve tables through your website or Facebook
Access in-depth reports for your orders
Run promotions and offer coupons
Cons:
GloriaFood doesn't offer online payment processing out of the box
Price: Free with premium add-ons | More Information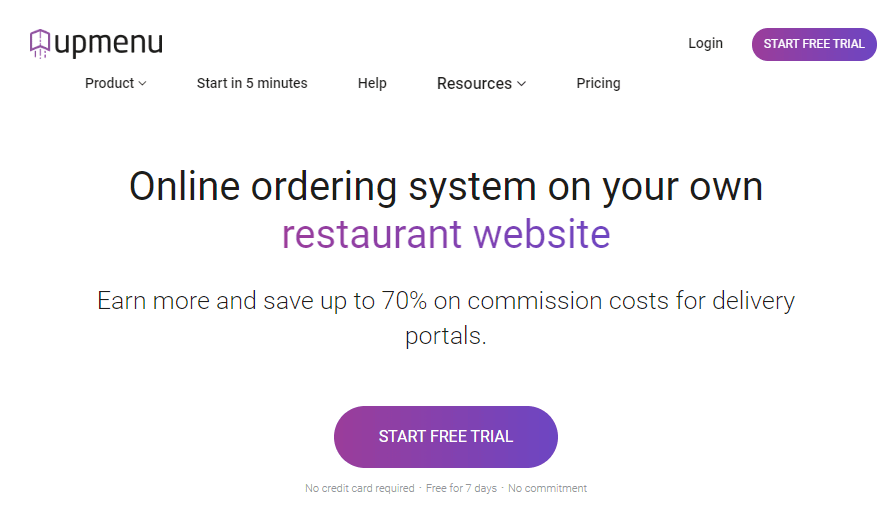 So far, all the restaurant online ordering systems we've seen focus on taking orders through your website. However, for bigger restaurants, it can make sense to set up your own app. This makes the mobile ordering process even smoother.
With UpMenu, you can set up simple branded iOS and Android apps for your restaurant. Its functionality is simple, but works well enough for taking mobile orders. Additionally, users can still place orders through your website or Facebook.
UpMenu enables you to process delivery and takeout orders, as well as take online payments through Stripe and PayPal. This platform provides a lot of options when it comes to prices, as it enables you to charge for packaging, set minimum order values, and more. It also lets customers tip drivers directly through your ordering system, which is a nice touch.
The main downside is that most of UpMenu's plans limit the number of orders you can process per month. Its Basic plan charges $49 per month for up to 90 orders, which is less than ideal. If you want to process unlimited orders, you'll need to pay for the Premium plan, which costs $169 per month.
Pros:
Process orders through your website, Facebook, or a mobile app
Set up branded apps for Android and iOS
Enable delivery and takeaway for your restaurant
Accept online payments via PayPal and Stripe
Enable customers to tip your delivery drivers
Cons:
The platform's starter plans severely limit the number of orders you can process per month
Price: UpMenu's Basic plan starts at $49 per month | More Information
5. ChowNow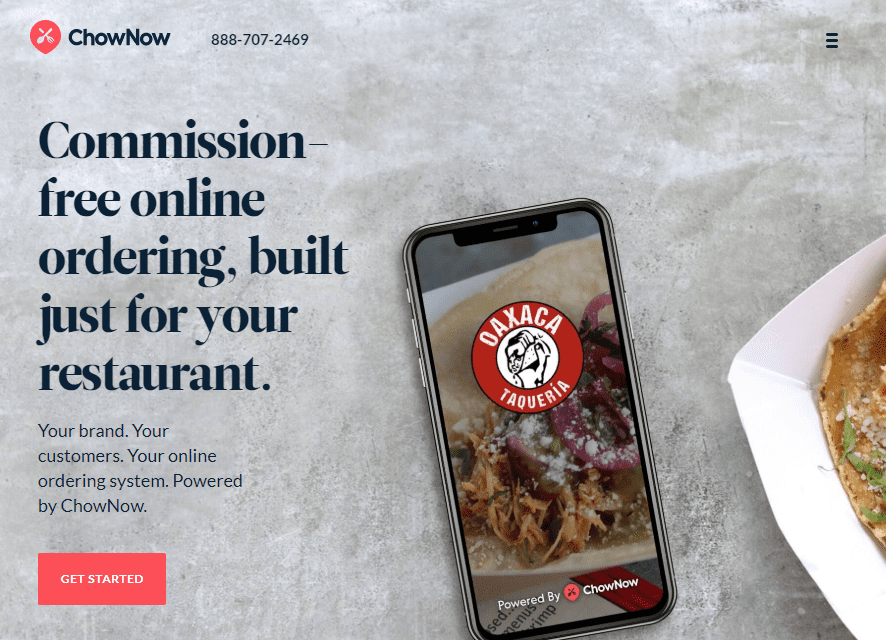 A lot of online ordering systems for restaurants are Do-It-Yourself (DIY) solutions. They give you all the tools you need to start taking orders, but the setup and marketing are still on you.
That approach saves costs, of course, but if you're in a hurry to start offering takeout and delivery, you may need a little help. ChowNow offers its clients support for setting up online ordering systems through a website, an app, or both.
ChowNow also helps restaurants with marketing their online ordering options. It guides you through designing marketing campaigns you can use to boost revenue, which is a unique feature among this type of platform.
With ChowNow, you can also process online credit card payments for a 2.8 percent fee, which is in line with industry standards. The platform's primary downside is that its plans are expensive, with the base monthly option starting at $149 plus a $399 setup fee per location.
Pros:
Receive orders through your website or an app
Get help setting up custom apps and online ordering systems for your restaurant
Access custom marketing campaigns you can use to increase sales
Process online credit card payments
Cons:
It's an expensive option, with prices starting at $149 per month plus a $399 setup fee per location
Price: ChowNow prices start at $149 per month | More Information
WordPress Plugins for Restaurant Online Ordering
Restaurant online ordering systems tend to be somewhat complex. You need to create online menus, implement order confirmation notifications, limit the locations customers can make purchases from, and more. By and large, you won't find many plugins that enable you to add all that functionality to WordPress.
However, there are some options available. For example, GloriaFood – the only free platform on the list above – has its own WordPress plugin. It enables you to create an online menu using a drag-and-drop builder and adds a full order processing system to your website:

If you're familiar with WooCommerce, another option you might like is Food Online for WooCommerce. It enables you to use WooCommerce to process pickup and delivery orders:

You can also use it to take online payments via PayPal and Amazon Pay. It integrates nicely with other WooCommerce extensions, which makes it one of the more flexible options available.
Conclusion
Online ordering isn't new by any means. However, many restaurants that never would've considered offering delivery or pickup are now making the switch. Fortunately, the transition is easier than ever given the broad range of restaurant online ordering systems you have to pick from. If you already use WordPress, there are even more options available to you.
If you want to set up an online ordering system on a budget, GloriaFood is an excellent solution that also integrates seamlessly with WordPress. The downside is it doesn't process online payments, which you can do with other platforms such as MenuDrive. Check these restaurant menu plugins if you're looking for plugins to help you create attractive food menus.
What is a feature you wish every restaurant's online ordering system included? Share your thoughts with us in the comments section below!
Image by Sentavio / shutterstock.com