When you build and maintain a positive brand image, more customers are likely to buy your product. Consistency breeds trust, which results in better customer sentiment, which can raise your reputation – it's cyclical. On the flip side, even something as seemingly inconsequential as one negative article can cause a company to lose 22% of its customers. That's from one article, and it's a good example of how imperative reputation management is.
Today, reputation management begins online. This is where consumers go to leave reviews and read reviews, and all of that information can travel fast. There are a number of factors that go into reputation management, including Google rank, PR, review websites and social media presence.
What is Reputation Management
There's a lot that's out of your control since people can post anything they want in a million places online. Instead of worrying about what you can't control, though, focus on what you're able to influence. Reputation management is a two-step process:
Monitor how your brand is perceived by customers.
Take action to control and improve your brand's reputation.
Some companies are so good at this and listen so intently that they hop in even when there's nothing discernible to respond to – take this exchange with Buffer for instance:

Two Types of Negative Content That Can Hurt Your Brand
There are two main types of negative content that can impact your brand's reputation:
Negative feedback on social networks
Reputation bombs, as defined by Neil Patel
When you see customers complaining on social media, you have to address the issues, but – when handled correctly – these situations won't seriously impact your permanent reputation. Reputation bombs, on the other hand, can do a lot of damage – bomb-sized damage. They may take the form of negative reviews on review sites, hate sites that are specifically designed to target your brand or negative media coverage.
The main difference between the two types of negative content is that reputation bombs show up prominently in search engine results. That means that if someone searches for your brand in Google, it's likely they'll see the reputation bomb before they see anything else.
12 Ways to Protect Your Brand with Reputation Management
There are a number of reputation management strategies to protect your brand. Proactive approaches are about encouraging positive feedback and using listening tools to monitor what people are saying about your brand. Reactive approaches are about damage control – the bad news is out there, and you have to respond to it. Let's go through several approaches – mix-and-match as you see fit.
Adopt an Aggressive SEO Strategy
While you can't control everything about your brand reputation, you can do your best to control your Google rank. With an aggressive SEO strategy that improves the rank of positive brand content, you can consistently appear in the top search results for your brand name. Even if there is negative feedback out there, consumers won't find it first. This isn't about hiding negative content. Instead, it's about making a good first impression so that consumers have a well-rounded view of your brand. If they start out by seeing negative content, they may be permanently soured to your company.
Use Reputation Management Software
Unless you have an entire PR department that will prioritize reputation management, you'll have to figure out how to do this on your own, and along with all of your other work. For small and medium-sized businesses, reputation management software is a huge help. This software tracks what people say about your brand so you can jump in when necessary to hopefully change their tune. Some software even alerts you to misspellings of your brand name and mentions that haven't tagged you.
BirdEye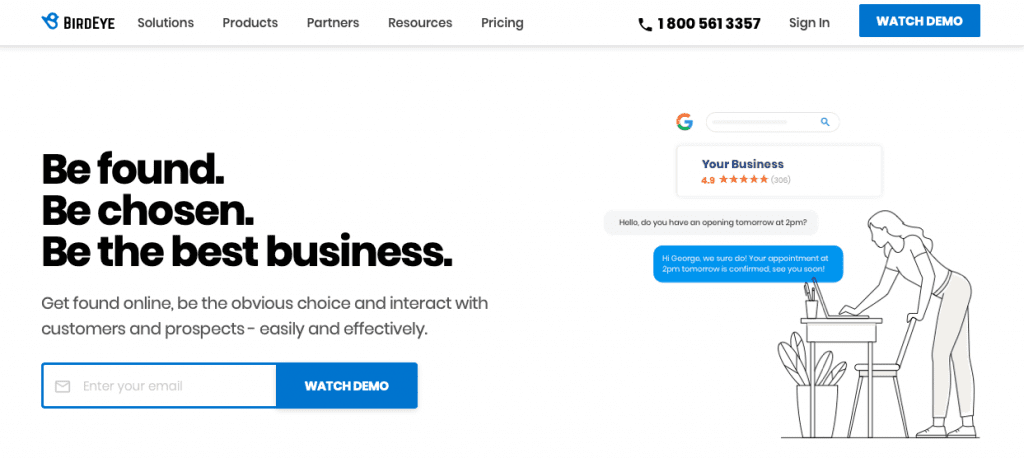 BirdEye gathers feedback from 150+ review sources to give you a bird's eye view (get it?) of your online reputation. You can monitor, respond to and promote reviews from the BirdEye dashboard, and you can ask customers for reviews, too. The software also lets you manage your social media accounts, get insight from competitors and create surveys.
Cision

Cision software is used by big brands for reputation management, and with custom pricing, you can talk to a specialist about your business size and specific needs. The software lets you track brand mentions across numerous sites, including social media, but where it really shines is with PR outreach. You can find industry contacts and media outlets to pitch ideas to, and you can also connect with influencers to help increase brand awareness.
Podium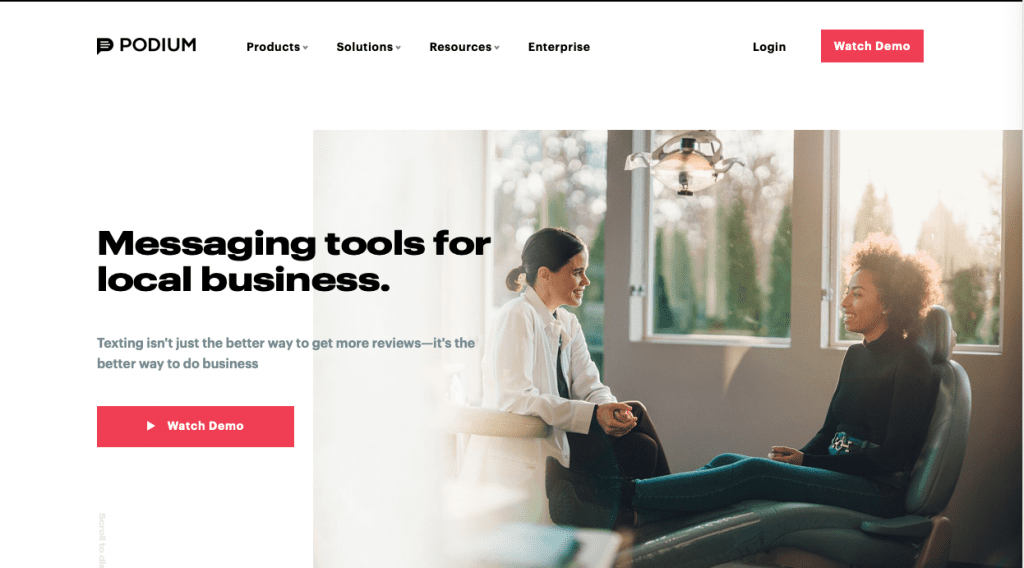 With Podium, you can access all of your customer interactions and reviews from one dashboard. You can send text messages to customers, request reviews and respond to them in real-time. Since a feature of this tool is manually sending texts, it's best for small and medium businesses that have the time for that type of interaction.
ReviewTrackers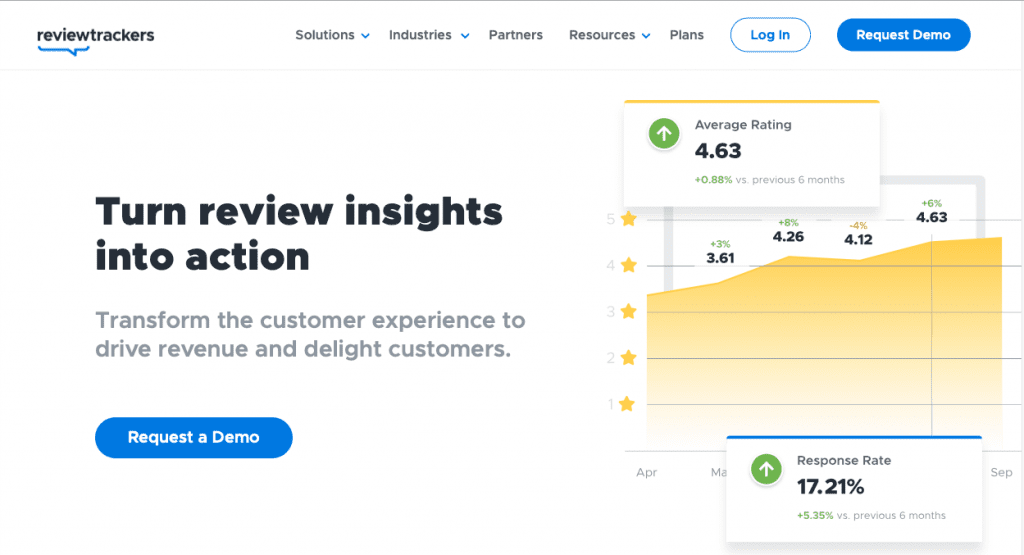 ReviewTrackers is a good option for businesses of any size, from small to enterprise. The software gathers online reviews from more than 100 third-party sites, like Facebook, Google and Tripadvisor. You'll also be notified when you have a new review, and you can track competitors and trending topics to stay on top of the industry.
Yext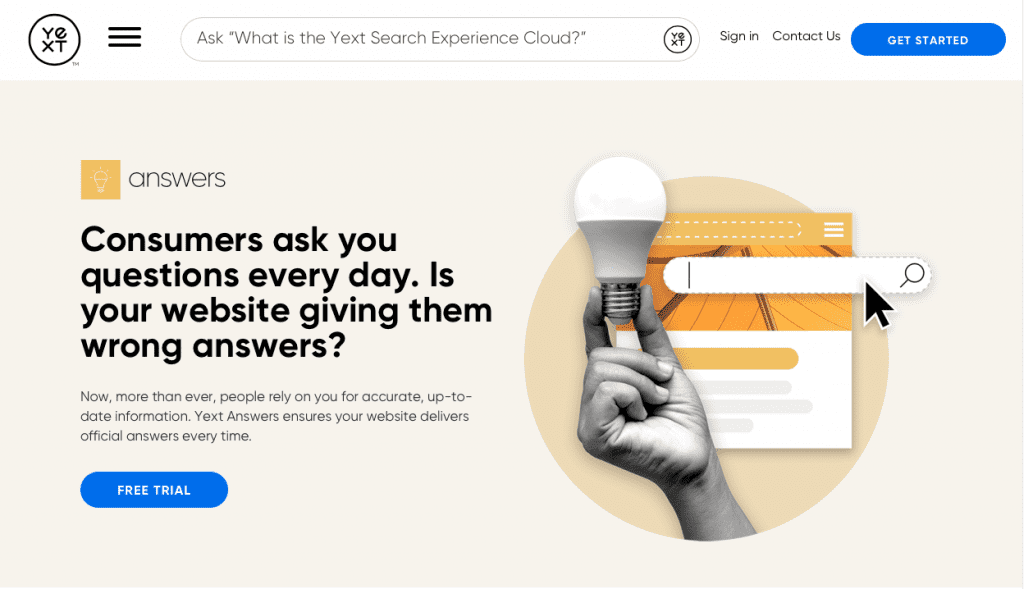 Out-of-date information can have a negative impact on local SEO. Yext determines if your business information is consistent across every site, then lets you fix most of those inconsistencies from one hub instead of having to go to each site individually. Yext also helps with managing social media accounts and responding to customer reviews.
Know What to Monitor for Reputation Management
Whether you use reputation software or a good ol' Google alert, you have to know what you're monitoring. Here are the basics to stay on top of:
Your company name and common misspellings
The names of your products and/or services
High-profile employees and partners
Top industry keywords
Your main competitors
Update All of Your Profiles
To create a cohesive brand presence, every single channel and profile should have the same aesthetics and messaging. That means using the same imagery, wording and voice everywhere you're present online. If brand collateral, like your logo or mission statement, has changed, it has to be updated everywhere.
On top of the channels you own or manage, regularly audit other places your brand may have a presence, like on a partner's website. If you allow others, like customers-turned-brand-ambassadors, to use your branding on their own channels, provide clear and strict guidelines for doing so. Everything you do that's customer-facing is a factor in reputation management.
Encourage Online Reviews
According to BrightLocal, the average customer wants to read about ten online reviews before they trust a local business. Ask customers to leave reviews, and make it super easy for them to do so. Email them a quick survey, post a link that takes them straight to a feedback form or Tweet a question that will encourage comments and opinions.
Always Respond to Negative Feedback
The pursuit of customer satisfaction doesn't end when you have one unhappy customer. Actually, that's the best time to try your best to satisfy the customer. You have to respond to negative reviews quickly. How you handle the situation is more important than the situation itself. Always keep these three things in mind:
Don't get defensive or make excuses – do not fight fire with fire.
Provide a solution that's actionable and helpful.
Apologize to the customer.
Instead of a simple "sorry" and "orders are delayed," IKEA tells this customer the next (and easy) steps to take to look into the issue further.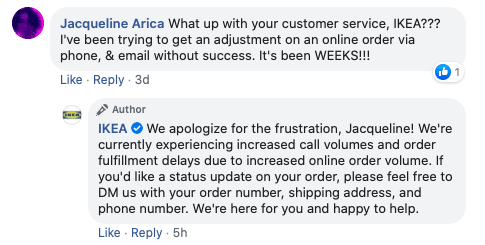 The upset customer (and anybody else who's paying attention) must see that you're fast and professional in solving their problem. They'll continue to trust you and remain loyal – even if they were less-than-thrilled about an experience. Customers are smart; they know nothing is perfect. They just want to be treated fairly when something does go wrong. According to ReviewTrackers, 45% of consumers are more likely to trust a business that responds to negative feedback.
Solve the Issue Without Switching Channels
Whenever possible, solve a customer's problem without asking them to switch channels. If a customer contacts you over chat or Twitter, that's where they want to troubleshoot the entire issue. This Twitter thread is a great example of this – MailChimp gave a lot of information and steps without resorting to, "Just email customer service."
Check Back with the Customer
You've listened to the customer, solved the problem and retained their business. You're done, right? You can be, but if you really want to impress them while staying front-and-center in their mind for a good reason, check back in. Follow up to see if they need anything else, if they've received their order, if they got their refund, etc. You're not just great in a crisis; your brand is reliable all the time, no matter what.
Say Something, Even if You Have Limited Information
When an issue arises that concerns customers, it may take some time for your company to assess the situation and figure out a game plan. In the meantime, don't ignore your audience. It's better for the sake of reputation management to make an initial statement quickly, even if you don't have a lot to offer. Even something as simple as, "We're aware of the situation and are currently discussing a strategy. We appreciate your patience, and we'll keep you updated along the way," shows customers that you know they're interested or worried.
Respond to Positive Feedback, Too
While the reasons for responding to negative feedback are obvious, you may assume that positive feedback can be left alone. Nothing's broke, so why fix it (or acknowledge it)? Customers leave feedback because they want to be heard, though, and that goes for any type of feedback. When you show them that you appreciate their words, they'll be more likely to leave great feedback again. Publix jumps in to answer angry customers, but they also show their happy customers that they hear them.

Now, you don't have to react to every single thing people say about your brand. However, it's good practice to regularly thank your happy customers as you're fielding messages from not-so-happy ones.
Take Legal Action
Sometimes, the reputation bombs that we mentioned at the beginning of this article are actually illegal. Negative content may be illegal if it includes defamatory language or false information. It may also be illegal if the main purpose of the content is to damage your brand's reputation. With help from a law professional – or sometimes a strongly worded "this isn't a threat, but it's still a threat" letter – you can probably get the content taken down. Or, you may need to hire an online investigator to track down the source.
Lean on Your PR Team for Reputation Management
Damage control and reputation management are among the many things that PR pros handle. If you have a PR team or person, part of their job is helping you rebuild the brand's reputation. The right publicity, which is part of PR, can help put your brand in a better light. Don't have a PR rep to turn to? This may be a good time to get one. Also, check out our article about the distinction between publicity and PR.
Learn More About Your Customers
When one customer or one hundred customers are upset or disappointed, they're telling you something important about your company. Use these opportunities to do audience research and tweak your messaging and strategy to better serve them. More often than not, negative content isn't coming from attackers or trolls. Instead, it's coming from customers who want to trust your business, but feel they can't for some reason.
Final Thoughts About Online Reputation Management
Whether you know it or not, your customers are talking about your business. They're discussing your software with coworkers or posting a photo of your product on Instagram. They're airing their grievances on Facebook or recording an unboxing video. Consumers interact with businesses online all the time, yet many brands never get wind of what's being said. You can't control what your customers say, but you can get involved with the conversation.
Smart companies know that they have to be open to feedback, even if that means criticism. Transparent communication means letting customers (and even your employees) discuss your brand publicly. You should ask for feedback, address criticism in a public forum and create a private communication channel for customers who'd rather get one-on-one help. This sounds easy, but it's pretty difficult in practice, especially because it can feel like you're more vulnerable to judgment. And…you are. But handling that judgment the right way is what can lead to a stellar reputation.
You're on a roll – keep the momentum going by reading this article with the golden rules of marketing.
Featured Image via Ribkhan / shutterstock.com