For a busy website owner, the right WordPress maintenance and support service can be your secret weapon. A reliable and skilled partner can handle much of the day-to-day busywork. However, the wrong partner can cause more problems than it fixes.
In this article, we'll help you avoid that problem by introducing you to five of the best WordPress maintenance and support shops open for your business, right now.
Let's get started!
Subscribe To Our Youtube Channel
What a WordPress Maintenance Service Is (And Why You Might Need One)
The hard work doesn't stop when you publish your WordPress website! Whether it means creating regular backups using your favorite WordPress backup plugin, scanning for malware, or updating your plugins, any site requires ongoing maintenance.
You can perform this day-to-day work manually, or you can partner with a third-party maintenance and support provider. If you opt for the latter option, you'll have more time to focus on what really matters – growing your website.
A maintenance partner can manage the everyday tasks associated with running a WordPress website. It can also help improve your site. For busy business owners, it is easy to take a fire-fighting approach to site management. For example, you might only investigate your site's page loading speeds after your visitors start to complain.
By that point it is often too late, as those slow loading speeds may have already damaged your Search Engine Optimization and conversion rates. However, a WordPress maintenance partner can help you take a more proactive approach. Many will continuously monitor and evaluate your site's performance. This puts you in a strong position to identify and fix minor issues before they turn into major problems.
A well-maintained WordPress website is already less likely to encounter serious issues. However, emergencies are an unfortunate part of running a successful site. If a disaster does strike, the right WordPress maintenance partner can help you resolve most problems quickly and efficiently. This can help you avoid worst-case-scenarios, such as extended downtime, data breaches, and other disasters.
5 Best WordPress Maintenance & Support Services
Managing a WordPress website can be time-consuming. If you're losing the majority of your days to tedious admin and busywork, you may benefit from enlisting the help of a WordPress maintenance and support provider.
However, not all of the available options are created equal. Therefore, to help you make this crucial decision, here are five of our favorite providers you can choose from.
1. WP Buffs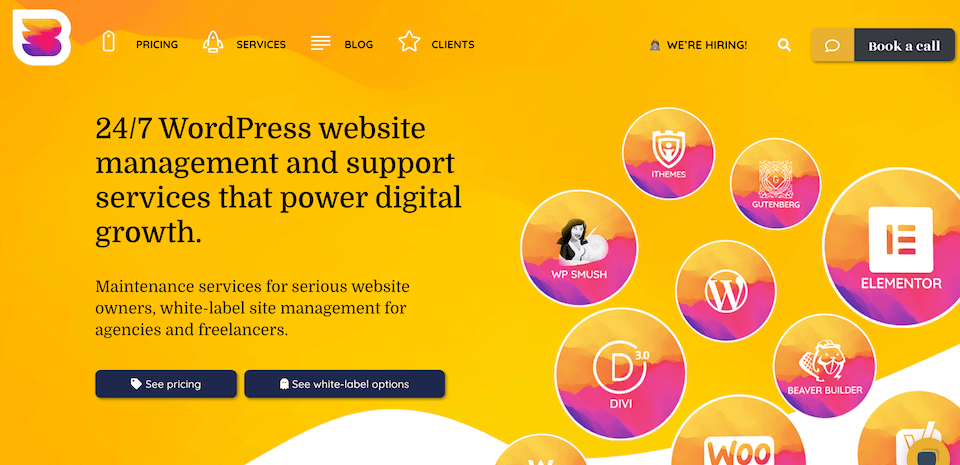 WP Buffs is a 24/7 WordPress maintenance and management service. The WP Buffs team pledges to check your site 1,440 times a day. What's more, it will take action within 60 seconds if your WordPress site ever goes offline.
This provider can also optimize your site, and ensure that every page and post passes Google's Mobile-Friendly Test. If you're a freelancer or agency, WP Buffs even offers a white-label program. This enables you to provide WordPress maintenance and management services to your clients under your own branding.
What it offers:
WP Buffs is for you if…
You are a small business owner, startup, or entrepreneur. All of WP Buffs' care plans cover a single website. This makes WP Buffs a good fit for maintaining a business site or a small number of connected sites. WP Buffs' white-label program is also ideal for any design agencies, marketing firms, or freelancers who are seeking a background technical partner.
Pricing: $56-$197 per month | More Information
2. FixRunner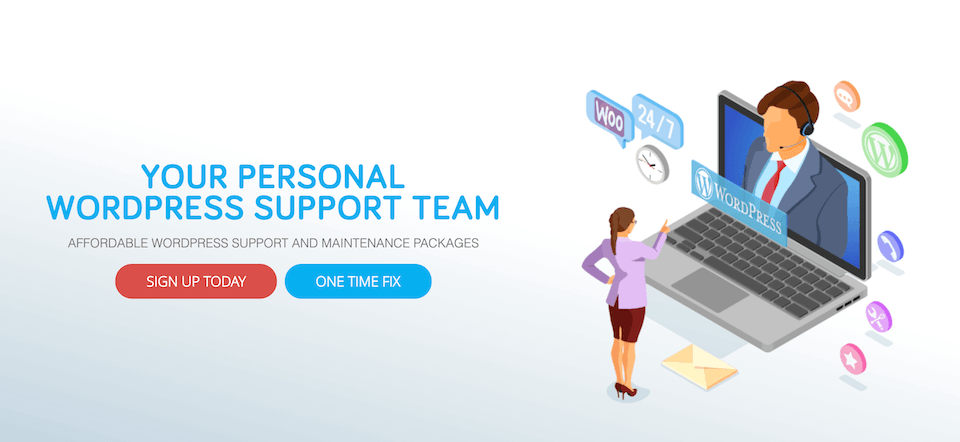 FixRunner provides ongoing WordPress packages for all of your website management needs. It also offers several packages that are focused on a particular aspect of site management. This includes packages dedicated to speed optimization, malware removal, and white-labeling services. In addition, FixRunner offers a one-time service solution for specific problems that require expert help.
What it offers:
Backups and restore options
Page speed optimization
Real-time protection against potential threats
Malware removal
Comment moderation
Uptime monitoring
Live chat, ticket, and telephone support
Bi-weekly reports
FixRunner is for you if…
You want to fix a specific issue with your website. Thanks to its range of themed WordPress packages, FixRunner is ideal for addressing or optimizing particular aspects of your site. That includes its speed or search engine performance. FixRunner's white-labeling package also makes it a good choice for offering branded WordPress maintenance.
Price: $59-$149 per month | More Information
3. WP SiteCare
When it comes to maintaining your website, WP SiteCare has all of the essentials covered. This WordPress maintenance service's packages offer extensive update, security, and backup services.
These services include features that aren't widely covered in other maintenance packages, such as display ad optimization, an SEO taxonomy review, and Google Tag Manager setup. This in-depth and detailed approach to WordPress management makes WP SiteCare one of the most comprehensive maintenance options available to you.
What it offers:
Uptime monitoring
Daily cloud backups, with an option for hourly and real-time backups
WordPress multisite and WooCommerce backups
Brute force protection
Anti-spam software
CloudProxy firewall
Hack and malware removal
Speed and performance optimization, including a global Content Delivery Network (CDN)
On-page Search Engine Optimization (SEO)
WP SiteCare is for you if…
You're a blogger, marketer, or agency looking for a technical partner. WP SiteCare's services would make a great addition to any WordPress-based business or site. However, these are the industries that will benefit most from what WP SiteCare has to offer.
Price: Request a quote | More Information

Acquired by GoDaddy in 2016, WP Premium Support (previously WP Curve) prides itself on offering 24/7/365 support to all of its customers. Unlike other WordPress maintenance specialists, WP Premium Support is a monthly subscription-based service. Each task from the WP Premium Support catalog costs customers one credit, regardless of how long it takes to resolve your issue.
What it offers:
WP Premium Support is for you if…
You like the sound of a credit-based subscription. WP Premium Support's monthly subscription model is unusual, and potentially divisive. If you want unlimited, ongoing WordPress maintenance, then this may not be the partner for you. However, if you need help with occasional small and unrelated tasks, WP Premium Support's credit-based packages may be the perfect fit.
Price: $49.99-$149.99 per month | More Information
5. Maintainn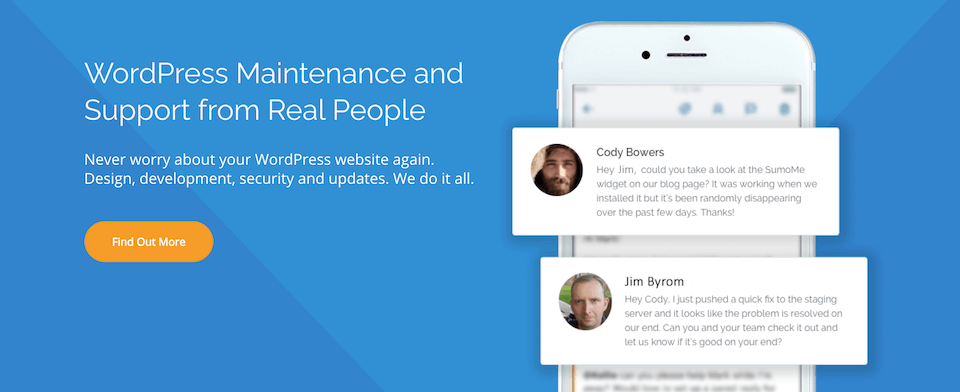 Maintainn offers an experienced team that is actively involved in the WordPress community, and even contributes to WordPress core. This provider has also partnered with website security and protection specialists Sucuri Security, to better identify potential threats to your site.
If a security issue does arise, Maintainn prides itself on identifying and resolving the problem as quickly as possible. In the unlikely event that your site is hacked, Maintainn also offers a dedicated Hacked Website Repair service as a part of its Professional and Enterprise plans.
What it offers:
Weekly updates to WordPress core, themes and plugins
Weekly service reports
Offsite backups of your database and file system
Uptime monitoring
Performance checks
Client review cycle
Specialist multisite and ecommerce support plans available
Maintainn is for you if…
Security is your top concern. With its Sucuri Security partnership and Hacked Website Repair, Maintainn can help keep your site safe. However, it is worth noting that Maintainn's standard business hours are 9am-8pm Eastern, Monday-Friday. If you are in a contrasting time zone or experience an outside-of-hours emergency, optional additional service agreements are available to you.
Price: $54-$274 per month | More Information
Conclusion
A successful website requires a lot of ongoing maintenance. However, a reliable WordPress maintenance service can take a lot of the tedious, day-to-day work associated with running a successful site off your plate.
Before we wrap up, let's recap our top WordPress maintenance and support services:
Have you tried any of these maintenance services, and what was your experience like? Let's talk about it in the comments section below!
Image by Mascha Tace / shutterstock.com