WordPress has several powerful themes for churches (free and paid) that can be used to build a beautiful and feature-rich church website. In this post, we'll review the best church WordPress themes to give you some ideas about what is available for your website. With stunning page layouts, event calendars, sermon management, and more, these themes should have what you need.
What Features Should the Best Church WordPress Themes Include?
When it comes to building a website for your church, there are some features that you should note. Firstly, being able to customize your theme is mission-critical. Using your church's fonts and colors will help solidify your brand with parishioners and new members. Secondly, consider if your theme can handle sermons. In a post-pandemic world, many churches turned digital. So providing sermons online is a great way to stay connected to your membership.
Thirdly, consider how your theme handles events. If it doesn't have a built-in events manager, it should be able to integrate with popular event calendar plugins like The Events Calendar or Modern Tribe. Lastly, on integrations, see how well your theme will handle donations. Online giving is a great feature to have on your site and is something that you should be looking into when choosing your church WordPress theme.
The 10 Best Church WordPress Themes
Our list of the best church WordPress themes considers a few things. To begin, we look at the overall feature set of the theme. Next, we consider if there is a free version available. Finally, we see if it can integrate with popular plugins like GiveWP and Mailchimp, which are popular with many church marketing departments.
With these things in mind, let's get onto the list!
1. Divi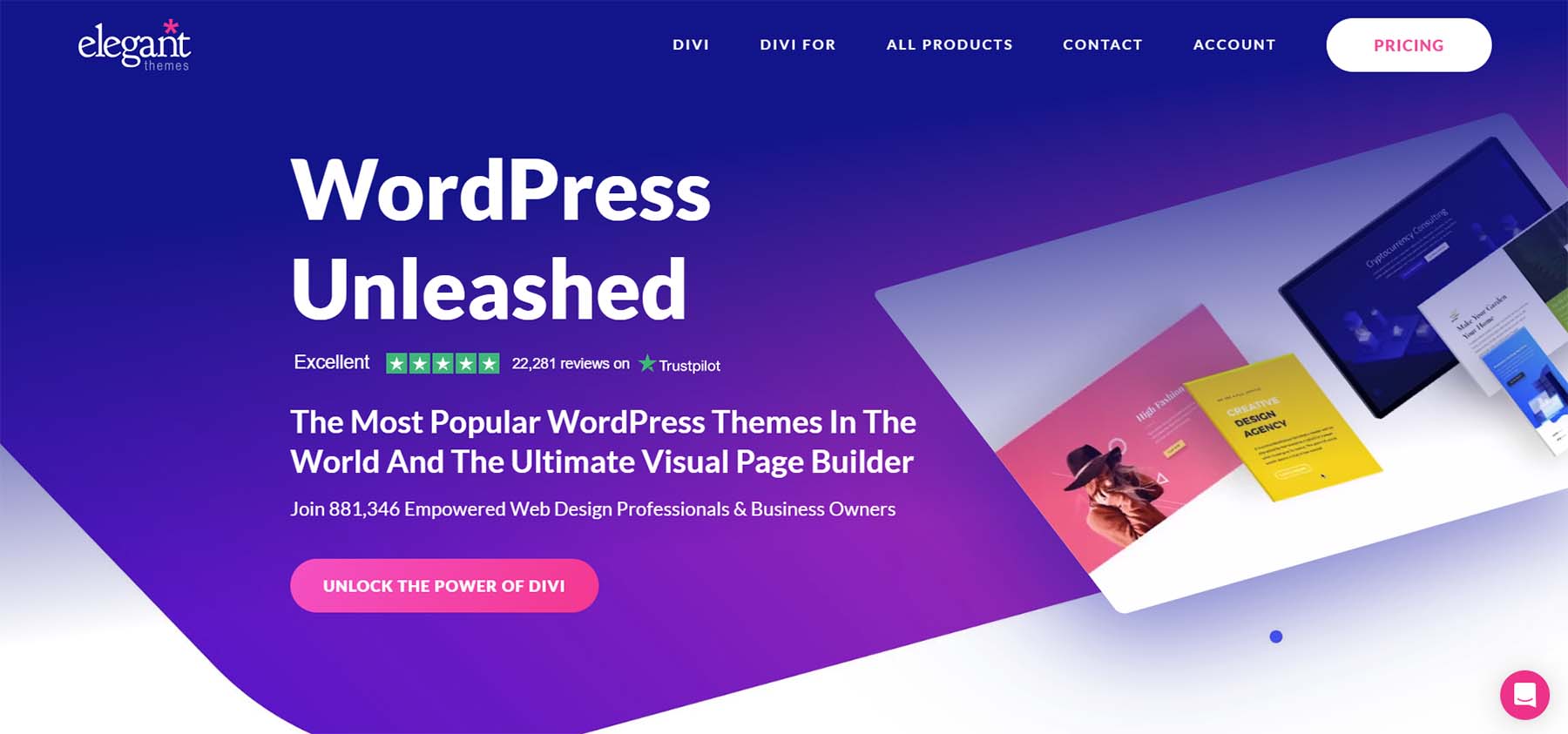 Divi is a powerful WordPress theme and visual page builder that will give you complete control over the design and functionality of your church website. It has over 2,000 pre-made layouts that can be combined to build your church's website, including a stunning Church Layout Pack. With modules like accordions, galleries, and more, you can adjust each layout to your liking.
Additionally, you can use the power of Advanced Custom Fields (ACF) and Divi's Dynamic Content to build custom layouts for sermons, ministries, or whatever your church needs. Ultimately, those building for churches will be impressed by the degree to which they can build powerful church websites with this WordPress theme.
Divi's Theme Builder is one of the most powerful features of the Divi theme. For a church website, this is where you build completely custom templates for pages, posts, and any custom post type that you create! You can design custom blog templates, headers, footers, 404 pages, and so much more from the Theme Builder. The possibilities for your creativity are unlimited.
Key Features of Divi:
Powerful frontend visual builder
40+ customizable modules
200+ customizable modules
20+ WooCommerce-specific modules for collecting online payments
Create custom templates for custom post types with Theme Builder
Includes access to Bloom, a powerful email opt-in popup plugin to grow your Church's email list
There are also premium child themes for Divi that you can access from the Elegant Themes Marketplace. A popular premium child theme for Divi is Chrysalis. It has 32 layouts plus custom post types for sermons and events. Additionally, it has native styling for both GiveWP and The Events Calendar.
Divi is best for:
For those who want complete control over your church's website, choose Divi. You can easily customize the page layouts found within man a layout pack to support your ministry needs. Furthermore, the power of Divi's Theme Builder makes it simple to create custom templates for various pages and post types on your website. However, the learning curve may be more technical for Churches looking for a theme that requires a less hands-on approach.
2. Kadence WP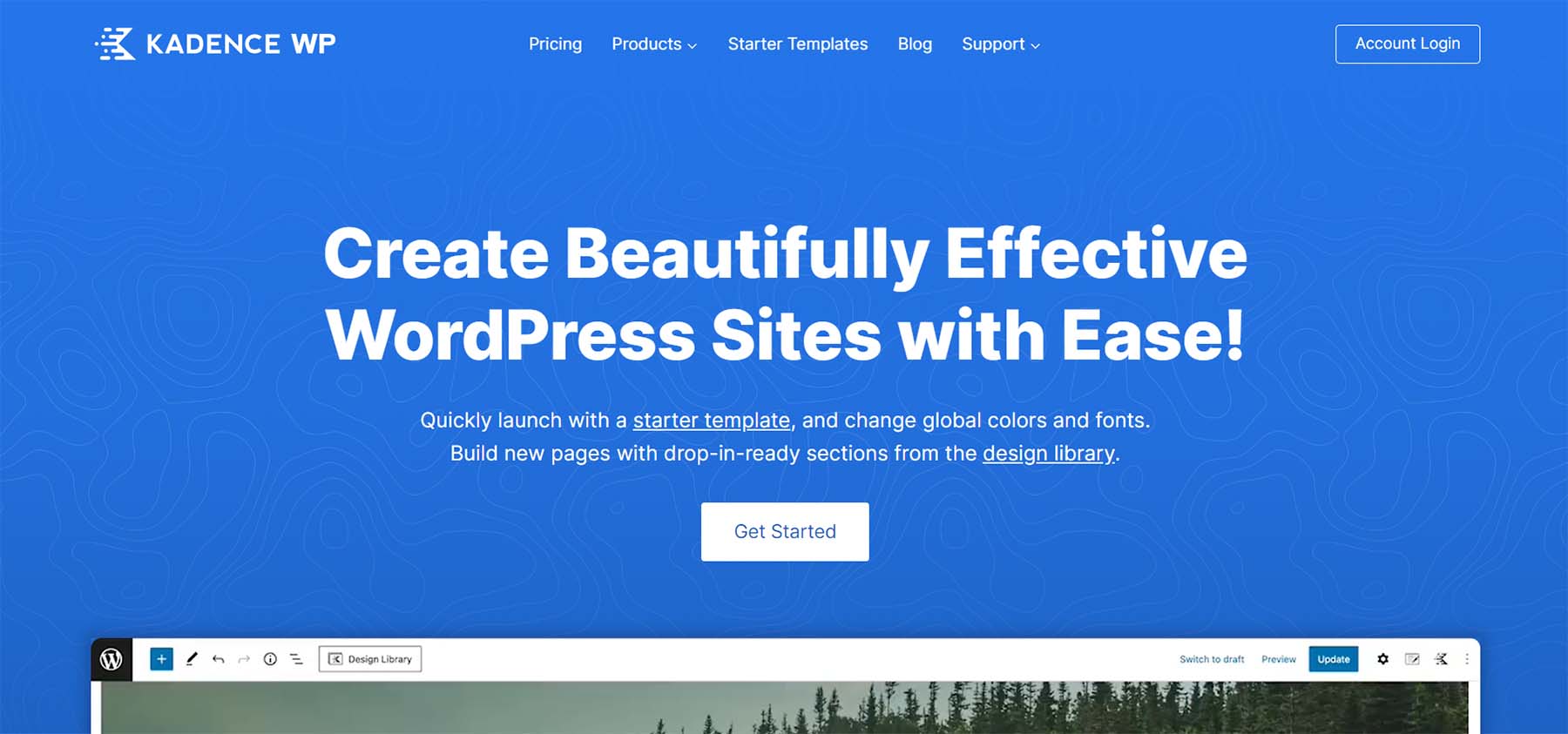 Kadence WP empowers you to quickly build a no-code website for your church. The theme prides itself on being built with the best SEO practices for markup and schema. Kadence WP also boasts of being a WordPress theme that is lightning-fast and performance-focused.
The Church Starter Template by Kadence WP is a great fit for Churches. Out of the box, it has beautiful default styling for both The Events Calendar and GiveWP plugins. You don't need to worry about CSS classes or custom coding to be able to display your events and seamlessly collect donations on your website.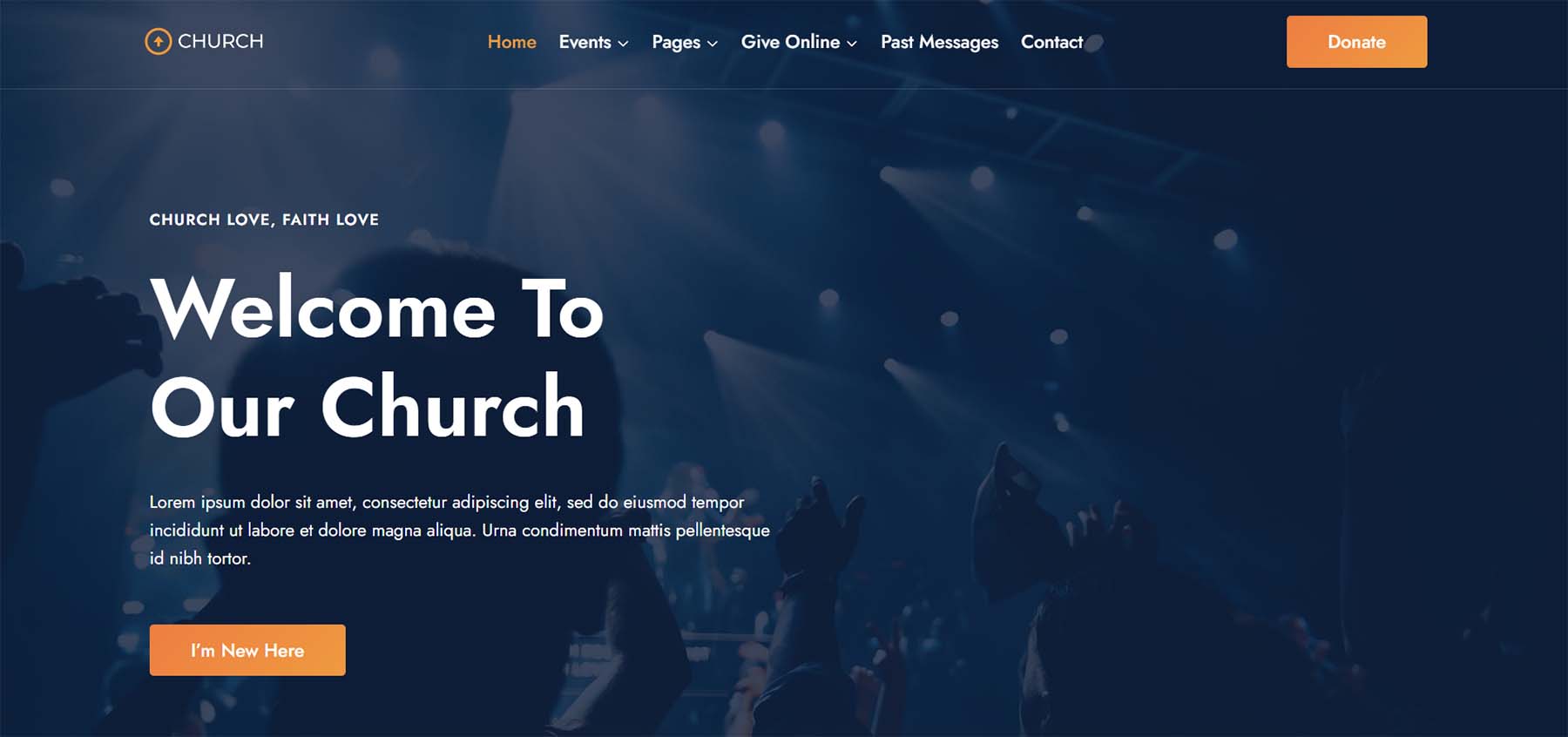 It is easy to select and set your brand colors and the typography you'll be using on your site. The theme comes with styled dropdown menus and a bold homepage call-to-action featuring the late sermon above the fold. For the best church WordPress theme, the Church Starter Template will get your website up and running effortlessly and on brand.
Key Features of Kadence WP:
Drag and drop builder with live editing
Mobile-responsive with controls
Native styling and support for GiveWP and The Events Calendar
Header and footer builder
Global typography, button, and color controls
Custom post type support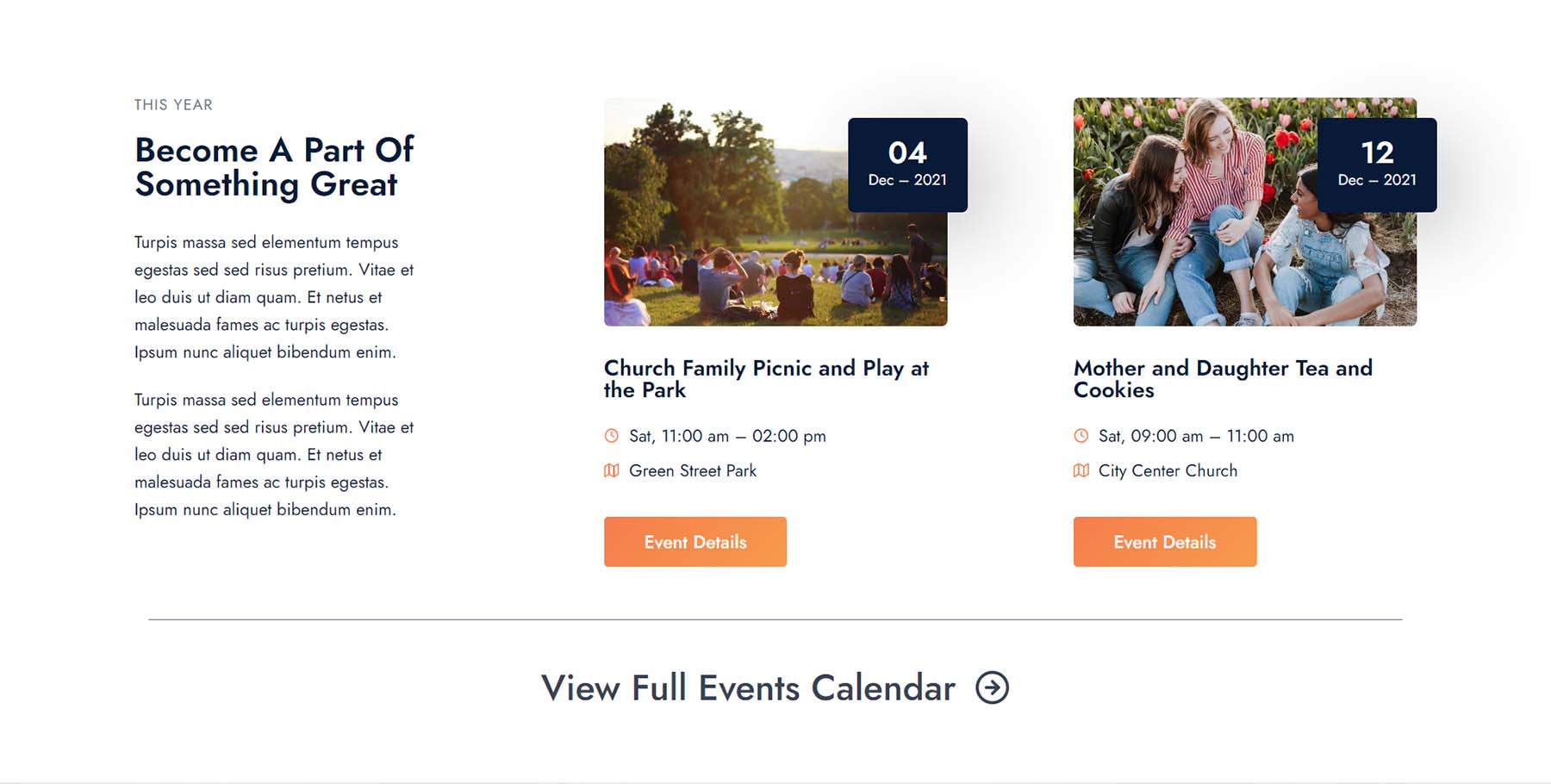 Many WordPress themes integrate well with The Events Calendar but fall short when styling the plugin. You'll need to rely on finding its custom CSS classes and then use code to edit the plugin's design to suit your site, not with Kadence. In addition to having well-designed modules for the plugin, Kadence also has extensive styling of the plugin to match your site's design.
Pricing: Free, Paid plans start at $149 per year
Kadence WP is best for:
Organizations looking for a beautiful and feature-rich WordPress theme without learning the ins and outs of a page builder plugin will enjoy this theme. Its native support for GiveWP and The Events Calendar makes it stand out among the other themes in our list, as you have to do little styling or integration to have these two essential plugins for churches work and look great on your website.
3. Astra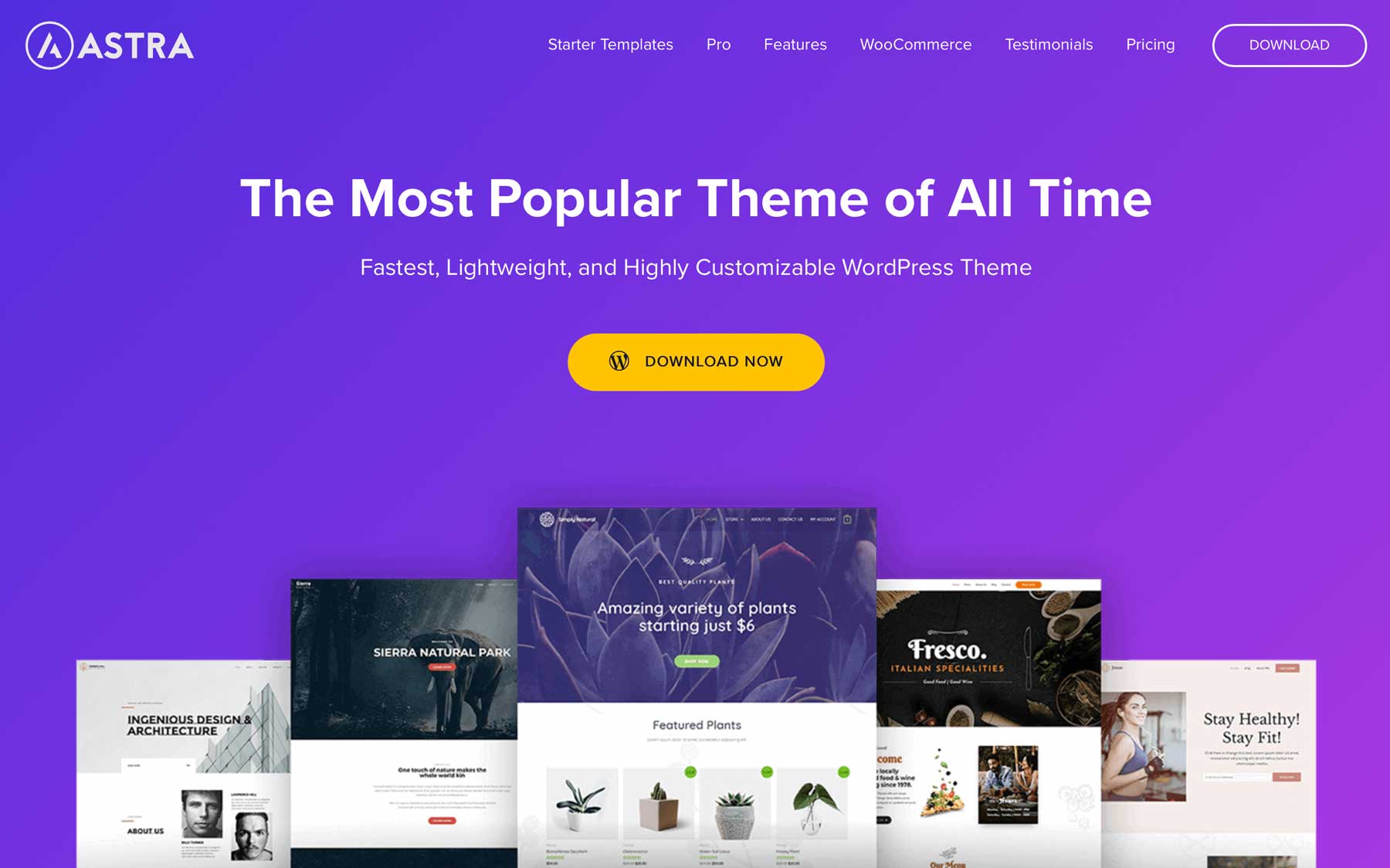 As a performance-focused theme, you can expect fast loading times for your church website with Astra. Astra is considered one of WordPress' top-tier free themes.
The Church Starter Template by Astra is a great option for churches looking to build their church website in style. With a bold, dark color palette and exciting font selections, this template is for churches that want to be different.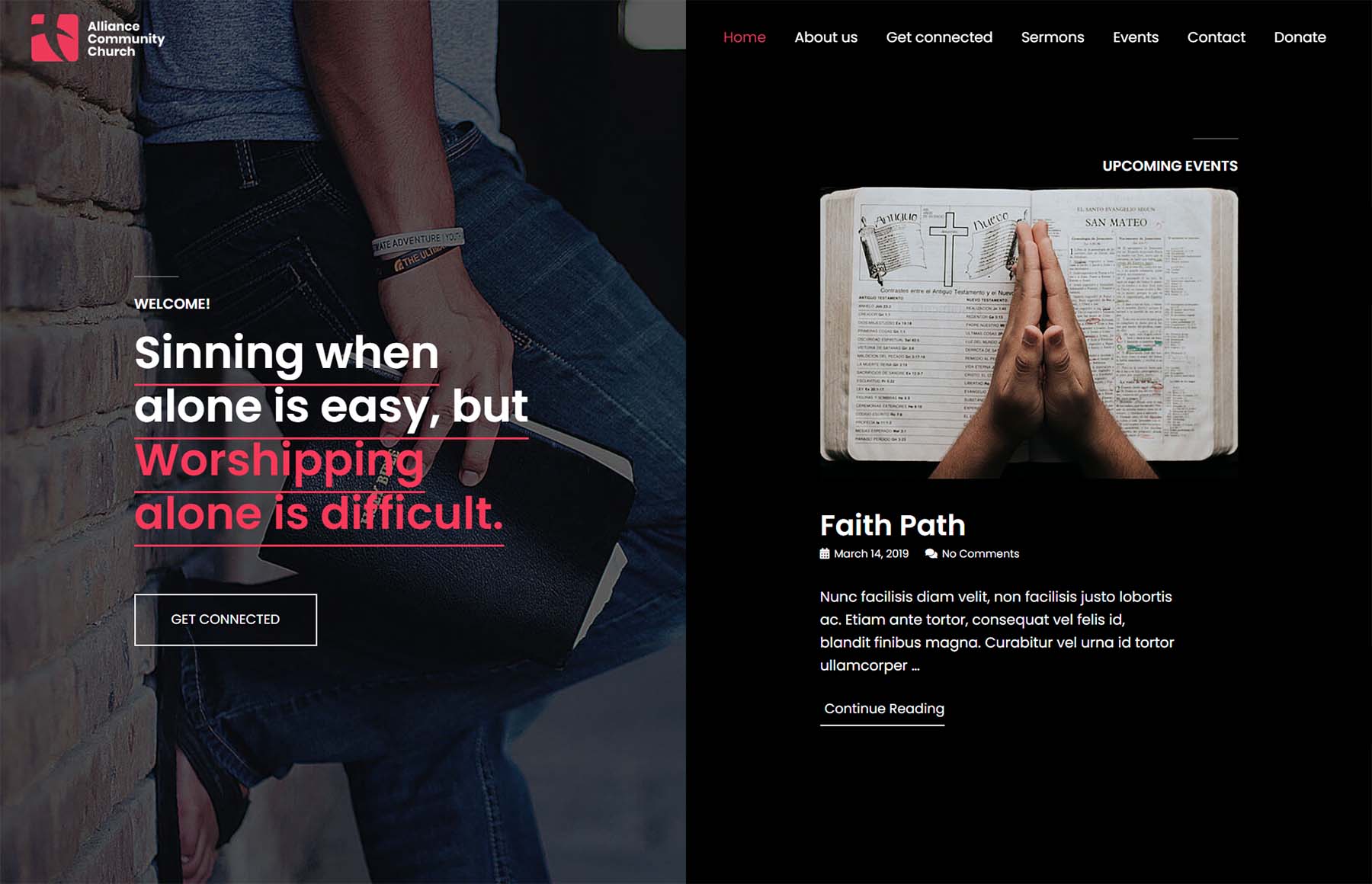 Plus, you have access to all the powerful core features of Astra for designing your church website.
There is a mega menu builder, global design options, multiple header and footer options, and much more. Astra also integrates with many high-quality WordPress plugins that can take your church's website to the next level.  It truly is a good starting point for the web designer who wants to build a quality, custom church website.
Key Features of Astra:
Compatible with leading page builders like Elementor, Divi, Beaver Builder, etc.
Customizable typography and color palettes
WooCommerce integration to collect donations and sell products
Display your logo on the left or centered
Set presets for buttons sitewide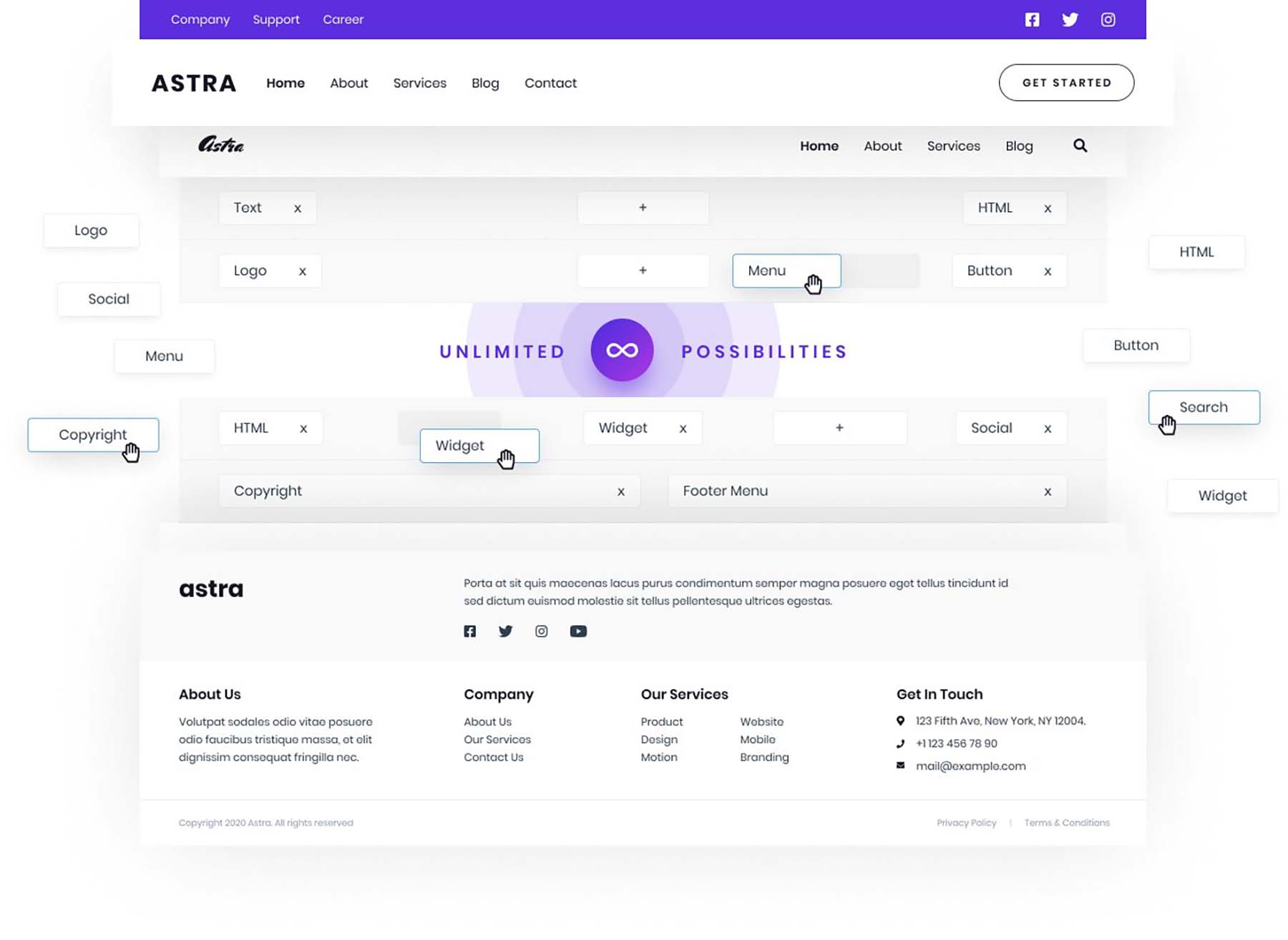 The drag-and-drop Header Footer Builder by Astra lets you pick and choose any element you'd like. With no coding required, you can design announcement bars, add a call-to-action for online giving, and more with just the wave of your mouse.
Pricing: Free, Pro version starts at $59 per year
Astra is best for:
Astra's free version is powerful enough to build a good church website. With its pro version, you can add more features and get creative with your website. The Church starter template is suitable for organizations working within a budget but still want to have a solid base of features and options for their website.
4. Vestry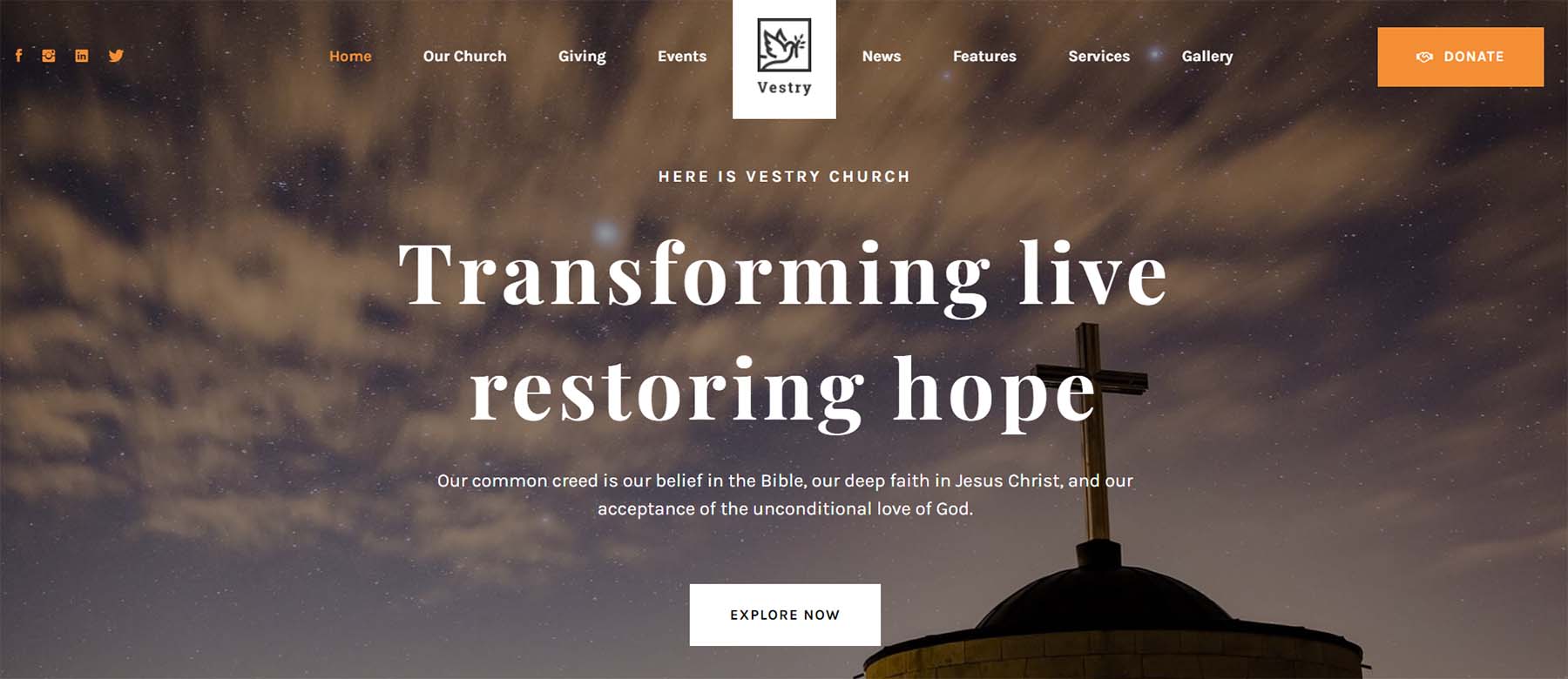 Vestry is a uniquely powerful church theme for WordPress. It is feature-rich and pays attention to the details that a church organization will need in its WordPress template. Vestry is the best church WordPress theme for the congregation that doesn't want to depend on an external builder for their website. Nevertheless, Vestry does work with some of the big names in page builders, specifically Elementor and WP Bakery. It also has support for the Block Editor.
The theme comes with a full range of importable page layouts that you can use to start building your site immediately. Vestry has beautiful styling for the GiveWP and The Events Calendar plugins ensuring that your online giving and church events are showcased beautifully.
Key Features of Vestry:
Works with page builders Elementor or WP Bakery
Supports Gutenberg blocks
Native styling for The Events Calendar and GiveWP
Integrates with AudioIgniter for sermon player
Includes five blog post types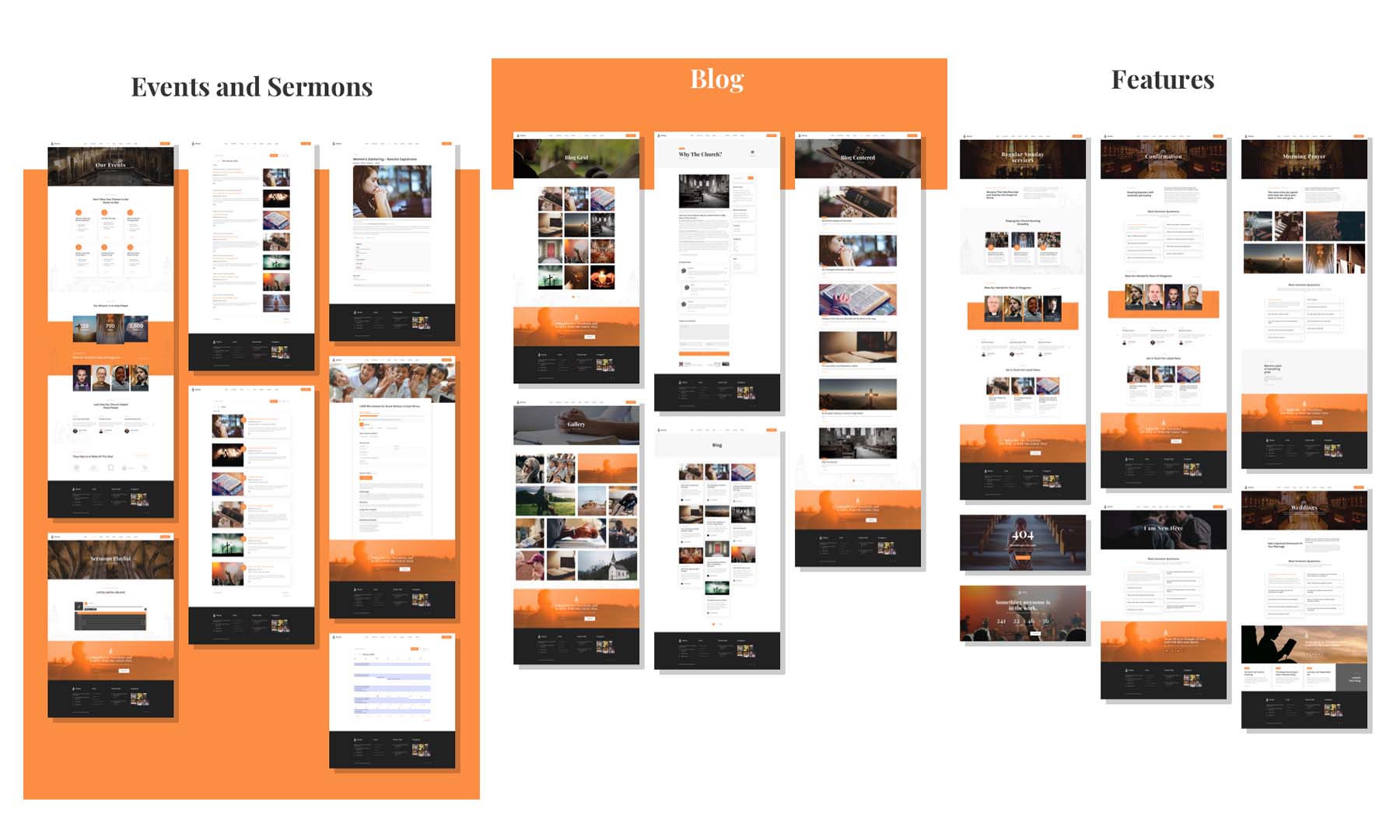 Vestry comes with more than 30 page templates. Easily create a blog page, about, features, organization, and event pages for your site without worrying about creating layouts from scratch. You can customize these templates with blocks or modules from your builder of choice. These templates are great starting points for you as you build your website. This is an excellent feature of Vestry. Lastly, you can access and import these layouts anytime from your WordPress dashboard.
Pricing: $138 per year
Vestry is best for:
If you prefer to use Elementor or WP Bakery as your page builder and want to build a website for your church, choose Vestry. Additionally, being able to import demo pages for standard features like sermons, ministries, and more makes creating your website faster.
5. Elementor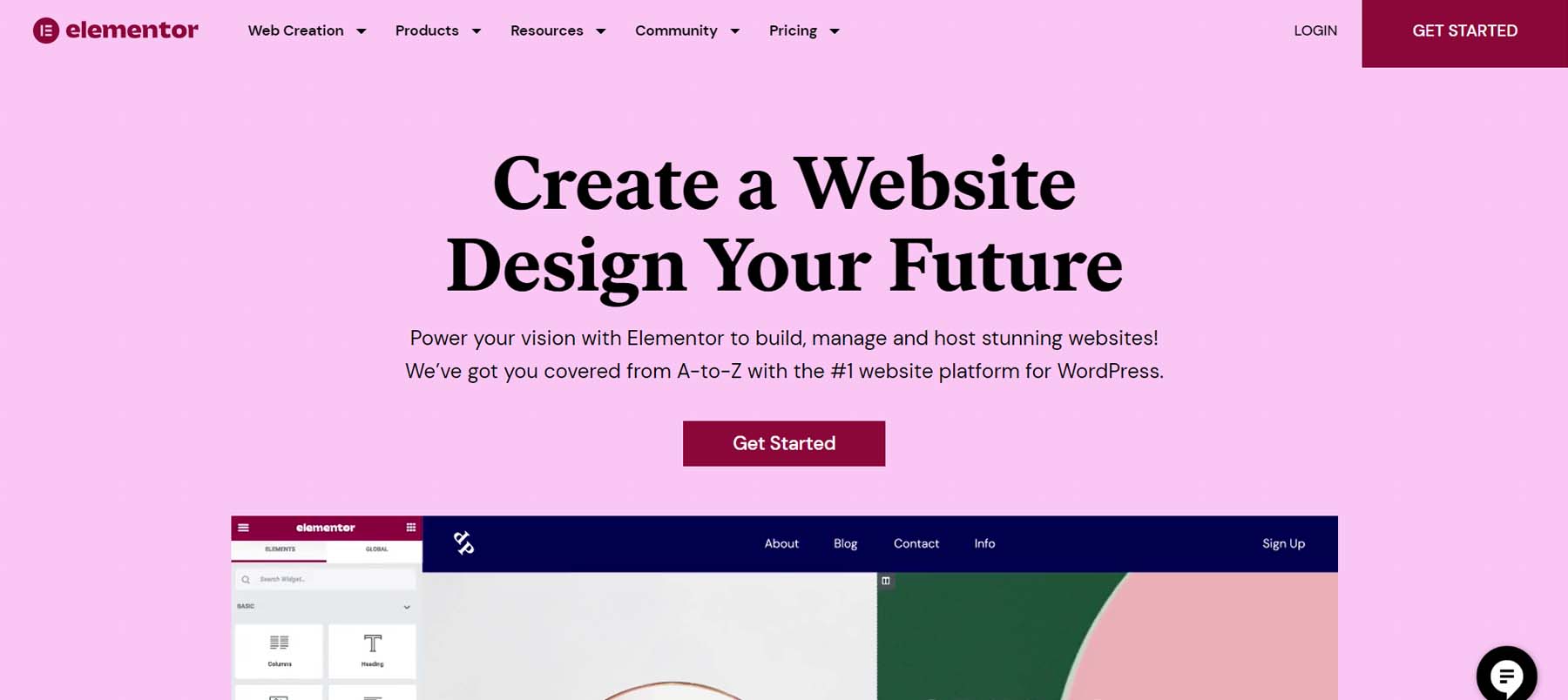 Access to an extensive library of modules, third-party integrations, and an exhaustive template kit library makes Elementor a top choice for churches looking for more design tools for their website. As a page builder, Elementor has been integrated with many church themes, even some on our list, including Sacredo, Prayer, and Faith. All can be used in conjunction with Elementor.
With Elementor, you can build custom templates for various features on your website. Creating a custom header and footer is simple with the Elementor Pro theme builder. The pro version also comes with interesting modules that can help you create unique and interactive pages and posts for your ministry.
Key Features of Elementor:
Expansive library and modules and widgets
Lightweight and performance-focused
SEO-friendly
Integrates with popular plugins like MemberPress, Toolset and Rankmath
Native styling for donation plugin GiveWP
Native form builder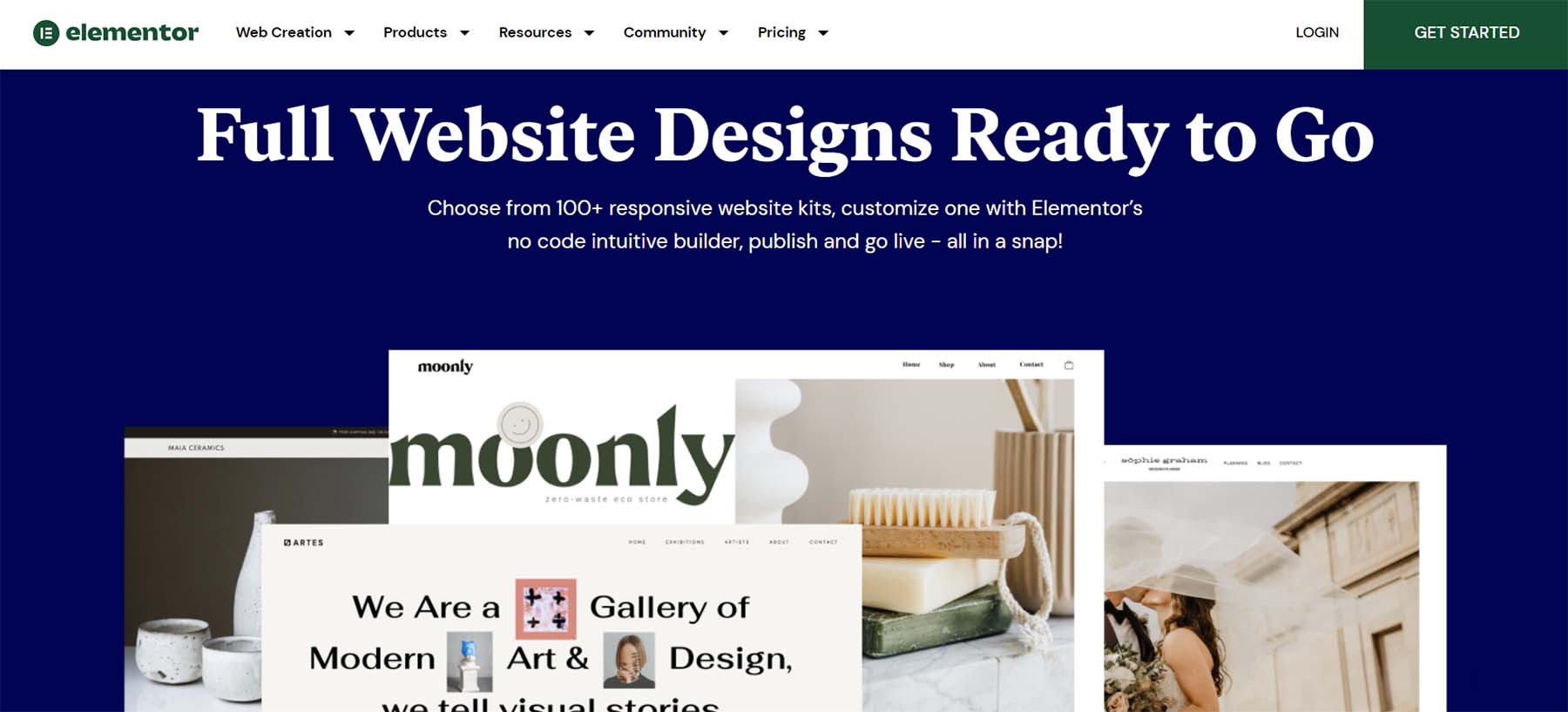 When it comes to building a website fast, Elementor has got your back. With its powerful builder and a large library of complete website kits, you don't need to start building your church website from scratch. You can edit one of the kits available in the Elementor library and get a headstart on building any page or post that your church needs. From your blog for news to contact forms, a website kit from Elementor will be able to provide beautiful, mobile-responsive, and easy-to-edit resources to bring your vision to life.
Elementor is best for:
For church teams that want a visual builder with lots of features, Elementor the tool you need when building the church website of your needs. Powered by an incredible live editor and theme builder, take control of every aspect of your church's website without having to learn a single coding language.
Get Elementor
6. OceanWP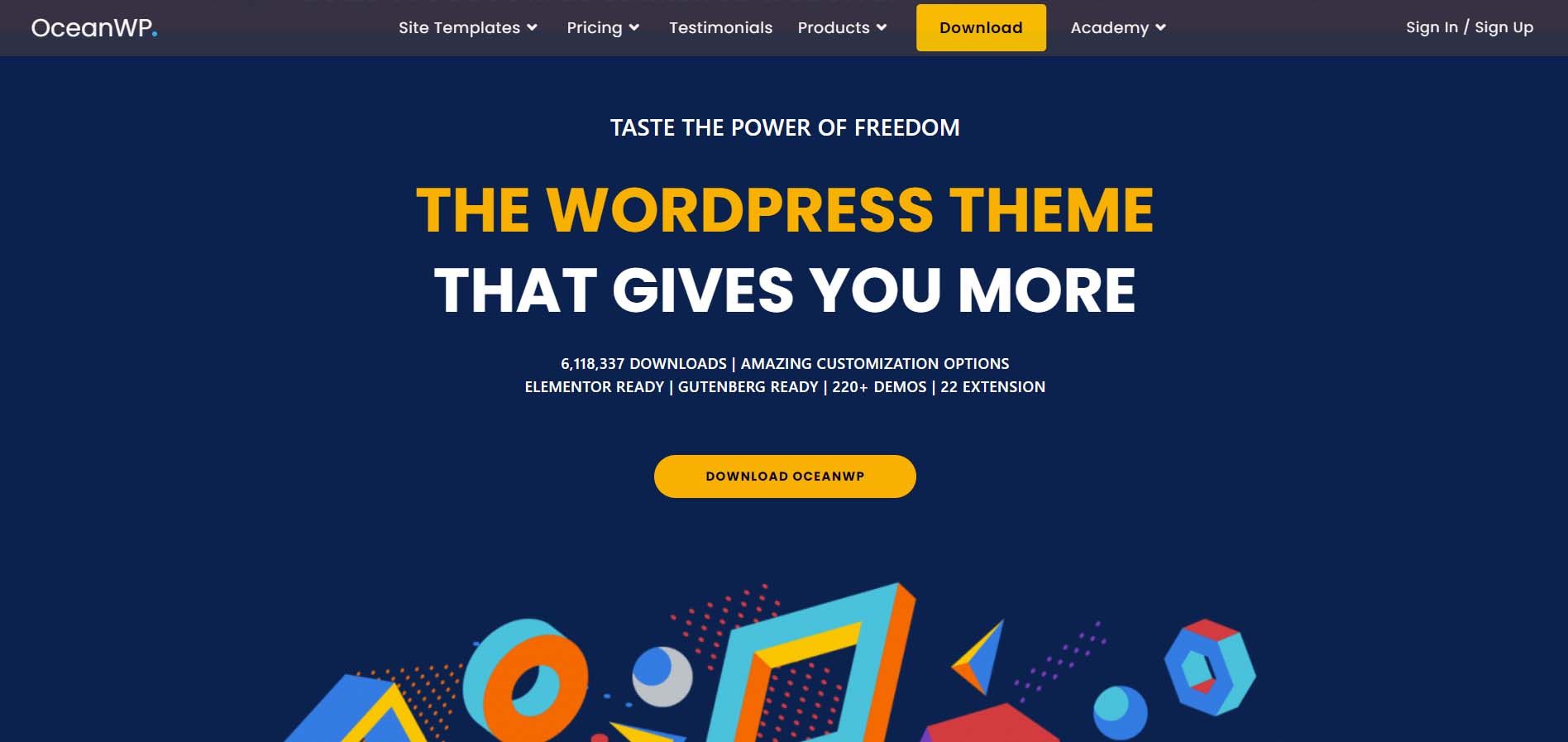 OceanWP states that it is a "free WordPress theme with pro features," This is fantastic news for churches looking to balance the budget with functionality for their website. Additionally, the theme is Gutenberg-enabled and Elementor-ready. So, if you're not ready to invest in a separate page builder plugin, you can rely on these two with OceanWP to get your church's website off the ground.
Out of the box, OceanWP gives you access to its theme builder, which allows you to set up global page, shop, product, and blog templates, all included in their free version. There are also 7 header styles and 3 mobile menu styles, empowering your church to fully customize its website.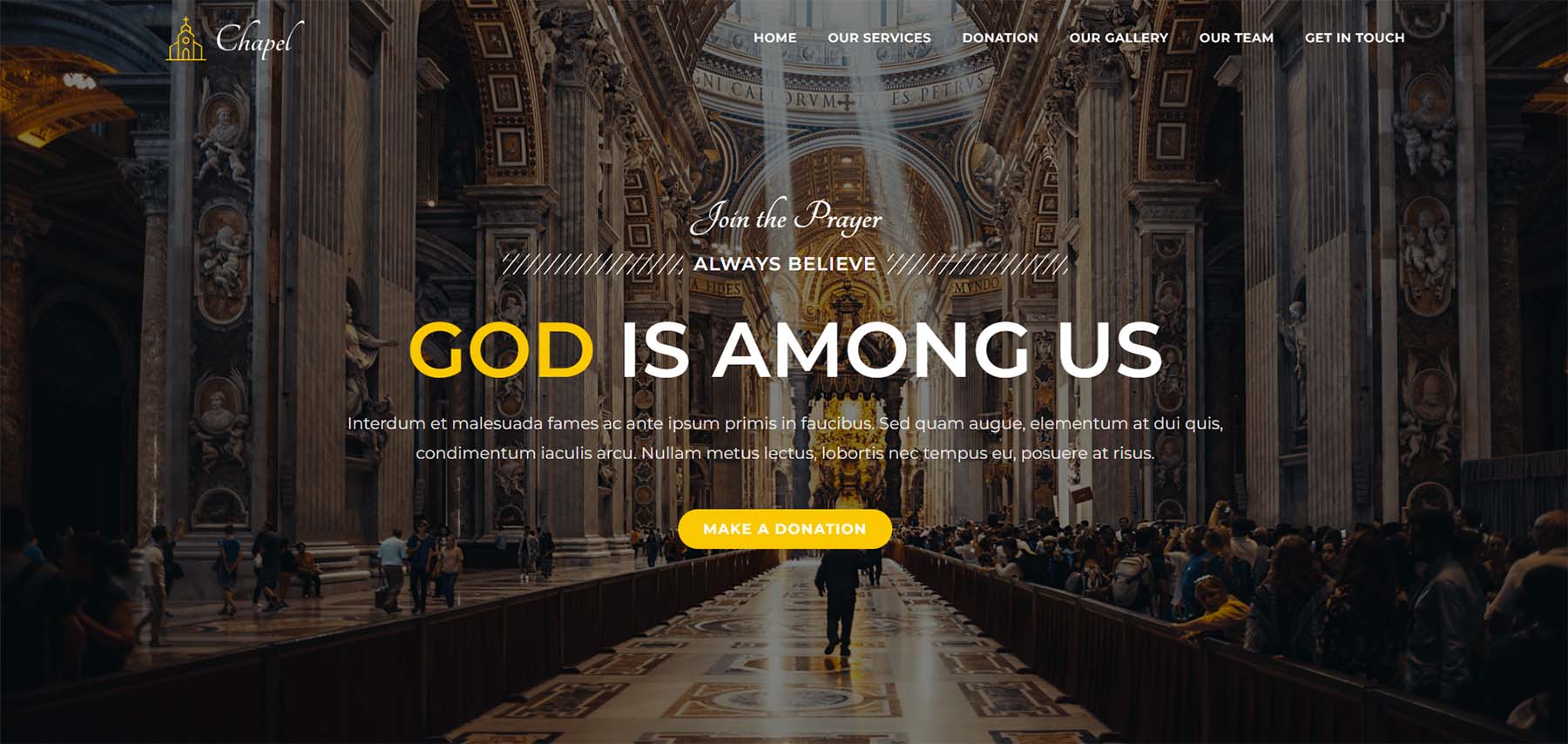 The Church Site Template has a friendly yellow theme which carries through the buttons, headings, and other areas of the template. It has three styles for your blog page, list, grid, and masonry. There are also four styles available for the WooCommerce plugin. While the Church Site Template works with GiveWP, if you want it to match your site perfectly, you must use some CSS to make your edits.
Key Features of OceanWP:
Header styling complete with header social menu
Footer widgets area with custom footer support
Global page layout, form, and button styling
Integrated with Google Fonts locally
Custom 404 page support and control
SERP page control combined with basic schema formatting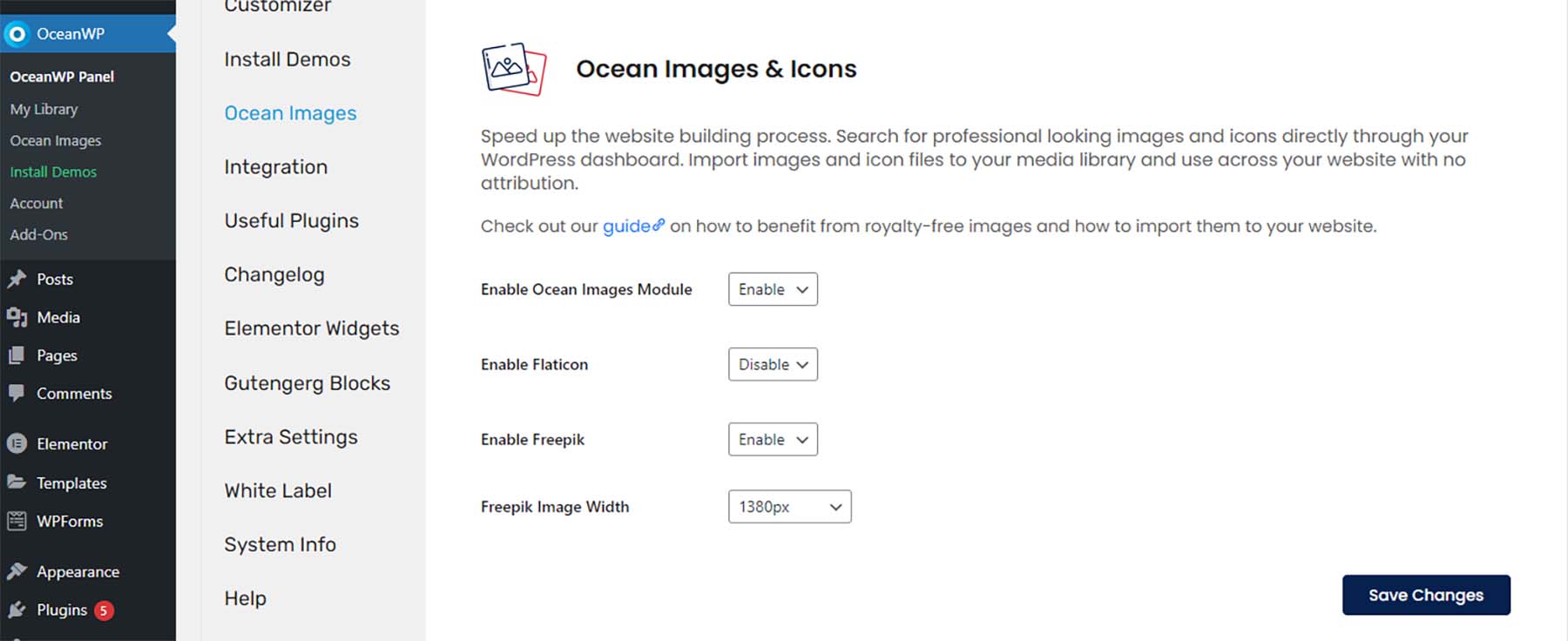 Never worry about looking through scores of images on Google again. Ocean Images is a fantastic feature of select paid OceanWP plans. Through a collaboration with Freepik, you can import graphics, photos, and icons directly from the Freepik library! These assets are now uploaded to your WordPress Media Library for you to use anywhere on your site. So the next time you need an icon for your blurb module, you can quickly pick one from the expansive Freepik library to use on your site. And you don't have to worry about attribution either; OceanWP has got you covered!
OceanWP is best for:
If your church uses a lot of photography, then The Church Site Template is a good fit for you. Having direct access to creative commons imagery right from your website's dashboard can make content creation, blogging, and web design more manageable, especially for organizations trying to limit the number of platforms used in their content process.
7. Ultra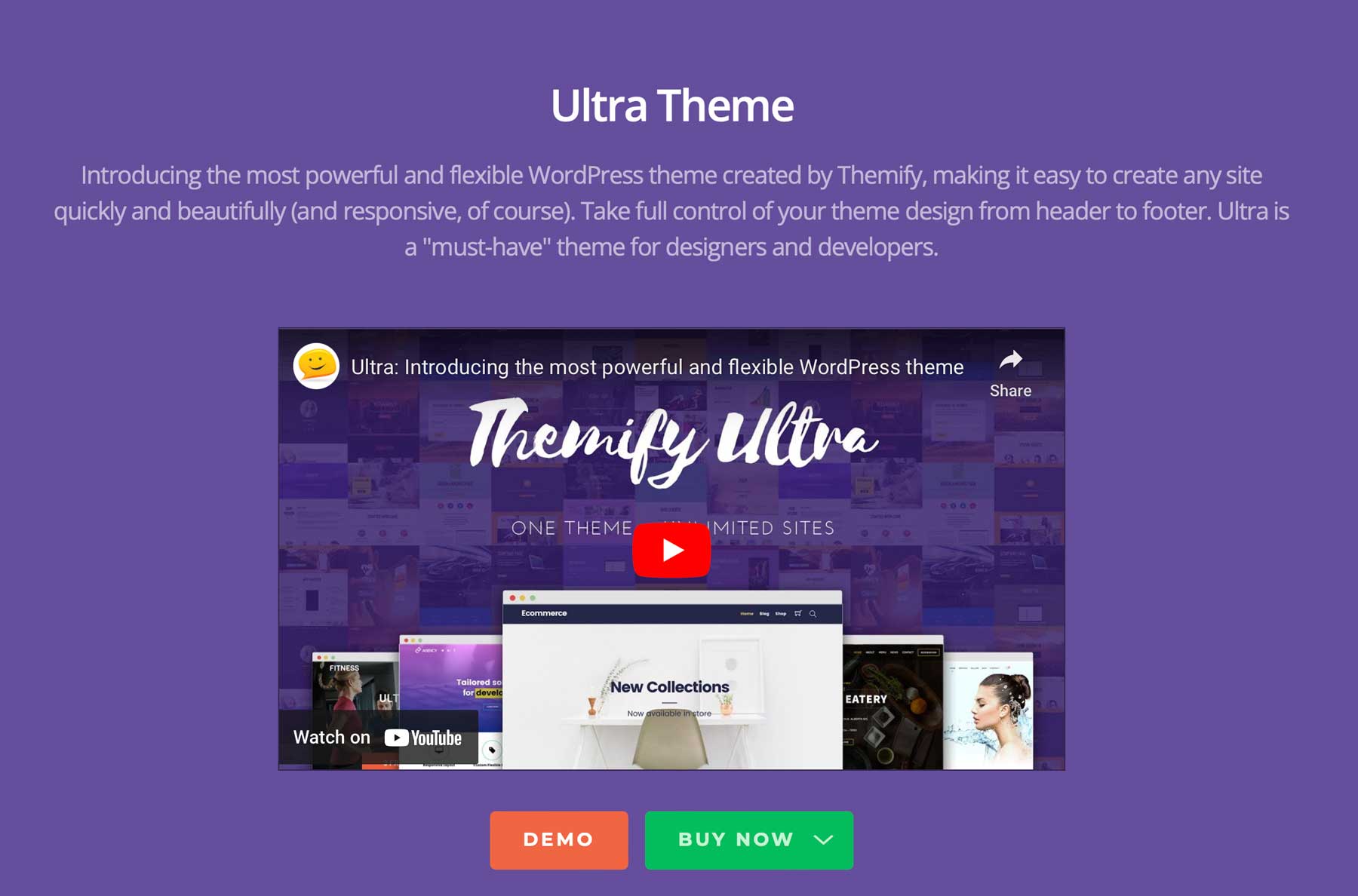 As a theme, Ultra is flexible, mobile-responsive, and deeply customizable. While you can build many pages and posts from scratch with Ultra, their library of elements and layouts makes it so that you can create effortlessly. For churches who want a simple approach to page building, the Themify Builder that powers Ultra is a benefit. By accessing the library of pre-made skins and sections, you can quickly build stunning pages for your site that are mobile-responsive and functional, meeting the needs of your congregation.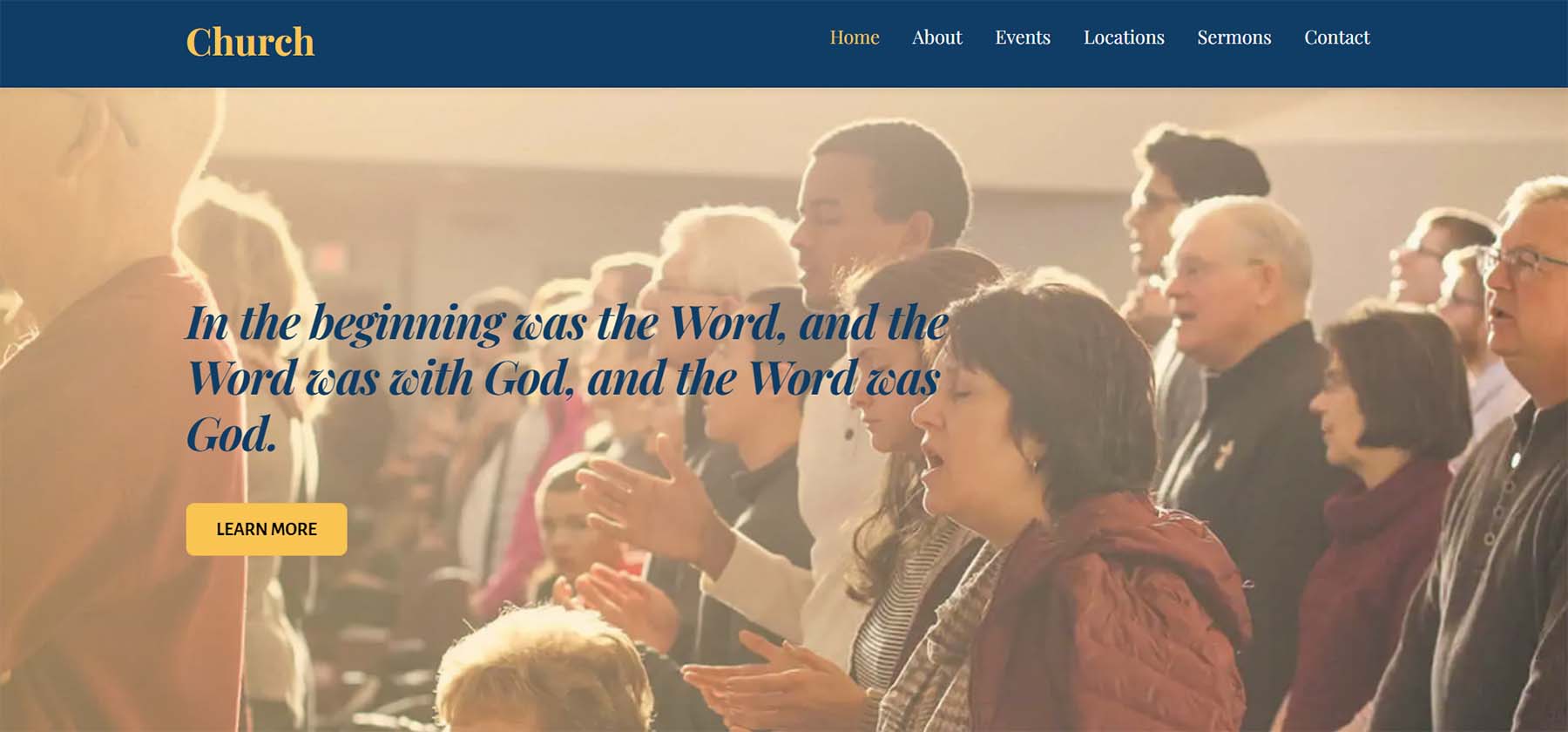 Church is a skin for Ultra that focuses on providing a simple yet clean layout for your church. With a blue and yellow color palette, the theme has a fullscreen image on the homepage with a tagline and call-to-action button, which can be edited with the Themeify page builder plugin. For this skin, the homepage includes a custom-designed timeline module and a donations progress bar element that can track the progress of your fund. These modules and more are available through the 12 bonus add-ons provided through the Builder Pro Bundle that supplements Themify's Builder Plugin.
Key Features of Ultra:
60+ pre-designed layouts for quick page builder
17 header styles
Five blog post layouts for a ministerial news blog
Six header background options
Global preset typography and color themes
Multi-column mega menu with widget functionality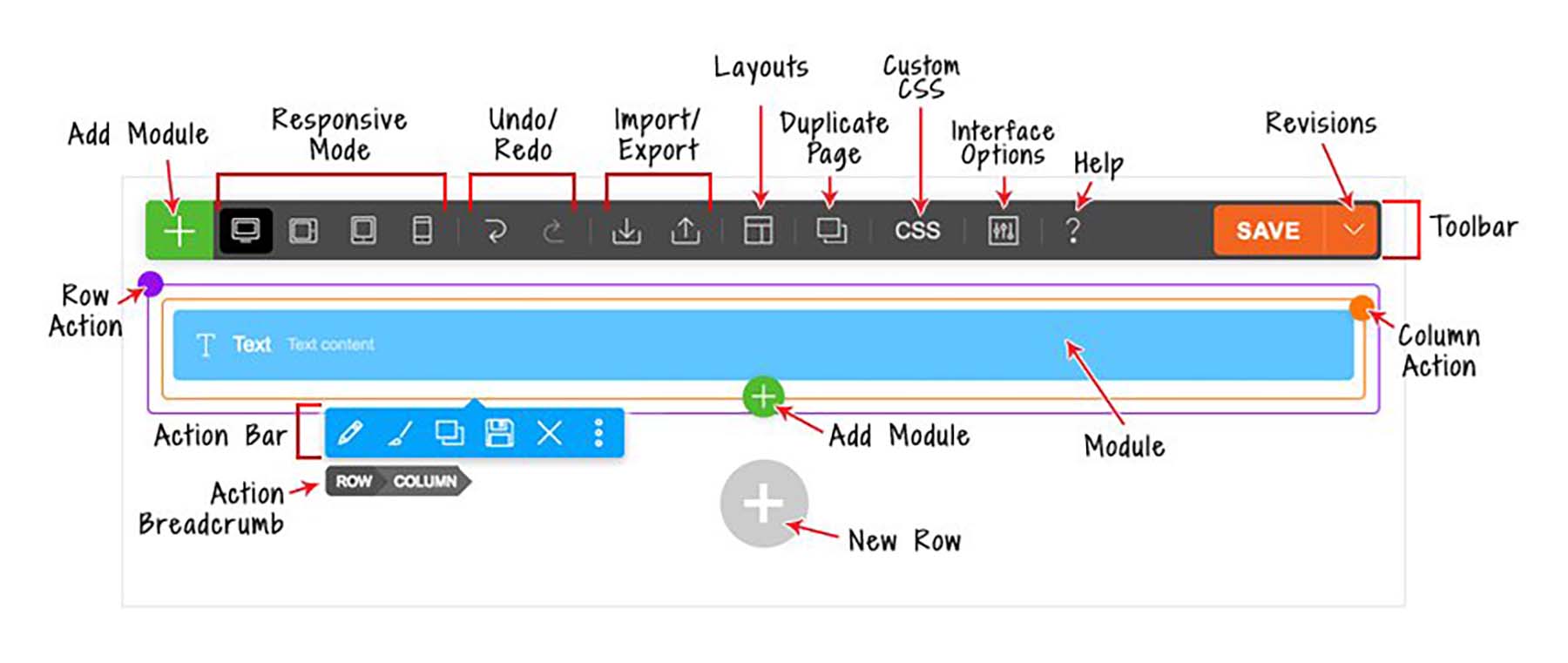 A key feature that brings the Church skin to life is the toolbar of the Themify Builder. The builder itself is drag-and-drop, similar to other builders. However, the taskbar keeps your most used and needed tasks at the forefront. This can make building pages, posts, and different custom post types easier for those who may not have much experience using page builders and may prefer a familiar WYSIWYG UI.
Ultra is best for:
Churches that want an easy-to-learn, use, and implement page builder will love the Church skin for Ultra. The skin is easy to manage and implement, and the supplemental builder makes editing your website a breeze. The builder also makes it easy to customize elements like headers and footers, which other themes can sometimes make difficult.
8. Sacredo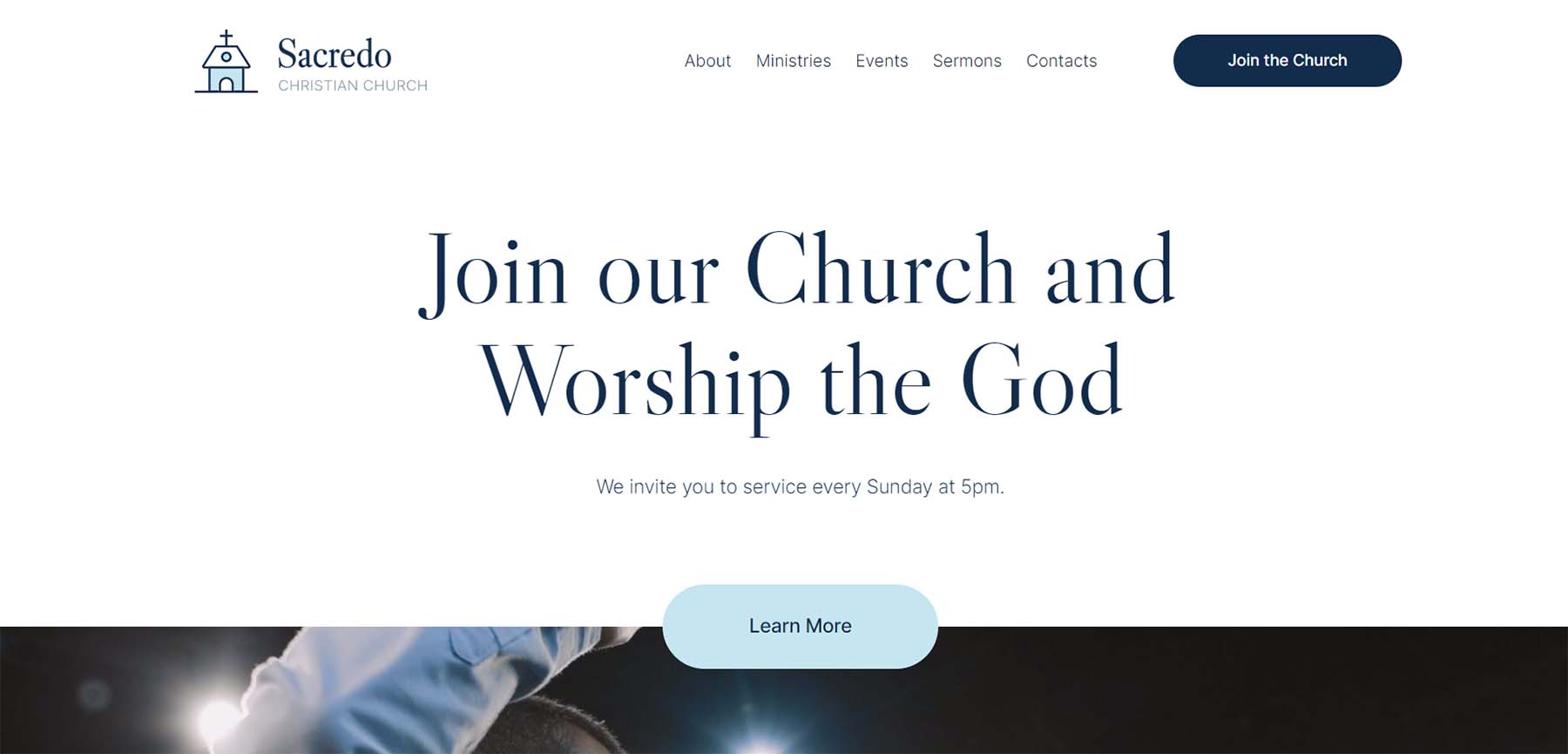 The Sacredo theme uses white space and a color palette based on varying shades of blue. The homepage features a hero section that uses typography, followed by an eye-catching button. The theme has a soft page transition that seamlessly takes you from one page to another.
As the theme is based on Elementor, you can rely on the page builder to give you the tools and modules to build stunning pages for your church. Customizing Sacredo with Elementors Pro means you can add widgets to your footer, create custom page headers, and more.
Key Features of Sacredo:
Supports the Elementor page builder
Includes a high-resolution image pack
SEO friendly
Multilingual support through WPML
It comes with pre-designed page sections for events, sermons, about us, and more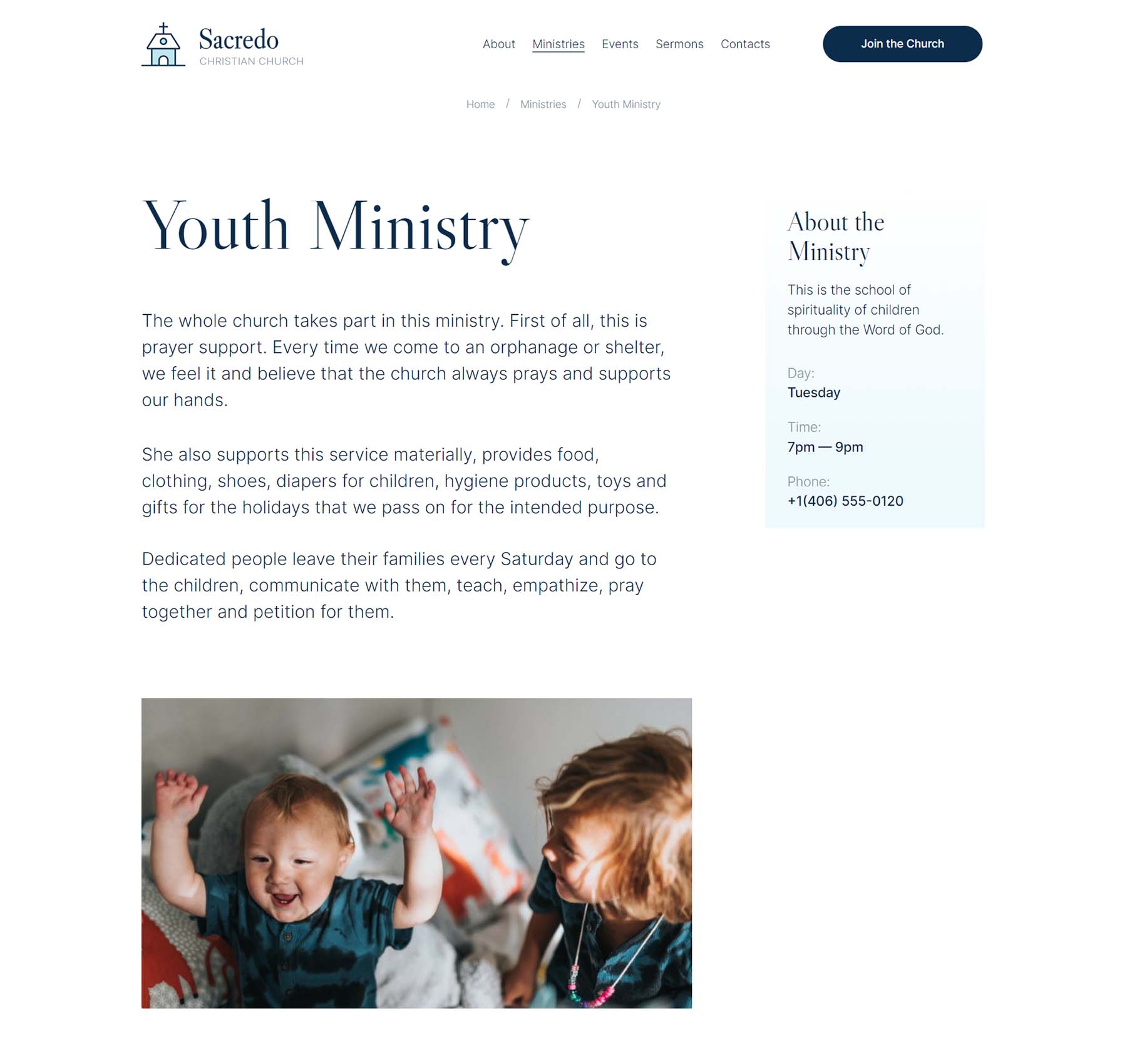 The ministries, sermons, and events pages of the Sacredo theme feature a fixed right sidebar. This sidebar contains essential highlights of the post type it is on and follows the reader up and down the screen. This is an excellent way to draw attention to event specifics, sign-up links, and more for your church website.
Sacredo is best for:
Sacredo is best for the church that wants a modern website. Its use of typography and color makes it one of the more aesthetically pleasing templates on our list.
9. Prayer by CSS Igniter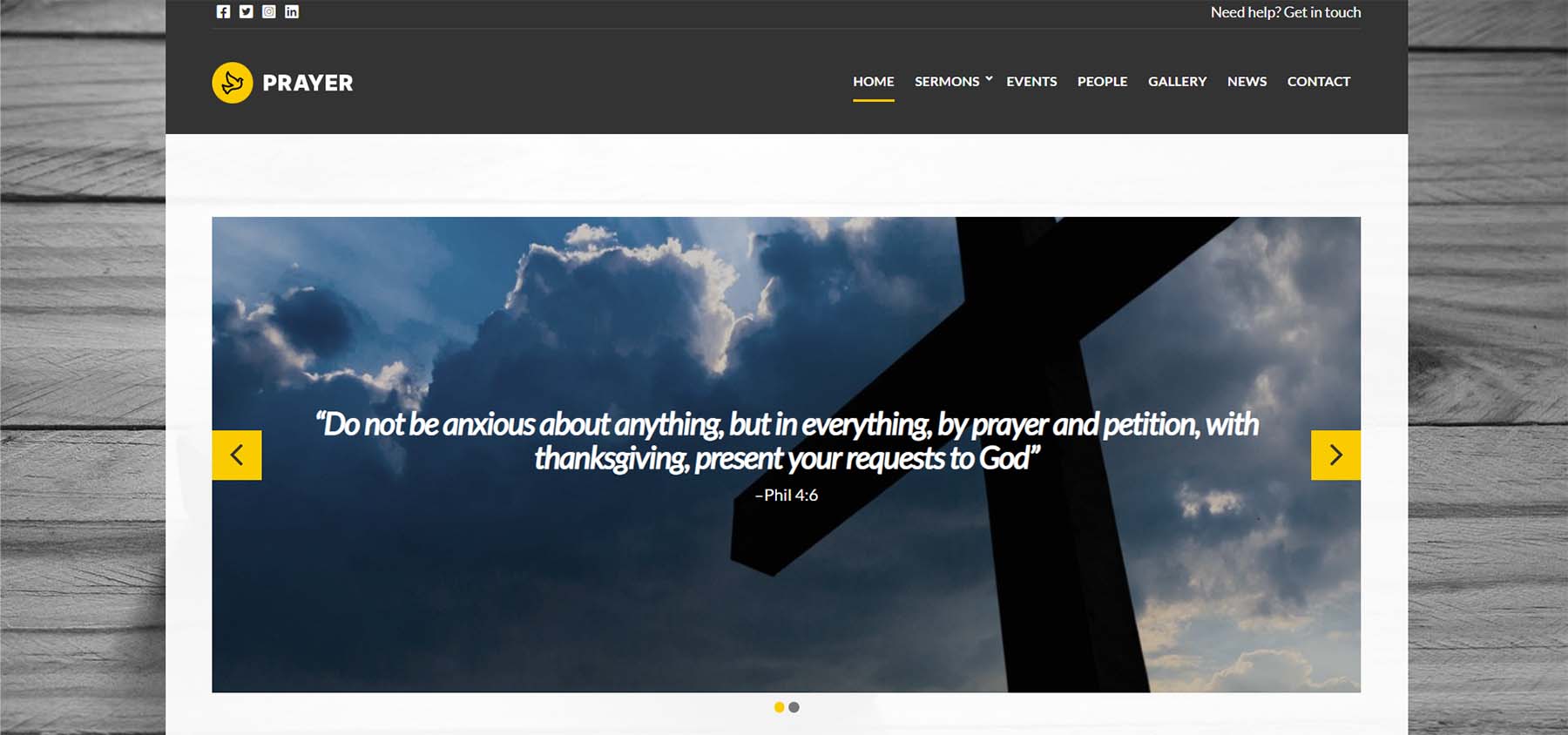 Prayer by CSS Igniter is a church WordPress theme for those looking to build a church website fast but with attention to sermon management. The theme has a homepage slider you can customize with images, text, and a button. Next, the default homepage features a sermon widget putting your latest preachings directly on the homepage.
The theme has a transparent and solid header option and four positions to place your main menu. The theme also comes with 6 page/post templates, including full width, sidebar, and narrow margin options. Also, the theme is compatible with popular plugins like ACF, Toolset, WP Forms, and Mailchimp for WordPress. While not the shiniest of the themes on our list, Prayer is suitable for those who value ease of use with features that get the job done.
Key Features of Prayer by CSS Igniter:
Works well with Gutenberg or Elementor for page building
Works well with Polylang and WPML for multilingual support
Custom post types for events, team members, and sermons
Compatible with WooCommerce
Built with SEO in mind and works with popular SEO plugins like Yoast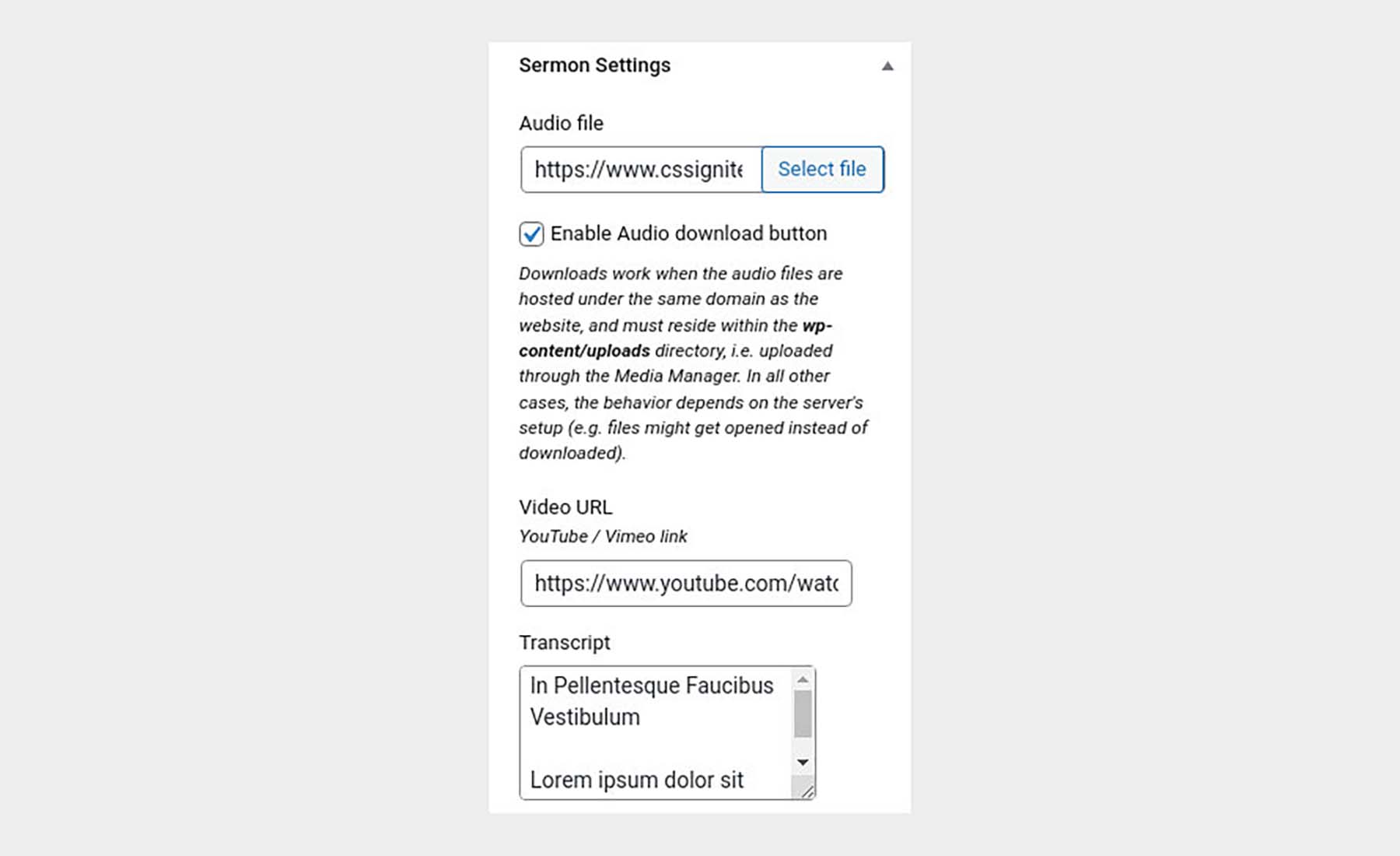 The Prayer theme takes sermon management very seriously. The theme comes with a custom post type precisely for managing sermons. You can link to your sermon's audio file, add a video URL, or even insert a transcript for each sermon. You can also determine whether you want users to be able to download the sermon to their devices.
Prayer is best for:
For churches who prioritize sharing their audio and video sermons, using Prayer would be to your advantage. Of all the themes in our list, Prayer takes sermon management seriously by enabling you to manage and share your sermons on your website easily.
10. Faith by Dumitru Brinzan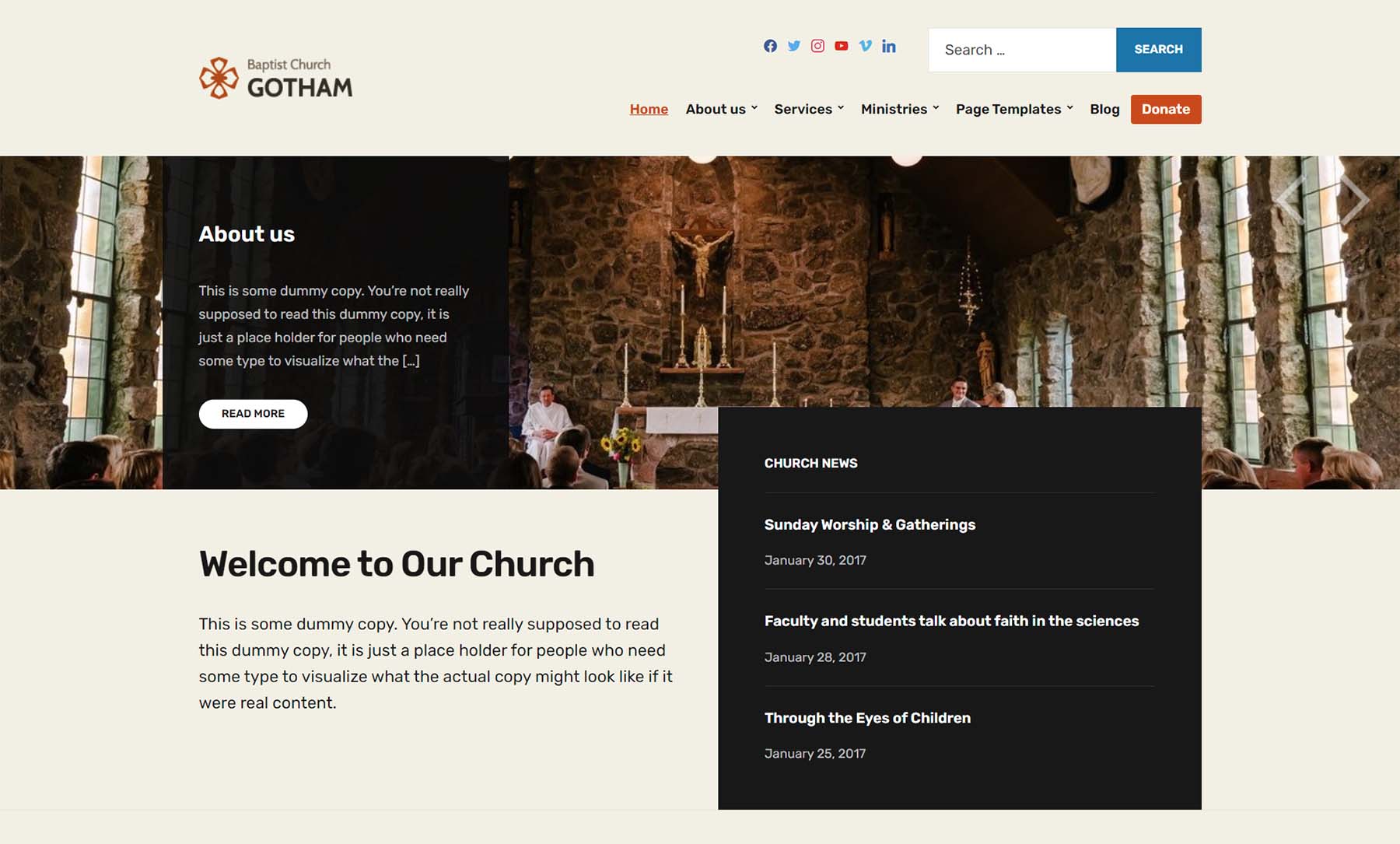 Faith is the best church WordPress theme for those with budgetary concerns regarding web design. As a free theme, Faith is much more limited in its feature offering than other players on our list. However, the theme integrates with many page builder plugins like Divi, Beaver Builder, and more. This means you can still be flexible when creating your pages with Faith.
The theme has a homepage slider to upload up to 5 pages. You can also showcase up to 10 pages on the homepage. If you are looking for a genuinely free WordPress theme for your church, Faith is that theme.
Key Features of Faith:
Select custom colors for the background and fonts with the WordPress Customizer
Works well with popular builders like Divi, Elementor, Beaver Builder, etc.
Works with the Block Editor
Supports custom block patterns
Includes homepage slider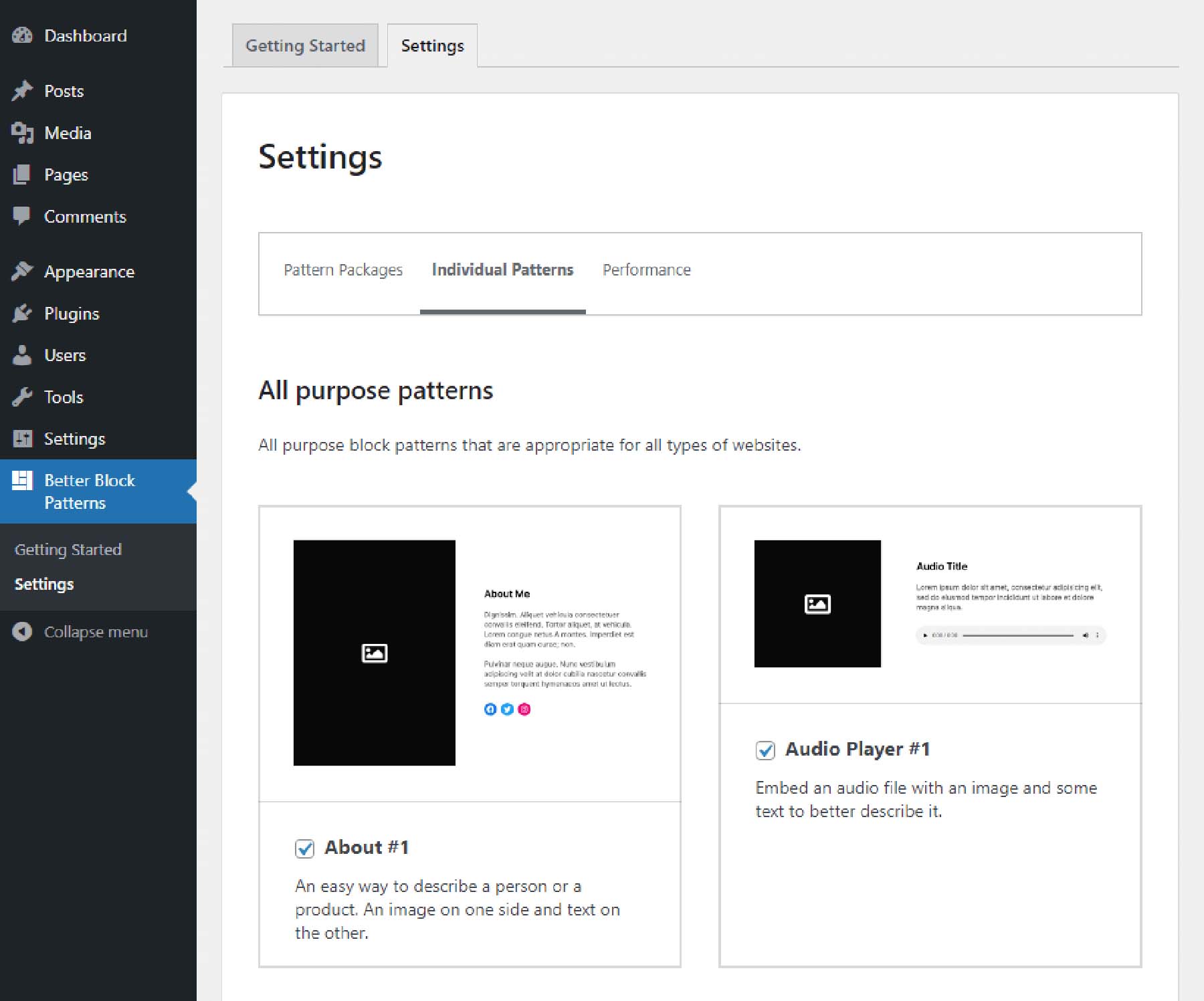 The Better Blocks plugin is an addon by the makers of the Faith theme. The plugin extends the WordPress Block Editor with numerous custom block patterns that you can use to add greater functionality to the Faith theme. If you feel that a page builder may be too much for your church to handle, this addon will be perfect for your use with Faith.
Faith is best for:
Churches that want a free and simple website theme will appreciate Faith. Its straightforward approach to church themes can benefit teams with non-technical users who still want a web presence built on WordPress.
Pricing: Free
Which Church WordPress Theme Is The Best?
To wrap it up, Divi is the most powerful theme that you can use to build a solid church website. Its Theme Builder puts all the power in your hands to develop your very-own church website that will scale to your needs. If you would rather have more built-in church features, the Chrysalis premium theme is top-notch.
For the church that wants to have a good WordPress theme for their church out of the box, the  Kadence WP would be a good choice. With its native styling for popular church features like calendars and online giving, Kadence's theme gives ease of use without sacrificing aesthetics or functionality.
The WordPress theme Astra is built for the church that prioritizes performance and speed for their site. With optimized code, this lightweight theme will work well with congregations that want to have a website that loads fast, giving information quickly to users.
Before embarking on building your church website, consider some of these themes. Get a good idea of the features that you want on your site. Then, consider which theme matches your requirements. Were there any themes that you think we missed? What's your favorite church WordPress theme? Tell us below in the comments!
Frequently Asked Questions (FAQs)
Before we wrap up, let's answer some of your most common questions regarding church WordPress themes. Did we miss one? Leave a question below and we will respond!
What is the best church WordPress theme?
Divi
is considered one of the best church WordPress themes due to its versatility. With its frontend visual builder, users can easily design and customize their church website without coding knowledge. It offers over 40 customizable modules, 200+ customizable templates (including free church layouts), and 20+ WooCommerce-specific modules for seamless online payment integration. Additionally, the Divi marketplace offers church layouts and child themes created by third-party developers, expanding the options for creating beautiful and functional church websites.
What is the best free church WordPress theme?
Kadence WP
is considered one of the best free church WordPress themes. It offers a drag-and-drop builder with live editing, allowing easy website layout customization. The theme is mobile-responsive with controls, ensuring a seamless experience across devices. It provides native styling and support for popular plugins like GiveWP and The Events Calendar. With its header and footer builder, global typography, button, and color controls, Kadence WP allows churches to create a unique and visually appealing website. Additionally, it offers custom post-type support, making it suitable for organizing and displaying various church-related content.
What is a church WordPress theme?
A church WordPress theme is defined as a pre-designed template associated with churches and religious organizations to use on their WordPress websites. These themes come with tailored features such as event calendars, sermon archives, and online donation systems to cater to the specific needs of churches. They provide a convenient and customizable solution for churches to create an online presence.
Is WordPress good for church websites?
WordPress is an excellent choice for church websites, and
Divi
is a great example. Divi offers a powerful frontend visual builder, 40+ customizable modules, and access to Theme Builder for creating custom templates. It also includes 20+ WooCommerce-specific modules for online payments and Bloom, an email-in popup plugin to help grow your church's email list.
How do I set up a church website with WordPress?
To set up a church website with WordPress, you can utilize a theme like
Divi
. Choose a hosting provider, install WordPress, and then install the Divi theme. Customize the website using Divi's drag-and-drop builder, utilizing it's pre-designed church layouts.
Are church WordPress themes easy to use?
Yes, church WordPress themes, such as
Ultra
, are designed to be user-friendly and easy to use. With Ultra, the skin is simple to manage and implement, while the supplemental builder simplifies website editing. It allows easy customization of elements like headers and footers, unlike other themes that can be more challenging.
What is the fastest church WordPress theme?
Kadence WP
is renowned for its speed and performance, making it one of the fastest church WordPress themes available. Kadence WP prioritizes fast loading times and efficient performance with its optimized code and lightweight design. This ensures an exceptional user experience and quick access to church information for website visitors. Divi also offers several unique
performance-enhancing features
.
Looking for more WordPress theme recommendations? Take a look at our main post on the best WordPress themes.