There can be a lot of confusion in using the WordPress logo and name in general. People have been sent cease and desist letters, had to rename their businesses, and redesign their graphics and web presences because of either misuse or mishandling of the property. We don't want that to happen to you, so we are going to break it all down for you so that you can go into working with WordPress confident that you're on the right side of the law.
Why The Fuss?
Well, in a nutshell, because it's business. Automattic, WordPress, and the whole ecosystem is worth a lot of money. And because of that, people will inevitably try to unfairly profit off of it. That said, WP is open-source, so there are certain freedoms that need to be maintained. So there is a fine line to walk between protecting a trademark and property for business purposes, but also keeping the permissions free enough that the community can still benefit.
The WordPress Foundation has set up the following three guidelines as their kind of signposts on the subject.
1. We'd like to make it easy for anyone to use the WordPress or WordCamp name or logo for community-oriented efforts that help spread and improve WordPress.
2. We'd like to make it clear how WordPress-related businesses and projects can (and cannot) use the WordPress or WordCamp name and logo.
3. We'd like to make it hard for anyone to use the WordPress or WordCamp name and logo to unfairly profit from, trick or confuse people who are looking for official WordPress or WordCamp resources.
Basically, they don't want people claiming to be WordPress who aren't (for ill-gotten gains), but they want people to freely use the trademark to promote the software and community. And in general, their guidelines are simple and easy to follow. Let's take a look.
Subscribe To Our Youtube Channel
1. Capitalize the P in WordPress
Yep, despite what you may think, that P being capitalized matters. Because the name WordPress is a trademark, using it requires that you capitalize it accordingly. And that means that it's
WordPress
and not
wordpress
While that might not seem like much, in the end, it's the difference in getting the name right and the name wrong. If your name is Susan and someone consistently spells it Suzanne or Susann, would that be okay with you? Unlikely.
The same goes for this. On top of that, it shows a level of professionalism that you are using it properly. Would you take a company that contracted with Microsoft seriously if they spelled it Macrosoft across their website? Of course not.
Show that you're professional and detail-oriented and make sure that it's WordPress, not wordpress when you use it.
2. Don't Use 'WordPress' in Your Name or URL
Even if it's capitalized correctly, you cannot have the term WordPress anywhere in your product, company name, or domain. Because it's a registered trademark. You don't own it. That would be like calling your new burger restaurant Just Like McDonald's. You just can't do it.
That's why you see so many businesses that simply use WP in their titles. WP Beginner, WPMUDev, WP Super Cache, and so on. These products are branded WP so that users know they're for the WordPress software, but they can't outright say WordPress in their commercial titles. That would be trademark infringement.
The same goes for URLs. Google is smart and recognizes that WP stands for WordPress. So you don't have to worry about not getting ranked because of not having an appropriate keyword. You can have thebestwpthemesever.com but not thebestwordpressthemesever.com. Using the actual term is trademark infringement.
A sly hack to almost (but not quite) circumvent this particular issue is by simply using the term Press in your product title or domain. You can be PublishPress or bbPress or BuddyPress. But not WordPress Forums or WordPressBuddy.
The exact phrasing is here:
All other WordPress-related businesses or projects can use the WordPress name and logo to refer to and explain their services, but they cannot use them as part of a product, project, service, domain name, or company name and they cannot use them in any way that suggests an affiliation with or endorsement by the WordPress Foundation or the WordPress open source project.
For example, a consulting company can describe its business as "123 Web Services, offering WordPress consulting for small businesses," but cannot call its business "The WordPress Consulting Company." Similarly, a business related to WordPress themes can describe itself as "XYZ Themes, the world's best WordPress themes," but cannot call itself "The WordPress Theme Portal."
In that same vein, you can register a .press domain, and you will have a pseudo branded URL, too. While it was introduced with journalists in mind, it works great for WordPressers, too. For pretty obvious reasons.
But don't try to skirt the trademark too narrowly. Having something like ThemesForWord.Press is still absolutely a trademark infringement. That dot doesn't change anything.
3. Use Correct Images
The WordPress Foundation's trademark applies not only to the term WordPress, but also to the official, related logos. Like most major businesses and brands, WordPress.org has a media page and press kit with resources for you to use and guidelines for you to follow.
Basically, you head to the page, and they have it set up so that you can download either the full logo (the actual word WordPress along with the W in the circle) or just the circled W itself.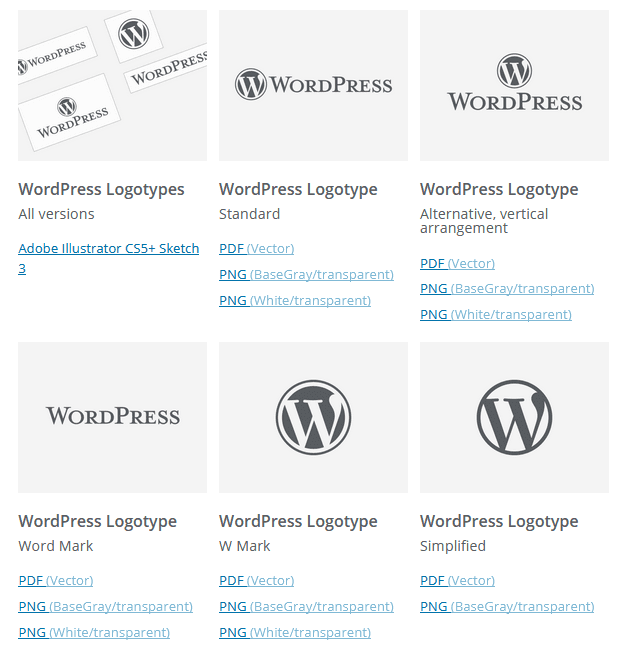 So regardless of what your needs are, you can pretty much find it. And because they provide PDF vectors and Sketch versions, you can alter them til your heart's content to match your product and brand's aesthetic. Generally, this means coloration and other minor edits because you want the logo font and logomark itself to be recognizable.
Say No to The Counterfeit
Someone circulated a counterfeit WordPress logo around the internet years ago, and it was kind of ugly. Not only was it a knock-off, but it was a bad knock-off. The logo page shows you what the stubby little thing looks like so that you can avoid using it.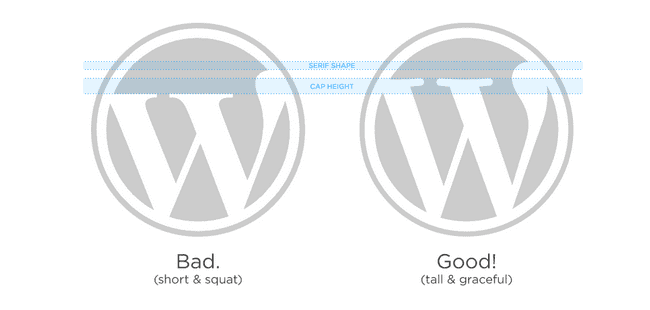 It's pretty easy not to notice the difference if they're not side-by-side. But as you can see above, the difference is there. And it's important. Especially for WordPress-based businesses. The best way to avoid this kind of issue is to only download official logos and not to download them from things such as Google Image Search. But we know you would never do something like that. Right?
Wrapping Up
In the end, staying within the guidelines of the WordPress Foundation's trademark is pretty easy. Just make sure that you capitalize both word and press, that you don't actually call your business WordPress Something Something, and that you use the proper logos when designing your brand aesthetic. Keep that stuff in mind, and your days as a WPer will be (hopefully) long, happy, and prosperous without the first worry in the world. At least regarding the WordPress logo and trademark.
How have you successfully incorporated the WordPress logo and trademark into your brand?
Article featured image by VectorMine / shutterstock.com