Split testing and Search Engine Optimization (SEO) are two essential tools for any website owner. However, they can have an effect on one another – if you split test incorrectly, your site's SEO can be damaged.
This post will show you five common split testing and SEO mistakes, as well as how you can avoid them.
Mistake #1: Not Setting Canonical URLs for Duplicate Pages
Split testing works by creating two slightly different versions of the same page, then showing them to different users at random. Split testing software tracks metrics such as subscriptions, purchases, or click-throughs over time to determine which version of a page converts better.
Unfortunately, this can make it unclear to search engines which version of the page they should index and display in search results. When this happens, all of your valuable split testing work goes to waste.
You can avoid confusing search engines by making sure to set a 'canonical URL' for the two pages being tested. This will tell search engines which version to view as the definitive one.
Normally, you'll want to set the control page as canonical while running a test. This may change once you've determined a winning page, but to begin with, avoiding confusion is the best policy.
While you can manually define a canonical URL by editing the <head> section of the page's HTML, it's much easier to simply set it from within WordPress. If you're using a WordPress SEO plugin such as Yoast SEO, you can usually set the page's canonical URL in the plugin's post options. For example, here is the Canonical URL field made available by Yoast: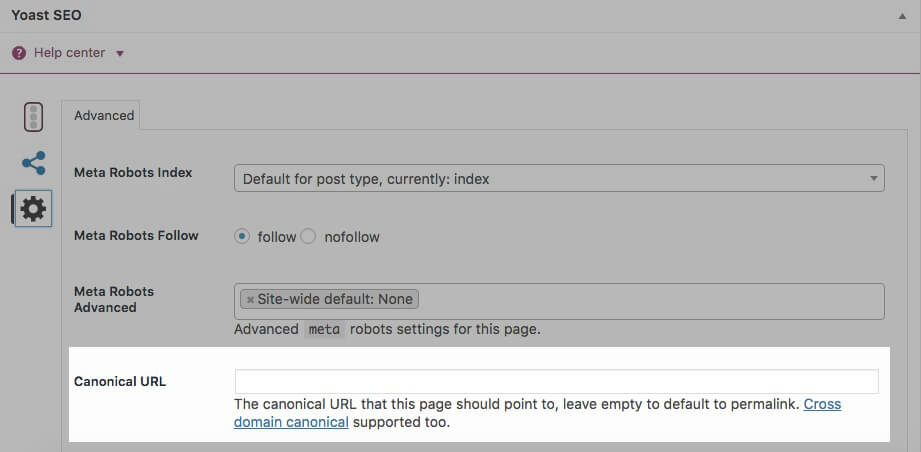 Properly defining canonical URLs doesn't take a lot of time, and it ensures you avoid one of the most common split testing and SEO problems.
Mistake #2: Running a Test for Too Long
It's important to avoid running split tests for too long. If search engines detect two very similar pages on your site for long periods of time, they may interpret it as an attempt to 'game' your position in the Search Engine Results Pages (SERPs).
According to Google, in cases where they believe you are duplicating content to manipulate your search ranking:
…the ranking of the site may suffer, or the site might be removed entirely from the Google index, in which case it will no longer appear in search results.
You can easily avoid this split testing and SEO problem by running your tests for a limited amount of time. More specifically, run your test until you've achieved a statistically significant result, then stop.
You don't need to know any math to see if your results are statistically significant – all quality split testing programs will tell you when you've achieved it. For example, Divi Leads displays this data when you run an A/B test.
Mistake #3: Manually Blocking Search Engine Crawlers on Duplicate Content
One popular method of preventing search engine crawlers from indexing duplicate pages is to edit the page's robots.txt file. This is simply a file loaded with every web page that instructs bots how they should treat it.
You could edit a page's robots.txt file to block crawlers from all the major search engines, but this method is a bad idea for two reasons. Firstly, it can make it appear you are showing the search engine different content.
Google explicitly recommends against blocking crawlers in robots.txt, warning that:
…if search engines can't crawl pages with duplicate content, they can't automatically detect that these URLs point to the same content and will therefore effectively have to treat them as separate, unique pages.
Secondly, anyone can view your robots.txt file. Since this file is publicly viewable, your competitors could use it to see which pages you're instructing search engines not to index. From this, they can figure out the pages you're testing and attempting to optimize their own. For obvious reasons, you should avoid this.
Instead of editing robots.txt, Google recommends using either a 302 redirect or a canonical URL to tell crawlers how to treat your similar pages.
Mistake #4: Deleting the 'Losing' Page After Finishing a Test
Once you've finished a split test and determined a winner, it makes intuitive sense to delete the page that lost. It's not converting as well, so why keep it around?
You should always keep the poorer converting page for two reasons. Firstly, deleting the page erases valuable test data. There's much to learn from your mistakes, so you should keep the losing pages to refer to later.
Secondly, deleted pages can confuse users and search engines. If you've been running your test for a while, search engines have likely indexed the page in question. Deleting it does not delete it from search results, however, so it's quite possible that a user could find the page in a search, click it, and receive a 404 error.
Of course, you naturally want to display the better converting page to users. You can achieve this in one of two ways:
Use a split testing program that archives test pages. For example, Visual Website Optimizer enables you to do this.
301 redirect the poorer performing page to the better one.
Mistake #5: Not Updating the Control Page
Assuming that your new test page performed better than the old one, failing to update the control version can result in something called keyword cannibalization – a situation where the poorer converting page ranks higher in search than the superior one.
This is most likely with the control page, since it's existed on your site for longer and is more established in search for the relevant keywords. If this happens, it can make all your best conversion rate optimization efforts meaningless.
Fortunately, keyword cannibalization is an easy split testing and SEO conflict to avoid – the solution is the same as for mistake number four above. Just make sure to tie up those loose ends and you'll be golden! You can do this by redirecting the control page to your split test winner.
Conclusion
Split testing and SEO are two powerful tools that can dramatically increase both traffic and conversions on your site. However, it's important to make sure that you split test in a way that doesn't disrupt your SEO efforts.
To keep split testing and SEO from conflicting:
Set canonical URLs for (near-)duplicate pages.
Run tests only as long as it takes to achieve statistical significance.
Use canonical tags instead of blocking search engine crawlers from a page.
Archive, redirect, or update the 'losing' page after completing split tests.
What are your tips for preventing split testing and SEO from interfering with each other? We'd love to hear them, so tell us your thoughts and subscribe to the comments section below!
Article thumbnail image by Bakhtiar Zein / shutterstock.com