As a freelancer, I'm free to set my own hours, take as long of a break as I want, and work as much as I want. In order to get more done though, I usually end up working more and that's not exactly what I signed up for. That's not what I had in mind when I set out on this journey to be my own boss.
That's why a change in perspective is in order. Rather than working more, you can optimize your workflow. You can streamline the work you do and ultimately get more done in less time. That sounds more in like with the original freelance dream, right?
This article takes a look at the workflow of the freelance web developer and explores where things can be improved. Using a few smart steps and some good tools, you can work smarter – not harder. We'll first look at the freelancing side of the business and then at the development side so you have a good picture of all that's involved.
Freelancing – The Business Side
What's involved in a freelance web development business? This encompasses the business administration side of running a company. It involves getting your name out there, being seen, getting clients, and the daily activities you must perform to do business. There is a lot of work involved here that you can't charge someone for. Fortunately, there are tools and tricks to help you be more productive.
Treat it Like a Business
Even though this portion of your business doesn't produce anything for your clients, it still has to be treated like a business. Your freelance work is your job. It is a business and should be treated like one. Turn off distractions such as social media. Schedule your business activities and follow the schedule like your business depends on it (because it does).
Make To-Do Lists
Making a list helps you keep in your mind what you have to get done. It is your reference for the work that has to be completed today. Prioritize the top 3 items and work on those first. This lets you jump from one task to the next without having to stop and think about what needs to be done next. Having to stop your workflow to think about what to do next distracts you and slows your progress.
And break the larger tasks down into smaller, more manageable tasks. It's easier to work on smaller steps than one big step.
Some like to work on the most difficult task first. The momentum of getting the most difficult task done and out of the way can help you get through the rest of the day's work more efficiently.
Optimize Your Workspace
In this case, your workspace refers to both your physical space and your digital space. This means your desk, office, computer's desktop, and even the apps that you use.
For apps such as Adobe Photoshop and WordPress, customize your tools to fit your own working methods. Set up your digital workspaces so that tools are where you need them. Keep only the tools you use the most out where you can see them. Make those tools the most accessible. Hide the tools you never use. Take time to explore and see what tools you're not using that could save you time.
Even buying tools that save you time can pay for themselves rather quickly. Saving a few minutes per day on routine tasks can add up to many hours by the end of the month.
Uncluttered workspaces can help you be more productive. If you're spending time searching for something, then you're wasting time (which costs you money).
Keep your tools close and ready to use. If you draw project outlines by hand, keep your notebooks and pens easy to get to.
Getting Clients
Use tools that bring clients and job postings to you instead of spending hours on end searching the net for something relevant to your business.
Here is a quick look at just a few good tools that can help automate the task of getting clients and landing jobs.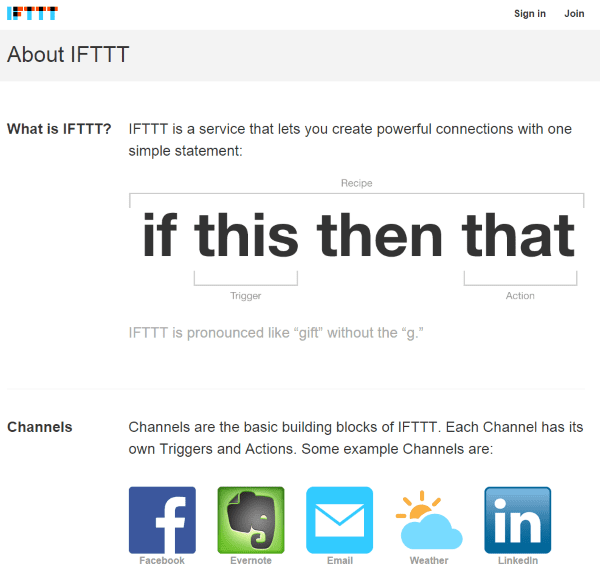 If This Then That is a free service that sends you alerts based on connections you make (called recipes). It uses "if this then that" as a statement to make connections between 159 networks. You can have it send you results as they occur. For example you can build a recipe that says if a new job suggestion is posted to LinkedIn, then that information is sent to your email. Just be careful what you ask for – your email inbox could explode!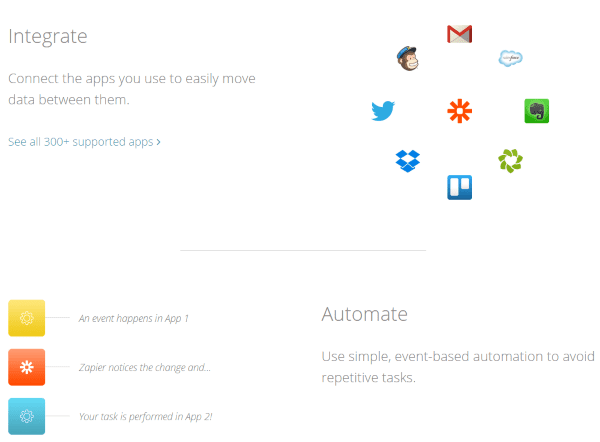 This app was designed to automate your workflow. It uses event-based automation, called zaps, so you don't have to do repetitive tasks yourself. It connects to over 300 apps. You can set it up to alert you for job postings that you might be interested in.
The Free plan gives you 5 zaps that run every 15 minutes, and 100 tasks per month. The Basic plan is $20 per month and gives you 20 zaps that run every 15 minutes and 3000 tasks per month. The Business plan is $50 per month, gives you 50 zaps that run every 5 minutes, and 15,000 tasks per month. The Business Plus plan is $75 per month, gives you 75 zaps that run every 5 minutes, and 20,000 tasks per month. Finally, the Infrastructure plan is $125 per month, gives you 125 zaps that run every 5 minutes, and 50,000 tasks per month.
Having a presence in social media is a must when it comes to exposing your brand to potential clients. Dealing with social media can take a lot of time. To streamline the workflow, use an app.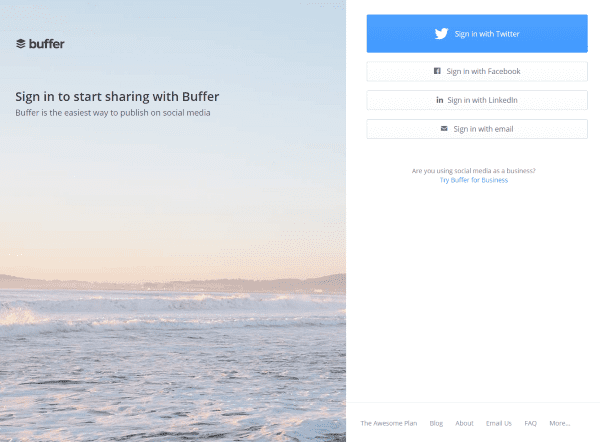 Buffer will connect to your Twitter, Facebook, LinkedIn, App.net, and Google + profiles so you can share updates on many networks at the same time from a single location. It will give you suggestions about who to follow based on topic. This is a great way to find potential clients and easily stay in touch with your network.
There are several plans available. The Free plan gives you one profile for each social account, and stores 10 posts for each profile. The Awesome plan gives you 10 profiles and up to 100 posts in your Buffer. It lets you vary your schedule by day, and gives you 15 RSS feeds per profile. It costs $102 per year. The Business plan costs $50 (small), $100 (medium), or $250 (large) per month depending on the size of your business. Small gives you 25 accounts and 5 team members, medium gives you 50 accounts and 10 team members, and large gives you 150 accounts and 25 team members. They all include unlimited standard posts in your Buffer.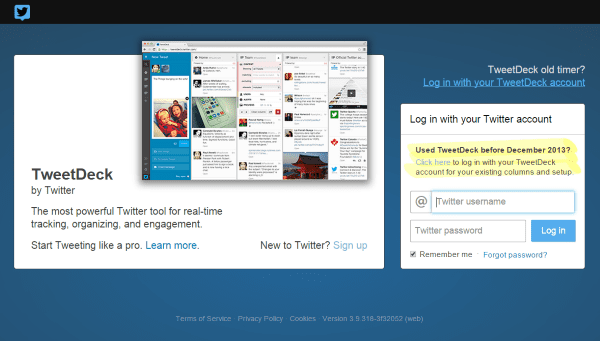 This app from the makers of Twitter lets you track Twitter in real time. You can customize the screen by placing columns of content. Each column can include any specific content you're looking for, making it easy to search topics and engage with potential clients. It is free and can be used in your browser or from your desktop.
Set Up Standard Processes
Following a standard process will help ensure that you don't leave something out. Use standard processes to learn what your clients need, track revisions, and make improvements.
Every project is different, but the way you go about the projects is the same. They usually share similar tasks. Create a checklist that walks you through the entire process – from landing the client to evaluating the product after launch. The checklist helps keep you on track and on schedule, and ensures that none of the steps will be forgotten. Go through your checklist and see what the most efficient way of completing each step is. Look for steps that can be combined or eliminated. If a step is not value-added, get rid of it.
Use questionnaires to help you understand your client's needs.
There are parts of every project that are the same. Some things rarely change. For cases like this, use templates whenever possible. Create your own premade files that you can use and modify to your customer's needs. Start with themes and plugins that come the closest to your end product then modify as needed.
Keep a standard set of plugins with configurations that you have already saved. Copy or import from a template. Keep templates based on site types: ecommerce, blogs, etc. These are great for mockups of designs to show clients and step them through the design planning phase.
Work to Deadlines
Most clients will have a deadline of when a project must be completed. They might give you a deadline for the completed project, but it will be up to you to know how to break the overall project down into smaller steps, or milestones, and set deadlines for each one in order to keep the entire project on schedule.
Track the deadlines in your calendar or project management software.
Give yourself deadlines on your own projects. For example, if you're adding new features to your site, give yourself deadlines and follow them. This will help keep your working hours productive.
One way of staying productive is to use a timer. Set it for 20 minutes and work like wildfire. Take a 5 minute break, and then do it again.
Take Care of Business
It's easy to get lost in the work that we do for clients and let the administration side slide. Take care of the business administration side of your freelance business. Make time for it. Remember: an unattended business has a reduced chance of success.
And plan for future growth. Get help where you need it. Don't forget to sharpen the saw!
Web Design – The Development Side
Streamlining the freelance side of your business will help you get the customer, but the only thing that matters to the customer is the end product. It doesn't matter to them if your desk is clean.
This section will help you streamline your development process.
Preparing and Planning
Develop a checklist with detailed information about the project and the client's goals, who the target audience is, what specific needs of the website are, what the style of the website should look like, what the call-to-action will be, what kind of content the site will need, the site map, the budget for the project, who the competition is, what the deadline is, and so forth. The more detailed the information you have up front, the fewer surprises you'll run into later.
You can then develop the wireframe and start drawing the layout. You can use a notebook and hand-draw or you can use an app, like PowerPoint, to mock up the layout with blocks. The time you spend here will save you time in the long run.
Once you have this information, develop a schedule. The items on the schedule become your to-do list with milestones and deadlines.
Share these milestones and deadlines with the client so they understand the process and know how important each step is in order to finish on time. This way, if you have to wait on the client for anything, they will know what impact that waiting has on their deadline.
Website Development
Outsource
Build a team by outsourcing what makes sense to hire someone else to do. It might make more sense to hire a graphic artist to create the logo or a freelance writer to create the content. Hire a bookkeeper or a virtual assistant to handle your paperwork. This gives you more time to deal with what you're best at – designing and developing websites.
Figure out how much you could earn in the same amount of time you spend on tasks and see if you can hire someone for less than that to do those tasks.
Tools
Find the right tools. The money and time you invest in learning the right tools can pay off in the long run. There are many tools to help you create, design, and develop websites. Many are free and some are paid. There are apps to help you give accurate estimates, create invoices, track your time, bookkeep, track feedback, manage projects, and more. Use quality tools whenever possible. Find apps that work for you that can automate a process to save you time. Spend some money if it will save you money in the long run.
Project Management
Use a project management tool to keep your project and team on track. These tools are a great way to collaborate with your team. The goal is to give everyone easy and live access to all the information and provide an effective way to communicate about the project and tasks. Software is better than email as people tend to get so many emails that the information can get lost in the mix.
Apps
There are several online apps that will let you and your team track and communicate from any device. Here is a short list of some of the best apps.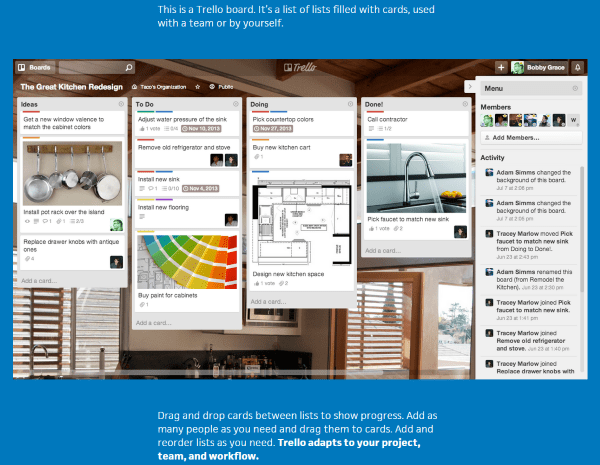 Trello is a great project management tool no matter how large or small your business is. You can create and organize individual projects and then populate the project with steps (called cards). You can place as many items on each card as you want and you can move the items individually from one card to another. You can also drag and drop the entire card if you want.
Your team can interact with you and add or modify any information as needed. They can upload files, links, text, video, etc. It will send alerts through email and you can use a mobile app to manage your projects on the go.
The basic Trello account is free and includes 10MB for card attachments. There is also a gold edition which costs $5 per user per month and gives you 250MB for attachments.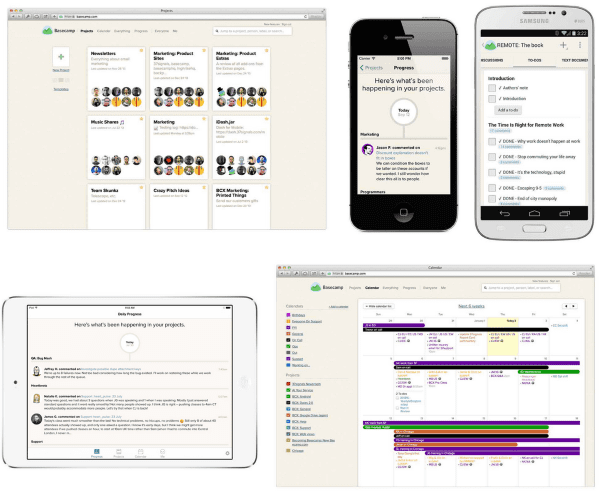 Basecamp is a project management app that lets you create projects, have discussions with your team, assign tasks, share files, and keep a check on the project's schedule on the calendar. It will show you a graph of each task and you can follow up with each item independently. You can access it from your desktop and mobile devices.
Basecamp is a premium service with several plans. For $20 per month you can have 10 active projects and 3GB of space. For $50 per month you can have 40 active projects and 15GB of space. For $100 per month you can have 100 active projects and 40GB of space. For $250 per month you can have unlimited active projects and 300GB of space. For $3000 per year you can have unlimited active projects, 500GB of space, and priority support.
Plugins
There are several plugins that let you manage your projects directly from WordPress. Here is a short list of some of the most popular.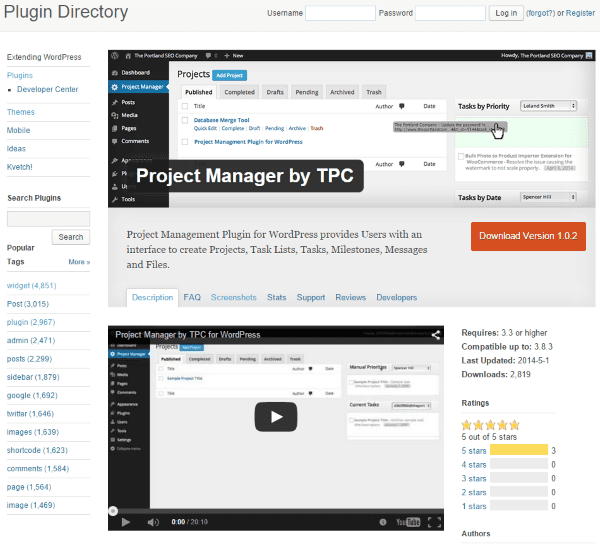 This free plugin gives you an interface for your dashboard where you can create projects, tasks, milestones, messages, files, etc. It has privacy settings, so users only see the projects and tasks that they're contributors to. You can order tasks by date and you can drag tasks to a sort widget from the date widget to give them priority. You can link to tags using hashtags. It will send email notifications to team members with any updates. The UI is responsive and is easy to use.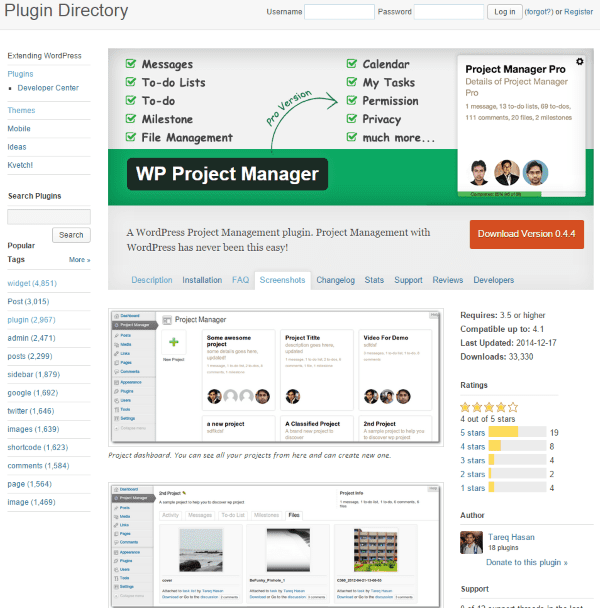 This free plugin adds project management features to your WordPress dashboard. It lets you add messages, to-do lists, milestones, tasks, file management, etc. Your team can interact and discuss the project from within WordPress, share files, provide updates, and more.
This is a free plugin. There is also a Pro edition that adds project permissions, archiving, duplicate a project to create a template, privacy in message, to-do and milestone, my task, user assigned task, project category, filter by category, minimum project creation role, calendar overview, and projects on the front end. It's $59 for one site with forum support, $99 for 5 sites, and $199 for unlimited sites with priority support and free add-ons.
Test
Follow standard procedures for testing. Now's not the time for shortcuts. Don't just click a few things and think you're okay because you want to be done with the project so you can move onto the next one. That's not the shortcut you want to take. Choose your shortcuts wisely.
You don't have to do all of the testing yourself. This is a good candidate for outsourcing. If the time you spend on testing costs you more than the cost of outsourcing, outsource it. This time could be spent developing the next project.
Launch and Beyond
Your client will need your undivided attention at launch. If you've done your research and kept your client in the loop there should not be any surprises. Your customer shouldn't see the end product for the first time and be surprised as to how it works and how it looks. They should already know what to expect.
You will still run into things the client wants added or changed, so you'll have to have something in the contract to handle additions and changes. You also might still run into a bug or two. It is inevitable that the client will do something you did not expect or test for.
Ask for a Referral
After launch is a great time to ask for a referral. This will continue to optimize your client acquisition process.
Follow Up with Clients
Communicate with your clients. Follow up. Check on them. This is not something you should do as a bulk email. You want each one to be written specifically for each client. However, you can streamline this workflow by scheduling and writing several emails at once.
Wrapping Up
Your workflow can make or break your freelance business. Optimizing your workflow will reduce the waste in your process and increase your profits. Your ability to generate income depends on you and your team meeting deadlines with quality work that meets or exceeds your customer's expectations. Optimizing your workflow will give you that boost so you can make more money and keep your customers happy. Happy customers are repeat customers. No matter the outcome, they will tell their friends.
How about you? Do you have any advice, tools, or shortcuts that you use to optimize your workflow? I'd like to hear about it in the comments below!
Article thumbnail image by vasabil / shutterstock.com