Basecamp is a great service based on providing a space to organize and structure your brand, personal ventures, or business needs. You can structure your tasks within a proven method of organization that Basecamp has researched since 2004, which aims to provide the most efficient experience possible.
Getting organized can be time-consuming. Today, that task is magnified for businesses needing to form stronger centralized control over projects, entrepreneurs needing to have a constant bird's eye view of their brand, or WordPress site owners looking for team collaboration. Even outside the realms of your typical notion of business, your home life and personal needs can benefit from the overview of tasks, goals, and objectives Basecamp provides.
One of the defining aspects of Basecamp is its concept of organization. Structured into three tiers (HQ, Teams, and Projects), all boards share the same features. However, this structure is built to streamline communication across projects and tasks. All the needs of a company start from its main managerial source (HQ) which flows into more specific needs through the use of the team, which can be assigned project.
After signing up for Basecamp for a free trial, you will be introduced to the homepage for your company. The first thing of note are the three types of boards you will use: HQ, Teams, and Projects. Before I touch on those, let's take a quick look at the administrative page.
The toolbar at the top of the page allows quick access to everything within your Basecamp account:
Ping: This allows a private chat between you and an individual or several. Just type the name or names you need to chat with. Separate the names with commas if need be.
Hey!: All notifications will show up here.
Activity: This shows activities consolidated in the groups they are from (HQ, Teams, Projects.)
Search: Like any quality search engine. Not watered down like some sites, all the advanced search functions are there, allow pinpointing anything from anywhere on your Basecamp.
Account Settings: In the top left like most sites are your personal settings. Which includes account settings, desired theme, title, etc. There is one thing of extra note, however. At the bottom is "First day of the week." This is important for the calendars you use on Basecamp. This is something many can overlook, but if scheduling is important to you for assignment distribution, quota updates, and so forth, you'll want to be aware of this detail.
Adminland: This is listed under your Account Settings tab on the home page. The link is grey and opacity is light, making it easy to miss.
It will bring you to this page: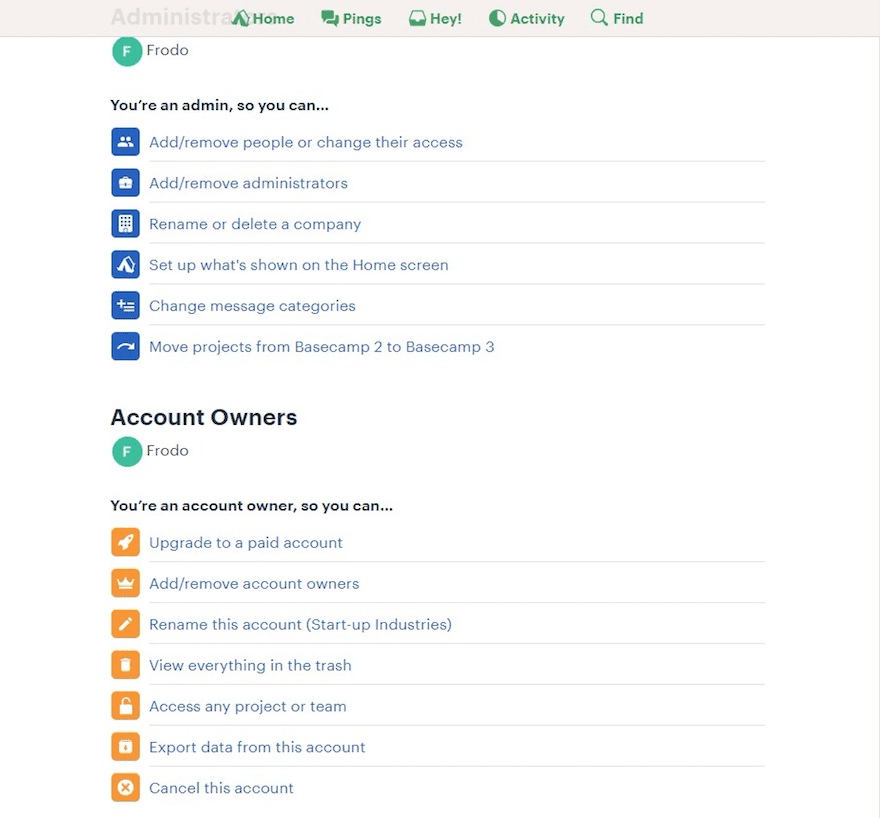 From here, you will be able to perform all the necessary administrative tasks within your Basecamp account. From adding and removing administrators to renaming the company. Everything is self-explanatory from their titles, except possibly "Change message categories," which allows you to create a tag for post organization and quick reference. Keep in mind, there is no limit to the number of people you can assign to the various boards or the number of boards you create.
Other than the Help button at the bottom left corner, this wraps up the homepage's functionality.
So now, let's move on to why we're here: the boards:
HQ
Headquarters acts as the "base" or main office of your brand here on Basecamp. Your company title will be the name of your HQ (you can change this anytime in Settings). I titled mine "Start-up Industries," for reference. You will want to add anyone and everyone that has anything to do with your company here. There are several possibilities in how you organize things.
You can add people to Teams or Projects without adding them to the HQ, as well. This should be reserved for team members that are non-recurring or temporary that may need access to a specific need, but not broad access to all of your company's details.
Teams
The proper structure of a team allows for better workflow. They need access to collaborative communication, resources, and dialogue with team leaders and all of these needs are fulfilled here, Teams are best structured with a lead, so giving a member an administrative role allows them to greater control the team.
If you're a developer doling out assignments to freelancers, you might have a few teams of people. These might contain your "Best Clients" or "New Clients" or something similar. You will be able to organize which teams get a project or task based on these parameters.
Since you can have people working on many different teams, you are allowed to mix and match talents, if need be. Here are a few team ideas:
A website maintenance team: Perhaps it's only one person. Regardless, a forum for communication via Campfire (which we'll discuss more in a moment) or a Message Board; and the ability to schedule tasks on a monthly occurrence using the Schedule function would be an appropriate use for most online businesses.
A marketing team: Another important need for productivity is visibility. You can create a marketing team dedicated to promoting your brand that's organized to have weekly to-do lists, message boards to post ideas to the group, or a campfire for live brainstorming.
Regardless of the type of team, each aspect of your goals can be identified and a team can be formed to fulfill that need. The next step would be creating projects to assign to your teams.
Projects
This board allows you to truly focus on the specific needs of a company. There is a template feature when creating a project. Some examples people have utilized when making project boards include:
Creating content for a blog: Similar projects formed around weekly content creation.
Advertisement production: Assigning team members from a marketing group to a project-based on increasing visibility. You can create several of the same formatted projects with the template option in Projects. By doing this, you can have members focus on specific methods and mediums of advertising. One group may be creating online articles, while another is dedicated to posting content on social media while still others are prepping Google Ads.
Prototypes: Perfect for tracking the production of prototypes, with tasks and expected features. This is a great method of organizing how a project might be, without going into the complexities of producing a concept completely.
These are a few basic examples. However, there is no limit to how you create or approach a project.
The 6 Main Features of Basecamp
You have six functions here within the three board types, the same for each board. And at the bottom is the activity queue for the various things going on within each board. These functions are the most used methods of communication and structuring used in businesses today.
HQ as an example of how the functions are organized on a board: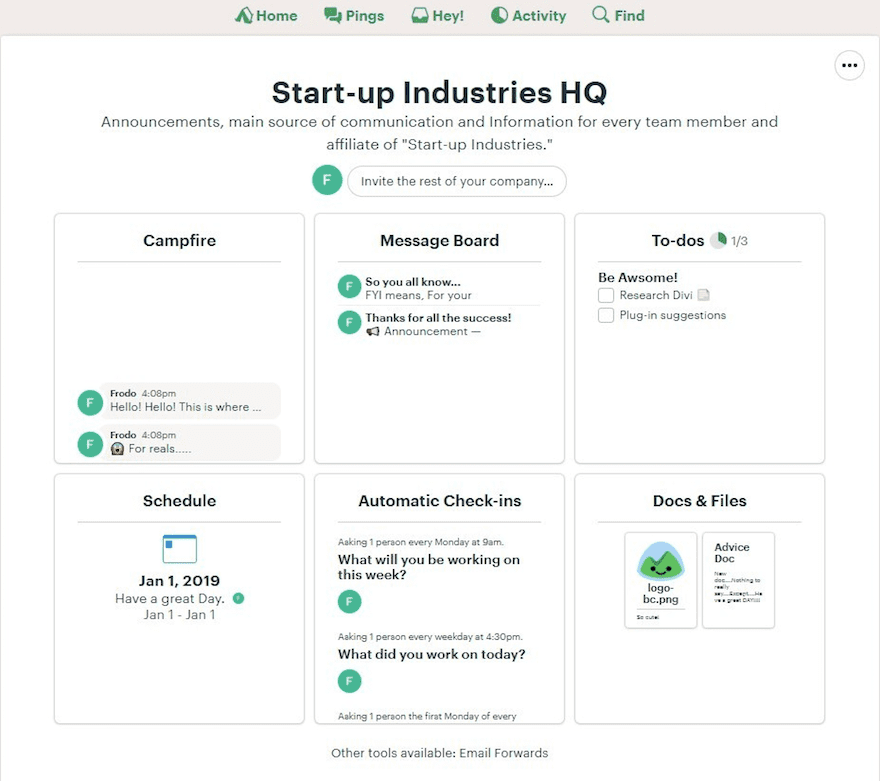 Although different things may be going on. Each function represents an essential aspect of an organization. These will be the same for each type of group, for familiarity and uniform navigation.
Campfire
Campfire is a live chat feature, allowing real-time discussion. In Teams, you will be able to communicate with the team as a whole. The same with Projects, which often require more constant communication. HQ is a great place to live chat with administrators or those outside your current project or team. This allows for better cross-communication within Basecamp.
The less obvious aspect (particularly for company owners and admins) is that Campfire allows members to communicate under the pretense of an expected mode of conduct. This may sound small, however, when you have members from all over the world, it's important to ensure all interactions adhere to your company expectations.
To build on that, Campfire also helps with the possibility of conflicting personalities. People in conflict don't typically like to share personal details, which can cause communication issues. Unfortunately, there is often times little choice in the matter. A successful person will not destroy a project over a matter that can be solved with proper leadership and avenues to work around said issue.
Emoji support and attachments are supported. Chats can also be bookmarked for reference.
Message Board
The message board will forever be remembered as one of the first methods of communication on the internet. While features have been added and polished, message boards function as a place for discussion with attachments and links supported. You can also archive posts. Plus, posts can be categorized (or tagged) giving those with access a quick representation of the content.

This is a great place to post ideas and concepts to the team who can then review and comment for discussion. For instance, a company looking to update a logo can have a marketing team post suggested ideas with attachments of the possible logos. Or perhaps you have an editorial team for a blog. Attaching documents for review would be beneficial.
To-Do's
There is always something to do. If there isn't, you aren't looking at the details. A to-do list is the most practical method of conducting a workflow at a controlled pace, especially when several people are involved. To-do lists allow for any amount of tasks to be listed.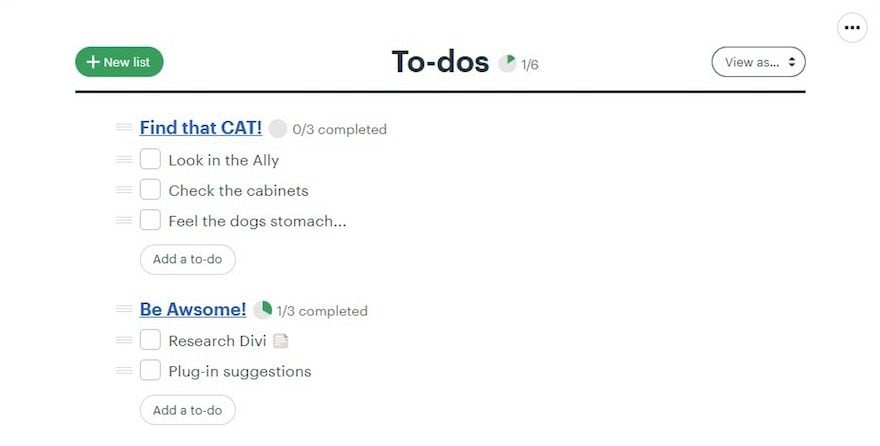 After clicking the To-Do tab, you can title the list you create and you have the option to write a description. After this, you can add the tasks. Each task allows for a short description along with the actual task. A checkbox is listed next to each task and when you click the box, a task is marked as completed and the percentage of progress is displayed as a pie graph on each to-do list.
Schedule
As its name suggests, the Schedule feature allows you to schedule events and set deadlines.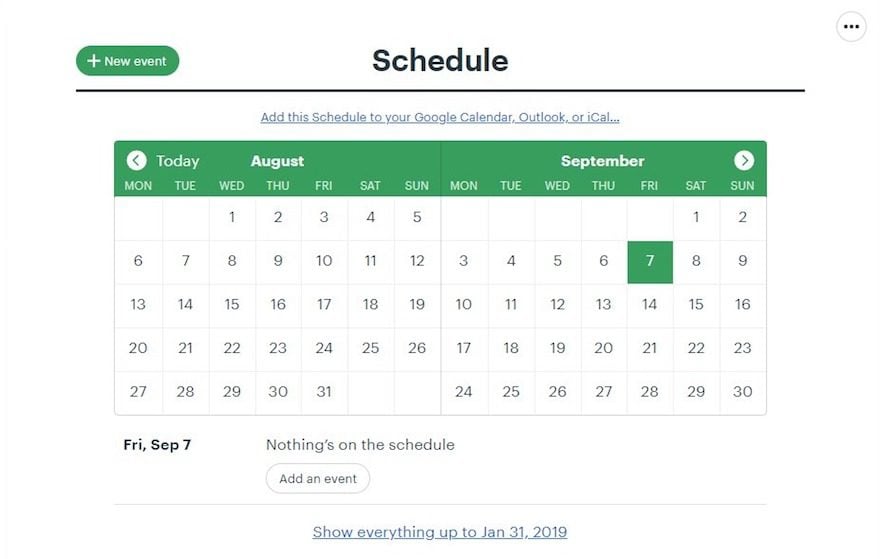 After creating an event, it will be posted in Schedule and you can even send them to your Google Calendar, iCal, or Outlook by clicking on their respective icons.
Automatic Check-ins
This is a great feature, which is usually left to IFTTT integration. This feature is essentially an update system. It can be used in a variety of ways. One such method is keeping updated on a project.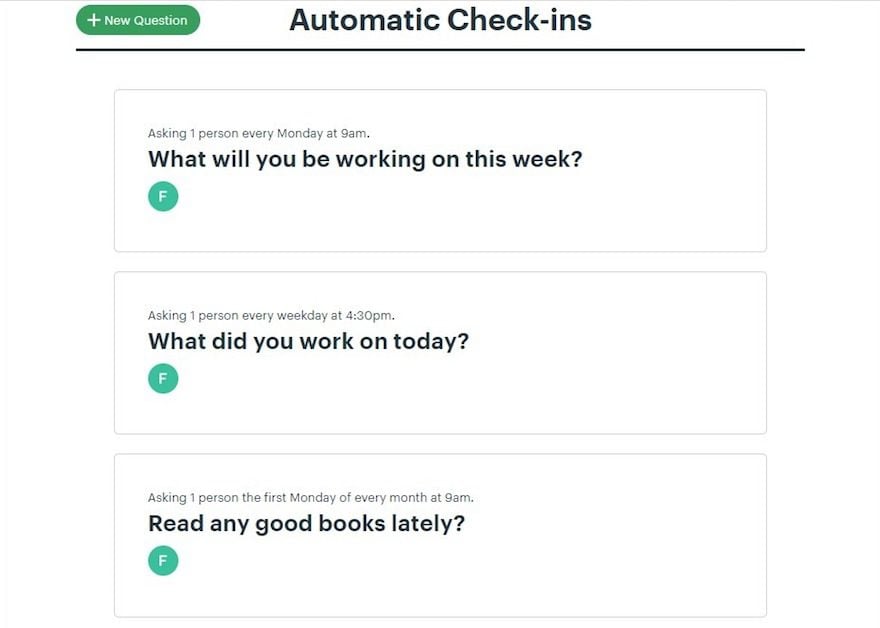 Be sure to read further about IFTTT integrations and how to use them with WordPress if you're interested in adding Basecamp to your workflow.
Doc & Files
This is your storage base. Thanks to the design of Basecamp, you have a very organized way of keeping files where they are needed, without having to constantly search through local resources. Many sites put this feature in one place, which will include a mix of content in various contexts. Regardless of what team or project (or if it's HQ) relevant docs and files will be kept with the appropriate projects and tasks, making workflow much smoother.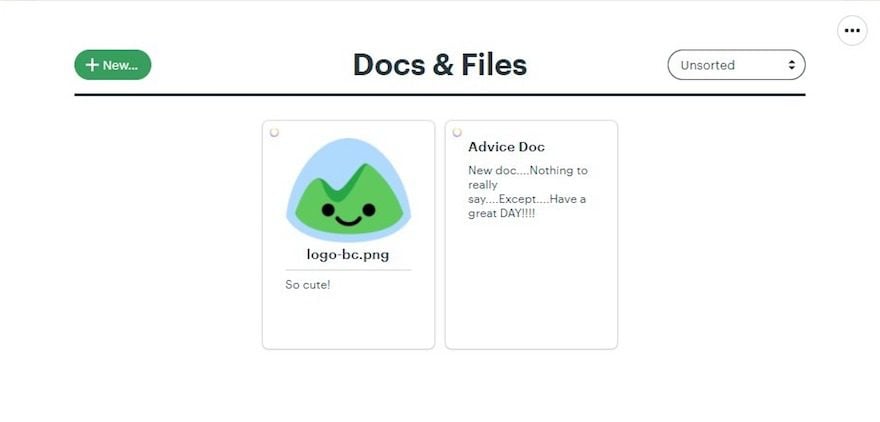 With all these features available, you should be able to create a variety of groups that can be dedicated to different aspects of your business.
Use Cases
Here are some typical use case suggestions that span across several industries:
Solopreneurs and Freelancers: Ideal for an organized workflow. It provides a better connection with clients and employers, and a method of communication and in-depth organization of collaborative efforts.
WordPress Sites: Ideal for an overview of a site's needs, progress, and maintenance.
Home-based Businesses: You can completely organize and structure a business' workflow. You can even manage the building of a business by creating teams and assigning projects for each task.
School Workgroups: This is probably something you wouldn't immediately expect. However, everything needed for a great student project if here. Live communication, research storing, idea creation, task assignment, and the ability to check the status of various tasks within the group.
Catering: You can create teams assigned to Projects (those being your catering events). Again, it's all there: communication with your team; support for feedback and dialogue with managers; scheduling; and the storage of media associated with the project like menus, food presentation images, and so forth.
Of course, these are just some simple examples. Basecamp isn't set in any rigid system. It is just structured for accessibility and streamlined productivity in mind. For both you and those you allow into your group.
Wrapping Up
Basecamp has been growing from a business since 2004. It has doubled in employees since then and continues to strive for the perfect balance between structured organization and accessible workflow. Whether running a WordPress site, a small business, or online service, Basecamp is a solid option.
Do you use Basecamp? We'd love to hear your thoughts about the service below.
Article thumbnail image by maglyvi / shutterstock.com