Making Divi Easier
Today we are excited to announce the introduction of dynamic product tours for the Divi Builder. The new product tour system will make it easier than ever for new customers and your clients to jump into Divi and start building!
Earlier this year I revealed some of our biggest goals for Divi. One of those goals was to make Divi easier to use. This isn't just an important goal for new users, it's an important goal for current customers and their clients, for the entire community and for the future of the Divi ecosystem. Divi needs to be robust enough to accommodate the most experienced professionals while at the same time being easy enough to navigate for everyone. This is the fine line our product team strives to walk.
Divi is amazing once you get the hang of it, but for some people the time it takes to learn Divi is more time than they are willing to invest. These people are missing out on the awesome and transformative tool that is Divi!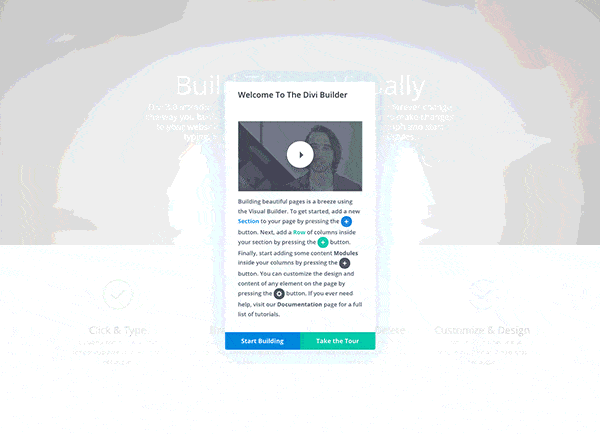 We want to make sure that those who try Divi for the first time aren't sent flying blind, and today we have the solution. We are really excited to announce a great step forward for Divi on-boarding: Live Product Tours! These product tours are built right into the Divi Builder and will take new users, step by step, through a real building process that teaches them all of the Divi fundamentals. This is just the first of many product tours that can be implemented in the future to help people understand Divi and all of its complexities.

Product Tours That Actually Work
These aren't your average product tours. Divi product tours take users through a real step-by-step building process that allows them to learn by doing.
Not Your Average Tour
When we decided to build a product tour system for Divi, we wanted to make sure that we created a foundation that would allow us to make tours that actually work. Divi tours aren't mere informational slideshows. Divi tours are not a series of annoying tooltips that point out every single button on the page! No, Divi tours are dynamic, follow-along tutorials that empower users to perform real actions inside the builder and create their very own layouts. It's easier to learn by doing than it is to learn by reading, and that's what makes the Divi product tour system uniquely effective.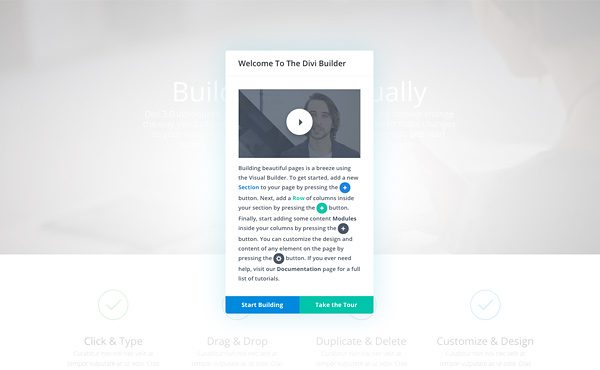 The very first product tour that we are launching with today is the "Introduction To The Divi Builder." The first time you launch the Visual Builder, you will be now be greeted with an informational popup along with an instructional video and an invite to take the tour. This tour is only shown once. You can skip it and you can also disable the tour in the Divi Theme Options.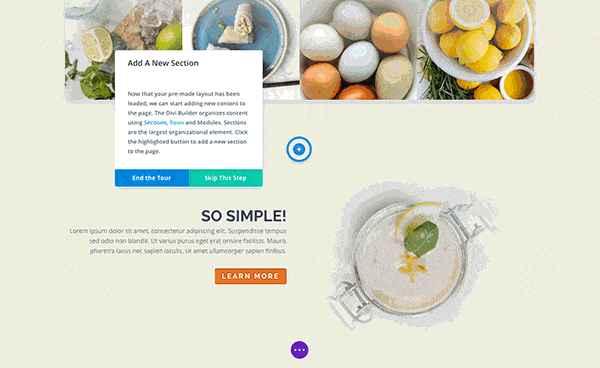 Once the tour begins, it will guide you through all of the Divi Builder basics while you create your very own page. You will learn how to load layouts, add sections, edit modules, drag & drop, copy & paste, adjust design settings, preview your page on mobile, navigate your editing history and save your page! It really makes your first experience with the Divi Builder much more inviting and much less overwhelming.
A Better Way To Introduce
Your Clients To The Divi Builder
Divi product tours are not only useful for new Elegant Themes customers, they will prove an incredibly useful tool for web design agencies and freelancers that need an easier way to introduce their clients to the Divi Builder interface. Running your clients through Divi Builder tours allows them to take their first steps into the system with a guiding hand, and it helps them better understand the value proposition of using Divi for their website.