An Exciting Year Awaits
The Divi community has never been stronger than it is today and we are really excited about what we have planned for 2017.
The Divi community has a really exciting year ahead of it, and today I just want to take some time to give you some insight into our plans for the future. Divi has become this big, huge wonderful thing that is full of its own energy and innovation. Full of business owners, website creators, child themes, extensions, library packs, learning centers, meetups and friendships all sprouting from one piece of software. Here at Elegant Themes, we have been asking ourselves what we can do to help fuel that innovation and empower the community to become bigger and stronger. This year more than ever before, we want to focus on creating the perfect environment that empowers the Divi community to flourish.
This isn't to say that we won't be adding new features to Divi, far from it (in fact, we are working on some really great new features right now that are super exciting). However, you may notice that our focus has moved away from adding lots of new "things" like modules and customizer settings. Instead, we want to make foundational changes that have wider implications for the entire community. We want to improve Divi's user experience, improve performance, make the codebase more extendable and help empower Divi community leaders. We want to embrace Divi's true nature as a tool. Recent updates to Divi like The Visual Builder, Auto Saves, Browsers Backups, and Keyboard Shortcuts are examples of those kinds of features, but they are just the beginning. We see ourselves as the guardians of the Divi platform, and you can expect that future Divi updates will showcase our new found respect for the size and scope of what Divi has become, and our new found ambition for what Divi can become.
So what can you expect from Divi in the next few weeks and months?

New Features Are Coming,
And They're Coming Fast!
We have over a dozen new features in the works right now, and we are going to be releasing them every single week for the next few months! Get ready for lots of great new stuff coming your way very soon.
Fist of all, you can expect much faster iteration and smaller/more frequent feature updates moving forward. We are very happy with the amazing framework that we have created, and now we just want to make it better one step at a time. Over the next couple months, starting next week, you can expect great new features and improvements to be coming your way almost every single week! These features will focus on usability and performance. I can't announce everything right now because most everything is still in the planning stage, but here are just a few of the ideas we have in the works:
Better On-Boarding
In order for the Divi community to grow, Divi needs to be easier to jump into. We hear from our customers that Divi is amazing "once you get past the learning curve." For many, that learning curve is just too much to overcome, especially when it's combined with using WordPress for the first time. We want someone to be able to install Divi, jump right in and never get lost, which is why we are working on a new on-boarding and live-tutorial experience that is going to be extremely useful for new users. For Divi professionals, these new product tours are going to be the perfect way to introduce your clients to Divi and we expect them to save you a ton of time!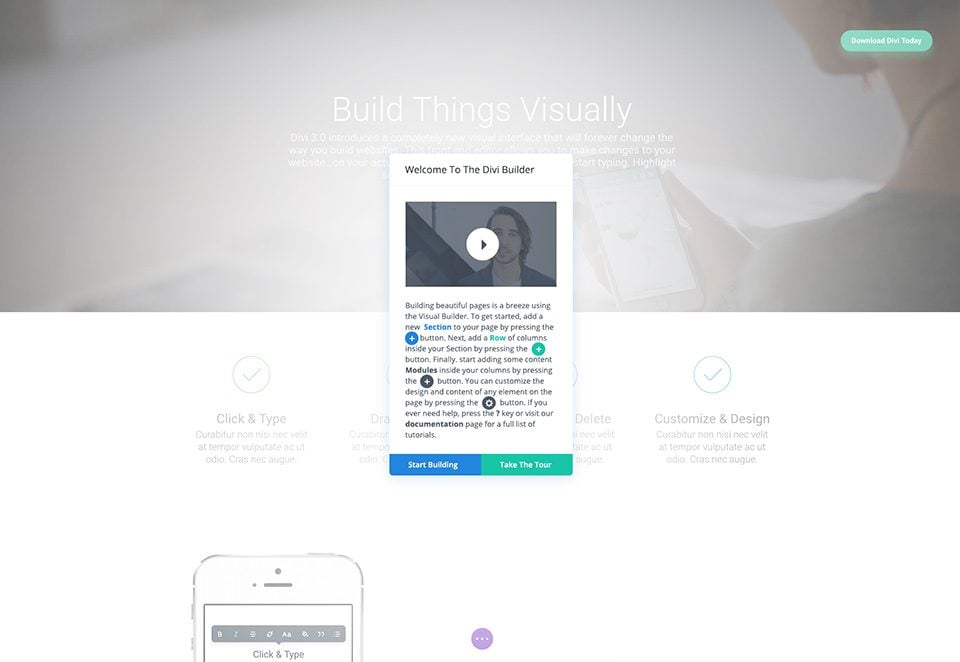 Improved Learning
Whenever you are using Divi, no matter what you are doing in Divi, we want there to be a lifeline for you to reach for just in case you get stuck. We are currently working on a brand new tutorial series for the Visual Builder and an integrated help system that will allow you to watch video tutorials and follow along with them right inside the builder while you are using it. Again, this will not only be a great tool for new customers, it will also be integral in the process of handing off websites to your clients.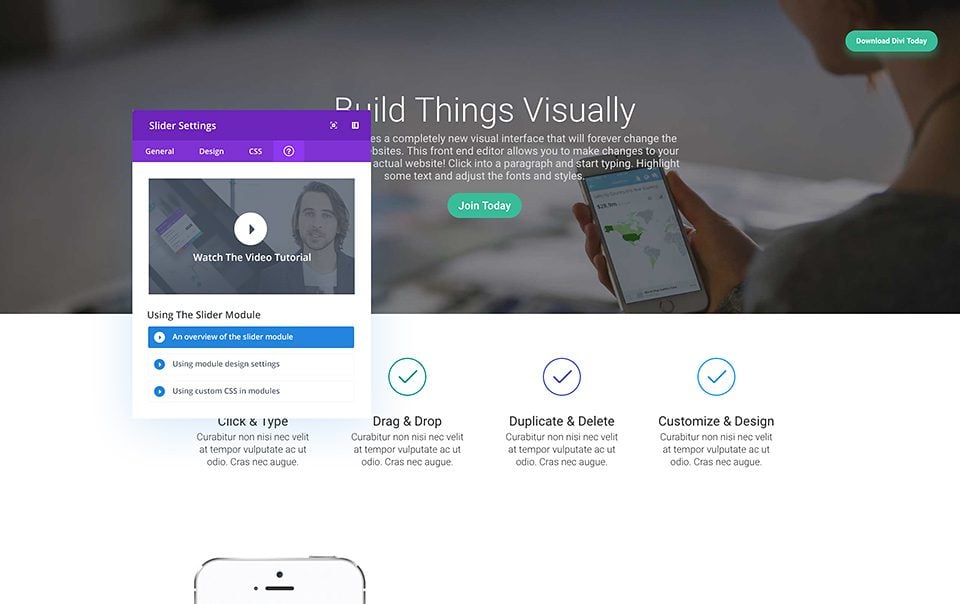 New UI Modes
The Visual Builder is the future of Divi. That being said, we understand that building things with a minimal visual interface is not the perfect environment for everyone and for everything. That is why we are building brand view View Modes that will give designers new ways to interact with and understand their content. We are exploring some really cool ideas in this area. Just imagine toggling between Visual Mode, Grid Mode, Hybrid Mode and maybe even Code Mode? The Visual Builder was built on a foundation that allows us to bring these ideas to life.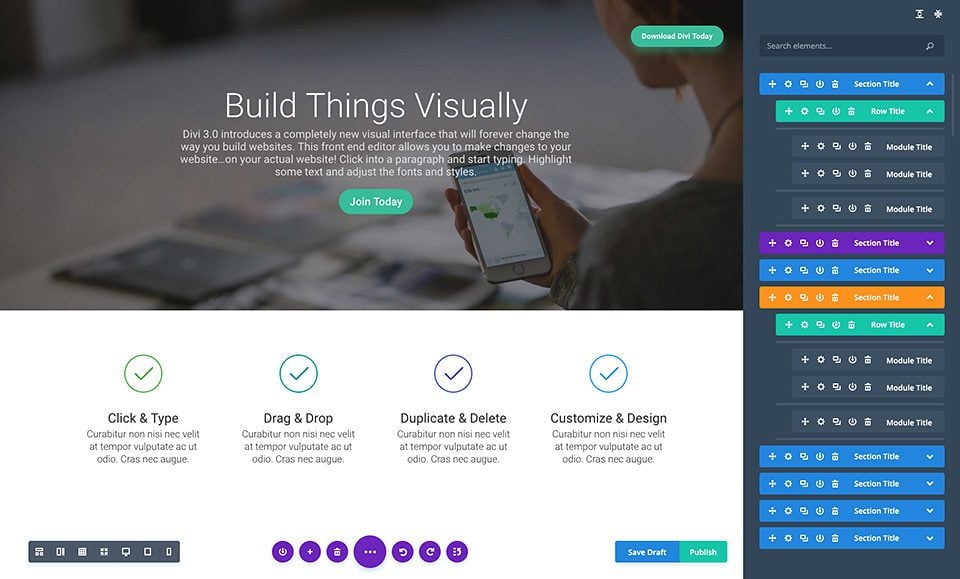 New Builder Options
At its core, the Divi Builder is a collection of options. Each module is only as good as it can be customized to be, and we want to give designers all the tools they need to build amazing and creative layouts. You can expect a lot of new options coming to the Divi Builder's module set. Not only that, we want to make the options easier to use and understand within the builder interface.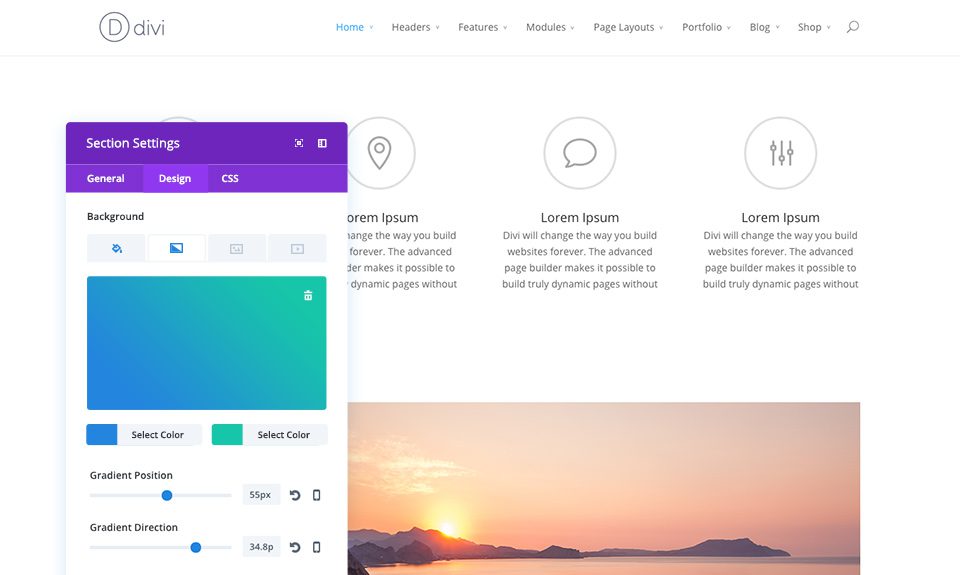 Option Organization
We can't keep adding more options unless we first improve the way that options are organized in the Divi Builder. Opening up a module's settings window and clicking into the Design tab can be overwhelming, and finding your desired option can be tedious. We plan to make this experience much better by re-organizing options, grouping options and making options searchable.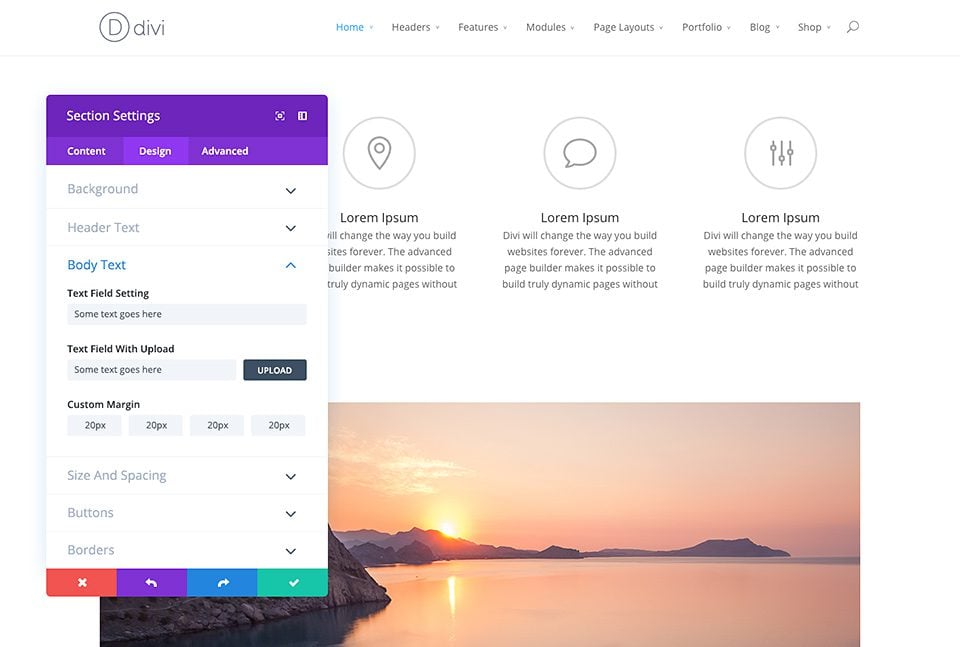 Performance Enhancements
We haven't forgotten about performance. Over the next couple months we will be releasing a few very important performance enhancements focused on Divi's use of CSS. Such performance improvements will continue to be a trend moving forward.

Divi 3.1: The Developer Update
Divi 3.1 will be remembered as one of the most important updates to Divi ever, laying the groundwork for a vibrant development community.
While the features above are being released, we will also be working on something a bit bigger and even more impactful: Divi 3.1. For many people, updating to Divi 3.1 will seem uneventful. There won't be any new features and everything will look and work the same as it did before. However, behind the scenes the codebase that powers Divi will have received an update. The purpose of this update will be to make it easier for third party developers to create really great Divi child themes and Divi Builder extensions (and to do so in a way that is safe and won't cause issues when Divi is updated). We will be adding more hooks and filters, documenting all functions and creating clear paths for extending modules and creating custom modules. We will be taking all of these updates and creating developer documentation that anyone can use to learn about Divi and how to customize it. We think it's a really important update that will continue to serve the community for years to come. For many people, updating to Divi 3.1 will seem uneventful, but the innovation it sparks in the Divi developer community should prove incredibly exciting indeed.
Stay tuned for more information about Divi 3.1 as our progress continues. Until then, get ready for some really great Divi updates coming your way starting very soon 🙂

Join, Renew & Upgrade Today For 10% Off!
Join the most enthusiastic and loving WordPress theme community on the web and download Divi 3.0 today. Using the new Visual Builder, you can build websites faster than ever before with its incredibly fast and intuitive visual interface. You have to see it to believe it!
Join Today For 10% OFF!
Renew Your Account Today For 10% OFF!
Upgrade Your Account Today For 10% OFF!