Today I am extremely happy to announce the release of Divi 2.7. This version of Divi has some game-changing features that are worthy of excitement, including the all new Divi Leads split testing and conversion optimization system, a greatly enhanced Portability System, the addition of useful Divi Builder Page Options, and a super smart new Dynamic Help System that helps you solve Divi Builder problems without wasting your precious time. These are super cool features that promise to make Divi more effective, collaborative and user-friendly than ever before. Let's dig in!
A Match Made In Heaven
The Divi Builder is already an incredibly powerful landing page builder. When combined with Divi Leads, it becomes the ultimate marketing tool. Not only can you build amazing landing pages, you can now put them to the test, analyzing and recording the effectiveness of your designs to help improve conversion rates and generate more leads.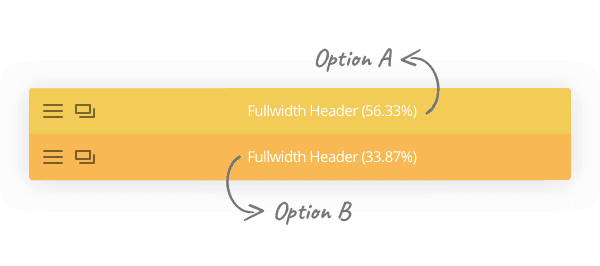 The idea behind Divi Leads is simple: 1) Create different versions of your page. 2) Select a goal. 3) Let Divi Leads figure out which version of your page is most effective at converting to that goal. This is what is known as Split Testing (also referred to as A/B Testing).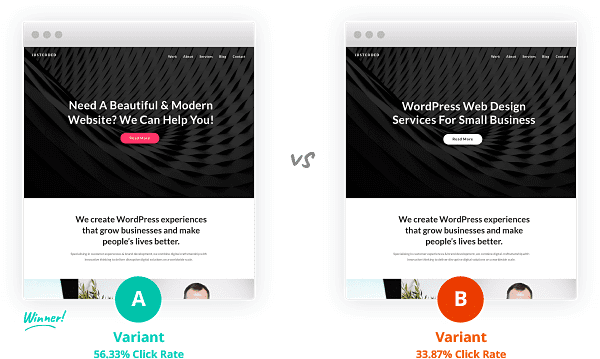 Let's consider a standard homepage. When someone lands on that page, you want to do everything you can to grab their attention and direct them towards your desired goal, whether that be clicking a button, signing up to your mailing list or purchasing your product. How might the intrigue of your headline affect the bounce rate for new visitors? How might the size, color and text of the button in your call-to-action affect a visitor's propensity to click? How might the combination of these factors ultimately affect the goal at the end of your sales funnel? These are all questions that can now be answered using Divi Leads.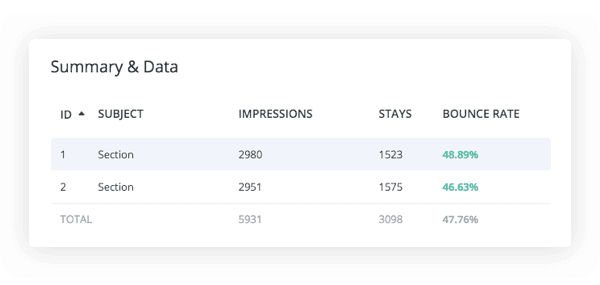 Test Anything
Since Divi Leads has been integrated directly into the Divi Builder, anything can be tested. You are not limited to testing entire pages. You can test individual modules or entire sections of content. Change your content, adjust your design and the position of elements to figure out what works through statistical analysis.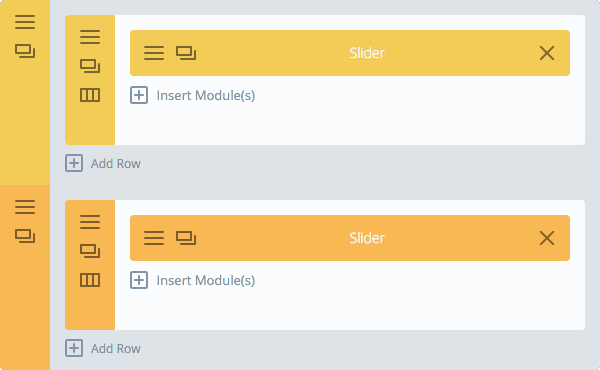 Add Unlimited Variations
You can create an unlimited amount of test subjects. Do you have 20 different headlines that you want to test out? If you have enough traffic to support it, then you can add all variations at once to figure out which one will surface as the winner. This saves you a ton of time compared to traditional AB Testing. Divi Leads all makes it easy to see which variations are most effective. All items are color coded based on performance, and conversion rates are added right into the builder UI.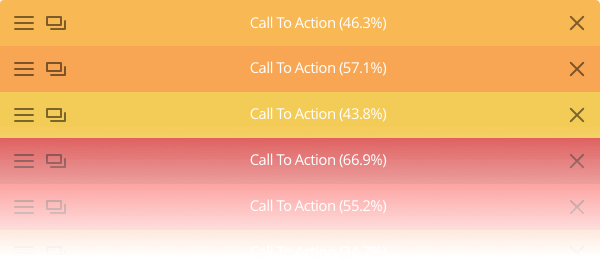 Create Custom Goals
Not only can Divi Leads be used to test any element, it can also be used to test a wide array of goals. In Divi Leads, anything can be a goal. Is the purpose of your page to increase clicks to your Call To Action module? Simply assign the Call To Action module as your goal. Is your goal to increase lead generation through your Contact Form? Well then simply assign the Contact Form module as your goal. Do you want to increase sales? The eCommerce module can be selected as a goal too. No matter what you select as your goal, Divi Leads will determine relevant engagement stats and track them to figure out which variations best accomplish the goal that you have assigned.

Divi Leads supports off-page goals as well, which means you can track both on-page conversions while at the same time tracking conversions at the end of your sales funnel using our custom tracking shortcode.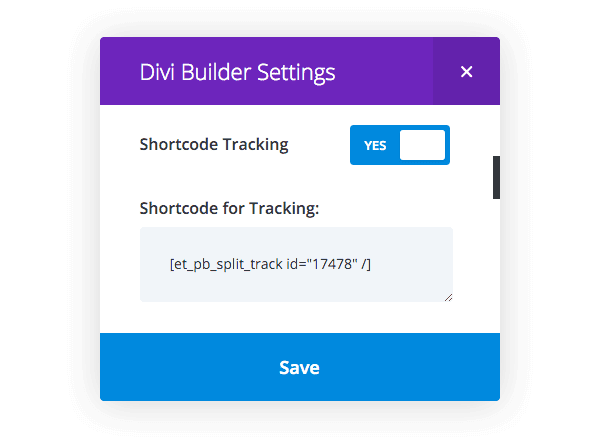 For example, you could test the effectiveness of your current page at increasing clicks to your "Product Features," button, while at the same time using the custom tracking shortcode on your purchase confirmation page to see how your current test affects not only clicks to your product page, but ultimately how it affects product purchases at the end of your sales funnel.
Incredibly Easy To Use
We built a custom UI for Divi Leads that makes building new tests super simple. Simply right click on any element and choose "Split Test" to begin. Divi will prompt you to select your goal and then your test is ready to go! Your test subject will be duplicated and you can begin configuring both variations. Over time Divi Leads will track the effectiveness of both versions, which can be analyzed using the custom stats interface.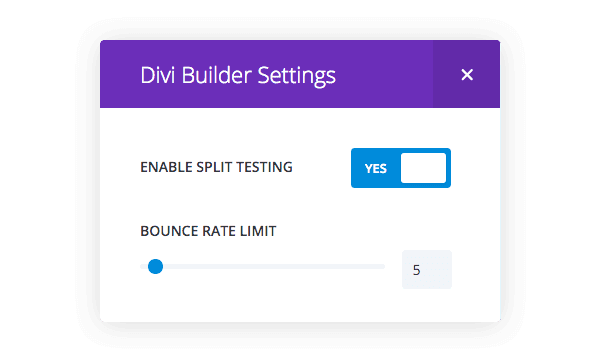 Powerful Stats & Insights
Divi Leads includes all kinds of great stats, all of which are consolidated into a brand new stats interface. Divi Leads will track clicks, sales, conversions, bounce rate and goal engagement metrics. When a split test is running, a new animated stats icon will appear.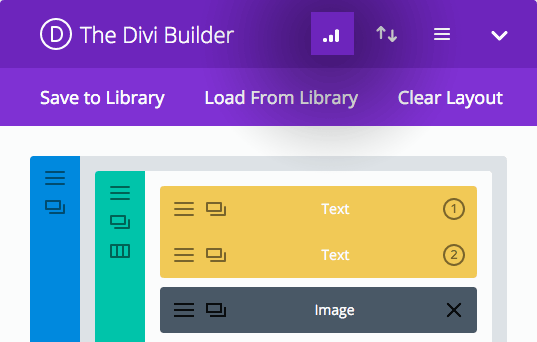 Clicking this new icon will bring up loads of useful stats for the current split test. These metrics are tailored towards your specific test based on the goal you have chosen.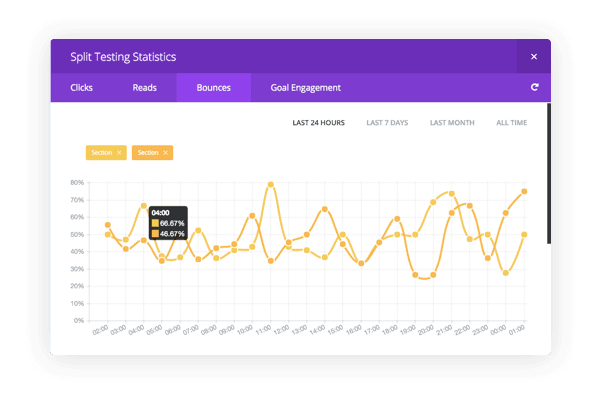 Import/Export Divi Builder Layouts
We have greatly improved the import & export system for the Divi Library. It's now easier than ever to transfer Divi Library items from one website to another, back them up or share them with your friends! The new UI is beautiful and easy to use.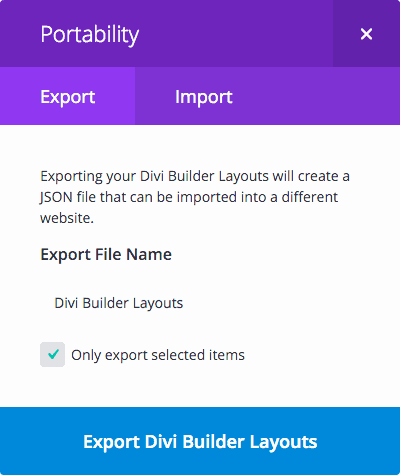 You can export any number of items from your Divi Library or export individual layouts as you build them right from inside the Divi Builder. Divi packages these exports into a JSON file that can be imported into any website.
Encoded Images
One of the major innovations with the new portability system is that it encodes your images right into the export files. When you import your layouts, the portability system automatically adds these images to your Media Library and updates the URLs inside the layouts to match your website. No matter where you import your layouts, they will work like magic right out of the box! This turns Divi Library Packs into independent and incredibly easy to use design templates.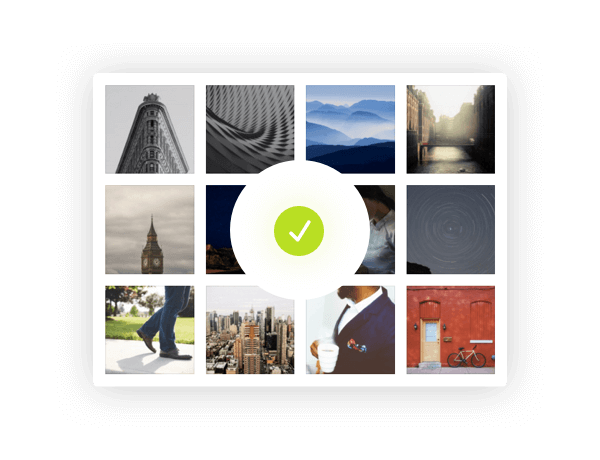 The Power Of Library Packs
Divi Library Packs are now incredibly versatile. Think of them like mini pre-made templates inside of Divi. When combined with custom images and design settings, a collection of Divi Library items can be used to create an entire custom website and then re-used on future projects. Since each item includes images and the custom design settings and CSS added to the page and elements within the Divi Builder, library exports are completely self-reliant.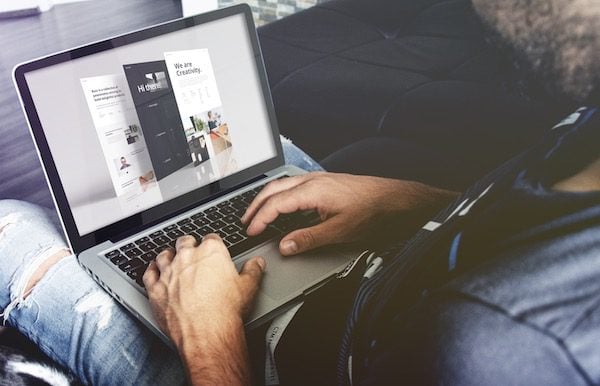 Start building up your own personal collection of Divi Library items to use for your future clients. Jumpstarting your next website is going to be lightning fast! Export your Divi Library items into packs that can be shared with your friends or sold to your peers. The new portability system lays the groundwork for a thriving Divi Library community.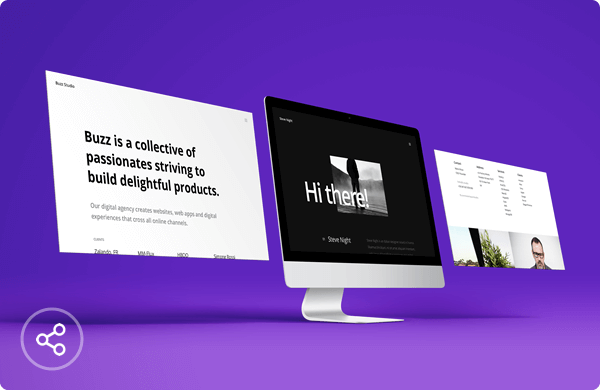 Theme Options
Theme Options are now portable as well. You can export your Divi Theme Options and import them onto a different website, or save your favorite Theme Option presets to jumpstart your next client build.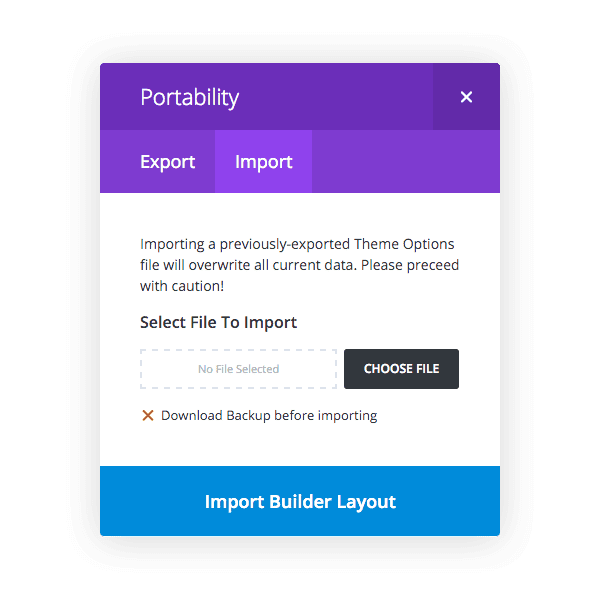 Theme Customizer Settings
We didn't stop there. The new portability system extends to Theme Customizer settings as well. Now you can download all of your Divi customizations. Considering the huge breadth of settings available in the Theme Customizer, countless different website styles can be created. Now you can save these as presets to use on future products, or you can use the portability system to transfer settings from one host to another.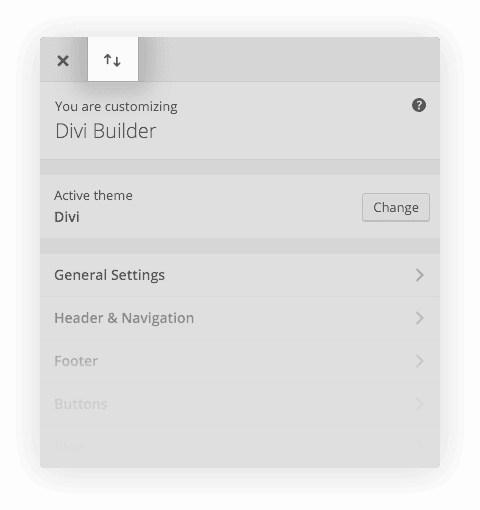 Import & Export Divi Roles
Divi Roles can also be imported and exported. This brings the portability system full circle, having been integrated into every single part of Divi and the Divi Builder.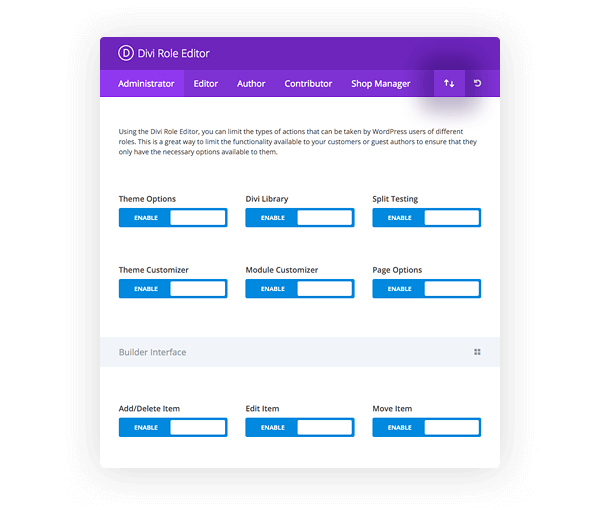 Download Our First Free Pack Today!
To celebrate our new portability system, and to show you just how awesome Divi Library Packs can be, we have designed a beautiful new pack that you can use for free! This pack includes 3 amazing layouts that you can use right away.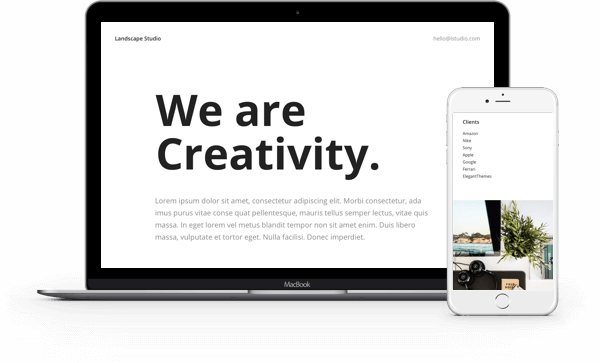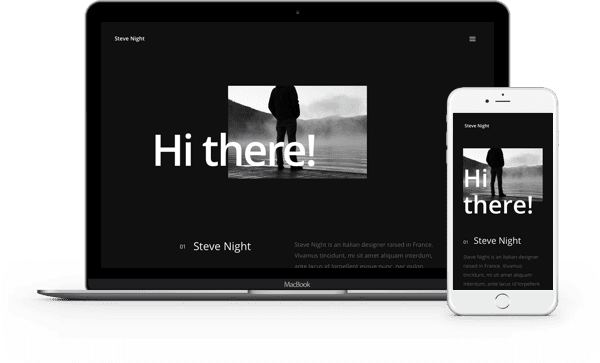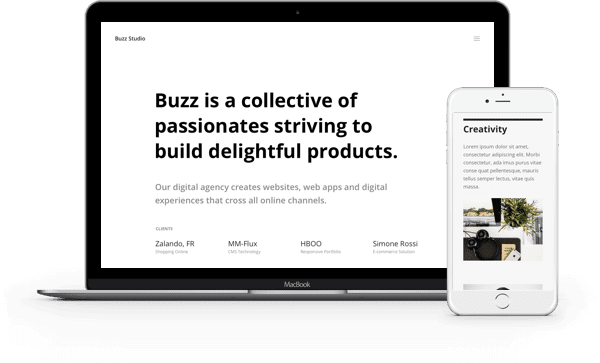 To use the layouts, simply update Divi, Extra or the Divi Builder plugin to the latest version. Next, download the layout pack below and unzip it on your computer. Within the Divi Library, click the "Import/Export" button at the top of the page and then select the JSON file you just downloaded. These layouts will now appear when you click "Load From Library" inside the Divi Builder.
Photos courtesy of Unsplash and subject to the Unsplash License.
A Brand New Set Of Options
When using the Divi Builder, you will notice a new settings icon at the top right of the Divi Builder interface. Much like the settings that exist for modules, rows and sections, settings now exist for the entire Divi Builder page. Here we have placed settings that affect the entire page, such as margin and color defaults. It's also used to enable/disable page-specific features, such as the new Divi Leads Split Testing system.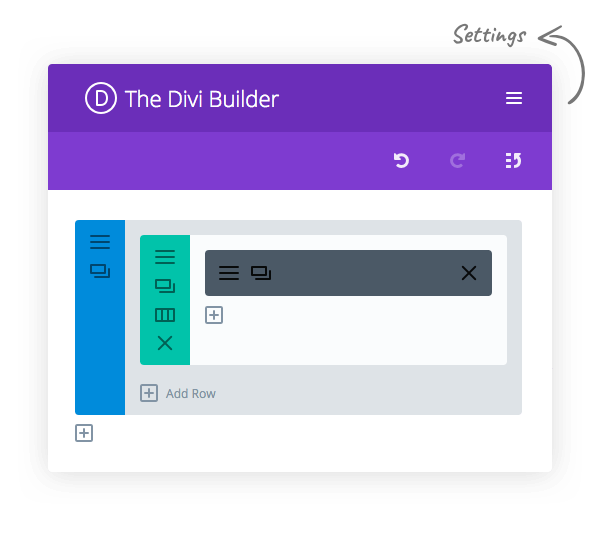 One of my favorite new features found in this new set of options is the Custom Color Picker Palette. Here you can choose a color scheme for your page. Every time you open up the Divi Builder color picker, your color palette will appear in the color picker for easy access.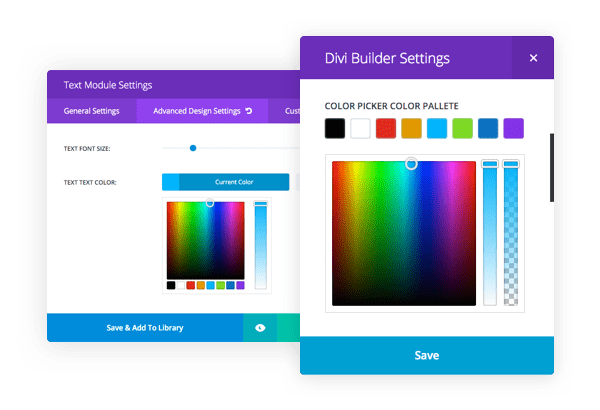 You can also enable a site-wide color palette in the Divi Theme Options! Once you set your website's color palette in ePanel, every time you use the color picker your chosen colors will appear.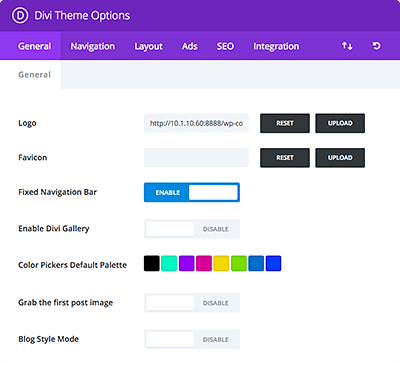 Also found in the new Divi Page Settings is a Custom CSS Box that can be used to add custom CSS to the specific page you are working on. This is much more convenient than adding CSS to a Child Theme or within the Divi Theme Options where you would be forced to target specific post IDs and load the custom CSS on your entire site where it is often not needed.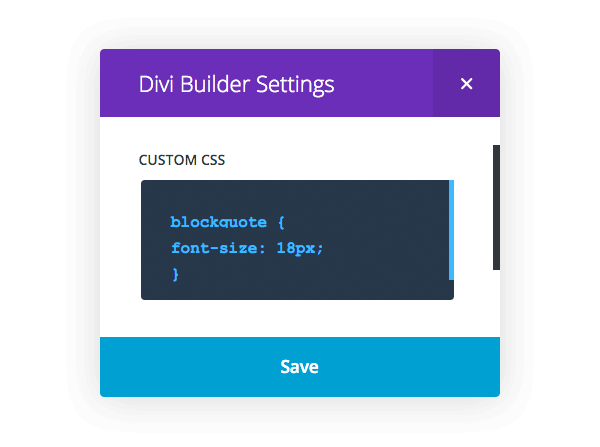 Help When You Need It
When the Divi Builder fails to load, you will no longer get the spinning wheel of death with no clues as to what might have gone wrong. Now the Divi Builder knows when it fails and it tries to figure out why. The Divi Builder detects common problems and gives you solutions. It will look for things like memory errors, wp-config misconfigurations, unwanted cached files, outdated theme and WordPress versions, plugin incompatibilities and more. This is the beginning to what we hope will become an even more robust self-help system in the future.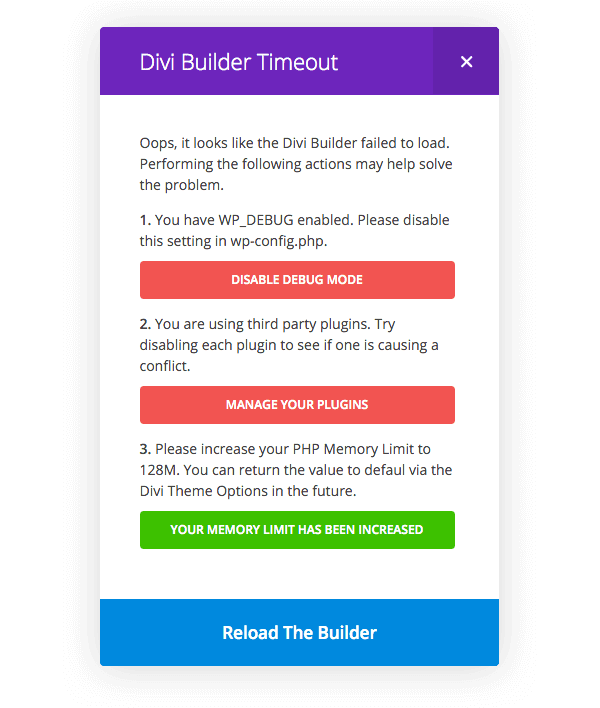 Extra & The Divi Builder Plugin Get It All!
Not only have we updated Divi, we have also updated our Extra theme and our Divi Builder plugin will all of these amazing updates. No matter what Divi Builder product you are using, you will also get access to the latest Divi Builder framework and all of its latest and greatest features.