WordPress started life as a simple blogging platform. 12 years later, its polished interface is barely recognizable from its earliest days, and every update introduces useful new features and functionalities.
Despite this progress, the WordPress dashboard still doesn't handle everything. Take file management, for example – WordPress offers some file management features, but it doesn't let you access your files directly from your server. This direct access requires an FTP connection, made possible by installing an FTP client.
But which FTP client should you choose? Today, I hope to shed light on this issue, as I introduce 8 of the best FTP clients for WordPress users.
What is FTP? When is it Needed?
FTP – File Transfer Protocol – connects your computer to your web server, allowing you to upload and download files.
However, when discussing FTP, most conversations are geared towards FTP clients. These FTP clients are small pieces of software used to establish an FTP connection, which facilitates the transferring of files over the internet.
Here's another way of looking at it: on the computer you're using, you're free to move, edit, add, and delete files, right? The FTP client lets you perform these very same actions, but on the files stored on your server – think of it like remote access to your server.
It all sounds so simple, yet lots of non-technical folks find the thought of using FTP intimidating. This is probably because FTP clients aren't equipped with the polished interface you'll find with software like WordPress. See the screenshot below to see what a simple FTP client looks like – it's not the easiest to navigate, is it?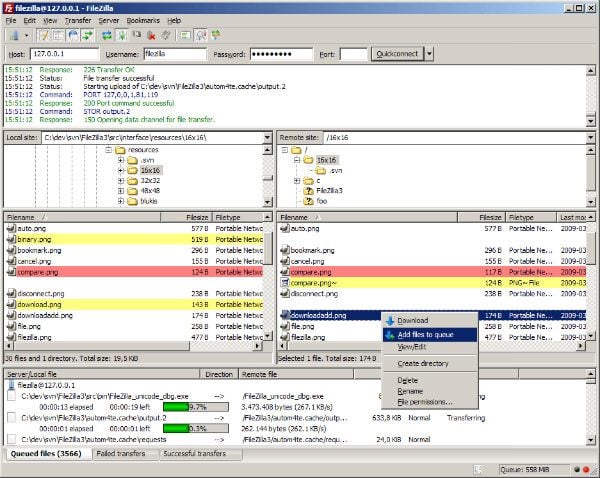 There is good news, though: many WordPress users – especially casual ones – go through their entire WordPress life without ever using FTP.
This wasn't always the case, though – in the early days of web design, developers would have to upload files one by one using FTP. Long before modern CMSs, every page of a website had to be uploaded manually this way. Today, thankfully, WordPress handles this at the click of a button.
Of course, developers will always need FTP as it allows them to modify their website's coding. However, for the casual user, FTP is used primarily for troubleshooting.
Perhaps the most famous FTP fix is the infamous white screen of death, commonly caused by plugin incompatibility. When the white screen strikes, you'll find yourself unable to login to the dashboard to disable the problem plugin. Instead, you'll need to use FTP to disable plugins one by one, so that you can isolate the incompatible one. So when things go wrong, don't be surprised if FTP saves the day!
The 8 Best FTP Clients
Now that we've briefly discussed what FTP is, it's time to move on to the meat of the post: introducing 8 of the best FTP clients available to WordPress users in 2016. Today's list features options for both Windows and Mac users, plus it includes free and premium options to cater to all budgets.
1. Cyberduck (for Windows and Mac, FREE)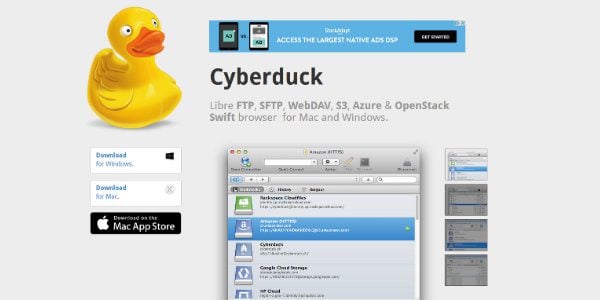 Cyberduck is an excellent cross-platform FTP client, with Windows and Mac versions available. Cyberduck is free to download and, like WordPress, is open-source.
It ships with one of the most user-friendly interfaces, making it super-easy to browse and transfer files. Other features include:
Bookmarking functionality, making the file upload process more streamlined.
Integration with your favorite text editor.
Super-fast FTP core.
Advanced SSH, bolstering authentication and security.
Cyberduck also integrates seamlessly with several big players in the cloud storage space – Amazon S3, Microsoft Azure, and OpenStack Swift.
2. FileZilla (for Windows and Mac, FREE)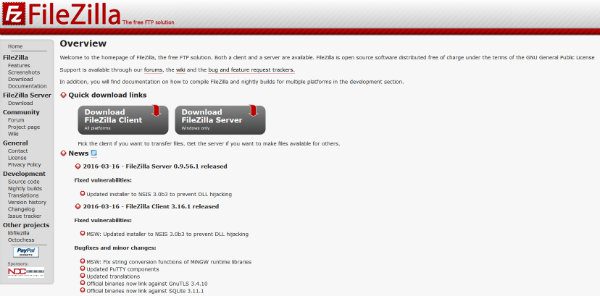 The name FileZilla probably needs no introduction. Compatible with all the major platforms – Windows, Mac, and Linux – this completely open-source software is one of the most popular FTP client of all. Launched in 2001, it's held this position for the best part of 15 years now – quite the achievement. Oh, and you can download it without spending a dime!
FileZilla comes equipped with an impressive feature set, including:
Support for FTP, FTP, FTP over SSL/TLS (FTPS) and SSH File Transfer Protocol (SFTP).
Drag-and-drop.
Site Manager with transfer queue.
Filename filters, synchronized directory browsing, and remote file search/editing.
Customizable transfer speed limits.
It comes with extensive client- and server-side documentation, too, helping new users to find their feet quickly.
*Note: Recently, some Windows users have complained that FileZilla installed malware on their machine. However, if you work through the installation wizard carefully, you'll be able to deselect the malware option. Just be cautious, and, if you're still concerned about malware, opt elsewhere.
3. CuteFTP (for Windows and Mac, from $39.99)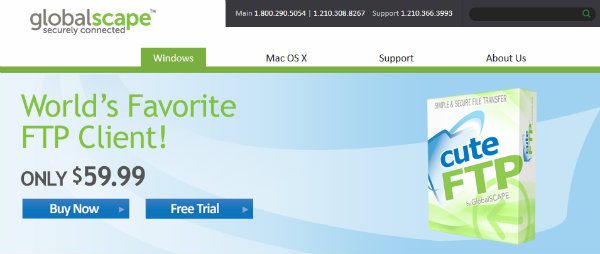 CuteFTP sits alongside FileZilla as the best-known names in FTP. However, unlike Mozilla, CuteFTP operates in the premium space, with prices starting at $39.99 for the Mac version and $59.99 for the Windows version – free 30-day trials are also available. The price differential reflects the additional features found in the Windows version.
The latest version consolidates the Lite, Home, and Pro versions of CuteFTP into one package. This means that all CuteFTP features are collected under one roof, also making it one of the most reliable FTP clients around – and one of the most secure, too. Headline features include:
Support for a wide range of protocols, including FTP/S, HTTP/S, and SFTP.
TappIn, letting you share files between computers and mobile/tablet devices (Windows-only feature)
Drag-and-drop, supporting up to 100 simultaneous transfers.
Built-in text editor for seamless file editing.
Advanced password manager and authentication protocol.
4. FireFTP (for Windows and Mac, FREE)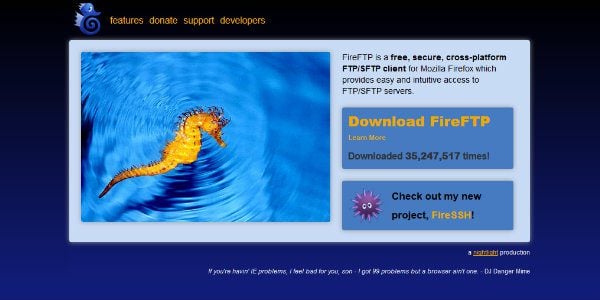 FireFTP is another cross-platform FTP client, this time available as an extension for the popular Mozilla Firefox browser. Simply download the free extension by following this link, restart Firefox, and then enjoy FTP access directly from your internet browser. Features include:
FTP, SSL, TLS, and SFTP support.
Directory synchronization and comparison.
If disconnected, file transfers are automatically resumed once the connection is re-established.
Intuitive drag-and-drop, file search, and filtering.
Works seamlessly in your Firefox browser.
5. Free FTP (for Windows, FREE)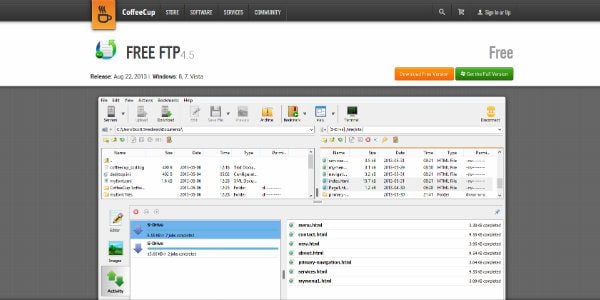 Free FTP does exactly what it says on the tin – it's a free FTP client. Built by CoffeeCup Software, it's exclusive to Windows. It comes with a solid set of features, plus the interface is super-easy to use – the interface includes a dedicated pane for tracking FTP activity. Let's quickly run through Free FTP's other main features:
Works with various protocols, including FTP, SFTP, FTPS, and HTTP.
Elegant bookmarking functionality, including combo bookmarks.
File tracking means you'll never misplace an important file.
Drag-and-drop.
One click website backup.
6. Direct FTP (for Windows, $39)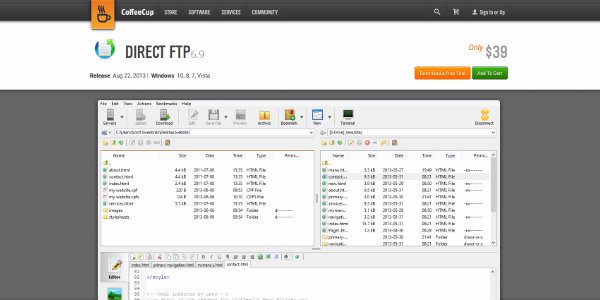 Direct FTP is Free FTP's big brother – it's the premium, upgraded version of the software. Again, the software is Windows only, and this time, it comes attached to a $39 price tag. So what additional features do you get for your money?
Built-in preview function, letting you view the impact of file edits before hitting save.
Snippet library, for storing your favorite code snippets.
Image editing functionality.
Built-in HTML text editor, with auto-complete coding.
Of course, it also supports all of the FTP functionality found in the free version, too (see directly above).
7. Transmit (for Mac, $34)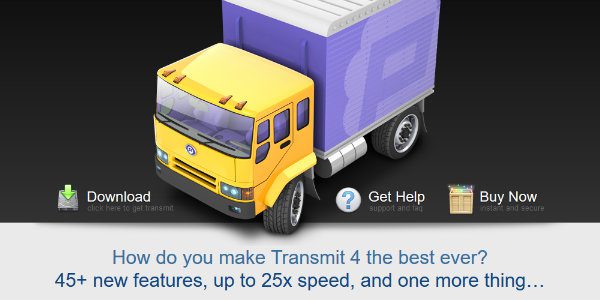 Transmit is the number one FTP client for Mac users, available for just $34. How does Transmit justify this price tag, especially with so many free FTP clients available?
One word: speed. The latest version, Transmit 4, blows Transmit 3 away, promising up to 25x the speed – and Transmit 3 was already pretty darn quick! It's eye-watering stuff, and this could well make Transmit the fastest FTP client of all.
Beyond pure speed, Transmit can also be trusted to transfer files reliably, and also ships with loads of other cool features:
A stylish, intuitive UI.
Multi-connection transfers make it super-easy to transfer in bulk.
Supports FTP, SFTP, and Amazon S3 Cloud transfers.
Advanced server preferences.
Folder linking, improving navigation significantly.
8. WinSCP (for Windows, FREE)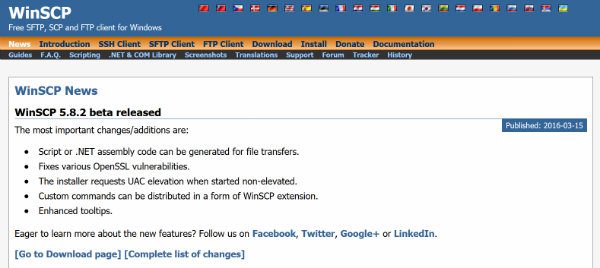 If you're looking for a straightforward FTP client, look no further than WinSCP. This open-source, Windows-only piece of kit avoids many of the bells and whistles found in competitor software. Instead, it focuses on the essentials: it's lightweight, reliable, and super-easy to use. Other features include:
Support for FTP, SFTP, SCP, and WebDAV protocols.
Two clean interfaces.
Built-in text editor.
Semi- and fully-automatic directory synchronization.
Final Thoughts
And that completes our rundown of 8 of the top FTP clients for WordPress – of course, none of these clients are WordPress-exclusive, so, in reality, they can be used with any website creation tool.
When it comes to making your final decision, it ultimately boils down to the features that you need the most.
Casual WordPress users – who are just looking to test the FTP waters and do some basic troubleshooting – are probably best served by opting for one of the free software. As long as the FTP client is compatible with your operating system, you're free to test them all out, to see which you like the best. (For what it's worth, I enjoy FireFTP's streamlined feature set, and the ability to use it on the go from my internet browser.)
For advanced users – particularly developers – the features that are important to you are likely to be far more refined. In this instance, I recommend considering one of the premium options – CuteFTP, Direct FTP, or Transmit. However, before pulling out your wallet, do some digging around on each software's features page to ensure it fully meets your needs.
Have we missed your favorite FTP client from the list? Let us know in the comments below!
Article thumbnail image by Bakhtiar Zein / shutterstock.com