After getting users to visit your website, you want to make them stick around and stay a while. You want them to engage with your content. Creating quizzes can be a great way to get users hooked. However, a popular quiz takes more than just writing some random questions. You will need a way to gather responses, score the answers given, and somehow provide the results.
WordPress plugins can greatly simplify this process by making it easy to create quizzes to meet any need that you may have. We have gone out and found the best quiz plugins for WordPress and want to outline the key features of each, as well as highlight factors to be considered for different scenarios.
Subscribe To Our Youtube Channel
Why You Should Host Quizzes on Your Site
As I said, quizzes can increase visitor engagement. But quizzes can also provide site owners with valuable data about their users, while also giving the users insight using that same data. A well-written quiz with entertaining or interesting results can help to drive social media shares, too.
Keeping visitors on your site longer as they complete a quiz has a positive impact on your site analytics by reducing your bounce rate and increasing time on site. Google emphasizes these metrics for search rankings. Additionally, once you have the user's attention, you can also benefit from higher conversion rates and engagement on other content or products.
There are lots of different types of quizzes that sites can use. Fun quizzes about personality and preferences have been made very popular by sites like Buzzfeed. An example is their quiz, What City Should You Actually Live In?, which has been viewed over 20 million times.
Other include detailed assessments or psychometrics, such as the very well known Myers-Briggs Type Indicator and its 16 personality types. Quizzes can also be used to test the knowledge of a website's visitors, like this quiz from the Pew Research Center on how much people know about science topics.
Alright, that's enough of that. Let's get cracking with the plugins!
1. Quiz and Survey Master (Free and Premium)

Formerly known as Quiz Master Next, Quiz and Survey Master is another very good option for WordPress quizzes. With over 20k installs and a 4.9-star rating, it is a popular choice. The free version is fully functional and feature-rich, but additional functionality can be added through premium add-ons, starting at $15 each.
Pros
Full-featured free version
Multiple question types with hints
Multimedia allowed in questions
Correct/incorrect response messages
Email notifications
Categorization of questions
Social media sharing
Statistics and leaderboard available
Extensive documentation
Attractive and easy to use out of the box
API and add-on integrations available
Cons
Add-on pricing can get expensive
Customizable Quizzes
Quiz and Survey Master can be used to create just about any kind of quiz or survey. It provides several questions types including single choice, multiple choice, true and false, open answer, drop down, fill in the blank, number, and captcha, with more types being planned. You can include multimedia (images and video) all question types and questions can be categorized. All the text in the quiz can be customized including pre-quiz text, result pages and buttons.
Flexible Quiz Scoring
Quizzes can be scored using correct/incorrect answers, or by using a points-based system. A unique feature is that you can select to use only a random set of questions for the scoring, which makes the quiz harder for takers to manipulate.
The results page can be completely customized, with different pages displayed based on the quiz score. The results can be emailed to both the site administrator and the user using a customizable email template.
Quiz and Survey Master enables you to show users their score in a particular category of questions or an average score of all the categories. Scores can be set up to display in a leaderboard, and a certificate can be set up to be given based on successful completion of the quiz.
Powerful Configuration
The Quiz and Survey Master plugin provides an incredible array of options for free, including built-in social media sharing, time limits and tracking, limits on total entries or user tries, and scheduling when a quiz should be active. The plugin also provides a developer API so custom functionality can be built.
Supercharge with Add-ons
An impressive number of add-ons are available for Quiz and Survey Master, providing email marketing integrations (such as AWeber and MailChimp), ecommerce through Easy Digital Downloads, a user dashboard and advanced reporting.
2. mTouch Quiz (Free)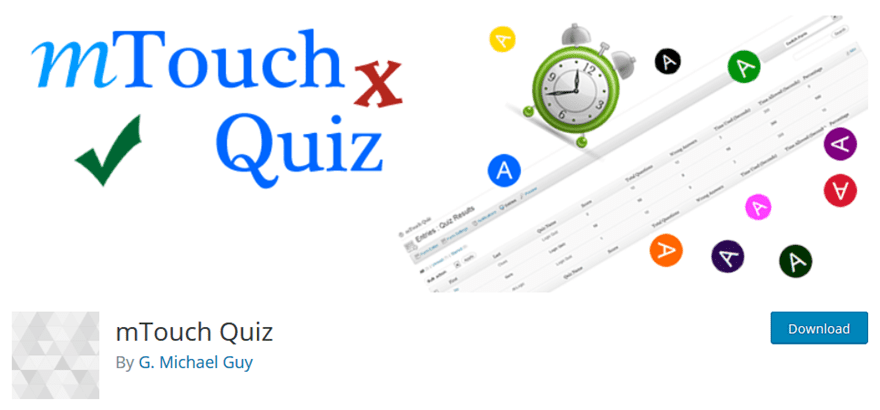 Designed with touch screen usage in mind, the mTouch Quiz plugin is a quick and easy way to add a quiz to a page. It has over 3k active installations. So if your needs are very simple, this plugin might suit you.
Pros
Completely free
Touch screen friendly
Randomly order questions and answers
Question hints and solution text
Navigation list for longer quizzes
Cons
Single question type
No customizable styling
Not recently updated
Simple Quiz Setup
mTouch provides only a single question type: multiple choice. You can specify hints for correct and incorrect answers and provide a detailed explanation of the correct solution. Customized start and end screens can be configured to provide information to the user.
Other useful features include specifying limits on the number of attempts made to answer a question, randomly ordering questions and answer, and setting up point values for each each question (scoring based on simple calculation with number of correct answers).
3. eForm (Premium)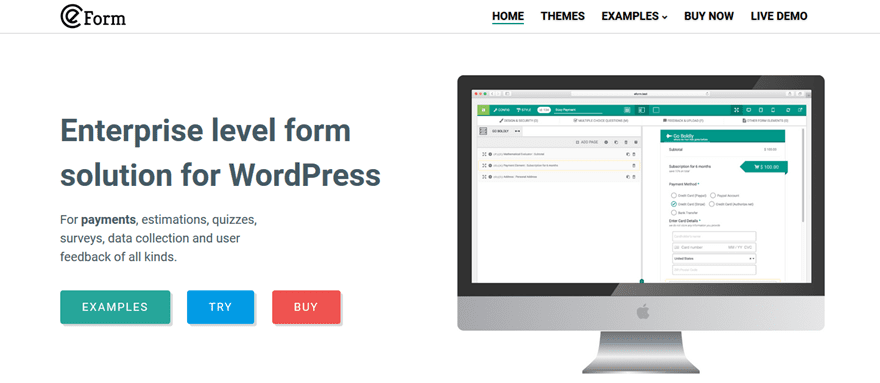 This is the first premium-only plugin on our list, but at only $29 it is well worth the expense for the features it packs. eForm  has been purchased over 9,000 times and has a 4.48-star rating on Code Canyon at the time of writing.
Pros
Drag-and-drop form builder
Complete customizability
Conditional logic
Extensive documentation, including video tutorials
Cons
No free option
More complex quiz setup
Advanced Form Builder
eForm is designed to enable users to create forms of various kinds, including surveys and quizzes. Creating quizzes is a matter of creating a form using the intuitive drag-and-drop builder to assemble any of the over 35 form elements provided. Forms can be completely customized using included themes or through custom CSS.
Quiz Scoring
Turning your form into a quiz is done by assigning scores to the form element options. The plugin will automatically total the scores upon submission of the quiz by the user. Freeform answers in text boxes can be given scores which will only be added to the total after review and grading by the site administrator.
Secure Functionality
eForm forms can include drag-and-drop enabled file upload fields, which are secured through upload protections and unique nonces generated on upload. Each form also uses a nonce field so that direct requests by spam bots are ignored. Additionally, a simple mathematical captcha field can be added through the form builder.
Advanced Options
The eForm form builder includes conditional logic that enables form elements to be shown and hidden. Multiple criteria can be used to create complex AND and OR logic. Users can be allowed to track or view their submission through a page, whether registered or unregistered. An additional add-on called Exporter enables more detailed reporting and submission functionality, including downloadable certificates on successful completion of the quiz.
4. Watu (Free and Premium)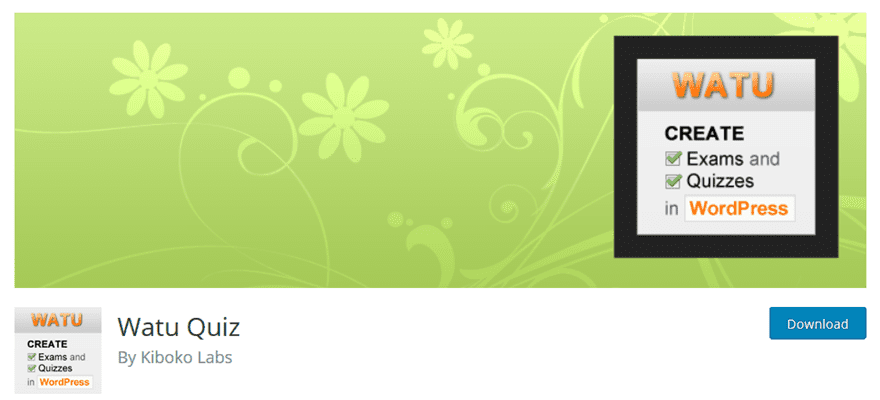 With 5k active installs and a 4.5-star rating, Watu is a solid alternative in the quiz space. The free version is quick and easy to setup for simple mobile-friendly quizzes. A premium version, Watu PRO, is available starting at $47, with higher priced bundles to provide additional functionality.
Pros
Touch screen and mobile friendly
Built-in social sharing
Email notifications
Cons
Limited features (free version)
The full-featured version can be dear
Basic Quiz Functionality
The free version of Watu enables you to easily create mobile-friendly, touchscreen-enabled quizzes. Questions can be single choice, multiple choice or open-ended. Answers can be assigned point values which are totalled on successful completion of the quiz. A grade is then assigned based on point levels configured in the plugin's administration screens.
Premium Upgrades
Upgrading to Watu PRO enables much more functionality such as additional question types, pagination, randomization, question and quiz categories and printable certificates. However, the features are spread across tiered modules. Unique features available in the PRO modules include conditional retaking of a quiz (based on grade level) and question difficulty levels.
Free Add-Ons
There are also free add-ons that add functionality to the Watu PRO plugin, such as integrations with WooCommerce and MailChimp, PDF certificates and chained logic for quiz questions (next question determined by answer to question).
5. Thrive Quiz Builder (Premium)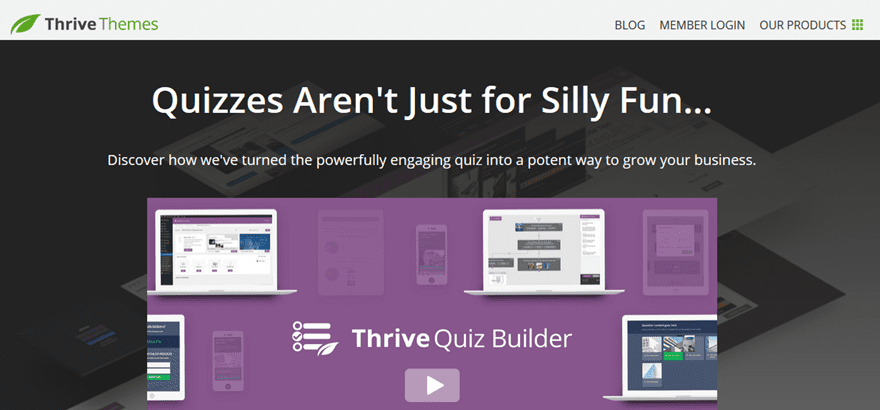 From the team behind Thrive Themes comes Thrive Quiz Builder, a premium quiz plugin targeted at site owners wanting to use quizzes to drive conversions and segment their leads. Starting at $67 for a single site licence, Thrive Quiz Builder is another high value option for adding quizzes to your WordPress site.
Pros
Easy to setup
Social sharing
Conversion optimized
Cons
Limited question types
Basic scoring
No documentation available pre-purchase
Simple Quizzes
The quizzes created by Thrive Quiz Builder are designed to be very quick and easy for users to take, and so the options are kept limited. You are limited to basic single choice questions but you can add any additional multimedia content (images, video, audio etc.) to questions. You can create an unlimited number of quizzes with any number of questions.
Custom Results
The results display is where Thrive Quiz Builder stands out. You can create an optional image badge with the results, for example, the demo quiz located on the home page produces a badge that says I have a 24% chance of surviving a zombie attack. Viral sharing is one of the goals as stated in the name of the plugin so the social sharing options are expected.
Conversion and Opt-ins
Where the results section gets interesting is in the custom content you can add. Basic suggestions are custom text, images and video, but you are not limited to those. You can add opt-in forms from any of the major email marketing tools (MailChimp, AWeber, etc.) by copying in the embed code. You can add links to product recommendations and affiliate offers.
Detailed Statistics
Thrive Quiz Builder provides detailed statistics on each question answered by your users, so you will have insight into their preferences and thoughts.
6. OpinionStage (Hosted, Free and Premium)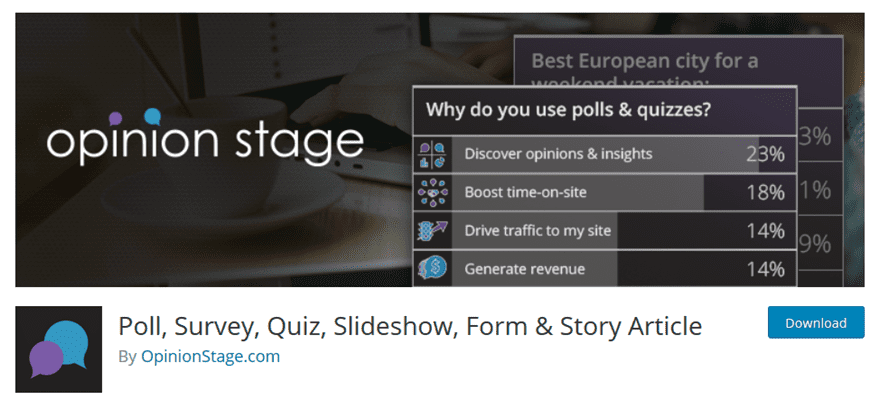 OpinionStage is the first hosted option in our list of quiz plugins. The basic plan is free and provides a limited feature set. More functionality can be added through the paid plans that start at $19 per month. There are over 20k active installs of the WordPress plugin used to integrate OpinionStage with WordPress websites, and the plugin currently has a 4-star rating.
Pros
Easy quiz creation
Manage quizzes from single dashboard
Built-in social sharing
Multiple quiz types
Quiz repository with examples
Cons
Subscription required for anything above basic features
Simple Setup
Signing up at OpinionStage is quick and easy, and you can be creating your first quiz within minutes. All quizzes are managed from a simple, intuitive dashboard and can be customized (size, font, colors) to match your site. The responsive design used means that quizzes will display well on all platforms and screen sizes.
Social Sharing
The quiz types that can be created include trivia and personality quizzes, which are known to be very popular and shared widely on social networks. OpinionStage uses social integration to make it easy for users to share quiz results.
Premium Upgrades
The Basic plan is free forever but comes with a very limited feature set. Upgrading to a paid plan adds functionality like advanced reporting and customization. The higher level plans go even further and remove the OpinionStage branding, while adding lead generation features like email opt-ins.
7. Riddle (Hosted, Free and Premium)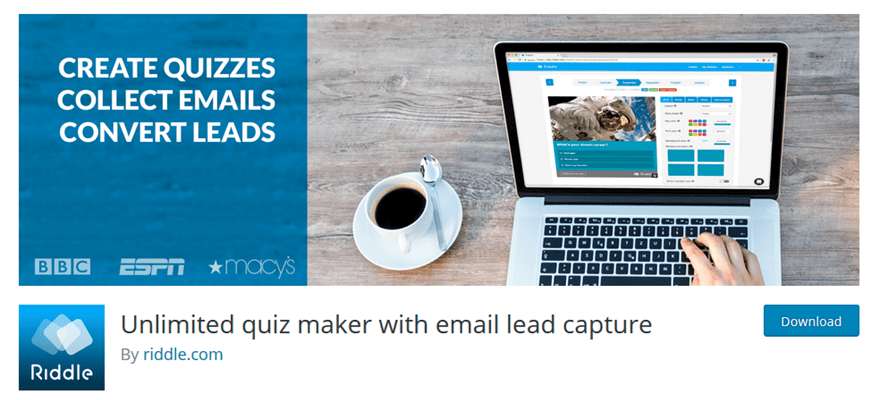 Now tis entry entry on our list of quiz plugins is a fairly new but attractive hosted option called Riddle. It only has approximately eight hundred installs presently, but users have given it high ratings. Like other hosted options, the free WordPress plugin is required to integrated with WordPress websites. The basic free plan provides Riddle-branded quizzes with limited features. Paid plans start at $19 per month.
Pros
Easy quiz creation
Built-in image editing tools and search
Built-in social sharing
Multiple quiz types
Lead generation included
Cons
Subscription required for anything above basic features
Simple Setup
Riddle, like OpinionStage, provides an online platform for creating and managing quizzes. The quizzes can then be embedded in a WordPress site via shortcodes. Multiple quiz types can be created from included templates.
Beautiful Images
Riddle quizzes can include multimedia (images, videos, gifs). A search function is built-in enabling the quiz creator to search for the perfect images, GIFs, YouTube videos, etc. Some stock imagery is included as well. An impressive feature is Riddle's use of a built-in image editing tool that enables filters, text overlays and cropping.
Lead Generation
Riddle provides an integrated lead generation form that enables the collection of email addresses on completion of the quiz. Additionally, social sharing is enabled so users can quickly and easily share Riddles.
8. Quiz Cat (Free)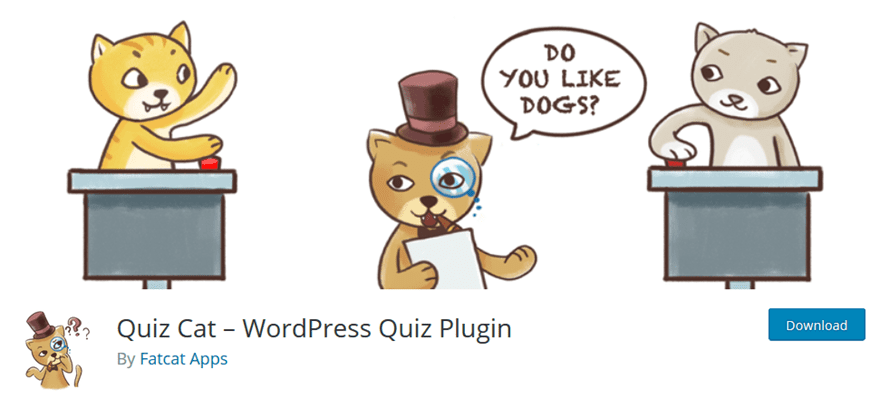 Quiz Cat is one of those simple, easy-to-use plugins that everyone loves. It lets you build quizzes quickly and gives you the tools to make whatever kind of fun you want your visitors to have. Plus, the repo page is written with personality and humor, and that goes a long way to tell you that the developer cares about the plugin.
Pros
Full customization
Custom messaging to users
Shuffle between multiple quizzes
Works with WP translation functions
Add images
Integrates with services such as Zapier, Aweber, etc.
Cons
Must use PHP to change the language
No choice for image size
Advanced customization requires CSS
Very Easy
Getting set up with Quiz Cat is very easy. You just type in your questions and answers and then you have a pretty quiz. You do have to use a shortcode to integrate the quiz after that, which might put off some people. It does make it very easy to use, however.
PHP and CSS
If you want to use advanced features like language translation and more in-depth styling, you will need to use some code. That's understandable since this is a free plugin, but if you don't like what comes by default, you will find yourself working in either PHP or CSS in some way.
9. WordPress Viral Quiz (Premium)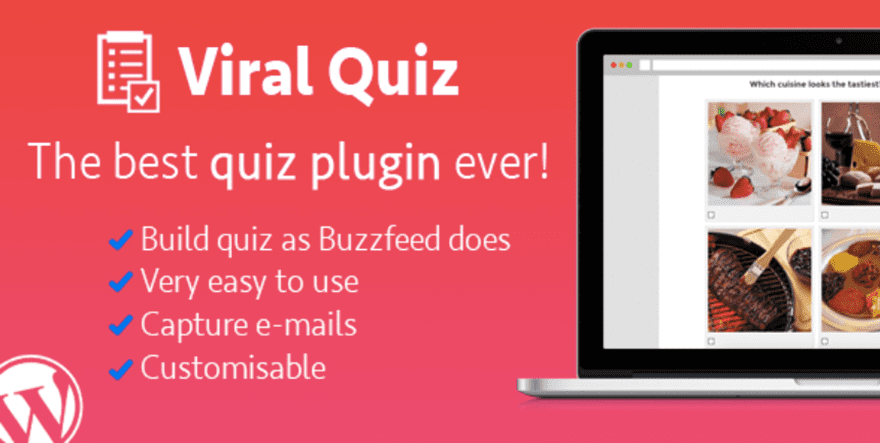 Buzzfeed became famous for its quizzes, and WordPress Viral Quiz capitalizes on that. You get to make quizzes for your site that emulate the internet-breaking ones that you've seen so often on Facebook, Twitter, and other social media platforms. This plugin approaches quizzes from the if you can't beat 'em, join 'em perspective, and it works.
Pros
Incredibly pretty designs
Tried-and-true format that works for engagement
Responsive for mobile quizzing
Built with viral sharing and list building in mind
Built-in analytics
Quick and helpful support
Cons
Premium cost ($36)
Occasional issues with Jetpack and other plugins according to review
Buzzfeed-lite
It's a pro or a con depending on your feelings toward Buzzfeed and their quizzes. WordPress Viral Quiz is absolutely a premium plugin in every way. It's designed well, and it allows for a tried-and-true design that your visitors will engage with (probably). But if you're not a fan of the Buzzfeed quizzes and the aesthetic clashes with your site, you might have to look elsewhere for your quiz plugins.
Choosing a Quiz Plugin
Implementing quizzes on your site can be a great tool to drive engagement with your audience. Choosing the right WordPress quiz plugin will depend on the types of quizzes and questions you need and what additional features you desire. Other factors to consider are the type of scoring or rating that suits your content, and whether lead generation is an important element.
If you want simple quizzes and are not interested in advanced functionality, Watu is your best bet. SlickQuiz may be sufficient for some people who don't mind the lack of updates. If mobile optimization is key, mTouch is a simple free option that will do the job. OpinionStage may be more suitable if the look and feel of the quizzes is a consideration.
If flexibility is important with multiple question types, WP Pro Quiz and Quiz and Survey Master are great free options. If you are willing to spend a little money, eForm is a fantastic option with a wide range of possibilities. It is also the only real option if you want to include complex conditional logic.
If you want to go beyond simply driving traffic and engagement to increasing lead generation through your quizzes, email marketing integration a critical criterion. For the money, Thrive Quiz Builder is the best value as it is designed with lead generation in mind. Riddle may be worth trying out as even its free plan includes lead generation.
Conclusion
Creating engaging quizzes can be time-consuming, but plugins can make it easy to create and manage quizzes. Both in terms of setting up the questions and answers and automatically scoring and presenting the results, using a plugin for quizzes is an easy decision.
Anything that helps to drive traffic towards your site, engage users with your content and generate more leads for your business is a welcome addition. All sites are of course different so the needs may vary. We have tried to present a range of solutions that we hope will help all potentially every site owner evaluate their options.
We'd love to hear your thoughts on the plugins we've highlighted. Have you used any of these quiz plugins? Is there a quiz plugin you think we should consider? Get in touch via the comments and let us know!
Featured image by sumkinn / shutterstock.com.