Reviews affect a lot of the decisions we make in our everyday lives. For example, when you're thinking of going to the movies, what do you often check first? The reviews, right? Want to try a new restaurant? Buy a new book? Attend a yoga class? Chances are that you'll look up reviews and ratings on all those things before you make your decision.
My point is that reviews and ratings can sway the masses – it's just how things work. But with something as powerful as these reviews, the real question is this: can you benefit from displaying reviews and ratings on your own website?
Subscribe To Our Youtube Channel
The Benefits Of Displaying Ratings and Reviews On Your WordPress Site
You may think of Facebook or Yelp or Amazon when you think of reviews. As a result, you may think that the idea of displaying reviews only works for those types of sites. That isn't true at all. SO who can benefit? Not to put too fine a point on it…but everyone.
Bloggers
No matter what you blog about, chances are that you write a review or two on certain products or services of your choosing.  You may not focus solely on doing reviews and giving ratings, but you can definitely use a rating system on the reviews that you do write.
Many of the review and rating plugins that will be on our list will let you create summaries of the reviews you write and collect them around as either posts or lists or galleries automatically.
People have the tendency to simply skim pages instead of reading them, and if nothing really catches their eye, then they'll leave. But if you can catch those viewers' attention, then you're one step ahead of the game. Reviews can be a great way to do just that.
You can create a sort of bite-sized version of your post that outlines the gist of what you're reviewing. This little morsel of information can quickly grab a reader's attention, prompt them to read the rest of your post, and buy the product you did the review on. Plus, gold stars are shiny. People like shiny.
Small Business Owners
Reviews are very important to small businesses. Great reviews on Facebook or Google Places or Yelp can generate a lot of business. So why not show them off on your own site?
Reviews play a large part in decision making, and even though small business owners can take advantage of these big name review sites to drive traffic to their website, they often forget that many visitors find their website by organic search. If you're not displaying reviews on your website, you could be missing a key component in your sales or conversion funnel.
There are plenty of plugin options that enable your customers to reivew your business. And many of those plugins allow you to moderate things so that only the reviews that you approve will show up on your blog – unlike Google, Facebook, and Yelp that don't allow a business owner control over what reviews can be displayed. Even if you pull reviews from those sites, you can often filter the results to show only the shiniest of gold stars.
Whether you are a brick-and-mortar storefront or an online ecommerce powerhouse, displaying reviews and ratings on your site can bring a lot of benefits.
Free Review Plugins
1. Polldaddy Polls & Ratings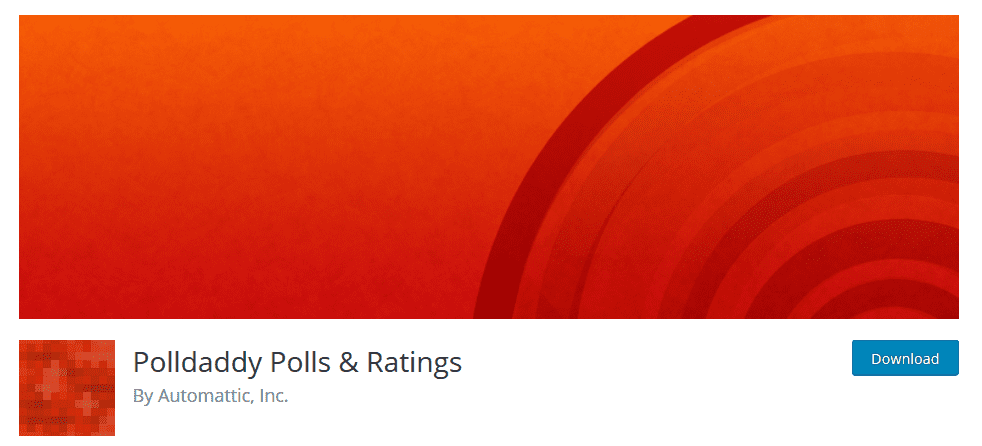 With this plugin, you can create unlimited polls and embed reviews from Polldaddy directly inside your WordPress site.
Since Polldaddy was created by the Automattic team, you can rest assured that things will work seamlessly with your WordPress powered blog. Though you do need a Polldaddy or WordPress.com account to use the plugin, the options inside of it is pretty fantastic.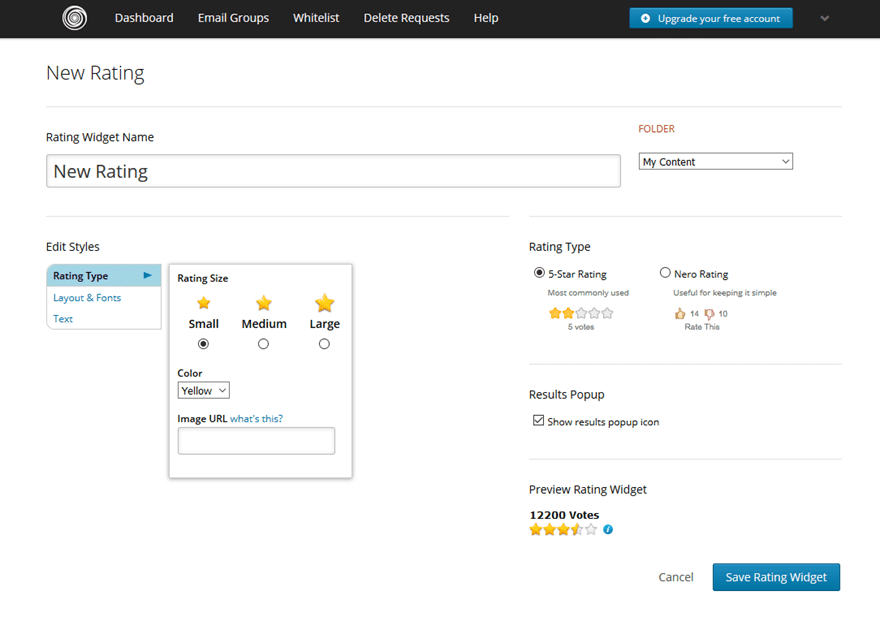 After you activate the Polldaddy Polls & Ratings plugin on your site, you will need to either sign-in or sign-up for Polldaddy to grab your API Key in order to use the plugin. Once you sign up for Polldaddy, copy your API key and go back to your WP Dashboard. Click on "Settings" in your menu, and then scroll down to "Polls" to paste your new key in the correct place and to get the plugin working.
You will now see a new menu option marked "Feedback". If you click on that, you will find the area to create your first poll or rating. You can add a rating to a blog post and have it displayed under the post title of your blog. Both the poll and rating features can be nice if you're looking for a rating system that is simple, but that also allows you to get feedback or opinions from your viewers. If that's what you're looking for, then be sure to check this out.
2. kk Star Ratings
This plugin was certainly one of the more interesting rating plugins in the WordPress Plugin Directory. Instead of you reviewing something on your blog, this plugin allows your viewers to rate your blog posts through a star rating system.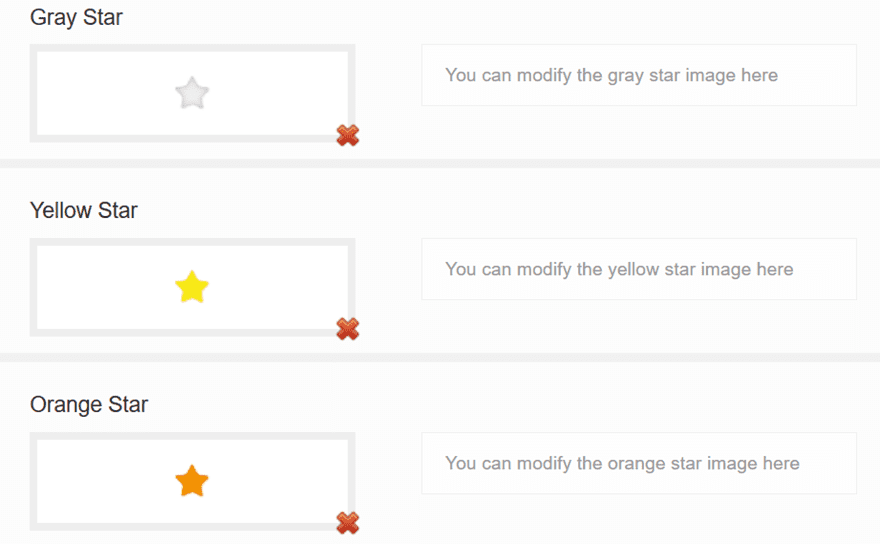 The plugin has other nice features and that can be rather helpful for driving traffic to your site. For example, the plugin supports Google Rich Snippets. This means that the ratings of your posts will be indexed by Google and can show up in Google Search. (see example below)
The plugin comes with the ability to change the amount of stars used, and you can use the kk Star Ratings Widget that comes with it to display your top rated post in widgetized areas on your site. While the idea of letting others rate your posts can be a little unsettling, it can work out great for you. This type of rating system can help you see what your viewers like and what they don't so that you can figure out what to spend your time blogging about. The other benefit is that your ratings can show up in Google Search, and with a high rating, you can help drive more traffic to your site.
Yee-haw to that!
3. WP Customer Reviews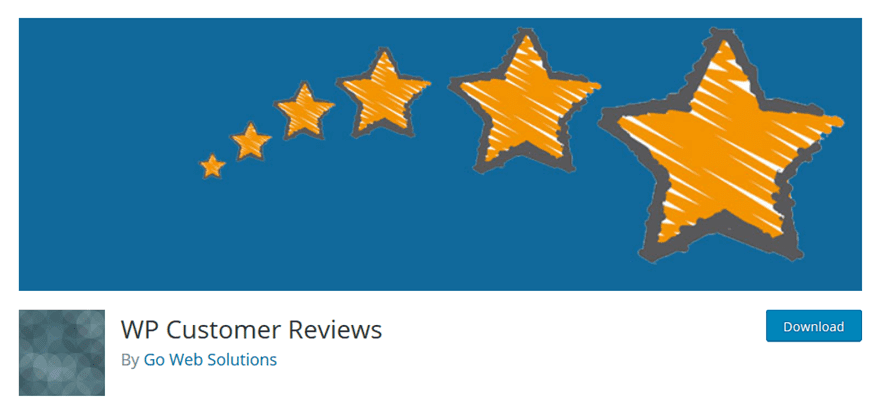 No, you're not reviewing your customers (though wouldn't that be nice if you could sometimes?) This plugin lets your customers review things on your blog.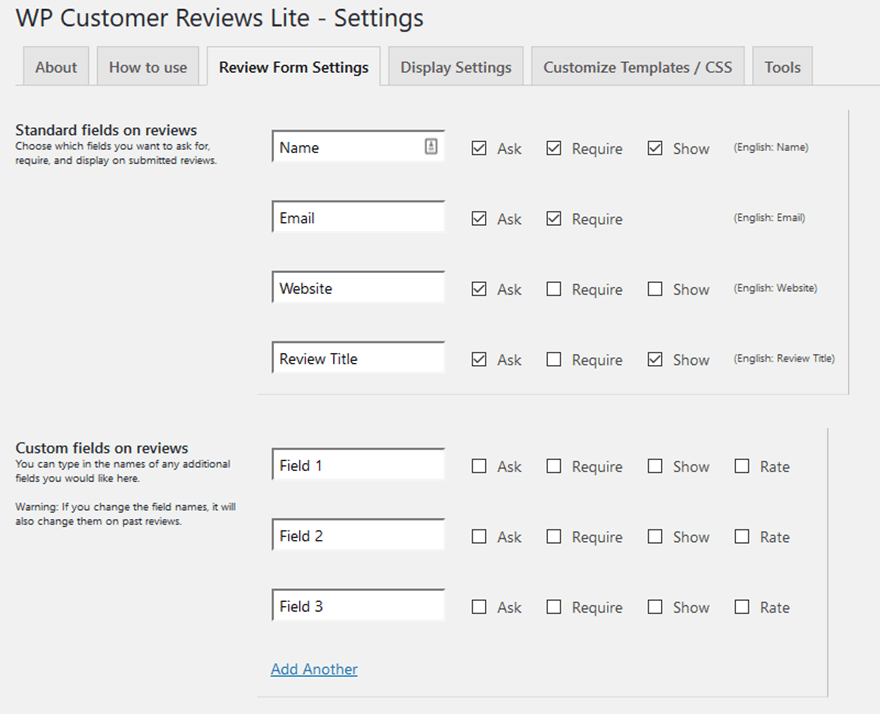 Much like the type of reviews you would find on Amazon.com, WP Custom Reviews allows your viewers to write a star rated review about the products your have on your site, but that's not all it does.
If you run a local business and you would like to offer your customers the ability to conveniently write a review directly on your site, you can use this plugin to do just that. And since the reviews are moderated, you can be the one who decides what appears on your site and what doesn't. You may not want the 1-star reviews from trolls through (or you might if they're pretty funny, like some can be).
The features are powerful and the code is lightweight, which makes it a truly amazing free plugin.
4. WP Product Review Lite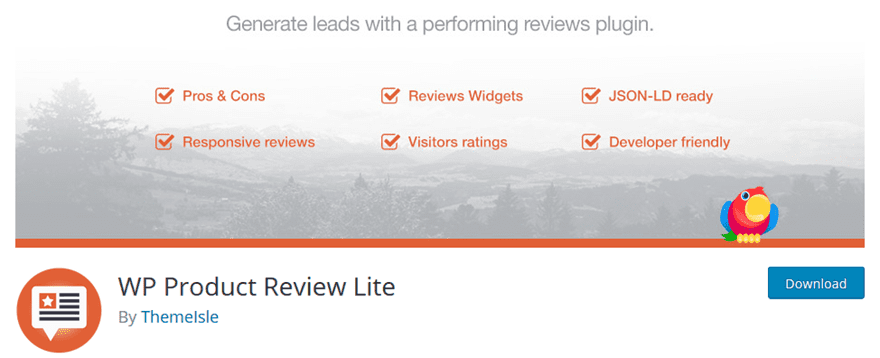 If you're looking for a plugin that will easily help you display a product review inside your blog posts without shortcodes, then the WP Product Review plugin is worth a look.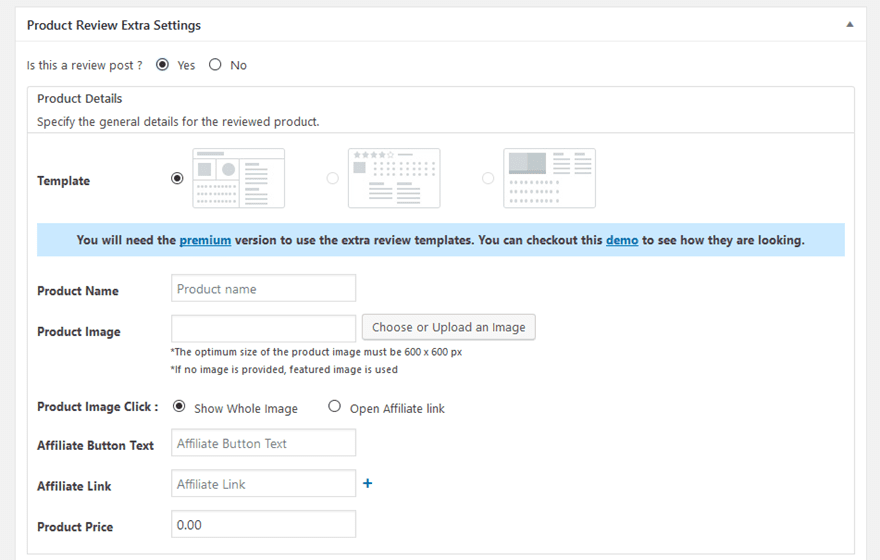 The plugin gives you the option to write a summary of the review that your post expanded on. You can list Pros and Cons, grade certain features about the product or service, and easily insert an affiliate link with a product price from your post or page. All of the colors, fonts, and the buy button that is integrated into the plugin are easily customizable in order to complement your site's colors. It's also worth mentioning that the plugin supports Google Rich Snippets that can show up in Google Search.
Also, if you ever upgrade from the lite to the Pro version, you can import your products and reviews from Amazon, get various templates, and so on.
5. WP Review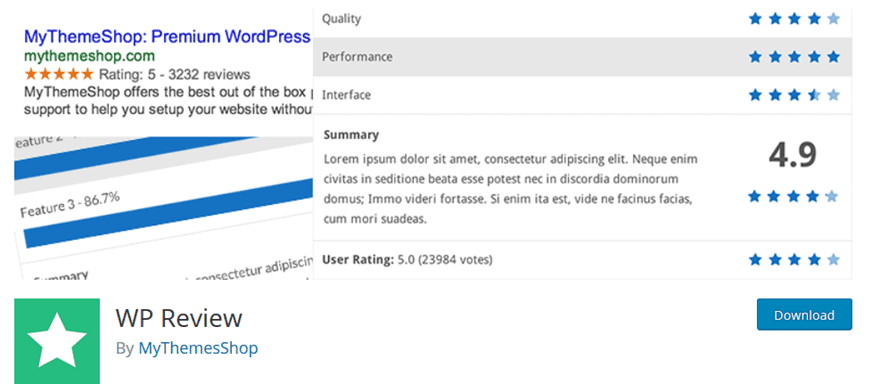 From the minds of the team behind, MyThemeShop, the WP Review plugin is pretty straightforward in terms of what it does and how to use it.
The plugin comes with 3 review types (stars, percentages, and points), and it has an unlimited color schemes to make the review summary pop in your post. Among other things, it boasts as being the fastest review plugins and also supports Google Rich Snippets – a feature that is becoming increasingly popular.
The area where the summary of your review will by highlighted is easily changed via the plugin's setting area, and you can use the plugin on a post by post basis. It's easy to set up and use, which makes it perfect for anyone who wants a powerful rating plugin without the hassle of having too many options to fiddle with.
6. Comment Rating Field Plugin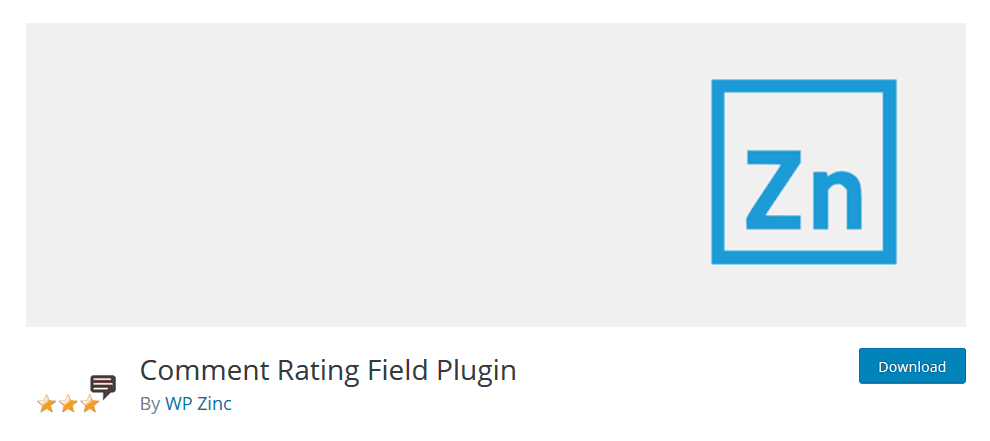 This adds a simple but nice touch to the Comments area on your website. Using the plugin, you can add a star rating system that gives your viewers the option to leave a rating along with their comment. The way it works is simple: If the user rates your post using the star rating system, then it will show up under the text of their comment. If they decide not to rate things, then the stars won't appear. It's not a very robust rating system, but this is a nice way to get some feedback from your readers.
Plus, it's a way to get them more engaged and involved involved on your site.
7. Author hReview – Lite Version
Author hReview is yet another great and simple review plugin. It adds AggregateRating and hReview support based on Schema.org guidelines.
The plugin is rather light on features, but it does its job. If you like the feel of the plugin, but you want something a bit more robust, then you're in luck. The author managed to extend the plugin into a premium version that give you more control, features, and even templates that you can use.
8. Book Review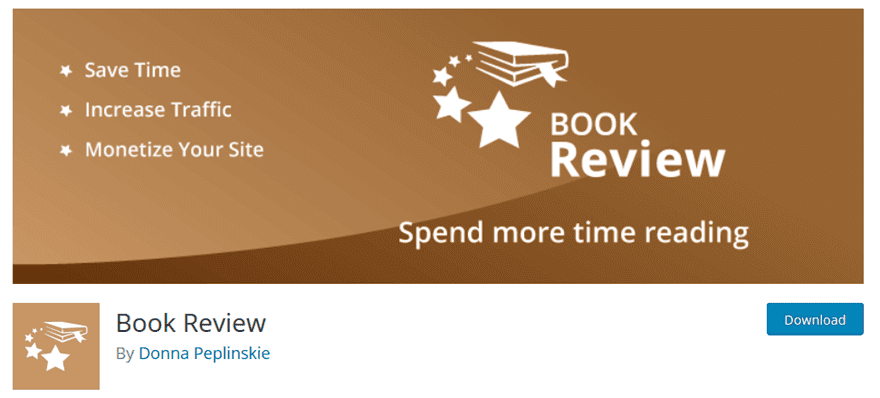 To finish off the free reviews and rating plugins list, we thought that it would be nice to end it with a niche-specific plugin. The Book Review plugin allows you to create simple but rather stunning book reviews in your WordPress site. You can customize the background and border colors to complement your site, add book information (title, author, format, etc.), a cover photo, and purchase links that will all correspond with the review at hand. If you write book reviews — or even get your own books reviewed — this plugin can make your life a lot easier.
Premium Review Plugins
9. WP Business Reviews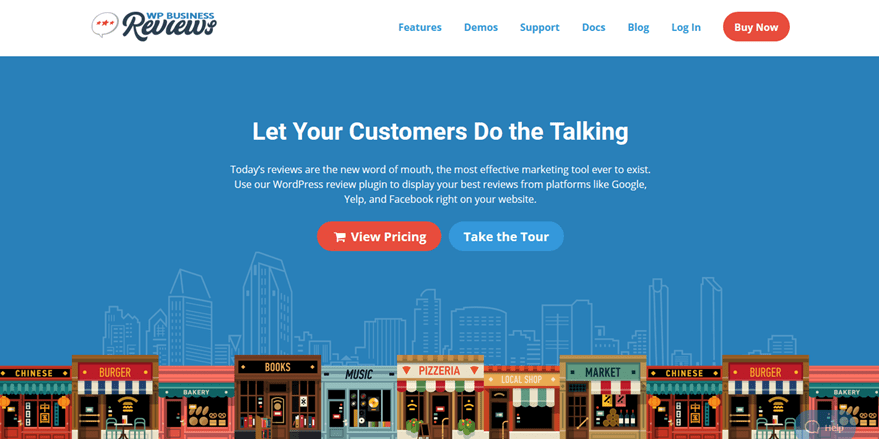 Pretty popular on Facebook or Yelp and want to strut your stuff on your website? Then this is a plugin that could be exactly what you're looking for.
The WP Business Reviews plugin pulls your reviews from multiple review sites (Facebook, Google, and Yelp as of this writing, but many more are being developed for implementation) and displays them on your WordPress site. You get a lot of options for choosing how to display your reviews, down to controlling if you show the avatar of the reviewer, what site it came from, text, star-rating, and the color/style of the review box itself.
You insert the reviews via shortcode into any area that can render them. Text boxes, code boxes, or any widgetized area can be used to display the reviews. Additionally, you can post single reviews outside of the collections that are automatically imported, so if you have an emailed testimonial or a review submitted at a site not yet supported by the plugin, you can include it with an optional link back to the original.
Because of the aggregation from multiple places, the plugin is a pretty nice way to display reviews on your site without asking customers to write another, separate review for you to highlight.
Additionally, this is a premium plugin, but the cost is well within range of most advertising budgets (starting at $99/year for a single site). While there are free options out there (such as Google Places Reviews), the versatility here may be worth the price.
10. Taqyeem – WordPress Review Plugin
Taqyeem is from CodeCanyon's Elite Author, TieLabs. With a high star rating, this review plugin deserved a spot on our list. After taking a closer look at how it works and what it offer, it's no wonder why so many people love it.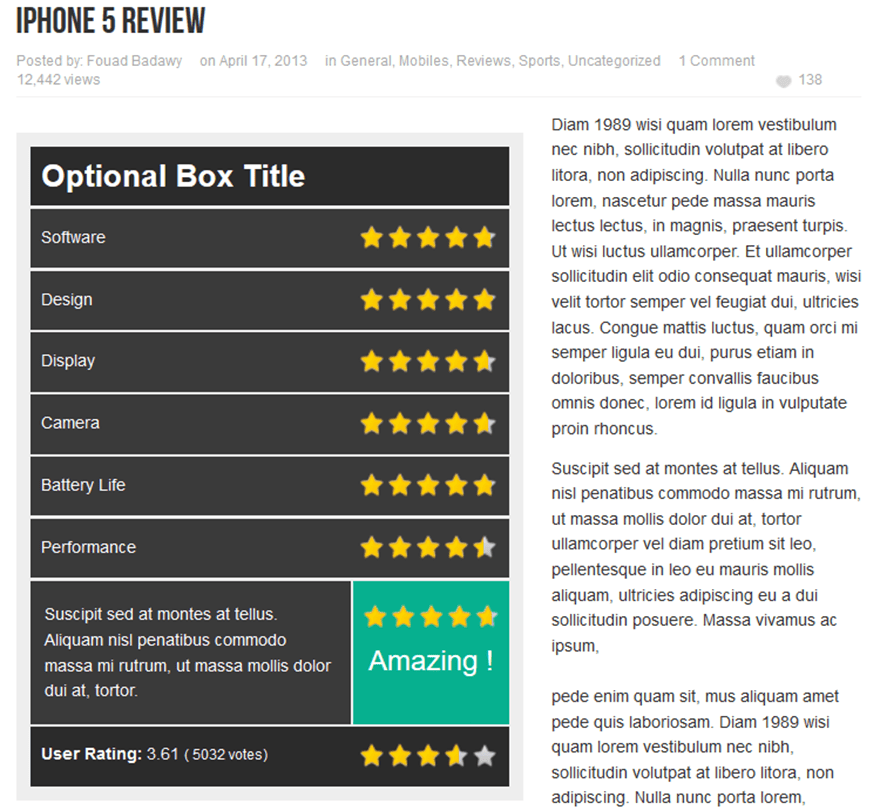 As you can see from the example post above, Taqyeem lets you insert your summarized review directly into your post. You create the review summaries in the same area your write your posts, and you can define where you would like the summary displayed.
It comes with Google Fonts built right in, and it easily allows you to change its colors so that you can get the look of the boxes to match your site. On top of that, it comes with its own widgets that can be displayed in your sidebars or footer areas, and supports Google Rich Snippets (see how important these can be?). It is a premium plugin, but for everything that you get out of it, $25 ain't half bad.
11. Reviewer WordPress Plugin
At $27, this has all the good stuff that you would need and expect in a premium review based plugin. It has the regular review capabilities that you would want, like listing pros and cons and rating features on a single product, however, this plugin also comes with the ability to build review comparison charts to help your viewer in the decision making process.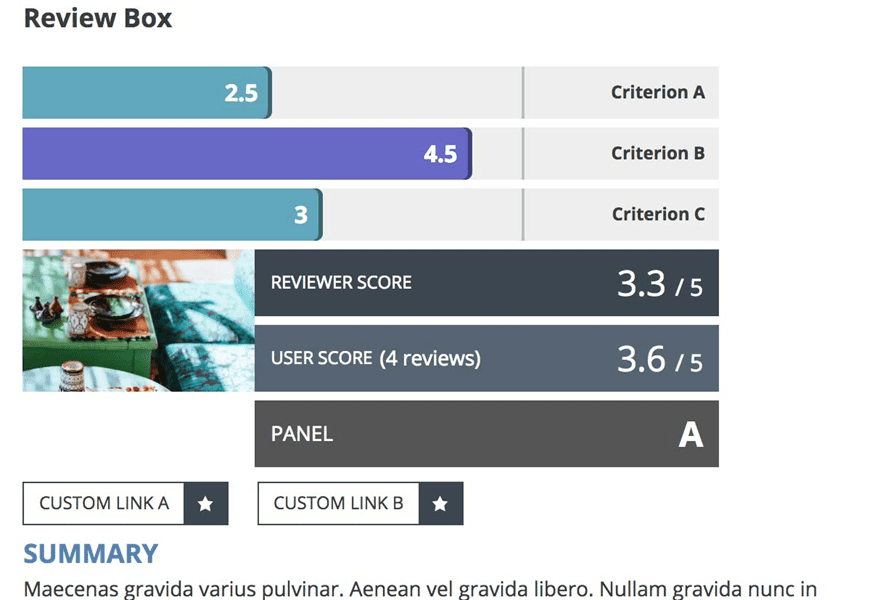 Although the Review WordPress Plugin lets you create your own templates for your reviews, it does come loaded with customizable templates that can help get you started. If you want to create a theme from scratch, you can add a new theme in the "Reviewer" section in the back end of your site. After you've defined things to your liking, you can insert the short code anywhere in your page or post via the "Insert Reviews and Tables" option in your post editor menu.
Since the plugin has multiple options, it will take some time to really get the hang of things. The author has a link on their page that lets viewers test out the plugin to get an idea of how it works. Feel free to give it a test-run before you buy it.
Final Thoughts
If you're not already using a rating or review plugin, perhaps now is the time to consider one of the options above. The majority of these are free, and even the premium options are relatively affordable. You can even use a free one to see if you need one, and then go Pro.
Whether you're a casual or professional blogger, a business owner, or a web designer, displaying reviews and ratings in a clean and eye catching way can lead to additional engagement, retnetion, and conversation from your audience.
Additionally, displaying reviews and ratings on your website can give you vital feedback that you would otherwise not know about. Simply put, ratings and reviews are great, and you have a lot of options out there to take your already amazing site up a notch.
What's the biggest reason you display ratings and reviews on your WordPress site?
Article Thumbnail Image by venimo / Shutterstock.com