Virtually every restaurant needs a website. A restaurant website will give the local visitor important information such as opening hours, directions, and a food menu. Some restaurants need even more features to allow visitors to reserve a table, place an order online, or purchase merchandise. With no two alike restaurants have various needs for their websites. Fortunately any type of restaurant website can be built using Divi.
If you want a head start though, rather than building from scratch consider a professionally designed child theme. In this article I've listed 13 child themes for Divi that are perfect for restaurants. I've also included two restaurant layout packs as a bonus. The child themes are in no particular order.
1. ZARA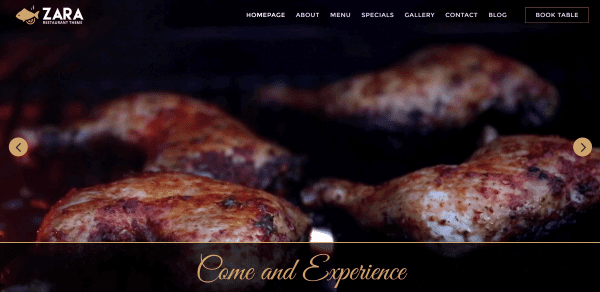 ZARA from B3 Multimedia Solutions includes 8 custom pages and allows visitors to book their table online. The specials gallery uses elegant hover effects to show information about the food or drinks. Show off your food with the regular gallery. Show your food menu with the menu slider. It also includes the pro edition of the Master Slider plugin.
Features Include:
Menu animations
Hover effects
Master Slider Pro
Menu slider
Gallery
Reservation forms
Price $97 | More Information
2. Rise and Shine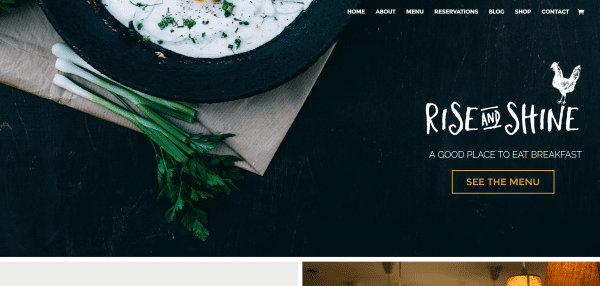 Rise and Shine from Superfly is one of the must customizable child themes for Divi. It includes 10 page layouts with WooCommerce integration. Customers can reserve their table online using the reservation system. Recipe card integration creates unique blog posts with printable recipes. A unique menu overlay brings the menu over the food category you choose. Sell your products with the customized shop page and WooCommerce integration.
Features Include:
10 page layouts
WooCommerce
Reservation system
Recipe Card integration
Font Awesome integration
Split-column layout
Coming Soon page
Custom login screen
Price $75 | More Information
3. Foody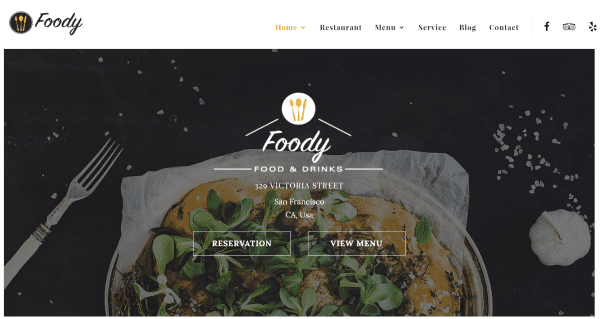 Foody from Creative Child Themes has 8 custom pages including multiple home and menu pages. Customers can book their table online using the integrated reservation system. The food menu utilizes a list or a grid gallery system. Customers can leave reviews which are displayed in the review slider. Icons are provided by Font Awesome.
Features Include:
2 homepages
2 menu pages
Reservation system
Review slider
Hover effects
Font Awesome integration
Price $97 | More Information
4. Mendhoan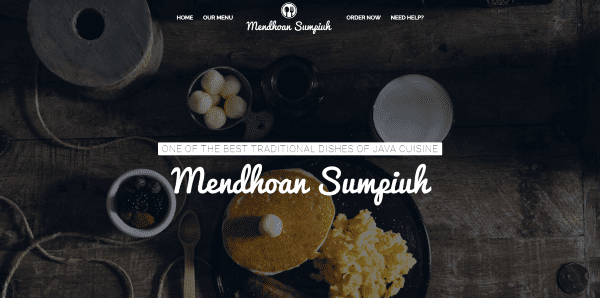 Mendhoan is a one-page Divi child theme from Willy Arisky with online ordering. The food menu is presented in multiple formats including a masonry grid, blurbs, and a gallery. The help section includes a place to display your address, phone number, email, and location on a Google Map. It's simple yet clean and elegant.
Features Include:
One page design
Multiple menu formats
Online ordering
PSD Logo template
Parallax
Google Maps
Copyright editor
Price $45 | More Information
5. Café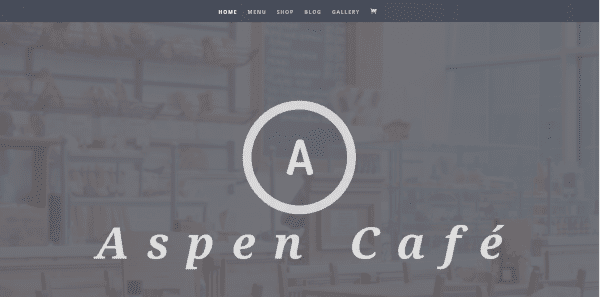 Café from Aspen Grove Studios was inspired by the Elegant Themes demo for Divi. The food menu section includes parallax divisions with food lists that show a name, description, and price. The custom shop page includes WooCommerce integration. Show you food with the masonry grid gallery. The custom blog page shows your posts in a 3-column grid layout. It includes multiple page templates and the Aspen Footer Editor and 404 Page.
Features Include:
3-column blog with grid
WooCommerce
Hover effects
Footer editor
Login area customizer
404 page template
One-click install
Automatic updates
Price $35 | More Information
6. Hermis DIVI Restaurant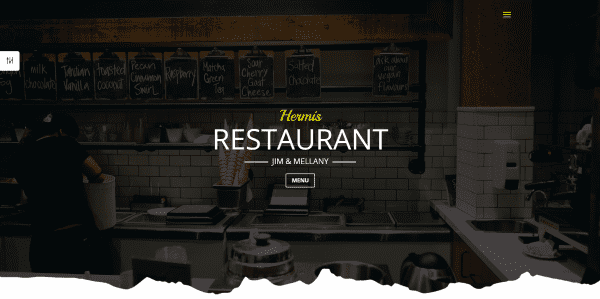 Hermis Divi Restaurant from SAWebSolution adds custom hex color features to the already powerful Divi platform. The food menu opens like a book. The reservation system lets your customers make selections from drop down menus. The events section shows upcoming events in both banners and as detailed entries, with both including animations. It also includes a custom gallery and blog.
Features Include:
Book-style menu
Reservation system
Events
Gallery
Custom blog
Vertical menu
Custom footer
Hex color customizer
Hover effects
Price $150 | More Information
7. Restaurant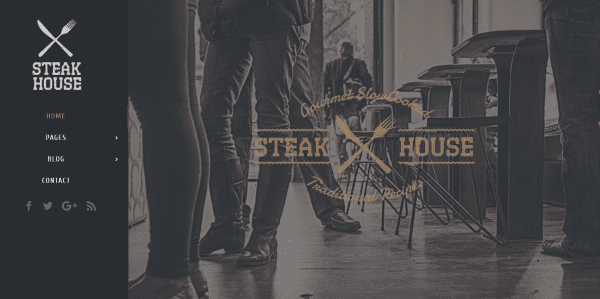 Restaurant from Candy Themes was inspired by the Avada Café theme. It features a vertical menu, several page templates, and 6 blog styles. Social icons are placed horizontally within the vertical menu structure. The menu includes multi-column lists with categories and images and a new section with blog posts. Customers can reserve their table with the included Open Table widget. Display your store hours with the included Opening Hours plugin.
Features Include:
Multiple page templates
6 blog styles
Vertical menu
Social icons in the menu
Multi-column food menu
Open Table widget
Opening hours plugin
Contact Form 7 styling
Price $49 | More Information
8. Divi Bistro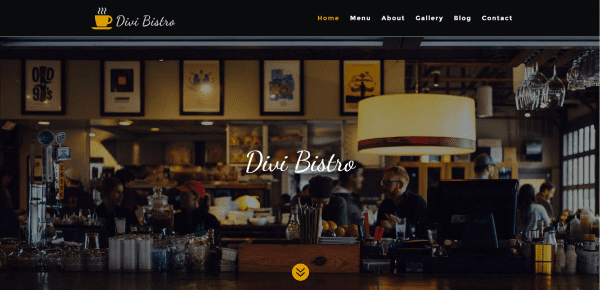 Divi Bistro from Durham Web Designer features a clean and elegant design that comes with 6 page templates that includes a custom homepage, food menu, about page, gallery, blog, and contact page. The food menu displays food in a three-column layout with sections of alternating colors of black and white with white and gold highlights, while the gallery alternates between a single column and a two column masonry grid. It's elegant and fast.
Features Include:
6 page templates
Slanted section styling
Coffee Icon
Hover effects
One click import
Price $75 | More Information
9. La Panadería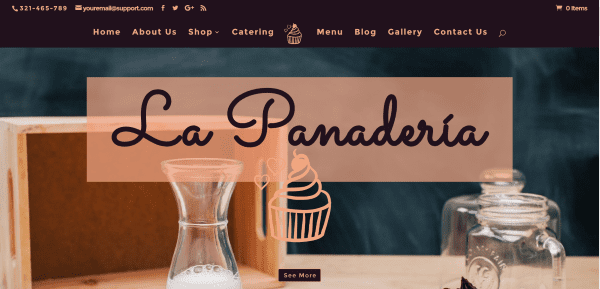 La Panadería from Kaya Digital Media includes WooCommerce integration and lots of customizations. 9 page layouts include home, about us, shop, catering, food menu, blog, gallery, and contact us. It includes multiple shop layouts and opt-in forms. It was made with bakeries in mind but its food menu works just as well with any type of food services.
Features Include:
9 page layouts
WooCommerce
Three shop layouts
Two custom email opt-in forms
Custom navigation
Custom mobile menu
Hover effects
Custom styled modules
Custom blog page
Custom archive page
One click install
Price $50 | More Information
10. La Cocina Urbana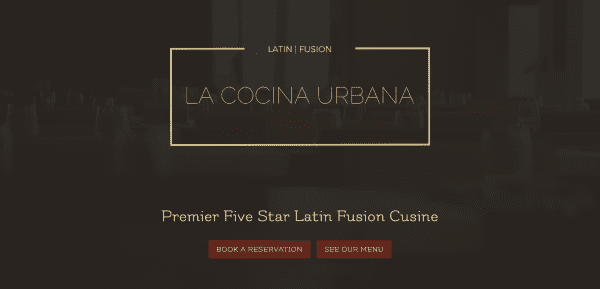 La Cocina Urbana from Kaya Digital Media comes with 8 custom pages including home, about, reservations, catering, food menu, blog, gallery, and contact page. It has a built in system for reservations and for booking catering services for those special occasions. The custom blog page includes a styled sidebar menu.
Features Include:
Caldera form integration
Custom reservation form
Custom catering form
Custom navigation
Custom mobile navigation
Custom styled blog
Custom styled modules
Custom styling for Bloom and Monarch
Hover effects
One click install
Price $50 | More Information
11. Just Eat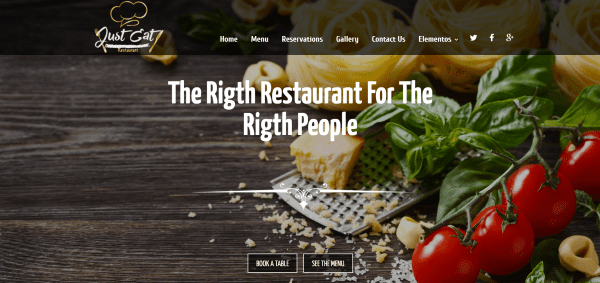 Just Eat from TantoMarketing comes with multiple pages that include a custom homepage, menu which has a unique tabbed food menu and a grid menu for special dishes, reservations, gallery, and a contact us page. It also includes lots of module customizations, customized forms, and social icons. It comes with several free plugins including the TantoMarketing plugin which provides schema markup to help your restaurant be found in local searches.
Features Include:
Reservation page
Food menu
Local business widget
Contact form
Gallery
Custom styled modules
TantoMarketing Plugin
Hover effects
Parallax
Schema markup
Price $59 | More Information
12. Bistro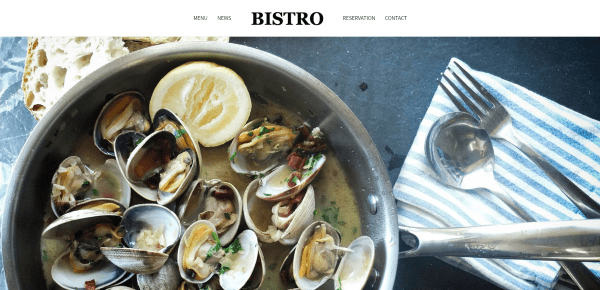 Bistro from Candy Themes sports a minimal design with lots of white space to create a clean look. It includes 4 pages: food menu, blog, reservation, and contact. The homepage includes menu suggestions, a gallery, quotes, and directions with styled Google Maps. The food menu is a text description of dishes in a two-column layout. The reservation system includes the Open Table widget or you can use the included contact form. It was inspired by the clean designs of Sqaurespace.
Features Include:
4 pages
Minimal design
Reservation system
Gallery
Parallax
Price $49 | More Information
13. John's Café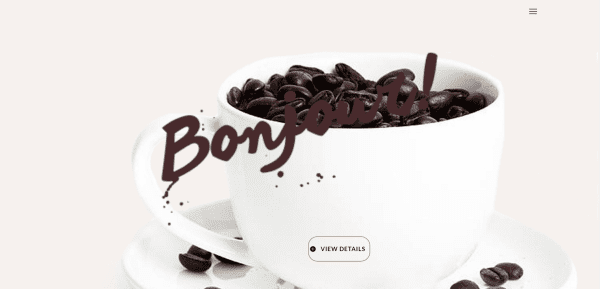 John's Café from TantoMarketing is a restaurant theme with WooCommerce integration. Custom pages include the homepage, about us, blog, store, food menu, and reservations. It includes a vertical menu with image and horizontally lined social icons within the menu. The food menu uses tabs so your visitors can make their selections based on breakfast, lunch, dinner, and drinks. The included TantoMarketing provides schema markup for local searches.
Features Include:
Food menu
Store with WooCommerce integration
Local business widget
Contact form
Reservation page
Gallery
Custom styled modules
TantoMarketing Plugin
Hover effects
Icons
Parallax
Schema markup
Price $59 | More Information
Bonus: 2 Restaurant Layout Packs
What if you just want to get a head start on developing your restaurant website but you're not looking for a child theme? You're in luck because there are several restaurant layout packs available to help get you started.
Cuisine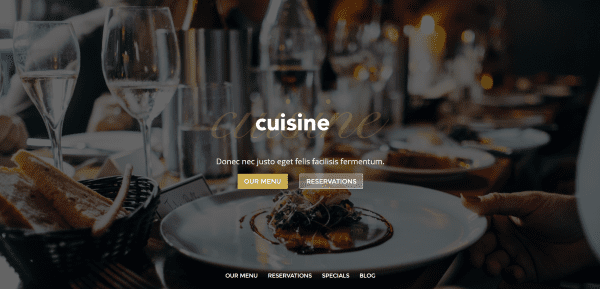 Cuisine is a 1-page layout pack from Octygon with pre-built page sections just for restaurants. It includes a full-screen header with navigation, about us, small food menu, daily special with parallax, food large menu, about the chef, events, hours, contact form for reservations, blog slider, blog grid, and Google map.
Features Include:
1 page layout pack
11 sections
Small food menu
Large food menu
Reservations
Price $19.00 | More Information
The Divi Restaurant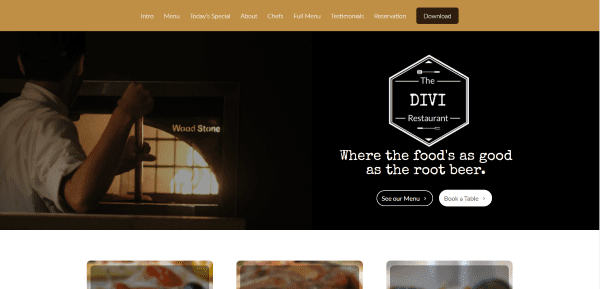 The Divi Restaurant is a free layout pack from CakeWP with a one-page design. Sections include intro, small food menu, today's special, about, chefs, full food menu, testimonials, and reservation contact form, contact information, social follow icons, and a Google map.
Features Include:
1 page layout pack
8 sections
Small food menu
Full food menu
Reservations
Price $0 | More Information
If you want another layout pack, check out Diner from right here at Elegant Themes.
Final Thoughts
Between these child themes and layout packs you can get your restaurant website up and running quickly and easily. They include everything your restaurant website will need including food menus and reservation systems, and some even include stores with WooCommerce integration. No matter what your restaurant website needs you're sure to find it on this list.
Child theme not something that works in your situation? Don't worry. There are tons of WordPress restaurant plugins and food item menu plugins that can give you similar functionality.
What's your favorite restaurant child theme for Divi? Let us know about it in the comments below.
Featured Image by 3DDock / shutterstock.com