Customer Relationship Management (CRM) tools are one of the most helpful parts of your business. Being able to keep track of your customers, lead generation, contact history, and so much more is essential to running an efficient business. Especially an online one. However, you might not want to use an external platform like HubSpot or ZoHo. If you want to keep things in your own WordPress dashboard, there are a number of options that you can choose from that will keep the money flowing and the customers happy.
Subscribe To Our Youtube Channel
1. vCita CRM and Lead Management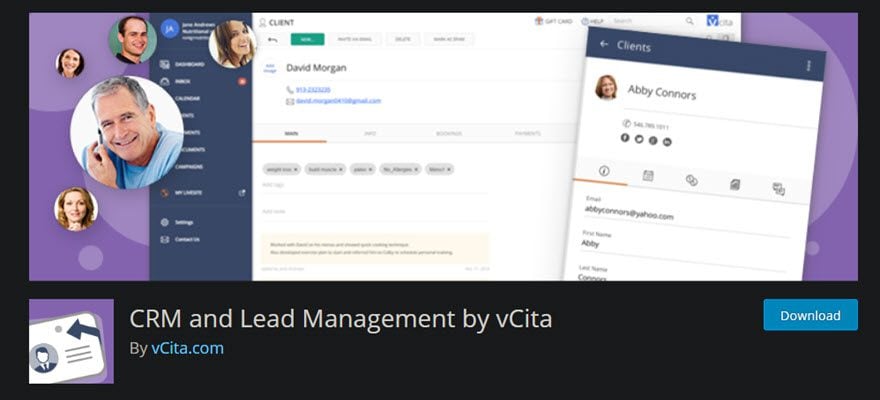 We have covered vCita plugins before, and they are pretty impressive. So it shouldn't be any surprise that their CRM plugin would be, too. A part of their small business management suite, the CRM tools full-featured and robust, letting you take payments, put the onus of starting a conversation on the clients, messaging with them after that, and setting up meetings easily and fluidly, all while tracking their journeys through the process so they can be funneled to the right person on your team.
vCita doesn't make the simplest software out there, so you may have to put in some time learning how things work and getting the details sorted, but when you do, your WP back-end will be connected to an incredibly powerful platform that won't disappoint.
Price: Starting at $19 per month | More Information
2. WP-CRM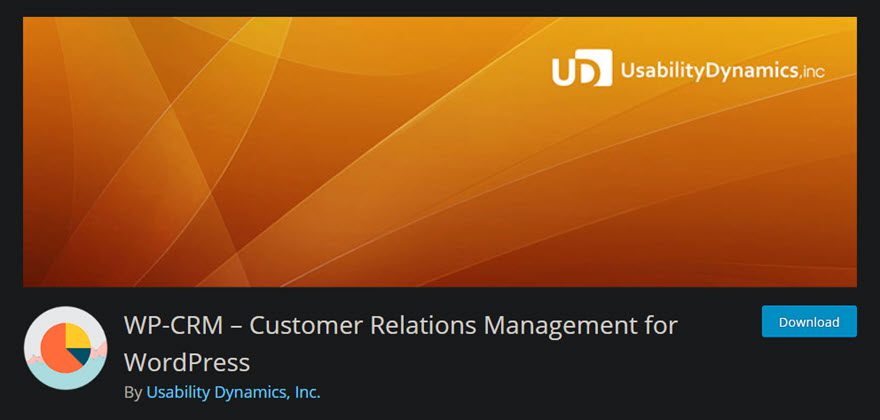 WP-CRM is exactly what it sounds like: a CRM for WordPress. Well-named, right? As the plugin page says, "your WP control panel can effectively be used to manage all your customers, vendors, partners, affiliates, etc." By utilizing the base WordPress user system, the CRM plugin lets you take information that you likely already have and make better use of it than you can by default. You can manage correspondence and messaging, add labels and attributes to them so that you can filter results and find who you need quickly, and much more. If the free plugin on the WP.org repository isn't enough for you, there are add-ons that you can purchase to expand the functionality of the CRM in your dashboard. And if there's something you'd like in the system that hasn't been added, there's an open GitHub repo. That way, you can contribute to the project yourself.
Price: FREE with premium add-ons | More Information
3. UpiCRM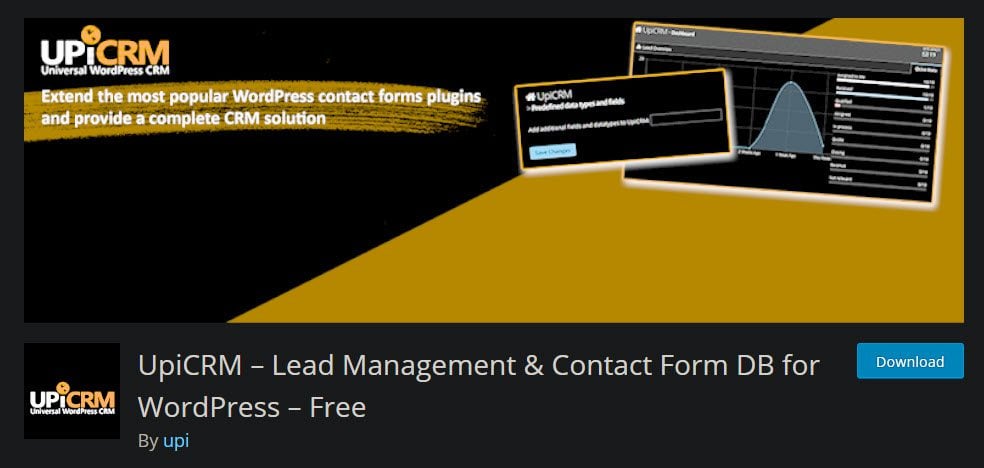 At their core, Customer Relation Management systems are really fancy contact forms and email systems. They keep track of who you've talked to, when, and the general history of their communications with you. UpiCRM takes that base and runs with it. Because there are roughly 14 gazillion contact forms on the WP.org repo, Upi lets them do the heavy lifting. By integrating with pretty much all the major players ("WPforms, Contact Form7, Contact Form 7 DB, Gravity Form, Ninja Forms, CalderaForms, Cforms" and more according to the plugin page), Upi is free to work on the CRM features that matter the most to you: the relationship and lead generation. Honestly, UpiCRM is one of the most fleshed-out CRMs you can have in your WP dashboard. You have analytics, user funneling, hierarchies, tracking, external lead aggregation. As well as team set-up and collaboration, customer lifecycle, and more. And did we mention it's free? Well, it is. There are zero reasons not to give it a shot now.
Price: FREE | More Information
4. Perfex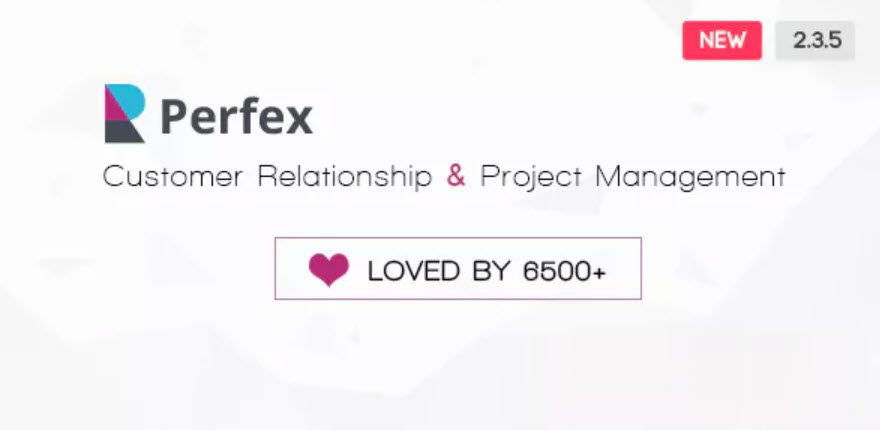 Perfex is a premium CRM that comes in at $59 on CodeCanyon. Don't let that sway you, though. Because in this instance, you certainly do get what you pay for. Invoicing is one of the major highlights of the software, and on top of that, there's a ticketing system where you can track support issues as well as customer inquiries and communications. Like external CRMs like HubSpot, Perfex can track time so you can bill effectively, track your leads and import them from different places, as well as annotate them and create team-based proposals so you know what stage of the process everyone is on with everything. Surveys, goal tracking, and even internal messaging/memos/announcements can keep your team in-the-know. Additionally, Perfex uses custom fields for the customer data and leads, so you likely already know how to work with these from the moment you install it. With reports and user/staff privileges, if you want an affordable CRM that can compete with the Big Names, check out Perfex.
You can log into the sandbox demo for the CRM plugin and give it a test run yourself.
Price: $59 | More Information
5. WP ERP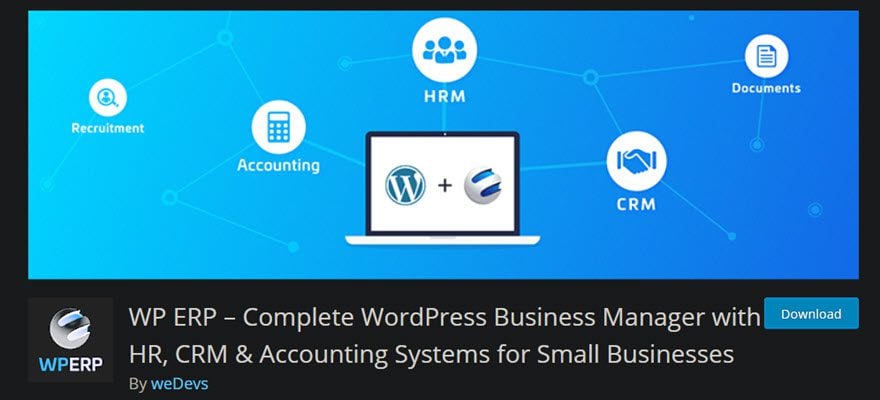 WP ERP isn't just a CRM. It's a full business manager that just happens to include CRM as a core part. The plugin page for WP ERP says the plugin comes with three core parts : HR Management, CRM, and Accounting — with Project Management available through a secondary plugin. If this sounds too good to be true for a free plugin on the WP repository…it is. In the free version of the WP ERP CRM (how's that for an acronym?), you get contact management and filtering, schedules for users and clients and staff, reports, and various contact groups and life stages of their relationship with you. For some users, those are the major points of why they need a CRM. In the premium versions, of which there are 5 tiers, you can get HubSpot, MailChimp, Salesforce, and WooCommerce syncing, integration with Gravity Forms as well as extras like SMS messaging to customers and clients and so on.
The pricing isn't absurd, though, because the tiers run from $149 to $1199 per year, and those are very competitive with other CRM platforms. The major elements missing from the free plan for most folks will be external syncing and email campaigns, but if you handle that outside of WP, you will find a lot to love here.
Price: FREE with tiers between $149 – $1199 per year | More Information
Wrapping Up with CRM Tools
You will find no scarcity of CRM platforms out there. And the vast majority of them are very well-made and will suit your needs just fine. Some have decades of experience behind them, while others are newer but scrappy. They're all generally external platforms that take you away from your WP admin dash. However, if you want to keep everything in one place, use WP to its fullest and still keep your team and customers in perfect working order, one of these CRM plugins for WordPress will absolutely get the job done for you.
What CRM software or plugins have you used in the past, and what has made you stick with the one you have now?
Article featured image by by Golden Sikorka / shutterstock.com
Disclosure: If you purchase something after clicking links in the post, we may receive a commission. This helps us keep the free content and great resources flowing. Thank you for the support!