Very simply, blog commenting is what it sounds like: leaving a comment on a blog post, usually along with your username and a link to your site. When done correctly, blog commenting for SEO is a non-spammy way to rank higher in SERPs. But handled incorrectly, blog commenting can harm your reputation and online presence. In this article, we'll tell you how to harness the power of blog commenting so you can increase traffic and nurture your network.
How Do Blog Comments Help SEO?
Blog commenting can improve your SEO in a number of ways, both directly and indirectly:
Brand Awareness: By consistently commenting on industry blogs, you'll become recognizable in your niche.
Ideation: Exchanging ideas, opinions, and thoughts with others clues you into how people truly feel about a topic — and maybe what you can cover in your own content.
Relationships: By discussing the article topic, you can start to form connections with the writer and other readers. You may even be invited to guest blog on the website.
Traffic: Leaving a valuable comment on an industry-relevant article can encourage readers to learn more about who you are, leading them to your website.
However, the only way to make blog commenting for SEO beneficial is if you know what — and what not — to do.
A Note on Backlinks
Before we move on, we want to mention backlinks. Blog commenting used to be primarily a backlink-building strategy. Today, for a number of reasons, this is no longer the case. On top of search engines getting savvy to the tricks of spammy commenters, most blogs set links in comments to be nofollow links. That doesn't mean a reader can't or won't click a link and make their way back to your site, just that those links aren't backlinks in the SEO-centric sense. Google and other search engines aren't going to take that link in a random blog's comment section as a vote of confidence. Though users very well may.
Blog Commenting for SEO Best Practices
Use your full (and real) name instead of your brand name or a keyword. If you need to use your brand name, make sure to still use your full name along with it. Spammy comments often simply use a brand name, and you want to appear as non-spammy as possible.
Be the first person (or at least among the first) to leave a comment. Tools like Google Alerts come in handy to find new keyword-related posts fast. Your comment will remain at the top and be seen most often by visitors.
Mention the writer by name to personalize your comment.
Stick with the conversation. If someone replies to your comment, write them back.
Actually say something. While it's nice to hear "thanks, great article!" from a reader, that doesn't start or continue a conversation. Find a point in the article to specifically discuss.
A Word About Dofollow Comments
To pass link equity (link juice) — when links pass authority and value from one page to another — comments need to have dofollow links instead of nofollow. It can be pretty hard to find blogs like this, and some blogs that say they have dofollow links actually don't. So, our best advice is to take a little time to see if you can hone in on these sites, but don't go crazy. There are many more reasons why blog commenting for SEO is useful beyond building backlinks.
How To Find Blogs To Comment On
You want to comment on quality blog posts that are relevant to your niche, and that includes industry blogs and larger, more mainstream blogs. How do you find them, though? If you wait until you stumble across one, you won't get nearly enough blog commenting for SEO done on a regular basis. Here's how to be proactive about seeking out blogs that you can comment on:
Keep Up With the Latest Headlines
Sure, you can subscribe to each leading news source and get the latest headlines in your inbox. Or you can head to AllTop, which gathers the top headlines from major sources for you, all skimmable from the homepage. Some articles will be time-sensitive and others will be evergreen, giving you a decent selection of popular articles to potentially comment on.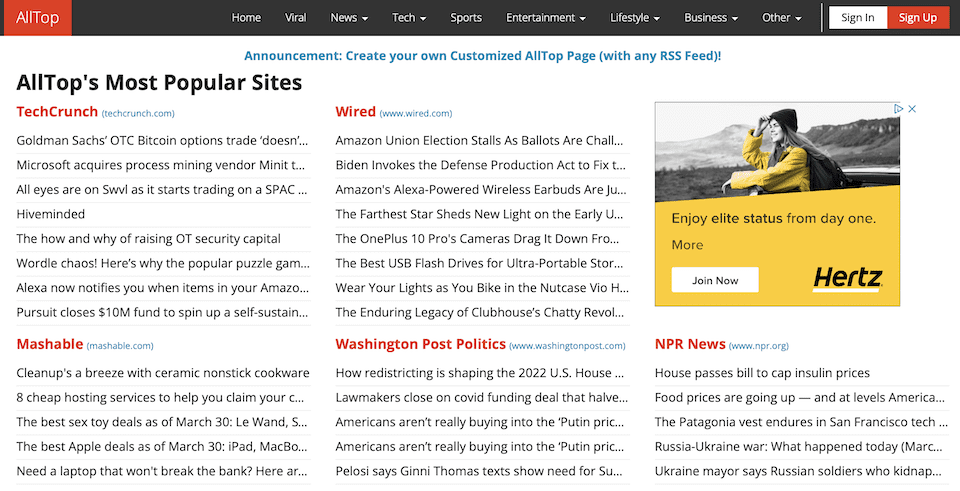 Search a Website Using a Google String
Let's say you want to comment on blog posts on a website that covers a lot of different subjects. An alternative to an internal search on the website is to use a Google search string. For example, searching for writing site:elegantthemes.com returns all writing-related content on the Elegant Themes website: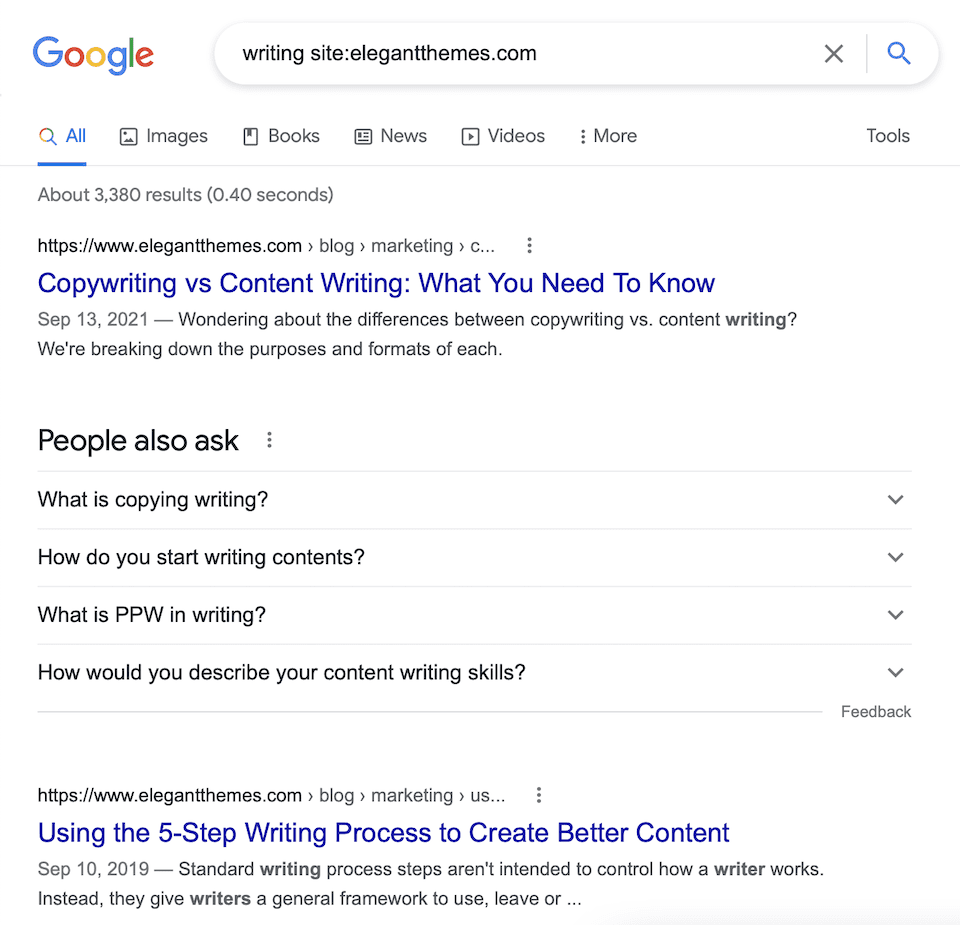 You can do this with any website. In Google, search for the keyword or keyword phrase, followed by site: and the website URL. Plug the information into this: KEYWORD site:URL.
From there, filter by duration so you're not bothering with older content. When using Google on Safari, for instance, go to Tools > Any Time and then select something like Past Month.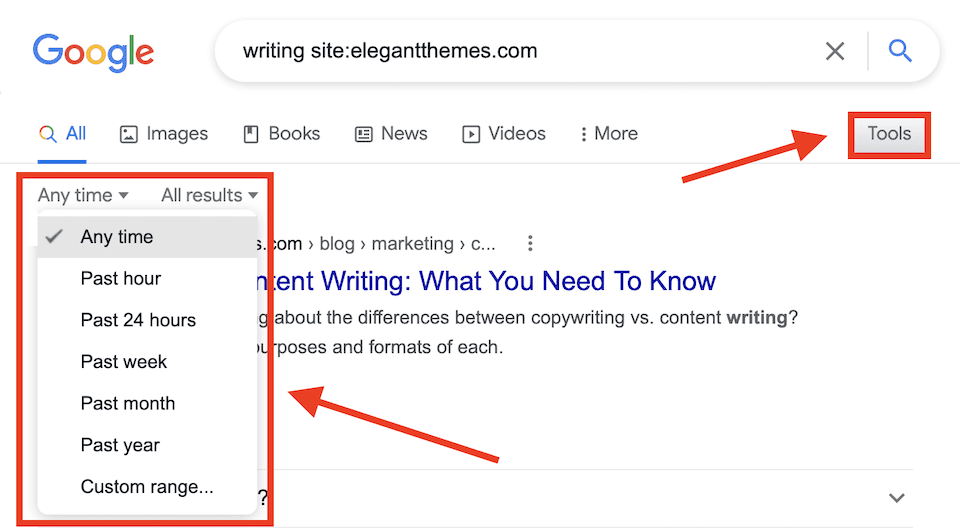 Use a Content Curation Tool Like Feedly
Feedly (and tools like it) gather the content you're interested in so that you have just one stop to make to learn more. You add sources like a specific blog you want to follow or a keyword that relates to your niche. Anytime something new is published, Feedly will collect and organize the content for you. Learn all about how Feedly works here.
Set Up Google Alerts
If you're going to check Feedly once a day or a few times a week, you may not get notified of pressing information the minute it's published. When you want to be able to comment on the latest news or content as soon as it goes up, you need a quicker way to know about it. Google Alerts can be set so that you get an email right when content is posted. (You can create the same type of alerts within Feedly, too, by the way.)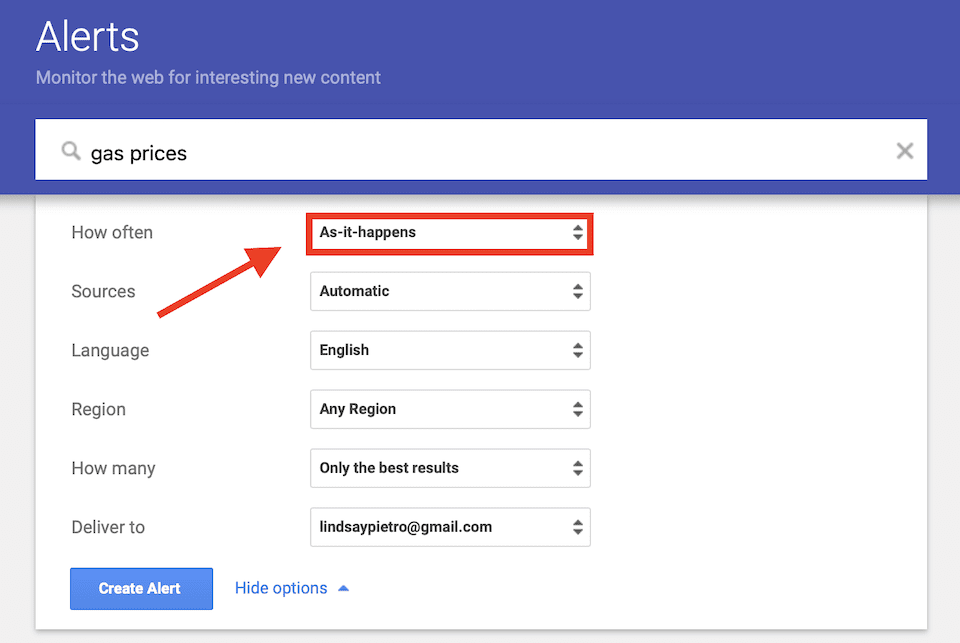 Find Influencers on Twitter With Followerwonk
Followerwonk lets you look for Twitter users, whether you're already connected to them or not, who are influential and have active profiles with strong followings. You can search by Twitter profile or Twitter bio, as well as location, number of followers, number of Tweets, and more. By finding influencers in your niche on Twitter, you can click through to their websites to look for blogs worth commenting on.
Risks of Blog Commenting for SEO
At one point, blog commenting was the way to get backlinks. And while it's still one of many techniques to use in a content marketing strategy, it's not the backlink powerhouse it used to be. Why? People abused the system and search engines smartened up.
How Search Engines Responded
Once it was discovered that blog commenting built backlinks, companies selling blog-commenting services showed up. As a result, even great blog posts wound up with tons of spammy, irrelevant comments. Many of these comments linked to low-quality websites.
In response, Google made some changes. One outcome was that backlinks in irrelevant comments became worthless to the sites they linked to. Plus, user-generated content like blog comments became less valuable overall.
Today, only high-authority, relevant backlinks are useful for SEO. If Google finds that comments link back to contentious sources, it penalizes those websites. So if you run a low-quality website and leave a spammy comment on a blog post that Google investigates, your website could be penalized by being ranked much lower in SERPs.
It's not all bad news, though. The fact that blog comments get lower priority from Google than they used to doesn't mean they get zero priority. Knowing what not to do — and in some cases, what to do instead — will make your blog commenting for SEO efforts worthwhile.
More Blog Commenting for SEO Risks
Aside from upsetting Google, there are a number of reasons to approach blog commenting for SEO in a savvy way. Breaking best practices can:
Get you banned or blacklisted from services like Disqus (a blog-commenting network and service).
Ruin your reputation with industry pros you had the chance to partner with and people who could've become website visitors and even customers.
Waste your time if you spend a lot of energy leaving cheap comments on hundreds of blogs that don't get you anywhere.
None of this is worth it! Blog commenting for SEO is a relatively easy and even enjoyable marketing strategy. Remain in good standing with your audience by sticking to white hat practices.
Blog Commenting: What Not To Do
There are a handful of blog-commenting habits that have gotten people into trouble over the years, whether that means getting banned from commenting or just annoying other readers to the point where they ignore what you have to say.
Don't Ignore Website Policies
Some websites have guidelines that say you can't include a link in your blog comment. Ignoring these rules can get you banned, and your comment will probably be taken down, too, so abide by each site's policies. Many blogs even filter all comments that include links in the text and put them directly in the spam folder.
You can either forgo commenting on a blog post if you can't include a link, or you can still comment in the hopes of sparking conversation or getting the attention of other users who will find your website another way, like by Googling your business name if you mention it in the comment.
Don't Skip Reading the Blog Post
You cannot write a thoughtful, suitable comment if you haven't even read the blog post. It's pretty obvious when you haven't actually read what you're talking about. It's tough to stay on topic or say something that's not shallow when you've only read the title and maybe skimmed the section headers. And it's also a waste of the writer's time to have them read a comment that clearly doesn't relate to the content.
Don't Post Short, Generic Comments
As we mentioned above, is a comment like, "Great blog post!" going to get you anywhere? Nope. How could it? Comments like that are going to be skimmed over, if they're approved by the blog owner at all. Nobody is going to engage with you in conversation or be compelled to check out your website.
Instead, write a comment that's insightful. Add value to the information that's already there. Maybe share a related experience you've had. Talk about what you found most interesting or helpful. You can even ask a question and drop in a hint that will drive people to your site, like, "I use tip #5 with my clients all the time! Do you find it helps if XYZ?"
Think of the comment as micro-blogging. It can be as short as a few sentences, but if it's two to three paragraphs (200 to 300 words, approximately), even better.
Don't Always Link to the Same Page
There may be times when it's most relevant to link to your home page. But more often than not, you'll probably have a landing page or blog post that's more aligned with the content you're commenting on. In those cases, link back to that instead. You can use a landing page plugin to quickly build content-specific landing pages for your site, without creating duplicate content. This can increase the chances of people clicking it, and they're also more likely to stay on that page if they find pertinent info.
Don't Use a Posting Tool Like ScrapeBox
These tools work around the clock to post generic, spammy comments on blog posts, which is penalized by Google. Just don't.
How To Make Your Blog Inviting for SEO Comments
There are a lot of ways to make your blog more inviting for SEO comments. Basically, you want to make it easy for users to leave a comment, and you should create a welcoming atmosphere where they feel like they want to comment.
Write in a conversational tone. A blog comment is like the continuation of a conversation. If you want readers to feel welcome to leave a comment, speak to them through your content in a way that's colloquial.
Ask for comments in the CTA. At the end of your blog post, use the call-to-action (CTA) to ask readers for feedback or to share their opinions or experiences. Asking a question is especially useful, as it prompts people to answer.
Remove barriers. Aside from requiring the reader's name and email address, don't make them jump through any hoops to leave a comment. Unless your website has an exclusive community, nobody should have to log in to leave a comment. However, it's OK to have a tool like Disqus as an option, because people who use it can log in through your comments section and enrich their comments.
Keep commenting on evergreen articles open. When it comes to evergreen articles, the hope is that people are going to continue reading them as the months or even years go on. In this case, don't automatically close the comments section on articles that are a certain amount of days old.
You can also make your comment section more engaging or easier to use with the use of a comment plugin.
Final Thoughts About Blog Commenting for SEO
While blog commenting for SEO may not be as effective as it once was, especially when it comes to generating quality backlinks, it's still a strategy you should use as part of a larger marketing campaign. Remember, you don't have to use every single blog commenting tip at the same time. Start with one or two, see how it works for you, then decide if you want to try out another one or two and track your results.
What is your blog commenting strategy? Let's talk about it in the comments!
Article featured image by sumkinn / shutterstock.com