When you're in the market for a new WordPress theme for your website, one of the most important things to consider is speed. The faster a website loads, the better the user experience. Plus, you'll have a better chance of getting more eyes on your site, especially since Google's algorithm favors fast-loading websites. Therefore, it's essential to choose a WordPress theme that is optimized for speed. In this post, we'll discuss what to look for in a WordPress theme, the benefits of using a fast WordPress theme, and list our picks for the ten fastest WordPress themes in 2023.
Let's dive in.
What to Look For in the Fastest WordPress Theme
When considering the fastest WordPress themes for your website, it's important to look for one that prioritizes speed and performance without sacrificing features, functionality, and design. A fast theme can improve your visitor's experience, reduce bounce rates, and boost your search engine ranking page (SERP) position. Start by looking for a lightweight theme that uses minimal resources, focuses on low HTTP requests, has clean, optimized code, and avoids bloated or unnecessary scripts.
Your chosen theme should also be responsive, which means it's optimized for all screen sizes. Mobile design is especially important, considering Google uses a mobile-first algorithm to prioritize its results. Also, remember to evaluate the level of support the theme's developer provides. After all, support is crucial when encountering any issues when building your website. Choosing the right theme allows you to create a website that loads quickly and provides an excellent experience for your site's visitors.
10 Fastest WordPress Themes in 2023
When building our list of the fastest WordPress themes, we considered a few factors. First, and most importantly, is page speed. Secondly, we relied heavily on web core vitals, such as first contentful paint, page size, and the required HTTP requests. Finally, we considered reviews. After all, there's a lot to be said about community feedback. So, without further delay, let's get on to our list.
The Fastest WordPress Themes Listed In Order
Expand List
1. Divi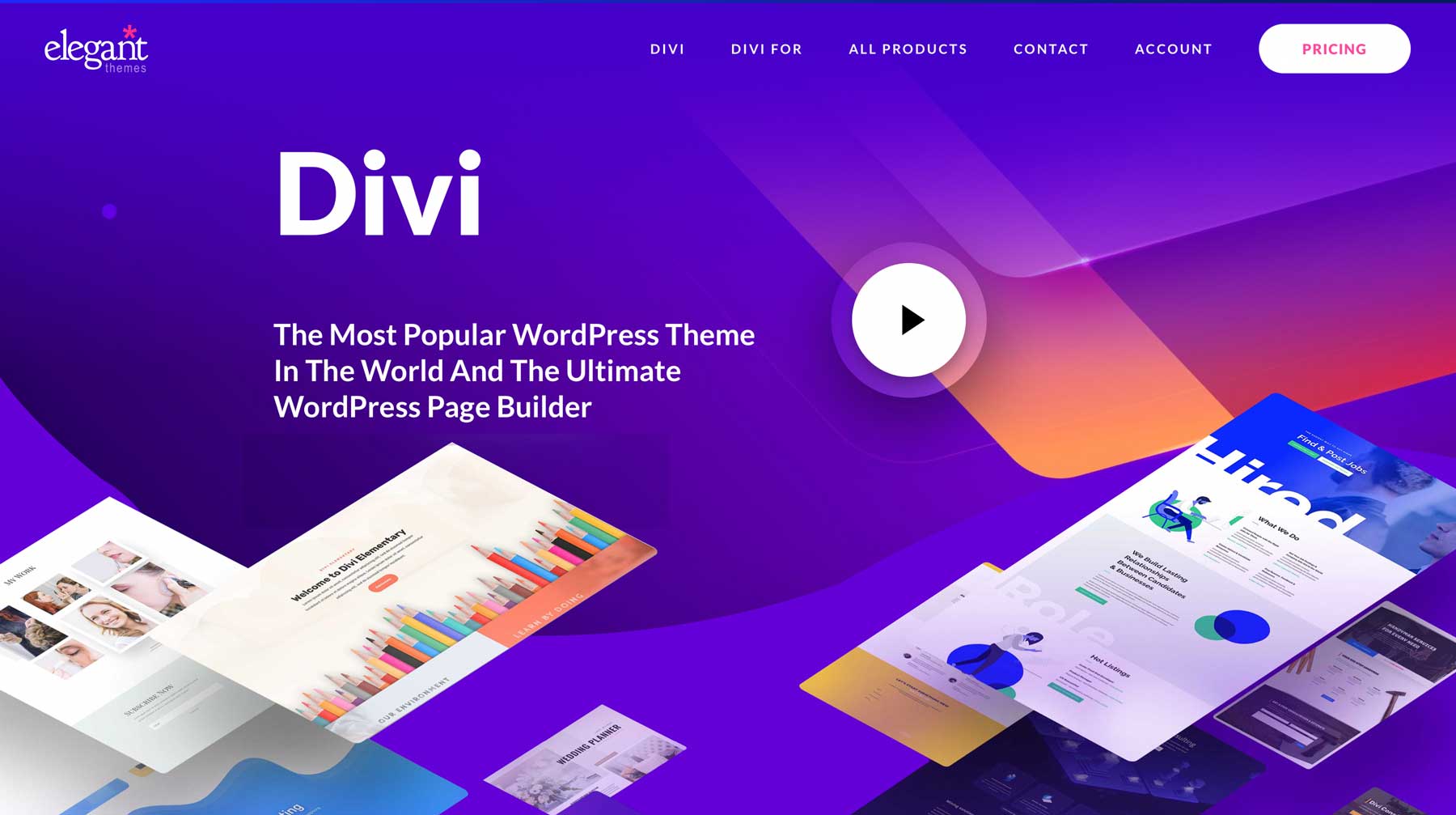 Divi is the most robust WordPress theme on the market. It comes packed with design features, including over 200 modules, a no-code front-end Visual Builder, and the ability to create custom templates with Divi's amazing Theme Builder. Additional notable features include an impressive layout library, which contains more than 2300 professional designs, WooCommerce integration, and stellar support. However, the most impressive thing about Divi is that despite all this amazing tech, it's lightning-fast.
Key Features of Divi:
Performance options panel
Modularized PHP framework
Defer CSS and Javascript</li.
CSS stylesheet size 54kb
GTMetrix score: 100%
Google Page Speed Score: 100%
Google font caching
Lazy Loading
Asynchronous Javascript
Divi is a super lightweight, highly customizable full-site editing theme. It uses a modularized PHP framework, which means Divi's design elements are loaded on demand based on the modules and features you use. For example, if you only use eight design modules on a page, Divi will only load the required code to allow those modules to function while eliminating the ones you aren't using. It also has built-in technology to automatically identify critical CSS while deferring non-critical styles, so your site will load fast. It won't bog down due to duplicate styling. Plus, Divi's total theme-wide CSS size is a mere 54kb. Additionally, Divi puts the performance in its user's hands by providing a comprehensive performance dashboard with options to control the level of caching, render-blocking requests, and unneeded resources.
Best For:
Divi is an excellent choice for beginners and seasoned web developers alike. With a lightweight footprint, impressive design features, and the ability to create unlimited looks for your websites, Divi is perfect for just about anyone.
Pricing: Licenses start at $89 per year.
2. Hello Elementor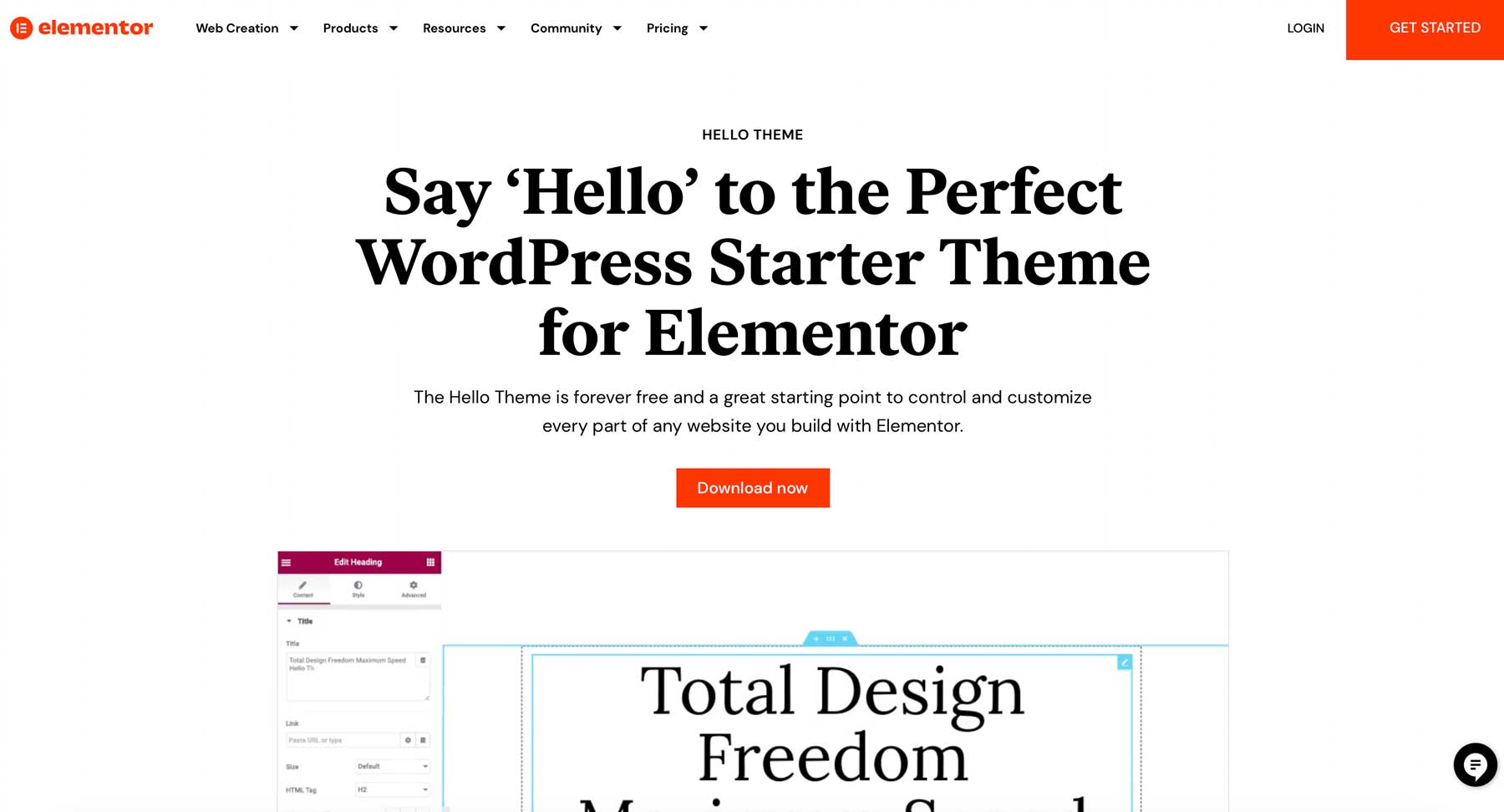 At the top spot on our list, Hello Elementor is one of the fastest WordPress themes available. You can build a light, fast-loading website without coding with a lightweight frame and unlimited customization options. Made for use with one of the best page builder plugins, Elementor, you can choose from over 100 design widgets, over 300 pre-made designs, and onboard WooCommerce support.
Key Features of Hello Elementor:
6kb page size
.25 second GTMetrix page load time
Minimal HTTP requests
No-bloat optimized code
The best thing about Hello Elementor is how fast it is. With a minuscule page size of only 6kb, your website's pages will load nearly instantly. GTMetrix results boast a .25 second page load time, minimal HTTP requests, and no-bloat WordPress optimized code to provide a fast, stable, responsive website as the basis of a great framework.
Best For:
Hello Elementor is perfect for creators of all skill levels thanks to its no-code drag-and-drop page builder. With unlimited customization options, hundreds of premade designs, and compatibility with WooCommerce, you can build a fast, mobile-friendly website in minutes.
Pricing: Free, with a pro license starting at $59 per year.
3. GeneratePress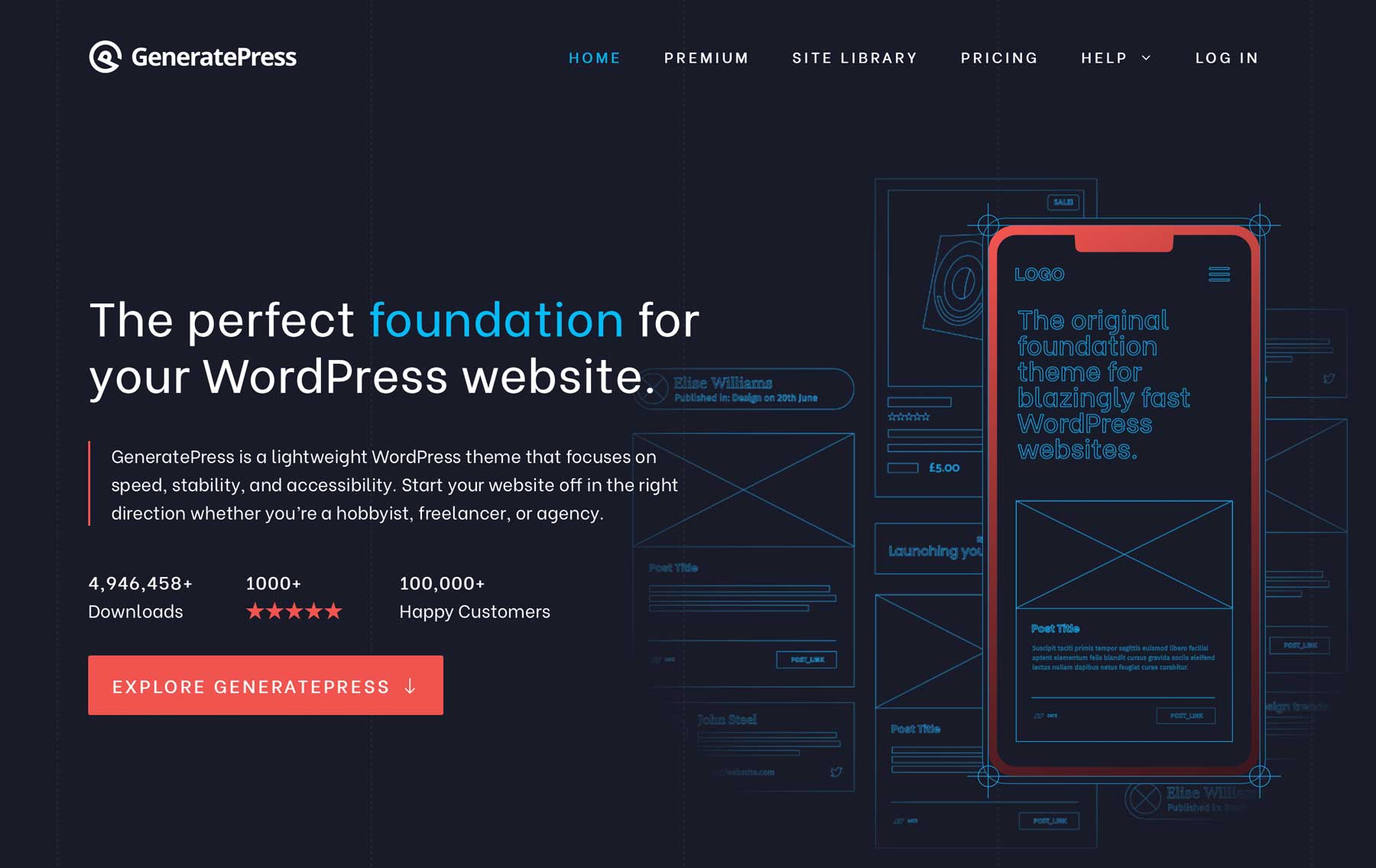 Up next is GeneratePress, one of the best block themes out there, with a lightweight framework optimized for speed. In addition to using blocks, you can install one of your favorite page builders, such as Divi, Elementor, or Beaver Builder, or add the Generate Blocks plugin to extend customization options. Don't have time to design your site? No worries. With GeneratePress Premium, you can build your site on one of a hundred professionally designed starter templates, all with the same speedy features that make GeneratePress a worthy contender.
Key Features of GeneratePress:
Google 100% page speed score
7.5kb page size
2 HTTP requests
Zero dependencies
GeneratePress is a theme that truly stands out when it comes to performance. It proudly flaunts impressive scores on Google and GTMetrix, showcasing its commitment to delivering exceptional results. Even with a basic ecommerce site, you can anticipate an almost perfect 100% page speed score, thanks to its remarkably small 7.5kb page size.
But that's not all — GeneratePress takes performance to another level by minimizing HTTP requests to just two, ensuring your website operates smoothly and efficiently. What sets it apart as one of the fastest themes on the market is its independence from external dependencies like jQuery. Its code is specifically optimized for WordPress, making it a powerhouse that launches your website to lightning-fast speeds.
Best For:
GeneratePress is the ultimate choice for Block Theme enthusiasts. Its compact size, optimized code, and page builder compatibility make it the perfect solution for creating a site from scratch or using one of the provided starter templates.
Pricing: Free, with premium prices starting at $59 per year.
4. Neve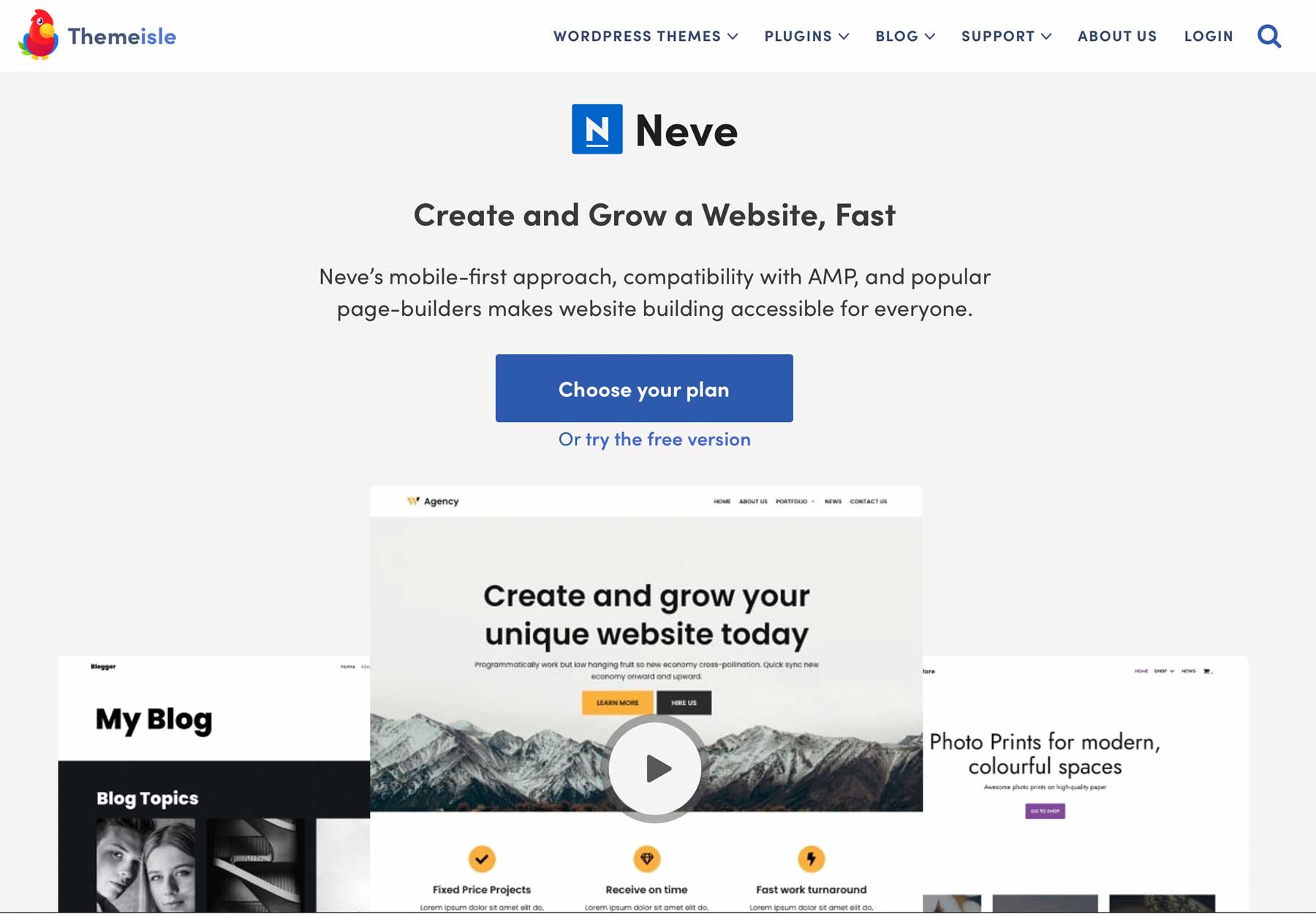 Our next theme, Neve, is one of several offerings from ThemeIsle. It provides a mobile-first approach, can be used alongside any of your favorite page builders, and offers compatibility with accelerated mobile pages (AMP). By including these features, Neve secures itself as one of the faster themes on our list, making it easy to encompass what you need to make Google's SEO algorithm happy.
Key Features of Neve:
28kb page size
GTMetrix load time .6s
Google 100% page speed score
Neve is confident in its ability to be a speedy option for the masses by providing concrete speed scores on its website. With a 28kb page size, 100% Google page speed scores, and a GTMetrix page loading time of .6 seconds, it's easy to see why. In addition to speed and performance optimizations, Neve offers more than 100 premade templates, global color palettes, multiple blog, header, and footer templates, and stellar support.
Best For:
If you need a speedy website for your ecommerce store, try Neve's premium license. It has tons of WooCommerce enhancements, such as a quick view, cart notices, off-canvas product filtering, a wishlist feature, and more.
Pricing: Free, with a $99 per year premium version.
5. Astra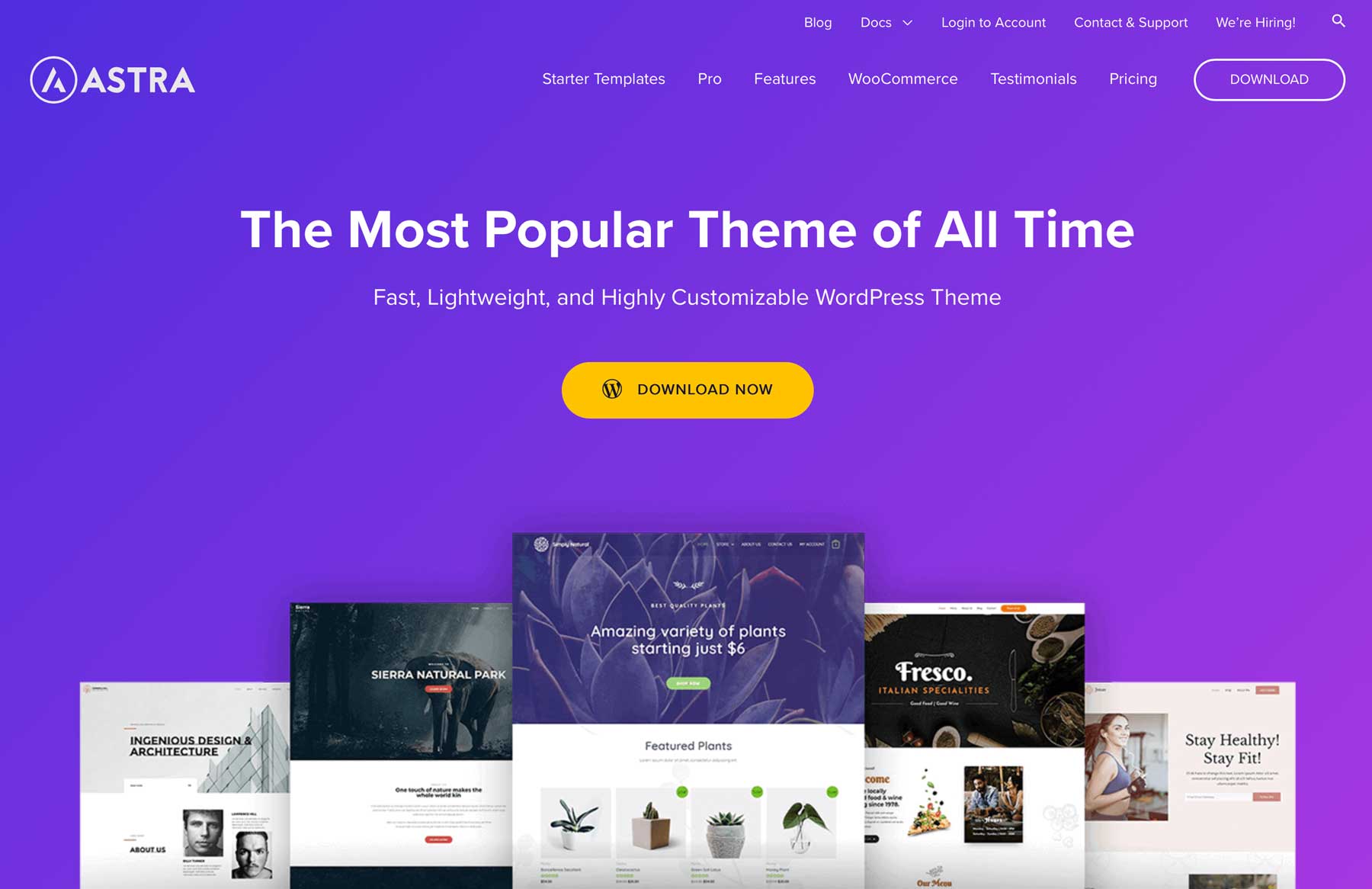 Astra is one of the most popular, easiest WordPress themes to work with. Out of the box, Astra comes with over 240 premade design templates for all major business categories that you can import with one click. From there, it's as simple as adding text and images, setting your global colors and typography, and you're off to the races. However, thanks to major page builder support, you can build any site you'd like.
Key Features of Astra:
Google page load time of .4 seconds
50kb page size
No jQuery, uses only vanilla javascript
Self-hosted Google fonts
Optimized WordPress code
Astra's main focus is performance. It's based on a vanilla javascript framework with no jQuery. Therefore, you don't have to worry about render-blocking code slowing your site down. Plus, it only requires about 50kb worth of resources to run the entire theme, which gives it a massive speed boost. Additional performing enhancing features include a half-second page load time, optimized code, and self-hosted Google fonts, so your site won't have a bunch of time-sapping HTTP requests when visitors land on your site.
Best For:
If you need a simple, lightning-fast website with hundreds of pre-made themes, give Astra a spin. You can use the free version to decide if it's right for you. Upgrading to a premium license adds massive amounts of features, such as WooCommerce upgrades, a mega menu, the ability to white-label WordPress, and more.
Pricing: Free, with a $59 per year pro version.
6. Sydney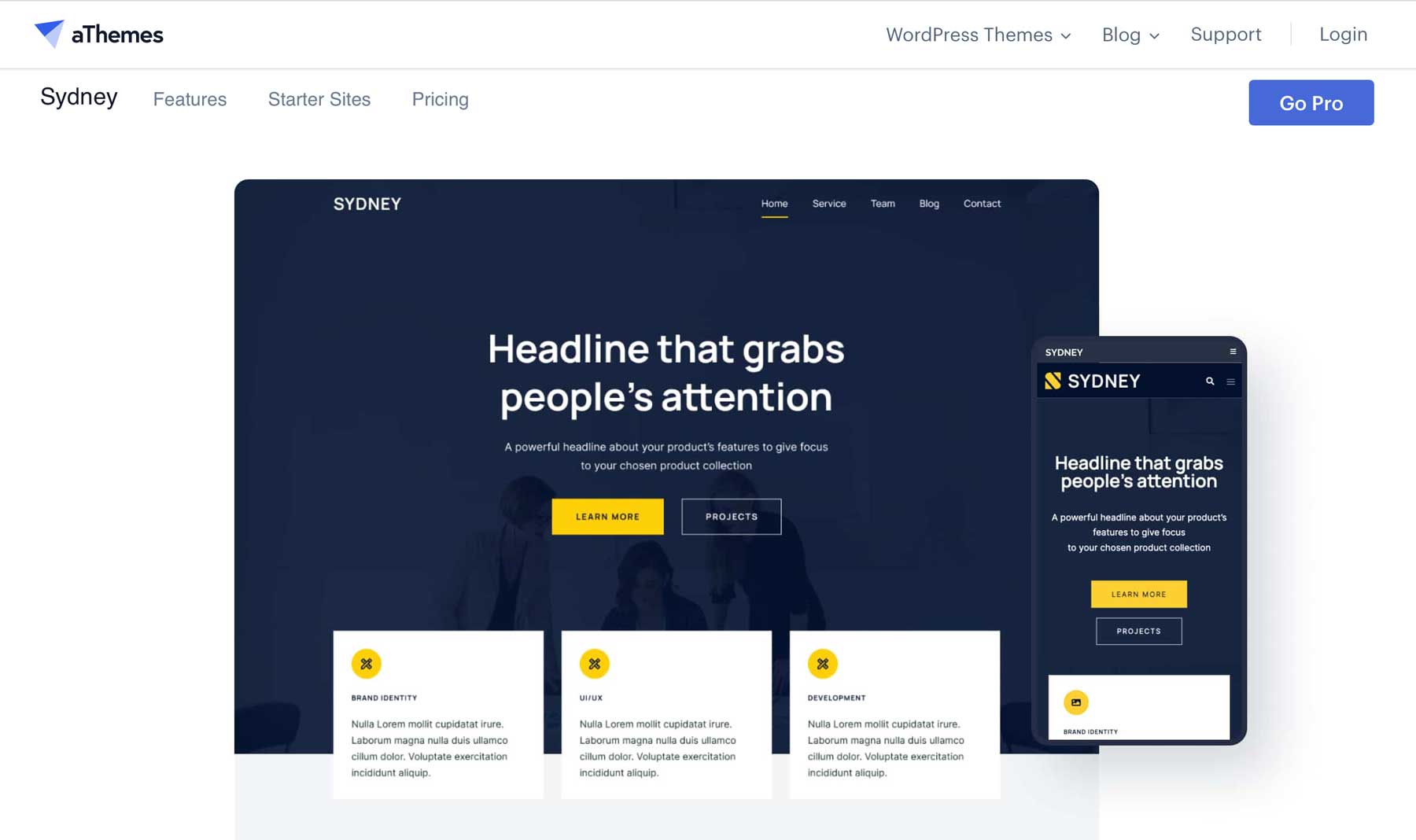 The next entry on our fastest WordPress themes list is Sydney. Available in free and premium versions, Sydney offers many features that make it worthy of consideration. With multiple layout options for blog posts, sidebars, headers, and footers, you can easily create a layout that suits your business. If you need a little creative inspiration, dozens of pre-built sections, elements, and designs are available. That, combined with speed-enhancing features, makes Syndey an excellent choice.
Key Features of Sydney:
99% Google page speed score
.655s load time
Page size: 63kb
Syndey is blazing fast, sporting a 63kb page size, a little over a half-second loading time, and a 99% Google page speed score. Syndey packs a punch with options, too, so you won't have to sacrifice features for speed. With elements such as parallax backgrounds, global typography and colors, integration with plugins such as WP Forms, WooCommerce, Toolset, and stellar multi-lingual support, you can build the website of your dreams on a lightweight framework.
Best For:
Its free version includes seamless integration with Elementor and WooCommerce, multiple blog layouts, and diverse header and footer designs, giving you ample room for customization. And if you yearn for additional possibilities, the premium license offers even more features. The best part? You can explore Sydney at your own pace, thanks to the 30-day money-back guarantee, allowing you to familiarize yourself with it without any risk.
Pricing: Free, with a $69 per year premium version.
7. Schema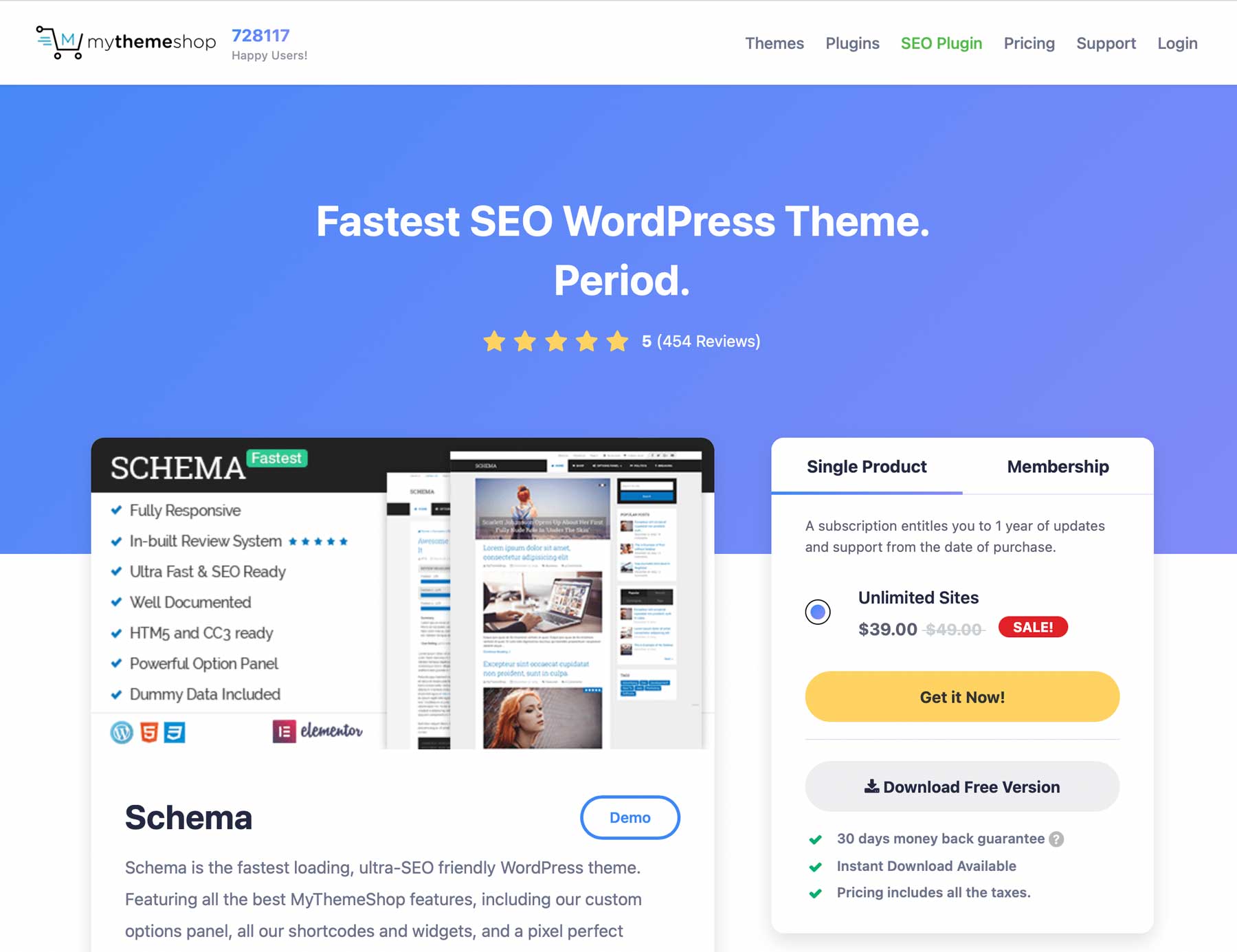 Schema is quite possibly the most SEO-friendly theme on our list. It incorporates rich snippets site-wide, so you'll get an enormous headstart on SEO. There are also many customization options, including one-click demo import and an extensive Theme customizer with options for colors, typography, layout, and more. In addition to that, you can turn your website into a money-making powerhouse with onboard ad management, a built-in review system, and integrated social media sharing.
Key Features of Schema:
Page size 96kb
.55s page load time
99% performance score on GTMetrix
Async JavaScript
Optimized WooCommerce scripts
In addition to Schema's customization features, you'll benefit from a super-fast, lightweight framework with impressive speed stats. With a page size of less than 100kb, a half-second loading time, and a 99% performance score on GTMetrix, your website will be screaming up the SERPs in no time. Another excellent feature of Schema is the stellar options panel, which gives you several performance-enhancing features. You can easily enable async Javascript, cache prefetching, lazy loading of images, and optimization of WooCommerce scripts. Plus, you can remove ver parameters from CSS and javascript files, which can help older browsers serve your website faster.
Best For:
If you want to enhance your site's performance and improve your SEO, consider trying Schema. It offers free and paid versions, allowing you to test it before committing. Creative types benefit from importable demos, installed with a single click, or compatibility with popular page builders to unleash creativity.
Pricing: Free, with a $39 per year pro license.
8. OceanWP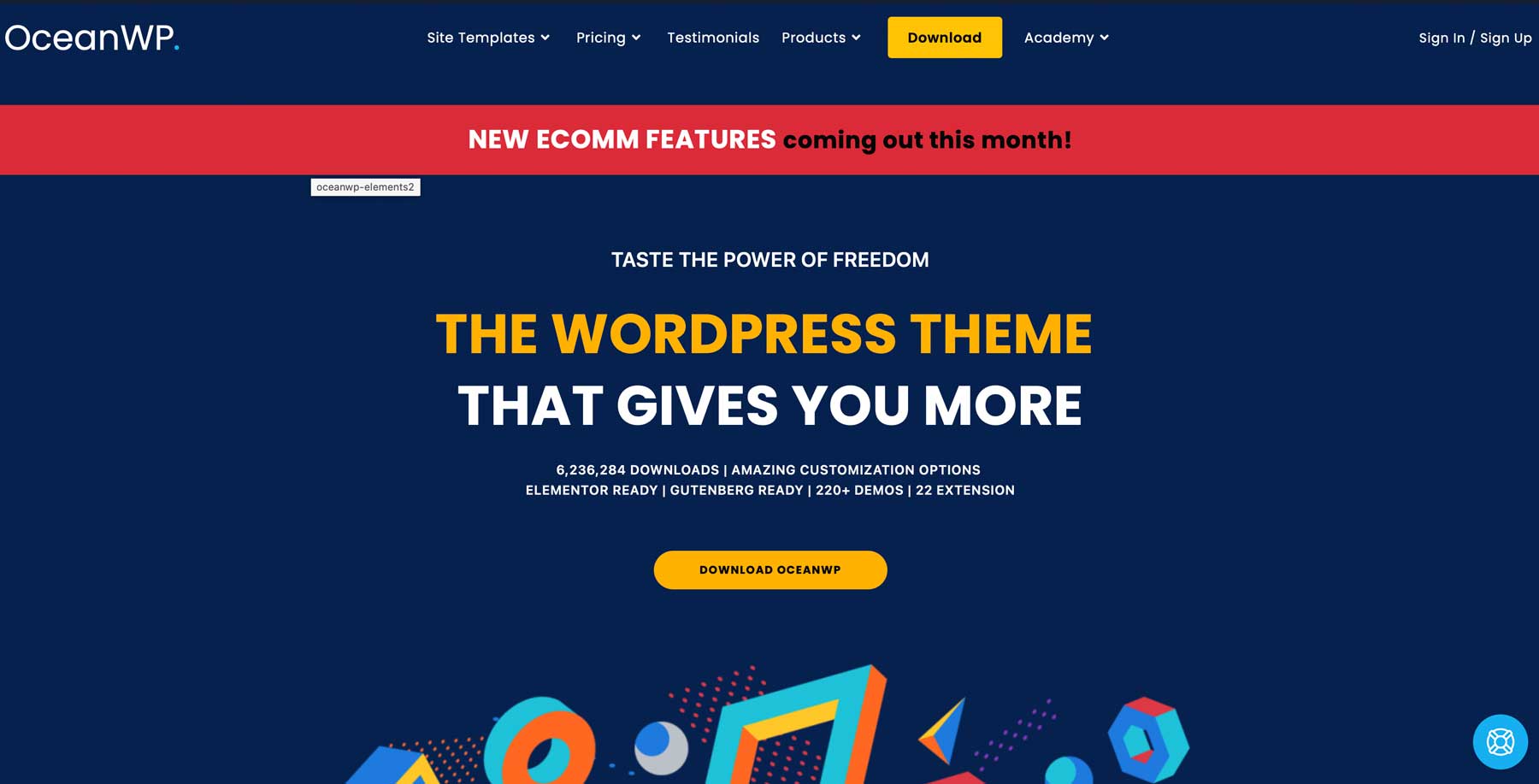 Next, we have OceanWP, a popular and highly-rated freemium theme known for its exceptional performance and customization options. With over 700,000 active installs, the proof is in the pudding. One of its major strengths is its fast load times, which is a result of highly-optimized coding. Additionally, OceanWP offers customization features such as one-click importable demos, compatibility with page builder plugins, and extensive styling options in the WordPress customizer.
Key Features of OceanWP:
Optimized code
Minimal HTTP requests
Disable unnecessary scripts
Page and post-level meta boxes
Although not the fastest option on our list, OceanWP still showcases impressive speed scores. It boasts a commendable 99% Google page speed, optimized WordPress code, and an average page loading time of less than one second, showcasing its substantial power under the hood. In addition to its speed and performance enhancements, OceanWP offers a range of other appealing features. These include individual post controls with detailed meta boxes, a scripts and styles panel for enabling or disabling unnecessary scripts, and custom hooks that further expand OceanWP's impressive functionality.
Best For:
OceanWP is both beginner and developer friendly, with unlimited customization options and impressive speed-enhancing capabilities. Users with any budget can benefit from its features thanks to the free or premium license.
Pricing: Free, with a $54 per year premium version.
9. Zakra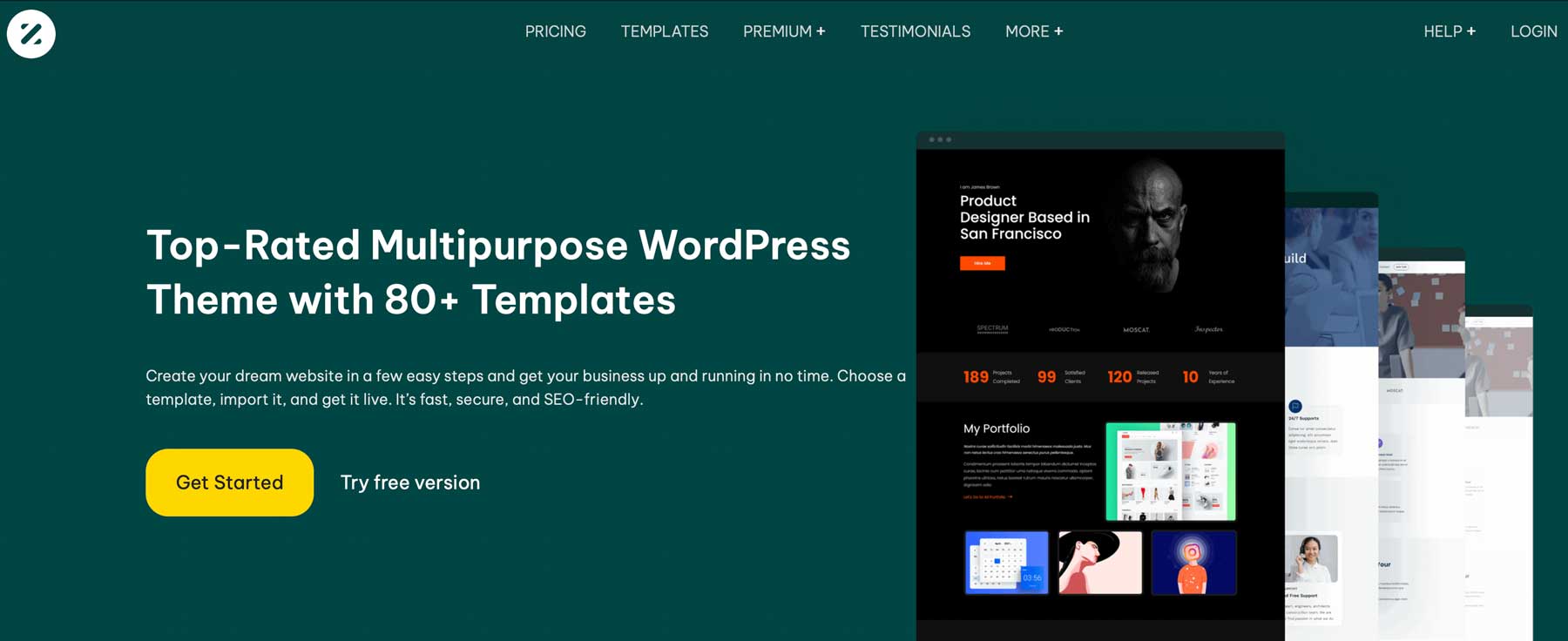 Our next theme, Zakra, takes the hassle out of creating a WordPress website and turns it into a breeze. It offers many customization options and ready-to-use layouts, allowing you to effortlessly bring any website concept to life. Whether you're looking to design a blog, set up sidebars, enhance headers, or refine footers, Zakra's multiple layouts have you covered. Additionally, Zakra includes over 800 Google fonts, all conveniently hosted locally. This means you can freely mix and match various typesets without the concern of slowing down your site due to font load times.
Key Features of Zakra:
No jQuery (runs on vanilla javascript)
AMP ready for mobile browsing
Under 1 second load time in GTMetrix
WordPress optimized code
Zakra includes several performance features that make it a speed demon. Rather than using page-draining jQuery scripts, Zakra is built entirely using vanilla javascript, which helps increase page speed. Other features include optimization for AMP, page loading times on Pingdom and GTMetrix under one second, and WordPress-optimized code to cut down the bloat.
Best For:
If you need a convenient solution for creating a fast, feature-rich website, check out Zakra. As a freemium theme, you can decide whether it suits your needs. The free version is fairly robust, but we suggest upgrading to the premium license to get the most out of it. By doing so, you'll unlock unlimited customization options, such as eye-catching header features like transparent or sticky headers, access to local Google fonts, enhanced WooCommerce functionality, and various page templates.
Pricing: Free, with a $69 per year premium license.
10. Blocksy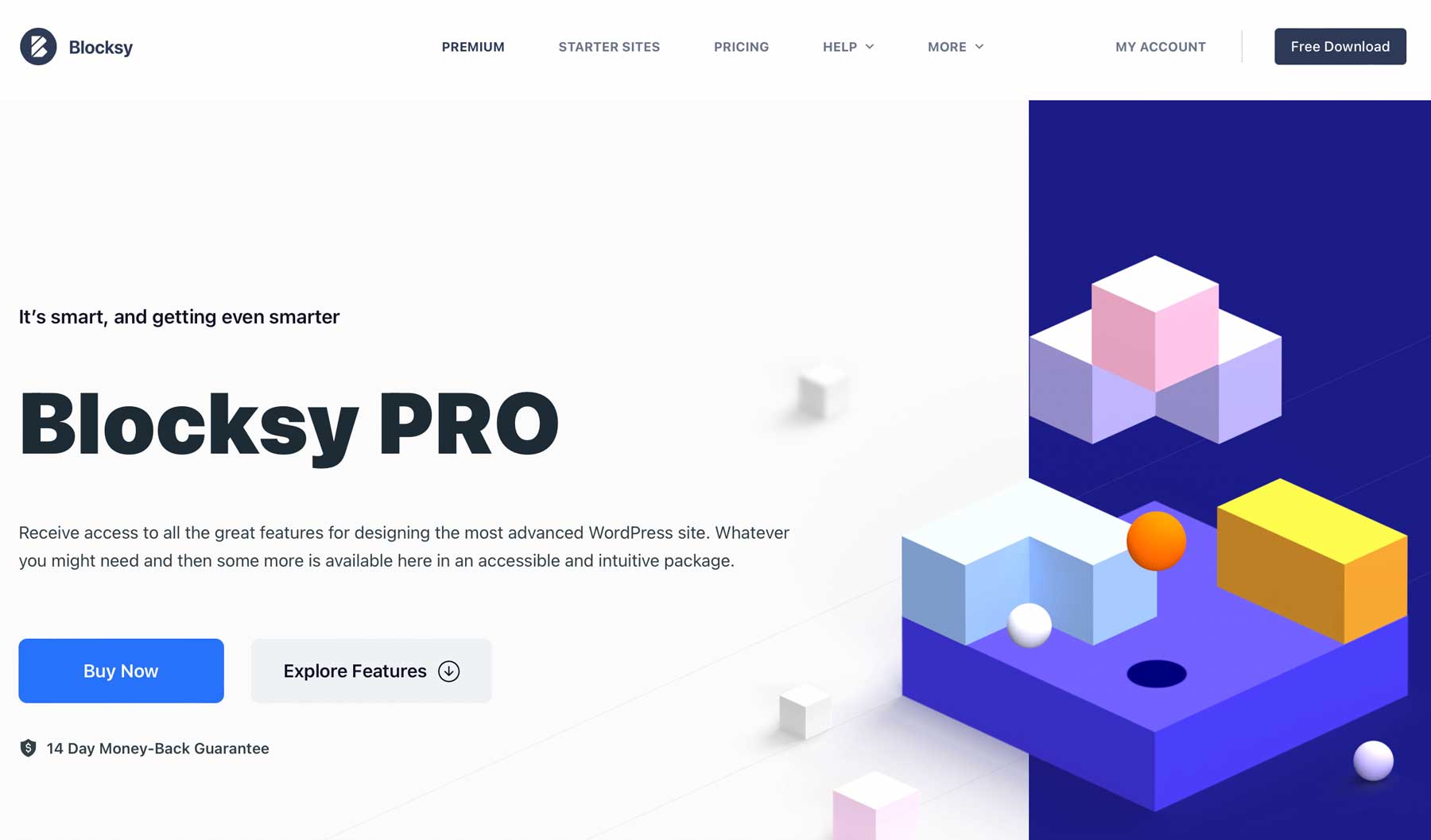 Last but not least, Blocksy is one of the most popular block themes in the WordPress repository, with over 100,000 active installations. It features a lightweight framework, is translation ready out of the box, and works with popular plugins and page builders such as Beaver Builder, Visual Composer, and Brizy. Other benefits of Blocksy are built-in WooCommerce integration, 28 demo sites, white-labeling, and local Google fonts, to name a few.
Key Features of Blocksy:
local Google fonts
Utilizes code splitting
100% GTMetrix page speed load score
Blocksy uses a unique coding structure, called code splitting, to load only the javascript needed when a user hits your website. Because of this, Blocksy consistently obtains the coveted 100% GTMetrix page speed load score. Other performance boosts include local Google Fonts and limiting HTTP requests to keep your site speedy. Another feature that makes Blocksy an attractive option is its simplicity. The theme is clean and light and gives you unlimited creative freedom to build the site of your dreams.
Best For:
If you're a developer who wants to build your kingdom from scratch, you'll love Blocksy. It provides the speed you need to rank well in search engines and is a blank canvas. However, if you ever find yourself in need of some assistance, fear not! You can easily enhance your building experience by installing a page builder like Elementor or using the user-friendly Gutenberg editor to craft your masterpiece.
Pricing: Free, with a $49 per year premium license.
Final Thoughts on the Fastest WordPress Themes
Speed and performance are the top things to consider when deciding on a new WordPress theme. Using a fast theme helps your site load faster, increases user satisfaction, and can help your rank higher in search results. Thankfully,  all of the themes on our list focus on Google's core web vitals, so your site will be speedy no matter which theme you choose. Read on to find out which of these fastest WordPress themes we recommend the most.
What is the Fastest WordPress Theme?
Of all the entries on our list, we recommend Divi and Hello Elementor. Both themes are built with minimal bloat, only including the clean code and most essential features. Because of this, both themes boast incredible fast page speed scores. This makes both themes excellent options for ecommerce sites and high-traffic blogs. Whether you want to use Divi's page builder, or WordPress's onboard block editor, either of these themes will put you miles ahead of your competition, resulting in higher rankings, more satisfied customers, and less worry for you.
Frequently Asked Questions (FAQs)
Before we wrap up, let's answer some of your most common questions regarding the fastest WordPress themes. Did we miss one? Leave a question below, and we will respond!
What is the fastest theme for WordPress?
Divi
is a top-performing theme that offers an
impressive range of options
to enhance the speed and functionality of your website. Its modularized PHP, CSS, JS deferring capabilities, lazy loading, async JS, and Google Font caching features make it one of the fastest and most efficient themes available.
What is the fastest free theme for WordPress?
Hello Elementor
is a free lightning-fast theme that boasts a clean and simple design with only the essential features. Nonetheless, it's important to note that this theme is intended to be used with the Elementor Page Builder plugin and not as a standalone theme.
How can I choose the fastest WordPress theme for my website?
To choose the fastest WordPress theme for your website, consider lightweight themes optimized for speed, and use clean code. Look for themes that have good ratings and reviews, as well as ones that offer a variety of customization options. You can also check the theme's page speed using tools like GTmetrix or Pingdom to help you make an informed decision.
What factors make a theme "faster?"
A theme can be considered faster if optimized for speed, has lightweight code, minimal graphics, and has less bloat. Other factors affecting a website's speed include caching, HTTP requests, and using a content delivery network (CDN).
How can I improve the speed of my WordPress website?
You can improve the speed of your WordPress website by optimizing images, minimizing HTTP requests, using a caching plugin, minimizing plugins and scripts, choosing a good hosting provider, and using a content delivery network (CDN). Also, keep your WordPress and plugins updated, and regularly clean up your database to improve site speed.
Which WordPress themes support locally hosted fonts?
The act of self-hosting fonts involves uploading them to your server and requesting websites to utilize the uploaded font. There are several advantages to self-hosting fonts, including but not limited to privacy compliance and improved speed. Certain themes, such as
Divi
,
Zakra
, and
Blocksy
, offer the option to self-host Google fonts.
What is a good website speed?
A good website speed is typically under 3 seconds for the page to load fully. However, the ideal website speed may vary depending on the type of website. Aiming for the fastest speed to improve user experience and search engine rankings is generally recommended.
What factors affect the speed of my WordPress website?
The speed of a WordPress website can be affected by various factors, including the hosting provider, theme optimization, the size of images and media files, the number and types of plugins installed, the use of caching, the optimization of code and database, and the overall website design and structure.
How can I measure the speed of my WordPress website?
You can measure the speed of your WordPress website by using a website speed test tool like GTmetrix or Pingdom. These tools will analyze your website's performance and provide a report on page load times, file sizes, and other factors affecting website speed.
Do faster websites help me with SEO?
Yes, faster websites can help improve your SEO because search engines prioritize websites that load quickly and provide a good user experience. Faster websites can also reduce bounce rates and improve engagement metrics, positively impacting your search engine rankings.
Need more themes? Check out these articles for the best themes to use with WordPress.
Featured Image via Fonstra / Shutterstock.com