So, you've finally realized that filling your monitor with a collage of post-it notes is perhaps not the best way to keep track of your thoughts. Great! But now what? Thankfully the web is full of note taking and note organizing apps. And today, we'll take a look at what might be the most popular one: Evernote.
What is Evernote?
Evernote's basic function is precisely what it sounds like: a note-taking service. Except, this would be a drastic understatement as the service's capabilities not only streamline and expand on the ways you can save information, but also allow for versatility in what you do with it. Allowing you to take notes in a myriad of ways:
Text
Video
Audio
Or all combined
Organize information in two different ways:
A notebook system
A tagging system
And you can choose from many different ways to share your notes, allowing you to better manage tasks, communicate with your team, and even market your content.
Getting Started with Evernote
Opening an account is free but some features require a subscription. There are three tiers to choose from: Basic, Premium, and Business. These subscription plans are available via monthly and annual fees, the latter of which nets you a discount. You can start with a free trial, too.
The Premium plan costs under $10/month. The Business tier is aimed at workgroups. This provides access to a feature called "Spaces" giving the members of your team the ability to keep in sync, work closer, and stay on the same page as all notes and relevant information is accessible to everyone on the team.
WordPress Integration
If you want to use Evernote to complement your WordPress business, the two need to be integrated. Evernote integrates with WordPress in several ways, the most notable being its IFTTT support. Let's explore your options.
IFTTT
IFTTT, if you've yet to get acquainted, does a bunch of busywork to better connect your various applications. By using "applets" or small apps akin to a plugin, IFTTT provides various utilities WordPress core lacks. For our purposes here, we want to connect Evernote and WordPress. You can do this directly on the IFTTT site. Here, you will be asked to connect by logging in using your preferred method through Facebook, Gmail, etc. After that, you will see this page: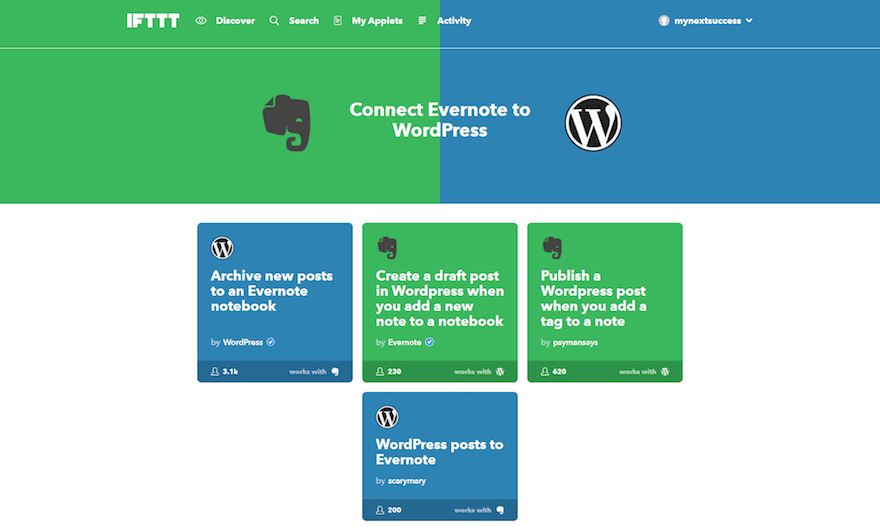 These little apps will allow several functionalities between Evernote and WordPress (some apps are user created). You can activate one of these applets by clicking on it. After which you will see a "turn on button." Click it, and assuming you haven't connected two platforms through IFTTT before, it's simple: You will be asked for permission. After accepting, you will be asked information regarding that request. In the case of WordPress. You will see this screen: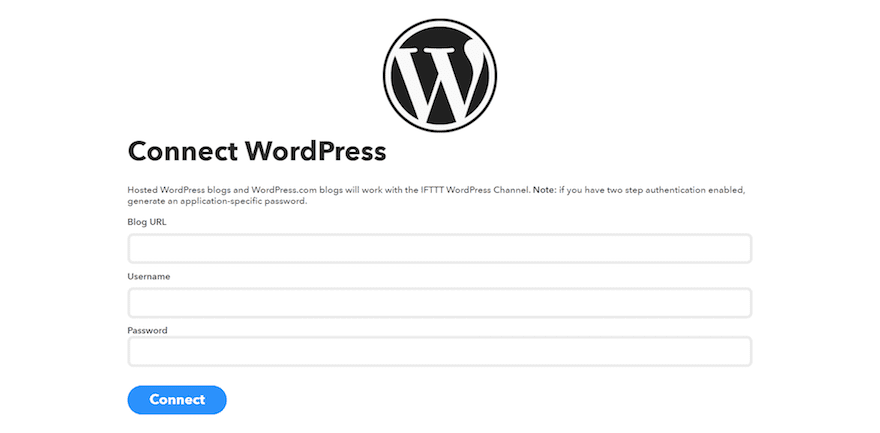 This is, of course, asking for your WordPress login credentials and the URL of the particular site into which you want the Evernote features to be integrated. They are now both connected.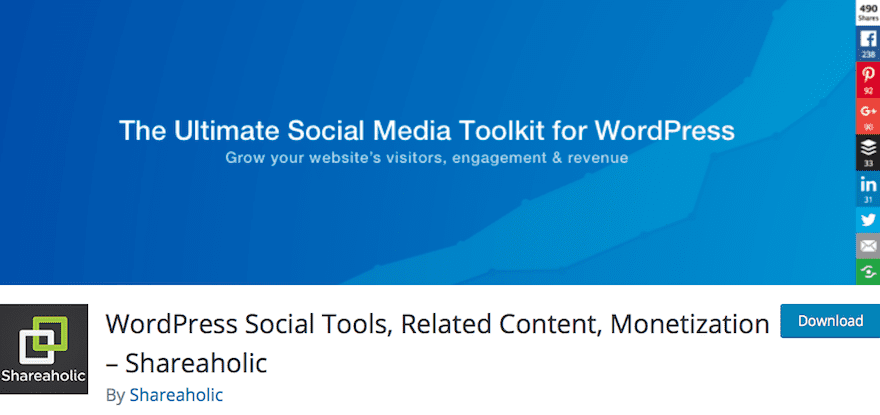 Shareaholic focuses on streamlining the social sharing process for your site, it also tracks several statistics, so you can better understand who your site visitors are. For instance, it keeps a graph of your first-time visitors, those who clicked on advertisements, and your affiliate programs. It's an all-around useful plugin for monitoring the trends that benefit your site goals. Plus, it includes an Evernote integration that allows you to share content from a live WordPress site to an Evernote notebook.
How to Use Evernote to Better Run a WordPress Business
One of the biggest hurdles of running a business is making time to accomplish your goals. This can be particularly difficult when you're a solopreneur. Keeping track of every aspect of your business, what you want to publish on your blog, event calendars, and so forth are made easier with Evernote, especially when it's integrated into WordPress (or vice versa). Here are just a few ways you can use Evernote to streamline the functions of your WordPress-based business:
1. Archiving WordPress Posts to Evernote
You can archive any new posts from a WordPress site to your Evernote Notebooks. This can be a huge time saver for archiving information and creating a pseudo content backup system. For faster reference, entire archives are organized and tagged. This can make it easier to:
Develop new content ideas based on old posts
See what posts need updating
Quickly identify what internal links to add to new posts.
The applet for this is available through IFTTT.
2. Creating WordPress Drafts
If you're brainstorming in Evernote, wouldn't it be great if your fantastic new post ideas were automatically added to your WordPress site? Well, you can do precisely that thanks to another IFTTT applet and have a new post draft created whenever you create a note in a specified notebook (or several) that you determine.
This allows for on-the-fly accessibility and content creation. Each new draft is formatted with the correct headers, categories, tags, etc. This saves you a significant amount of time in copying and pasting content over to WordPress manually. Evernote's text editor features all the same tools you use in WordPress, as well. Best of all, you can attach files and images to your drafts via Evernote, too.
3. Publish Post from Evernote to WordPress Through a Tag
This is one of my favorite applets. It works similarly to creating WordPress drafts from notes, as mentioned above. However, this time you can publish your content using tags. You simply create a notebook that is connected to your WordPress site.
Then, you create a tag in Evernote, i.e. "new posts." Then, whenever this tag is added to a note (in a notebook connected to WordPress) it will automatically publish to your blog. Building on this function, you can build an editorial calendar by creating a notebook for each month and a different note for each post. With this, you can automate when content is published since you have the option to set a "timer" on any given note. Set notes to notify you via email, phone, or through the Evernote app, when a note is pushed live, too.
4. Sharing Development Ideas with Evernote Business
"Spaces" are one of the best features of Evernote Business. Simply put, it allows you to create workspaces for collaboration within workgroups. You also get to choose who has access. With it, you can share new site ideas, marketing projects, and content marketing plans with a team, clients, development and research groups, and anyone else who might be able to contribute to your workflow.
Within these workspaces you can use innovation and proven business methods to further develop your objectives. Some things you can do include:
Bulletins: These can be used to keep focus and manage the tasks at hand.
Delegate maintenance: If you share development or maintenance of a WordPress website, you can use the IFTTT integration to let others allowed in your workgroup (and with admin privileges to your site) to take over for tasks. This allows your focus to rest on other aspects of business development.
Client communication: The Business features also allow for improved communication with clients, so contact is organized and transparent. From scheduling meetings to keeping on track of feedback or alterations a client may need, you can manage it all here.
Wrapping Up
Evernote is, at its heart, a premier note-taking service. It offers expanded accessibility and can act as an essential component of your business. Knowing how to incorporate it into your WordPress workflow is key. Hopefully, you now have a solid understanding of this. And with its versatile structure, Evernote (like WordPress) is best approached with an eye for extensibility.
Over to you: Has Evernote helped you better manage WordPress projects and goals? If so, how? Feel free to sound off in the comments below.
Article thumbnail image by vectorknight / shutterstock.com