In light of the recent release of Bloom, Elegant Themes' new email opt-in plugin, it's likely that many who regularly read this blog are taking a closer look at their email marketing strategies and building better lists. Once those lists are built however, you actually have to use them if they're to mean anything. You can do this by either sending emails via an email service provider, such as Aweber or MailChimp, or by other means; like your personal email account or even WordPress itself.
No matter how you decided to send your emails you will probably want to use some type of email newsletter template to make creating them each week or month more efficient. In today's post, we're going to take a look at the best places on the web to find free newsletter templates and what to do with them once you have them.
But first, it might be beneficial to explain what you actually get when you download an email newsletter template.
What's in a Template?
An email newsletter template is not merely a design mockup that shows you what a finished email might look like. A good way to think of these types of emails is as old school websites made from HTML circa the 1990's but hopefully with better design sensibilities.
Or at least that describes the most basic ones. In recent years CSS and responsive design have made their way from websites to the inbox too and some (but not all) of the templates or template resources below will come with those features.
So what you're actually getting when you download an email newsletter template is basic code that you can tweak in your favorite code editor to reflect your specific needs. Or files that you can upload to your email service provider to use in conjunction with their email builder.
If that sounds a bit too labor intensive or unnecessarily complicated, I wouldn't disagree with you. If you're using a service like MailChimp with its own drag and drop email template builder then the process I described above becomes sort of like building your own HTML website when you could be using Divi and its builder instead.
However, those services will not be the optimal solution for everyone. And some will simply want a different design than they are able to achieve within that environment, but can get through a template. And still others may be interested in learning how to use (or even create) these templates from a development standpoint.
For those interested in exploring the possibilities of email newsletter templates for any reason, I've gathered some resources below that should get you well on your way.
All of the resources below offer free email templates. Some of actual email providers with freemium services and associated email templates, others are repositories or roundups of email templates. In all, there are well over 1,000 free newsletter email templates represented in the links below.
Freemail Templates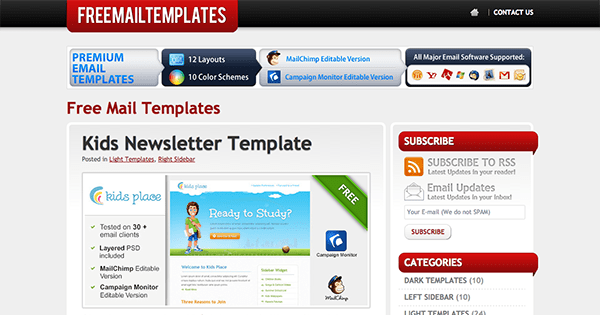 Freemail Tamplates is a website that specializes in collecting and organizing free newsletter templates. The free downloads usually come with both HTML and PSD files as well as various editable versions for popular email services like MailChimp or CampaignMonitor.
99 Designs
99 Designs is well known as a design resource. The have created a small set of free email newsletter templates that anyone can download and use.
Litmus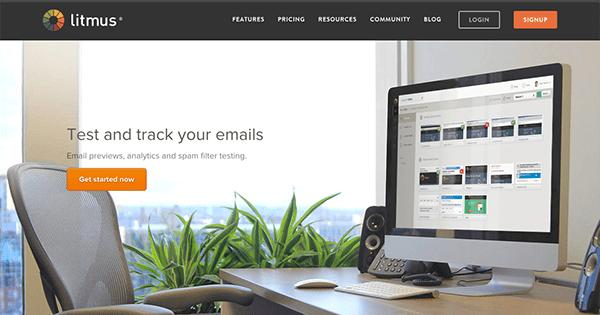 Litmus is an email campaign testing and analytics service. As such, they offer resources to email marketers. Including some very nice, free, email newsletter templates.
Ink by Zurb
Zurb, the creators of the popular development framework aptly named Framework, has also created Ink, a responsive HTML template for creating great looking newsletter for any device or email client.
Antwort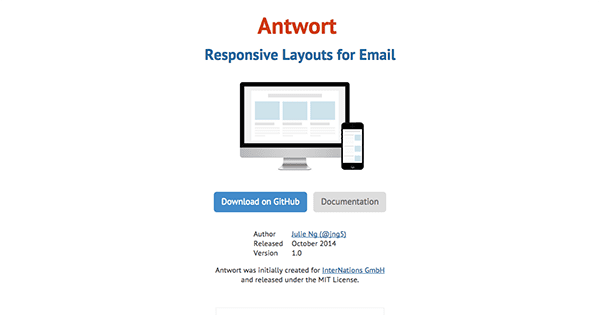 Antwort is a free and open source (MIT License) set of responsive layouts for emails that you can download via GitHub.
Constant Contact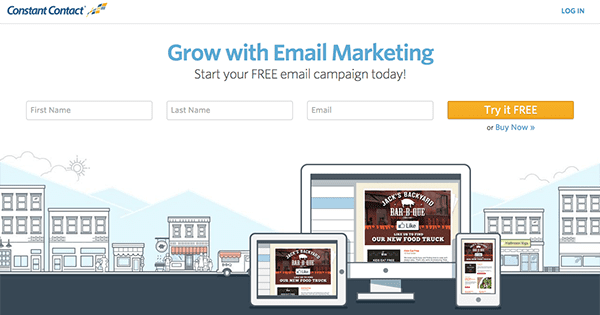 Constant Contact is a suite of marketing tools that focuses on email. Their service/platform provides a wide range of features to help their customers get the most out of their campaigns. One of those features is free email templates and a drag and drop email template builder. All of which you can start using for free, but prices scale with usage.
MailChimp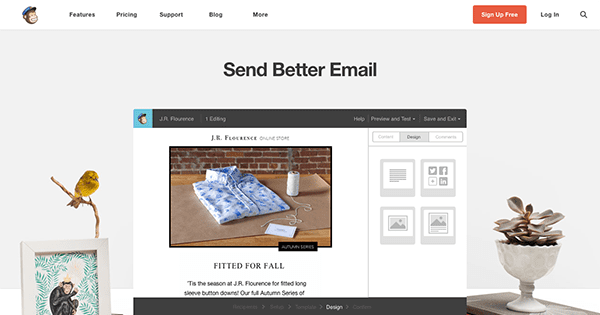 MailChimp is perhaps one of the most popular services for email marketing on the web. Their freemium service allows you to send out 12,000 emails to 2,000 subscribers a month for free. You get full access to their free templates and template builder too.
Email on Acid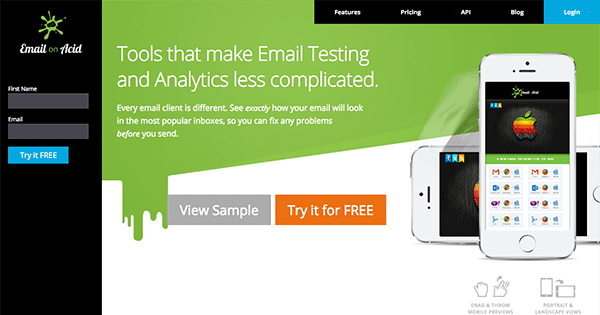 Email on Acid is another email testing tool similar to Litmus above. They have also created a "Boilerplate" template for HTML emails that is free for anyone to use (linked below). Additionally, they have been kind enough to round up a massive list of 600 free email templates that you should definitely take a minute or two to check out.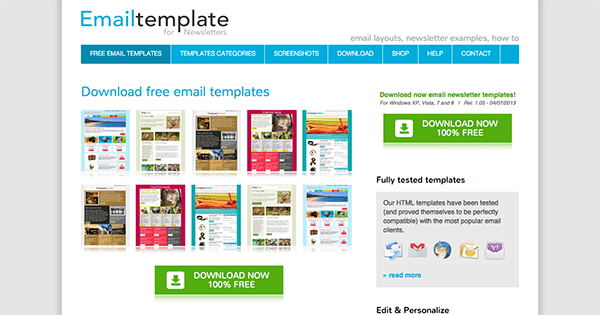 Email Template for Newsletter is another blog/resource website very similar to Freemail Templates above. They have a wide variety of free templates that anyone can browse and download.
Once you choose the template or templates you'd like to use for your email newsletter it's helpful if you actually know what to do with it. Thankfully, all of the major email service providers have extremely easy to use builders and/or step-by-step instructions on how to use templates on their platform. However that is not the case when using your personal or company email.
Using an Email Template with Gmail, Yahoo, Outlook, and others
As I mentioned above, when you download your free newsletter template you will no doubt want to make some tweaks and adjustments. Such as placing your own content in it before sending it out!
To do that you will want to open up the HTML file in your code editor of choice, make the necessary changes, and then save it. To actually send your new email, you'll want to follow the three steps below.
1. Open html file in browser
By either double click or right clicking and choosing the application your file should open in, open your new html file in the browser of your choice. Have your email application open too, ready to use.
2. Copy content to clipboard
In your browser menu go to Edit > Select All or simply use the shortcut Ctrl+A (for windows) or Command+A (for mac) to copy the contents of your html email onto your clipboard.
3. Paste clipboard contents into your email
Next, in your email client, paste the contents of your clipboard into the email message. Depending on your email client you may need to switch your message type to HTML or Plain Text first.
And that's it! This should result in the contents of your HTML email appearing in your email client as a beautifully designed message.
Note: if you are using Outlook, you may find that some templates don't exactly behave as they should. This probably isn't your fault. Outlook is sort of notorious for being finicky and difficult when it comes to email templates. In that case I would recommend limiting your search for email templates only to those designed specifically for use within Outlook and then following the above steps.
There are two bonus resources that I would like to link out to for anyone wanting more HTML email goodness.
The first is a tutorial from Tuts+ called Build an HTML Email Template From Scratch. Obviously, this is for the crowd I mentioned at the top of this post interested in an easy to intermediate code project.
Secondly, there is a nifty little Chrome extension called Newsletter Creator for Gmail that is perfect for creating newsletters for small scale groups and projects. Good examples might be family updates, weekly social groups, etc. This tool brings point and click newsletter building right into Gmail!
In Conclusion
Email newsletters are one of the absolute best ways you have to engage your community. Email newsletter templates are a necessary part of the process one must follow from email opt-in to campaign completion. The resources above should help provide affordable templates to meet this need. And depending on which template or template builder you go with, there should be an option that meets every skill level where they are at too.
How do you use email newsletter templates? Please take a minute or two to share your experience in this area with the whole community in the comments section below.
Article Thumbnail via totallyPic.com // shutterstock.com