RSS feeds. Their popularity may have peaked a few years ago, but they're still an important part of any website. RSS feeds allow you to distribute and manipulate WordPress posts in some helpful ways. And if you extend their functionality with plugins or third-party services, you can get even more creative.
So whether you're a total beginner or a regular feed subscriber, check out this post as I take you through how WordPress and RSS feeds function together.
A Quick Primer on RSS Feeds and Their Use
RSS, short for Rich Site Summary or Really Simple Syndication, is essentially a way for programs to tap into a site's content in a quick and easy manner. In fact, you've been exposed to RSS whether you knew it or not.
The most common use of RSS feeds is for readers to subscribe to a website's content with something called an RSS reader. Readers can make their lives easier by collecting RSS feeds from all their favorite sites in one place.
There used to be a popular service called Google Reader which made RSS easy for everyone. Google has since killed that project due to waning interest, but RSS still remains a viable way for consuming content thanks to services like Feedly.
RSS isn't just for readers, though. You can also use RSS to boost the functionality of your site. For example, if you ran a blog about technology and a blog about WordPress, you could use an RSS feed to display all your latest WordPress posts somewhere on your technology blog.
You can also go even deeper and use RSS to set up an email marketing campaign for your users, among other applications.
Where to Find and Manage Your WordPress RSS Feed
As long as you're using some form of fancy permalink, WordPress always creates your main RSS feed at "yoursite.com/feed". For example, you can easily check out Elegant Themes' RSS feed by going here (note – raw RSS feeds are not designed for humans!). Unless you tell it otherwise, WordPress will automatically add all your new posts to this feed.
WordPress also automatically creates some other RSS feeds that might be useful. For example, you could get a feed of only my posts by appending "/feed" to my Elegant Themes author page like this:
https://www.elegantthemes.com/blog/author/brenda-barron/feed
You can do the same thing for categories. If you wanted to share or subscribe to the feed for just the Elegant Themes Tips and Tricks category, you could use this link:
https://www.elegantthemes.com/blog/category/tips-tricks/feed
Changing Default WordPress Feed Settings
Even without any plugins, you have some basic options for controlling your WordPress RSS feed from inside your dashboard. If you go to Settings → Reading, you'll see two options for your feed:
Syndication feeds show the most recent X items: This setting lets you choose how many posts will display in your feed. By default, WordPress displays the most recent posts first. So, if you change this number to "5," your feeds will include the 5 most recent posts.
For each article in a feed, show: This setting lets you decide if you want to include the full post text in the feed or just a summary. If you want to force users to come to your site to read the full post, you might want to just offer a summary.
Best WordPress RSS Plugins for Additional Functionality
If you want to do more with your WordPress RSS feed than just setting the number of items and excerpts, you can turn to one of these trusty plugin to:
Include ads or other added content in your RSS feeds
Give users more control over the content they subscribe to
Showcase RSS feeds in different ways
Take a look!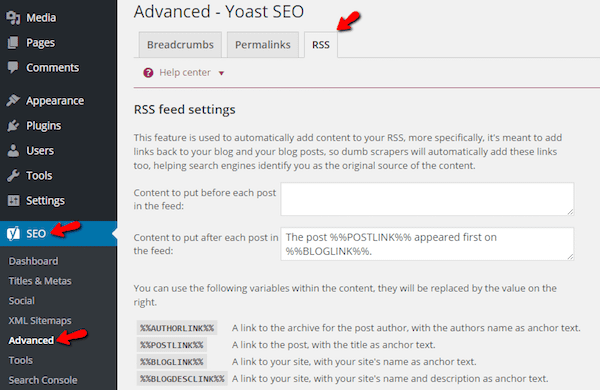 If you have Yoast SEO installed, you might already have more control over your RSS feed than you know. In addition to all its other features, Yoast SEO has a handy RSS tab that lets you add custom content before and/or after your posts:
This content won't be visible to readers on your main site, but anyone getting content from your RSS feed will see it.
Yoast's suggested use for it is to combat scrapers (people who steal your content) by including a statement and link to your original post.
But that's not the only use. Because you can add whatever content you want, you could also use it to include:
An advertisement
A call-to-action to join your newsletter
A special message to feed readers
Anything else you want!
Price: Free | More Information

SB RSS Feed Plus adds several options to your feed. If you're interested in adding thumbnails or other images, text content, or ads to your RSS feed, you'll want to check it out. It also offers a helpful, but niche, feature that allows you to provide a private full text RSS feed, even if you set your main feed to "excerpts only."
Features:
Add post thumbnails to feed
Include image or text ads
Add a signature
Create a private feed that displays full content. Good if you need to give special access to someone, but otherwise only want to provide excerpts.
Price: Free | More Information

This plugin is perfect for any site with a variety of different categories. It makes it easy to display separate RSS feeds for each category on your site. It also lets you display RSS feeds for the tags on a post, which gives users even more control over what content they get.
Features:
Display RSS feeds for all or specific categories
Show post counts for each category
Allow readers to subscribe to individual tags
Price: Free | More Information

If you're looking to display content from an RSS feed on your own website, you'll want to give this plugin a look. It allows you to display posts in a news style slider. The plugin displays a single post at a time, but new posts will cycle in at an interval you specify. You can check out a live demo to see how it works.
Features:
Display RSS feed slider
Shows title and link to the post – no content
Customize interval between displaying posts
4 different cycle options
Add to site via widget or shortcode
Price: Free | More Information

If you want to display feeds from other sites, you should consider using this plugin to easily manage them. You can pull in as many external feeds as you want and quickly add them anywhere on your site with a shortcode.
Features:
Add as many RSS feed sources as you want
Display feeds anywhere with a shortcode
Name each feed source to stay organized
Set how many feed items to display
Set links as follow/nofollow
Feed auto-discovery – lets you add sites without needing to know the exact feed URL
Price: Free with paid add-ons | More Information
Bonus: Manipulating RSS Feeds with IFTTT
If you thought RSS was a confusing acronym, I've got another one for you: IFTTT

IFTTT stands for If this, then that. It's a free service that lets you sync up two events to work with each other using something called a "recipe." I know that might sound a little confusing, so I think it's easier to show you with a couple examples of how it works with RSS feeds:
If there is a new post in an RSS feed, then Tweet a link to the post
If there is a new post in an RSS feed, then share a link to the post on Facebook
Do you get the idea? You can automate all your social media sharing with IFTTT recipes.
You can also connect to a range of other apps. Some fun internal uses for your RSS feed are:
Wrapping Up
Here's what you should remember – RSS feeds have two main uses:
They allow readers to easily subscribe to your fresh content.
They allow you to pull in content from other websites (or display your content on other sites).
By default, WordPress RSS feeds have enough functionality to serve that purpose. If you want to add to their functionality, you can do so with one of the plugins I discussed. And if you want to go even further, I recommend you dig into IFTTT. It might take some poking around to fully to grasp how the integrations work. But once you understand the concept, IFTTT unlocks a whole new world of functionality for RSS feeds.
By the way, if you are running to any errors with your WordPress RSS feeds, we probably have a solution for you. Read our tips on how to fix common WordPress RSS feed errors.
All this RSS talk has me curious – do you all still use RSS feeds for consuming content? Or do you prefer visiting sites directly?
Article thumbnail image by vector illustration / shutterstock.com