When you write a blog, it takes more than just a great idea, flowing some words out onto the screen, and pressing publish. Since your readers won't be hanging around waiting for you to publish your next piece, you need to promote your content. This is even more so if you're a business, where the content will lead to sales.
Social media is a huge part of promoting blog articles, but that requires relationship building and editing the synopsis to be appropriate for each channel. With an RSS to email campaign, there's an even easier way to deliver your content to your readers. And it goes straight into their inbox.
RSS Feeds – What Are They?
Setting up an RSS to send your articles to your readers is really easy. It even says so in the name: Really Simple Syndication. This method of publishing content requires your readers to subscribe to your RSS for it to appear in their "feed."
RSS feeds were all the rage a few years back where readers could pick and choose who they wanted to hear from. This exploded when social media became popular and each reader's feeds are now populated with content from various sources and on many different topics.
It's difficult to stand out in this environment. So sending content directly to readers' inboxes is a good way to get their attention over the top of all the noise.
But how do you do this? Traditional RSS feeds like Newsgator, Google Reader, NetNewsWire either aren't that popular anymore or died from a lack of users. So bloggers have been finding different ways to reach their readers: they remembered how effective the inbox is.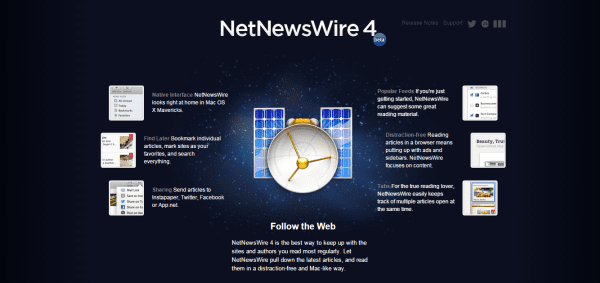 Email Marketing Works
Here's why RSS feeds combined with email works:
Readers don't need to set up separate RSS feeds; they can simply check their inbox for news.
Despite people getting numerous emails every day, we've become more savvy about spam and unsubscribing to those we're not interested in. So if your readers have chosen to subscribe to your email updates, you know they are loyal readers and could buy from you one day. You don't want to spend time sending out irrelevant content to people who'll never land upon your site again.
Remember how powerful data is. Once you have somebody's email address, you can send them information on top of your blog articles. This might include subscriber-exclusive content or offers and discounts. Keeping in touch with your readers is important for building relationships, so even if you can't set up these extra emails, your blog articles sent via RSS will do it for you.
As emails can be synced up to many devices, including your tablet and your mobile phone, you can catch your readers while they're on the move. You could send a perfectly timed long read as they've just sat down for their evening commute. Or your articles might be part of their daily lunch hour.
You can learn from the actions that your readers take. For example, if you send your emails via an Email Service Provider (ESP), you can track opens and click throughs. This can show you how your readers engage with your blog content.
The main benefit for you is that you can send your readers content, but you don't need to create an email every time you want to communicate with them. If you're a business, this is even more pertinent since time is so precious. RSS to email comes into play here, since it's automatic.
Most RSS campaigns allow you to set a specific time and date for your content to be sent out. You could send it to catch those lunch hour workers or evening commuters, for instance. Or you can set it to send every time you publish a new post.
You don't need to set a timer for yourself to set up an email campaign for every post, leaving you free to concentrate on other work. If you haven't published anything that week, the RSS simply won't send anything until the next week when you have content available.
Just make sure your readers know that they'll be receiving emails from you. The act of subscribing is opting in to your communication, but you should make it clear on the sign up for how you'll use their data.
Setting Up An RSS To Email Campaign
There are different options for setting up an RSS campaign depending on where your blog is hosted and if you want to pay for an external provider.
Free Hosting
If you blog through WordPress.com, Blogger, or a similar platform where you host your blog for free, you'll have an RSS feed built in. It's part of the package you get when signing up to blog with them; they'll send out your blog posts to your readers when you publish them.
For instance, if you're a WordPress user, every blog you've subscribed to through your WordPress profile and see in your WordPress reader will have been sent in this way.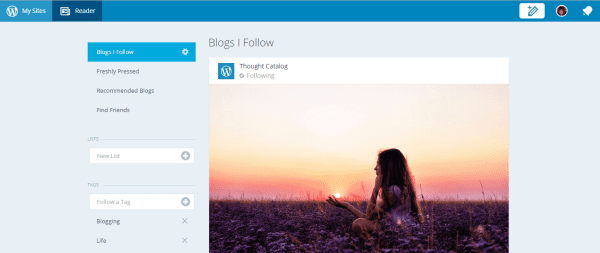 Hosted Elsewhere
If you have created your blog through the WordPress.org CMS or similar but host your website through an external hosting provider, you'll need to add an RSS feed yourself.
First, make sure you don't have one already by right-clicking and choosing "view source." Once the website's HTML has popped up, press "control F" to find a term and type "RSS." If you have one, this will direct you to where it's located on your site.

If you don't have one, you'll need to get an external provider to do this for you. This usually comes with a cost. But it's worth the investment because of the return you can get for building a relationship with your readers and the sales they could eventually make. Think of it as part of your marketing strategy and it's easy to justify.
All of the major ESPs, like MailChimp, AWeber, and GetResponse have an RSS to email feature as one of the benefits of using them. If you already use an ESP for your email marketing, check out if you're able to set up an RSS campaign too. If you're new to blogging or email marketing, I'll use MailChimp as an example of how you're able to set a campaign up.
MailChimp
MailChimp creates a signup form that's mobile responsive and customizable. It can either be embedded into your website or you can direct readers to MailChimp. This is then your tool for getting new readers to subscribe to your RSS emails. The form has different field options so that you can collect more than just their email address. You're also able to create a subscriber popup form after a new visitor spends a certain amount of time browsing your website.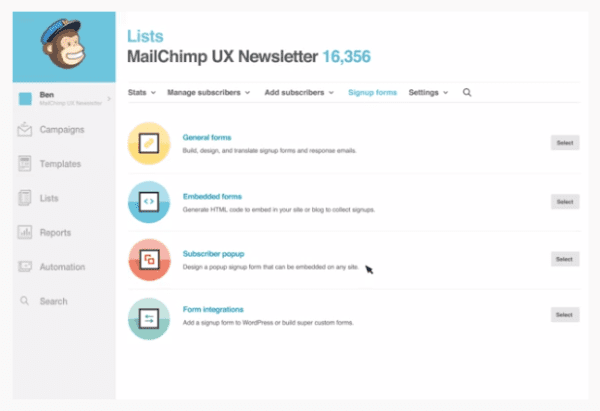 MailChimp allows you to import a csv file containing readers you might have already collected. For experienced programmers, you can take advantage of using MailChimp's API instead. You can also manually enter new subscriber details if you have one or two into the Lists area.
Once you have your signup form ready and any existing contacts added to the database, you can set up a campaign to send them information. Here's a basic outline of what you need to do:
On the Create Campaign drop-down menu, there's an RSS-Driven Campaign option. You simply have to enter your blog's URL and set the time and date of when you want your content to be sent out.
You then assign the campaign to a list of data. That could be all of your readers, or if you've grown your list and want to segment them; you can choose who to send what content to.
You'll need to think of a subject line for your email and use a MailChimp template to create the final email design that your readers will see in their inbox. The design features of MailChimp make this really easy. You just need to plug in your content and drag and drop images and text boxes to create the layout of your choice. MailChimp lets you design the template yourself or upload a PDF to be converted into HTML, but this comes at a premium.
Check what your email looks like through the previewer and test facilities.
Then click Start RSS and it'll start sending after your next blog post is published on the time and date you've specified.
You also have the option to automatically notify your social media followers that a campaign has been sent out.
MailChimp's reporting system then allows you to see where your readers have been clicking on your email and even where they live, so you can build up a picture of your audience. It tells you how many people opened, clicked through, or unsubscribed from your email so you can understand what content works best. There's also a Social Stats feature in MailChimp so you can see the engagement on Facebook and Twitter.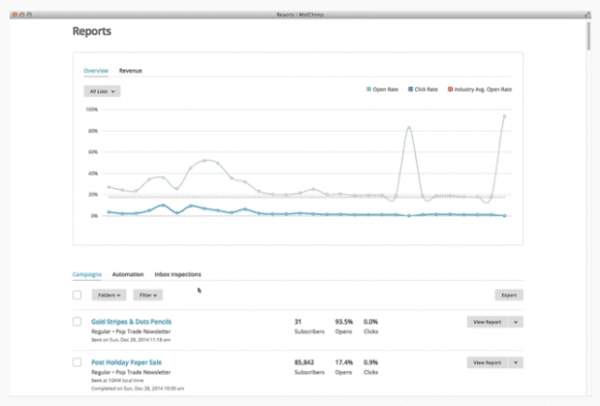 Final Thoughts
I hope that after reading this article you're thinking about setting up an RSS to email campaign, or at least considering what it could do for your business. Email marketing can be such a powerful tool in your marketing strategy because it's personal, it's delivered right underneath your customers' noses, and you're able to record its effectiveness and learn from that.
Even if you're not ready or don't  have the time to set up extensive email campaigns involving designers and data statisticians, making the move to sending your blog articles via RSS to your readers' emails is a good move.
Otherwise, how will you know who is reading your articles? Marketing is all about promotion, so use this tool to promote your good work!
What are your thoughts on RSS to email? Have you used a specific ESP that you can recommend?
Article thumbnail image by venimo  / shutterstock.com