Travel blogging is a popular niche. If you are looking to create your own WordPress travel website, this can play to your favor, as there are so many travel blogs to gather inspiration from.
In this article, we will look at a number of travel blogs (in no particular order) created with WordPress. Hopefully, these sites will help inspire the design, layout, navigation, pages, images, sidebars, widgets, and many other aesthetics and features, of your own travel blog. So let's get started…
1. PS I'm On My Way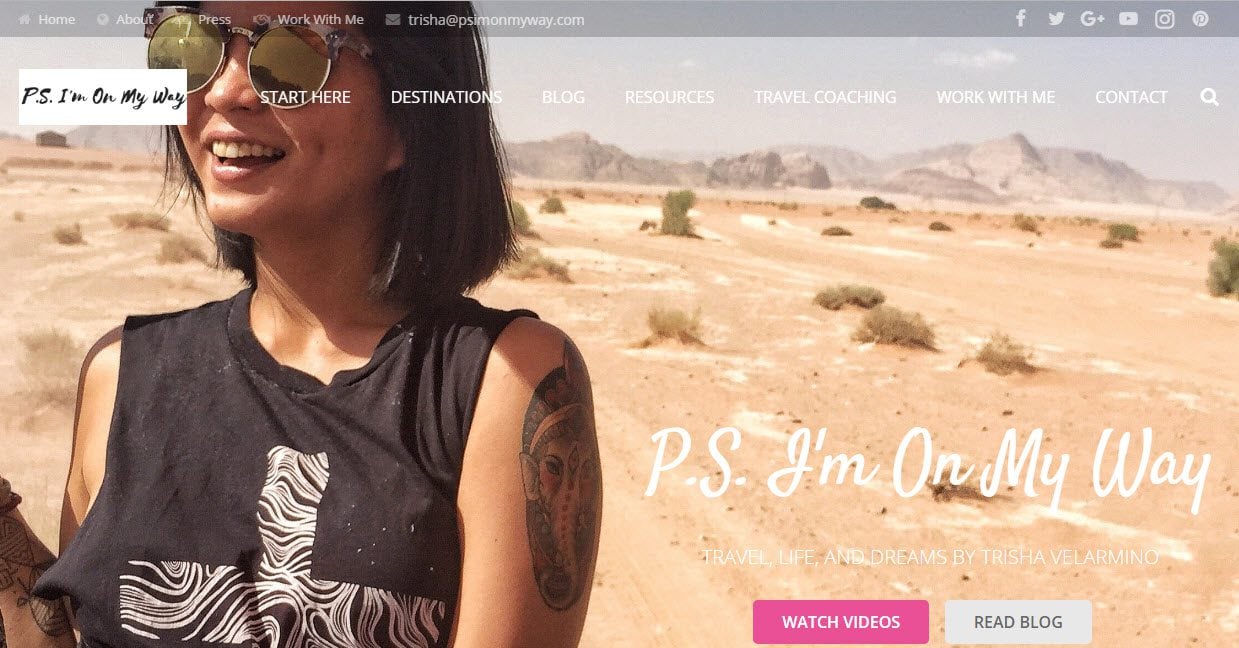 Apart from a great name, PS I'm On My Way boasts a fun, exciting, and action-packed travel blog. The homepage makes an immediate impact on new and returning viewers with a full-screen image and a bright eye-catching color scheme. The use of a parallax effect, combined with rows of article images and a beautiful full-width background image with text overlay, helps break up the page and give it a dynamic feel.
User-friendly, PS I'm On My Way displays an interactive map enabling the audience to find the countries and relevant articles that interest them. Create your own interactive map using a plugin like these. On individual blog pages, sidebars contain numerous helpful widgets including information on the blog author, social media follow buttons, an email opt-in form, and much more.
2. The Poor Traveler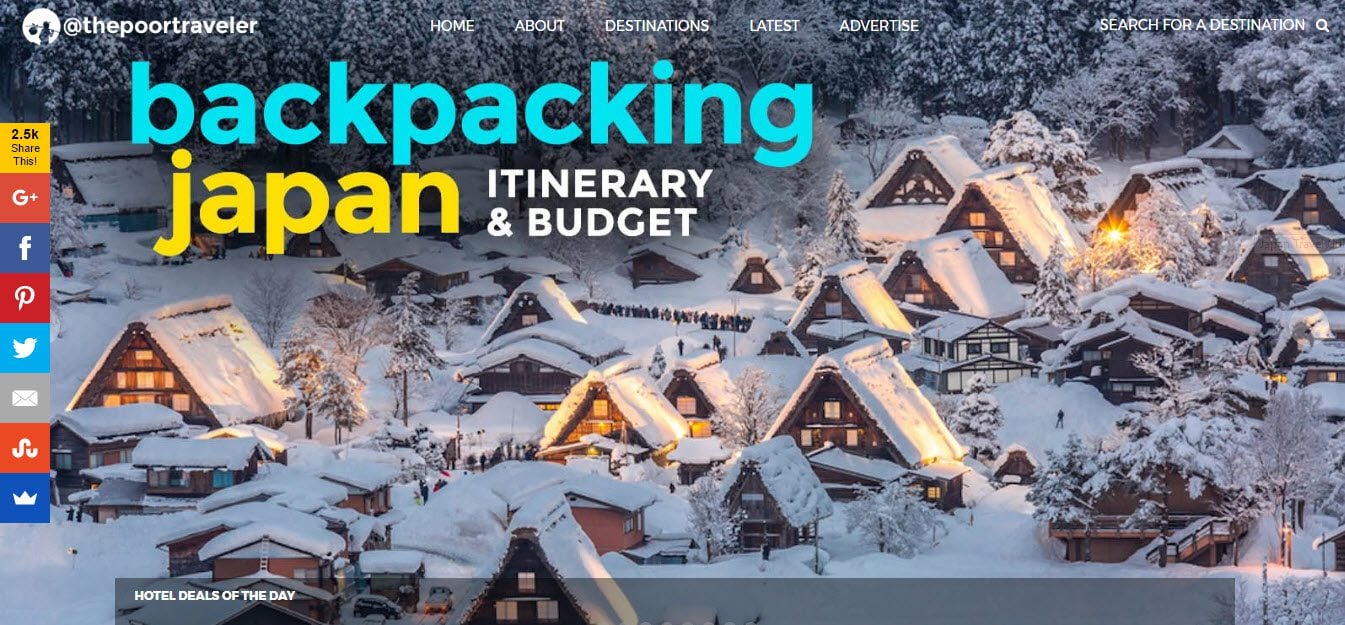 The Poor Traveler uses a full-screen slider that displays awe-inspiring images which will immediately connect with wanna-be travelers. An Agoda search bar sits at the bottom of this slider. This helps visitors find accommodation in their chosen city, which in turn, aids the monetization of the blog.
Social media plays an important role for this travel blog. Social media buttons are shown, including the number of current followers. An impressive Instagram feed is also displayed on every page, as well as underneath each blog post.
3. Migrationology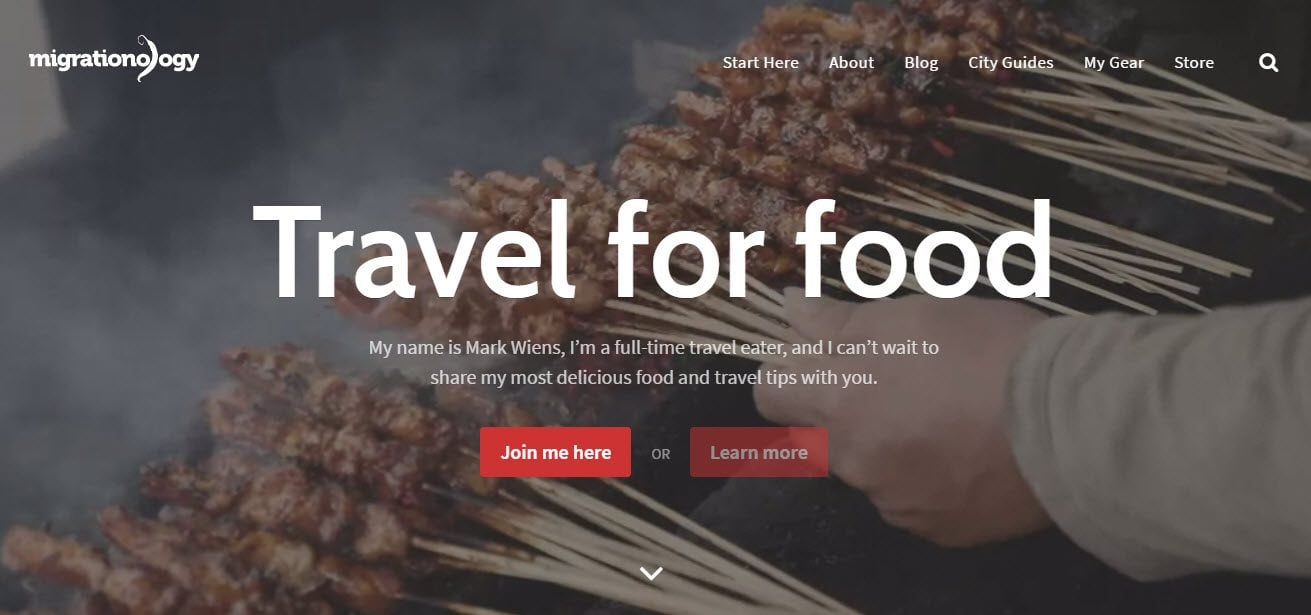 Migrationoloy is a travel food blog that is well laid out, organized, and very easy to navigate. The homepage uses full-screen video media to appeal to fellow or wanna-be travelers, and it works. The rest of the homepage is divided into sections, displaying full-width images with text overlay, a search tool, latest blog articles, and 'Join Me' buttons leading to an email signup form.
A clear grid style is used to display the blog's articles. Individual posts consist of a multitude of relevant photographs. Guides for a selection of countries also list information in a clear format, with large images and links to hotels, restaurants, and further travel info.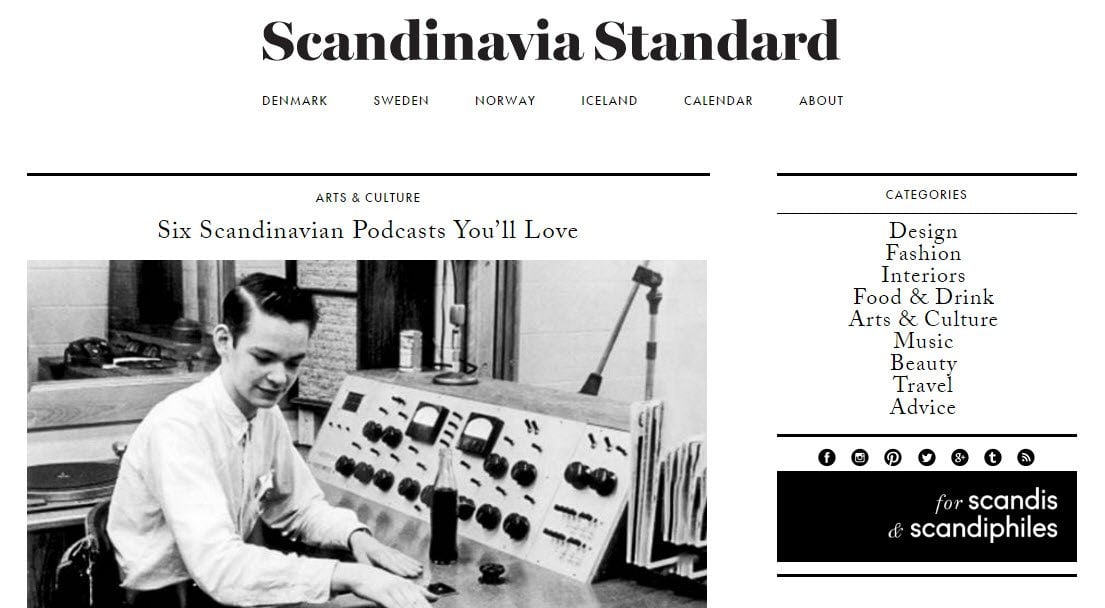 Scandinavian Standard is a minimal, sleek and sophisticated travel and lifestyle blog that is extremely easy on the eye. The design and layout make for a calm and relaxing environment. This ensures visitors are at no point overwhelmed with a magnitude of information, as so often is the case with jam-packed travel blogs.
The white and black color scheme, combined with large, well spaced, article images, small amounts of text, and block buttons, help create an arty yet serious look and feel to the site. Widgets are present, yet don't distract the audience. These include a search bar, social media buttons, and a Pinterest feed, all which fit beautify with the site's branding. It is easy to see how this site could become a go-to travel blog for those not only researching their travels, but also looking for inspiration.
5. Travels of Adam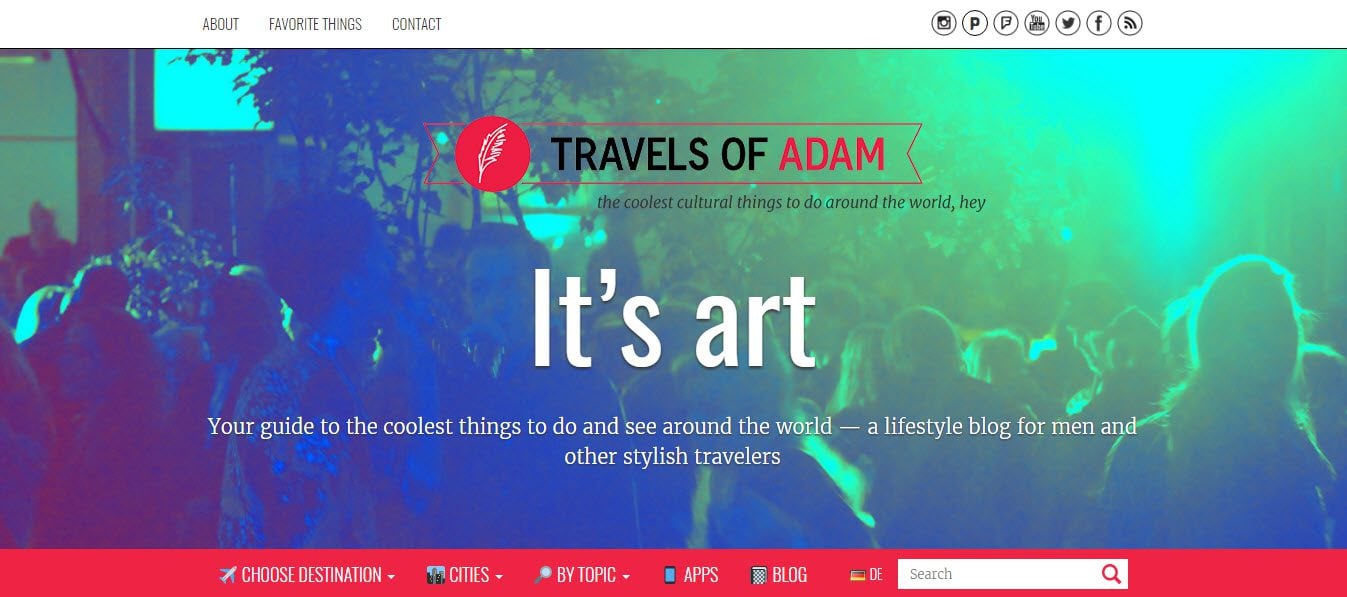 Travels of Adam is extremely user-friendly, with categories well laid out and displayed on the homepage. Quickly browse featured posts, latest posts, city guides, popular destinations and lots more. The blog's author displays his About Me info on the homepage, so his visitors can quickly see who he is, where he is traveling, and understand what they will find on his blog.
The color scheme is a real standout feature of this travel blog. A combination of bright colors and bold text grab the attention of visitors and help give the site a fun and refreshing feel.
6. Nomadic Matt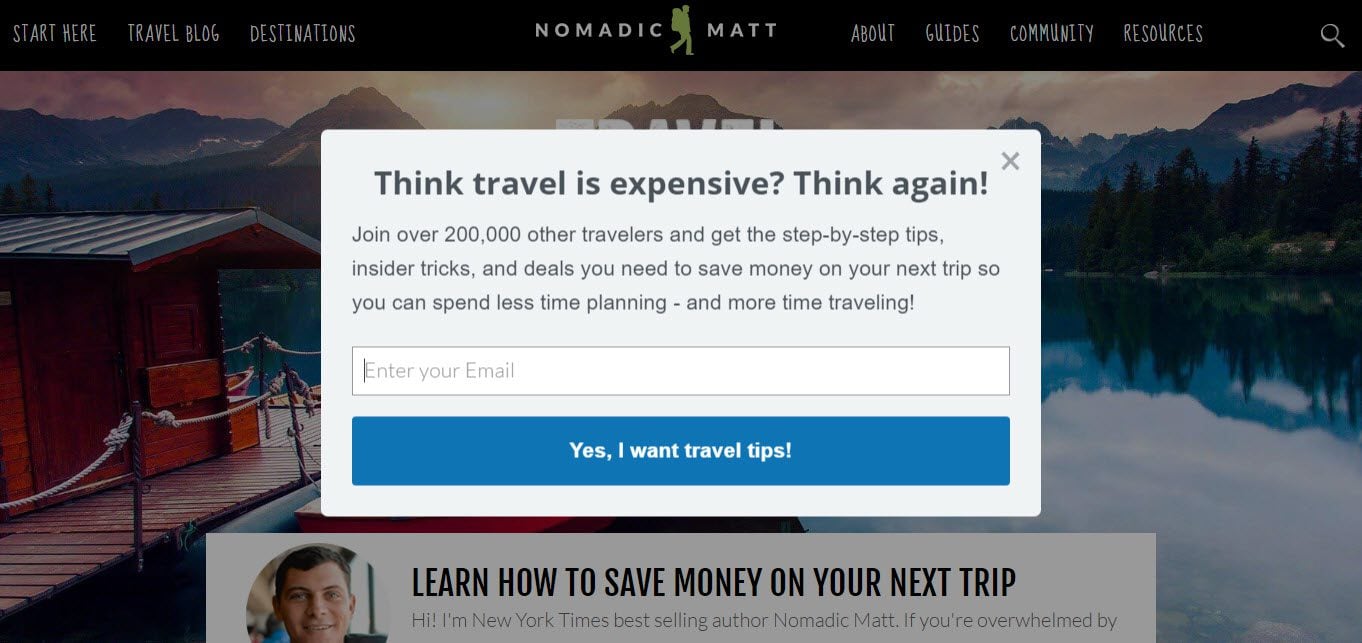 At first glance, this looks like just another fun-loving travel blog. However, don't be fooled, Nomadic Matt means business. This built for purpose travel blog displays an email opt-in form in a prominent position on the homepage. It also includes a pop-up for further lead generation.
Nomadic Matt creates revenue from selling travel books. Set up as an eCommerce store, visitors can purchase books on the site from the Checkout Page.
7. Helen in Wonderlust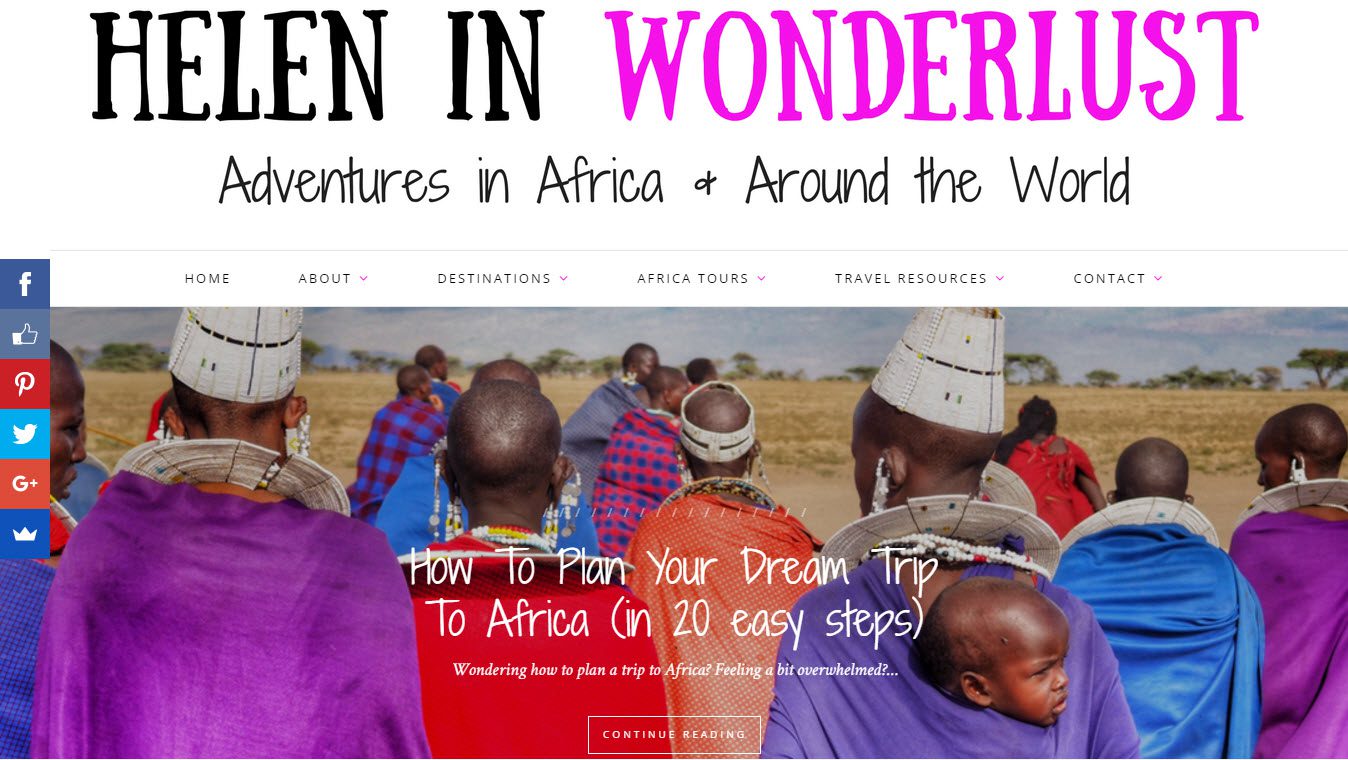 Helen in Wonderlust is a stunning travel portfolio site that puts bold and bright images at the forefront of its blog. Bright, colorful and packed full of interesting and helpful information, this site easily stands out in the crowd of travel blogs.
A drop down menu at the top of the page and a packed sidebar help users easily navigate this site and find what they are looking for. Widgets include a description of the author and blog, a newsletter sign up form, social media follow icons, and links to travel tours.
8. Mrs O Around the World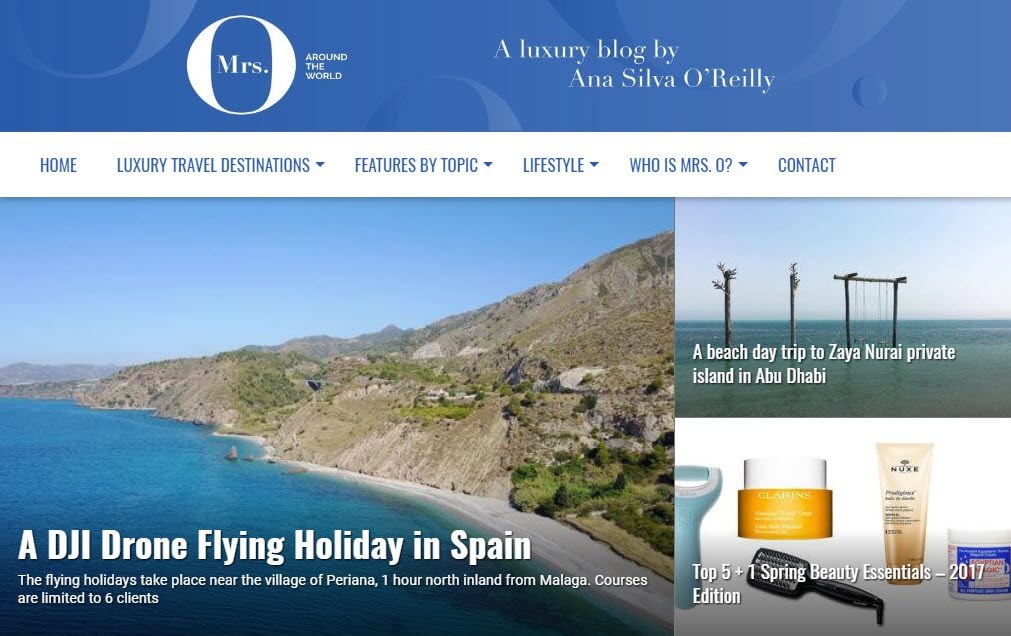 Mrs O Around the World has a distinctively professional look and feel. Let's not forget, traveling isn't all backpacking, hostels and crazy off-road journeys. There is a huge industry based around up-market, luxury travel companies. This travel blog has tapped into that niche perfectly.
Using a grid effect to display the featured image of each blog article, the homepage of Mrs O Around the World is taken up with a selection of interesting and eye-catching images. A scrolling sidebar allows a range of widgets to be easily accessed by site visitors. These include an Instagram feed and an email signup form. The layout is easy to navigate and branded colors create a sense of organized consistency across the blog.
9. Hand Luggage Only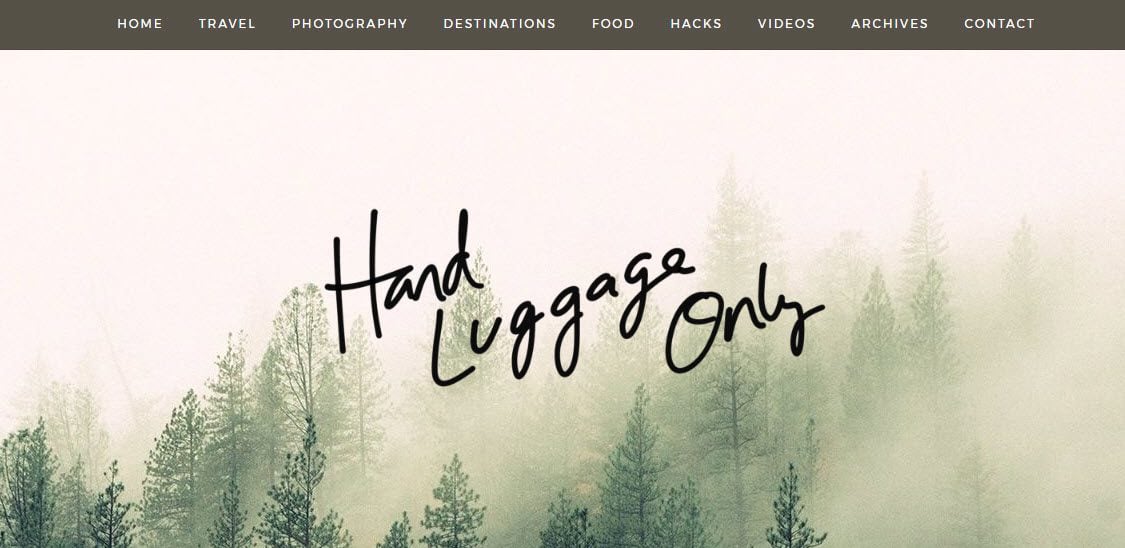 Hand Luggage Only's artistic design and layout immediately appeal to the creatives amongst us. A full-width homepage image, with a hand written overlay, steals center stage when visitors arrive at this travel blog. This is followed by a nearly full-screen slider displaying recent and most popular blog posts. Large well-spaced images then help users easily navigate the site's categories. All in all, the homepage is full of an arrangement of beautiful visuals, helping to keep this blog real.
The Contact Page of this website is particularly engaging. Here you will see photos of the blog's authors, social media buttons, a contact email address and a contact form. There is also a comments section, where a discussion between the readers and writers takes place, creating a dynamic community.
10. The Blonde Abroad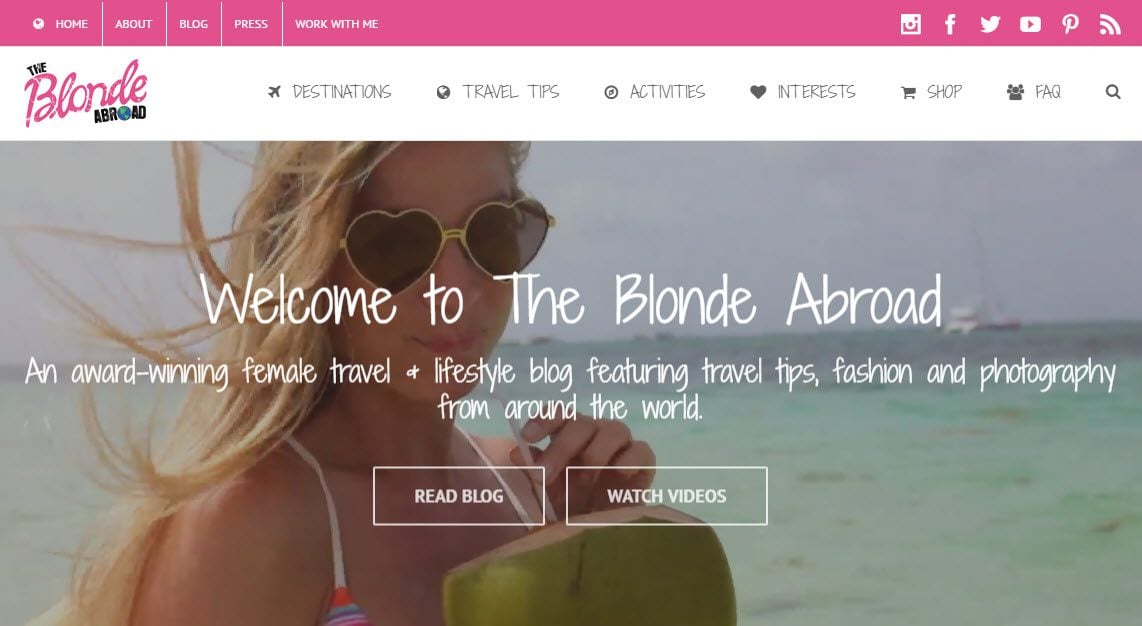 If there is ever a time where you open a web page and immediately want to swap lives with an individual, this is it. The Blonde Abroad uses a stunning full-width video to create awe and immediate interest in this traveling blog.
The home page boasts an interactive map, an email signup form, stylish icons and buttons, links to recent articles and much more. Its quirky text gives the blog a relaxed, modern and young feel, helping it appeal to its fan base. The Blonde Abroad also displays an attractive Instagram feed, displaying beautiful images to help encourage social media follows.
11. Be My Travel Muse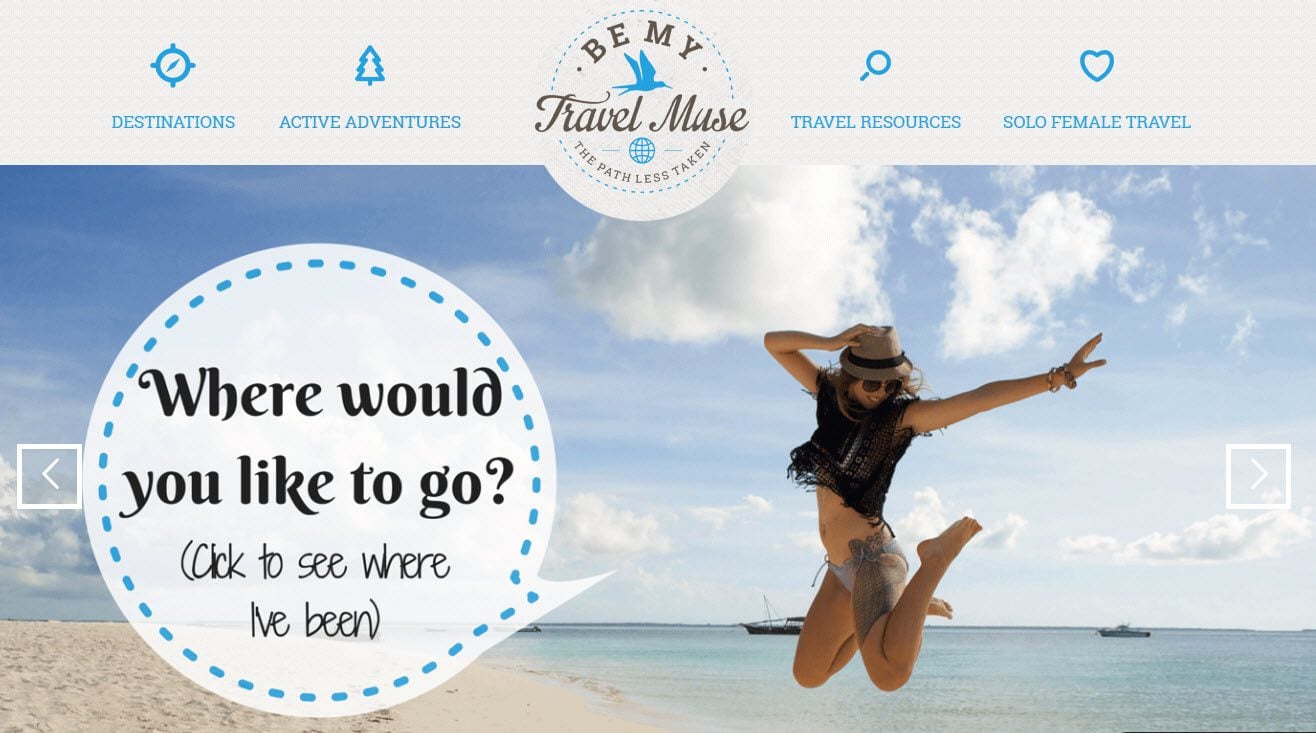 Be My Travel Muse has a strong color theme running throughout the site. The blog's logo takes center stage on the homepage, as well as a fullscreen slider with text overlay. An interactive map helps engage with the readers, whilst an email opt-in form and social media buttons are displayed to increase lead generation.
The author of Be My Travel Muse has also written her own book so she displays a page dedicated to its promotion and sales. And a checkout page, powered by Stripe, allows on-site purchases.
12. Urban Travel Blog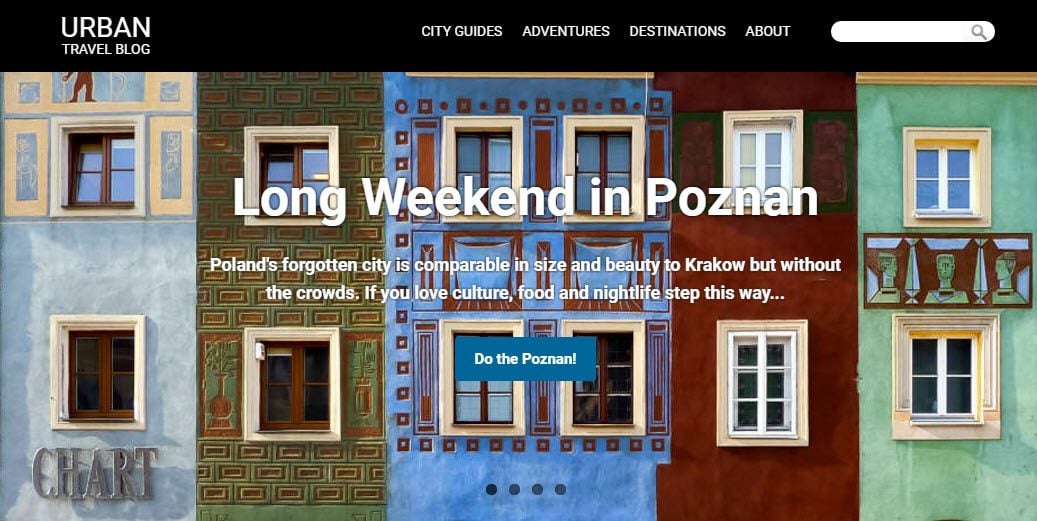 The Urban Travel Blog projects a strong and bold design, using black and white in blocks of color and text. The blog uses an exit pop-up, offering a lead magnet in the form of a free eBook, to capture leaving visitors and collect email addresses.
The homepage displays attractive images via a full-width slider. A variety of travel articles and city guides are then displayed, organized by category. This makes it extremely easy for users to access information on the destination of their choice.
Final Thoughts on Travel Blogs
Researching WordPress travel blogs is certainly an interesting and important first step when creating your own travel site. However, don't let your 'research' stop you from committing to your own site's creation. Take the visuals and features that inspire you from the current travel blogs out there. Then plow forward with a new and unique travel blog of your own.
What design elements stand out to you? Please share your thoughts, and any other WordPress travel blogs that you think will help inspire others, in the comments below…
Featured Image by VLADGRIN / shutterstock.com