Your WordPress blog is an important vehicle for reaching your audience, getting your content out there, and even marketing your products and services. So how do you make sure your content is getting as many views as possible?
Many people say Twitter and Facebook are key to getting your content's message spread across the web. Yet most blogs don't really know how to effectively market their content. A great set of tools can help, as long as they're paired with the right tactics.
Here are the nine tools we'd recommend you use to market your next WordPress blog post on Twitter and Facebook, and the tactics to use to get the job done.
Social scheduling plugins provide a much-needed solution that differs from the social media plugins we use to make our content sharable by users. Sure we want people to share our content for us on their native platforms (that's free marketing). But there is no replacing the need to create and share our own social media content. But to do that efficiently and consistently, you need a social scheduling plugin. They are a great way to manage your content without bombarding your readers with everything at once. Here are some of the best.
CoSchedule
CoSchedule is one of several plugins that enable users to schedule social media posts from within WordPress. In this case, users can schedule their blog posts and social media updates within a single drag-and-drop editorial calendar.
One of the biggest pluses to CoSchedule is that users can take care of all their scheduling in one place, at the same time. The plugin is compatible with all the major social networks and multiple WordPress users, meaning your team will be able to collaborate on the calendar.
CoSchedule offers a 14-day trial with paid plans starting at $17 per month (billed annually).
WordPress to Buffer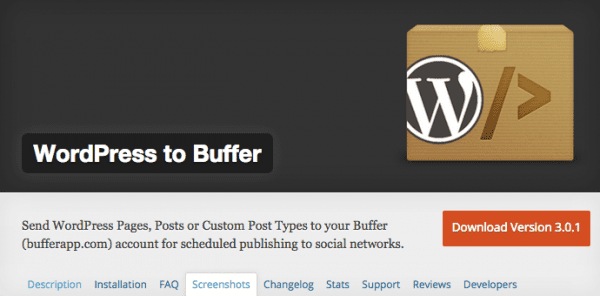 WordPress to Buffer is yet another way to start scheduling your social media posts to accompany your blog publishing schedule right inside of WordPress. As you may have guessed by the name, this plugin integrates with your existing Buffer social media scheduling tool.
Along with Hootsuite and TweetDeck, Buffer is a popular scheduling app that means users can create daily and weekly posting schedules and queue up content to publish on those schedules. WordPress to Buffer taps into functionality, adding social updates drafted in the plugin to your Buffer posting schedule.
WordPress to Buffer has a completely free version that's useable for both your Facebook and Twitter scheduling. A pro version adds support for more social networks as well as custom scheduling and publishing settings, with options starting at $39.
Scheduling Tactics
Now that you have the plugin, there are a couple more things you can do to make promoting and scheduling your content as easy as possible.
Write and Schedule Social Media Ahead of Time
Make sure you plan, write, and schedule your blog posts ahead of time. This gives you more control of your content and the ability to pace core topic pieces better or create a series. Think of your social media the same way. Each blog post should receive a series of tweets and a couple Facebook status updates. Which brings us to…
Plan a Series of Tweets and Posts to Promote Each Blog Post
This doesn't mean tweeting the same verbiage ten times, and most certainly doesn't mean tweeting them all at once. Write tweets up that lead with:
The blog post title.
A key takeaway.
A favorite quote or two.
A "controversial" opinion.
The pace these posts out throughout the day, week, or even wider apart depending on your schedule. A lot of the time, your blog posts will still be relevant for an audience even a few weeks later, so you can always schedule an older content social update with your newer content updates. For Facebook, you don't need dozens of posts about a particular article. One to three spread out should be fine.
There are a huge number of plugins that can add social sharing buttons – along with other features – to your blog. Here are three options we think do the job well: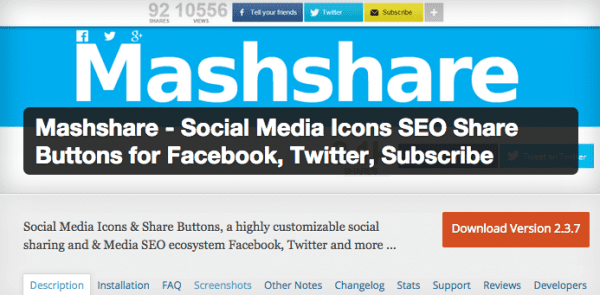 Mashshare is a highly customizable plugin that enables users to add an oversized share counter that's paired with equally large Facebook and Twitter share buttons. You've probably seen this type of social sharing plugin in use on websites like Mashable.
Mashshare features a number of add-ons to customize its performance. Free add-ons include being able to specify feature share images and other ways to customize a visitor's default share. Premium add-ons take the functionality much further, with integration for other social networks, sticky and responsive elements, page view counters, and Google Analytics.
Premium add-ons start at €9.95 with packages starting at €49.
Flare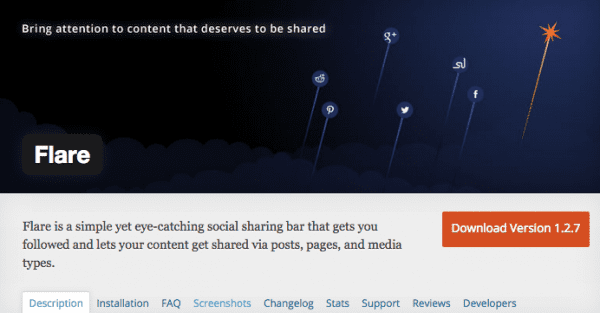 If you want social sharing buttons that pair design flexibility with attentive support and drag-and-drop installation, Flare might be a good choice for you. This is a premium plugin designed by the team at Digital Telepathy. It has all the smooth functionality and ease of use you'd expect from a product designed by a UX firm.
A free version is available in two forms. First, there's the standalone plugin available in the plugin repository, though it's no longer in active development. However, Flare is also available as a part of the team's Filament tool suite. This one is actively supported.
A paid version of the tool is available from $9 per month, which removes a link button back to Flare visible in the free versions and adds features such as mobile support.
Monarch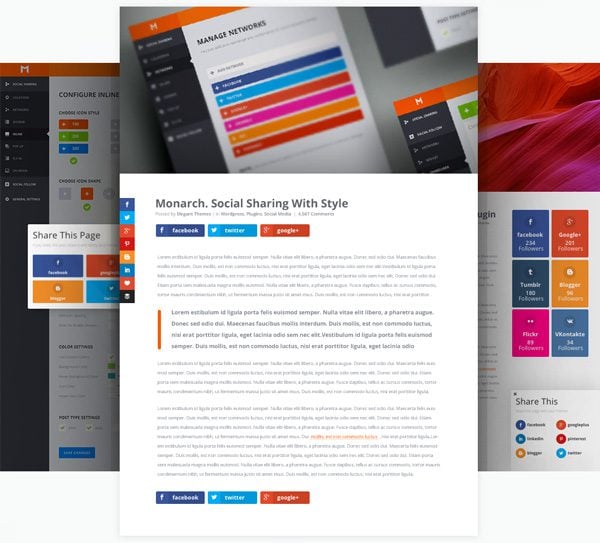 If you're already an Elegant Themes member – or considering becoming one – our own Monarch social sharing plugin would be a smart option. It's fully customizable and features a floating social sidebar, inline sharing, media sharing capabilities, and customizable pop-ups and fly-ins. Like Mashshare and Flare, you can display social proof with share and follower counters. More details can be found here.
Monarch is part of our Developer Membership that offers access to over 100 themes and plugins for $89 per year.
Scheduling and planning your social updates is important, but it will only take your content so far. Your content won't get shared and read as widely as possible when you're the only one sharing it. For that, you need your visitors, users, and readers sharing your content. Social sharing tools make that happen.
Place Your Share Buttons in Prominent Areas
Most sharing tools let you customize where your sharing buttons go and how they appear on your WordPress site. Don't just place small icons at the top of your sidebar or bottom of your post and hope for the best. The top of your post before or after the headline, and along the left side of your post content is prime real estate for your sharing buttons. Use it.
Take Advantage of Sticky, Fly-In, and Pop-Up Options
Take advantage of the extra features many of these plugins offer. That's where the value they provide really comes into play. On many tools, those left-side sharing buttons can be made sticky – staying on the screen as the visitor scrolls – meaning the button is always there whenever the user decides to share your content.
Fly-in and pop-up options also prompt your site visitors with an extra call-to-action to share the content they've just consumed.
Set Up Twitter Cards with WordPress
Another way to increase the effectiveness of your social media marketing is by setting up and using Twitter Cards. As Forbes puts it: "Twitter Cards let you take your tweets beyond basic text".
Instead of 140 plain characters – some of which may be a link to your piece or even a link to a image – Twitter Cards enable you to create a more engaging and eye-catching post for your users. Some options include:
photo cards,
photo gallery cards, and
summary cards
To integrate Twitter Cards into your WordPress site, you could embed the necessary code, but why do that when there are several great plugins?
Twitter Cards Meta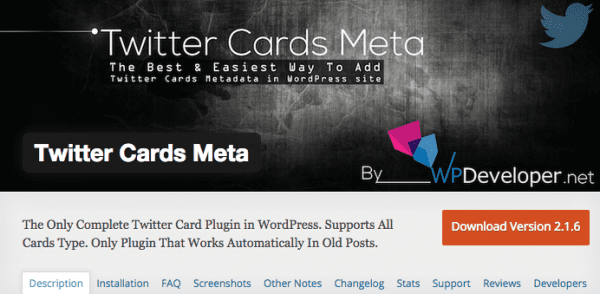 Twitter Cards Meta aims to help users increase both their brand value and their visibility on Twitter. The plugin supports all of the card types compatible with Twitter. The plugin integrates with both your existing posts and future posts without a lot of piecemeal setup on your end.
Summary and photo cards are included with the basic version, while other cards are add-ons that start at $14.97 each for a single site license. The plugin also offers a combination summary plus large image card and a WooCommerce product card as paid add-ons.
JM Twitter Cards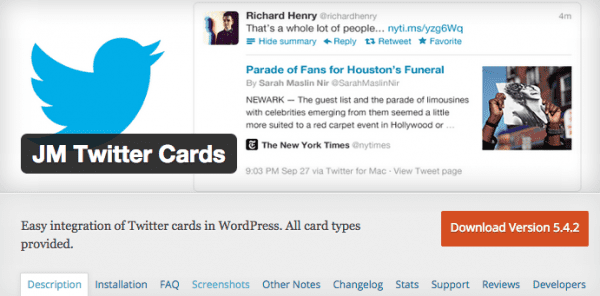 Another Twitter Card option, JM Twitter Cards makes for simple integration of Twitter Cards with your WordPress blog. Cards can be customized per post or automated per your card settings in Twitter. The plugin provides its own preview as you set up your cards, allows for image cropping, and has taken care to ensure compatibility with SEO by Yoast and All in One SEO's title and description settings. Best of all, this plugin is free with no premium add-ons necessary.
Save Time on Your Marketing with Twitter Cards
You have limited time, so it makes sense to automate the creation of these visual marketing assets with Twitter Cards. Sure it's a bit of time to set up your Twitter and add your plugin of choice to your site, but the time you save down the line will be well worth it.
Include In-Content Tweet Prompts
You could write an essay about how amazing your new WordPress post is, but you'd be hard-pressed for a Facebook or Twitter user to read it, much less click through to your excellent content. Visual social media posts get much higher engagement on both Twitter and Facebook.
While imagery is great for getting users to your blog to read your content, you've probably put a lot of time into what you say in your post.
You can take advantage of these epiphanies and spread your content wider with one of the many in-content tweet prompt plugins out there. Here are two we particularly like:
Click to Tweet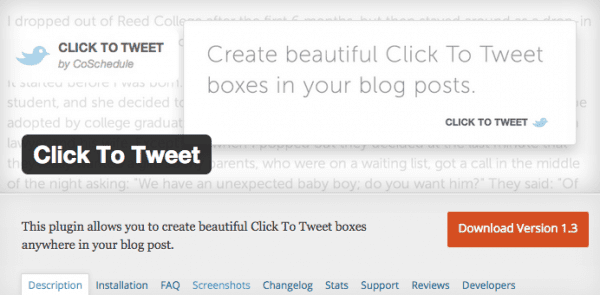 For big, bold prompts within your WordPress blog posts, Click to Tweet is a great plugin to have in your toolbelt. This plugin is by the same team that created CoSchedule. It enables users to build boxes anywhere within a post to display pull quotes from that post. The plugin integrates very easily into your existing post editor and your new tweet prompts are sure to be noticed by your readers. Click to Tweet is a free plugin.
Tweet This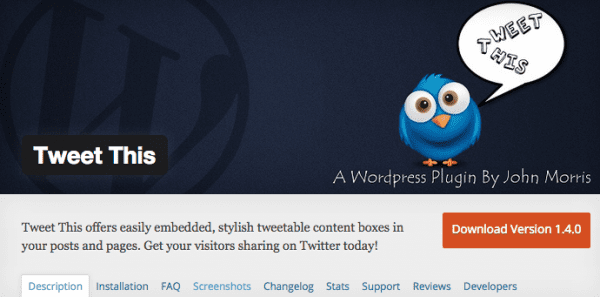 Tweet This is another free plugin option for sharing your more tweetable ideas. The plugin uses shortcodes to add embedded content boxes to both WordPress posts and pages. This plugin has several design options, including light and dark themes.
Your reader may love your post, but often it can be hard to know what to say about a long blog post. Zeroing in on the key points of your post with in-line tweet prompts can help an unsure reader choose a ready-made tweet to share your content.
Give Your Reader a Voice
They may have been your words, but often by sharing your point your blog reader is showing agreement with your idea. In-line tweet prompts give your reader a way to feel more a part of your blog community as well as get your idea in front of hundreds of more Twitter users.
Wrapping Up
Marketing your next WordPress blog post can be easier. All it takes is the right tools and the know-how to use them. Each type of social sharing plugin can work together to help your content get shared more and read more.
Your marketing starts with you. Setting up Twitter Cards and making and using a social media post scheduler will help you get started, but you are only part of the picture. Your readers are the other half of the equation.
Don't just put a share button up in the corner. Make good use of your sharing buttons and their extended features, as well as tools like Click to Tweet and Tweet This. Your readers will take it from there.
What's your favorite social media marketing tactic? Let us know in the comments below
Image Credit: My Portfolio / Shutterstock