It's a sad reality that many fantastic non-profits are underfunded, understaffed, and lacking in technical know-how. After all, a heart of gold doesn't come pre-packaged with vast resources and a degree in computer science.
As a result, the quality and effectiveness of many non-profit websites suffers. But they don't have to. That's why in today's post we've compiled a list of essential WordPress plugins for non-profits. Each one solving technical problems that would otherwise prove difficult, if not impossible, for non-technical staff and volunteers to overcome.
22 Essential WordPress Plugins for Non-Profits
When considering which plugins to include I tried to focus on the primary needs of non-profits:
Basic (but high-quality) website optimization and security.
Community management (events, volunteers, etc.)
Community growth (email, social, etc.)
Fundraising via donations, membership fees, and basic eCommerce.
I also relied on specific criteria to determine which WordPress plugins were good enough to make the cut. This criteria included positive user ratings, a high level of support, recent updates (within the past 3-6 months), a low cost, and perhaps most noteworthy, easy setup.
Fundraising Plugins
Easily accepting tax deductible donations, processing member dues, or conducting online transactions that benefit the cause all go a long way toward making the financial burdens of non-profits lighter. This in turn allows the organization to spend less time pinching pennies and more time doing the good work they were founded to do. These plugins should help.
1. Give

Tom Ewer covered the five "tip jar" WordPress plugins for non-profits last year, and one of the suggestions included was the Give plugin. While it may seem redundant since it allows for people to make donations with PayPal, Give is much more than just a payment processor. It's a super robust tool that helps users track donations, set goals, and review stats, all in one place.
Features: 
Goal tracking
Zero commission charges
Own your data
Multi-tier donation level support.
Customization options
Reporting
Custom emails
API support
Price: FREE | More Information
2. Restrict Content Pro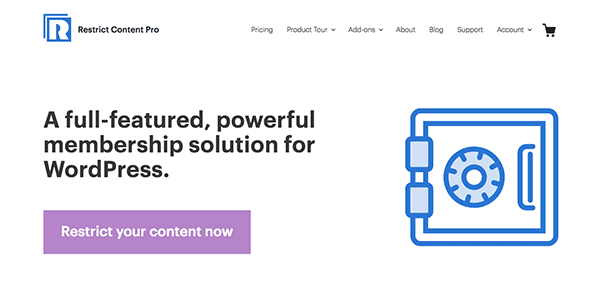 Restrict Content Pro is the premium upgrade to Restrict Content, which you can get for free in the official WordPress Plugin Repository. I've chosen to list the premium version for this essential plugins list because instead of simply restricting content you can charge for access. Turning this plugin into a great way to accept both one-time and recurring membership dues. For some non-profits this kind of revenue is their most dependable source of income.
Features: 
Restrict content by user roles
Manage members with the customer dashboard
Create and manage an unlimited number of subscription levels
Multiple payment gateways
Discount codes
Member emails
And a variety of add-ons
Price: $49 per year | More Information
3. Easy Digital Downloads

Easy Digital Downloads is a great way to sell digital products such as lectures, sermons, podcasts, ebooks, and more. At the affordable price of free, it can be quite the revenue generator for non-profits looking to raise funds.
Features: 
Shopping Cart
Customer Management
Discount Codes
Data Reporting
Add-ons
Price: FREE | More Information
4. WooCommerce

If your non-profit clients are in the business of selling anything (tickets, products, memberships, etc.) or taking donations, they're going to need a high performance e-commerce plugin to simplify the process. WooCommerce is the plugin to use if you need to create a digital storefront. There are also a number of free extensions available to beef up WooCommerce based on your client's needs.
Features: 
Sell anything to anyone, anywhere in the world.
Credit card, PayPal, BAC, and cash on delivery support
Integrates with Storefront theme for total customization
Full extendable with numerous premium extensions.
Built on REST API
Robust support community
Price: FREE | More Information
Community Growth
Community Growth is key to the long term success of any non-profit. If you're not growing, you're likely withering. These plugins will help you better expand your reach, engage your visitors, and promote your cause.
5. Bloom

Bloom is an email opt-in form plugin for email list building. This plugin is designed to provide you with everything you need to convert your website visitors in loyal fans and followers.
Features: 
100+ email opt-in form templates
6 Different display types
Automatic Pop-up and Fly-in triggers
16 email marketing integrations (and more coming)
Unlimited color options
Lots of other design settings
Statistics dashboard
Form split testing
And much more
Price: Free with Elegant Themes' Membership | More Information
6. Monarch

Monarch is a beautiful social follow and sharing plugin for WordPress. With Monarch it is not only easy to provide social options to your site visitors but with easy customization options, beautiful user interface design, and tracking options–you'll be socially optimized and feel good doing it.
Features: 
Over 20 social networks to choose from
5 different sharing buttons in 5 different locations
6 automatic pop-up and fly-in triggers
Beautiful social following display options
Stats dashboard
And more
Price: Free with Elegant Themes' Membership | More Information
7. Postmatic

Postmatic is a simple but brilliant plugin. It allows readers to opt-in to receiving an email notification of new comments on a post they comment on. Then, it allows them to reply to that comment, right from their inbox. It will super-charge your comment engagement.
Price: FREE | More Information
8. Ninja Forms

Adding forms throughout a non-profit's website can be the difference between a well organized and growing community, and a community that doesn't feel like they have access to organizers. Ninja Forms is a powerful forms solution for WordPress. It's also incredibly modular which means if you need paid add-ons, you only buy the added functionality you need.
Features: 
Intuitive drag and drop form builder
Simple but robust settings for complete form control
Easily extendible with add-ons
Price: FREE | More Information
Community Management
Once you have a website up and running with an active community using it, you'll likely need some tools to help you manage that community. These plugins should help!
9. Ultimate Member

If you're a non-profit in need of a membership website, Ultimate Member may be the best free option out there. It's powerful, flexible, and provides everyone with their own attractive user profile.
Features: 
Front-end user registration
Front-end user login
Front-end user profiles
Custom form fields
User account page
Searchable member directories
Custom user roles
And much more
Price: FREE | More Information
10. The Events Calendar

Most non-profit organizations are heavily involved in fundraising and charity work. Because of this, it's essential for their websites to include an events calendar. With this particular plugin, you and your clients can easily set up professional-looking calendars with all the details donors, attendees, and volunteers might need. This is also chock-full of customization, so Google apps (including maps and calendars), SEO, event search, and saved event information are all included.
Features: 
Easy setup
List and day views
Save venues and organizers
Widget
Event taxonomies
Export to Google Calendar and iCal
SEO support
Template tag support
Caching support
Price: FREE | More Information
11. Event Tickets

This particular plugin is an add-on for The Events Calendar plugin, so if you're going to set that one up you might as well get this one, too. This plugin gives site visitors the ability to RSVP to events. On the backend, this plugin is also super helpful for non-profits who want to get an advance head count and to be able to better manage the check-in process for registered attendees.
Features: 
RSVP support
Responsive
Major theme compatible
Translation ready
Comes with hook and filters for developers
Price: FREE | More Information
12. UkuuPeople

UkuuPeople is a simple (and free!) contact relationship management tool (CRM) for WordPress. This is potentially huge for non-profits as traditional CRM's can be extremely pricey. A free one that exists right in the backend of your website can help you manage your community, track and woo donors, and so much more.
Features:
Touchpoint tracking
Email list building
Meetings
Tasks
Due dates
Attachments
Dashboards
People search
Integrations via premium add-ons
Price: FREE | More Information
13. Wired Impact Volunteer Management

Non-profits don't just rely on charitable donations to help fund their organization, they also rely on the work of volunteers. With this volunteer management plugin, your clients can advertise volunteer opportunities, control how many people sign up, track volunteer participation, and more.
Features: 
Easily post volunteer opportunities
On-site sign up forms
Confirmation email support
Limit sign ups
Reminder emails
Volunteer profiles and participation tracking
Price: FREE | More Information
14. Participants Database

The Participants Database plugin serves a slightly different purpose than the volunteer management one mentioned above. While this one can keep track of volunteers, it's more likely that your non-profit client has other groups of people they need to track—voters, supporters, and other participants. This plugin help users collect information, process sign-ups, and receive notifications whenever records change.
Features: 
Customizable forms
Shortcode support
Signup form with multiple elements to choose from
Email notifications and confirmations
Searchable database
Import/export support
Price: FREE | More Information
15. User Role Editor

User Role Editor is a simple but extremely useful plugin that allows you to create user roles for each account on your WordPress website and then adjust their access by role. This is great for keeping sensitive information or controls out of the hands of mere blog contributors or subscribers.
Price: FREE with premium option | More Information
Website Optimization
Every website needs optimization. Thankfully the WordPress Community has created lots of tools and services to help anyone at any skill level solve these tricky problems. These tools should help you and your non-profit staff cover the bare essentials of WordPress website optimization. Ensuring that you don't simply have a website, but a fast and secure website.
16. JetPack

JetPack is one of my favorite WordPress plugins for non-profits and other small business owners because it's easy to use and all settings are kept in one place on the dashboard. Not to mention, it's made by Automattic, so you know it was built to provide solutions that WordPress users need.
Features: 
Traffic and other site statistics
Spam protection
Malware scanning
Easy management of plugin updates
Publicize for built-in social promotions
Site map creation
Spam blockers from Akismet
And more
Price: FREE | More Information
17. UpdraftPlus Backup

It's always a risk leaving a website in the hands of an untrained WordPress user, especially one that's super concerned with budgetary restraints. Make sure you equip all of your non-profit clients' websites with a backup solution, even if their hosting provider provides one. Since UpdraftPlus will back up to a lot of different storage providers, I'd suggest you start there.
Features: 
Supports backups to UpdraftPlus Vault, Amazon S3, Dropbox, Rackspace, Google Drive, and more
Automatic backups,
Site duplicator/migrator
Quick restore
Remote control of backups
Select which files to backup
Split large sites into multiple archives
Debug mode
Price: FREE & premium version for $70-$145 | More Information
18. Wordfence Security

Security is especially important for a non-profit organization that deals in donations and the exchange of other sensitive personal information online. The Wordfence Security plugin will give your clients additional security (on top of whatever their host provides) not only within the website, but at the login page as well.
Features: 
Firewall
Threat defense feed
Block malicious networks and known attackers
Two-factor authentication
Enforce strong passwords for all users
Security scans
Monitor traffic in real-time
Multi-site support
Includes Falcon Engine caching
IPv6 compatible
Price: FREE & premium version for $8.25/month | More Information
19. SSL Insecure Content Fixer
Before you go uploading this plugin to your client's website, you should also ensure that they have purchased an SSL certificate and are running their website on HTTPS. This is especially relevant for any website that accepts payments or personal information from visitors. Once they have one in place, you can add this plugin to make sure no insecurity warnings are thrown due to mixed content issues.
Features: 
Easy setup
Basic fixes performed automatically.
Multisite support
Multiple language support
Price: FREE | More Information
20. WP Rocket

WP Rocket has exploded onto the WordPress caching scene, becoming one of the top choices across both free and premium options. While there are free options available, some of the very best have gone five and six months without updates and had at least one serious security vulnerability recently. So for those reasons and the fact that WP Rocket itself is so good, it's the option I'm recommending.
Key Features:
Page caching
Cache preloading
Images on request
Static files compression
Developer friendly
Price: starts at $39 per year | More Information
21. WP Smush

The Jetpack plugin will help a bit in terms of optimizing images and the W3 Total Cache will help with optimizing everything else, but sometimes site imagery needs a little more reduction than that. Because of that, I'd suggest you start your non-profit clients out with the WP Smush plugin. If you want to try something else, you'll probably want to take a look at our recent review of other image optimization plugins.
Features: 
Lossless compression
Set max width and height
Supports JPEG, GIF, and PNG files
Auto "smush" attachments when they're uploaded
"Smush" images up to 50 at once.
Price: FREE & premium version included in WPMU DEV membership | More Information
22. Yoast SEO

While word-of-mouth and community events can help spread the word about non-profit organizations, a solid search engine optimization plan is important for driving traffic to a cause online. Your non-profit clients may not have time to implement a full SEO strategy, but that doesn't mean they can't get a little help from this plugin. We've even created an easy to follow set-up guide.
Features:
Page analysis
Meta and link elements
XML sitemaps
RSS optimization
Breadcrumbs
Multisite support
Import/export
Social integration
Price: FREE | More Information
Wrapping Up
It's not easy to run a non-profit or a great website. But with the right tools in place a great website can go a long way towards making all your hard work pay off in the form of more funds and an expanded/more engaged community.
What kind of functionality does your non-profit need from WordPress?
Article thumbnail image by  venimo / Shutterstock.com