Creating an attractive WordPress website and crafting high-quality content is only half the battle when it comes to growing your audience. After all, if there's no one reading your content, how is your site ever supposed to take its rightful place near the top of search engine results?
The key to a popular WordPress website is to identify your key audience (and target them effectively) so that your numbers will grow over time. In this article, we'll explore three steps to identify your audience, then teach you how to grow it using three different methods.
How to Identify Your WordPress Audience (in 3 Steps)
There are plenty of methods you can employ to identify your audience, which sometimes varies depending on the field of your WordPress blog. Instead of casting a wide net, we decided to focus on three simple steps that work well for all types of audiences, and will be suitable regardless of your niche.
Step #1: Define Your Target Demographic
One of the biggest distinctions you'll learn to make is discovering the difference between your overall audience and your target demographic. The former is the total of people that visit your website – whether big fans or casual bystanders – and the latter are the people you actually create content for.
If it doesn't make sense, bear with us for a minute. It's impossible to engage all of the people who find their way to your WordPress website, no matter how high-quality your content is. To succeed in building an audience, you'll need to focus your efforts on a specific subset of users – those who can benefit the most from your content. We'll get in-depth on this later.
The alternative is to try and appeal to several diverse audiences. Some websites can succeed at this, but they usually have large budgets and staff. However, if you're working with limited resources, you'll be best served narrowing your efforts and kicking ass in front of one specific audience.
Next, it's time to ask yourself how you can identify your core audience. An excellent way to narrow things down is to ask the following questions:
Who is your ideal reader, and what do you imagine them to be like?
Who can afford what you're offering? This is especially pertinent if you're promoting a service.
What other websites would these hypothetical users visit?
Chances are that if you answer these questions honestly, you'll have an excellent idea of what your target demographic looks like. If not, it may be time to narrow your focus!
Step #2: Focus on the Problems You Can Solve
Focusing your efforts on those users who will benefit the most from your content is great, and another way to identify who those users are is to figure out the problems you can solve, and who will benefit the most.
To put it simply, a lot of successful blogs solve problems for their users, which in turn helps to keep them around. For example, here at Elegant Themes, we're all about WordPress and web design topics. It makes sense that we should try to pass our knowledge onto others.
Building a WordPress blog around topics you're knowledgeable about gives you two great advantages:
In all likelihood, you know the kind of audience that will be interested in your content, thanks to your experience in the field.
Your knowledge enables you to provide actionable advice and help readers solve problems.
The great thing is, you don't even need to be an expert in your field to build an audience around something you're interested in. For example, check out this roundup on WordPress travel themes – it solves a problem for the reader by pointing them to the resources they need. It doesn't take a WordPress guru either to solve a similar problem. It just needs someone who doesn't mind doing a bit of research.
If you have ideas for interesting topics but aren't quite sure how to tackle them from a problem-solving perspective, here are two different approaches:
Can you guide your audience through solving a problem? If so, you have a winner.
Introduce your readers to useful tools related to their workflow, and help them figure out which one is the right fit.
So far we've looked inward to help us identify our audiences. Now it's time to turn outwards, to our competitors.
Step #3: Study Your Competition
One of the keys to building a successful business is to know your competition, and their websites are no exception.
It may sound obvious, but if an individual or a website has a large following, we can probably assume they know what they're doing. That means they know who to target, and how to do it. Studying your competition is especially useful if you're running a fledgling WordPress website, since you're starting from a blank slate.  They've had more time to optimize their approach, so you can save a lot of trial and error by analyzing them.
The first step to identifying your competition is to do a few online searches on keywords related to your target demographic, and the content you want to produce (which we've already covered). Write down as many keywords as you want to, then head to the BuzzSumo website – we're going to use this tool to identify which of your competitor's posts did better on social media. Type your competitor's domain in the main field, hit search, then check out the results:

After you've identified your competitor's most popular content, here are the steps you should take:
Figure out the article's main topic.
Check out the approach they used to the topic (e.g. is it a problem-solving article?).
Study their keywords – these are critical for Search Engine Optimization (SEO).
Once you've figured all of this out, you'll have an excellent idea of the type of users you can target using an approach similar to your competition's. From there, you'll want to improve upon their pre-existing content for your own site. Techniques such as the Skyscraper method are proven, and can help supercharge your own content.
How to Grow Your WordPress Audience (with 3 Methods)
Much like identifying your audience, there are a variety of methods you can use to grow it. It's a dense topic, so we've settled on three methods that should start you off nicely. However, we encourage you to do your own further reading and independent research on the topic.
Method #1: Target Low-Competition Keywords
We've already discussed the idea of studying your competition's keywords to target the same kind of audience. However, this may not always be the best approach. For a start, your competitors have had more time to carve their way to the top, and they're likely not alone. It's an arduous process, which means that you shouldn't focus all of your efforts on competitive keywords unless you're ready for a marathon.
Instead, you might find more success by using low-competition keywords. They won't drive as much traffic to your site, but they can provide you with a steady stream of visitors who will have found exactly what they were looking for. Combine several of them and you'll have a sizable audience of your own.
Before you begin, you'll need to know the basics when it comes to choosing solid keywords. Once you're ready, here's what you need to know when it comes to picking low-hanging fruit:
Opt for long-tail keywords when possible. They might be harder to work into your articles, but this makes them less contested. Think less WordPress tutorials and more add WordPress social follow buttons for example.
Look for keywords with modest monthly searches – anywhere between 1,000 and 3,000 is a good place to start.
Keep an eye out for keywords with low-quality competitors. If the tops spots in search engine results are full of shoddy websites (i.e. bad design, poor optimization, and subpar writing), you can attract users by providing a better alternative.
Building an audience by using low-competition keywords is not simple. However, if you have the stamina to keep it up over the long run, it can pay off.
When we talk about social media integrations, we're referring to anything that links those platforms to our WordPress website. They might be social share buttons, integrated feeds, or even plain links to your profiles.
Not all types of social media integrations work for every WordPress website. However, social follow buttons (as seen above) and social share functions are usually a slam dunk:

Social media can be critical to growing your audience, but to get the most of out of it, you ultimately need people to share your content. You can always do so from your own social media profiles, but you won't get far without a decent following. People are more likely to read an article shared by their friends, and if you focus on problem solving pieces, chances are your visitors will feel more compelled to do so.
We've also written a lot about how to integrate social media with your WordPress website. Check out these articles from our archives:
Social media integrations are important, but there's an aspect of your content that's just as vital – your publication rate.
Method #3: Determine Your Optimal Publication Rate
Your publication rate refers to the pace at which you debut new content on your WordPress site, and in this case, when you do so. Optimizing your publication rate is a key step to growing your audience for the following two reasons:
You can get your content in front of as many eyes as possible, as soon as possible.
Once you've established a set schedule, your visitors will know when to expect new content and (hopefully) they'll be on the lookout for it.
To get there, we'll need to determine our optimal publication rate. That means figuring out the days and hours that our site receives the most attention. Then, we can use the basic WordPress scheduling feature to publish our posts automatically during those times. You can find the function right next to the WordPress editor, under Publish. Find the Published on: section, click on Edit, then enter your chosen time and date: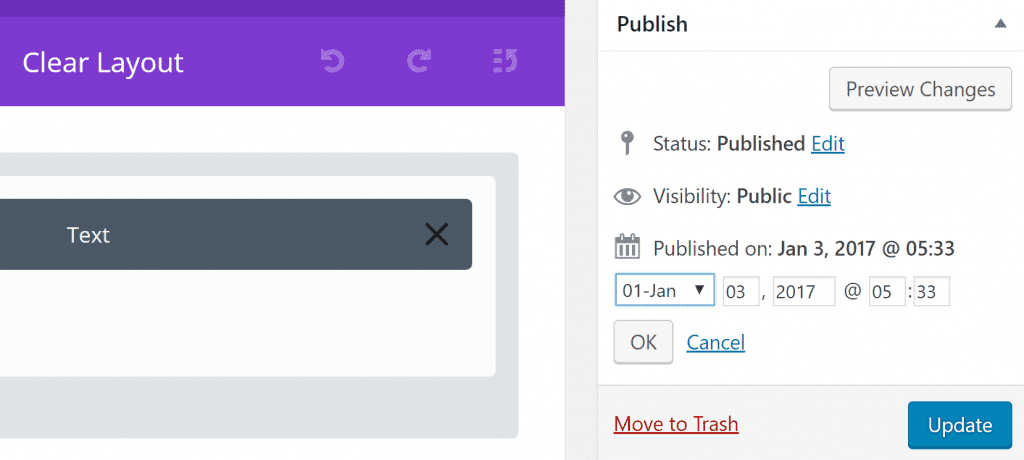 Once you've scheduled your posts, an app such as Buffer can help publish them to social media at the most optimal time – either automatically, or based on your own times and days. Buffer offers a free tier with a solid level of functionality, and there are numerous tutorials across the web to help set it up.
Conclusion
Quite simply, growing your WordPress audience is not an automated task. By putting in the work, you'll be able to gain a steady stream of returning visitors, and provide them with quality, targeted content that they'll want to share. If this happens, growth is inevitable.
Whether you're starting a new WordPress website, or working on optimizing one, here are three steps to identify your audience:
Define your target audience.
Focus on the problems you can solve.
Study your competition.
…and three methods to grow them:
Target low-competition keywords.
Take advantage of social media.
Optimize your publication times.
What do you think is the most important thing when it comes to growing the audience of a WordPress blog? Subscribe and share your thoughts with us in the comments section below!
Article thumbnail image by Alex Oakenman / shutterstock.com.