WordPress themes come in all shapes and sizes. Whether you're looking for free or premium, flashy or simple, there is an excellent selection of themes for all user groups.
Now, when it comes to choosing a theme, I would probably recommend going premium. This is because premium themes are (usually) higher quality, boast more functionalities, and are more frequently updated than their free counterparts.
However, I'll also admit that premium themes are not necessarily for everyone. New WordPress users looking to dip their toes, hobbyist site builders, and those working with zero budget will be better served taking the free route.
A Case for Free Themes
In fact, the quality of free themes has come on leaps and bounds in recent years. Many well-respected developers release free themes – it's their way of giving back to a community that has given them so much.
There's plenty of selection available, too, with free themes released for a variety of purposes. Over the coming weeks and months, Elegant Themes will introduce you to some of the top free WordPress themes in a variety of categories.
That starts today, as we showcase 20 of the best free WordPress themes for writers. As you can imagine, this means fewer flashy design elements, and more focus on the stuff that really matters – your content.
All 20 themes are available from the official WordPress theme repository. The themes were selected for their design quality, features, and popularity. And, to avoid repetition, all themes included in this list are fully responsive.
Here we go then, in no particular order.
Hoffman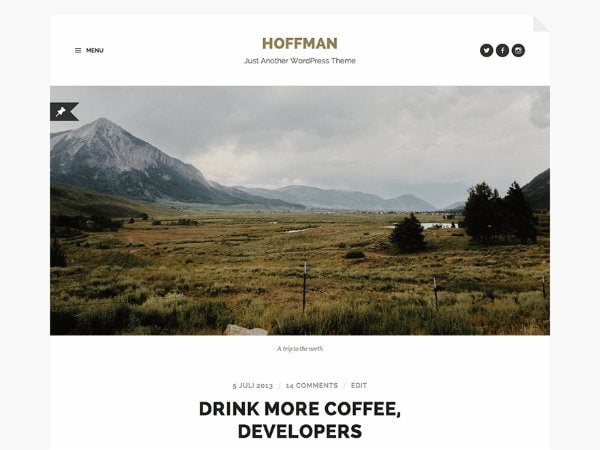 Hoffman is a gorgeous, minimalist theme, targeted at personal bloggers. The theme utilizes a narrow single-column layout, with large, striking featured images. If you'd like to add some of your personal flair to your website, the theme also supports custom accent colors and a full-width custom background. The theme comes with five widgets, built-in social media buttons, and support for infinite scroll for quick load times.
Crawford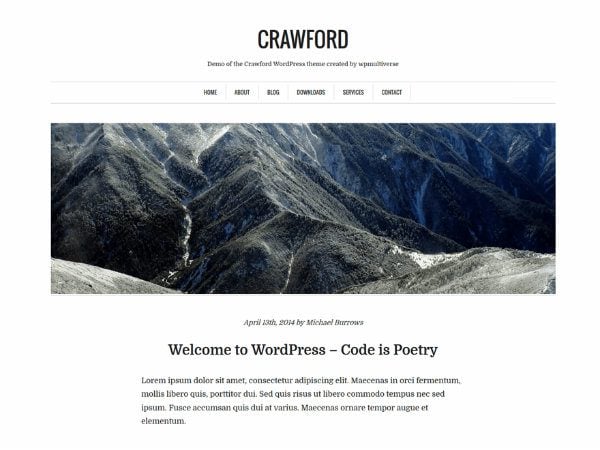 The Crawford theme is relatively similar to Hoffman, with a narrow single-column layout and large featured images. The theme is super-minimal, so there's little to distract visitors from your content – there's no sidebar area and just a small footer section to place widgets. If you want a theme that maximizes the amount of white space, Crawford is an excellent option.
Rams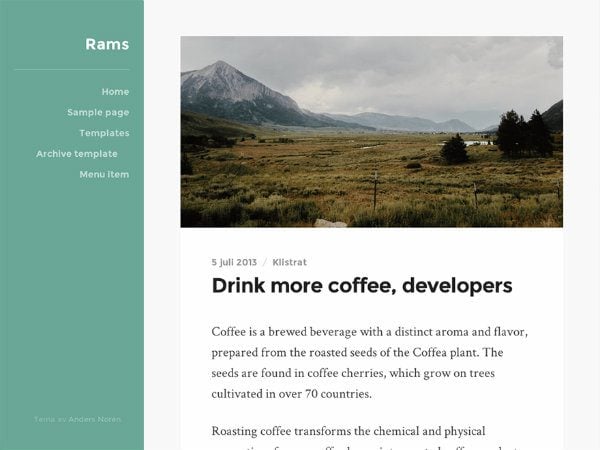 Next up, Rams. The theme is uncluttered, with your content displayed prominently in a single column in the center of the screen. The theme's menu is displayed to the left of the page, keeping your content as the focal point. The color of this menu sidebar, as well as the content accent color, can be customized with a single click. There are also four page templates, allowing you to showcase your content in style.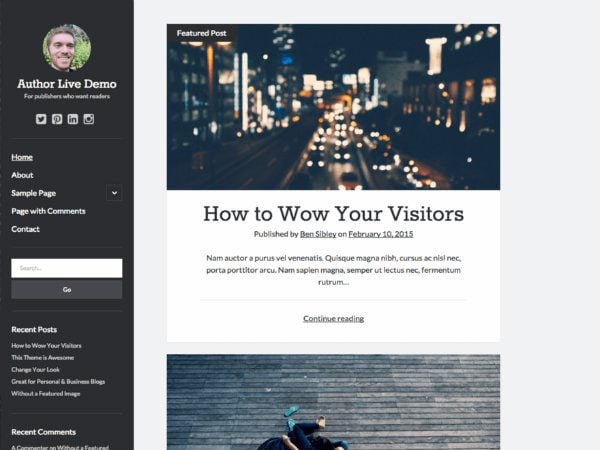 Author is a well-designed, super-stylish theme built for content publishers. The theme splits the page into two – the left side featuring your navigation menu and sidebar widgets; the right side is all about your content. This includes aesthetically pleasing boxed featured images, and a clean, readable font. The theme is also capable of adding lots of extra functionality courtesy of custom widgets, plus it boasts built-in social share buttons.
Serene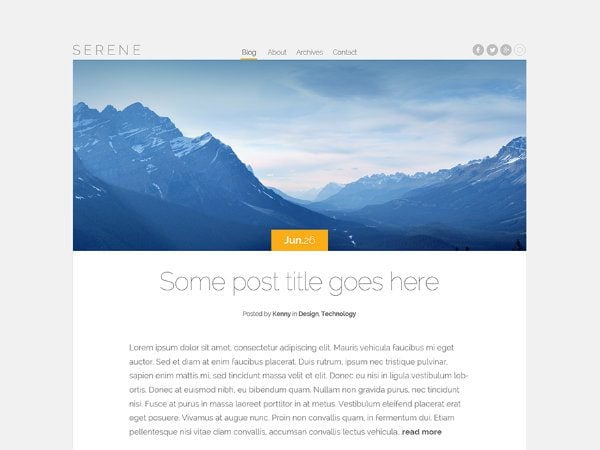 Now for one of our own, Serene, built by Elegant Themes. The beautifully minimal design combines a small header, huge featured images, and striking typography. The theme ships with six post formats – standard, video, audio, quote, gallery, and link – giving you a purpose-built layout for any content. As well as the memorable typography, Serene also offers a choice of unlimited colors, so that you can style your website exactly to your liking, and easy-configure social buttons.
Radcliffe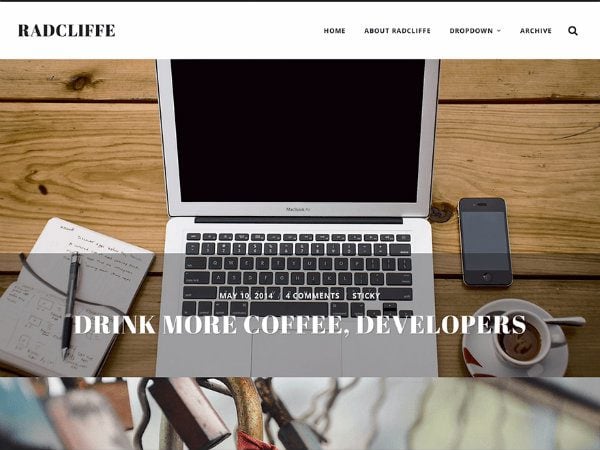 Radcliffe displays visually stunning, full-width featured images on the homepage, linking to your blog content. This makes it perfect for complementing your written content with your photography skills. Blog posts look beautiful, merging the large featured image with a minimal one-column design. The typography is well-chosen, too: clean, crisp, and easy-to-read; exactly as it should be. There's also a widgetized footer area, plus custom accent colors.
Kouki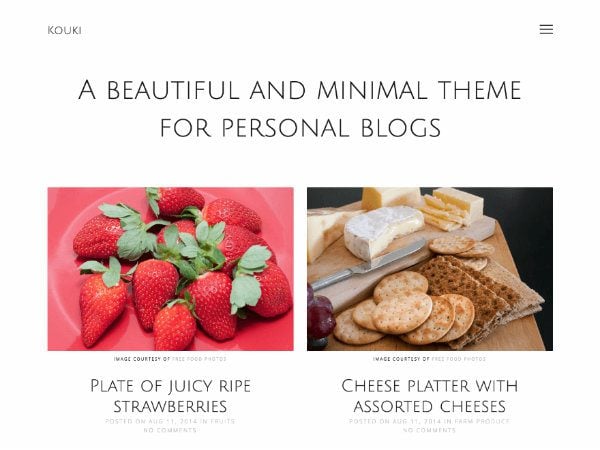 Kouki is a lovely, two-column theme aimed at writers and personal bloggers. It boasts stunning typography, which functions as an important design feature. Although heavy on white space, it also features large thumbnail images, making it suitable for photographers, foodies, or travel bloggers, where imagery is important. To keep your site uncluttered, menu items are hidden behind a menu button. The theme offers a good amount of customization opportunities, too, with unlimited colors and a choice of Google fonts.
Just Write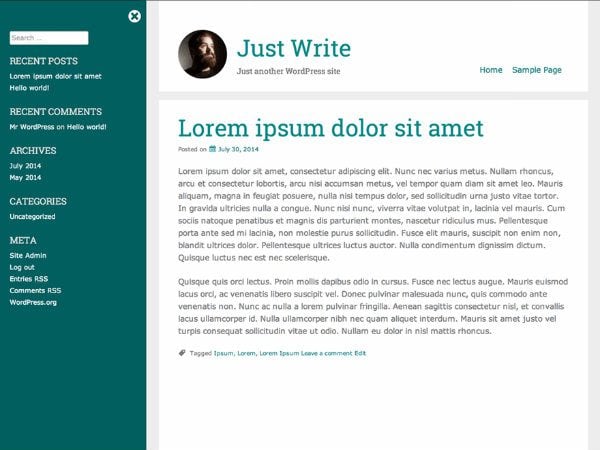 Next we have Just Write – and as the name implies, this theme is all about your content. It utilizes an unobtrusive design, with a clean navigation menu displayed at the top of the page, and a simple sidebar that can be toggled in and out of view. The sidebar can be customized, too, with a choice of unlimited colors, controlled by the WordPress Customizer. You can also select a custom accent color.
Adirondack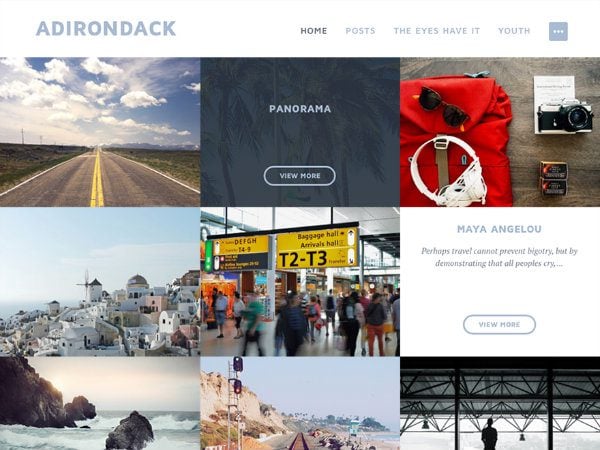 Now for something a little different, Adirondack, with a homepage dominated by a full-width featured image and a stylish grid consisting of smaller thumbnails. These thumbnails come complete with animated hover effects. Content pages look beautiful, with a huge featured image and a clean, left-side column of text. There is also a widget area anchored to the top of the screen, and toggled in and out of view at the click of a button.
Exposition Lite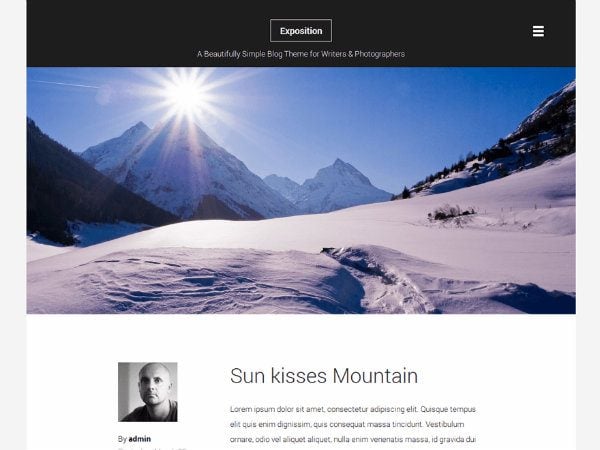 Exposition Lite is a gorgeous, content-centric theme targeted at long-form writers. The theme uses striking featured images – making it equally suitable for photographers – and clean, crisp typography. Content is displayed in a single column, and there is even a prominently-displayed author box to the left of it. To avoid clutter, the navigation menu needs to be toggled into view, and there are a range of custom widgets to be placed in the footer area. The theme also comes with support for unlimited colors and the full complement of Google web fonts.
Simppeli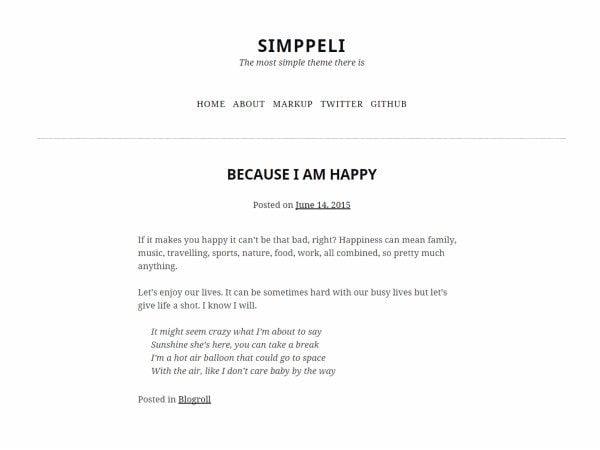 Perhaps the most minimal theme you'll find, Simppeli is all about the content. The theme comes with space for a logo and a basic navigational menu, and that's it! The rest is content – pure and simple. Because the typography is the most important design element here, the developers have gone for a clean, stylish font that your readers will enjoy reading – a good choice.
Scrawl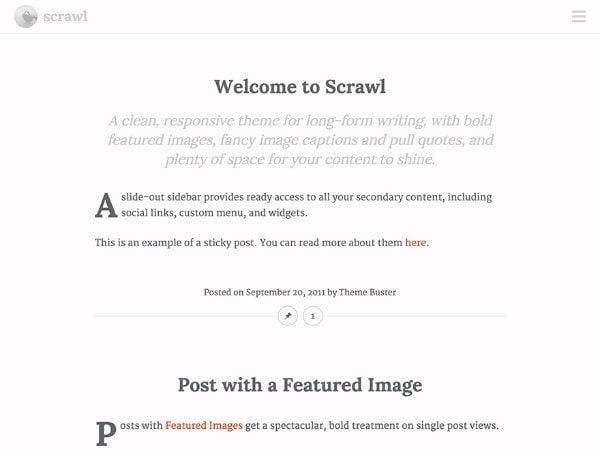 Scrawl is a beautiful, clean theme built by the people behind WordPress.com, Automattic – and developers of some of the best free WordPress themes around! The theme makes use of plenty of white space, giving you the perfect platform for your content. Content pages include a stunning, full-screen featured image, which are guaranteed to wow your visitors. Your content is displayed in big, bold typography, which is a pleasure to read and ideally suited to long-form content. Your sidebar slides in/out of view at the touch of a button, plus you can add stylish social sharing buttons to the sidebar, too.
Hemingway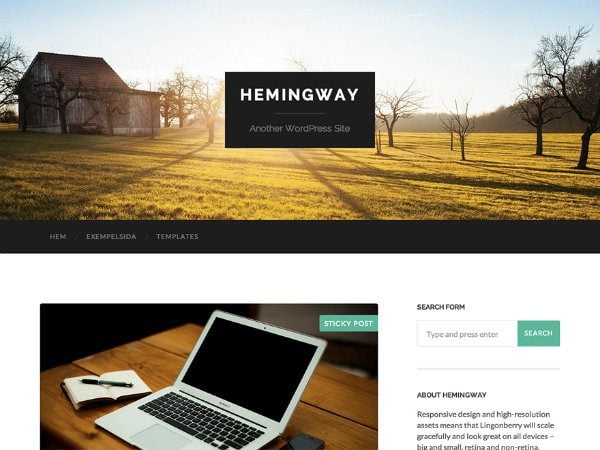 Named after the legendary Ernest Hemingway, this theme is one of the most popular for writers. It includes space for a large custom header image, controlled using the WordPress Customizer. It also comes with gorgeous typography, which brings your content to life. There's a simple sidebar and colorful footer area, too, which allows you to add extra functionality via custom widgets. To add an element of branding, you can also change the accent color.
Simplenotes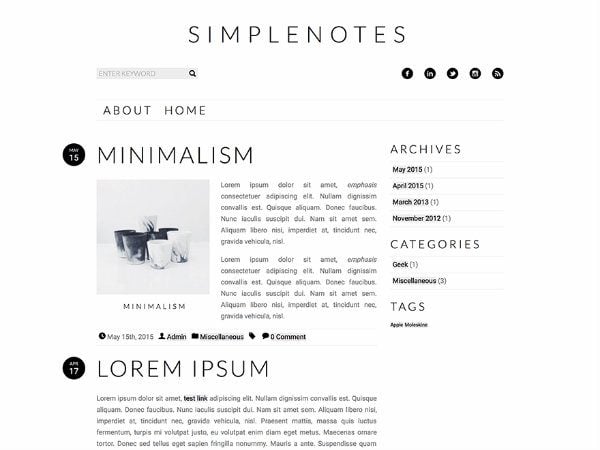 Simplenotes is a relatively new theme, and certainly one of my favorites. The theme uses a minimal, two-column design, featuring lots of white space. It also uses striking typography for titles and menu items, coupled with smaller thumbnail images. It comes with lots of built-in functionality, too, including social sharing buttons, threaded comments, and drop-down menus.
Tracks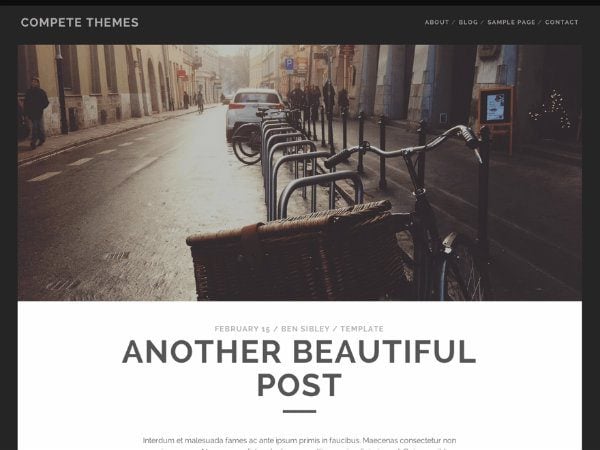 Tracks is a visually stunning personal blogging theme that will double up well as a photography theme, too. The homepage features organized grids displaying thumbnails and content, complete with eye-catching hover effect. The blog post pages look simply stunning, with large featured image, stylish font, single-column content, and simple author boxes. The theme has a slightly gloomy vibe to it, in my opinion, which feels distinct and intriguing.
Pratt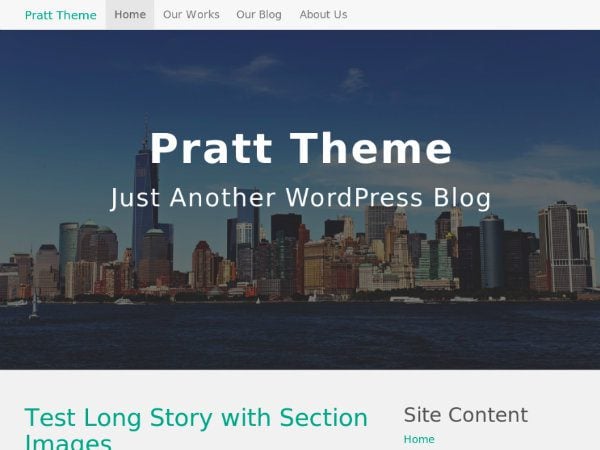 Pratt is a beautiful, feature-rich WordPress theme, targeted primarily at writers and bloggers. It uses a flat design, complete with a memorable, full-width custom header image. You can also add full-width colored sections to your content – ideal for quotations or for making certain sections stand out. The theme comes with seven page templates and plenty of built-in shortcodes, giving you lots of flexibility. Note: Pratt is a child theme for the free Flat Bootstrap theme.
Eryn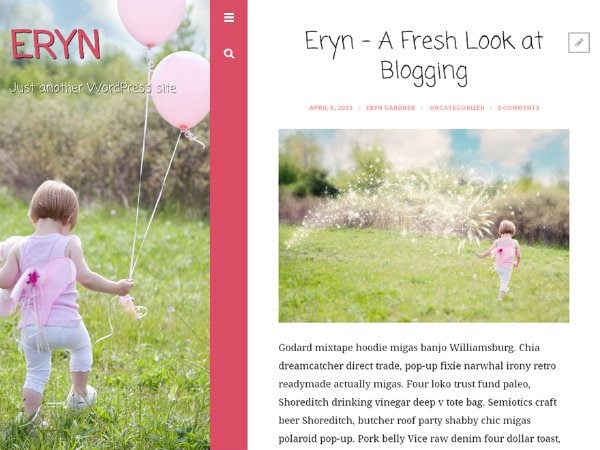 The demo implies that the Eryn theme is laser-targeted at parent bloggers because of the images used. However, these images can be fully customized – kitted out in your own images, Eryn can be used by writers and bloggers in all niches. The theme uses playful header typography, plus it uses a slide-in navigation menu. It also features built-in social sharing buttons.
Lovecraft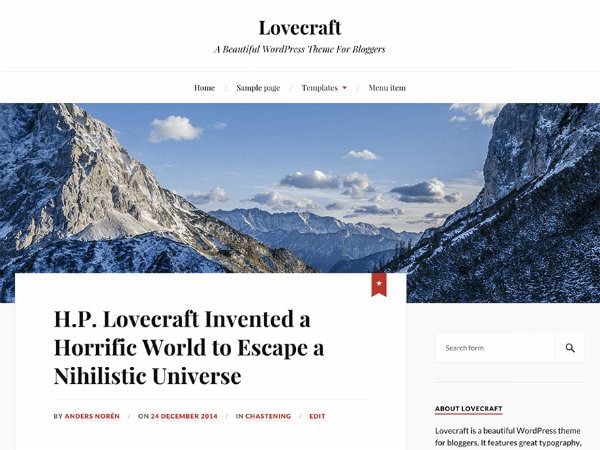 Lovecraft is undoubtedly one of the best free WordPress themes. It uses a customizable, full-width header image, creating a strong first impression for visitors – this header image is replaced by each post's thumbnail image, for a more flexible design. Your content looks gorgeous, with beautiful fonts and particularly stylish blockquotes. It also supports custom accent colors, lots of widget areas, and a number of custom widgets.
Aries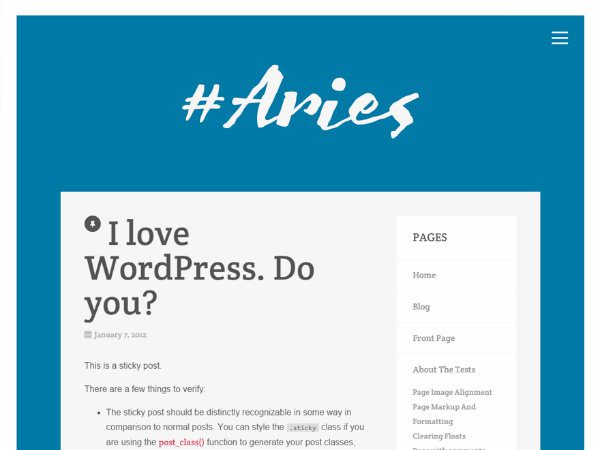 Aries is a striking theme, featuring a large header area and a bold, dominant background color. As you can imagine, this background color is fully customizable. Aries ships with seven pre-built skins or you can choose a custom color. If you'd prefer to use an image, Aries lets you upload a full-screen background image, too. Aries is also a highly flexible theme: it begins life as single column, until you add a sidebar widget, when it automatically switches to two-column. It also features a toggleable navigational menu.
Founder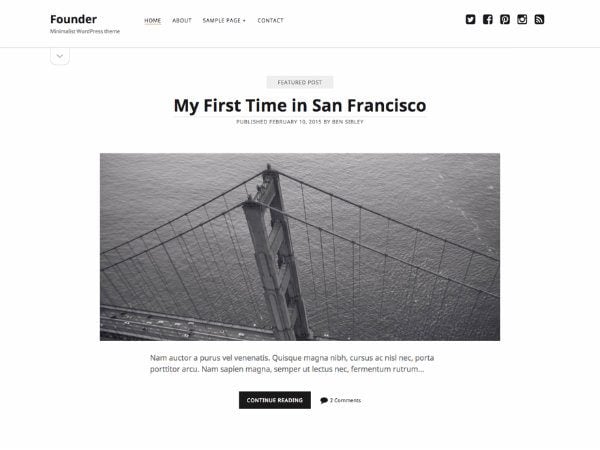 The final theme in today's collection is Founder, a clean and professional writing theme, utilizing a stylish, minimalist design. The theme makes your content the focal point, using crisp, readable fonts. It also adds color to the page, with large thumbnail images. To keep your site clutter-free, it includes a drop-down widget area, which is clicked in and out of view. The theme also supports a drop-down navigation menu and includes social media buttons.
Final Thoughts
A list of 20 themes might seem conclusive, but with so many great free WordPress themes available from the official repository, I'm sure I've missed some out. If you know of any awesome free writers themes missing from this list, please share your recommendations in the comments section below!
Article Thumbnail via file404 // shutterstock.com