When it comes to running an online business, time management is key. With so many tasks that need completing, it's easy to feel like there aren't enough hours in the day.
The reality of business, however, is that some tasks are more important than others. Client prospecting, strategizing, and analyzing your marketing channels will all grow your business and add to your bottom line – so will actually completing the client work that you're paid to do, of course.
You're probably familiar with the Pareto Principle, aka the 80/20 rule. Simply put, this rule states that 20% of your actions will drive 80% of your value. In other words, you serve your business best by focusing on the '20% tasks', such as the ones I listed above.
But the '80%' tasks are no less important, however. All tasks matter, but it isn't hard to see why tasks like security, maintenance, and other behind-the-scenes WordPress 'chores' are neglected.
If you want your business to operate like a well-oiled machine, these tasks matter, though. And fortunately, a number of well-respected WordPress maintenance services have been appearing recently, promising to look after your WordPress website to free up your time.
WordPress Support Services: Worth it?
But should you put your trust in these services? Are they worth the money?
Well, that depends on how much you value your time. Let's say you spend two hours per month on website maintenance (a conservative estimate). What's the opportunity cost in terms of client work you've missed out on?
If you charge your time at $50/hour, that's easy: $100. If you charge $100/hour, it's $200.
When you factor this in, spending some money on a WordPress support service makes financial sense – and most support services have a plan for under $100/month. Many of these services will also handle important tasks like site backups, WordPress updates (core, theme, and plugins), and even offer small amounts of developer time for quick fixes. With this in mind, you might actually save far more than two hours per month by signing up for one of these services.
Which service should you choose? Well, that's what I want to take a closer look at today as I introduce you to seven of the best WordPress support and maintenance services.
WP Site Care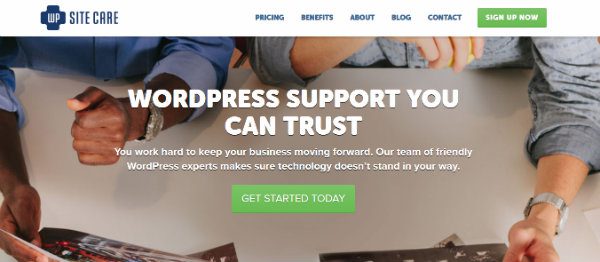 Launched in 2012, WP Site Care quickly established itself as one of the leading WordPress monthly maintenance services. Their aim was to take care of all the tedious behind the scenes stuff – security, maintenance, backups, etc. – to make life easier and free up time for website owners.
In this regard, they do an excellent job. For just $99/month – or $79/month if billed annually – WP Site Care will proactively handle all of your WordPress backups (using the Amazon cloud), updates, and security monitoring.
They also have one of the most efficient customer support teams of all — a typical support ticket is answered in around one hour. This resulted in their service scoring a 100% rating in their newly implemented Customer Happiness Report.
This September, WP Site Care also released their innovative Walkie Talkie feature. Walkie Talkie simplifies communication by allowing you to submit support requests from within the WordPress dashboard – putting an end to endless email threads.
If that wasn't enough, WP Site Care also offers a super-premium Professional subscription. This costs $349/month, or $299/month billed annually. If you opt for this service level (admittedly beyond the budget of your typical blogger), you'll also receive a speed optimization, SEO optimization, and security and social audit service. This ensures that your website is in the best shape possible before commencing with their highly-skilled team.
WPCurve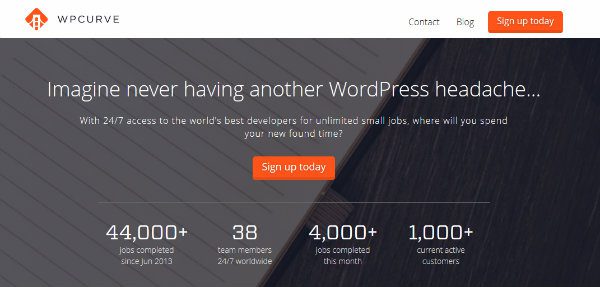 WPCurve is one of the best-known, fastest-growing businesses in the industry, and have just undertaken an extensive revamp and rebrand.
They aim to solve all WordPress headaches by giving its members 24/7 access to a team of talented developers. For a monthly fee, their developers will work on an unlimited number of small jobs on your WordPress website.
Despite the vague-sounding term, 'small jobs', you can use the WPCurve service for any number of WordPress tasks – including security, maintenance, theme/plugin quick-fixes, speed optimization, and conversion optimization. In fact, 'small jobs' covers any task that can be completed in 30 minutes or less.
Jobs are submitted via email – although a 24/7 live chat service is also available – and the turnaround for jobs is an impressive eight hours. This varies depending on demand but is consistently under 24 hours.
A Standard subscription is available for $79/month, which gives you an unlimited number of small, 30 minute jobs for one WordPress site. If you want proactive core, theme, and plugin updates; offsite backups; and a monthly security scan, consider upgrading your subscription to the $99/month Professional level.
WPLift Support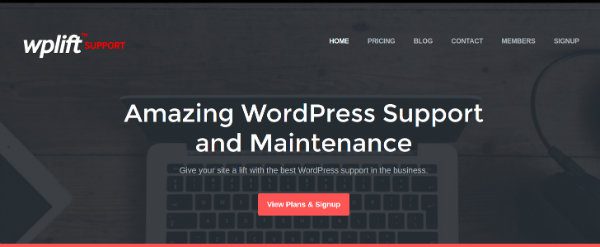 Next up, we have a newcomer to the security and maintenance scene: WPLift Support, launched by founder Oliver Dale in July. This new services builds on the brand recognition of his successful WordPress blog, WPLift, and customers also benefit from a tie-in with one of Oli's other websites, ThemeFurnace.
The WPLift Support service promises to take care of your WordPress website, freeing up your time for the important stuff – like growing your business. Their $49/month Starter plan includes 24/7 uptime monitoring; all core, theme, and plugin updates; daily cloud backups; and monthly reports detailing important information relating to your site. To sweeten the deal, the plan also includes a free domain, one year of hosting, and $300 AdWords credit.
If you'd like a service resembling WPCurve's with hands-on developer time, consider upgrading to the Professional plan for $99/month. This gives you access to their team of competent developers, who will handle unlimited small jobs – again, a small job is deemed to be anything that takes under 30 minutes, which could include theme/plugin installation, small aesthetic tweaks, and configuring a new plugin.
The business is UK based and operates primarily during UK business hours, Monday to Friday. The team is expanding, however, to support additional time zones, plus urgent requests are resolved at weekends. Tickets are typically handled in around six hours.
Maintainn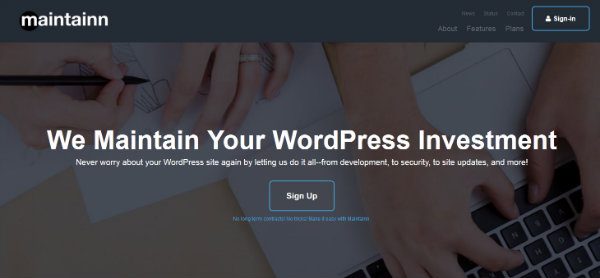 Founded in 2012 and part of the highly regarded WebDevStudios family, Maintainn is one of the most trusted WordPress support services.
Their team of professional WordPress specialists support sites of all sizes and are one of the best teams to turn to for ad hoc development, security, and site updates – their security is handled by security experts, Securi, and website backups are stored safely in the Amazon cloud to give you peace of mind.
If you're looking to change hosts, Maintainn will happily migrate your website over, plus they'll set you up with a staging environment giving you the perfect platform to run tests. Maintainn are also big on developer loyalty, so will assign you with a dedicated developer for the duration of your subscription.
Maintainn plans start at $49/month for the so-called Premium support subscription. In return, Maintainn provides round-the-clock security monitoring, off-site backups, and all WordPress updates. Additional developer hours are also available.
Upgrade to their Premium + plan for $99/month and you'll also get assistance with migrations, access to video tutorials, and one hour of developer support. Premium + users also benefit from priority response.
The WP Butler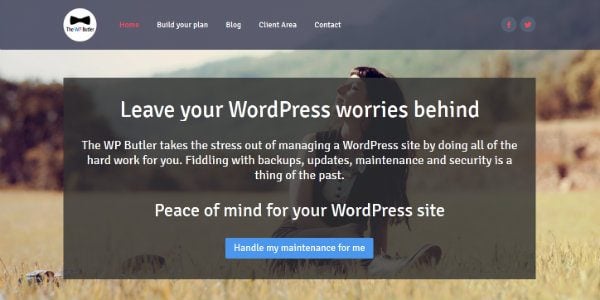 Now for a service that's a little different; The WP Butler, founded by Dave Clements, the expert WordPress developer behind Do It With WordPress.
Why is The WP Butler's service different? Rather than having a defined set of tasks for a monthly fee, you're able to build a custom plan. This can keep costs down as you only have to pay for the services you really need.
Dave's services include uptime monitoring, backups, malware scans, and updates. You can also pay to have him check over your site at predefined intervals, plus you can add development time to your plan – paid for by the hour.
If you aren't sure what you need, The WP Butler also offers four recommended plans – Blogger, Small Business, Business, and Enterprise. Prices for these pre-built plans start from $30/month, making it one of the most affordable packages out there.
WP Valet
Very few teams come with as much experience as WP Valet with a combined 50+ years between them. With such extensive industry experience behind them, this makes them one of the best options for handling your on-site security, uptime monitoring, updates, and backups.
Their team of experts are also on-hand to provide business advice, pointing you in the right direction regarding theme/plugin selection, development issues, and SEO best practices. This means that you effectively get a team of consultants included with your support and maintenance package.
They are less transparent about their prices than other services – you have to fill in a six-part questionnaire before you can view their plans – which is probably because they are the most expensive option. Personal plans start from $250/month, with Business plans reaching an eye-watering $1,750/month. When you factor in the potential the WP Valet service has for growing your business, however, those prices don't feel extortionate.
WP Maintainer
The final service in today's list is WP Maintainer, the only WordPress maintenance service to offer a one-size-fits-all pricing policy. Their service is available for a flat $99/month.
What do they offer for the money? For a start, you get a free website migration, plus an extensive security audit to get you started on the right footing. They will also handle all updates, provide regular off-site backups, and offer one-hour of compatibility support each month. To ensure your website is free from malware, a WP Maintainer subscription also includes Securi malware monitoring and cleanup.
Run by a team of professional WordPress developers, WP Maintainer members also receive additional developer hours at significantly reduced rates.
Final Thoughts
The services listed today will take care all of the tedious-but-essential tasks that keep your business running smoothly. That includes site backups, security checks, updates, and also a dedicated and highly skilled support team on-hand to help you out if something goes wrong – and in some cases, actually fix the problem for you.
Best of all, they also give you peace of mind that your website is in good health. This frees up your time and focus for the tasks that add real value to your business that only you can do.
If that sounds good, give one of these services a try. If you value your time, it could be one of the most financially sound decisions you make today.
What are your thoughts on WordPress support and maintenance services? Do you have a favorite? Share your thoughts in the comments below!
Article thumbnail image by Aha-Soft / Shutterstock.com.