The Events Calendar Pro Suite by Modern Tribe

This is a group of premium plugins that rely on a free base plugin, which is uber popular, called (you guessed it), The Events Calendar. This plugin suite is made by a team of extremely well-coordinated developers over at Modern Tribe (where I worked as a support rep for a very short stint, so that's how I know). They work to release new versions regularly (monthly) and that in itself should tell of the quality you can expect when buying into their Pro version and other calendar add-ons.
Set up recurring events (sigh of relief, you don't have to re-enter your event details manually if you know they're going to happen on the same day and time at regular intervals).
Sell tickets (cash in on that moolah-generating event)
Allow others to submit events using an add-on. Yes, this has the potential for spam, but you can approve the events before they get published, plus Modern Tribe has taken extra precautions to prevent this. See what Rob La Gatta, their lead support guy, has to say about this:
In the 3.1 build we did some research and learned that text fields work more effectively for honeypots than checkboxes (bots tend to just leave checkboxes alone, and our default values resulted in a valid submission). So we converted the checkbox to an invisible text field. We also added a timestamp check, which rejects anything submitted in less than 3 seconds. This isn't an entirely foolproof method but we've found that it covers the spam issue for a good number of our users. We also encourage users who are facing a ton of spam to check out a third-party spam blocker like Wangguard.
Integrate Facebook Events, Eventbrite, and other stuff with the following add-ons:
Facebook Events (Import): This basically does exactly what it says – imports your Facebook page or organization's events into the WordPress calendar plugin. It won't import personal events though. Nonetheless, this can help with cross promotion and some administrative streamlining. Keep in mind however, as I've noted in the past, I don't think events should be promoted through Facebook. Read this article on our blog to find out why.
Eventbrite Events (Import): Does what the Facebook Events import does, only with Eventbrite instead, and a bit better because it's got two-way sync capabilities.
WooCommerce Tickets: with this add-on you can sell tickets using WooCommerce. Tickets can have a header image and link to a "product" that is automatically created to sync with the event. Buyers get a receipt and a ticket they can print out with a ticket number and security code for brining to the event. Tickets can have a product quantity cap and sku numbers, which are extra useful. Coupons are also possible with this add-on. It can generate CSV reports of ticket buyers.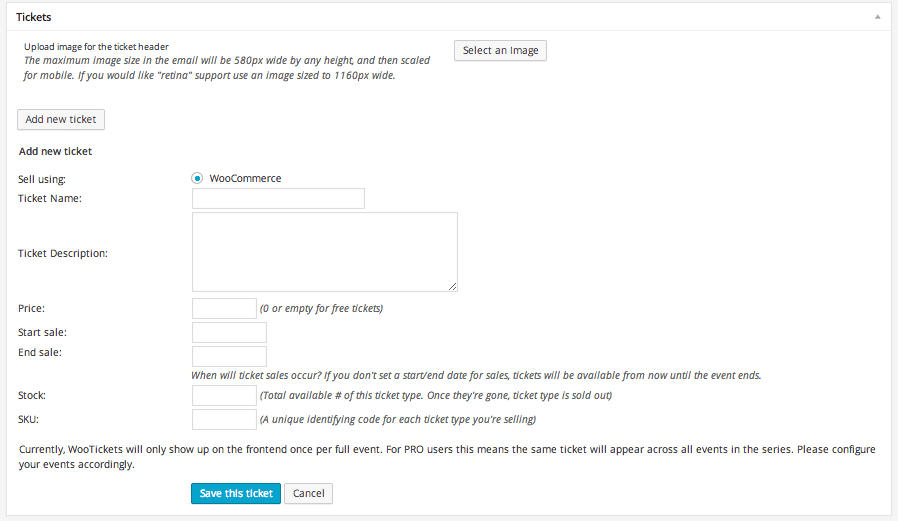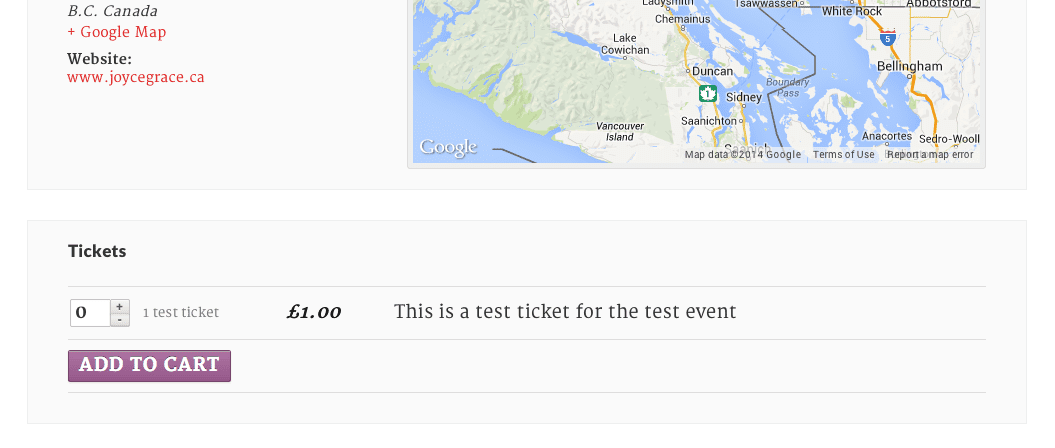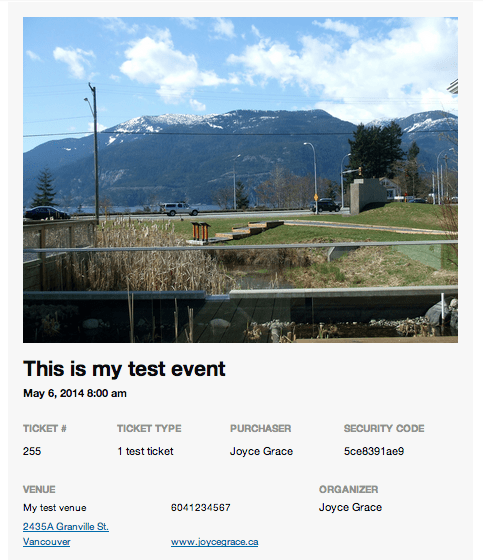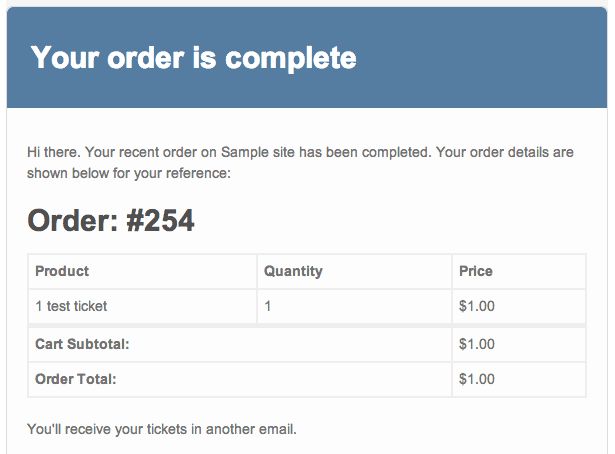 Easy Digital Downloads Tickets: This is a way to sell tickets within your site, independent of third parties that charge service fees, yet without the extra settings of a full-blown e-commerce system. It can create different types of tickets per event and can generate an attendee list for at-the-door check-ins.
WP E-Commerce Tickets: Just another e-commerce integration with this calendar. Does what the others do as well, but useful if you've already got WP E-Commerce going on your site and don't want to have to use separate e-commerce plugins, which would likely get messy.
Shopp Tickets: Another e-commerce option to integrate with.
Community Events: Basically a way to allow front-end users to submit events, which can be moderated by an admin.
Filter Bar: this is more of a functionality add-on to help users find an event they are looking for. It allows some narrowing down of large events lists based on certain criteria, such as walking distance, price or dates.
Category Colors: This is a free plugin put out by the community that allows your event categories to be colorized. It's a visual thing.
More free add-ons are available for this plugin because it's been around so long. Check them out here (but judge their quality for yourself!).
Here are some neat features of this calendar plugin:
Events can have categories and tags, just like WordPress posts.
Out-of-the-box this plugin asks the user to choose what columns they want displayed in their back-end list of events, which is helpful for finding things later.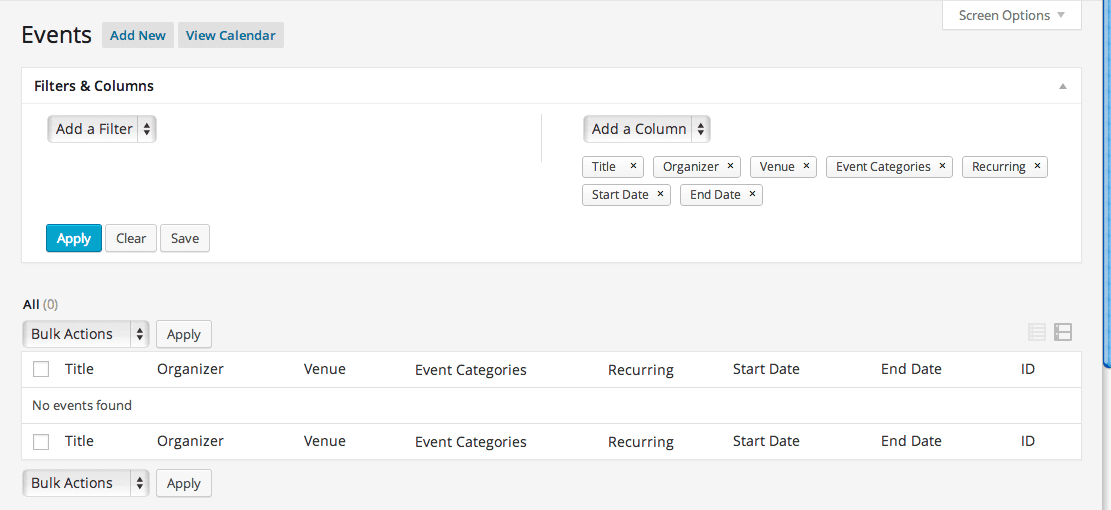 You can store Venues for use in multiple events, without having to re-enter that type of information every time.
Front-end visitors of a site using the calendar can add an event to their Google Calendar or import to iCal. Very cool.
Events can show a Google Map of where the event will take place.
You can also store Organizers, who can have a bio, plus custom fields for their phone number, website and e-mail. This is great if you want to direct inquiries to the right place.
Events can be 'hidden' from a main list of events (in case you don't want them all to show in the main archives).
Events can be 'sticky', just like 'sticky' posts in WordPress.
Event info is entered via custom fields built into the plugin, which makes it easy and straightforward to use.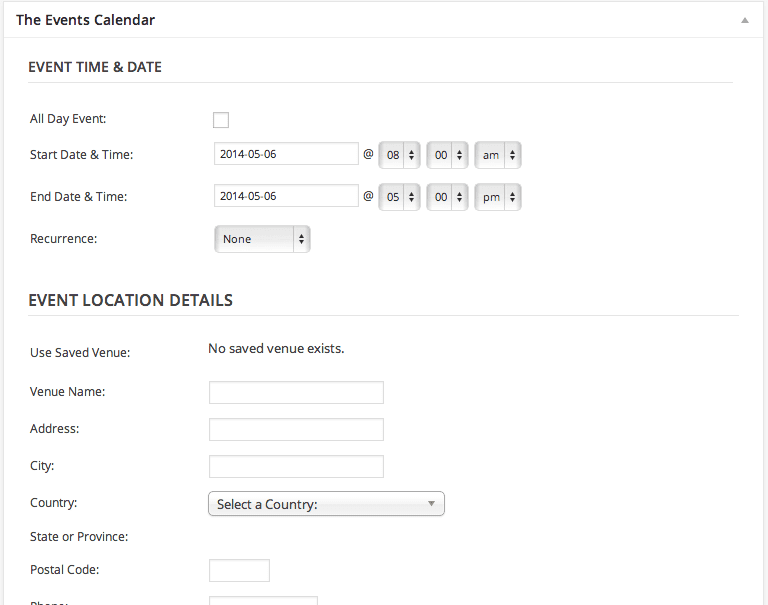 Events can have featured images.
You can CSV import a list of events to save on data entry.
User-side settings have controls on how the calendar will look and display.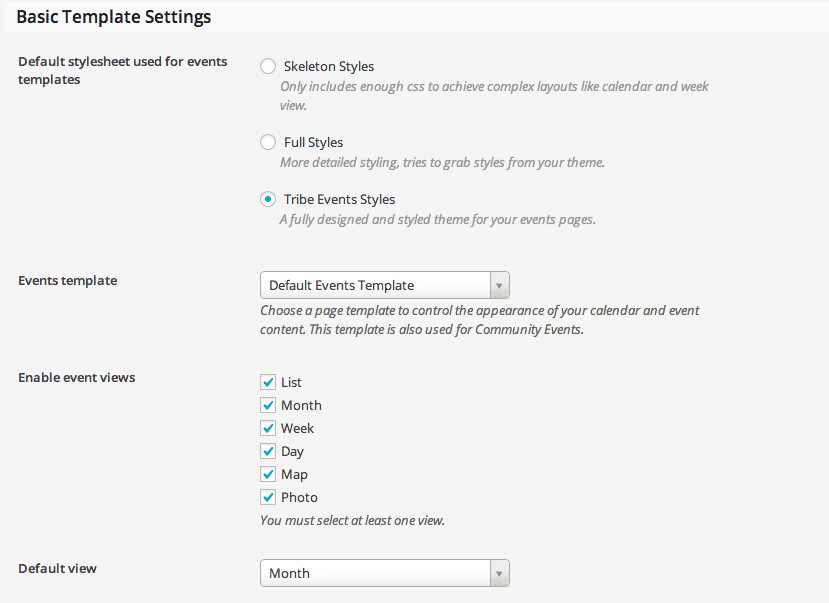 The front end looks great out of the box and is responsive already.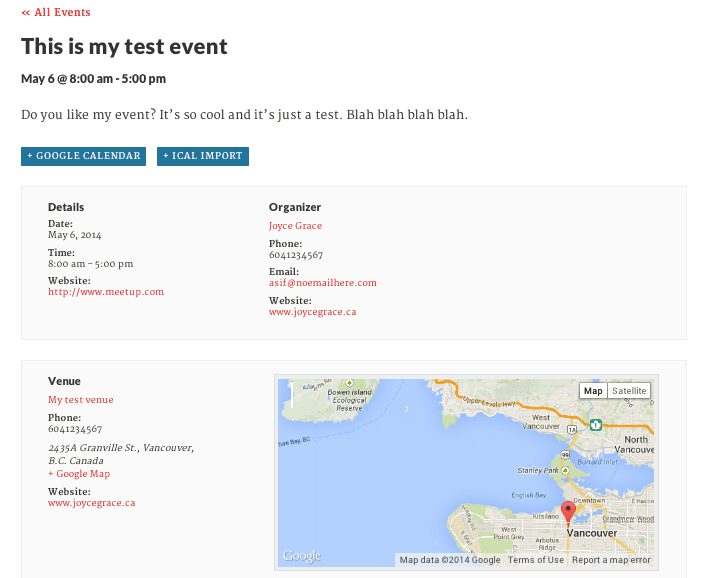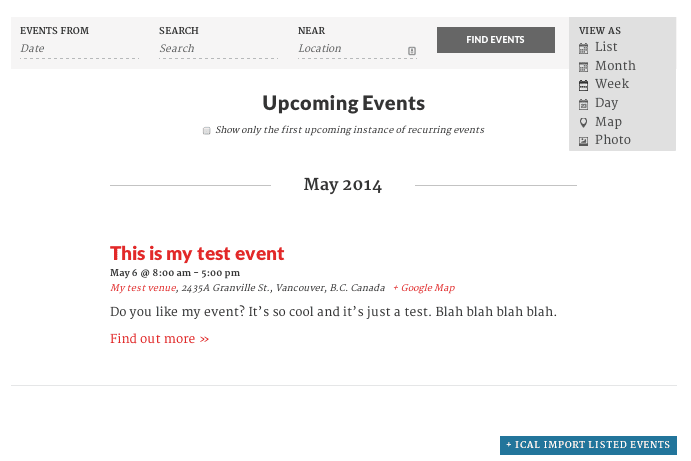 A user can add extra fields they want to be entered into an Event listing.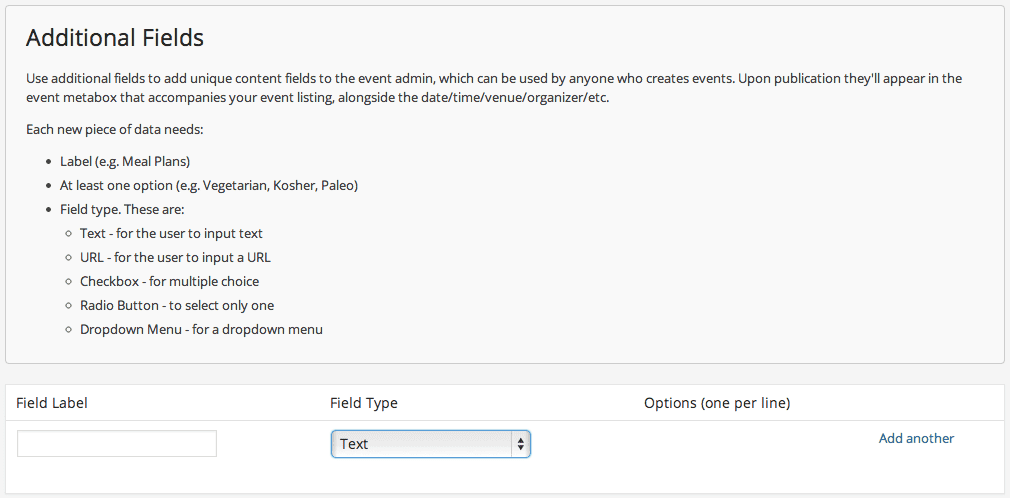 Pro points of this plugin:
Code has been audited for security and compatibility, even by the likes of Mark Jaquith and Pippin Williamson (they're kind of a big deal in the WordPress community).
They actually do usability tests, which can't be said of many, many plugin developers. In short, this means it shouldn't be that hard to figure out without spending tons of time trying to read documentation or an instruction manual.
Customization abilities are available for developers, along with documentation, a themer's guide and code snippets.
It's responsive! Finally!
The team at Modern Tribe have a sense of humour and use words like "flummoxed." Humour makes everything better.
Limitations of this calendar plugin:
All the ticket sales options for this plugin can't yet support recurring events. So if you want to sell tickets for events that happen at regular intervals, there is no way to automate that process.
Facebook integration doesn't sync from WordPress into Facebook. It is currently one-directional (bringing Facebook events into The Events Calendar plugin). This was due to the limitations of the Facebook API at the time it was created.
You currently can't grab or import events from iCal or Google Calendar (which the All-in-One Event Pro calendar can do). Modern Tribe has informed me they're working on it though, so stay tuned.
You might need coding skills to get this plugin to work with your existing theme, but that's the case with any plugin, regardless.
All-in-One Event Pro Bundle by Timely

This is also a plugin that comes with a free core option. Its most striking difference from The Events Calendar is its display, which can show up like a Posterboard (using a free add-on), along with many other view options. You can see the demo here.
It also does a few things differently on the technical side, providing two-way syncing with other calendars and more seamless integrations in some areas.
You can embed your calendar onto other sites on the web (using an add-on). That's unique.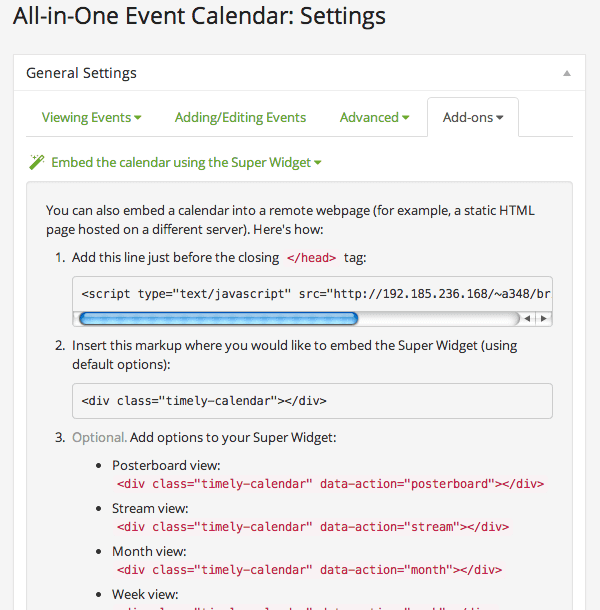 You can link to a ticket purchase URL, making it relatively easy to sell tickets with any third-party system (such as with an Eventbrite registration page on the Eventbrite site, or with a Paypal purchase link).
You can put in repeat events, without having to purchase or download an add-on. These repeat events can have exclusion dates, which is a useful feature for letting people know in advance when a regular event won't happen on holidays, for example. The Time.ly site also advertises that it can handle "complex recurrence patterns such as 'every first and third Monday of the month.'"
Front-end users can submit events using an add-on.
Other add-ons include:
Facebook Integration: Allows you to import your Facebook events and also push your site's events to Facebook, keeping them synced periodically. This one's free by the way! Different from The Events Calendar Facebook integration: this add-on lets you import events from a personal profile, your friends' profiles, as well as from Groups and Pages.
Twitter Integration: This sends out reminders of your event automatically via Twitter. Pretty neat.
CSV Import: Yes, with Timely this is a paid add-on feature, and a rather pricey one at that, banking at $60. Keep in mind, at present, you could opt to get all the add-ons for $75 though, which will get you more bang for buck. (But hey, Facebook Integration is free and it costs money with The Events Calendar, so you gotta weigh the pros and cons of each, and pick the calendar that meets your needs best).
Venues: This basically allows you to do what The Events Calendar does out of the box, by storing venues and allowing you to select from a list of those venues instead of typing them in every time.
Here are some neat features of this calendar plugin:
Site owners can choose from one of three theme options right from the plugin settings in the WordPress dashboard.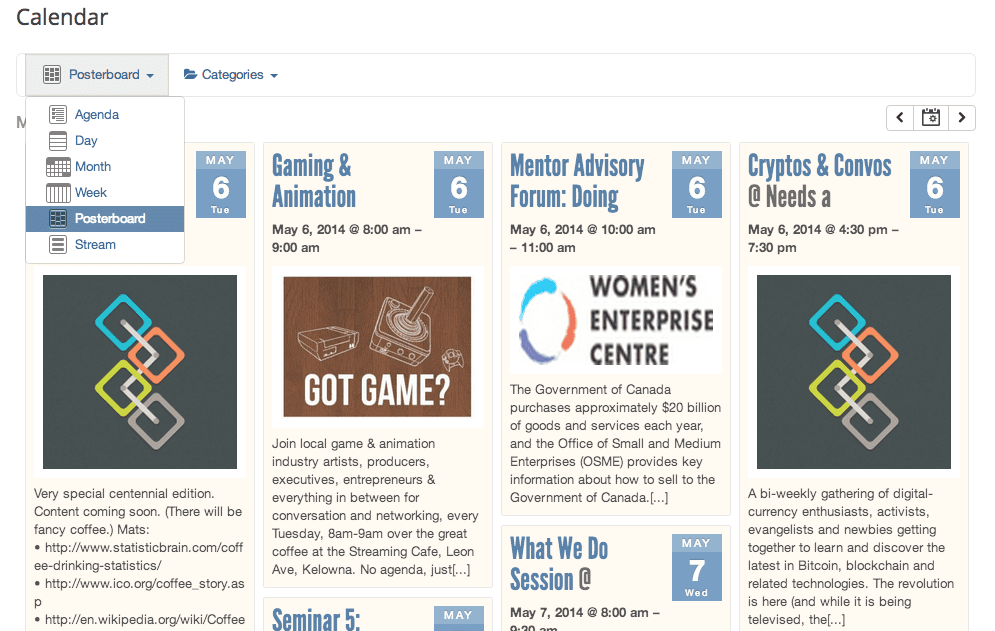 Calendar themes also come with options whereby a user can make color and font adjustments on their own, without having to know CSS or code.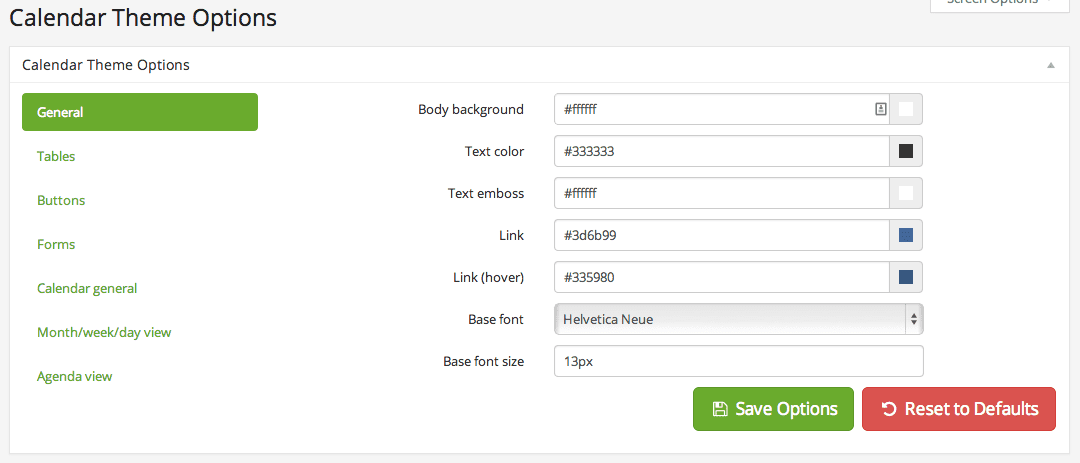 Calendar events can have categories and tags.
Categories are color-coded out of the box, without needing an additional plugin.
While there isn't a dedicated area of the plugin to view stored Venues and Organizers out of the box (see above add-on), these details can be entered on a per-event basis.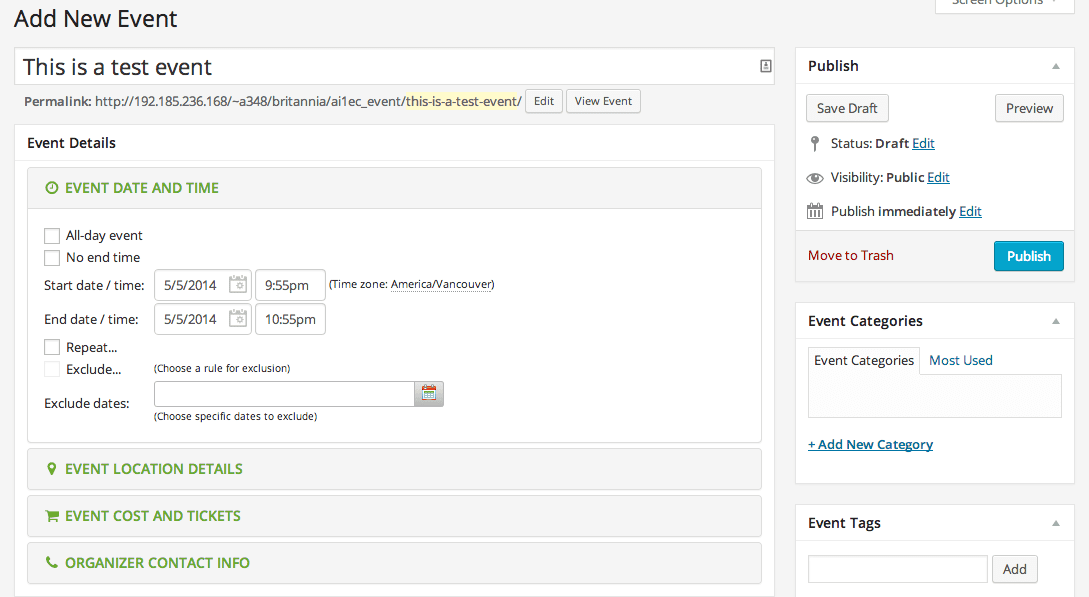 Events can show a Google map, with an address selection feature that appears as you type. This may be disabled in the Settings area if you so wish.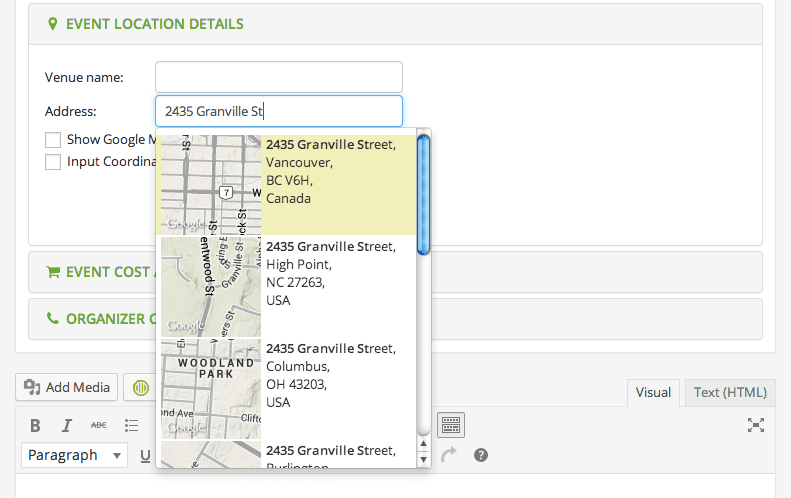 The calendar itself can "subscribe" to another calendar's events using an .ics feed, which is relatively easy to set up in the Settings area. This means you can grab events from more than just Facebook. For example, you can grab events from Google Calendar, iCal or Outlook.
This calendar also has the ability for users to "subscribe" to events, getting notifications in their personal calendar or Google Calendar.
Importing events using a CSV file is possible.
The calendar is responsive, yay! (though this may be dependent on themes chosen).
Pro points of this plugin:
The plugin comes with many-a-shortcode for you to customize a page's calendar view, or display a calendar within a content div you have set up in your theme.
Its Settings area does have some easy-to-adjust technical settings for developers trying to integrate the calendar with a theme that may not be acting so nice.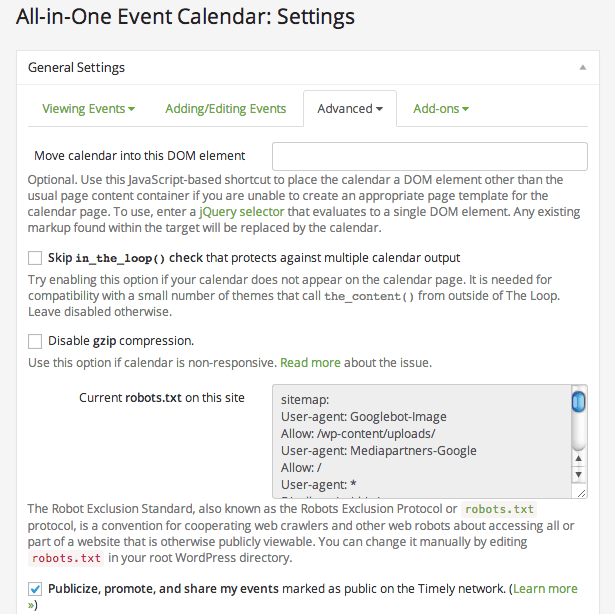 Developers may also opt to develop their own theme for the plugin. Novices need not apply!
Limitations of this plugin:
You currently can't embed more than one calendar on a page, say if you are using shortcodes or the add-on that allows external calendar embedding.
Currently there's no way to sell tickets to events right within your site, since it doesn't seem to have any e-commerce integrations.
WooEvents Pro by IgniteWoo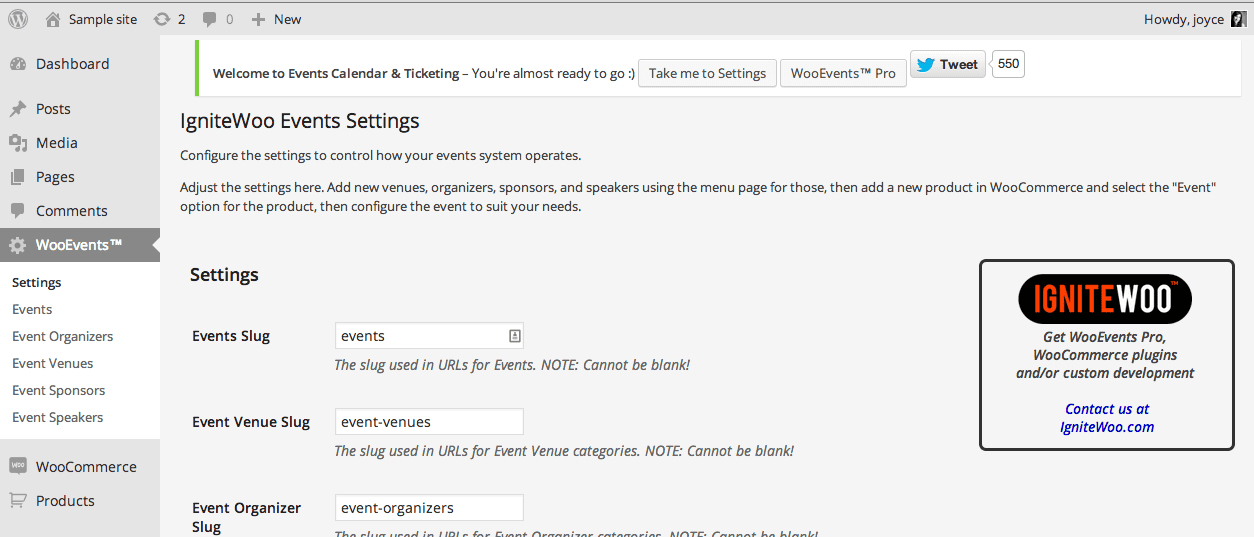 Again, this calendar plugin has a free base version available on the WordPress repository. Its main focus is with selling tickets, and of course, by its name, it is meant to integrate only with WooCommerce, and not another type of system or third party event management tool.
Unfortunately, the reviews of the base plugin are quite discouraging. Not only that, the plugin has only two 5-star reviews and one of those is by the plugin author himself. Sorry to be the one to call this out, but it's kind of sad to try to manipulate the ratings by doing something like that. If you produce a good product, you shouldn't need to try to do things like that to convince people to opt for what you have to offer.
The pro version of this calendar plugin is available from IgniteWoo's website, which sells many useful extension for WooCommerce. The bad reviews of their calendar plugin is not to say all their plugins are bad (we wrote about many of them in our part 1 and part 2 of unique WooCommerce store types articles). You'll need to try this one out and judge for yourself. Remember, not all bad reviews are going to be accurate, and that goes for anything that gets reviewed online, even 7-Kitten T-shirts!
Here is what you can do with the WooEvents Pro calendar plugin by IgniteWoo:
Most importantly, this plugin works in conjunction with may other IgniteWoo extensions, such as their "Gift Certificates Pro" add-on or their "Loyalty Rewards" add-on, which can be useful for some users.
Buyers can print out their tickets, which contain QR codes. The QR code can lead directly to a person's order using a mobile browser, without any app needed. In other words, it comes with it's own check in interface for mobile phones, which non-admins can access (so your event volunteers, for example, don't get access to your entire site).
You can use a shortcode to enter event details, but it has to be 'enabled' in the Settings area first (not sure why….)
Tickets to events are set up as products in WooCommerce, with all the controls as usual, such as stock count (and quantity limits), attributes, variations, and so on (even sale schedules).
You are able to set up limits on how many tickets one person can buy, to avoid scalpers, if your events are big enough to pose that risk.
Recurring events are also possible with the Pro version.
Custom forms can be added to the event pages, with options to sell extras (such as t-shirts), right in the same transaction.
Here are some neat features of this calendar plugin:
You cannot only store Venues and Events, but also Event Sponsors and Event Speakers. That's unique.
You can also set up a 'default' Event Organizer, to make data entry easier.
Expired events can be automatically sent to the Trash, or turned into Draft mode.
Calendars can contain separate "non-ticket events."
Like the other calendars, this plugin can generate reports of ticket and event sales in CSV format.
Google Calendar and iCal exports are supported.
Maps can show on events. 
Pro points of this plugin: 
Supports microdata for added SEO.
The front-end of the calendar is responsive, thankfully.
Limitations of this plugin:
Venues, Organizers, Sponsors and Speakers have to be entered into their own separate posts before they can be available to enter on a per-event basis. So you can't create or enter them as one-time data on a single Event listing. This can be tedious.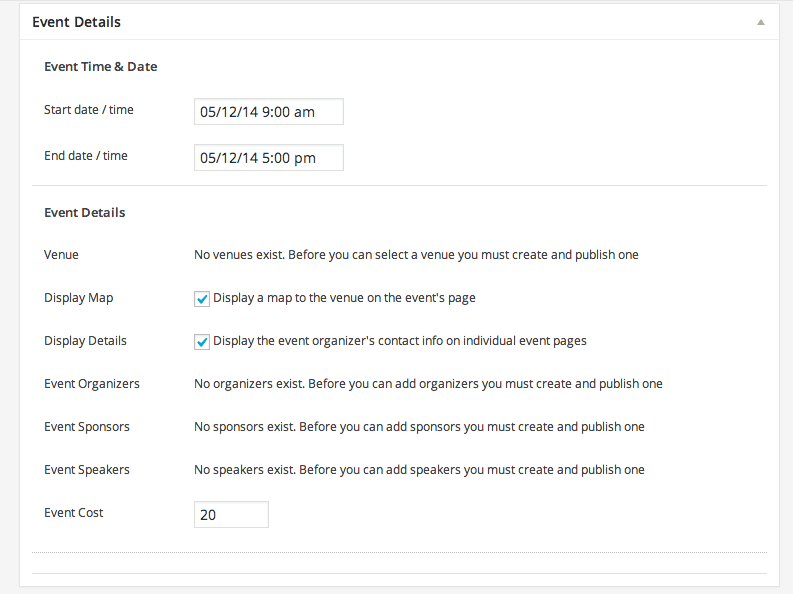 Strangely enough, when creating my first event, after being published, I clicked to "view" the event and it led to a 404 error page. Glitches like this can be quite cumbersome to have to troubleshoot, for both novice and advanced users alike. (Note: re-saving permalinks worked, but the archive with the default slug still gives a 404 page for me…).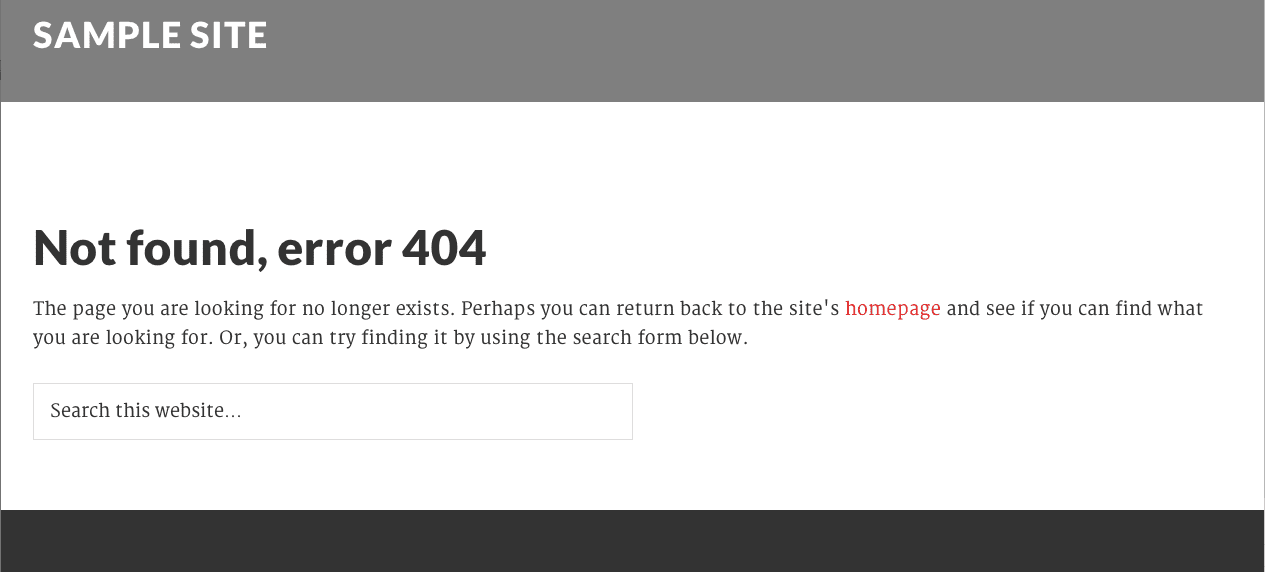 Styling is a bit off and will need some additional coding work in some areas.
There are currently no integrations with social media platforms, as there are with the other premium calendar plugins mentioned so far.
WP Permission Slip by Fly Plugins
This is a brand new event calendar system brought to you by the makers of the popular learning management system plugin, WP Courseware. As their expertise suggests, WP Permission Slip is geared primarily towards managing school field trips with "parents as the registrants and children as the participants" as described by Nate Johnson, co-owner of Fly Plugins. You can see that in many aspects – this is definitely a niche-serving calendar. For example, adding a new event asks right away what "grades" the event is suitable for (i.e. Twelfth Grade field trips and First Grade field trips are usually different in nature!).
(The best way to get a feel for the plugin's abilities is to check out and play with the demo.)
The most unique thing here is probably the digital signature button, which allows for parent release forms when registering kids for field trips. In addition to this, release forms can be customized in the admin area.
Terms and Conditions can be customized with template tags, to include things like "parent name" and specifics that would be needed for legal reasons in a release form.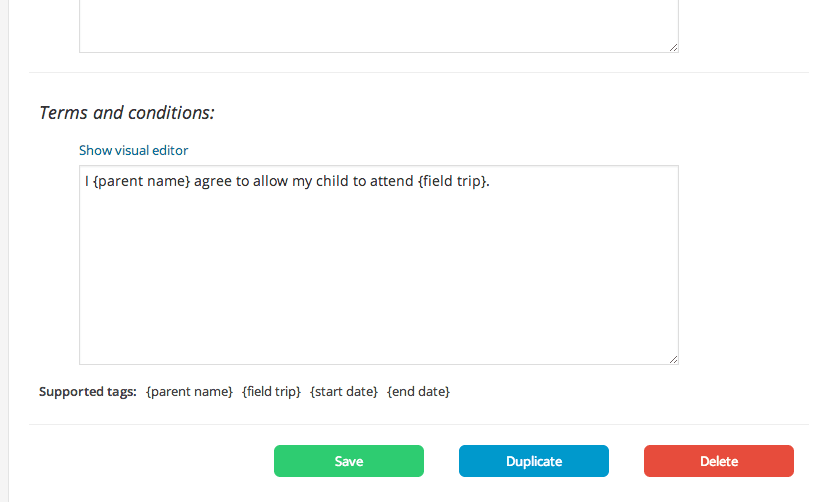 Attendance sheets and event rosters are available for downloading.
The plugin can send out automatic e-mails to parents and coordinators about an event.
Ticket sales are built right into the plugin, which means no external e-commerce system is needed, nor a need to link out to a payment page (as with the All-in-One Event Calendar).
A single event can have multiple types of tickets with different pricing and different quantity limits (for example 'Parent' tickets can have different costs and attendance limits than 'Student' tickets).
Here are some neat features of this calendar plugin:
The backend user interface of this plugin is remarkably different from most calendar plugins out there. At its outset, you're taken to a page that doesn't look like the 'regular' WordPress list of posts. Instead, it looks like this: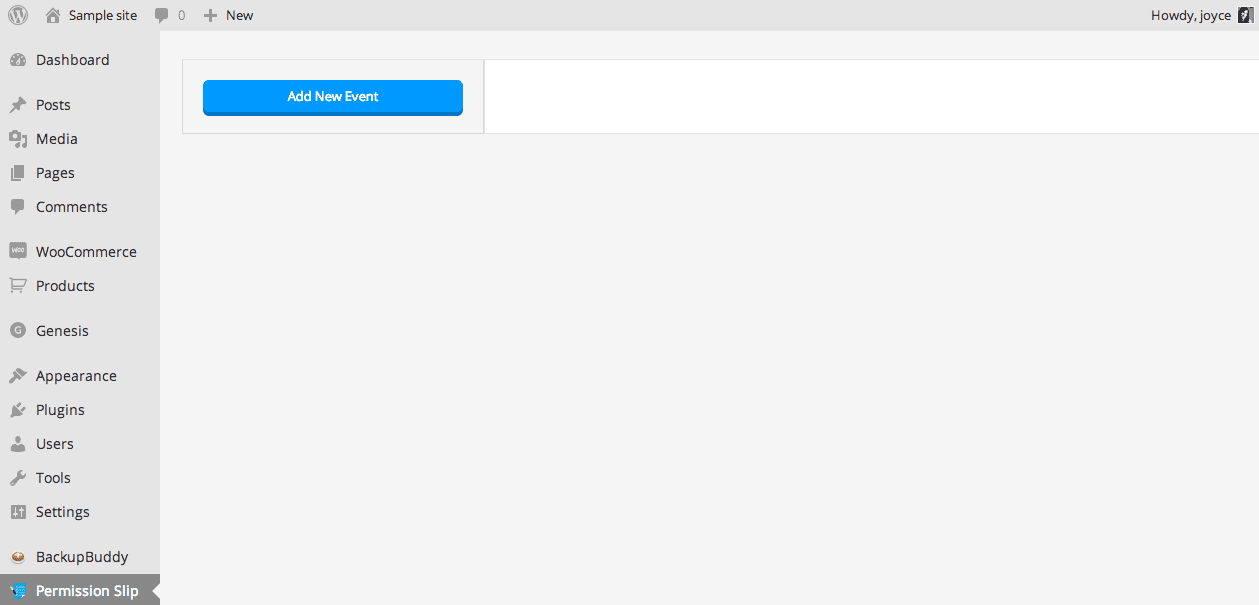 This can help direct novice users by eliminating the 'extras' and making event creation simple.
Events can have categories, as with all the above plugins mentioned.
In addition to custom fields for coordinators, events can store emergency contact details for a parent to reach the school or organization (not just for the organization to contact the parent).
Events can show a map with options for how to display the map (such as "Terrain" or "Roadmap").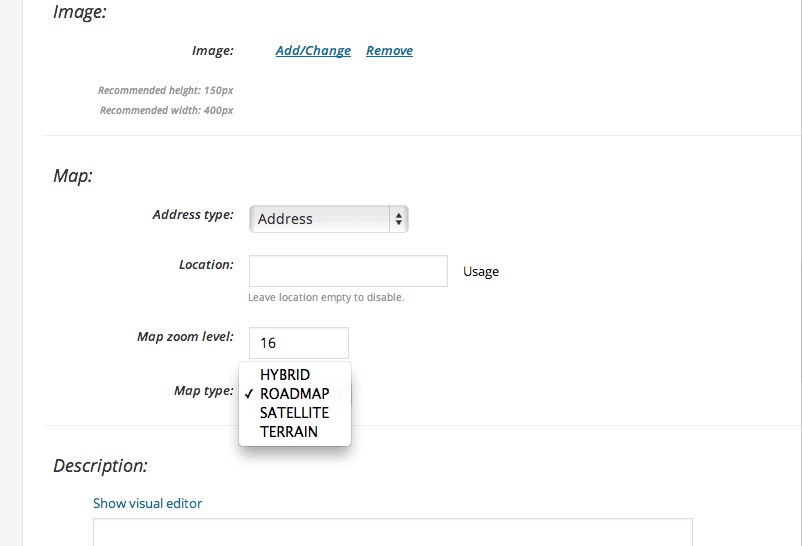 There is an inherent ability to duplicate events with the click of a button on an event settings page.
The calendar events are responsive. 
Pro points of this plugin:
This plugin comes with lots of shortcode options for displaying calendar events into 'regular' WordPress content areas. This method can help avoid some theme integration issues.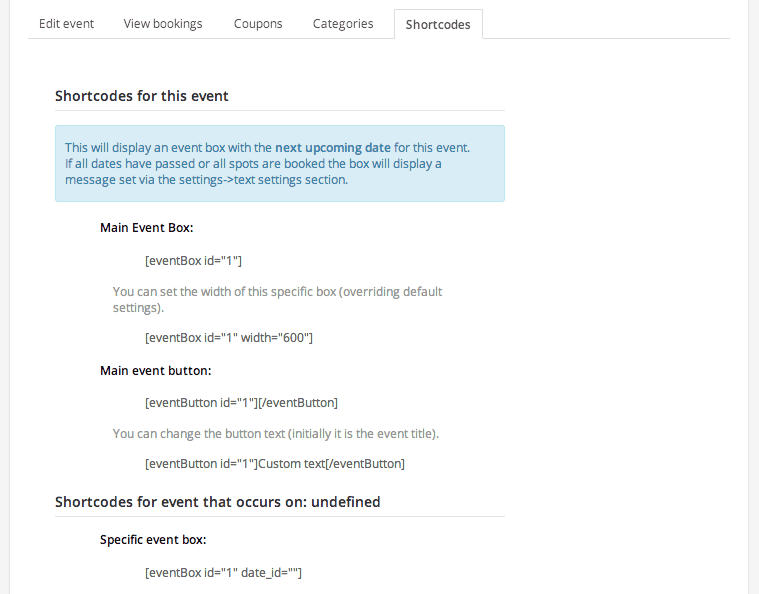 Lots and lots of settings to control everything from colors, the way dates are displayed, the wording in buttons, widths of almost anything, image sizes, font styling, redirects and even currencies.
E-mail templates can be completely customized with HTML and template tags.
Plenty of documentation available.
Limitations of this plugin:
Since this plugin is so new, it's natural to expect that it's at its bare bones at present. Right now no recurring event possibilities are in place, nor any social media integrations or iCal capabilities.
While the use of shortcodes can be helpful for development and styling, they are an 'extra' step for novice users to have to figure out in order to get the event data onto WordPress pages and posts.
Which calendar plugin is right for you?
Well that depends! I'd say to evaluate how you want to use your calendar, and the factors that are important to you. If getting a digital signature from parents to register children for events is essential, then WP Permission Slip will be the only one that has that unique feature for you. If syncing with Facebook and Tweeting events is an important part of your marketing strategy, then go with the All-in-One Event Calendar by Timely. If you're into ticket sales, try The Events Calendar Pro suite or WooEvents Pro. Keep in mind however that there are many overlaps in features between some of these calendars, so you aren't always giving up one thing to have another.
Article thumbnail image by lenetstan / shutterstock.com