Podcast hosting is one of the most important choices you can make when starting a show. Whether you choose a free host or a paid one, the feature set and reliability is going to affect the way that your workflow and production schedule runs. Captivate.FM is a solid choice for podcast hosting, and they have a slightly different payment model than others. Rather than pay for features, your monthly/annual cost is tied to the number of downloads you get. We want to take you through the features everyone gets and the tiers so that you can make the most informed decision about whether Captivate is the right podcast host for you.
What is Captivate.FM Podcast Hosting?
Captivate.FM is unique in its hosting plans because, as we said above, their entire feature set is available from the cheapest tier to the most expensive. The limits in their service comes into play regarding download numbers.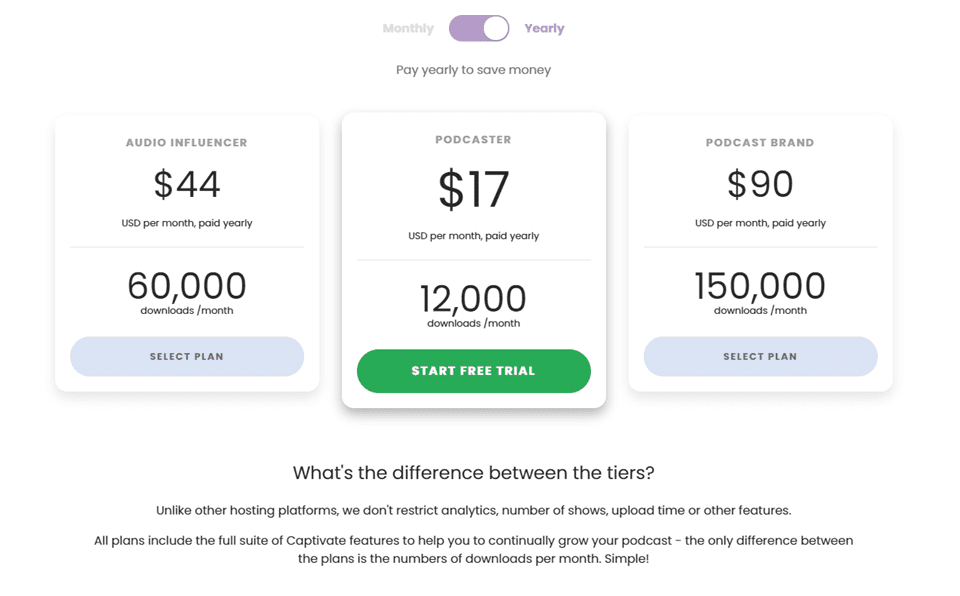 With the lowest tier costing $17 monthly for 12k downloads, nearly any hobbyist podcast will fit into this tier. If you're getting upwards of that into the 60k-150k+ download territory, you're making enough (probably) from sponsorships that the tiered pricing isn't going to be as much of an issue. (If it is any at all.) Paying annually, it is roughly comparable to most web hosting and podcast hosts. For analytics and various important features, Libsyn, an industry leader, costs $20+ per month.
That said, what features do you get for your money with Captivate.FM? Well, it's actually a very solid list that we think is well worth the price.
Captivate.FM Features for All Plans

The image above and Captivate's features page shows the entire list, but we want to highlight the ones that we feel are reasons to check out the platform. To begin with, Captivate.FM offers must-haves such as free imports from other hosts and advanced analytics to let you dig deep into your audience for advertising and marketing (and for gaining sponsors).
However, the real stand-outs are the unlimited podcasts for one price. That's a truly amazing thing to have on a podcast host because most offer a single show for the price. Even free hosts like Anchor.fm limit to one show per account, making management slightly more troublesome. So something as simple as letting you manage multiple shows from one dashboard is just a quality-of-life improvement over many other hosts.
The Captivate.FM embeddable podcast player has built-in CTAs for email-list building, which is a necessity these days. Both of these also tie into the fact that you can have unlimited team members. You can have any number of staff or team members with access to the account for the reason they need. Whether that's for creation, marketing, or data analysis. In that way, Captivate can function as a sort of mini-CRM for your podcasting team.
Setting Up Captivate.FM
You can always sign up for a 7-Day free trial with Captivate. You do need to put in a credit card, but it's a cinch to cancel the trial if you're not going to stick with the service. Regardless, once you're in the dashboard, things are incredibly easy to navigate and use. At first, you're prompted to choose if you want a guided tour or self-exploration. It's entirely up to you.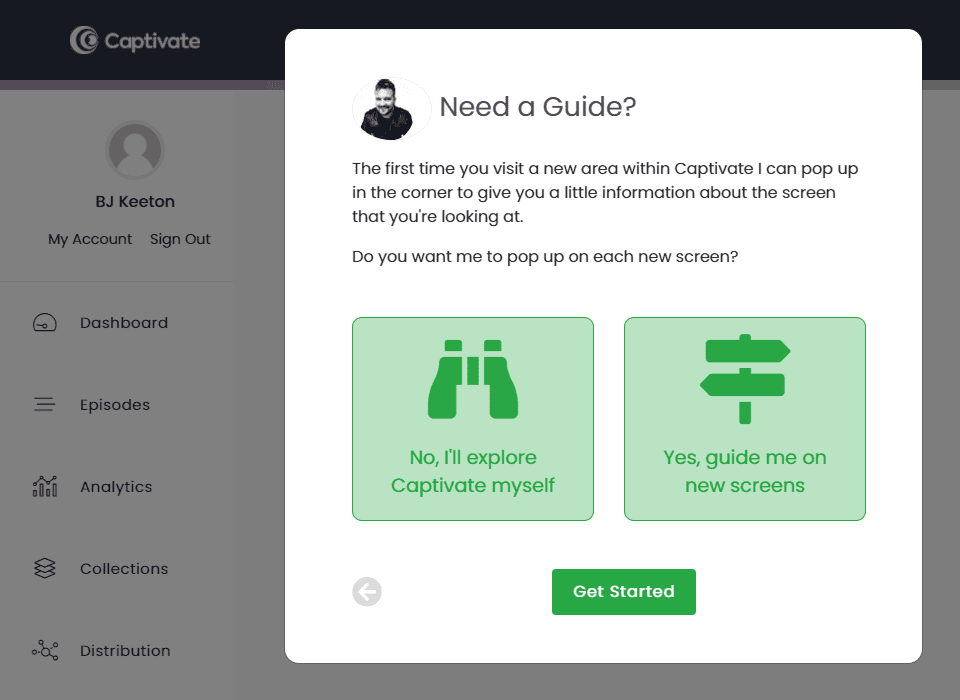 Afterward, you will be prompted to set up your show. It's standard information: podcast name, podcast cover art, any Patreon or donation links, copyright name, description, seasons or serial, episodic, and so on. The same information and process that you will follow with any host.
Once you're through there, you can really dig into the cool stuff. All of your options will be on the left-hand side of the screen.
Using Captivate.FM with WordPress
For WordPress users, the first place you will want to navigate to is the Website tab. There, you will find a download link for the Captivate Sync plugin, which will publish your podcasts to your site automatically, using the Captivate.FM player.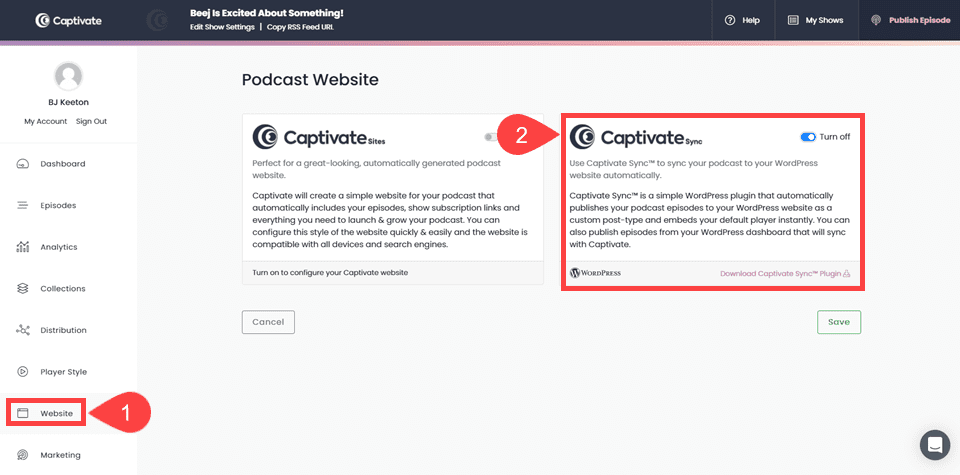 Once installed, you will be prompted for the User ID and API Key, which you can find in your My Account section.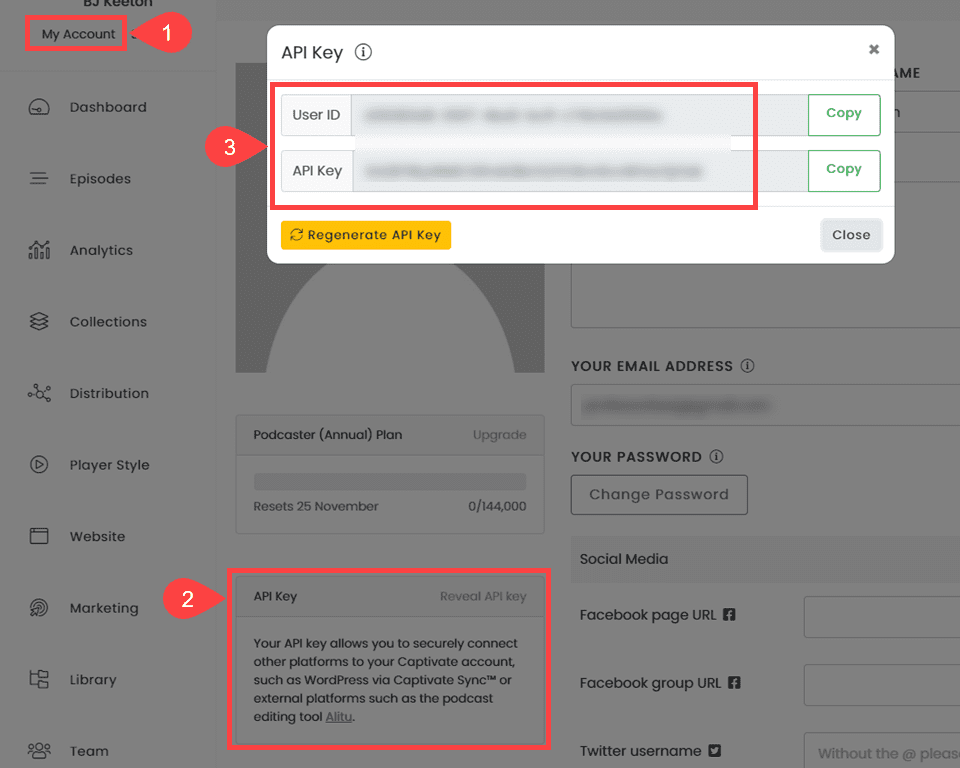 The most impressive part about the whole Captivate Sync plugin is that once you've connected the account to your WordPress page, you can actually publish your podcast from within your WP dashboard. That's not possible with all podcasting plugins (but is with some), but it's a welcome change for those who have to manage a lot of cross-posting and site management.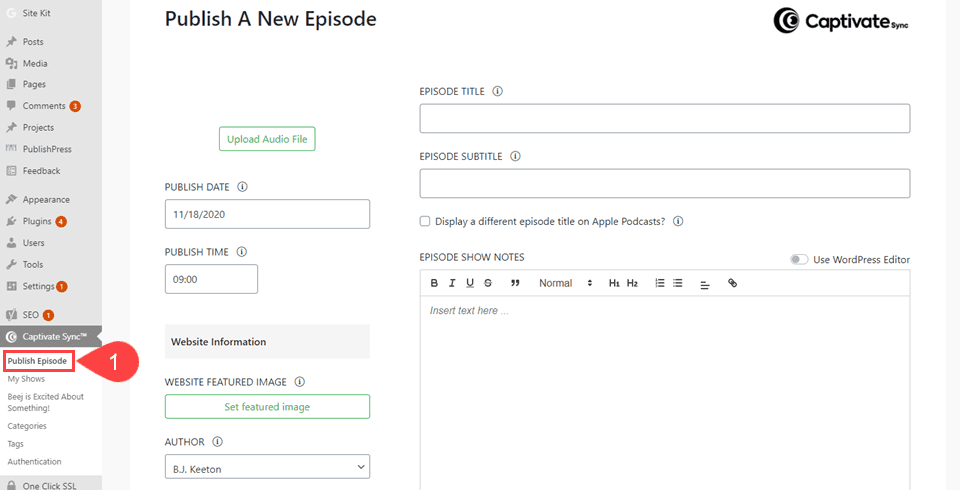 Publishing is a cinch, and the sync with your dashboard on the Captivate website itself is immediate.
The Captivate.FM Dashboard
As you dig around the Captivate dashboard, you should notice that you have a great deal of control over your show, as we mentioned above. The Player Style tab is one of the areas where your customization really shows, where you can mold the player into whatever you want it to look like (within their template, that is). You can change the colors, the layout, branding, let people subscribe (and where), donate, allow downloads, and so on.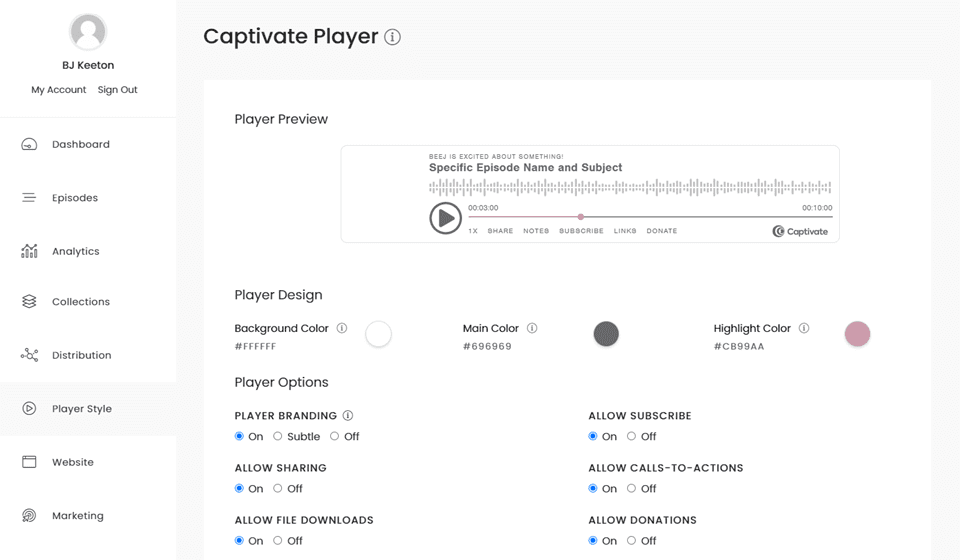 This player is embeddable wherever you want, and it automatically appears if you use the WordPress plugin.
Team
Then, if you scroll down to find the Team tab, you will see the incredible control that you get over what your team members can do. You don't just choose between roles such as admin or editor, you get a full range of permissions that let your team be exactly what you need it to be. We want to applaud Captivate for this because it's a feature that any platform with team members should offer. Even with WordPress, you need a plugin to edit the role permissions (or PHP editing skills). Hopefully, every other platform will take note and give this kind of power to users. It's great.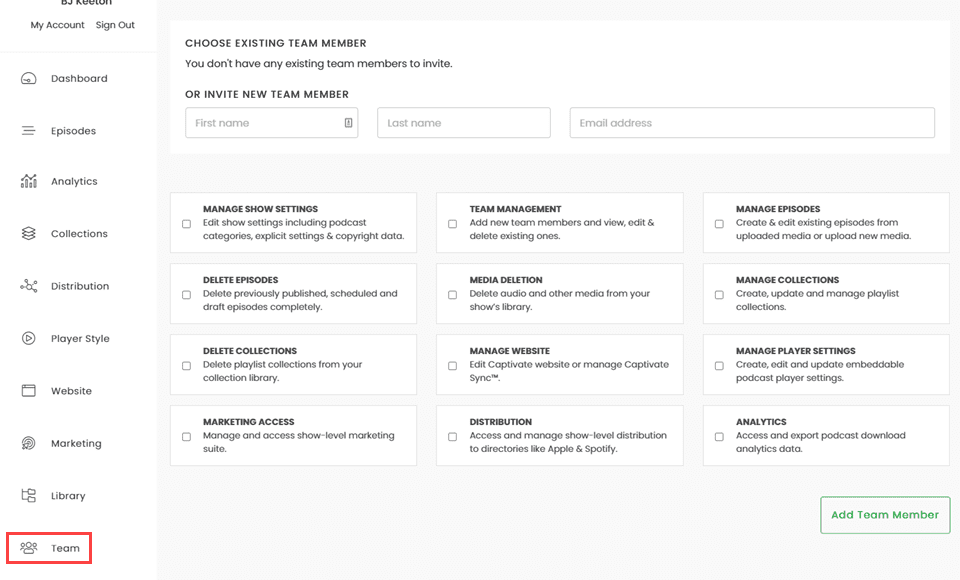 Marketing
After that comes the distribution and integrations, and all of that can be found under Marketing on the left. The most important one, we feel, is the Podcast Links tab, and this is where you will paste in the direct links to your show from the major podcast directories. Captivate.FM doesn't submit your show automatically like Anchor.fm can, so you will need to submit your podcast to the major directories manually (but it's easy, don't worry).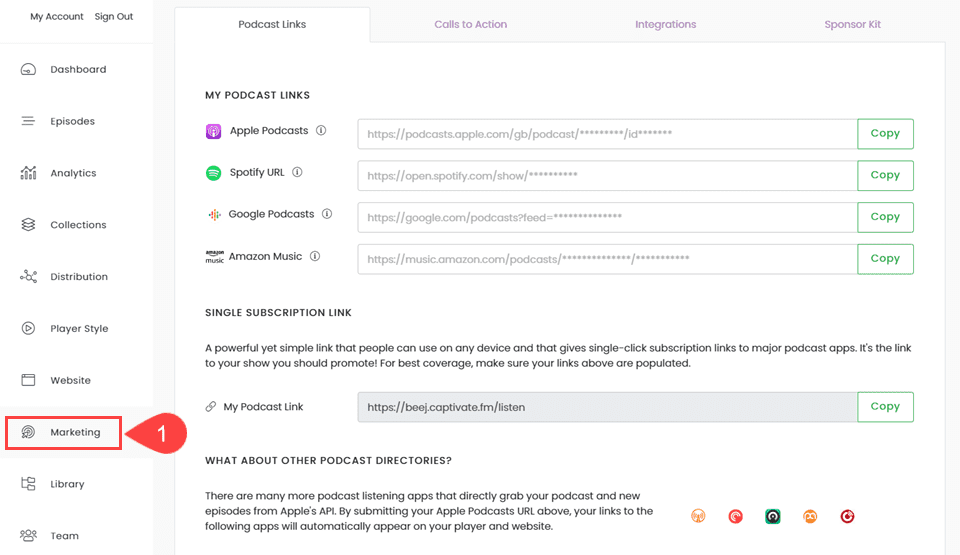 This is the only podcast platform (that we know of, at least) to show which platforms pull from Apple Podcasts to save you some time. We appreciate that.
The other tabs, Calls to Action, Integrations, and Sponsor Kit are equally simple and straightforward. The CTA you create will appear on the player itself, so you want to link up to two places you want to drive traffic (such as Patreon or your email list).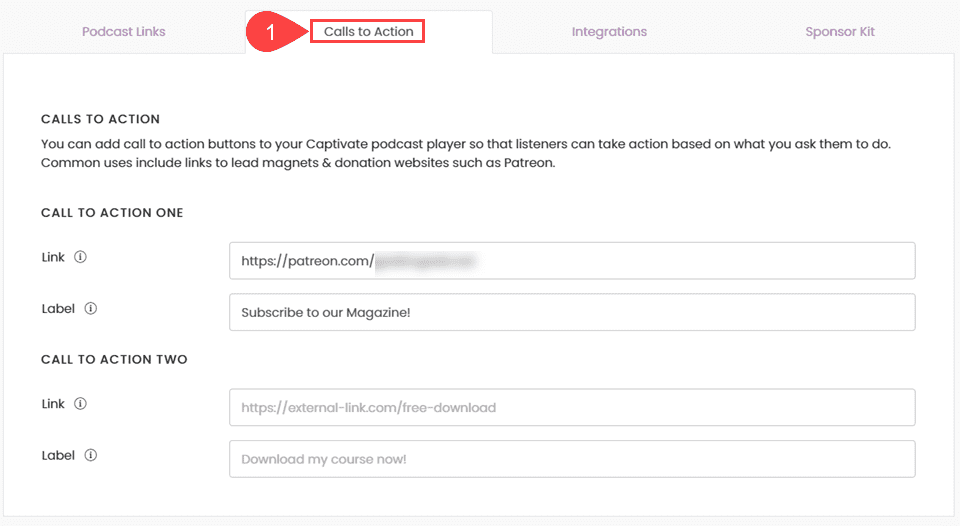 You will link your email list and Zapier automations under Integrations. At least if you use MailChimp or Aweber.
And finally, the Sponsor Kit tab is something that we wish every podcast host offered. A sponsor kit is where you aggregate your numbers and show off what you can bring to advertisers and sponsors. It usually includes costs for slots on your show and the kinds of ads that you run. They can be a bit stressful to put together, making sure that everything is accurate and that you represent yourself honestly to potential partners. Captivate gives you a little boost as a part of their service.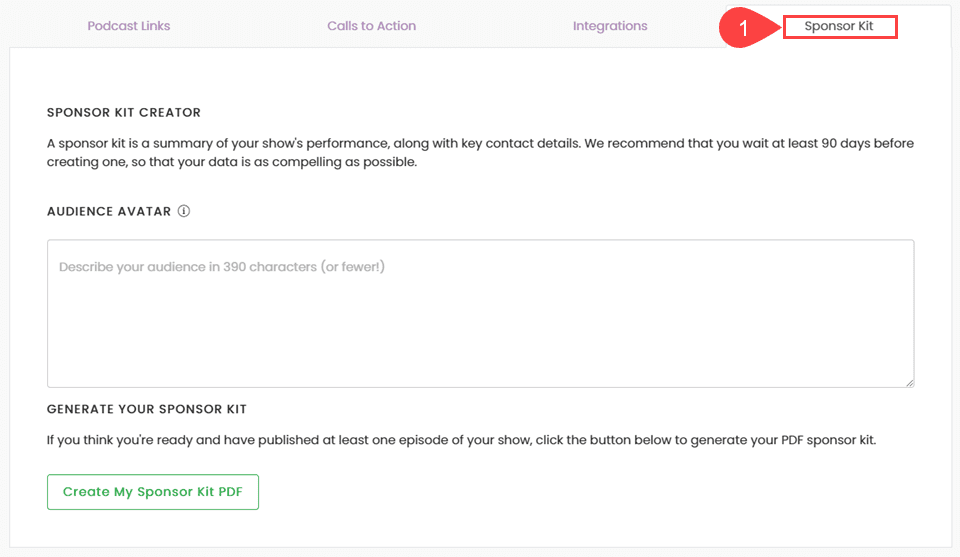 Now, the sponsor kit PDF isn't as detailed as you will want to send to most advertising partners. Primarily because it doesn't have prices or anything like that. You will have to create that kind of rate sheet yourself. But they do put together a very professional and sleek sponsor kit with your most recent episodes and download numbers. This is all a single click away instead of lots of manual aggregating and design. We love this.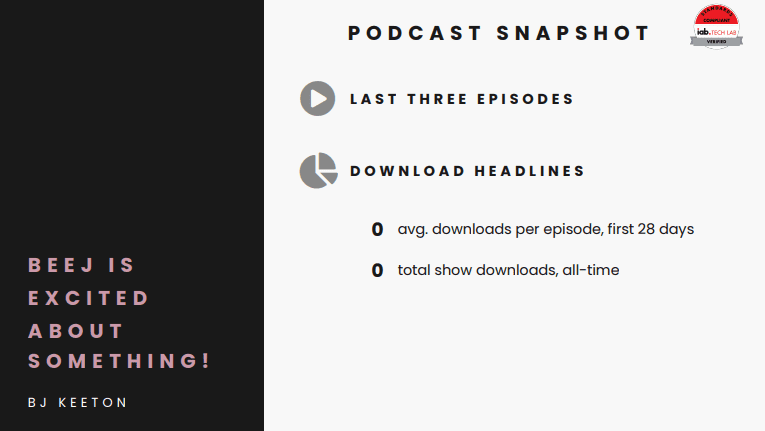 Wrapping Up
The platform that Rebel Base Media has put together with Captivate.FM is one of the most appealing podcast hosts we've experienced. From analytics for all tiers, multiple shows, automated sponsor kits, and publishing within the WordPress dashboard, Captivate takes just about everything podcasters need and puts it into one affordable, monthly/annual payment. We think that anyone looking for a new podcast host should give the free trial a shot. See if its right for you and your shows.
What have your experiences been with Captivate.FM?