Video content is booming, which means more people than ever are in need of user-friendly and affordable ways to create videos online. With so many platforms to choose from, however, it can be difficult to discern which ones are actually worth considering.
Whether you plan to launch a vlog, need to create tutorials to promote your products, or just want to boost your social media game, there's an online video creation tool for you. In this post we'll introduce you to seven top contenders, and explain who should consider using each of them.
Let's go!
An Introduction to Online Video Creation
While it's been popular online for a while now, video content is still on the rise. It's estimated that around 85 percent of businesses use it as a key marketing channel. Additionally, consumers watch close to 16 hours of online video per week, meaning that there's a significant audience you can reach with this type of content.
You also have a wide range of options when it comes to the types of video content you can create, such as:
Tutorials and demos
Product reviews
Vlogs (video blogs)
Ads
Live streams
Question and answer videos
Presentations
Behind the scenes looks at your brand
Depending on the type(s) of videos you choose to make, they can be valuable tools for informing and building relationships with your audience, and even increasing conversions. There are many avenues you can take to share this content, including your website, email, social media, and platforms such as YouTube.
Of course, before you can share your video content you'll need to create it. There are several premium editing platforms that can help you do this, including Adobe Premiere and Final Cut Pro. However, there are advantages to using online tools over these kinds of desktop applications.
For starters, web-based video creation tools can be used across operating systems and devices. This means you can use them anywhere as long as you have an internet connection. Web applications also tend to be easier from a maintenance standpoint, don't take up space on your computer's hard drive, and are often more affordable.
7 Tools to Create Videos Online That Anyone Can Use
A quick Google search will show you that there are dozens of tools available to help you create videos online – far more than the ones that made this list. We've vetted the platforms below for ease of use, functionality, and price, to bring you the top solutions for a wide range of use cases. So without further ado, here are seven of the best solutions you may want to check out.
1. Moovly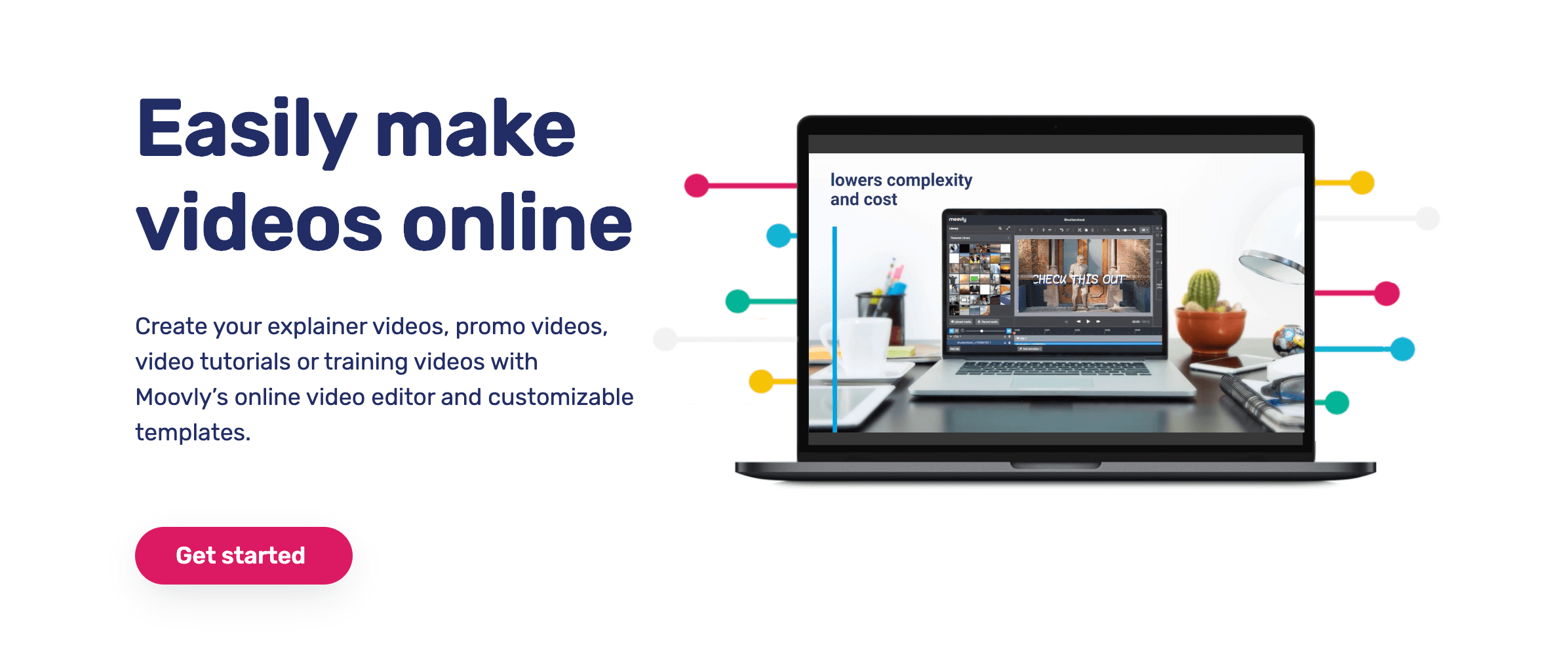 Moovly is a flexible platform you can use to create videos online in a wide range of styles. It enables you to import your own photos, video clips, and sounds, or browse an extensive library of royalty-free assets you can add to your content.
This solution's drag-and-drop interface enables you to easily combine elements and build scenes to suit your needs. However, as with many tools, more flexibility also means more complexity. Moovly provides many options and settings, but you'll have to wade through them all to find the ones that are relevant to you.
Key Features:
Webcam and screen recording
Text-to-voice-over conversion
User groups for collaborative projects
Brand compliance
Price: A free plan will enable you to create two-minute videos with Moovly branding, for publication on YouTube or Vimeo. Paid plans start at $49 per month, and allow unlimited video length, downloads, and more.
Best for: Teams that create a wide variety of videos and will benefit from the platform's flexibility.
2. Powtoon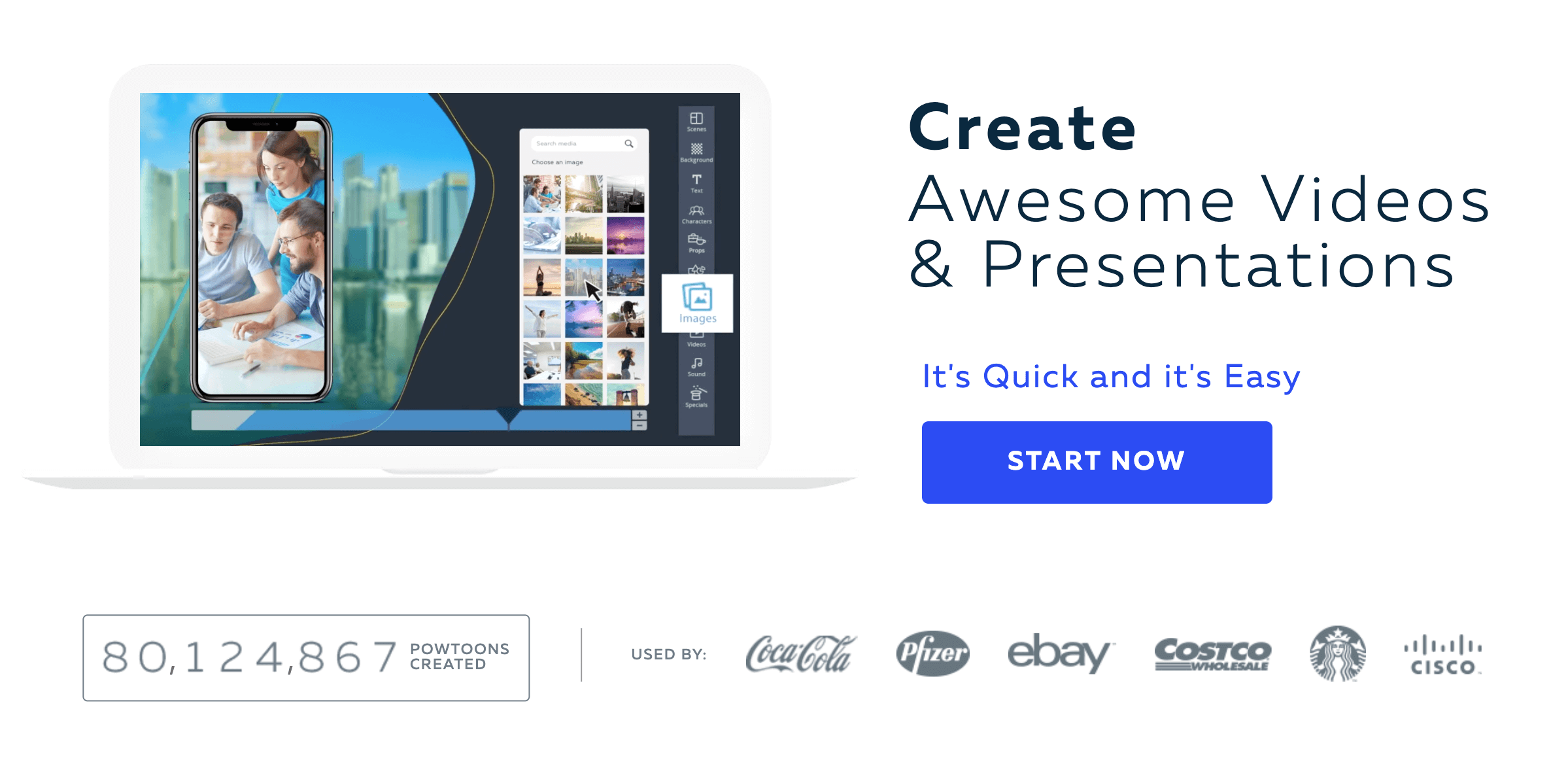 Powtoon is a handy solution geared towards animated projects. It requires minimal design skills, as you can use premade scenes and templates, and add text overlays and sound as needed. There are also libraries of characters and props that you can mix and match to meet your needs.
Overall, this platform should be fairly easy for most people to pick up. Its interface is similar to PowerPoint, and uses a system of 'slides' to create the visual aspect of your videos. Additionally, Powtoon provides extensive documentation to help you familiarize yourself with its features.
Key Features:
Video templates for business and marketing
Animated characters for inclusion in your videos
Team collaboration
Photoshop integration
PowerPoint integration
Price: Free accounts are available, and allow for videos of up to three minutes with Powtoon branding for publication on social media. Paid plans enable MP4 downloads and longer content. Pricing starts at $27 per month.
Best for: Animated social media marketing and training videos.
3. Biteable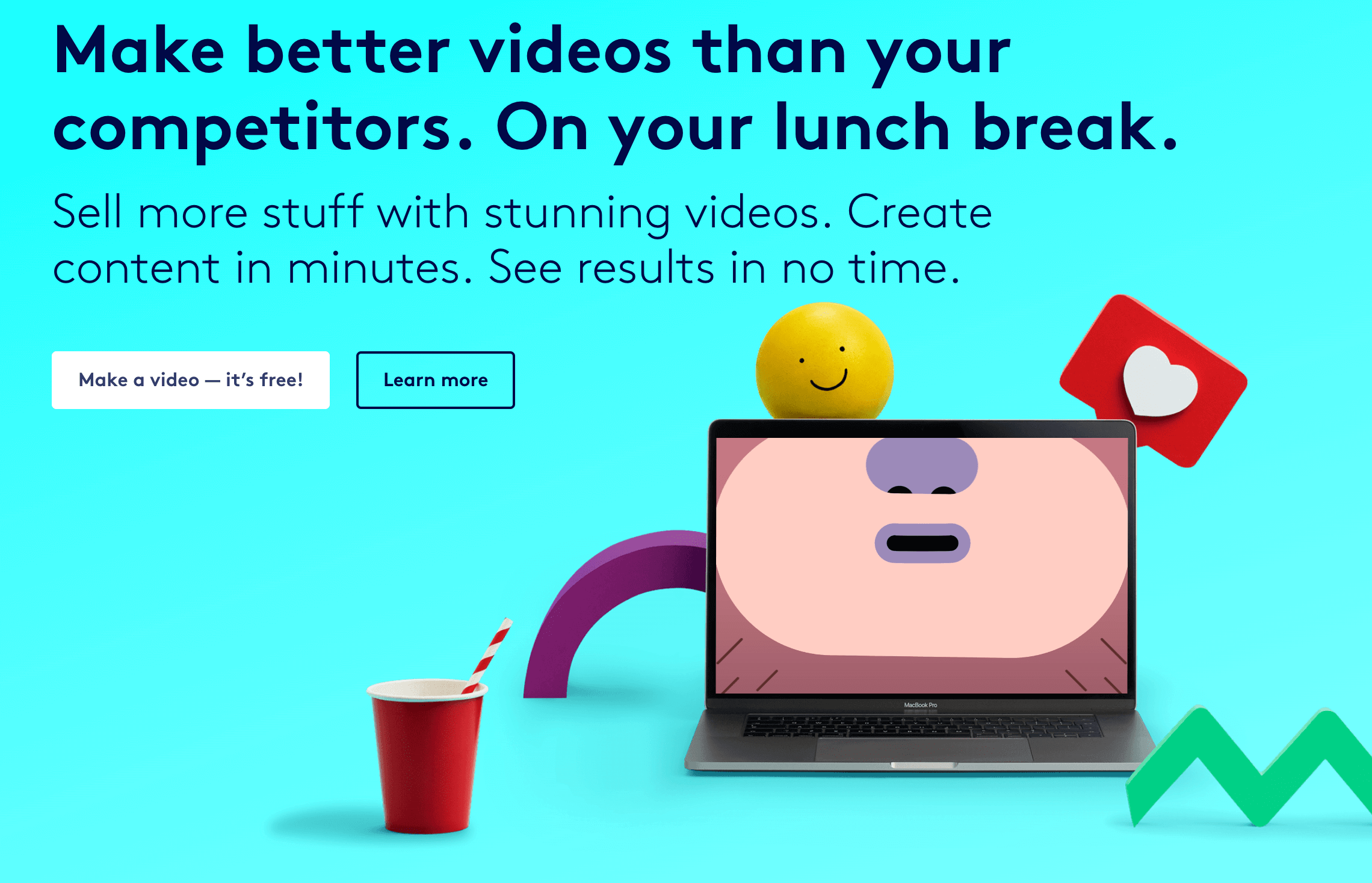 Biteable is another highly-adaptable video editor. It supports animated and live-action videos, and provides extensive libraries of media to help you create them. Additionally, it supplies a wide range of templates, including some formatted for social media. Its interface is user-friendly and fairly easy to pick up.
The biggest drawback to using Biteable is that you have to purchase its most expensive plan if you need support for multiple users. This means it's not the best solution for teams or those who wish to collaborate on video projects.
Key Features:
Customizable scene templates
Stock footage
Video branding and watermarking
Free marketing calendar
Four-step video editor that walks you through the creation process
Price: You can create and share ten videos for free. Paid plans provide unlimited creation and sharing, as well as a limited number of downloads per month. Pricing starts at $19 per month.
Best for: Individual and freelance content creators and social media influencers.
4. WeVideo

Unlike some of the platforms on this list, WeVideo provides more of a true video editing experience. It includes many advanced features when it comes to effects, filters, and audio. You can even use it for green screen editing!
However, like Moovly, WeVideo sacrifices a bit of usability in order to incorporate more features. If you're not familiar with video editing, you may need to practice using this tool to create videos online for a while, before you're able to build high-quality videos.
Key Features:
Advanced video editing features
Android and iOS apps for mobile video creation
Webcam and screen recording
Video sharing directly to YouTube or Facebook
Video branding and watermarking
Price: WeVideo's free plan allows for five minutes of watermarked video content, which you can download or share on social media. For $9.99 per month, the time limit increases to 30 minutes, and you can access additional editing features. At $15.99 per month, the time limit is removed. However, you'll need to upgrade to a $59.99 per month Business plan to accommodate teams.
Best for: Most video content creators.
5. Adobe Spark

Any platform that carries the Adobe brand name automatically earns a certain level of respect. Adobe Spark is the media creation suite's online video tool, and is perfect for quick on-the-go editing thanks to its corresponding mobile app and easy social media integration.
Adobe Spark uses a slide-based interface to simplify video editing for new users. You can upload your own media, make use of various stock photos and video clips, and apply pre-built layouts and themes to your projects. Note that each video slide is limited to 30 seconds, so this platform may not be ideal for some projects.
Key Features:
iOS app for mobile video creation
Team collaboration
Project branding
One-click sharing for social media and email
Social graphic and web page builders
Price: There is a limited free plan available that will work well enough for those looking to use their own media. Paid plans offer more templates, personalization options, and team management features. They start at $9.99 per month.
Best for: Creating and sharing social media videos.
6. Animaker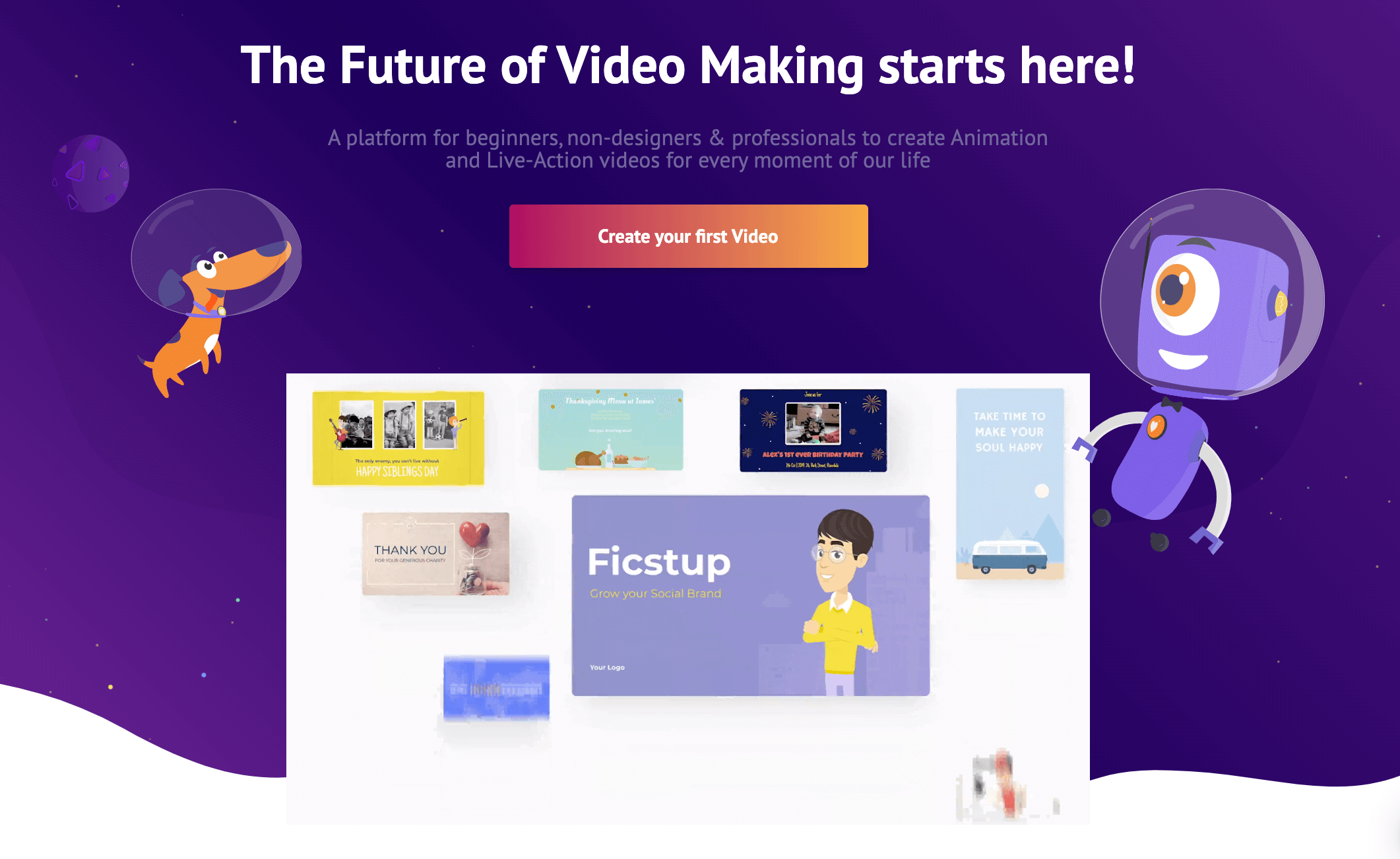 Despite its name, Animaker can help you create both animated and live-action videos online. While there are some premade assets available – including animated characters and music – they're pretty limited as compared to other platforms. You'll most likely need to import your own images, clips, and sound.
However, once you've compiled all the elements you need to create your video, the process is pretty simple. Animaker uses a clean drag-and-drop interface that is fairly easy to understand, and doesn't require previous video editing experience to use.
Key Features:
High-quality animated characters
Access to stock photos and video clips
Templates for various business and marketing videos
Team collaboration and file management
Social media integration
Price: Animaker's free plan is appealing, because allows for five downloads and there are no time limits. However, the platform does significantly restrict your use of its content libraries, as well as your uploads' file sizes. Paid plans start at $19 per month.
Best for: Those who want to use their own media to create videos.
7. Clipchamp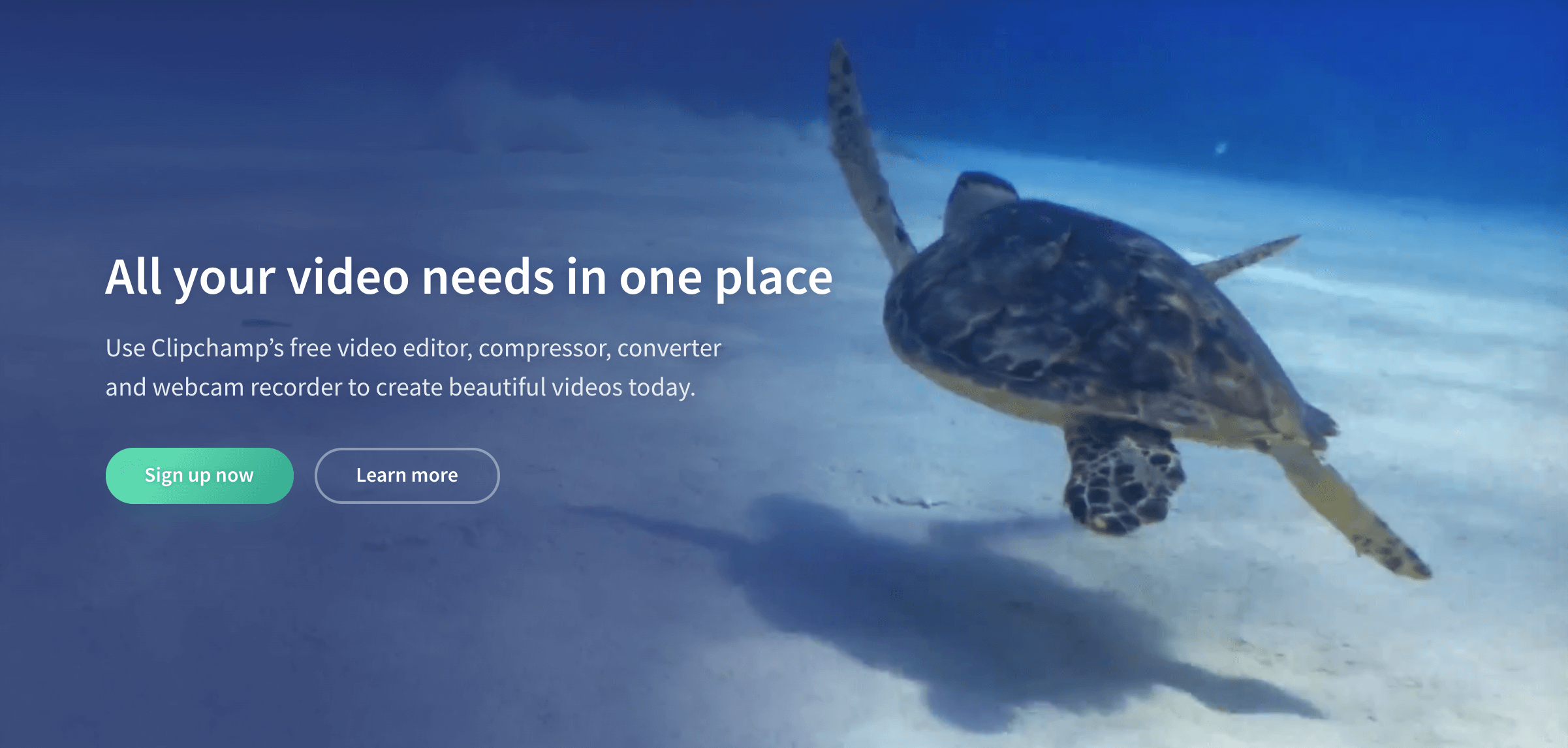 Clipchamp manages to strike a decent balance between ease of use and advanced editing features. Its interface is a bit less overwhelming than WeVideo or Moovly, but provides more options than Powtoon or Animaker.
Clipchamp provides several video templates, as well as formatting for Facebook, Instagram, Tik Tok, and YouTube. Additionally, it has a stock library of video and audio files that you can incorporate into your projects. Unfortunately, this platform does not have any collaboration features at this time.
Key Features:
Social media integration
Green screen editing and picture-in-picture options
Chromebook compatibility
Stock video and audio libraries
Customizable video templates
Price: You can create unlimited watermarked videos for free using your own media. Paid plans start at $9 per month, and provide increasing access to stock media libraries and higher download resolutions. However, Clipchamp is also unique in that it allows you to purchase 'one-off' stock media usage, high-resolution downloads, and watermark removal, even on its free plan.
Best for: Freelancers and individuals on a budget.
Conclusion
As video content gains popularity on social media and other marketing channels, there's a greater need for affordable and easy-to-use tools for creating videos online. There are many options to choose from, but not all of them offer robust enough features to produce quality results.
In this post, we've explored seven different online video creation tools. WeVideo gets our vote for the best overall platform, although it has a bit of a learning curve. Powtoon is an excellent alternative if you want to focus on animated videos, and Adobe Spark is worth considering if you want a simpler interface, mobile editing capabilities, and easy social sharing options.
Do you have any questions about creating videos online? Leave them for us in the comments section below!
Image by Myroshnichenko Andrii / shutterstock.com