The internet: not an insignificant invention, you'd have to agree. Many might say that it's reducing its users' attention spans however, and it's clear that it doesn't engage everyone to the same extent as other media may be able to.
Take Facebook as a prime example, where engagement on images is much greater than other types of post. A visitor's engagement with content is what keeps them around to do whatever it is you want them to do, and presenting it in a way that makes them pay attention is a vital skill.
In this article we're going to show you the importance of utilizing different types of media, and reveal three stock video sites that you can take advantage of today.
Why is Engaging Media Important?
For anyone who makes and publishes any sort of content, it is undoubtedly important to ensure the message being conveyed gets out to the intended audience. People on the web are pretty quick in deciding whether they want to stick around to finish content, whether that be a written article like this, a video clip, or a podcast.
Essentially, the two options for making certain that your message is heard are to:
make it very short, or
engage the readers.
Every site has different aims, but one fairly universal way to grab visitors' attention and keep them there is through video. Combinations of moving image, audio and (sometimes) text – a short video presentation has everything going for it in terms of multimedia.
With improvements in the hardware used to deliver online content, pretty much every internet user is now capable of accessing high-quality streamed videos, and huge numbers do so regularly through popular sites like YouTube or Netflix. People actively choose to do this: If you can tap into that, you'll have all the attention you could want.
How to Create Engaging Videos
Like any other content on the web, quality is king when it comes to getting people to stick around. There are three steps to consider when creating a video:
Plan your message. What is it you want this video to convey to its audience? It's important to get this clear from the beginning so any subsequent work you do is targeted at making the video a success.
Plan the presentation. By this I mean making sure you've got a clear idea of what's going to surround the video once it's uploaded. Presumably it'll go on YouTube (that's pretty much the default!), so figure out what its description will be, for instance. If it's going to be embedded on a website, will it have any content around it? Develop these ideas with retention in mind – once you've got someone on a web page they'll be much more likely to stay, but getting that initial hook is the crucial and most difficult part.
Plan the video. Creativity is very much favourable at this stage. Don't be afraid to be relatively ambitious – even if you haven't got huge financial or technical resources available, there's a way to get your hands on footage that it wouldn't be feasible to film yourself: stock video.
Just like the many stock image sites with thousands of generic images for any use, there is a huge variety of stock footage sites with pretty much anything you could need when creating a video. With all the planning that has been put into coming up with awesome video concepts, it's a shame not to use the best quality footage. It's worth checking out some different sites and footage to find the very best for your video.
The Best Stock Video Sites
Choosing sites from which to license content is crucial; getting the choice of footage right will make the difference between a compelling video that attracts visitors to remain on your site, and one that simply turns visitors away. Plenty of sites have some similar features, but here are three with extras that are really worth consideration.
1. Dissolve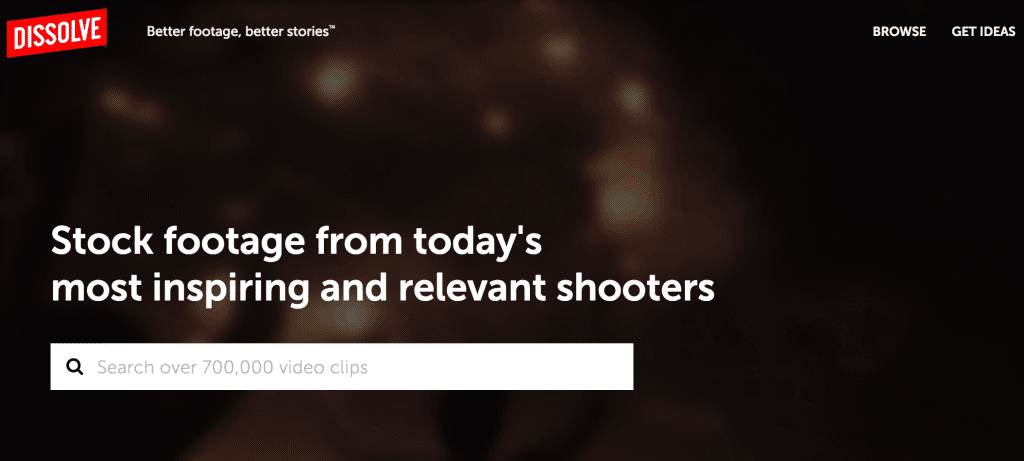 Dissolve is a stock footage site with over 700,000 high quality (including 4K) clips for sale, generally aimed at users requiring the highest quality footage for web advertising, etc.
The experience of using the site is great and the videos available are varied; one of the best things about Dissolve is its more 'holistic' approach. It provides inspiration through its ideas blog, and live help is available from its customer service team through a useful little widget on the site.
The variety, quality and suggestions should enable anyone using Dissolve to produce something really special to reel in their viewers.
2. Getty Images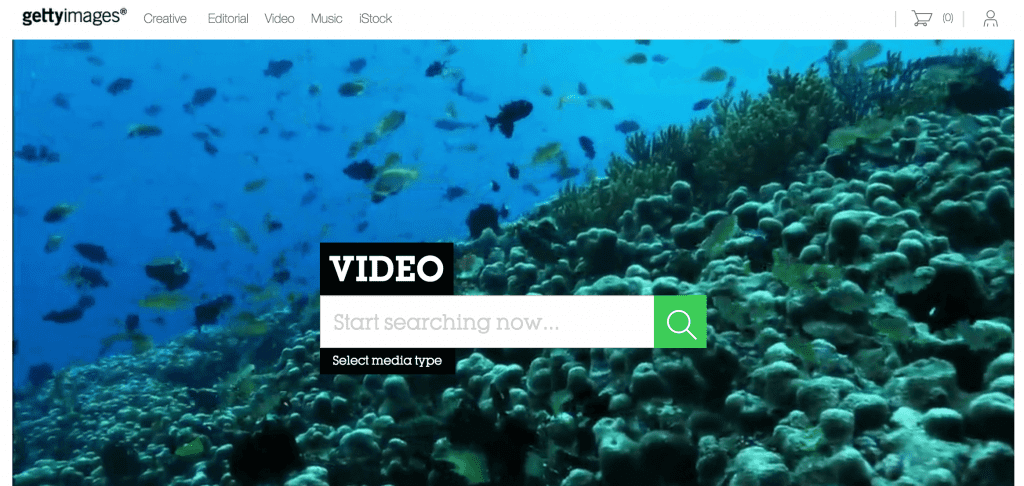 Getty is one of the best-known providers of stock images out there, with many news articles' images sourced from the site. Lesser known but also extensive is its footage section. With its easy to navigate layout, browsing and purchasing licences from the site is straightforward, while finding what you're after is made easy by the excellent search functionality as well as collections put together on the site. Certain collections on the site, such as the BBC's Motion Gallery, are an especially valuable set of videos.
Getty also makes it easy to find the best video quality, with visible tagging and a number of different resolutions available (upon which pricing also depends, allowing a look in for smaller budgets too).
3. Shutterstock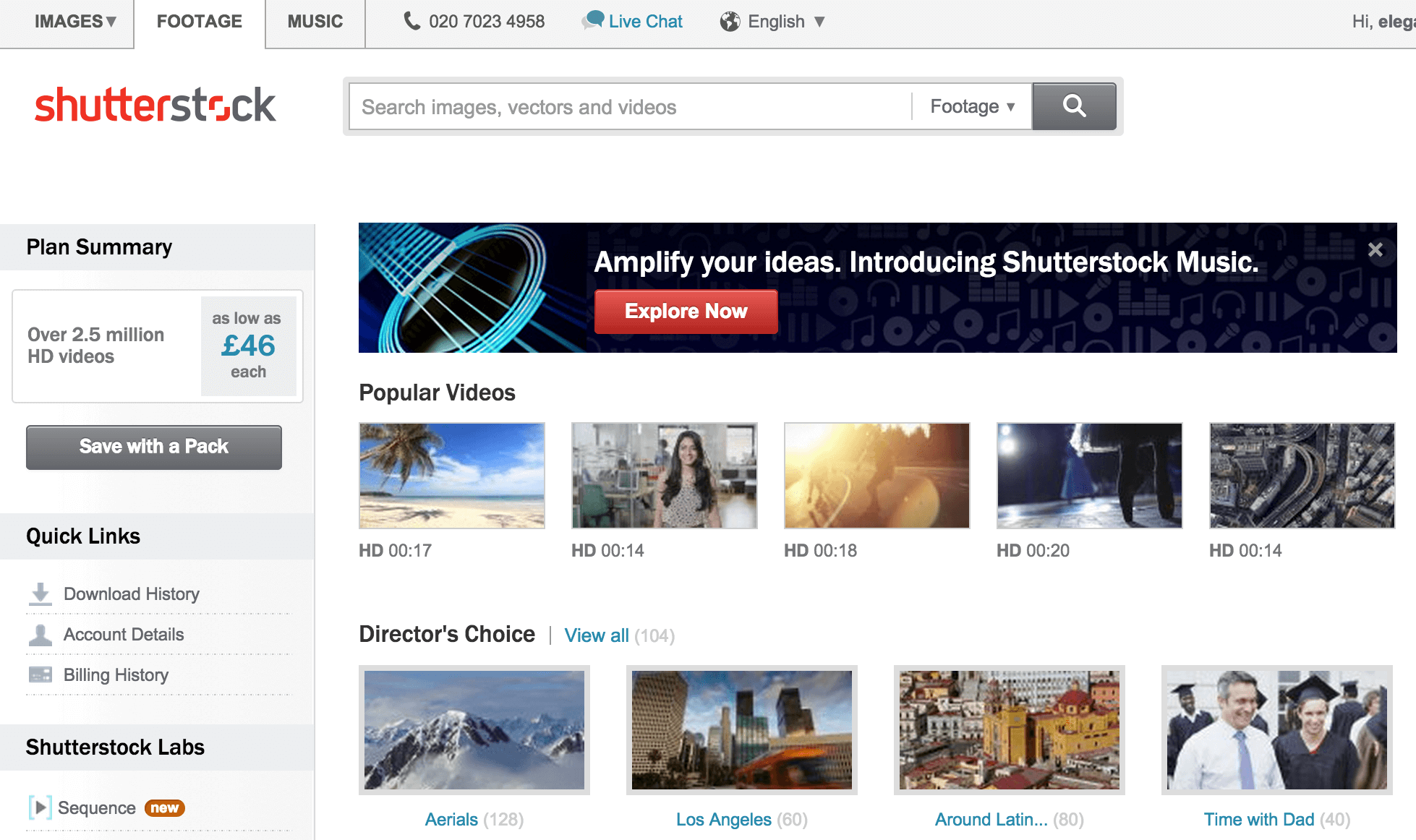 With nearly three million clips at the time of writing, Shutterstock is a very reliable site with an extensive choice of good-value clips. With differentiation in pricing for different uses and needs, like Getty, Shutterstock creates a marketplace in which many needs can be fulfilled. Discounts apply when several clips are bought, making it ideal if you can find all of the clips you need in its directory.
Moreover, the site provides music as well; useful when looking to add to the effect of your video.
A Word on Free Footage
As WordPress users here, we're never against free things – but then, when we license our themes, we charge a fee. There is a limited amount of free footage available online which can be used if you're really tight on cash. However, ensuring that quality doesn't noticeably suffer is vital here. If at all possible, it might be worth investing in (potentially shorter) higher-quality clips to make sure the video is produced optimally.
Other Tips on Video Success
As mentioned earlier, one of the most important parts of videos – particularly those in which stock footage is used – is planning. Another significant way to get ahead during this stage is to research. It's worth noting that one should never directly copy what someone else has done (especially not competitors – you want to stand out), but looking at other similar projects and noting what you think is done well will enable you to improve your own video.
Here are a few more things you should consider:
Add music or other sound effects to enhance the video (but make sure it fits with the style).
Ensure a coherent theme or 'look' runs throughout the videos – especially any series. Continuity is nice for visitors who keep coming back.
Edit your video as professionally as possible. Investing in some software to make it look pretty is generally worth it for the returns.
Present the video with other compelling content. Calls to action are great – there's little point in getting visitors if they're then left with nothing to act on – and other complementary writing doesn't go amiss.
That's a Wrap
Video is a fantastic tool to engage with new and existing visitors, and it is ultra-shareable on all sorts of social networking sites too. Even if you don't have the budget to jet off with expensive camera equipment to capture a few seconds' worth of footage, stock video opens up new worlds of opportunities because other people have done the hard part for you.
There's a vast selection out there already, with thousands more videos being uploaded for browsing and licensing every day from a number of providers. Even better, all of them have developed some fantastically robust systems for delivering that content for you in as affordable a manner as is sustainable.
Making the investment in different multimedia to get more people engaging with your content and message will pay off if done well – and there are lots of different ways to try presenting your ideas. Creativity is key and if viewers like what you're doing, they'll stick around.
All that's left is to wish you happy browsing and the best of luck with the tools you're now equipped with to engage a wider audience for longer! Oh, and once more: remember to plan – it's quite crucial.
If you've got any of your own stock footage creations to share or have found any especially good examples from others, it'd be great to see them down in the comments!
Image Credit: Vasya Kobelev / ShutterStock