WordPress is famous for being well designed for SEO right out of the box. All of its features and functions have been built to guide search engines through every post, page and category of your site, so it's not absolutely essential to install third-party SEO plugins for your sites to rank well.
Though search engines have no difficulty dealing with WordPress sites, users who are serious about SEO often still turn to popular, highly-rated plugins in an effort to supercharge their results. And with over one million active installs, Yoast SEO is the leading plugin on the market.
Yoast SEO is a powerful option, but do users really need all those options to deliver effective SEO, or can they achieve similar results with simpler plugins?
That's the question we'll be covering in depth in this article. Let's start with some basics.
Getting to Grips with SEO
Getting SEO 'right' obviously makes an enormous difference to your site's chances of success, but it's by no means straightforward. Any WordPress user who's made it past the beginner stages will know all too well just how involved things can become when you start getting serious about SEO. It's a moving target; tips and techniques that work one year can fall radically out of favor the next, depending on both trends and the whims of Google.
It's also worryingly easy to come across outdated or generally dubious advice about SEO while browsing the web, so it's worth your while getting your head around the basics to avoid getting led down the garden path. Google's very own SEO starter guide and Moz's beginner's guide to SEO are two excellent resources to start with for familiarizing yourself with legitimate best practices. You should also consult our recent piece on SEO myths to further clarify things in your head.
Make your way through the resources above and you'll soon realize that the core set of on-site factors you need to take care of is relatively limited: page titles, descriptions, URLs, navigation, content quality, anchor text, image optimization, correct use of headings and tags are among the main ones.
WordPress plugins that help with these areas while taking both the guesswork and time-sucking drudgery out of the process are worth looking into.

Yoast SEO provides handy options for dealing with page titles, descriptions, and URLs and we'll be concentrating on these areas for the purposes of comparing it with other plugins. It also adds integration options for major social networks, but we won't be dwelling too much on that as there are any number of dedicated social plugins that can handle that side of things better.
The other two main standout features of Yoast SEO are XML sitemap generation and URL redirects – the latter being a premium feature. Again, there are dedicated plugin solutions available to handle both of these requirements but they're certainly pretty handy to have available in an SEO context. We'll cover options for these as well.
Before we get into our comparisons, it's worth mentioning that all themes available from Elegant Themes come with a built-in SEO section in the theme options settings which can be a great alternative to using plugins if you're comfortable enough with using custom fields.
When you navigate to your ePanel, just click on the SEO tab to enable or disable custom SEO settings for your homepage, single post pages, and index page: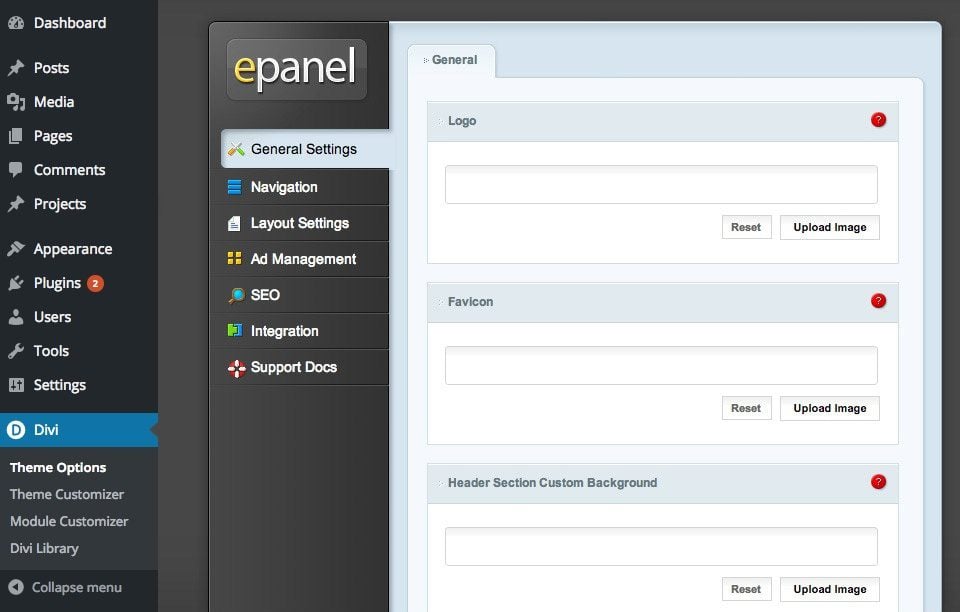 Let's move on to looking at how Yoast SEO's major features stack up in terms of hitting the sections we've identified above, and how well it compares to competing solutions these days.
Comparing On-Page SEO Options
Though it's the best known, Yoast isn't the only powerful SEO plugin that gives you control over optimizing your individual posts and pages. We'll be comparing it to three other popular SEO plugins in this article: All in One SEO Pack, SEO Ultimate, and Squirrly SEO.
Each of these plugins has a general configuration section that can be accessed through the plugin's Settings panel in the WordPress admin area. They also all offer a range of fields and options when composing or editing posts and pages. We'll start with an overview of what Yoast offers, then look at the comparable sections or options for each of the other three plugins.
Yoast SEO for Posts and Pages
Yoast's General Settings tab serves as a starter page where you can check out their resource listings, set up some personal information, and integrate different webmaster tools such as Google Search Console.
To access the fields where you can customize your on-page SEO, you have to navigate to the Titles & Metas tab where you'll find tons of customization options for the homepage, post types, taxonomies, and archives. Each section is nicely organized in tabs with title templates, meta description templates, and several other options for each major page type.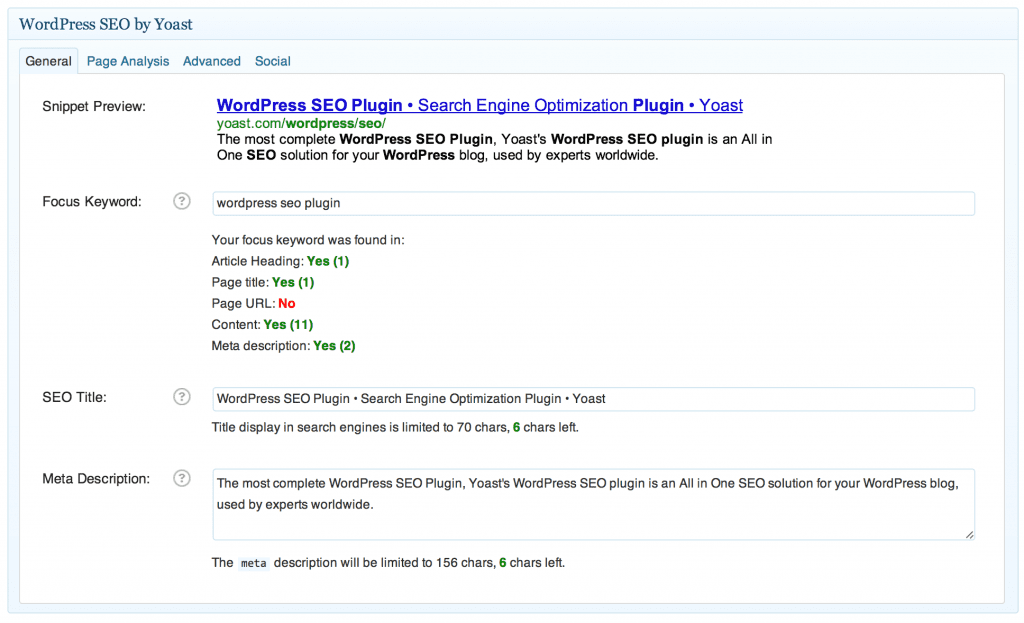 Yoast also includes customizable options that appear beneath every page and post editor which forcefully remind you to choose a keyword and encourage its use in the heading, page title, URL, content, and meta description of your posts or pages. You can also switch through the tabs to get a page analysis, customize some advanced robots.txt settings, and specify what information you want social networks to use.
All in One SEO Pack for Posts and Pages

All in One SEO Pack offers comparable settings to Yoast's Titles & Metas tab in its General Settings tab. Rather than using tabs to separate each section, All in One SEO Pack has it all laid out on one page. Just scroll down and you're able to customize everything from your home page settings to your custom post type settings.
Like Yoast SEO, All in One SEO Pack includes an SEO section beneath every page and post editor too – although minus some of the more advanced tabs Yoast SEO offers. For example, it doesn't give you a count of how many times you used your keyword throughout the content of your page or post – one of the big highlight features of the Yoast option.
Being the full-feature plugin that it is, Yoast offers a lot more options compared to what you can do with All in One SEO, but that may not matter if you don't plan on using them. The keyword counter and snippet preview features that come with Yoast are still big pluses though and not having them is a loss.
You can also check out this detailed comparison post to get a clearer picture of how they stack up head to head.
SEO Ultimate for Posts and Pages

SEO Ultimate is more advanced than All in One SEO Pack and a stronger direct competitor to Yoast SEO. Instead of having a general tab with all the main settings, the plugin adds a handy link to the admin bar that you can access everything from. Roll your mouse over it and you'll see 25 different features split out into individual tabs.
Beneath the post and page editor options, SEO Ultimate keeps things simple by adding straightforward sections you can fill out for your search engine listing, social networks listing, links and other miscellaneous options. Although the plugin itself has some useful keyword research features built right into it, it doesn't have any keyword fields, counters, or page analysis features as Yoast SEO does.
Both Yoast SEO and SEO Ultimate offer a generous range of useful features, yet each one provides quite a different experience when you're actually using it. For example, the Deeplink Juggernaut feature SEO Ultimate offers – which helps intelligently link your content based on keywords – may put the plugin out in front if that's a priority for you. It also offers some useful social media options that Yoast doesn't have, like its Rich Snippet Creator and Social Network Listing feature.
You could possibly use both plugins together if it's too hard to choose, as long as you make sure to disable the SEO Ultimate modules that may conflict with Yoast.
Squirrly SEO for Posts and Pages

Squirrly SEO is a free plugin offered by content marketing software provider Squirrly. It's become quite a popular option – particularly for beginners – and has even been recommended by Kissmetrics co-founder Neil Patel.
Unlike Yoast and a lot of other SEO plugins, Squirrly SEO is a very visual plugin that seeks to simplify the world of SEO and carefully guide users through everything step by step (which may be helpful if you have less experienced users or clients).
Squirrly SEO includes slideshows for all of its main features on its Dashboard tab and does a great job in guiding users through available options. Navigate to its SEO and Settings tabs and you'll see that there's not a huge amount of customizable settings available, though that's not necessarily a bad thing when you're looking to concentrate on the essentials.
When you edit any post or page, a bunch of very prominent Squirrly options immediately appear in the right sidebar. You're automatically asked to enter a keyword so that the Squirrly SEO Live Assistant can tell you how your keyword is being used throughout your content in an easy to understand way: anything colored green is good to go, anything left white hasn't been set up yet, and anything colored red needs to be fixed.
Squirrly SEO is clearly geared toward newbie users and performs admirably in that context – SEO experts may find themselves needing a little more control.
Social Optimization
SEO is critically important, but there's no ignoring social media these days either. Making sure that your titles, descriptions, and feature images look great when shared on Facebook, Twitter, Google+, Pinterest and other platforms is essential if you want to drive traffic through social promotion.
Yoast SEO's Social tab enables users to inform Google of their social profiles and integrate their site with major social platforms by enabling Facebook Open Graph, setting up Twitter Cards, and adding Pinterest verification and Google+ specific post meta data. That's more than enough for most users but there are dedicated plugins out there if you want to dive deeper.
Since we're on the subject, here are three options you can consider as alternatives to Yoast's social optimization features.

This plugin claims to be compatible with Yoast SEO, so you can use it as an additional social plugin if you want more options like including (or excluding) Open Graph tags and choosing a default feature image if the post doesn't have one. Yoast has useful basic set-up options for both, but this plugin offers more settings that you can enable and disable for even more effective and efficient sharing results.

This plugin gives users complete control over the information provided to social networking crawlers, including Facebook, Google+ Twitter, Pinterest and others. In addition to basic meta tag support for Open Graph, Rich Pins, and Twitter Cards, this plugin will blow you away in terms of all the configurable and customizable options it provides. It should also play nicely when used in conjunction with Yoast SEO.
You will also want to combine this with a social sharing plugin such as Monarch.

Not only does the official Twitter plugin enable you to integrate Twitter Cards with your site for more media-rich tweets – it also enables users to embed Twitter content and Vine videos easily, with the added bonus of having Twitter buttons built right into the plugin itself. If you heavily rely on Twitter for content promotion, this plugin may be more useful than the basic Card style option Yoast SEO offers in its Twitter tab.
XML Sitemaps
An XML sitemap makes it easier for Google to discover the pages on your site, including pages that may not be as easily discoverable by Google's standard crawling process.
Yoast's XML Sitemaps tab enables users to generate a sitemap which is automatically updated any time a new post or page is published. It also enables users to specify post types, individual posts, or taxonomies that should be excluded.

As an alternative to Yoast SEO's sitemap feature, Google XML Sitemaps is one of the highest rated XML sitemap plugins and has been going strong for over nine years. It gives users even more control over their sitemaps, specifically in terms of setting up post priority and change frequencies. Users can also add specific files or URLs to be included in their sitemaps that don't belong to their WordPress site.
Yoast Premium Features
We've looked at some interesting plugin options you can use to match the main features of the free version of the Yoast SEO plugin but there are also the premium features (starting at $89 for a single site) to consider. Even if you're sticking with the free version of Yoast SEO, it's worth looking at other free plugins that may be able to replace its premium features.
If you have broken links and old pages that need to point to newer pages, you're going to want to use a redirect tool to stay on Google's good side. Yoast SEO offers a redirect manager as a premium feature that integrates directly with Google Search Console. If you run a big commercial site with lots of pages that require quite a bit of maintenance, the premium upgrade to get this redirect feature could easily pay for itself in terms of the time it will save you.
If you're just looking to simply clean up a few of your URLs, Redirection is a popular free plugin that makes it easy to manage 301 redirects and keep track of 404 errors. It's easy to use and best suited for smaller sites that need a quick and effective tool for tidying things up.
How cool would it be if the videos that you posted on your site showed up directly in Google search results? Yoast SEO's premium video extension claims to do just that but, as with any SEO topic, there are naturally caveats to consider here.
It doesn't look like there are any other WordPress plugins out there that offer this. While the official YouTube plugin is quite popular, its focus is on embedding YouTube videos in WordPress.
Ranking in search for news is different than ranking for evergreen topics, meaning those who manage news sites may need a different approach. Yoast offers a news extension that creates XML News Sitemaps and editors picks RSS feeds to stand out for Google News.
XML Sitemap & Google News feeds may be a possible alternative plugin for news sites and has attracted some decent reviews from users attracted by its simplicity.
Business sites that target visitors from a specific geographical area have to make sure they tell Google the right location-specific information if they want a chance at a top spot ranking. Yoast SEO's local plugin claims to help sites optimize this aspect of their information so they can rank better in their local results, and in Google Maps.
Local SEO and Business Listings is one free option if you're not prepared to shell out for Yoast's premium package. Its core plugin functionality includes local SEO road maps, a keyword research tool, a competitor keyword spy tool, suggested content submission websites, and a proprietary keyword effectiveness index.
Other Optimization Plugins to Consider
Yoast SEO offers a ton of SEO features but certainly doesn't encompass everything you can do to optimize your site. For example, you'll want to do everything you can to improve your site's loading time since speed is a ranking factor.
Installing an image optimization plugin like EWWW Image Optimizer is an excellent idea for minimizing overall page sizes by chomping down your images to something reasonable. A caching plugin like W3 Total Cache will also improve server performance, speed up download times, and supercharge your site speed when integrated with a content delivery network (CDN).
Conclusion
So, is Yoast SEO really the ultimate SEO plugin?
Well, it's complicated. As you might've already guessed, this is the type of question that can't really be answered with a straight up yes or no.
If you run a serious commercial site that relies pretty heavily on search engines for traffic, and you find that you could really make use of all or most of the extensive SEO options that the plugin offers, then the answer is almost certainly yes.
You can still maintain excellent SEO without Yoast however. It all comes down to how many customization and advanced options you really want, and how much manual work you're prepared to do yourself.
What's your experience been like with using Yoast? Do you favor another SEO plugin over it? Get in touch via the comments and let us know!
Article thumbnail image by ideyweb / shutterstock.com.
Disclosure: If you purchase something after clicking links in the post, we may receive a commission. This helps us keep the free content and great resources flowing. Thank you for the support!