Artificial intelligence (AI) is transforming the audio industry. What used to require complex software and a high skillset is now accessible to the masses. AI audio tools are opening up new possibilities for anyone to create podcasts, videos, music, and more, in ways we've never seen before. Whether you are a podcaster, musician, or content creator, these AI tools can take your productivity and creativity to a whole new level. In this post, we'll explore the best AI audio tools with various useful applications. We'll compare features, pricing, and how they can best be used to fit your needs.
What is an AI Audio Tool?
In its basic form, an AI audio tool uses artificial intelligence, advanced algorithms, or state-of-the-art neural networks to manipulate audio. With AI audio tools, users can tap into the power of AI to edit, create, and enhance audio in different ways with ease. There are many different types of AI audio tools with various applications, including:
Audio enhancers to can help refine audio tracks automatically
Voice generators to create humanlike speech for podcasts or videos
AI music creators to help anyone make their own music with the help of AI
Text-to-speech tools for content creation
AI Video generators with built-in AI audio tools for faster video production.
and more
With that in mind, let's explore some of the top AI audio tools out there.
10 Best AI Audio Tools in 2023

Subscribe To Our Youtube Channel
Our list of the best AI audio tools hopes to provide a platform for everyone. Whether you plan to use these tools for personal or professional use, our list has the top AI audio tools to make your process a smoother experience.
The Best AI Audio Tools Listed In Order
Expand List
1. LANDR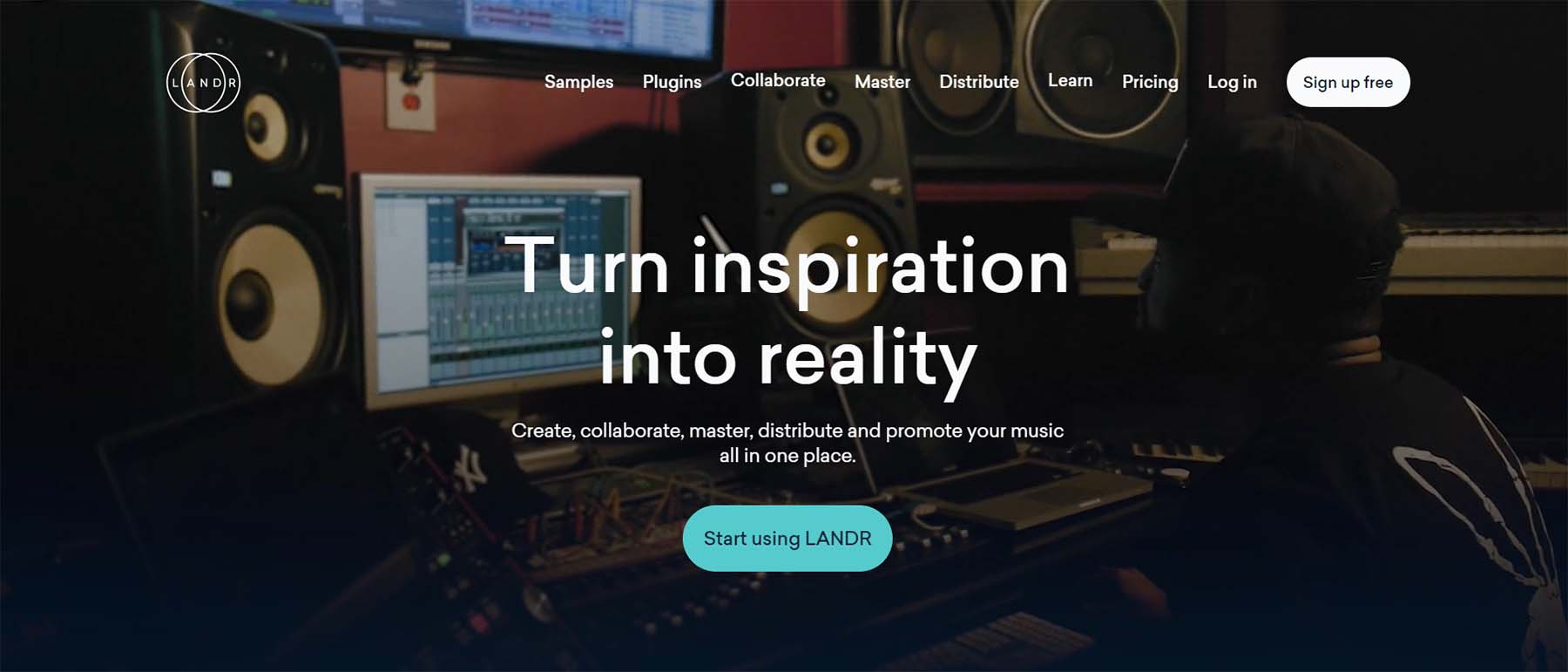 LANDR is an AI-powered audio tool that allows you to create, collaborate, master, distribute, and promote your music. From one intuitive interface, you can do more regarding audio engineering. LANDR is lauded as the first and best AI audio tool used by megastars like Lady Gaga, Gwen Stefani, Snoop Dogg, and Seal.
Its claim to fame is its powerful, unrivaled AI mastering, which can automatically create personalized masters based on your music with amazing precision. LANDR'S AI is toasted as being the best in the industry, providing excellent quality, clarity, and security when it comes to using AI to master audio, regardless of the size of your studio. LANDR has a fantastic drag-and-drop interface that allows you to master tracks with ease. Additionally, the suite comes with bespoke mastering plugins that help you produce the best tracks without investing additional resources on incompatible extras.
Key Features of LANDR:
Boasts of a large selection of curated samples
30+ exclusive VST (virtual studio technology) plugins
Unlimited online masters and revisions with full album mastering
Audio distribution to platforms like Spotify, Tidal, YouTube Music, Apple Music, and More
Collaborate directly on tracks from within the studio or remotely using state-of-the-art text and video messaging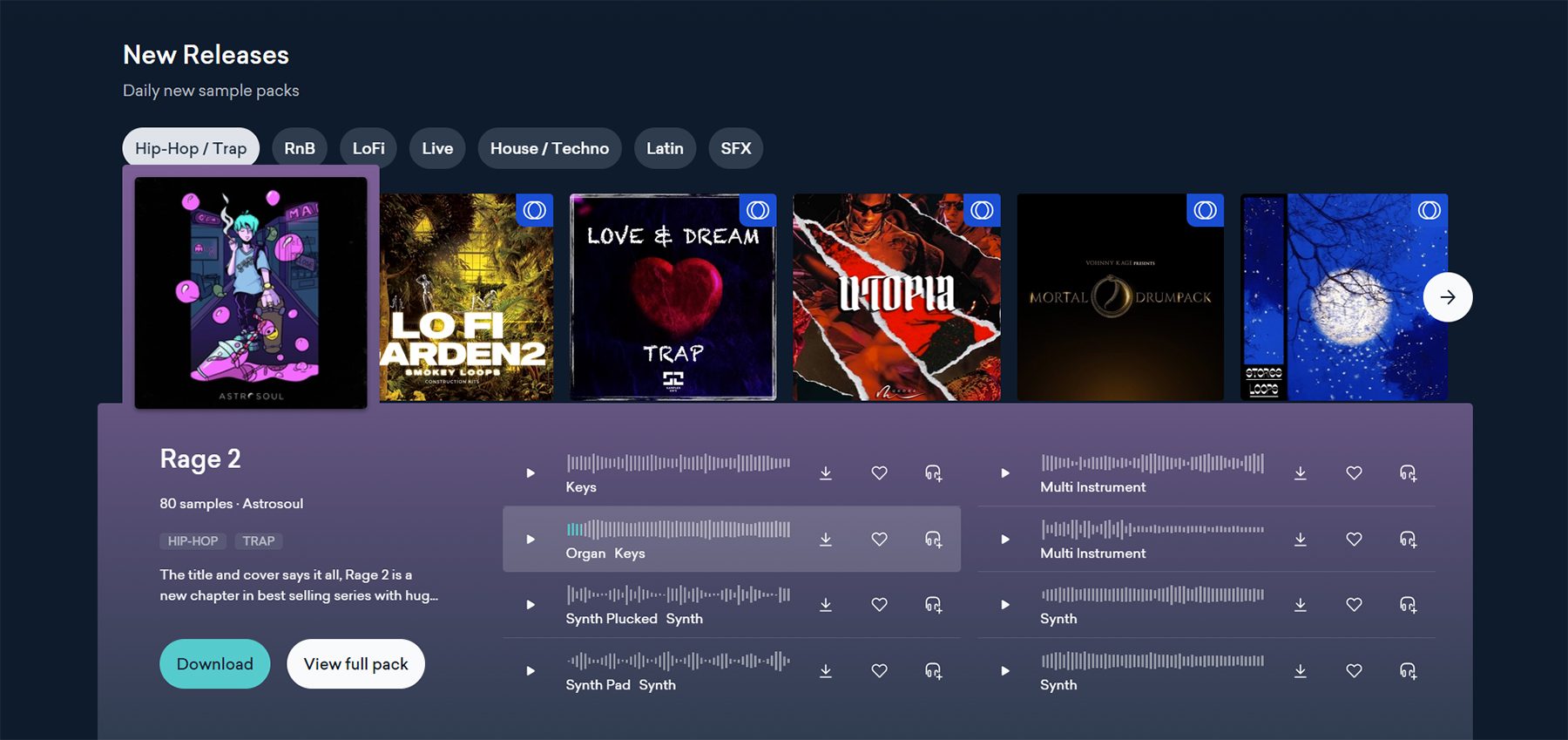 LANDR's sample library provides a great starting point for your mastering journey. You have access to a wide array of tracks that you can use within your work. Additionally, you can save and use individual stems (or music mixes) from said samples to further power your AI audio mastering journey.
Best For:
For serious sound engineers, producers, and those looking for a total solution for mastering, complete with the ease of AI in the editing process, consider adding LANDR to your suite of tools. It has a robust feature set utilized by industry greats that can be harnessed from the comfort of your studio.
Pricing: Paid plans start at $19.99 per year
2. Descript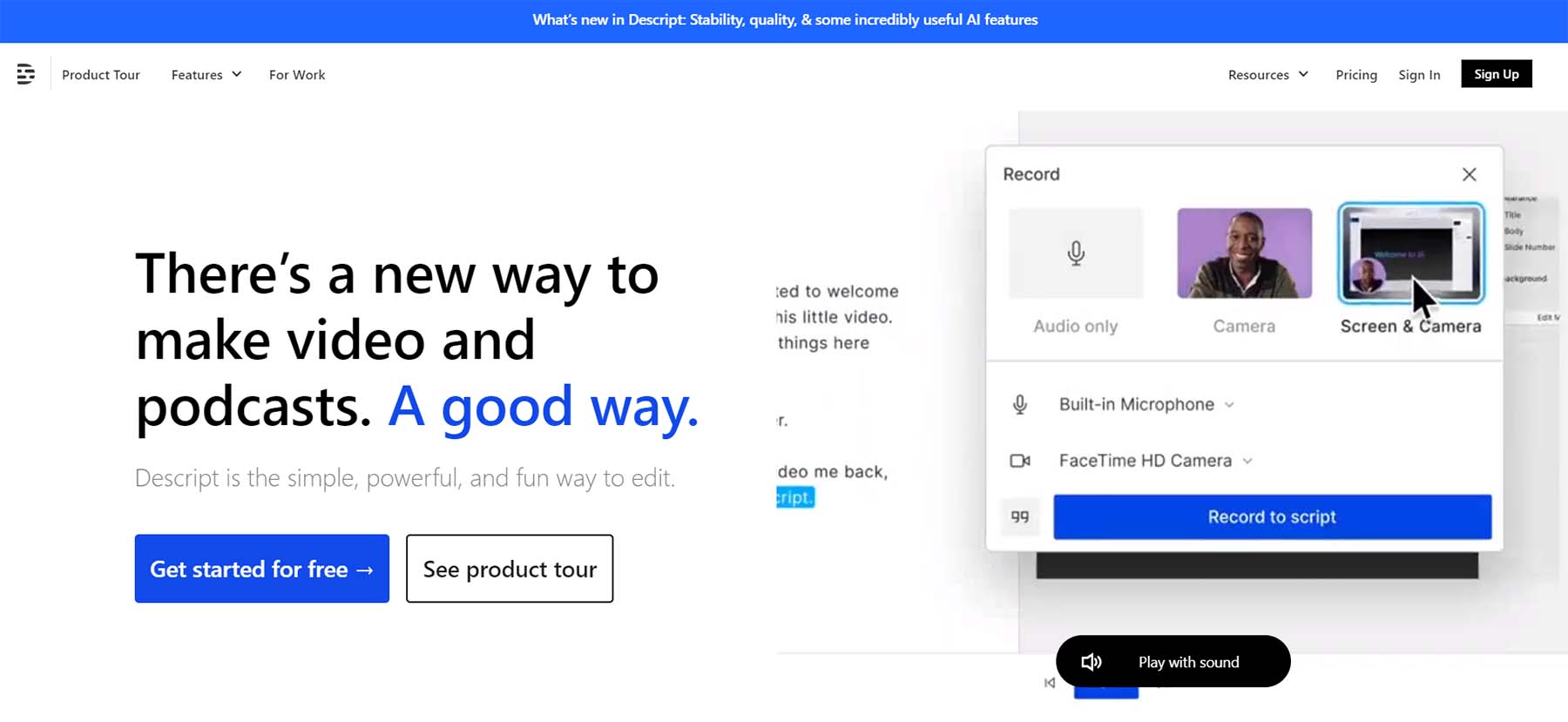 Descript is more than just a simple AI-based audio editing studio. While it stands out as a podcast editing solution, as a platform, it can do so much more for the creator. Descript perfectly merges video editing in an environment powered by artificial intelligence. With AI, your transcripts are automatically transformed, so you can easily edit them like a Google Document. Add your visuals, and you can enjoy the freedom of merging text, audio, and video in a format similar to putting together a PowerPoint presentation. Descript gives you access to thousands of premium stock media like photos and videos, so creating content for YouTube, TikTok, and other social media channels can be done from the same platform you use to edit your next podcast. Indeed, for a user-friendly editing experience, choose Descript as your AI audio tool today.
Key Features of Descript:
A powerful, AI multitrack production engine
Transforms low-quality recordings to studio sound with machine learning
Filler word removal
Clone your voice using overdubbing
A massive gallery of presentation and video templates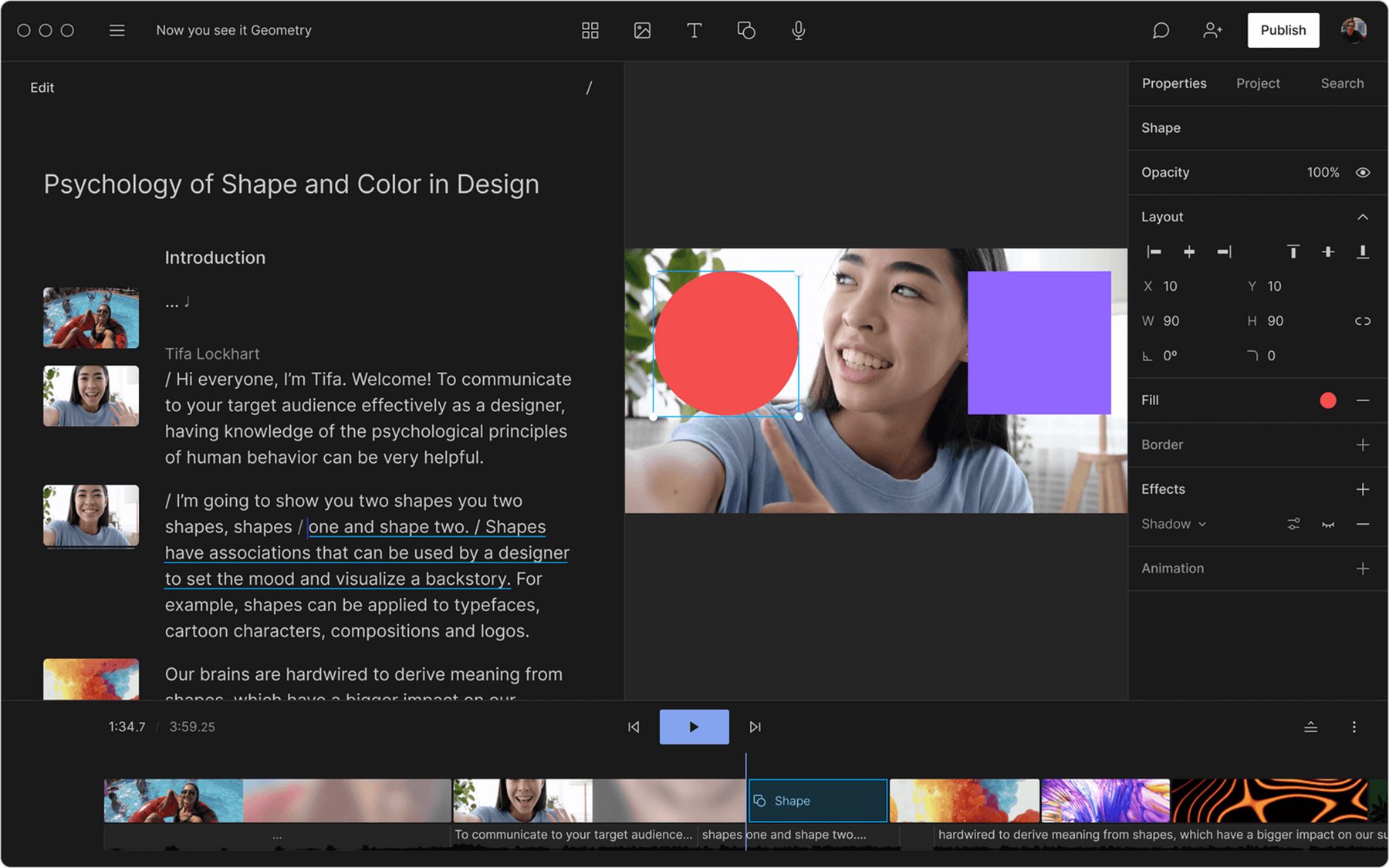 Descript's key feature is its easy-to-navigate editing interface. You can input your text for text-to-audio, perform video editing tasks, splice audio tracks, and more from one sleek panel.
Best For:
Podcasters, video essayists, journalists, and those working with mediums that utilize audio and video within their content will love working with Descript. The simple interface and its powerful features allow you to edit video and audio simply yet powerfully.
Pricing: Free, Paid plans start at $15 per month
3. Mubert
Mubert melds human-created audio and AI to create stunning music for your content. Never again will you need to spend time looking for Creative Commons music or paying for expensive royalty-free music. You can create your theme song, music, and more with Mubert. With AI, Mubert can take your English prompts and generate any track you can think of. Mubert comes with over 100 AI-generated tracks that you can use for free immediately after creating your account. As a creator, you can monetize your digital assets through Mubert Studio. If you're looking for a way to add AI-generated music to your product, Mubert has an API that you can use to bring truly royalty-free music to your next project. If you've ever thought of making your music, Mubert is one of the best AI audio tools you can use to make your music today.
Key Features of Mubert:
20+ genres, 10+ moods, and 5+ activities to use as a reference for music generation
Four AI generation modes: track, jingle, loop, and mix
Explore and search for AI-generated and user-submitted tracks
Set the track length up to 25 minutes, beats per minute as well as the key of your track

The Mubert interface is simple yet effective. At its most basic level, you enter your prompt, set a duration, and generate your track. However, you can choose your song's genre, mode, and activity or set its BPM or key. With a few short sentences, you could have the theme for your next YouTube video or a jingle for a Facebook ad campaign.
Best For:
Creatives who create video content, podcasts, and apps will have tons of fun creating their music with Mubert. Creating unique and royalty-free music has become more accessible with the power of AI used through a platform like Mubert.
Pricing: Free, Paid plans start at $14 per month
4. LALAL.AI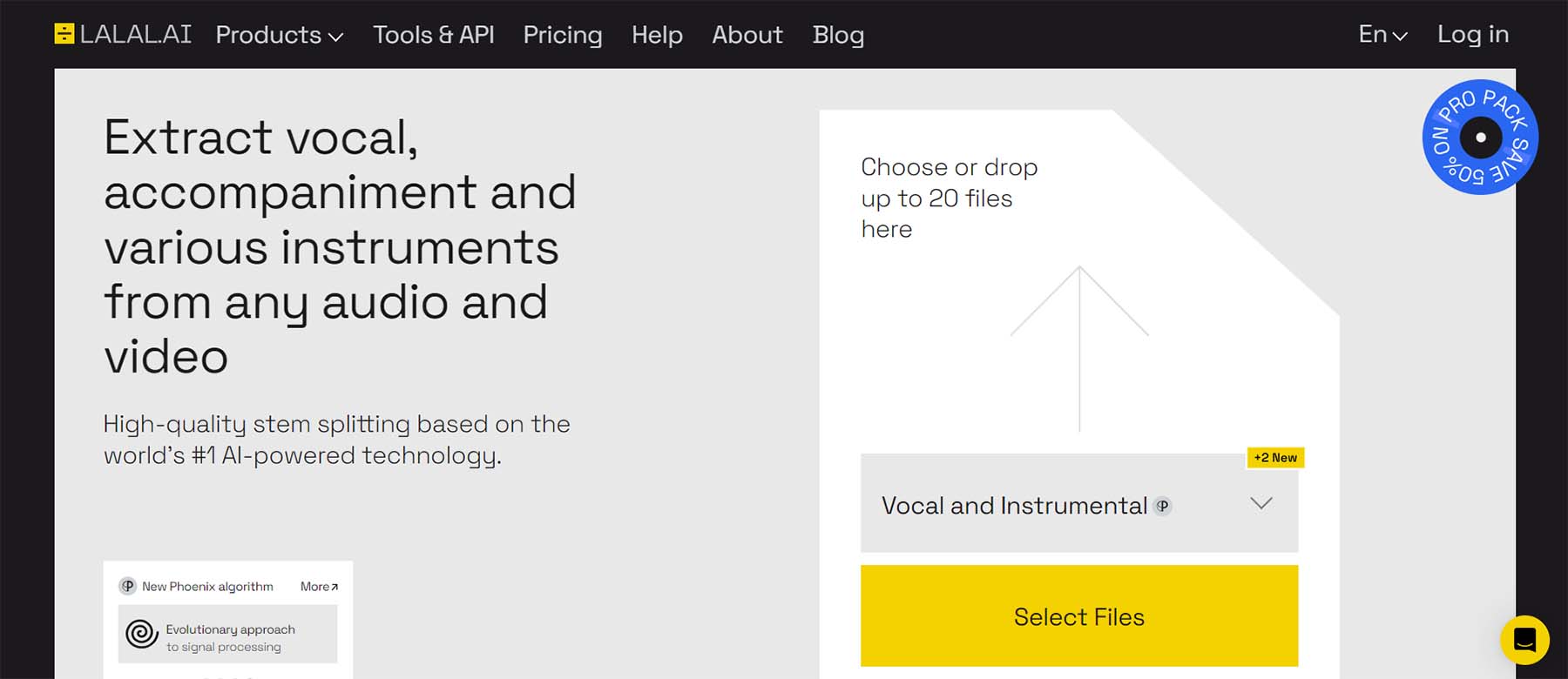 LALAL.AI is an AI audio tool that specializes in stem splitting, allowing users to extract the individual parts of any audio or video. Vocals, instruments, and accompaniments can be separated and edited using its AI-powered technology. LALAL.AI also has a voice cleaner that lets you strip away the vocals on a track and leave behind just the instruments and background music. Powered by its Phoneix algorithm, LALAL.AI is twice as fast as its competitors because of its evolutionary signal processing method. Furthermore, it boasts cleaner results with fewer mistakes and muddier sounds (artifacts) than its predecessors.
Key Features of LALAL.AI:
Clip instruments, vocals, and background music from video and audio files
Vocal cleaner with effective noise reduction and complete background music removal
API is available to bring noise reduction and stem splitting into your next product or project
Works with drums, bass, piano, electric guitar, acoustic guitar, and synthesizer tracks without loss of quality
Works on Linux (Ubuntu), Mac OS, and Windows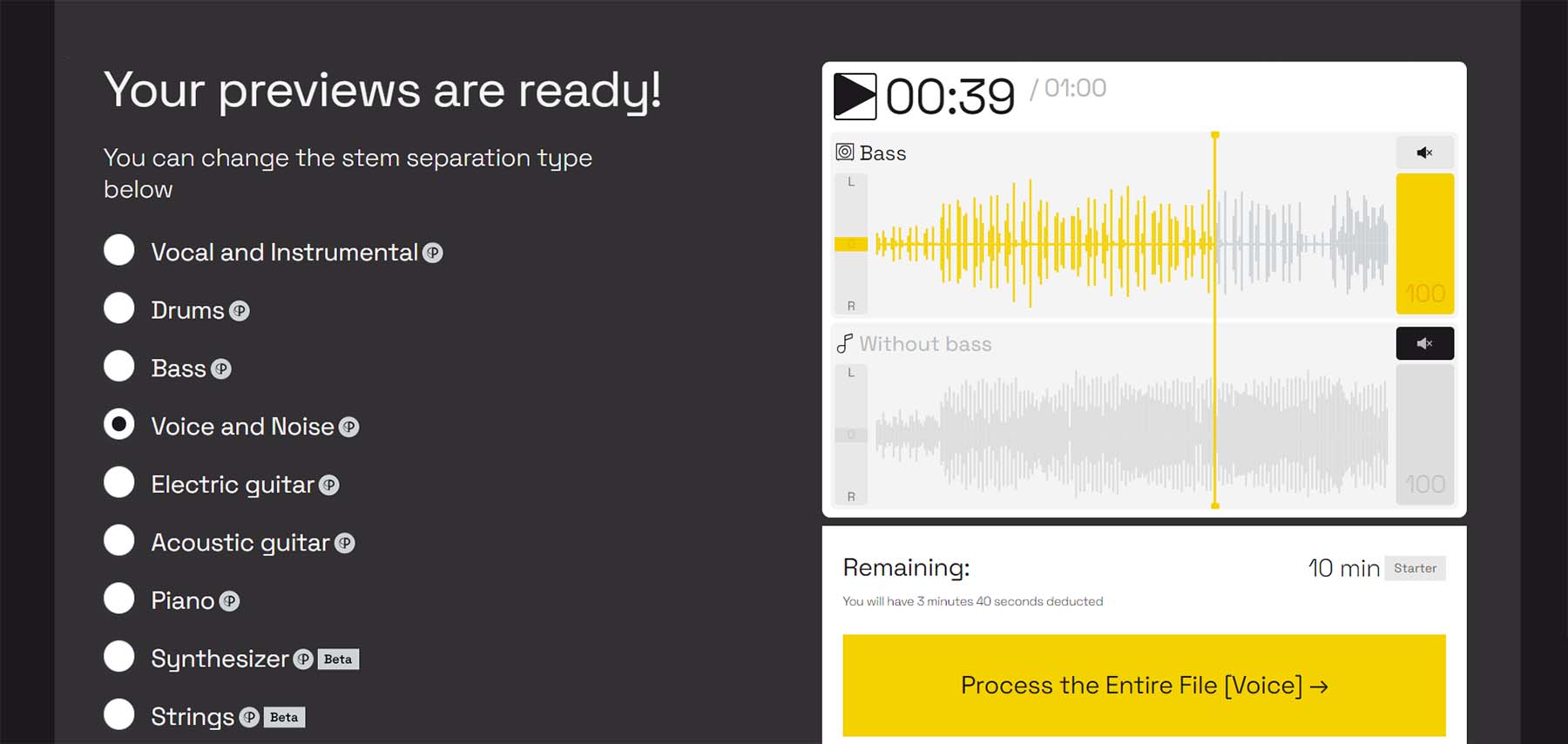 LALALA.AI's ability to identify and separate multiple instruments and vocals is their platform's vital and powerful feature. From their minimal interface, you can easily and quickly see which parts of your uploaded track you'd like to isolate,
Best For:
Overall, LALAL.AI is a tool anyone who works with audio engineering, remixing, and music should consider adopting. Sound engineers, beat makers, producers, and those who create instrumentals will love having LALAL.AI in their toolkits. With their highly trained AI and easy-to-maneuver interface, routine tasks like stem splitting have been made easier with the help of artificial intelligence.
Pricing: Free, Paid plans start at a one-time fee of $15
5. Murf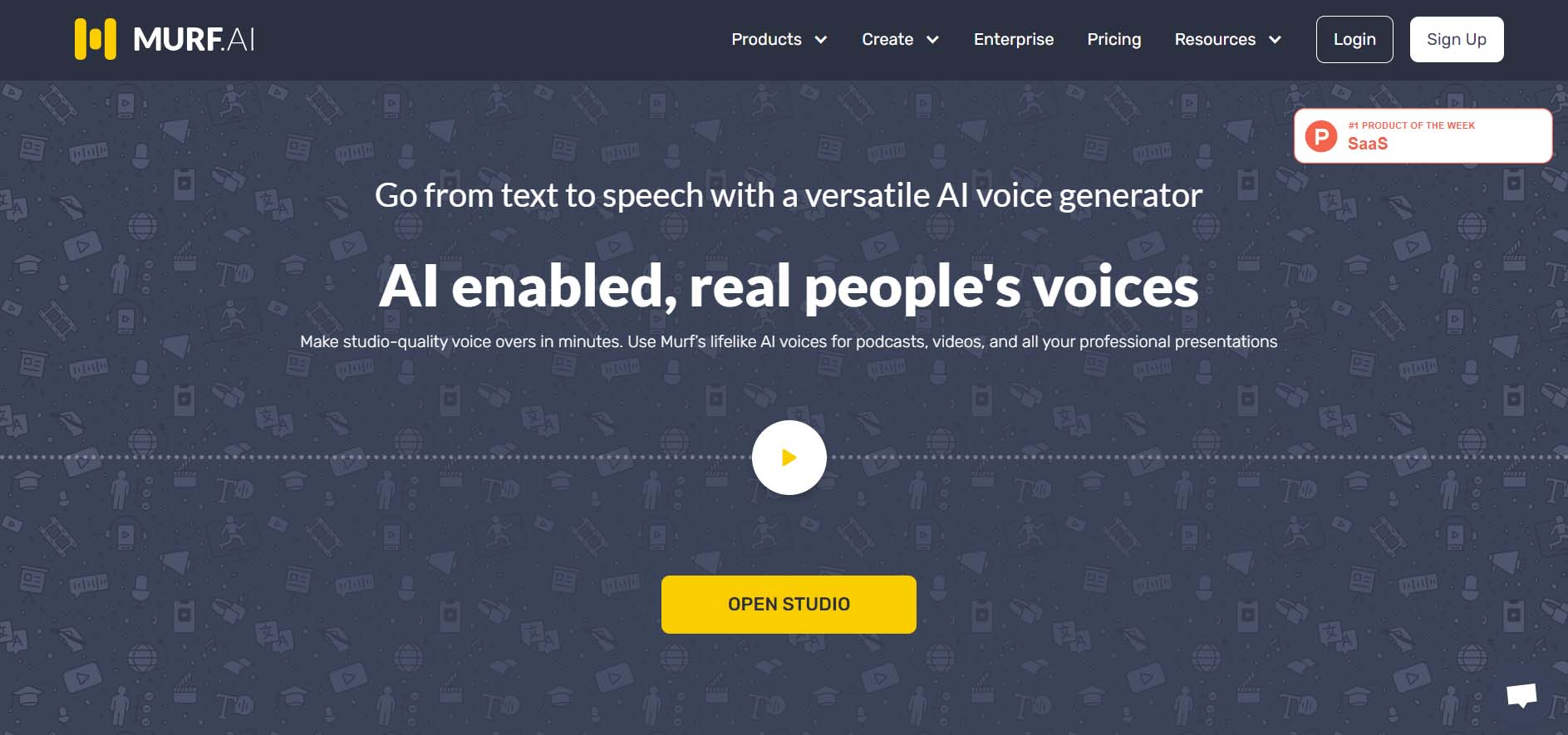 Murf is a text-to-speech (TTS) AI tool that's great for voiceovers. Using Murf's TTS tool is often used to create humanlike voices for podcasts, videos, and multimedia presentations. Adding and editing your script is a simple process within the Murf Studio. Murf boasts over 120 AI voices you can use in many languages. Plus, you can upload your own voiceovers and use AI to change them to match the tone needed to make your next presentation stand out. There are also more than 8,000 licensed audio tracks that you get access to when you use Murf Studio to work on your next project. Murf also supports video import from YouTube and Vimeo, providing a seamless process for video editors. Common audio and video editing functionalities are possible when you use Murf, an AI audio tool that does more than just text-to-speech.
Key Features of Murf:
20+ languages for text-to-speech
Edit your voiceovers through a simple, clean, and easy-to-understand interface
Easily emphasize specific words, change and edit pitch, and add pauses to your voiceovers
Pitch-perfect, life-like, and editable voice cloning
Comes with a collection of royalty-free background music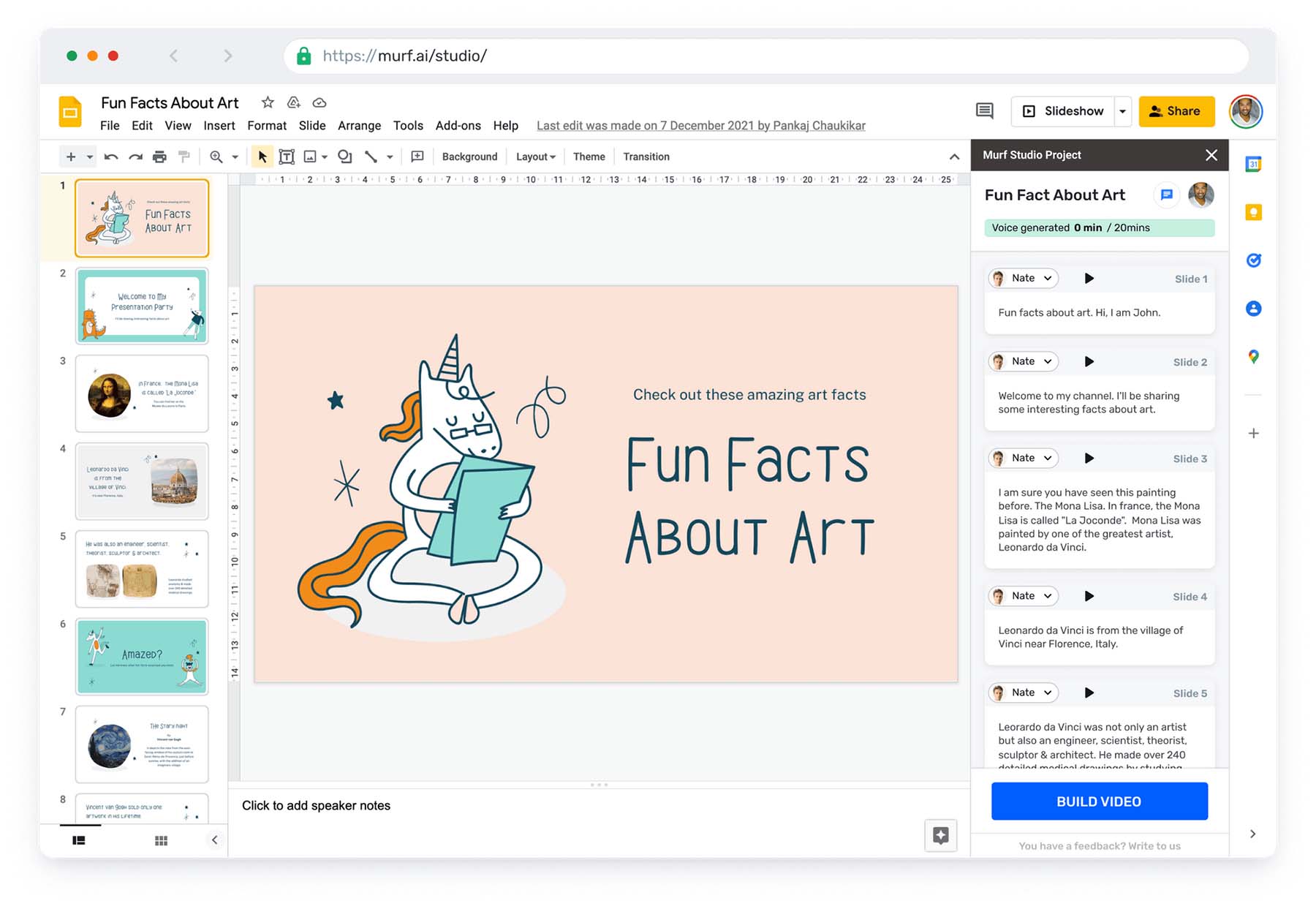 You're in luck if you use Google Slides to craft your presentations! Adding professional yet simple voiceovers to your next presentation is possible with Murf. When you write and edit your slide content, Murf will enable you to select your favorite AI voice from the Murf library and add a voiceover to your next Google Slide document.
Best For:
If you're looking for a platform that seamlessly combines video editing and text-to-speech, look no further than Murf. This handy audio tool packs a punch and can be easily maneuvered through its minimal online interface.
Pricing: Free, Paid plans start at $29 per month
6. Listnr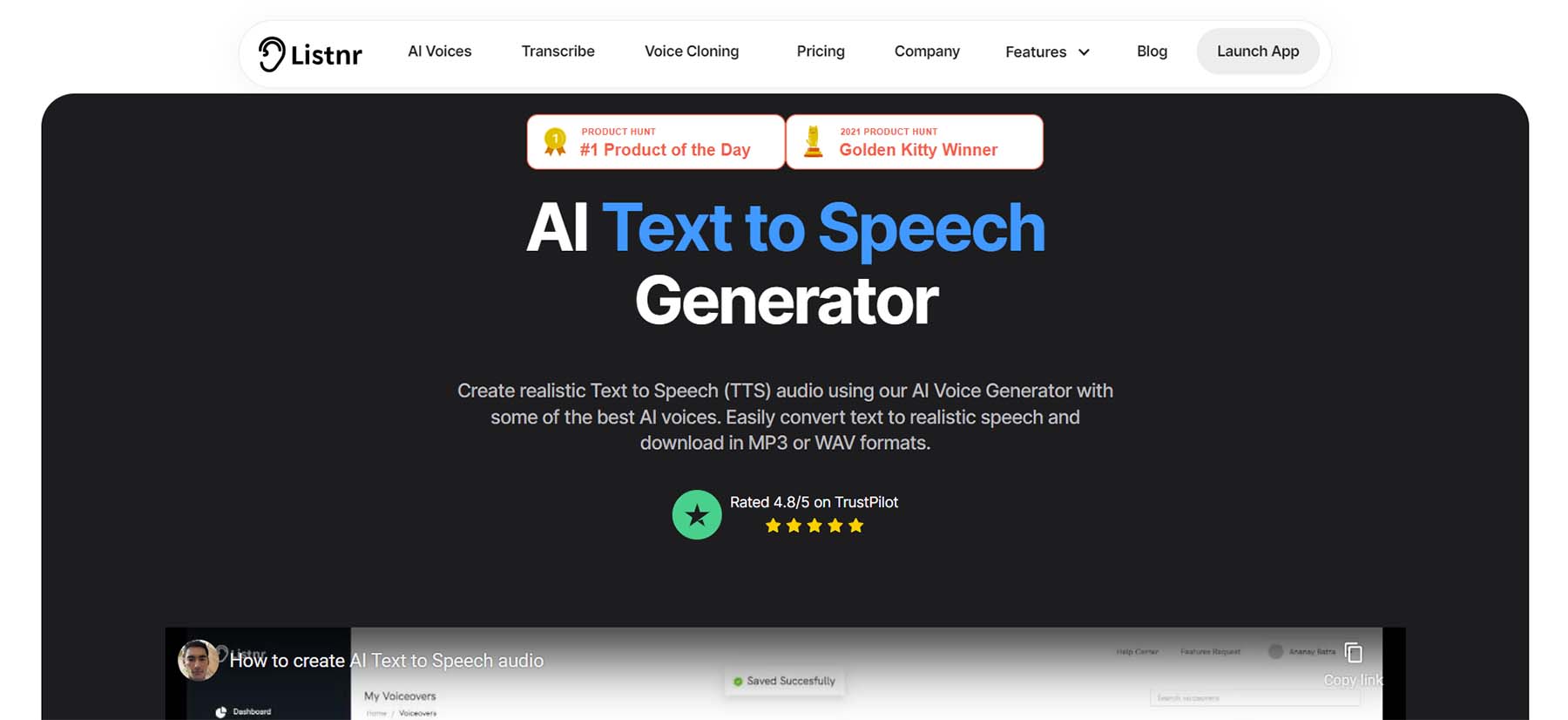 Listnr is an AI audio tool with text-to-speech, speech-to-text, and voice cloning capabilities. Make realistic audio from text inputted into Listnr. Add pauses, check pronunciation, change your speech speed, and more when you use Listnr as your text-to-speech generator. Alternatively, you can upload your finished audio file to Listnr and have a transcript created. For example, this is a great way to generate show notes for your podcast. For voice cloning, in less than 5 minutes, Listnr can duplicate your voice. You can then use your voice to have greater control over your voiceovers, add pauses, change your pitch, and much more.
Key Features of Listnr:
600+ voices, 75+ different languages
Export audio files in WAV and MP3
Provides podcast hosting and distribution
Embeddable audio player widget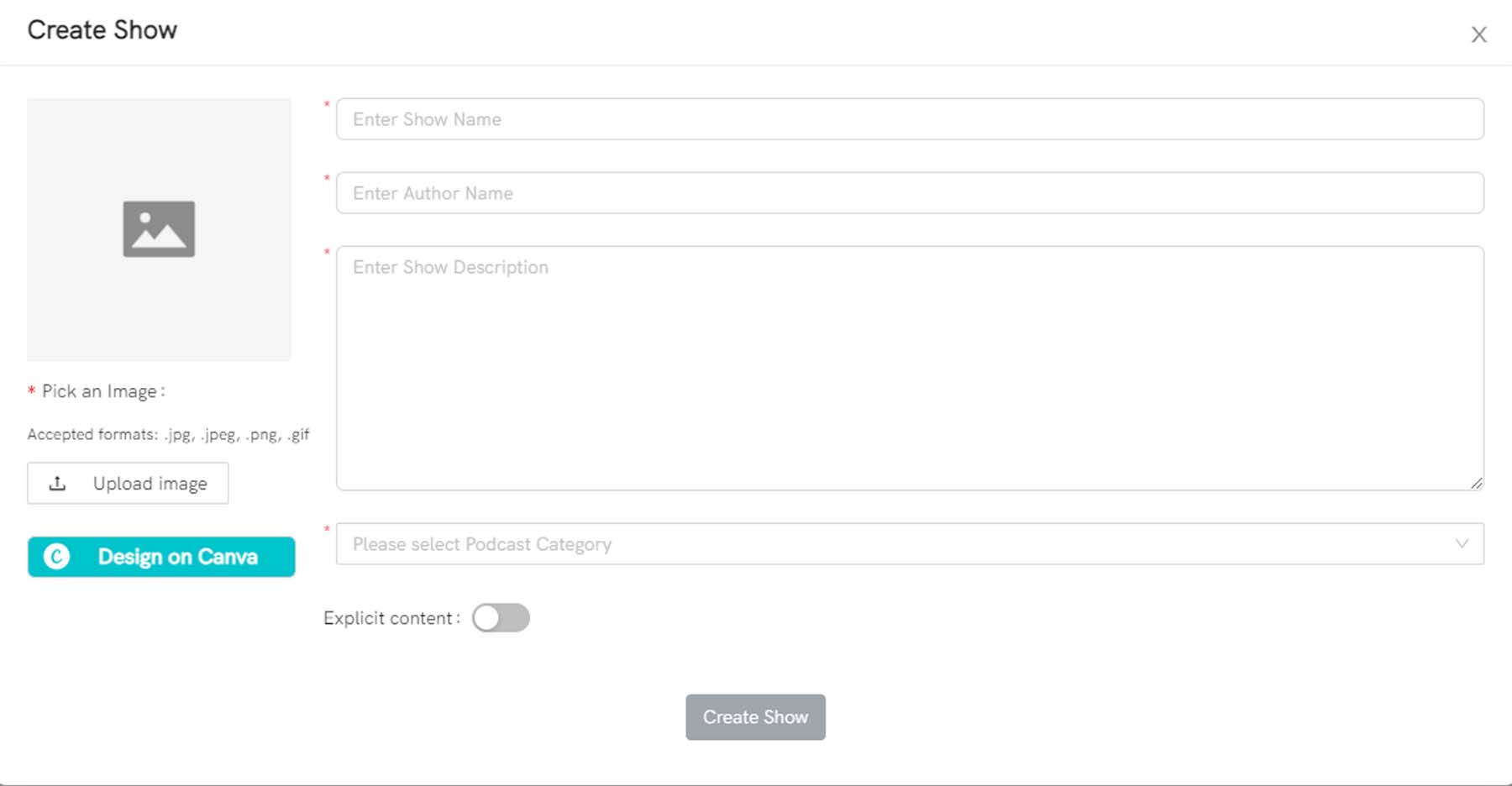 Quickly start your very own podcast through the Listnr dashboard. Add your title, select your category, and edit your show cover with Canva. Then, you can either use Listnr's Speech Synthesis Engine to record your episode from your browser directly. Or, you can upload your podcast episode directly to Listnr to use its podcast hosting services. Furthermore, it's simple to distribute your latest podcast to your platform of choice via RSS, URL, or with an iframe embed.
Best For:
Listnr is a platform you want to get acquainted with for a dedicated AI audio tool. Whereas other platforms seek to work with multiple mediums, Listnr sticks to working with AI audio and provides you with the tools to work with this medium.
Pricing: Free, Paid plans start at $19 per month
7. Speechify
Speechify is a reading assistant that is powered by artificial intelligence. As a speech reader, it makes listening through long documents, articles, emails, and more a straightforward task. With a vast library of voices and accents, you can easily read textbooks, emails, and documents. Speechify's interface is uncomplicated, making turning text-to-speech a simple one. In addition to playing back your documents, Speechify has a library of royalty-free music tracks that you can use to accompany your next listening session. Export and share your audio with just the click of a button with Speechify. If you want to be more proactive and productive with your time, leave all the heavy reading to Speechify.
Key Features of Speechify:
200+ high-quality AI voices, 20+ languages, and accents
Detailed control over pitch, tone, pauses, and speed
AI voice dubbing for video with over 100 languages supported
Works as a Chrome extension and an app for Apple and Android devices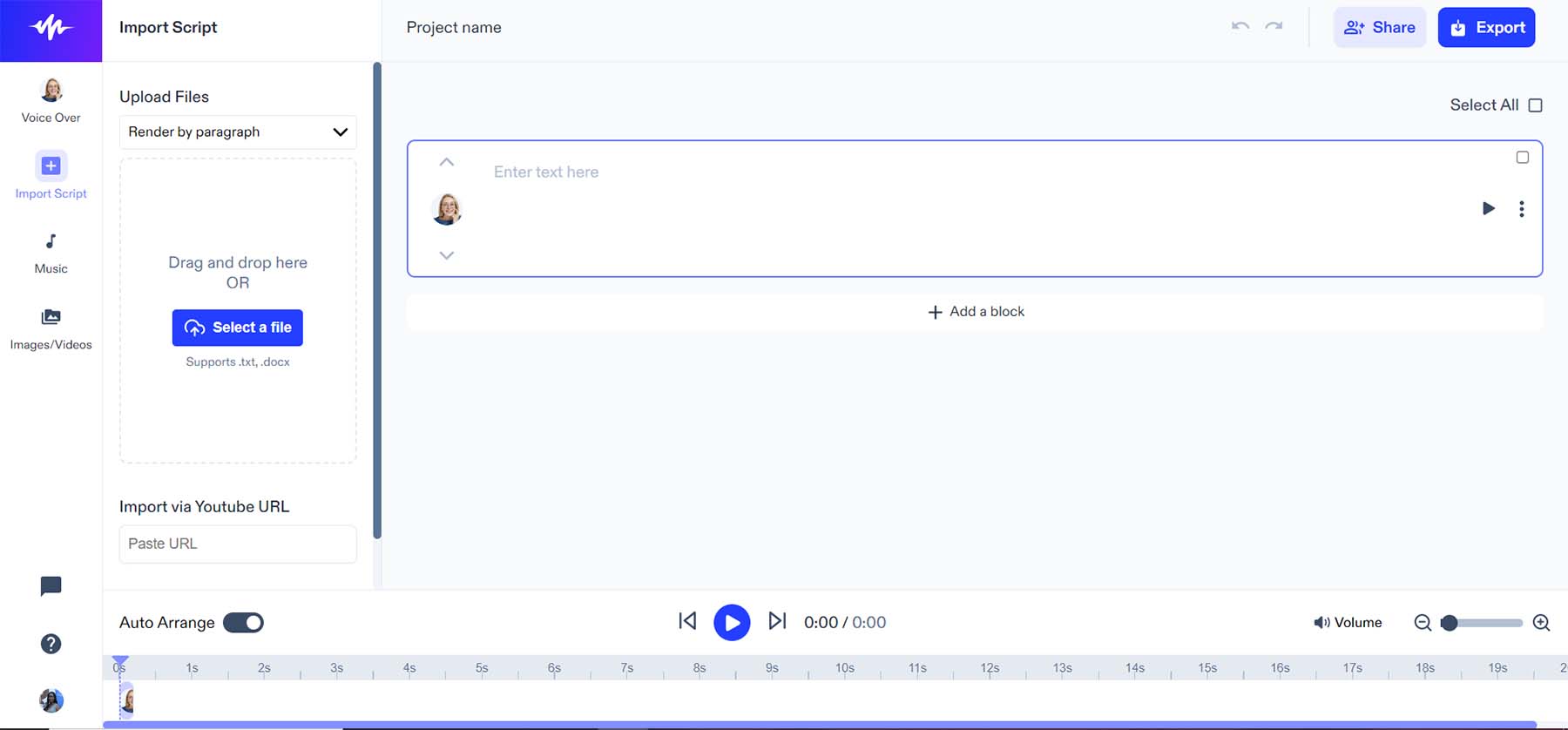 Speechify allows you to upload full documents or import a YouTube video to begin its reader service. Once you've imported your content, you can manipulate the speech speed, add advanced pauses, change the pitch, and more. And all of this is possible from a light and crisp interface.
Best For:
If you need to consume long documents, need help with studying, or want to read my books, Speechify can help you reach all of your goals. Its ability to upload documents easily, plus its highly customizable voice playback, makes it an excellent AI audio tool.
Pricing: Free, Paid plans start at $11.58
8. Otter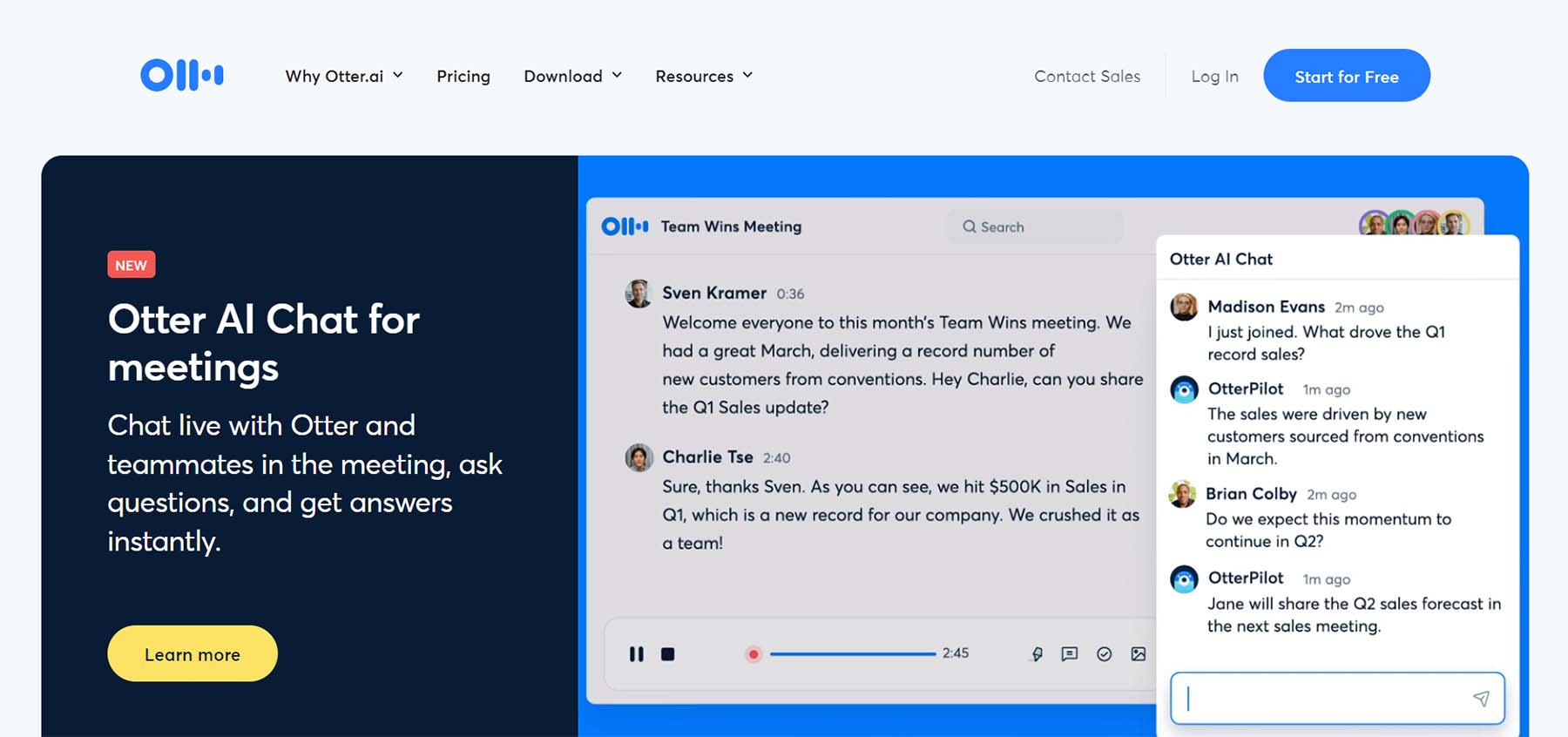 Otter has a suite of AI audio tools that work with your favorite chat programs. Firstly, it's a live transcription service that is excellent for meetings. With AI, Otter can listen in on your meeting and create notes with key points and takeaways that can be ready by the meeting's end. When it comes to being more productive, Otter has got your back. Otter can record audio while taking notes. Using AI, the software can highlight any vital information that it may find important. This is a great way to capture lectures, meeting notes, and more. Real-time captions are also a feature of Otter. Make your meetings inclusive and accessible by providing a way for people who may interact with online meetings differently. When it comes to a solid AI audio transcription tool, Otter is one of the best.
Key Features of Otter:
Record and transcribe meetings on Zoom, Microsoft Teams, and Google Meet
Automatically captures slides and presentations, then generates meeting notes
Share notes with meeting attendees right after or during meetings
Sync transcriptions to the cloud
Provides captioning within your next online meeting
Otter's dashboard makes editing your transcriptions a smooth process. With features like takeaways, you can add notes to certain transcript parts. Use the highlights feature to point out poignant points from your meeting. You can include your meeting link for automatic translations that can take place even if you aren't on your browser.
Best For:
If you need an AI audio tool to help you with all your transcription needs, look no further than Otter. Packed with exciting and necessary features, every meeting note-taker will be thrilled to have Otter in their back pocket as they enter their next meeting.
Pricing: Free, Paid plans start at $16.99 per month
9. Krisp
Krisp is touted as the world's best noise-canceling app. Another tool focused on online meetings, Krisp, helps to keep your background noise to a minimum with the power of its neural networks and artificial intelligence. Background noise and echo can be removed while you are live on a call. This will ensure your voice is crisp and clear during the meeting and that you're clearly understood by your team members, even if you may be in the busiest Starbucks in your city. Furthermore, Krisp allows meeting transcription to take place on its platform. Automatically take meeting notes and show your best self using Krisp's bot-free and non-intrusive meeting assistant in your next meeting.
Key Features of Krisp:
It provides both inbound (through your speakers) and outbound (through your microphone) noise cancellation
Removes background noise from live and pre-recorded meetings
Unlimited meeting transcriptions
Real-time meeting assistant and automated meeting notes
Automatic summarization of transcriptions and meeting notes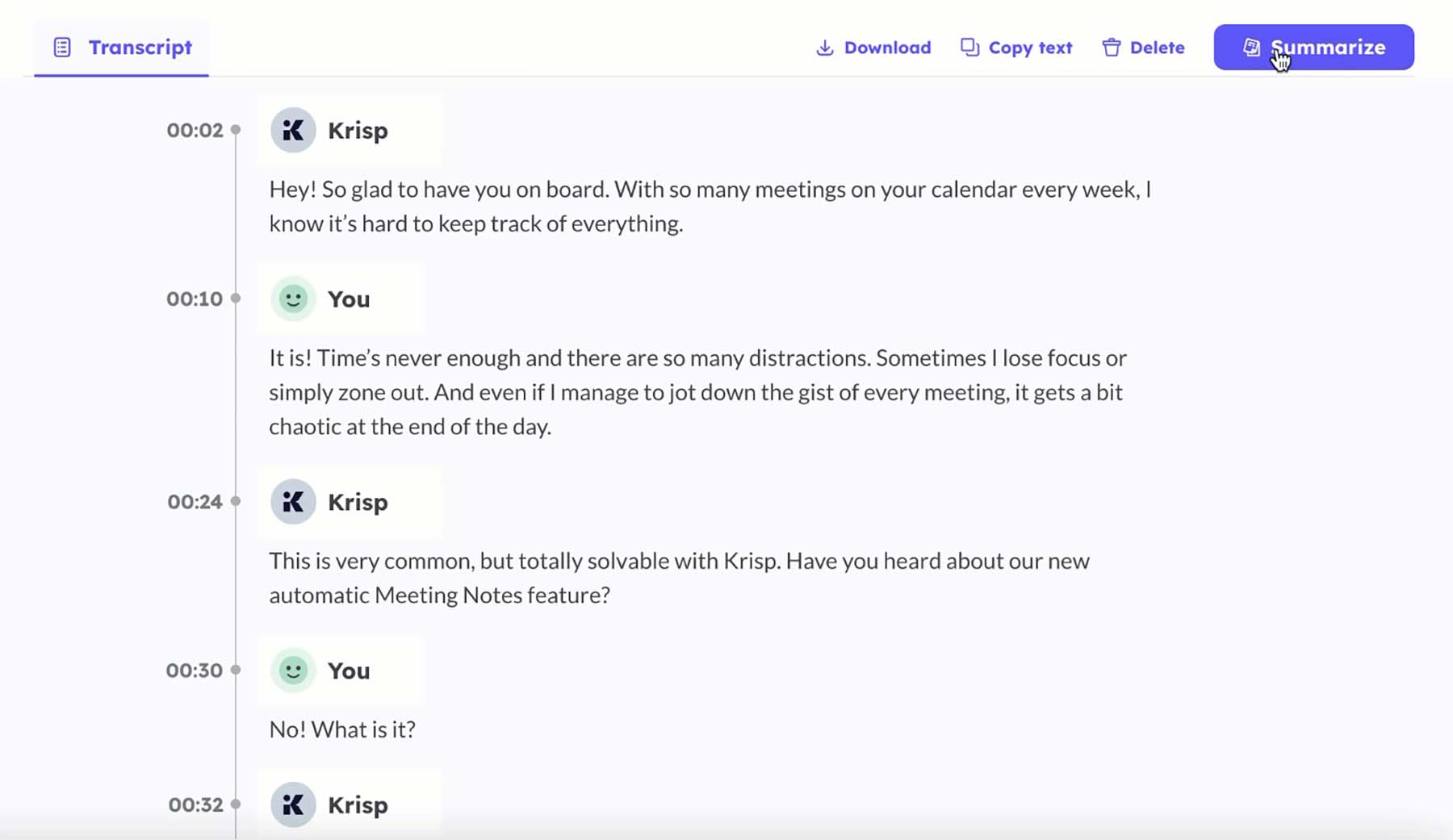 In addition to optimizing your voice calls, Krisp has stellar transcription features that allow you to turn your meetings and calls into polished notes. Automatically summarize, add critical points, and download the transcription of your calls through the Krisp interface.
Best For:
Virtual assistants, digital nomads, and anyone who carries many online and virtual meetings will be thrilled to use a product like Krisp in their day-to-day work. Additionally, those who work in call centers will be thrilled to know that a product like Krisp exists.
Pricing: Free, Paid plans start at $12 per month
10. Podcastle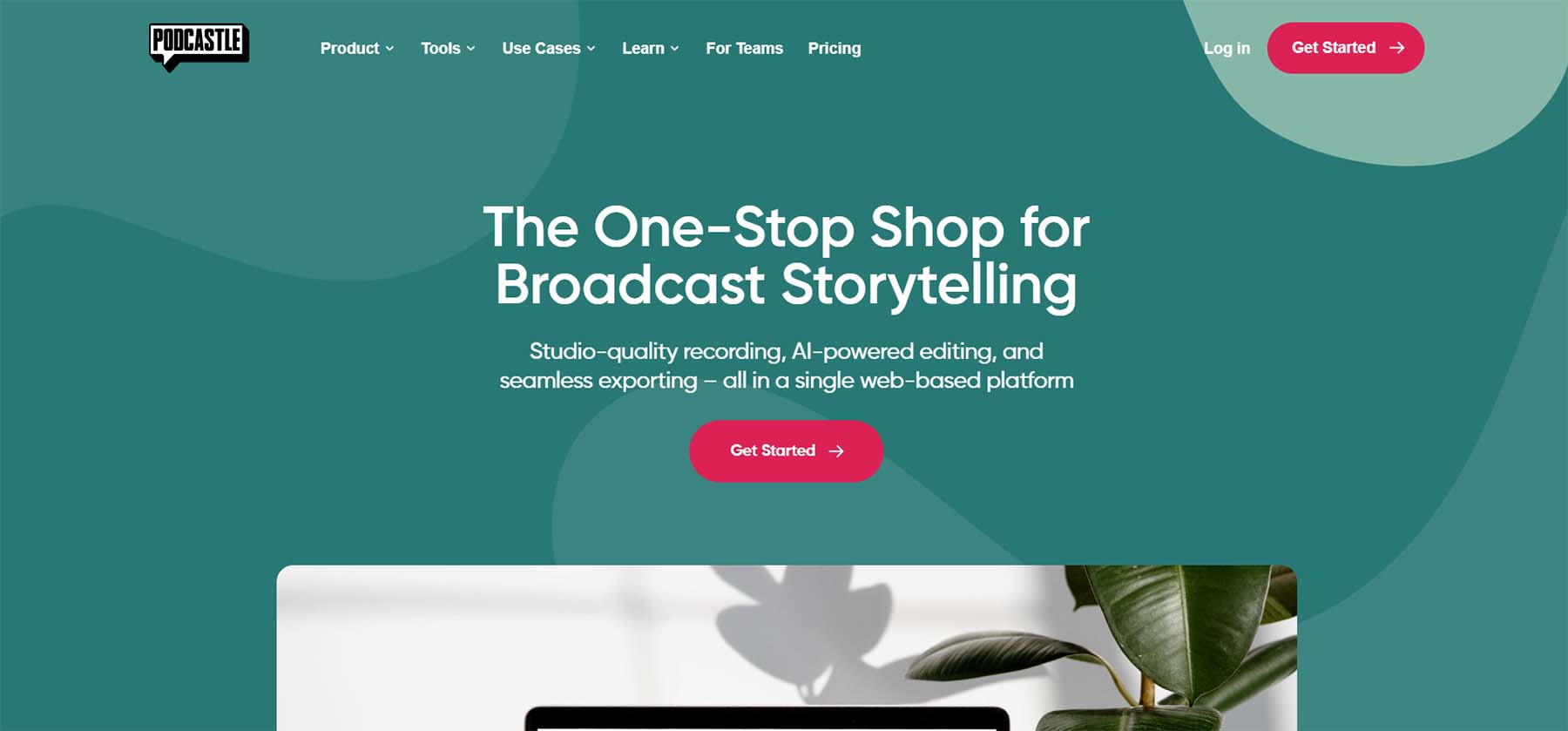 Podcastle is an all-in-one AI-powered podcasting platform. Record, edit, and export your podcasts from one web-based interface. Podcastle gives you multiple AI audio tools under one roof. First, you can publish and stream your podcasts on multiple platforms. Secondly, you can use a sample of your real voice to create a custom AI-generated voice that you can use to create content with Podcastle's Revoice feature. Upload or import audio files from Dropbox, Google Drive, or your computer to create your next podcast episode. Then, use Podcastle to upload it to your favorite platforms. Podcastle's audio tools are easy to use and understand based on its unique and clean online dashboard. Lastly, use Podcastle to create show notes from your new podcast recording. The modern podcaster can rely on a platform like Podcastle to assist them with their podcast production needs.
Key Features of Podcastle:
Unlimited lossless, high-quality audio recording
Multitrack recording, Auto-leveling, dynamic fading, audio effects, and more
10+ hours of transcription, 8+ hours video recording
AI-powered noise cancellation
Publish podcasts to Apple, Spotify, Google Podcasts, and more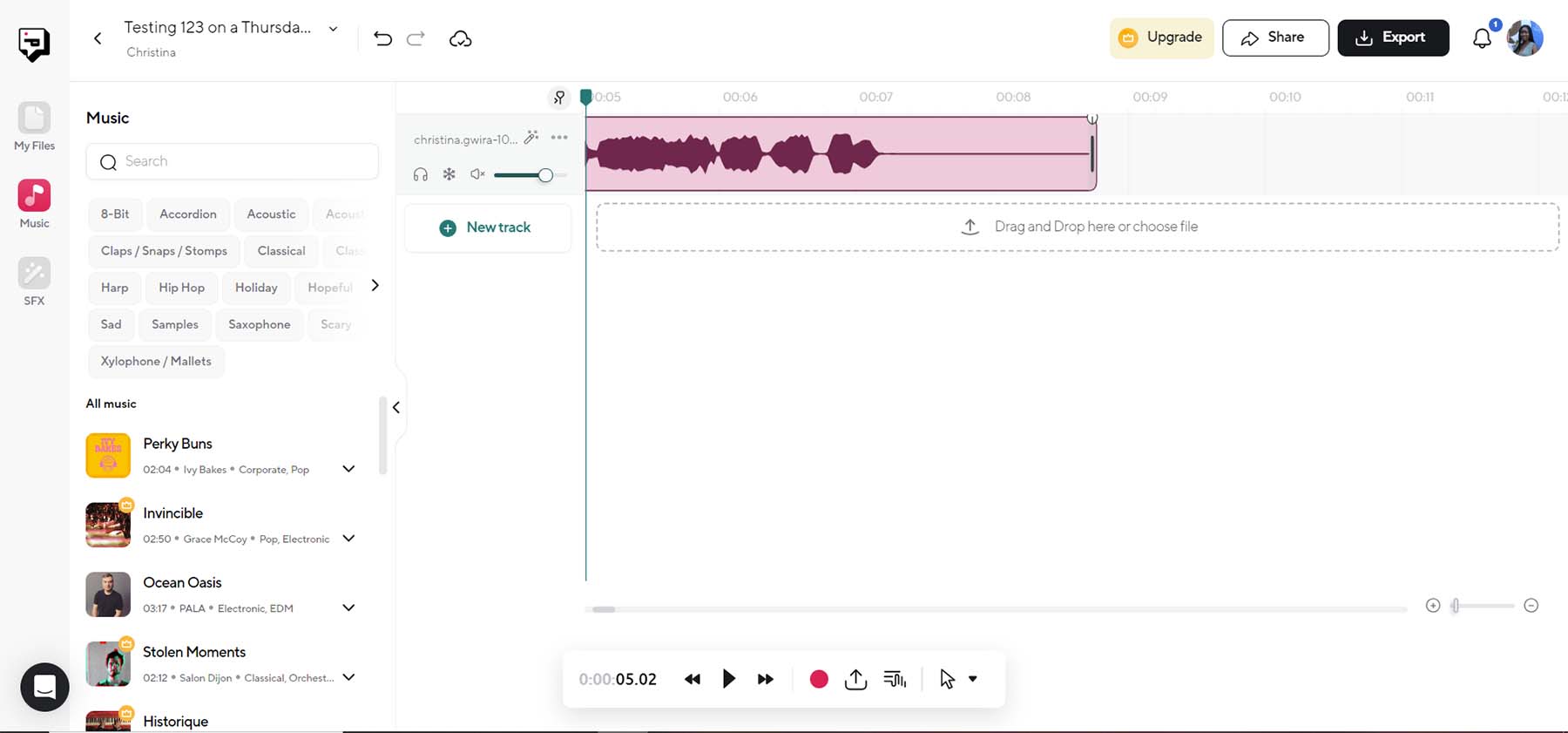 Podcastle has a library of music and special effects when editing your next podcast episode—filter by genre, instrument, and more. Adding additional accouterments to your podcast makes for a thrilling experience for your listeners.
Best For:
As the name implies, podcasters will most benefit from this platform. With everything that a podcaster could need under one roof and for one reasonable price, if you plan on starting a podcast soon, consider using Podcastle as your platform and editor.
Pricing: Free, Paid plans start at $14.99 per month
Comparing the Best AI Audio Tools
Our list of the best AI audio tools has something for everyone. Whether you're a producer, looking for the latest AI-powered technology, or a business owner searching for a tool to help you through your meetings, our list has some of the top AI audio tools you can use to make your life easier.
Best AI Audio Tools Price Comparison
Here's how we'd rank our top AI audio tools and see how they compare regarding price. Also, we've highlighted the tools on our list that have a free trial or free version on our list, so you can give them a spin before buying:
What are the Best AI Audio Tools?
AI is becoming commonplace in tools and software. So it's no surprise that AI tools can be found to help you with your various tasks when working with audio. If you're a producer or audio engineer looking for an AI-powered mastering tool, LANDR is an excellent platform for your process. For an all-in-one AI-powered platform to handle all your podcast and video editing needs, Descript is the platform that will give you all the necessary features within its easy-to-use studio. Lastly, if you want to explore the world of audio creation and make music that uses both human and AI components, Mubert provides several products to help you do just that. Overall, we know that an AI audio tool is available for any personal or professional need that you may have, and we know that our list will assist you in finding the one that's perfect for you.
For music lovers, you might also like these top AI music generators that are changing the music industry. And, if you need help picking out a platform for your music or podcast, this list of the best podcasting platforms is right up your alley!
And if you're looking for more AI tools, check our ultimate list of the best AI tools.
Frequently Asked Questions (FAQs)
Before we wrap up, let's answer some of your most common questions regarding the best AI audio tools. Did we miss one? Leave a question below, and we will respond!
What are the top AI audio tools?
LANDR
is one of the top AI audio tools. It offers a vast collection of curated samples, over 30 exclusive VST plugins, and unlimited online masters with full album mastering. Additionally, it facilitates audio distribution to major platforms like Spotify, Tidal, Apple Music, and more. Its state-of-the-art text and video messaging enable seamless collaboration on tracks within the studio or remotely.
What is the best free AI audio tool?
Descript
is the best free AI audio tool due to its powerful, AI-driven multitrack production engine that enhances low-quality recordings to studio sound using machine learning. Its Free plan offers comprehensive features for recording, transcribing, editing, and mixing audio and video content. Most importantly, it provides a user-friendly editing experience.
What is an AI audio tool?
An AI audio tool uses artificial intelligence, advanced algorithms, or neural networks to modify and improve audio. Users can easily edit, create, and enhance audio using the capabilities of AI. Audio enhancers, voice generators, AI video generators, and
text-to-speech tools
are some types of AI audio tools linked with various applications.
How are AI audio tools used?
AI audio tools have impacted the audio recording industry on multiple levels, such as enhancing audio quality, removing background noise, and automating mastering. These tools simplify editing, restore damaged audio, transcribe speech, synthesize voices, analyze music, and enable automated editing, making audio production more efficient and accessible to users.
What is the best AI music generator?
Mubert
is a top-quality AI music generator that creatively combines technology and innovation. It allows users to break traditional music production barriers, offering unique soundscapes. Its API allows personalized music experiences to be integrated into apps and games. Mubert Studio enables the sale of AI-generated tracks while also curating playlists tailored to individual preferences.
What is the best AI tool for converting text to speech?
Murf
is the best AI tool for converting text to speech due to its extensive range of over 120 natural-sounding voices, supporting 20+ languages. It excels in transcribing spoken voices from audio or video formats, offering full HD audio export quality. Moreover, its collaborative editing environment makes it ideal for team use.
How does the Adobe AI audio tool work?
Adobe offers several AI-powered audio tools that work in different ways, such as noise reduction and restoration. Adobe AI audio tools use AI-powered noise reduction algorithms to analyze audio, identifying unwanted background noise, hums, and hisses. The removal of unnecessary audio depends on the background voice. The Adobe AI model learns to distinguish between desired audio and noise, enabling it to remove unwanted elements while preserving the primary audio's quality and integrity.
What is the best AI tool for audio editing?
Descript
is the top AI tool for audio editing, offering more than just a standard editing studio. It seamlessly integrates video editing with AI-powered transcripts, enabling easy editing like a Google Document. Users can combine text, audio, and visuals, like creating a PowerPoint presentation, making it an excellent choice for creators seeking versatile and efficient audio and video editing capabilities.
What is the best AI tool for transcribing audio?
Descript
is the best AI tool for transcribing audio, catering to podcasters, video creators, and professionals with its transcription and editing capabilities. Its Overdub voice cloning technology enables realistic and customizable voiceovers using one's or pre-made voice. Additionally, it offers the flexibility of browser or desktop application usage.
Featured Image via smashingstocks / shutterstock.com