eBay and similar auction sites have transformed online buying and selling. Bidding and winning can be thrilling. Luckily, if you want to add auctions to your WordPress website, there are many plugins to choose from. Whether you want to cross-promote eBay items or create a full auction site to market your products, our team has researched and selected the best WordPress auction plugins for you.
Let's dive in.
What is an Auction Plugin for WordPress?
Auction plugins simplify the process of selling products through a bidding format. These plugins offer a plethora of features and tools that make it effortless to create and manage auctions, such as setting up auction rules, accepting bids, displaying auction listings, customizing WooCommerce products, and managing payments. Some also allow listings from eBay. Standalone and WooCommerce-dependent options exist, with the latter being easier if you already use WooCommerce.
The Best WordPress Auction Plugins

Subscribe To Our Youtube Channel
When researching auction plugins, we took into account some important factors. First, we evaluated how user-friendly the plugin is. Secondly, we checked the frequency of updates, compatibility with the latest version of WordPress, number of features, and reviews. So without further delay, let's take a look at our list of the best WordPress auction plugins.
The Best WordPress Auction Plugins Listed In Order
Expand List
1. YITH WooCommerce Auctions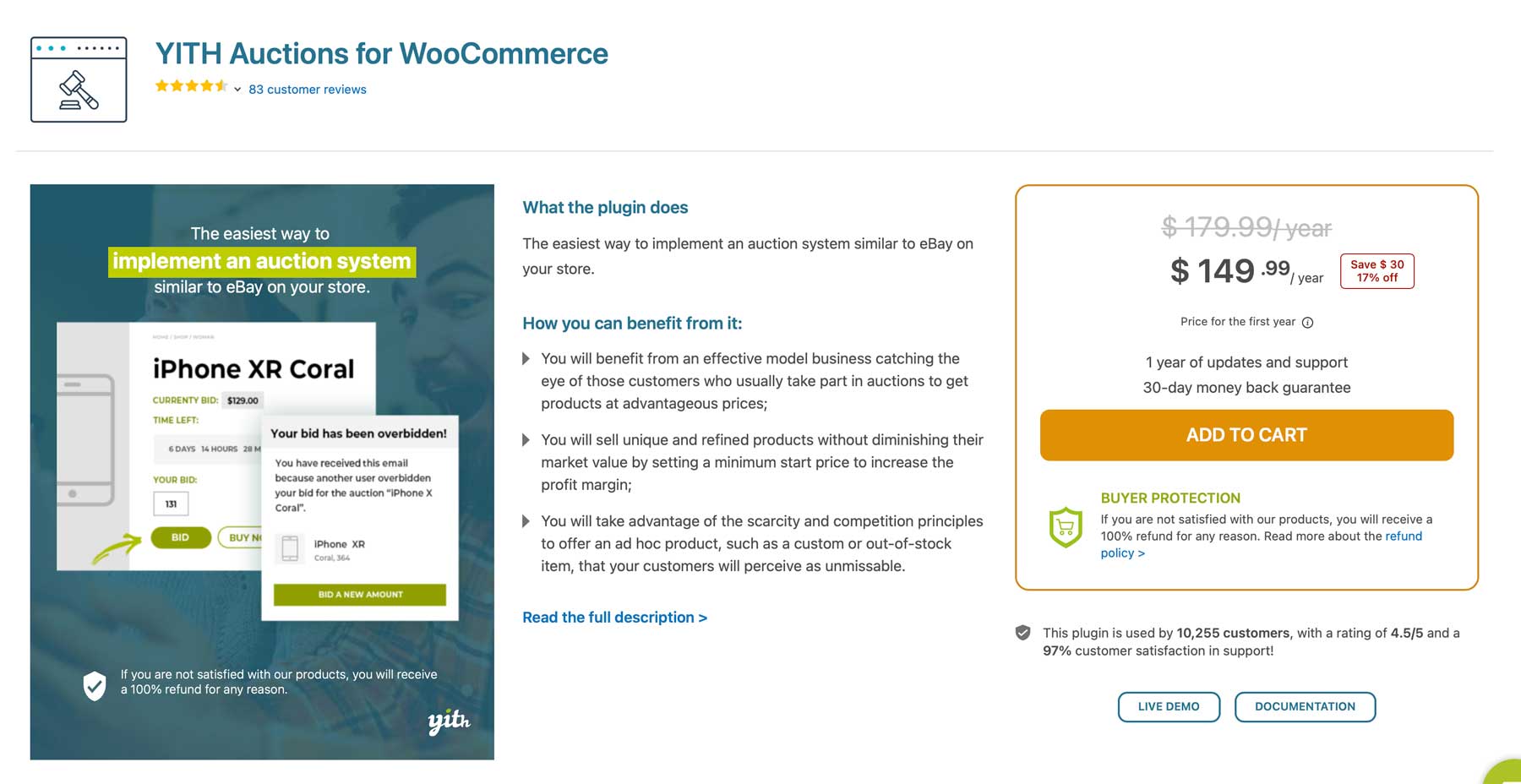 YITH WooCommerce Auctions is a top WordPress auction plugin that seamlessly integrates with WooCommerce, allowing you to add auctions to your existing store. It also works well with other essential YITH products such as YITH WooCommerce Multi-Vendor for multi-vendor sites. With various bidding options and reserve prices, you can ensure your products sell for the desired price. Detailed auction activity reports provide insights into product performance, and the pay-to-play option weeds out non-serious bidders, increasing auction profitability.
Key Features for YITH WooCommerce Auctions:
Seamless integration with WooCommerce
Wide range of bidding options
Set reserve prices
Comprehensive dashboard with detailed reporting
Sealed bidding
Works with other YITH WooCommerce plugins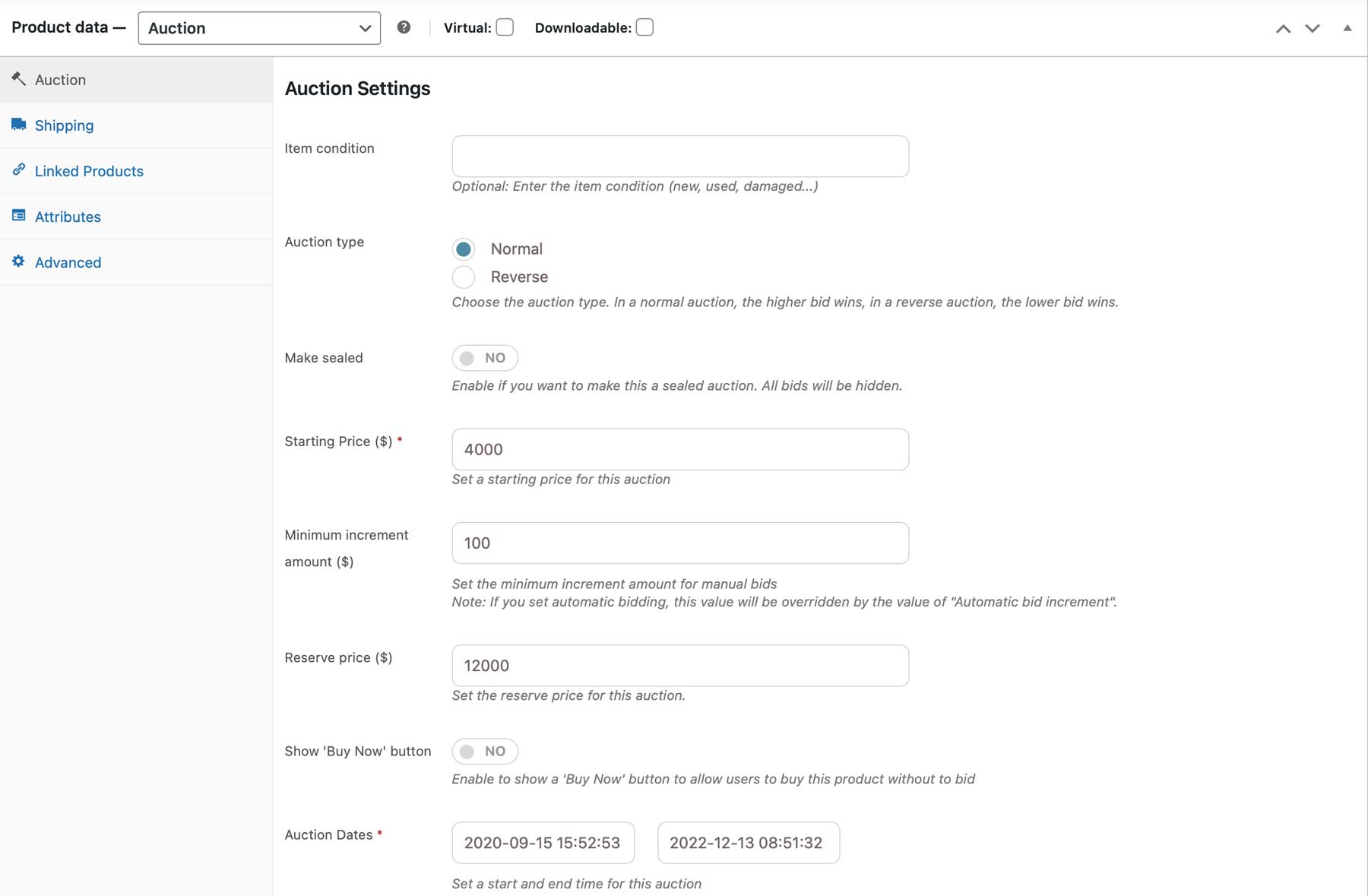 YITH WooCommerce Auctions offers unique features such as the ability to include additional product details in listings, giving bidders more information. Sealing bidding, ideal for fundraising or anonymous auctions, hides the highest bidder's identity until the auction ends, increasing excitement and competitiveness.
Best For:
For WooCommerce users seeking a data-driven auction site, YITH WooCommerce Auctions is an excellent choice, perfect for fundraising or an eBay-style e-commerce solution. However, at $150 per year, it may be too costly for some. That being said, customizing a free WooCommerce store can be an expensive endeavor. A more affordable option is Ultimate WordPress Auction, which provides the same functionality for half the cost.
Pricing: $149.99 per year
2. Dokan Simple Auctions

For an e-commerce multi-vendor marketplace, check out the Dokan Simple Auctions add-on, which works with the Dokan core plugin. Vendors can create their own stores and sell products while you earn a commission. You'll need WooCommerce, WooCommerce Simple Auctions (#2 in our list above), and Dokan Pro, but it's worth it for a full-featured online marketplace.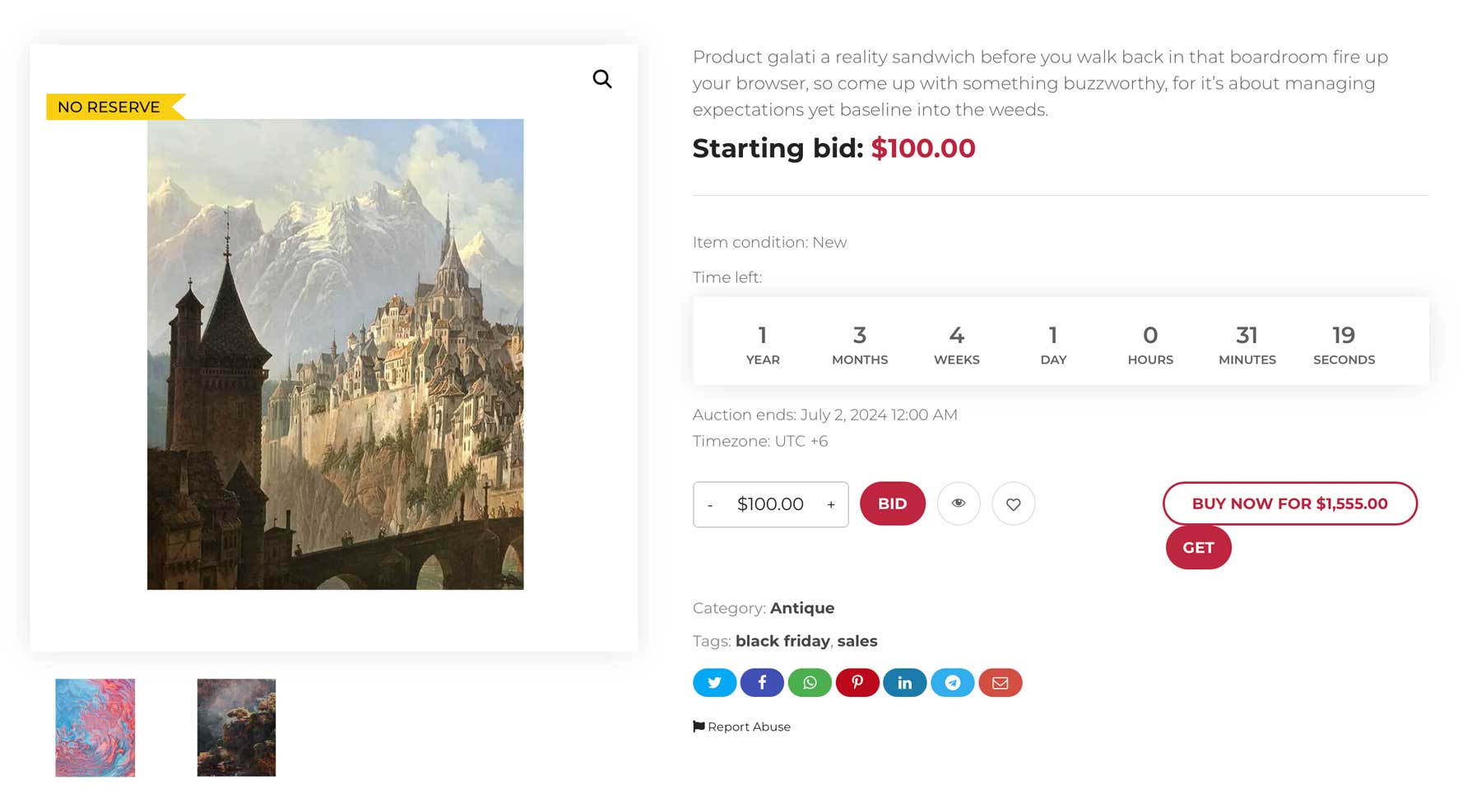 Dokan Simple Auctions also offer bidder features like product watching, wishlisting, and vendor following. Plus, it includes order tracking and social media sharing, which is essential when wanting to implement social commerce.
Key Features for Dokan Simple Auctions:
Create a multi-vendor marketplace with auction functionality
Give users the ability to watch and wishlist products
Share products on social media
Ability to follow favorite vendors
Order tracking
Dokan Simple Auctions is a top choice for multi-vendor e-commerce sites thanks to its integration with Dokan, which offers the most payment gateways and vendor management features. Built on WooCommerce, Dokan comes in multiple languages and has useful features such as coupon creation, multiple commission types, and product advertising.
Best For:
Dokan Simple Auctions is a great option for those building a multi-vendor auction website with WooCommerce. While the plugin itself is affordable at $49 per year, upgrading to the required Dokan Pro costs $249 per year. If you're serious about your business, the investment may be worth it. But if you don't need WooCommerce or a multi-vendor platform, WP Auctions is a more cost-effective option.
Pricing: Auction add-on is $49 per year but requires the Dokan plugin and WooCommerce Simple Auction ($49 LTD).
3. WooCommerce Simple Auctions

WooCommerce Simple Auctions is an affordable plugin that offers common auction features such as reverse bidding, various auction types, bid increments, and reserve price. Its unique auto-bidding feature allows bidders to set a maximum bid range and the plugin will automatically raise their bid. The plugin also lets you monetize your website by allowing user-submitted products and charging fees. It includes enticing widgets for different auctions and credit card verification to ensure bidders are legitimate.
Key Features for WooCommerce Simple Auctions:
Credit card verification before bidding
Various auction widgets to entice bidding
Auto-bidding feature
Integrates with WooCommerce
Compatible with the Dokan multi-vendor plugin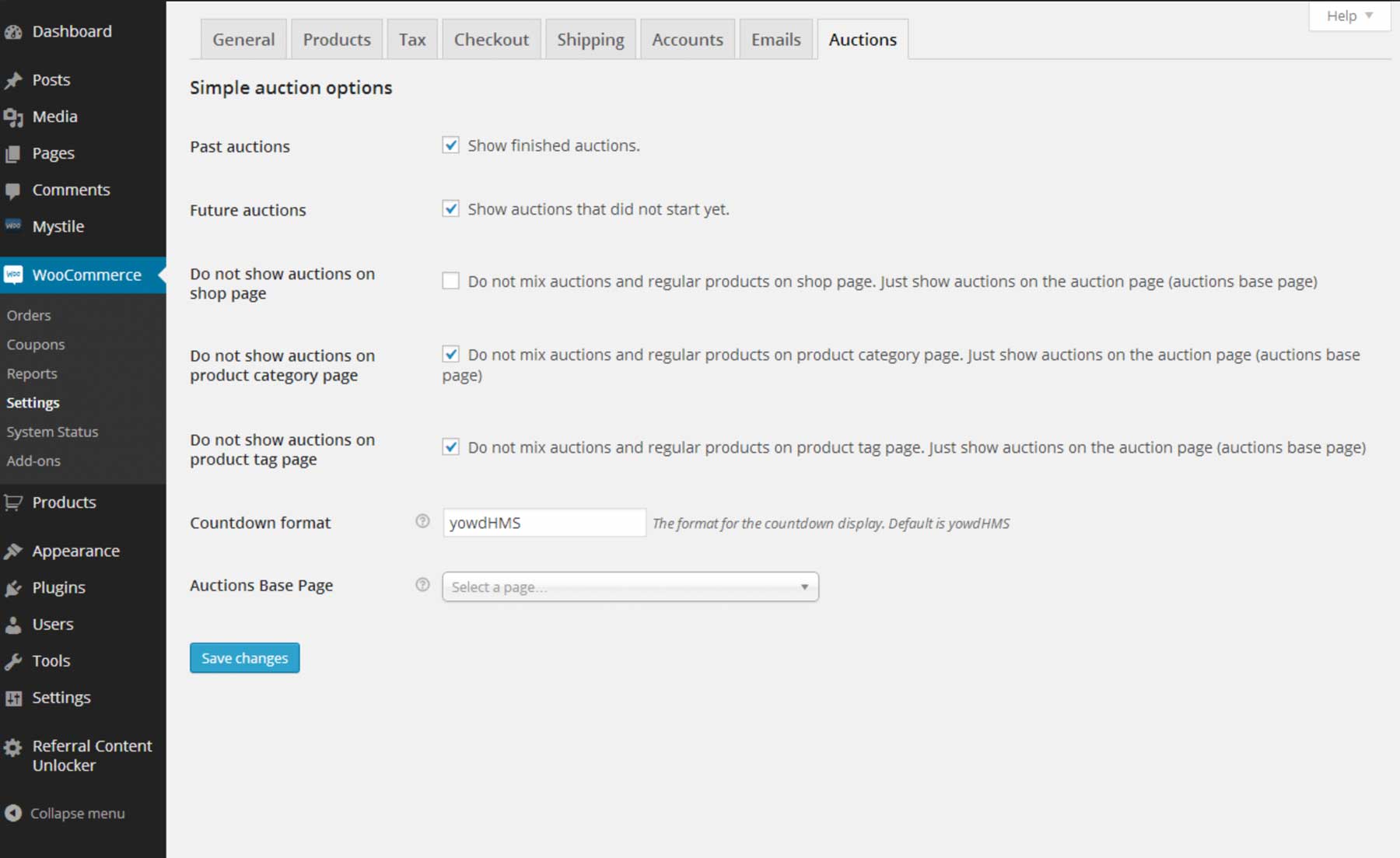 WooCommerce Simple Auctions also allows you to share upcoming auctions and embed shortcodes throughout your site to promote specific products and generate interest.
Best For:
If you're looking to create a simple auction site, WooCommerce Simple Auctions is an excellent option to consider. What's more, the plugin can integrate with the Dokan multi-vendor marketplace plugin, enabling you to build auction sites that can handle multiple stores on one website. Alternatively, if you're only looking for a solution to feature your eBay listings on a WordPress site, consider the free plugin, Auction Nudge, which is featured a little later in this post.
Pricing: $49 per year
Get WooCommerce Simple Auctions
4. WP Auctions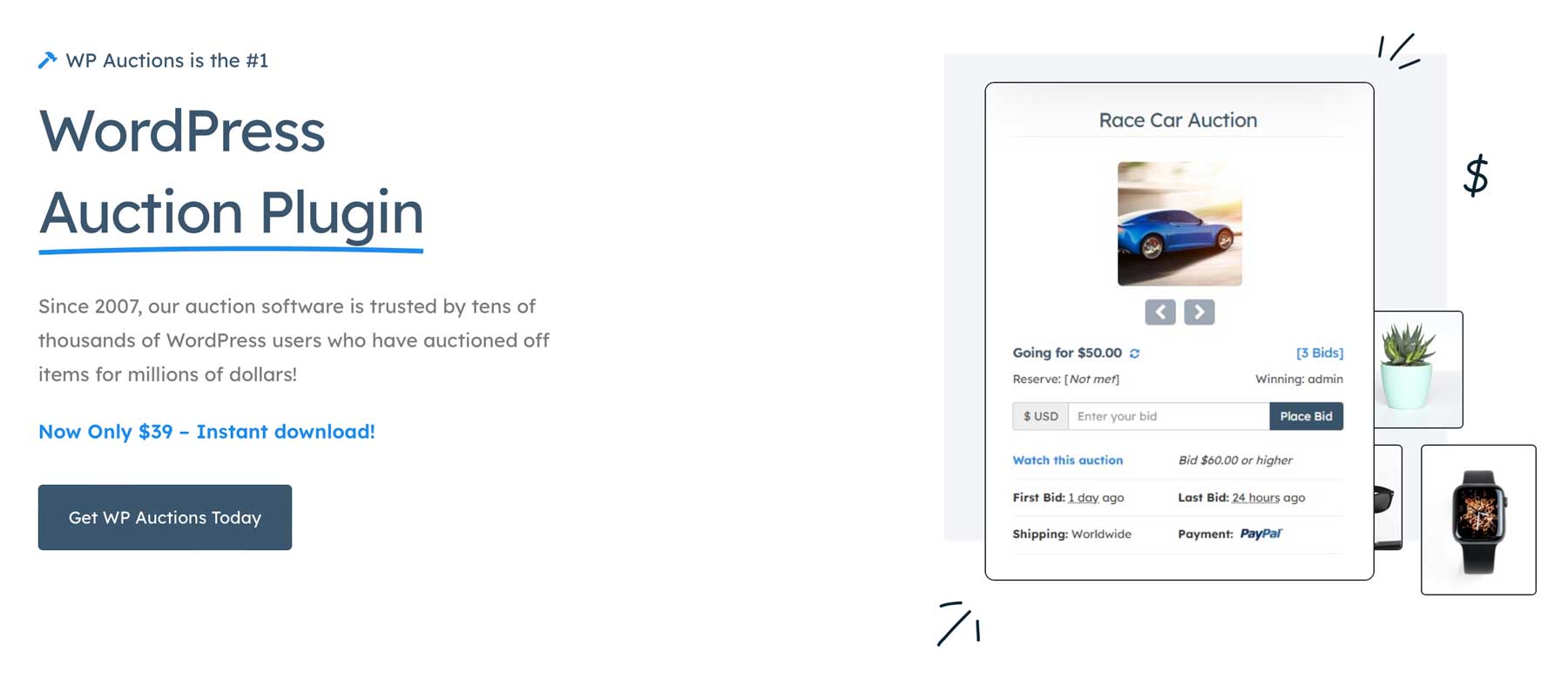 Moving on to another great plugin, WP Auctions is a standalone auction plugin that doesn't require WooCommerce. It offers four different bidding engines that enable you to create simple auctions, as well as proxy, reverse, and quick bidding.
WP Auctions sets itself apart from other auction plugins by offering the unique feature of sending 2nd chance offers to the next highest bidder, which helps avoid losing a sale and provides added convenience and protection. Additionally, it supports Ajax and allows for the re-listing of closed or unsold auction items. However, it is limited in its payment gateway options, only supporting PayPal and checking accounts, which may not work for those requiring multiple payment options.
Key Features for WP Auctions:
Second change offer capability
Re-list closed or unsold auctions
Real-time bidding with Ajax
Functions without WooCommerce
4 bidding engines
Easy auction creation editor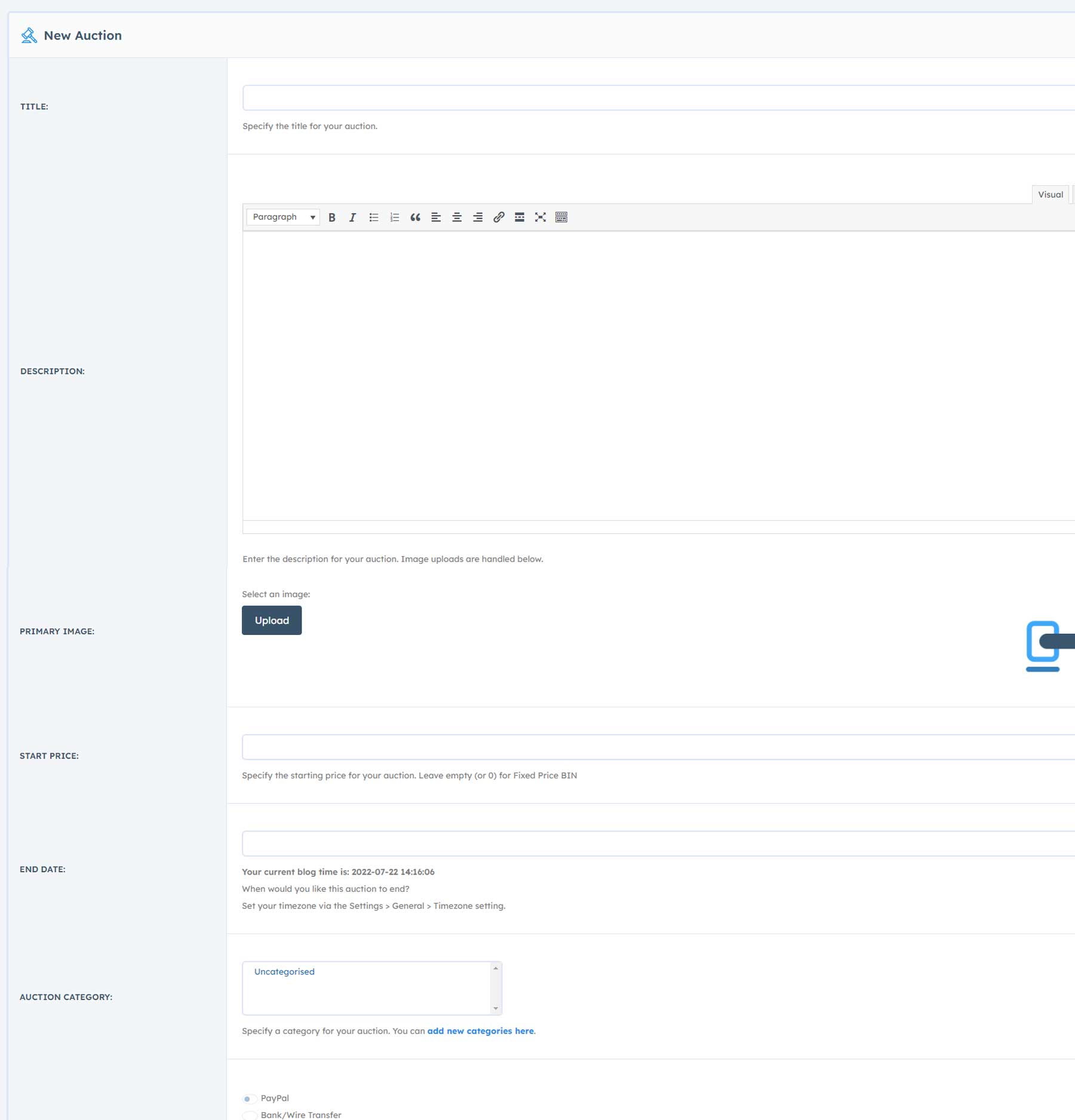 As previously highlighted, WP Auctions stands out from other plugins because it doesn't require the use of WooCommerce. While WooCommerce can be challenging to navigate, WP Auctions simplifies auction creation and management through its intuitive and user-friendly text editor, which is much easier to navigate. This approach streamlines the process and makes it more accessible to a broader range of users.
Best For:
If you are seeking a straightforward alternative to WooCommerce for your auction website, WP Auctions is an excellent option. However, it's worth noting that the plugin only supports a limited number of payment gateways. If you require a more versatile solution, you may want to consider Ultimate WordPress Auctions, which is based on WooCommerce and offers more payment gateway options.
Pricing: $39 one-time fee
5. Ultimate WordPress Auction

The next plugin on our list, Ultimate WordPress auctions, is designed to work with WooCommerce and offers standard auction formats such as reverse price and buy it now. It also has unique features such as built-in Twilio support for SMS notifications to bidders when they're outbid or when an auction is ending and the ability to automatically relist unsold auctions.
Ultimate WordPress Auctions supports virtual products and extensive filtering capabilities, including a lightbox feature and a private messaging system. A pro license is required for more advanced features such as automatic proxy bidding, automatic re-listing, and silent bidding.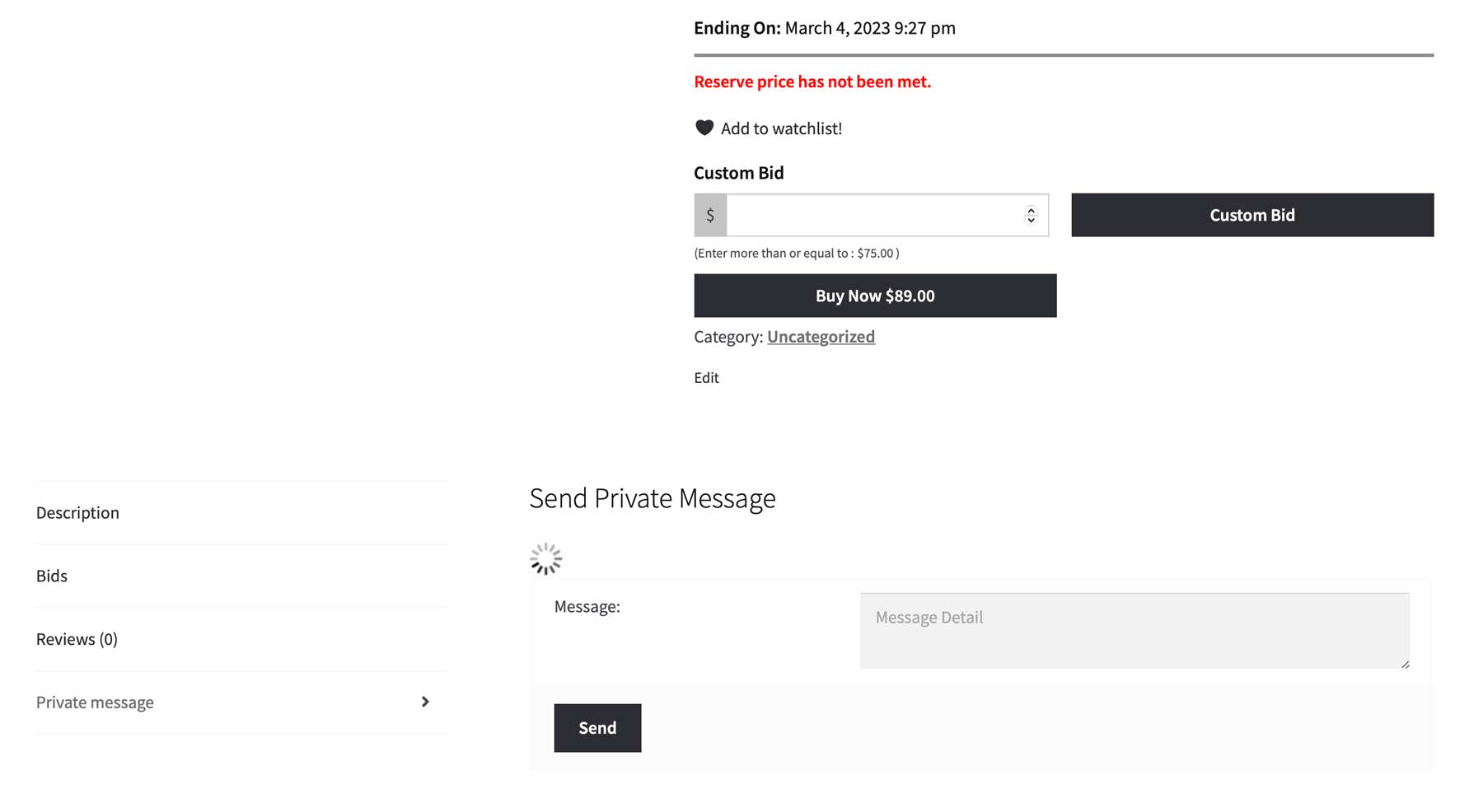 Key Features for Ultimate WordPress Auction:
Private messaging system
Virtual product support
Advanced filtering options
Lightbox feature for the product gallery
SMS alerts to bidders
Automatic re-listing
Overall, Ultimate WordPress Auction is comparable to other plugins on our list. The free version offers basic features such as an auction feed page, a comments section, and private messaging. The pro version provides more advanced features, including automatic debit payments and user registration with credit card or stripe integration.
Best For:
Ultimate WordPress Auction is suitable for those looking to create a no-frills auction site. While you can get by with the free version, you'll want to upgrade to at least the business plan to take advantage of the SMS notification feature, as well as the ability to collect automatic payments at the end of an auction.
Pricing: Free, with pro versions starting at $79 per year
Get Ultimate WordPress Auction
6. Auction Nudge

Auction Nudge operates differently than the other plugins on our list. Instead of creating products, it allows you to display your eBay listings directly in WordPress. By using a unique code generated by the plugin, you can showcase your eBay profile, listings, and user feedback on your WordPress site. Moreover, the list is automatically updated to display current bid amounts on your listings.
Auction Nudge offers several display options to customize the appearance of your eBay listings on your WordPress site. You can choose from various themes, languages, pagination controls, and the number of items per page. The plugin also includes advanced options such as sort order, thumbnail image size, and listing type. Despite having a singular purpose, Auction Nudge is a robust plugin that offers a lot of flexibility and customization options in a lightweight plugin.
Key Features for Auction Nudge:
Displays eBay listings
Customizable script for various options
Lightweight
Lightweight
Lightweight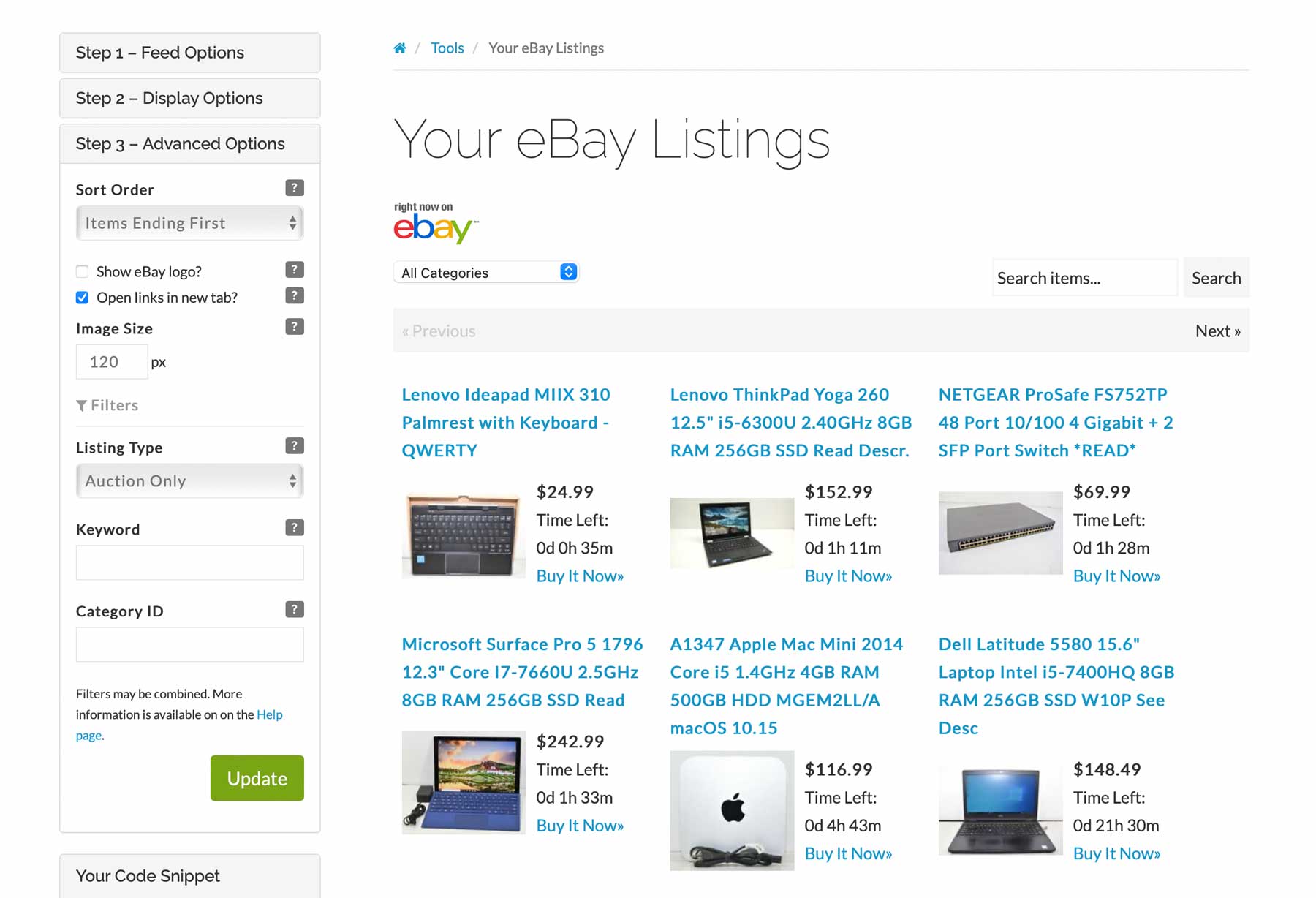 Auction Nudge is easy to set up. Simply install the plugin, connect your eBay account, and configure your desired options to generate a custom script. You can then display your eBay feed on any page or post on your WordPress site. The plugin is also compatible with any WordPress theme, making it a versatile solution.
Best For:
Auction Nudge is a free and simple plugin for showcasing eBay listings on a WordPress site. It's an ideal solution for budget-conscious eBay sellers looking for a hassle-free way to display their listings.
If you want a plugin that will allow you to feature eBay listings alongside WooCommerce products, check out the next plugin on our list, WP-Lister.
Pricing: Free
7. WP-Lister

Finally, WP-Lister seamlessly integrates eBay and WooCommerce, allowing you to create and list eBay products alongside WooCommerce products. You only need to create a product once and push it live to eBay, making it easier to manage multiple eBay listings. WP-Lister is a powerful plugin that streamlines the process of managing and selling your products across both eBay and WooCommerce platforms.
WP-Lister simplifies managing your listings with features like two-way syncing and custom eBay templates to make your listings stand out from the crowd. It also lets you calculate listing fees upfront and connect your eBay profile to easily configure eBay-specific fields like pricing, images, categories, and more.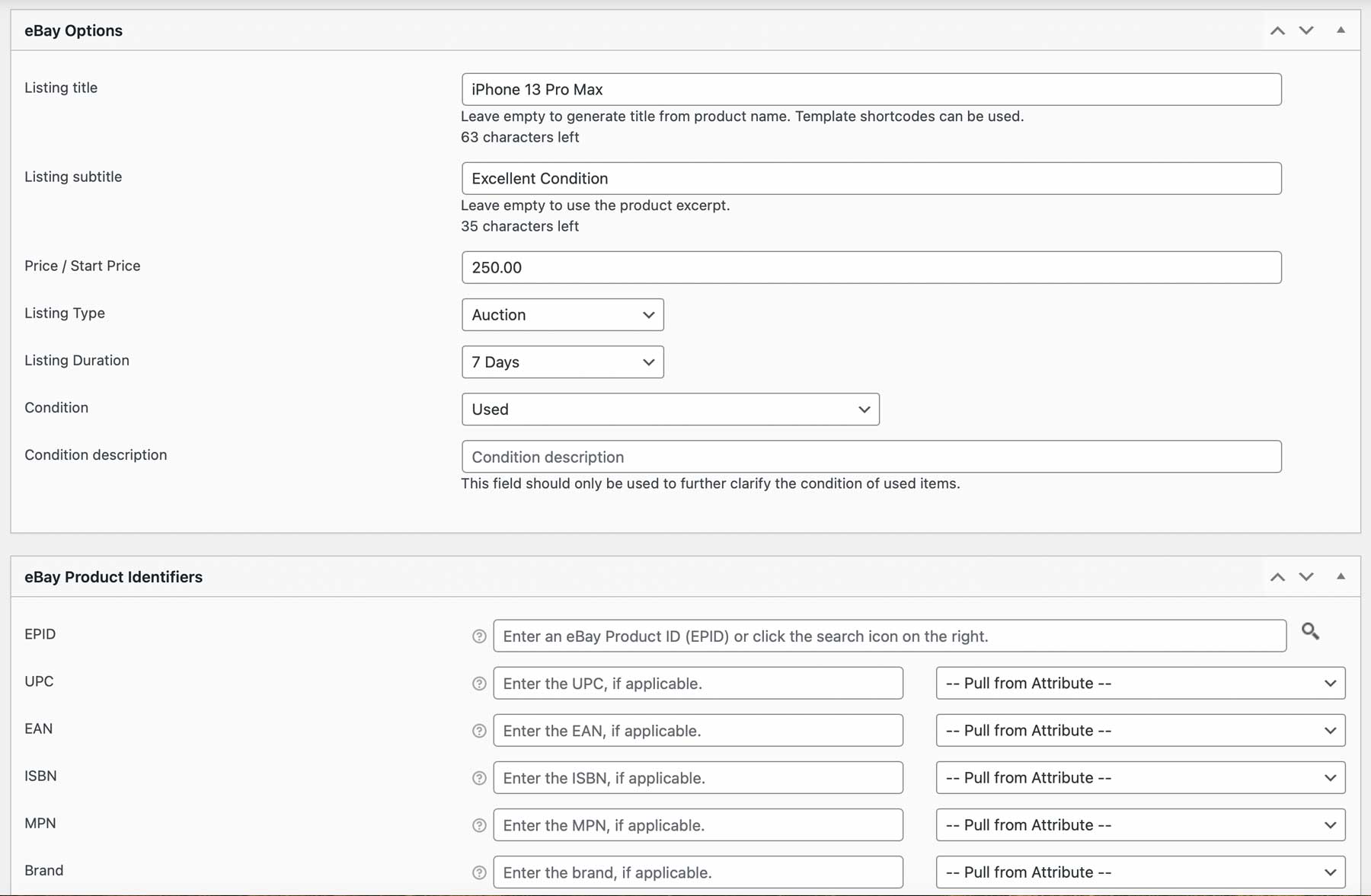 Key Features for WP-Lister:
Two-way syncing for eBay listings
Custom templates
Calculate listing fees before pushing live
Easy to set up and use
End auctions early from the WP dashboard

Listing your products on eBay is a simple process with this plugin. You can easily push your products to eBay by selecting the "list on eBay" option from the bulk actions menu when viewing your products. And if you sell your product on your website before the auction ends, you can easily end your eBay listing early by selecting "end listings on eBay" from the same menu.
Best For:
WP-Lister is ideal for selling products on both a website and eBay, eliminating the need to switch between different pages or applications to manage listings. This integrated approach saves time and effort, allowing for efficient inventory management and increased sales across both platforms.
Pricing: Free, with a pro version for $49 per month
Comparing the Best Auction Plugins
No matter which eCommerce platform you're using, our list covers all the options for creating auctions on your site. Whether you're using WooCommerce or looking for a different method, we've got recommendations for you.
Auction Plugin Price Comparison
These auction plugins run the gambit as far as features and pricing structures. Here's a look at how they compare in how they are priced.
Auction Plugin Feature Comparison
Features are important when deciding between various plugins. This comparison of our top three choices should help you out considerably.
🥇

YITH WooCommerce Auctions

🥈

Dokan Simple Auctions

🥉

WooCommerce Simple Auctions
Starting Price
$149.99/yr
$49/yr *
$49/yr
Start Price, Reserve Price, Buy Now Price
✔️
✔️
✔️
Manual or Automatic Bids
✔️
✔️
✔️
Secret Auctions (Hide Bids)
✔️
❌
❌
Fee to Participate in Auction
✔️
❌
❌
Vendor Management
✔️
✔️
❌
Credit Card Verification for Bidding
✔️
✔️
✔️
Automatic Order Generation at Auction End
✔️
❌
❌
Management of Unpaid Auctions
✔️
✔️
✔️
Widgets, Shortcodes, and Gutenberg Blocks
✔️
✔️
✔️
Auction History Tab
✔️
✔️
✔️
Active Installations
10,000+
60,000+ **
7,000+
Community Rating
4.5/5
⭐⭐⭐⭐⭐
Read Reviews
4.6/5**
⭐⭐⭐⭐⭐
Read Reviews
4.6/5
⭐⭐⭐⭐⭐
Read Reviews
Get YITH WC Auctions
Get Dokan Simple Auctions
Get WC Simple Auctions
* Requires additional paid plugins
** Based on core plugin
What is the Best WordPress Auction Plugin?
In terms of the best WordPress auction plugins, both YITH WooCommerce Auctions and Dokan Simple Auctions offer robust features that allow you to create a full-featured e-commerce site for both static products and auctions. With either option, you'll have all the tools you need to get the job done and plenty of options to customize your listings to meet your needs. Whether you're just starting or you're an experienced seller, these plugins can help take your auction game to the next level.
Need more plugins for your e-commerce website? If so, check out our WooCommerce roundup plugins for social media, images, and SEO. Or better yet, check out our overarching best WordPress plugin recommendations.
Frequently Asked Questions (FAQs)
Before we wrap up, let's answer some of your most common questions regarding the best WordPress auction plugins. Did we miss one? Leave a question below, and we will respond!