When creating a website, choosing your hosting provider is daunting yet crucial. While both WordPress hosting and shared hosting provide extensive hosting features, it is essential to note that there are still differences between them.
In this post, we'll compare WordPress to shared hosting to help you decide which suits your needs better. Let's get to it!
Both WordPress and shared hosting offer a secure place for your website content and maintain and direct traffic to your site, yet they differ in several ways. Before settling on the best option, let's assess each web hosting service.
What is WordPress Hosting?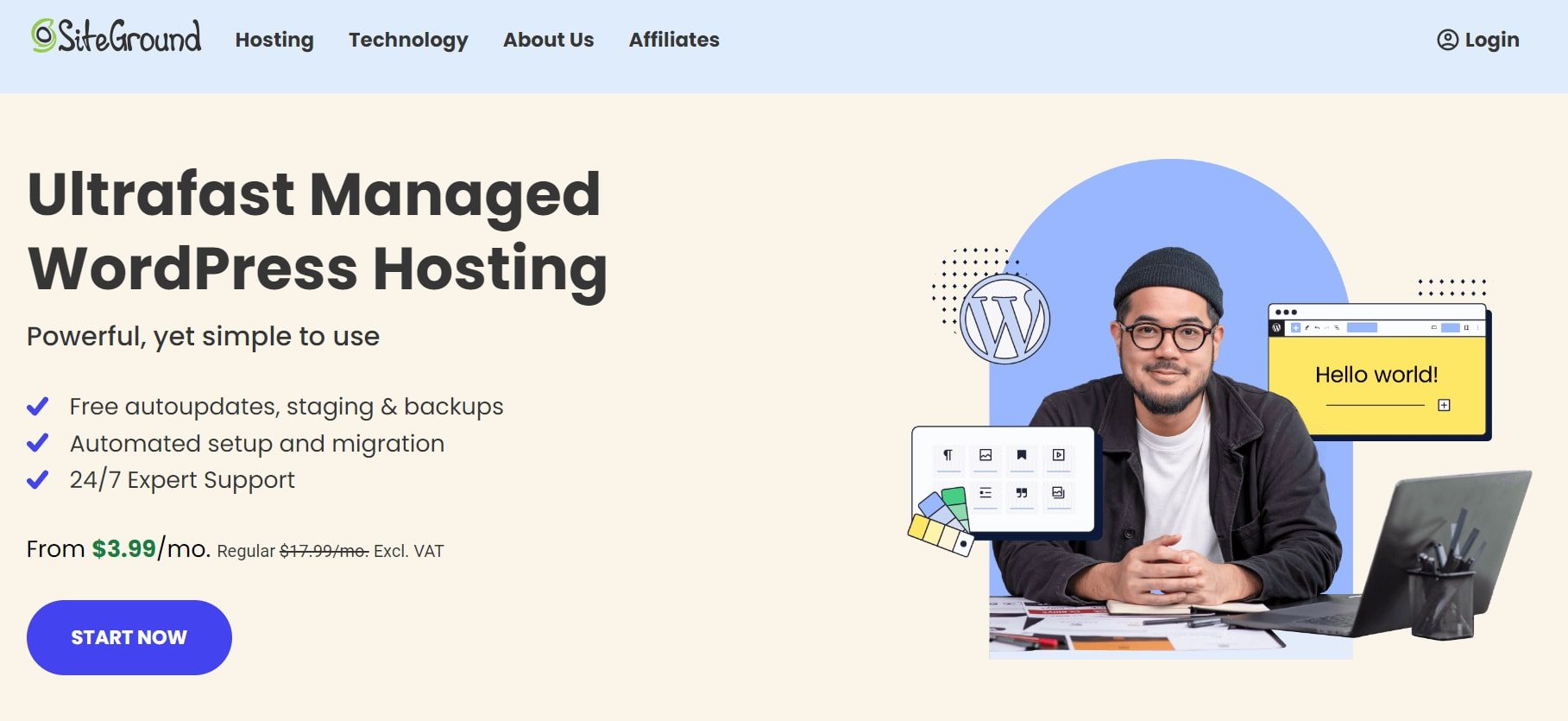 WordPress hosting is a web hosting service optimized for websites built with WordPress. Commonly, your hosting provider manages WordPress-specific security measures, enhances speed, applies updates, and oversees backups.
Understanding the type of WordPress hosting you secure — shared, managed, dedicated, cloud-based, or VPS — is essential. Dedicated hosting is the top-tier offering, providing rapid response times, nearly boundless bandwidth, and scalability. Conversely, shared hosting delivers ample resources for lower-traffic websites. VPS hosting successfully strikes a balance between these alternatives.
Shared hosting is a web hosting type where different websites use the same server resources such as RAM, storage, and bandwidth. One significant benefit of shared web hosting is its affordability. However, it might impact your website's speed.
Most online visitors expect a website to load in less than three seconds. A slow-loading site or unexpected downtime can potentially lead to lost customers.
So, Who Are They For?
WordPress hosting is ideal for larger websites and established businesses because it offers added customization, scalability, and security. It effectively caters to high-traffic websites and those already using WordPress as their content management system (CMS).
In contrast, shared hosting is a cost-effective alternative for beginners and smaller websites experiencing less traffic. This hosting service is also perfect for small businesses, personal sites, startups, and bloggers.
When choosing a website hosting for your site, the focus should be on the benefits gained from its features and pricing plan. WordPress and shared hosting make excellent selections. Now, let's determine which of these best aligns with your budget.
WordPress Hosting
WordPress hosting plans tend to be slightly costlier than shared hosting. Generally, you can expect to pay around $15-$20 per month, though the final price may vary depending on your needs and plan features. It provides good value despite the higher cost compared to shared hosting. Offering advantages like advanced features, automatic WordPress updates, optimizations, and inclusive customer support gives us the value we need for money.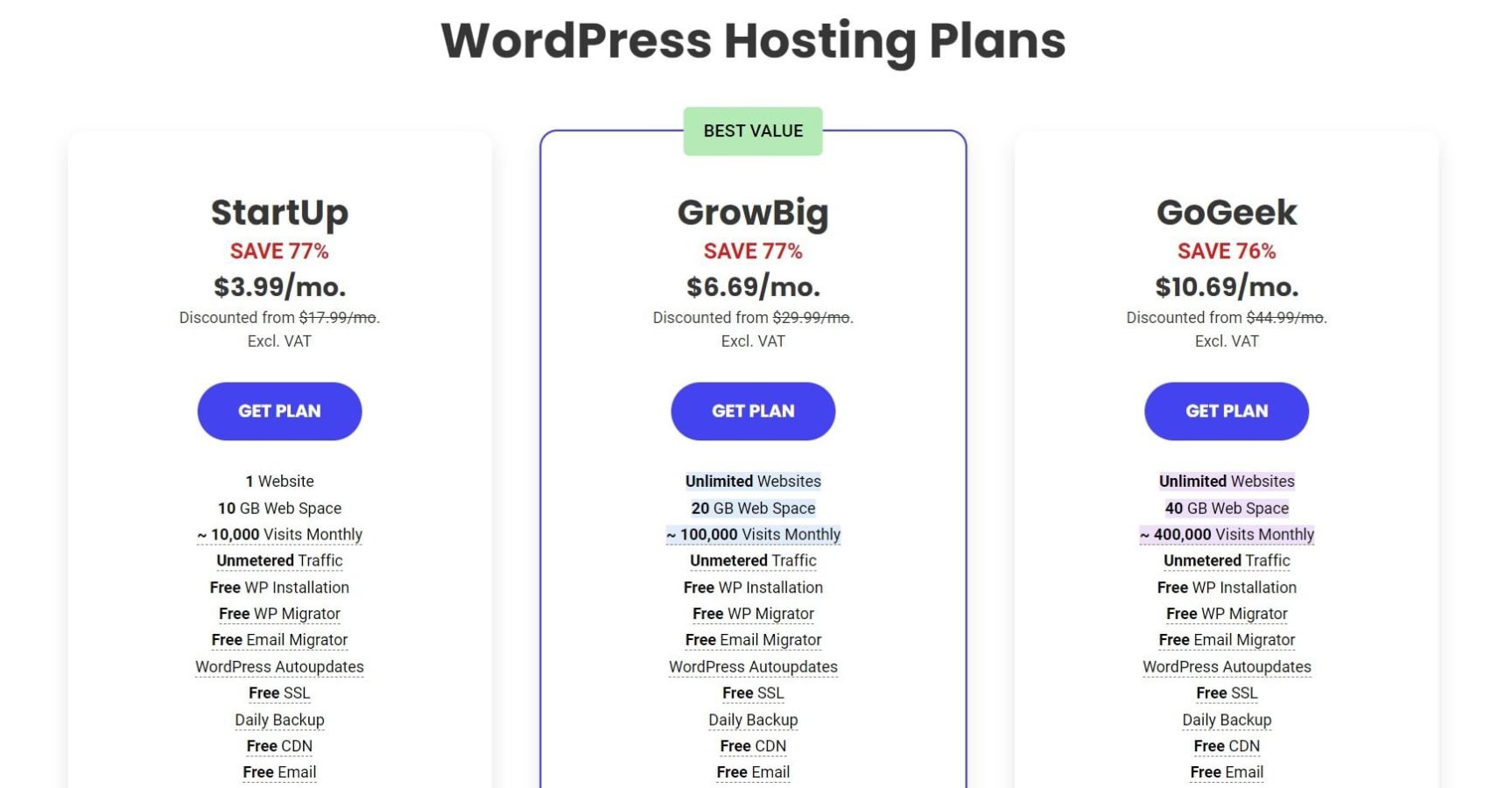 Shared hosting plans are ideal for new website owners or those with low-traffic sites because they usually start for as low as $2.95 monthly. This affordability makes it a great option to begin with. Importantly, you always have the opportunity to upgrade later, provided your hosting provider allows it.
Choosing a hosting provider for your website hinges on several key factors: ease of use. To determine if they meet your needs as a user, let's take a detailed look at these two types of hosting.
WordPress Hosting
WordPress hosting offers enhanced features, especially for those who already utilize WordPress as their content management system (CMS). As a WordPress user, you might need to handle updates for themes or plugins, track your website's performance, optimize pictures, or manage commentary via the WordPress dashboard. Taking advantage of WordPress hosting can streamline these tasks.
You usually have the convenience of features such as simple one-click installations with WordPress hosting. This includes automatic updates for the core features of WordPress, its themes, and plugins. Additionally, built-in page caching is also provided to improve loading speed. It even offers automatic data optimization, appealing to users with varying experience levels.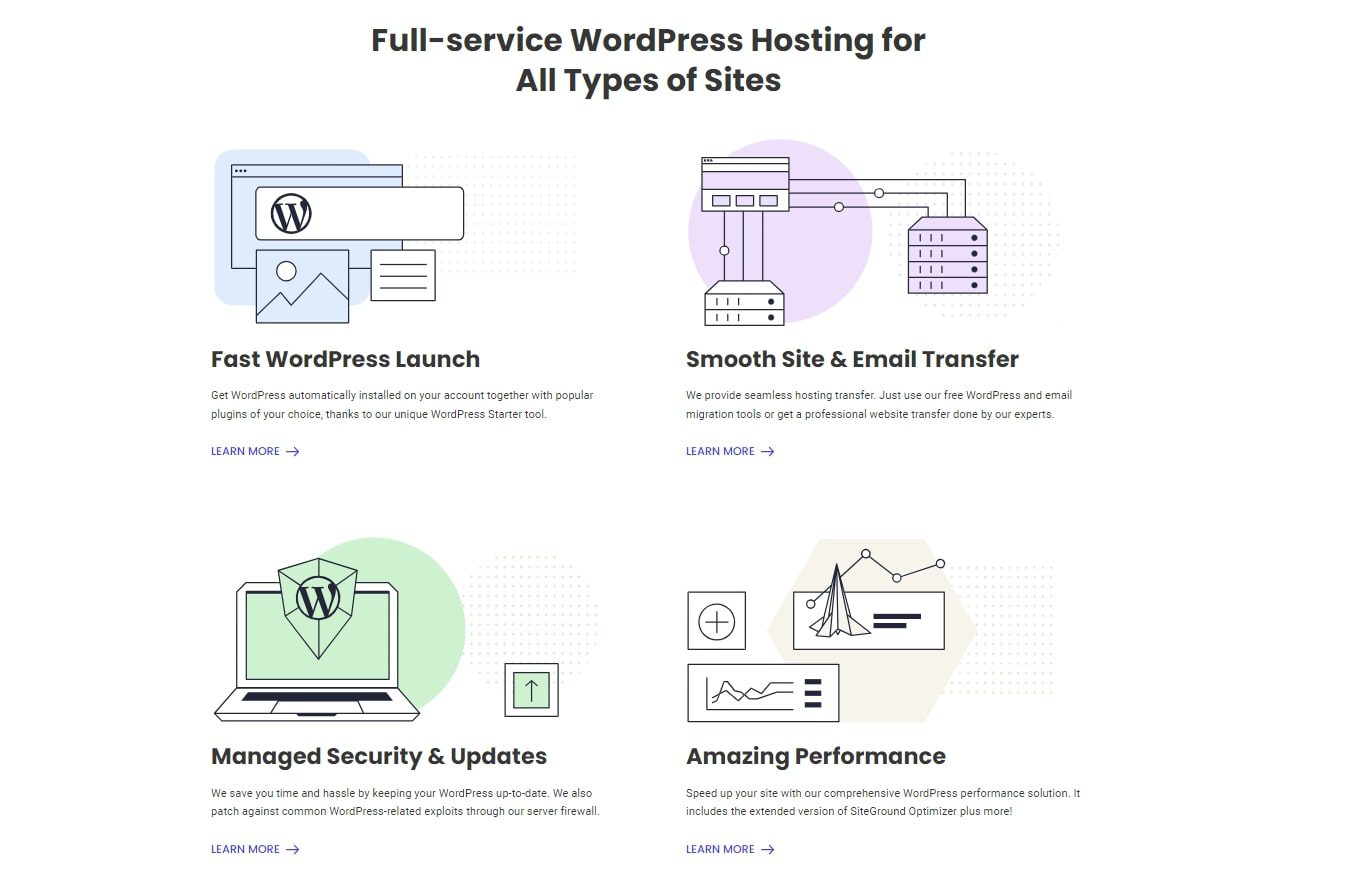 Choosing WordPress hosting is brilliant if you're seeking a dependable, hassle-free web hosting option, especially if you're already familiar with this Content Management System.
Shared hosting is an excellent choice for novices and those less tech-savvy. This is primarily due to its user-friendly control panel. Whether uploading files, managing domains, or setting up email accounts, shared hosting providers work hard to ensure these tasks are easy to navigate.
In addition to evaluating hosting providers' user-friendliness and pricing structures, we must also consider other factors when determining the best fit for our needs.
1. Website Management
Managing your website effectively largely hinges on your chosen hosting provider. Ultimately, you want control and the ability to personalize your website management. However, depending on your hosting type, you may face limitations in control and customization.
WordPress Hosting
WordPress hosting provides a distinctive setup. Here, you can manage all aspects of your website through the WordPress dashboard, and your data is conveniently stored in one place.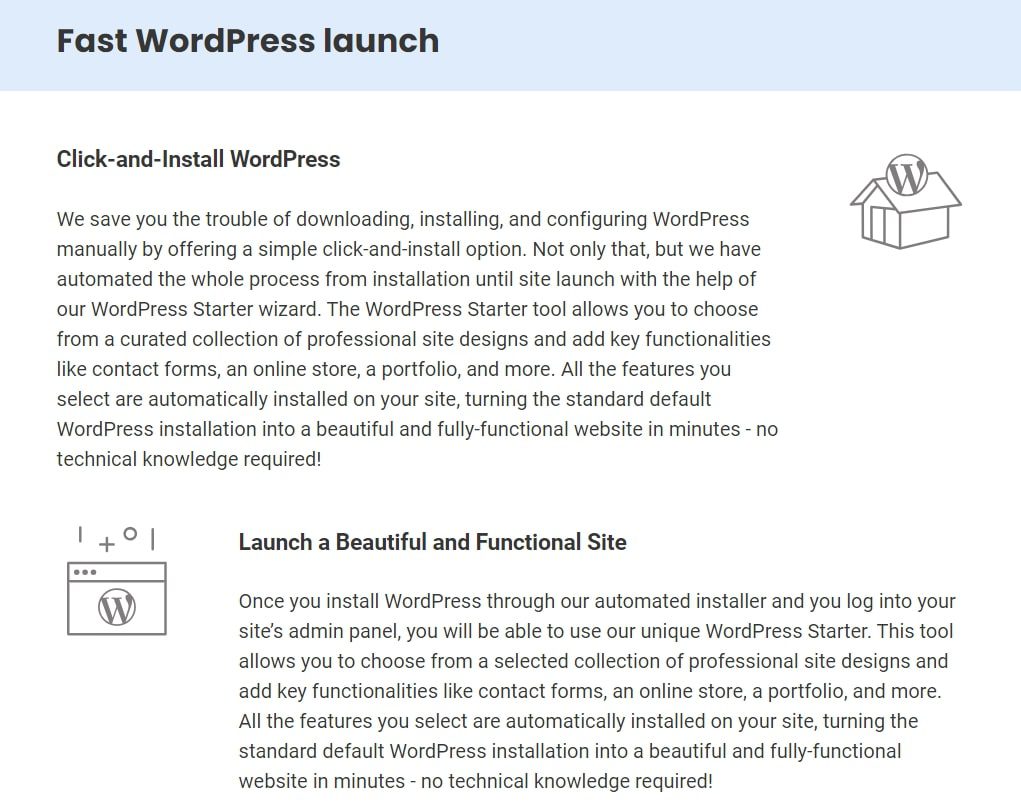 Think of using WordPress hosting as having a supportive squad of WordPress experts. They're armed with the tools and support you need. In this hosting scenario, your hosting provider handles WordPress-specific duties. These involve updates, security fixes, and performance boosts. It allows you to focus solely on your business, eliminating concerns about technical issues.
Shared Hosting
Shared hosting makes website management easier with its intuitive control panel. This centralizes various tasks, such as managing domains and applications and performing basic web administration.
Although shared hosting offers some flexibility, it's somewhat of a one-size-fits-all solution. It lacks personalization for specific platforms, so the capabilities of optimized websites, augmented performance, and fortified protection against malware are not available.
2. Performance
Browsing the internet shouldn't involve waiting hours for a website to load. We often find ourselves gravitating towards faster websites instead. Accuracy and speed further improve the user experience and your conversion rate. Selecting a hosting plan that loads your website faster becomes crucial.
WordPress Hosting
WordPress hosting can boost the performance of your website. Features such as WordPress plugins, caching, and configuration stand out. They add agility to your site, improving both its performance and safety. Moreover, most WordPress hosting offers a 99.9% uptime guarantee, promising a reliable service.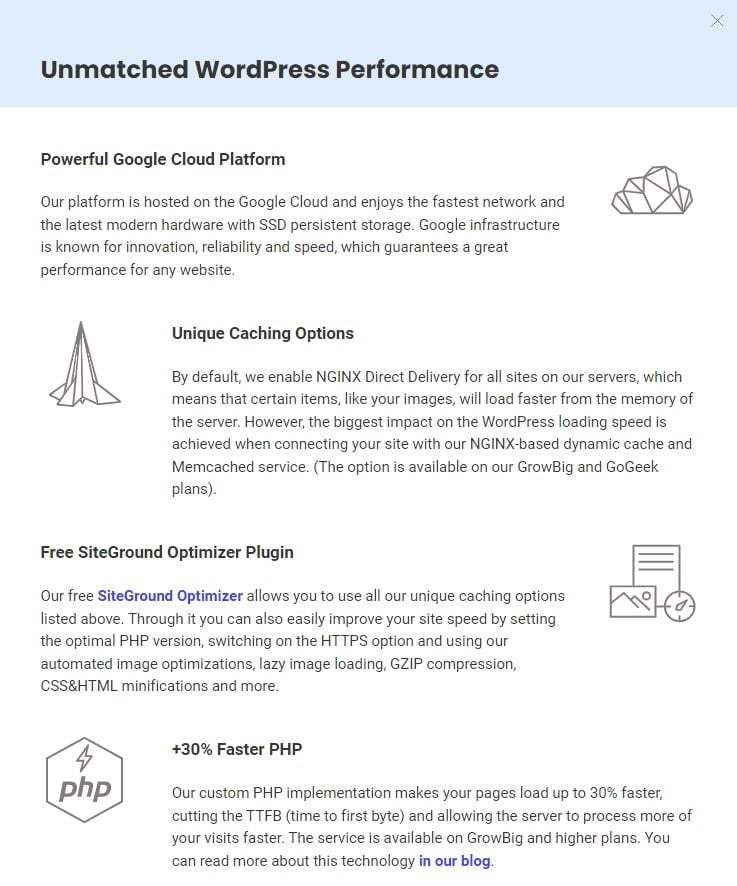 Shared Hosting
Shared hosting might yield different outcomes depending on the provider and website traffic. When you share resources with other websites on the same server, slower speed and more downtime can occur during busy times.
3. Storage
Different hosting plans offer a specific amount of storage for storing your files. That's why determining how much storage requirements your website needs is essential before choosing your hosting provider.
WordPress Hosting
Most WordPress hosting providers typically provide 5 to 10 GB of storage in their basic packages and 30 to 40 GB in their premium plans.
Shared Hosting
A shared hosting plan typically offers minimum storage space to meet small businesses' needs. If you plan to build a low-traffic website, shared hosting's disk space might benefit you. Most of these websites have a relatively small number of pages, occupying minimal storage space. With shared hosting plans ranging from 10GB to 100GB, you can easily accommodate thousands of images on your site.
4. Customer Support
Have you ever tried to create a blog post only to meet an error message when publishing it? In these situations, reliable customer support becomes crucial in addressing your issues.
Because of this, assessing the quality of customer support your web hosting service can offer is crucial.
WordPress Hosting
The WordPress customer support team is well-versed in hosting, content management systems (CMS), and common website issues. They're prepared to assist you, may your needs involve tackling plugin problems, rectifying errors, or answering specific questions. Their readiness to help you is unparalleled.

Shared Hosting
Customer support representatives in shared hosting typically provide essential assistance when encountering issues. Some suggestions they might offer include system updates, troubleshooting with the control panel, or scanning your files. The customer support you get from hosting companies might depend on the plan you've chosen.
5. Security
Security is essential regardless of your website's nature. WordPress and shared hosting offer reasonably secure and stable ways to host your site, yet there are differences.
WordPress Hosting
WordPress hosting typically packs security features tailored for WordPress to guard your website and its data. Daily, there are backups, malware scans, and automatic WordPress updates. Moreover, if your site faces a security breach, the hosting provider will gladly provide WordPress experts to help you out.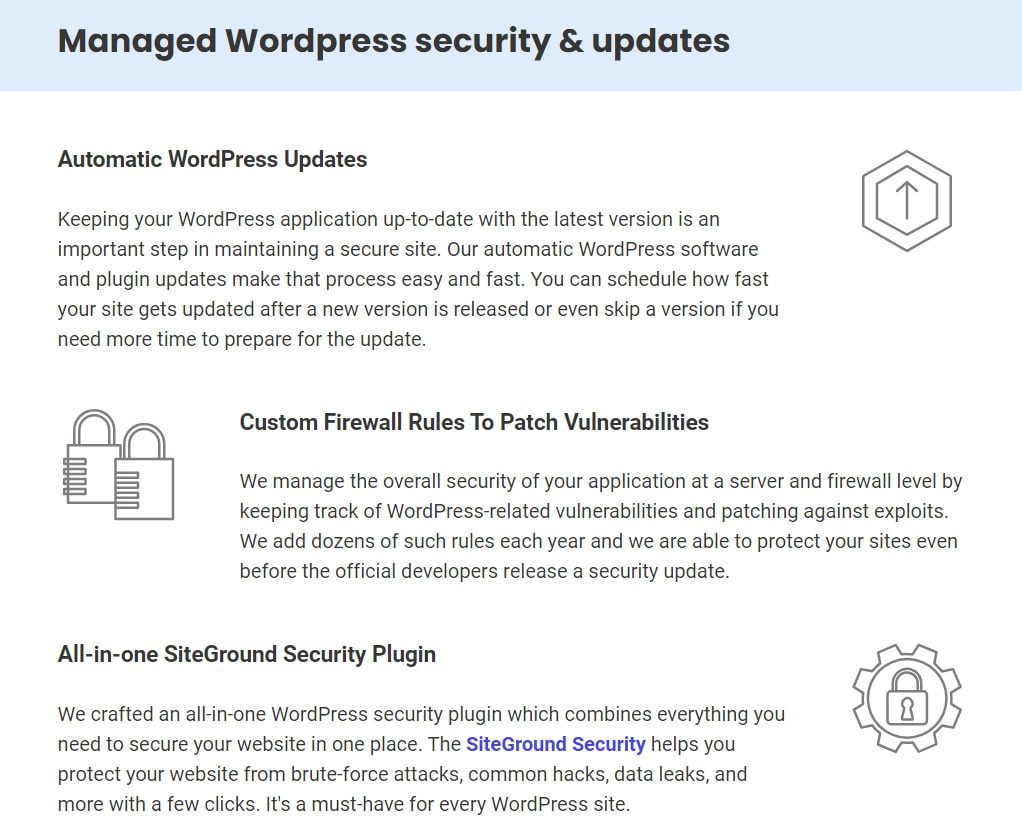 Shared Hosting
Compared to WordPress hosting, shared hosting is less secure due to sharing a server with other sites. But it depends on the security measures of your shared host.
For instance, certain shared hosting providers still employ round-the-clock server monitoring, encryption, and spam prevention and may even provide integrated content delivery networks (CDNs). These features enhance your website's security without requiring much effort on your end.
6. Content Delivery Network (CDN)
If you're actively looking to boost your website's performance and extend your global reach, you're probably familiar with Content Delivery Network (CDN). Pairing a trustworthy CDN with a vital web hosting service can improve performance.
WordPress Hosting
Some WordPress hosting already comes with a content delivery network (CDN) by default. SiteGround is one of the top hosts with free CDN on their hosting plan.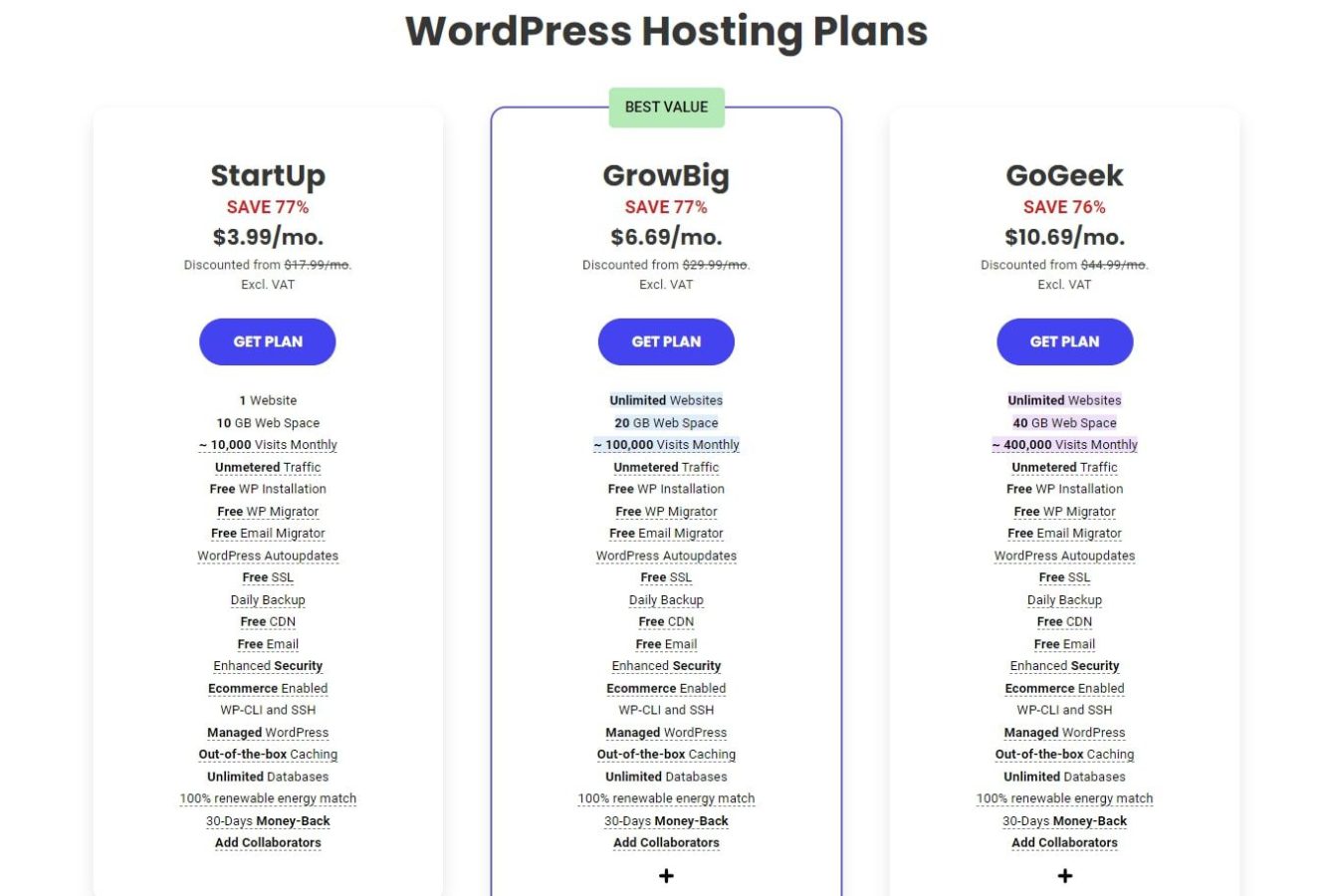 Shared Hosting
Most of the time, shared hosting does not come with CDN, but some shared hosting provider like Bluehost provides free CDN with their plans.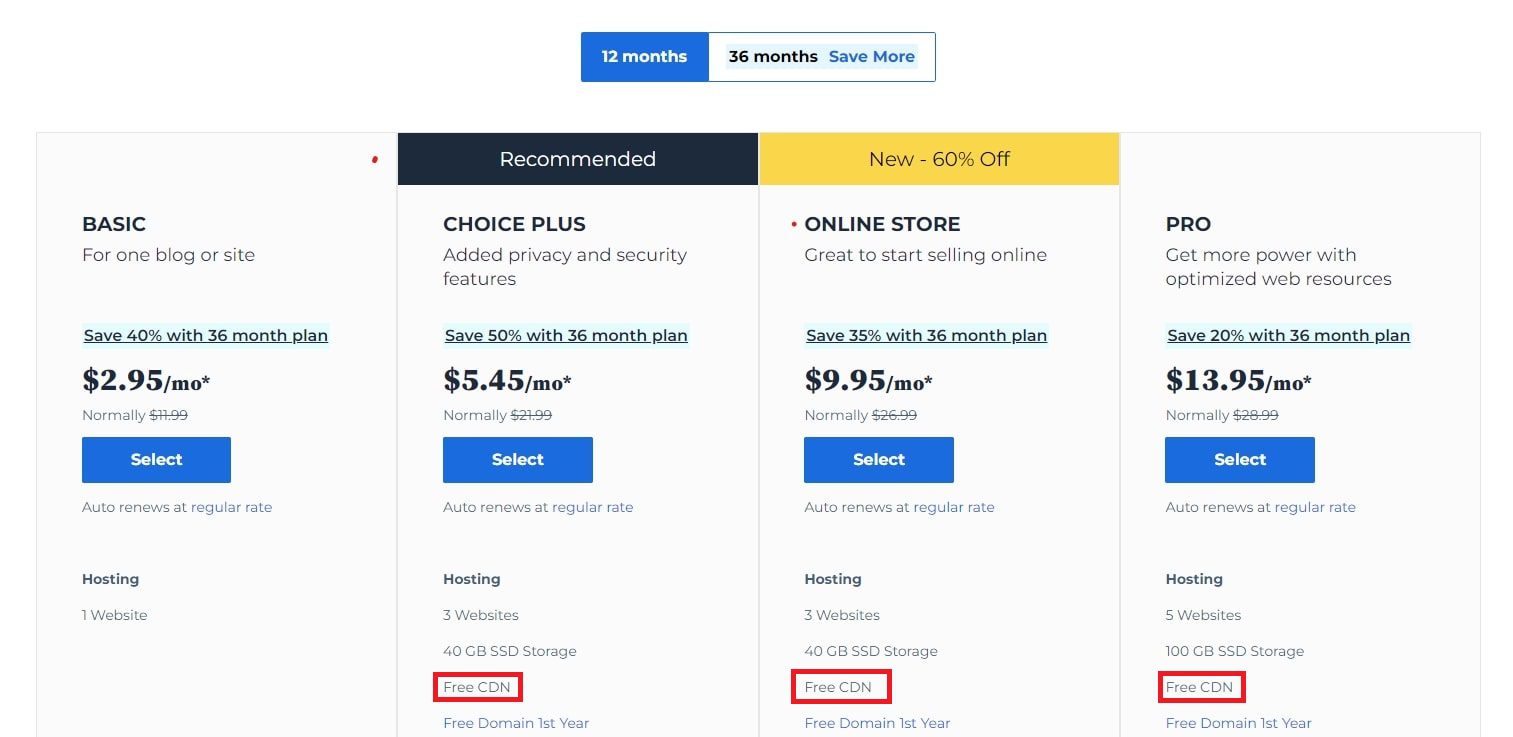 7. SSL Certificate
An SSL certificate protects sensitive data between the web server and the browser. This boosts the credibility of your website. Instead of HTTP, SSL certificates allow your website to use HTTPS, a more secure option. In addition to protecting against malicious activities, SSL is crucial in enhancing your website's SEO performance.
WordPress Hosting
Most of the best WordPress hosting providers offer free SSL certificates with their plans, so there is no need to pay $50 yearly. We also don't want our site visitors to see a "not secure" message when browsing our site. That's why an SSL certificate is essential to prevent it.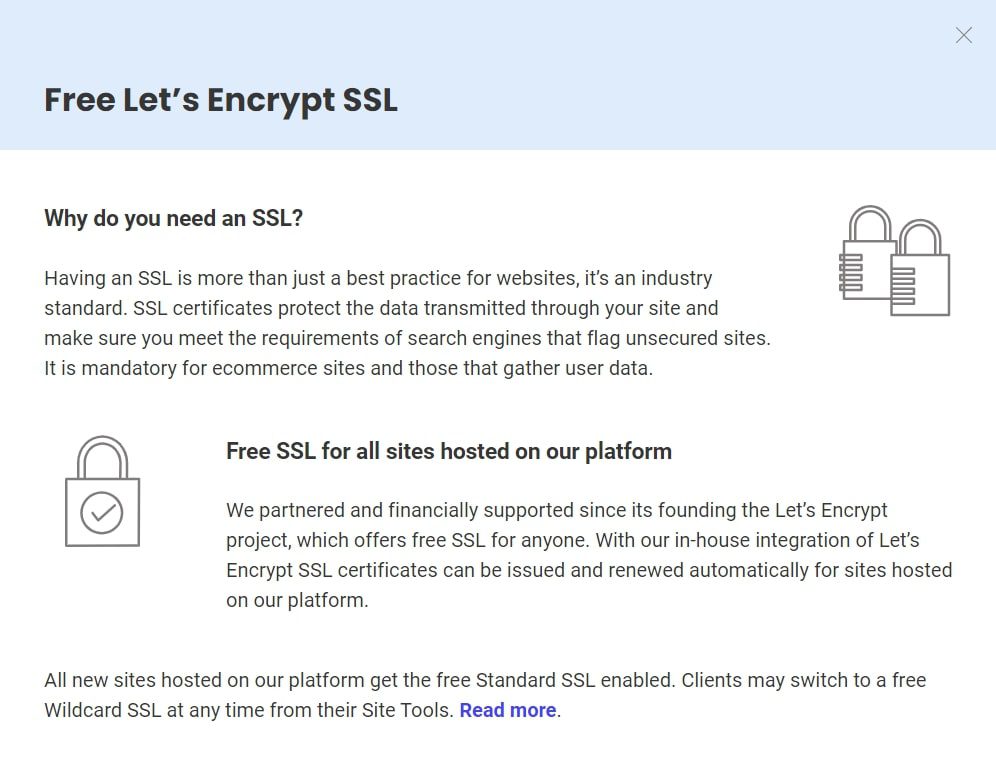 Shared Hosting
Some shared hosting also comes with free SSL certificates even if it costs less compared to WordPress hosting. For example, Hostinger offers unlimited free SSL for all their plans.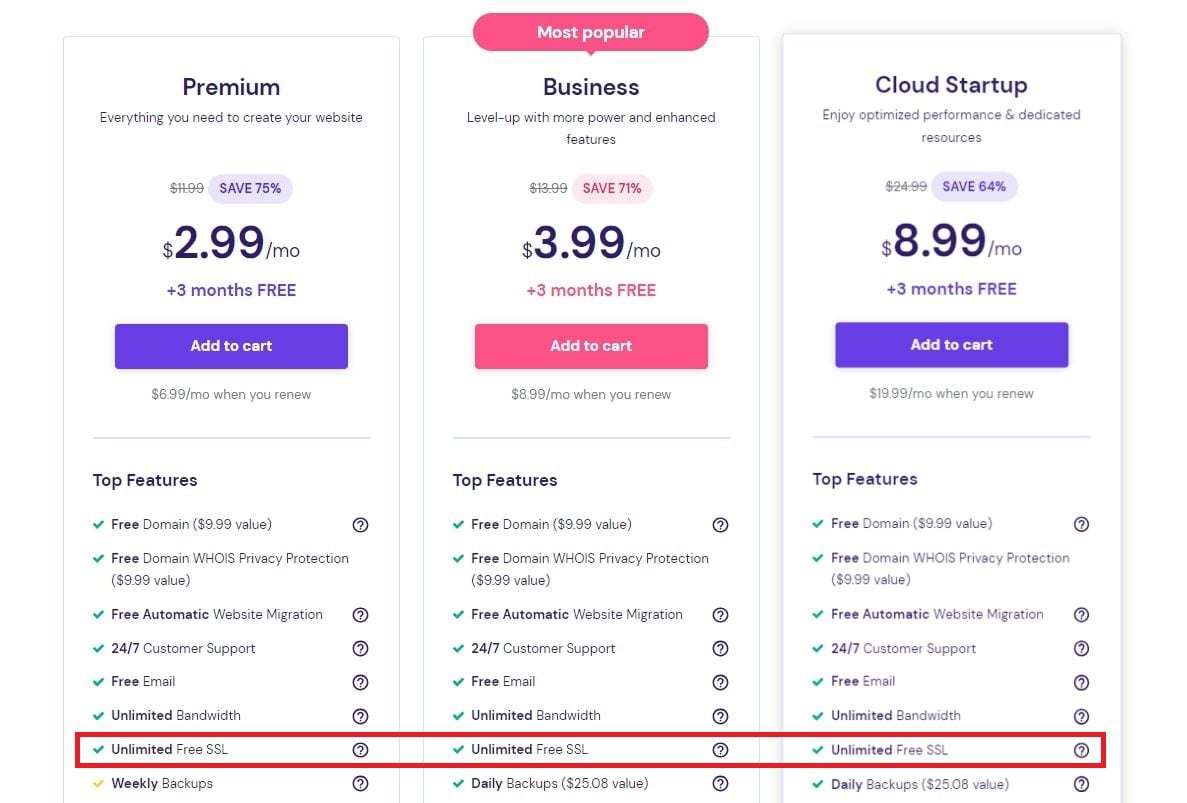 8. Business Email Account
A business email account allows you to stand out from competitors and establish your brand. Unlike free email services, web hosting providers guarantee more solid privacy for your business email account.
WordPress Hosting
Most WordPress hosting plans come with the ability to create email accounts using your domain name. For instance, on SiteGround, a professional email address can be made with your website domain at no extra charge. You can create and access as many accounts as needed using a user-friendly webmail interface.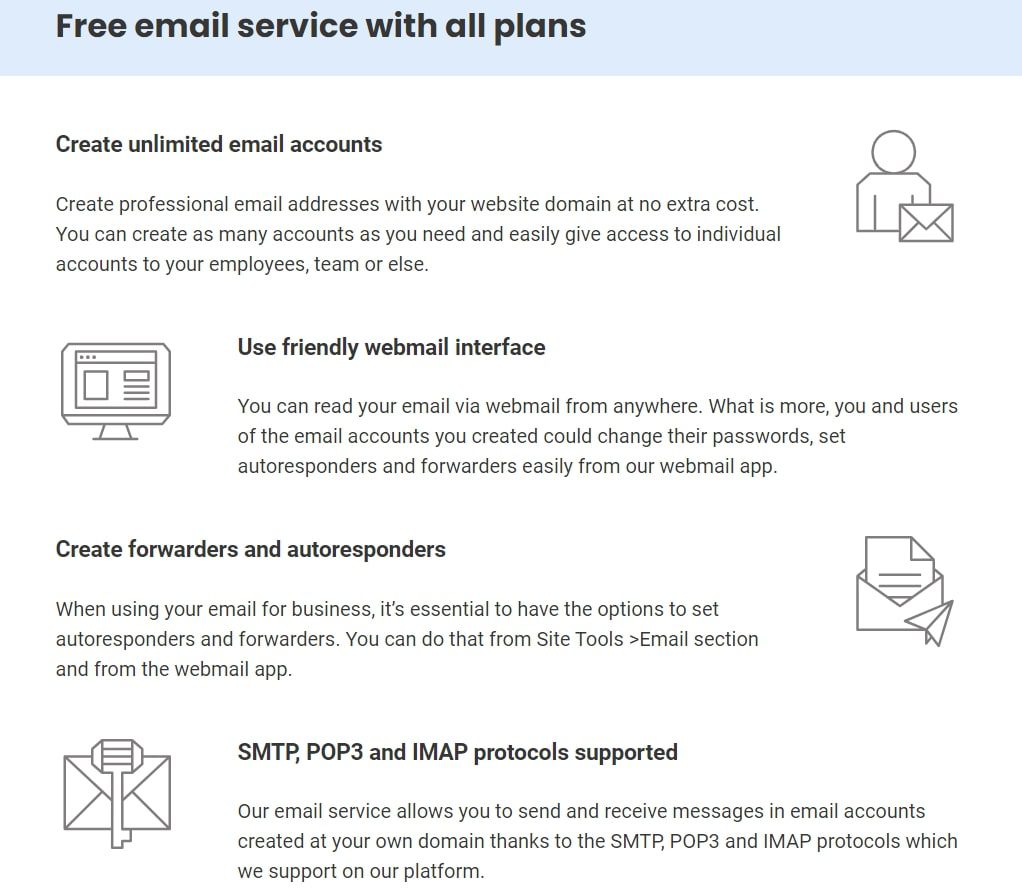 Shared Hosting
Some shared hosting plans also come with free business email accounts. Hostinger is one excellent example because their lowest plan comes with a free email account, and the rest with 100 free email addresses with a 1 GB storage limit.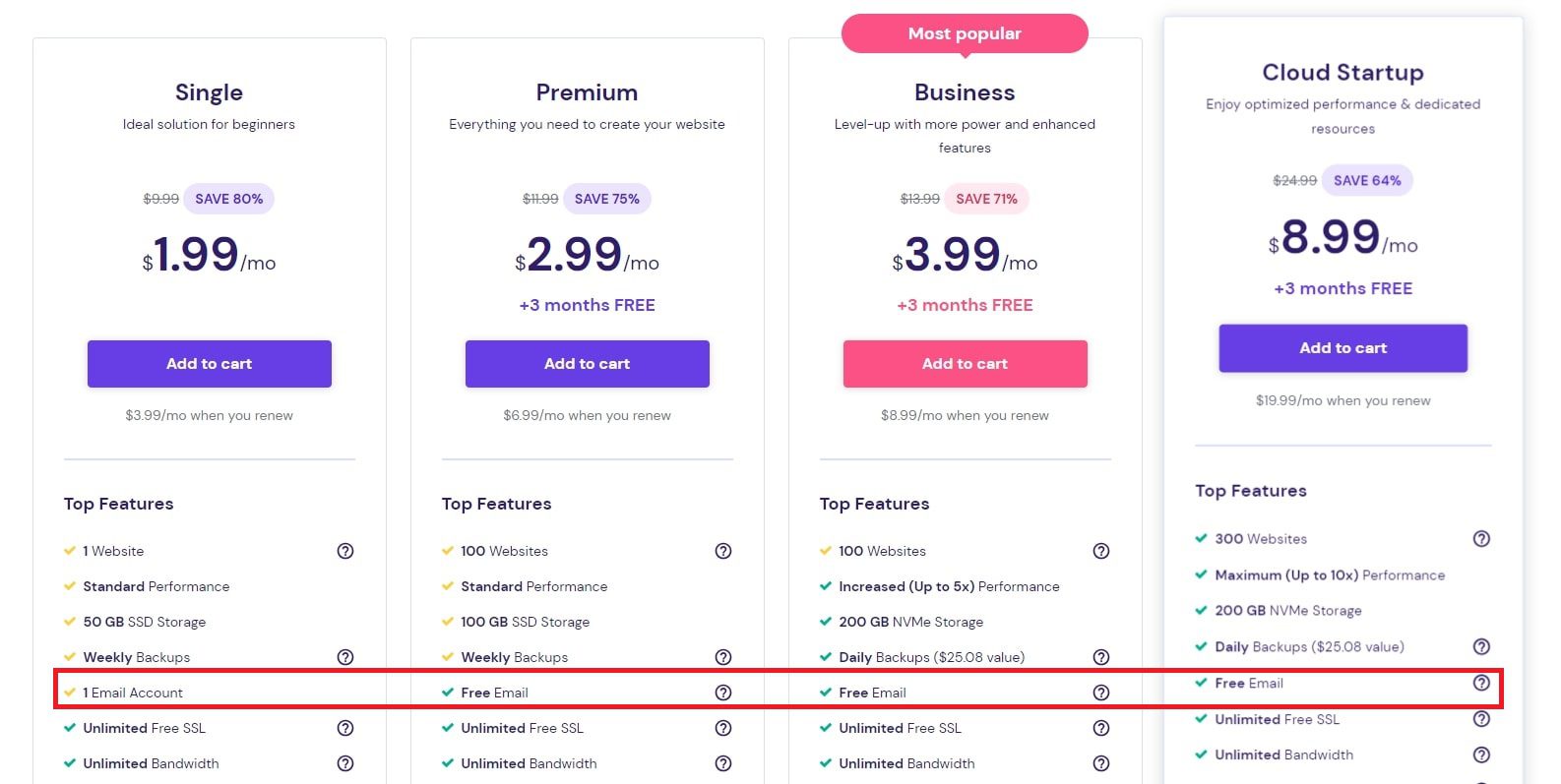 Choosing between WordPress and shared hosting will still depend on your specific needs. WordPress is best for larger websites and wants a more stable and faster website. On the other hand, shared hosting is an excellent option for beginners and low-traffic websites.
WordPress hosting might be the best option if you use WordPress and have a larger website with high-volume traffic. On the contrary, if you are starting or own a small business with a low-traffic website, then shared hosting can get the job done. Bluehost and Hostinger are excellent choices for this type of hosting. If you are still looking for other options that align with your needs, then you can also check these 10 best WordPress hosting options to consider in hosting your website.
Featured Image by Muqamba / shutterstock.com