Artificial intelligence (AI) can be a highly effective asset for translating your WordPress website. The AI language models that gave us ChatGPT (and its alternatives) and Google Translate are proving to be extremely useful for language translation more than ever before. You can use AI tools to translate your website content manually. Plus, WordPress translation plugins are using AI to make it easier for users to create accurate website translations and multilingual sites.
Whether you aim to translate your entire website or require help translating certain parts, this post will provide multiple options to translate your WordPress website using AI.
What is AI Translation?
AI translation employs artificial intelligence, most notably machine learning and natural language processing, to transform text or speech from one language to another. This technology is visible in numerous popular apps and programs such as Google Home, Duolingo, and Microsoft Translator. Gradually, AI is augmenting and occasionally even substituting human translation. A perfect example of this is Google Lens. It uses AI to harness your phone's camera and translate the text visible through your viewfinder. This provides a real-time and immersive translation experience.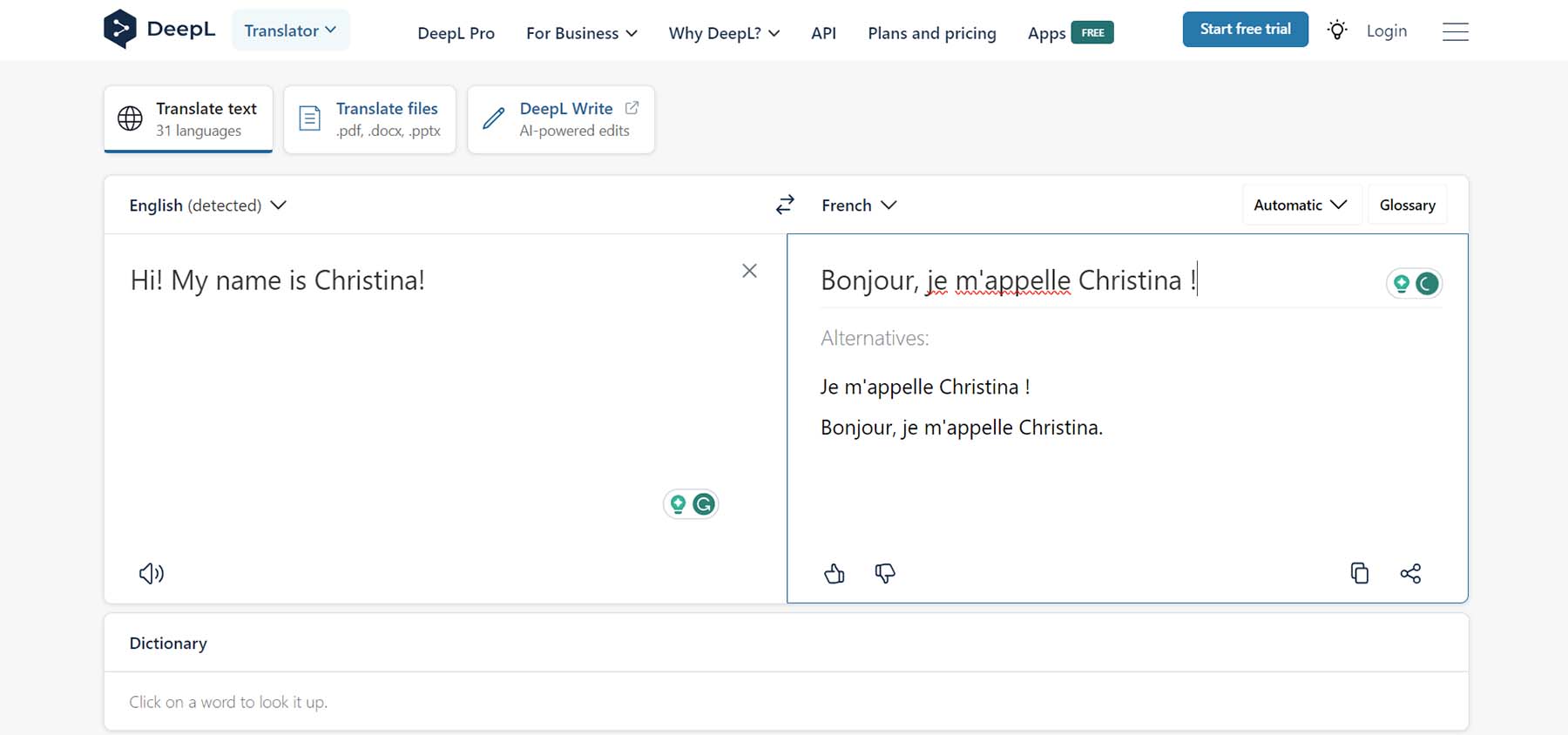 DeepL is a widely used AI translation platform. It gives you the ability to translate not only simple text strings but also multi-page documents. Although ChatGPT is primarily known for its chatbot capabilities, it also has the capacity to translate text using its robust AI.
AI Translation in WordPress

Subscribe To Our Youtube Channel
A key feature that makes WordPress stand out from its competitors is its use of flexible add-ons in the form of themes and plugins. In WordPress, using a plugin can bring additional functionality to your website. While out of the box, WordPress does not have translation capabilities, adding a translation plugin lets you build a website in almost any language you wish. More and more translation plugins are incorporating AI to improve and automate the translation process. Therefore, by adding a multilingual plugin powered by machine learning and strong language learning models, you can translate your WordPress website with much more efficiency and accuracy.
Benefits of Using AI to Translate Your WordPress Website
There are various compelling reasons to utilize AI to translate your WordPress website. One beneficial aspect is cost efficiency. Employing a human translator can indeed be a significant investment. On the other hand, AI can provide a satisfactory translation for different sections of your website, which is more cost-effective. Some additional advantages of using AI for your WordPress website translation are:
Speed and Efficiency: AI makes translating large portions of text in seconds possible. In contrast, a human translator typically requires a few days to complete the same task.
Consistency and scalability:  AI language tools can store commonly used phrases and slang. They ensure your AI aligns well with your communication style and brand identity. The newly established identity can then be consistently applied throughout your website. Consequently, this will allow your customers to comprehend your brand voice in their chosen language.
Use machine learning and AI enhancements:  AI constantly improves its abilities. When you use AI tools for website translation, you experience the latest developments in learning models and algorithms that transform text and voice. These advancements let you reap the benefits of cutting-edge technology. It makes your website more appealing to a wide, multilingual audience.
Readily Available: Using AI for your website eliminates the need for waiting on revisions or bouncing back and forth with a translator. This is particularly useful if your project is time-sensitive and requires fast content turnarounds. Leveraging AI for translations assures you meet your deadlines and receive timely translations.
Having observed the benefits of AI translations, let's explore how we can integrate AI translation tools and methods into our WordPress website.
How to Translate Your WordPress Website Manually with ChatGPT
If you are looking for a simple way to translate your WordPress website with AI manually, there are AI tools that can help. This would involve a more hands-on approach than using a multisite plugin or other translation plugins that automatically translate all of your content. However, this manual approach can be beneficial for certain websites that don't need a full multisite solution and are looking to offer a few alternative translations to their content.
Using ChatGPT to Translate Your WordPress Website Content
This guide will show you how to translate your site's content using the popular AI chatbot ChatGPT. Ensure your website content is easily accessible. Here's how our page looks in the Block Editor before translation: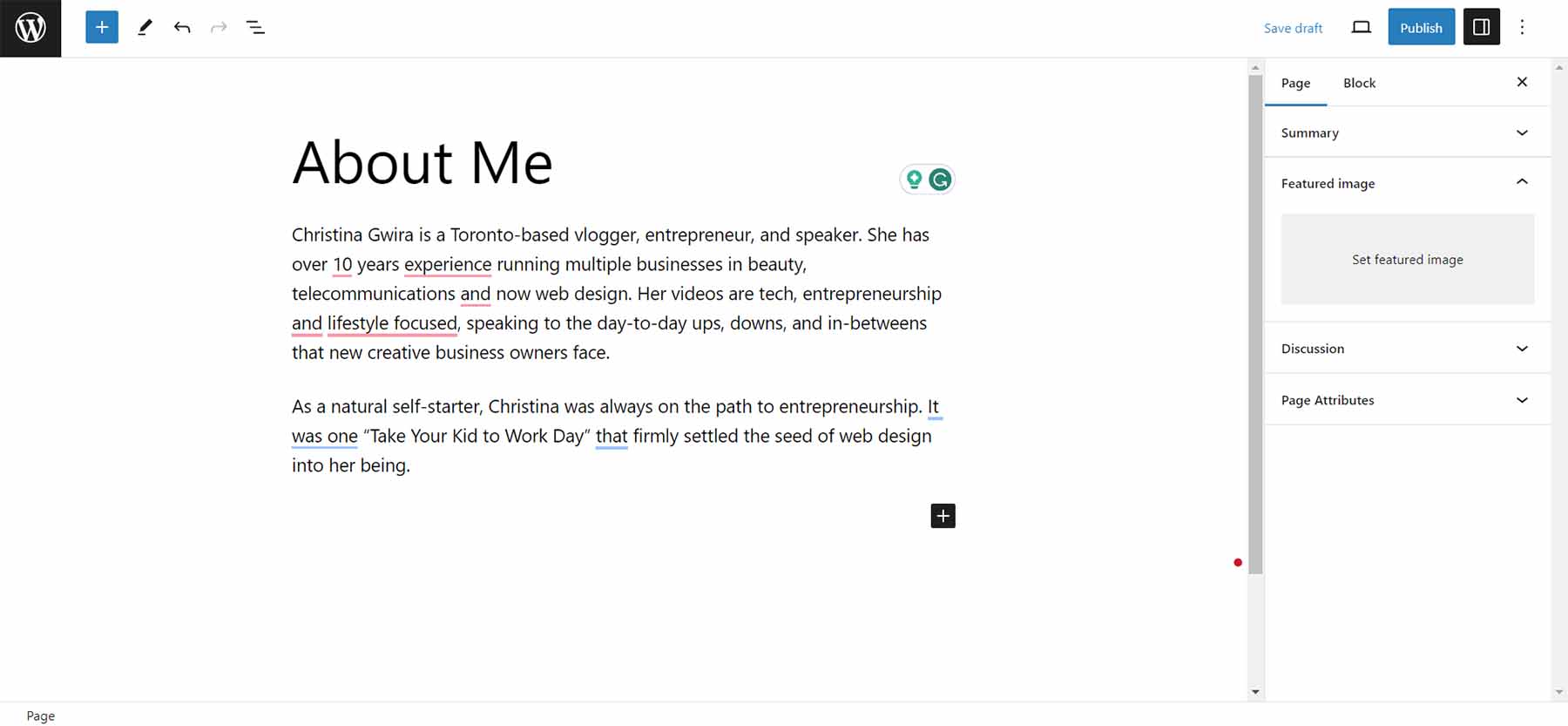 We'll be working through translating a biography page of a website. First, open up ChatGPT. After doing so, enter a command to translate your copy from one language to another.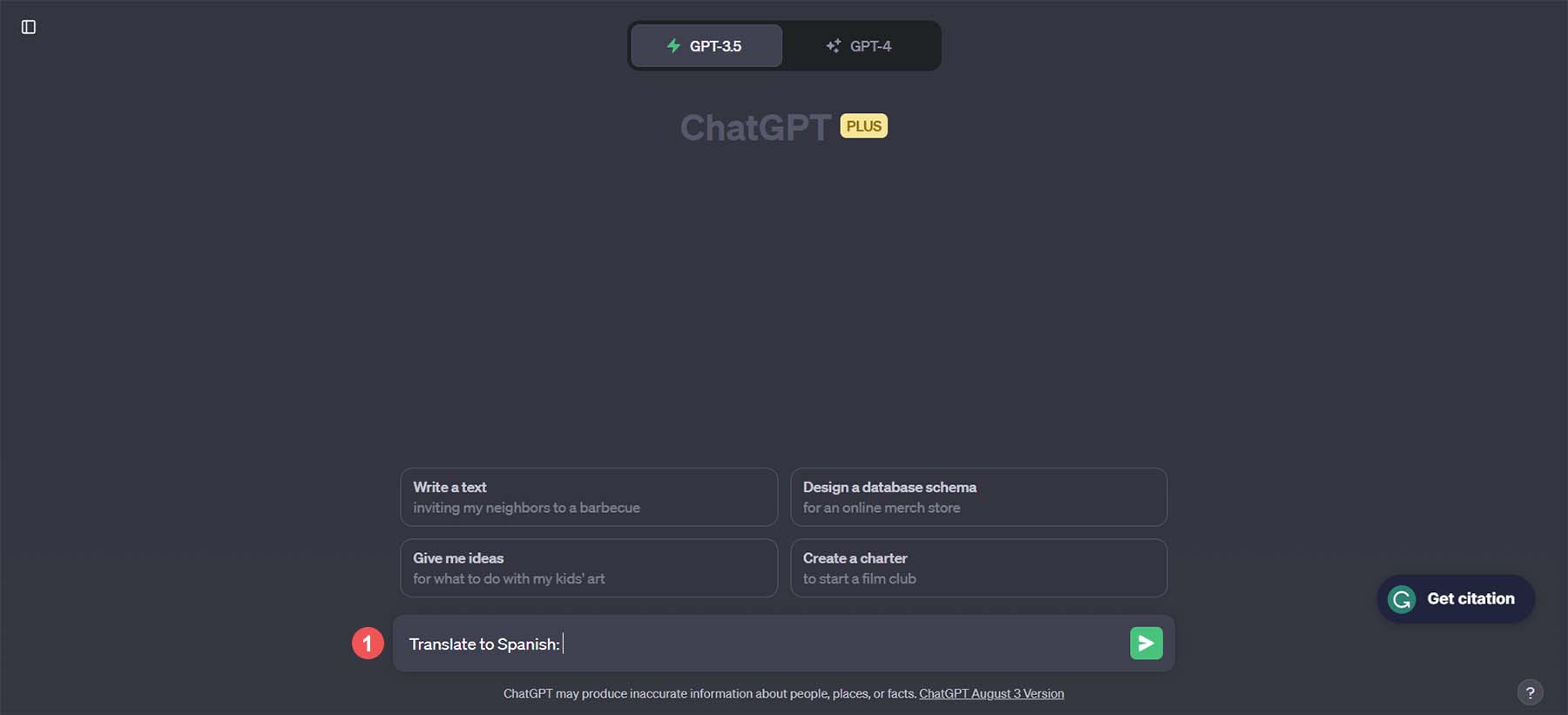 Here, we're going to translate the about me section into Spanish. Enter the command into ChatGPT: Translate to Spanish. Then, paste in your content. Next, click the arrow button to have your copy translated.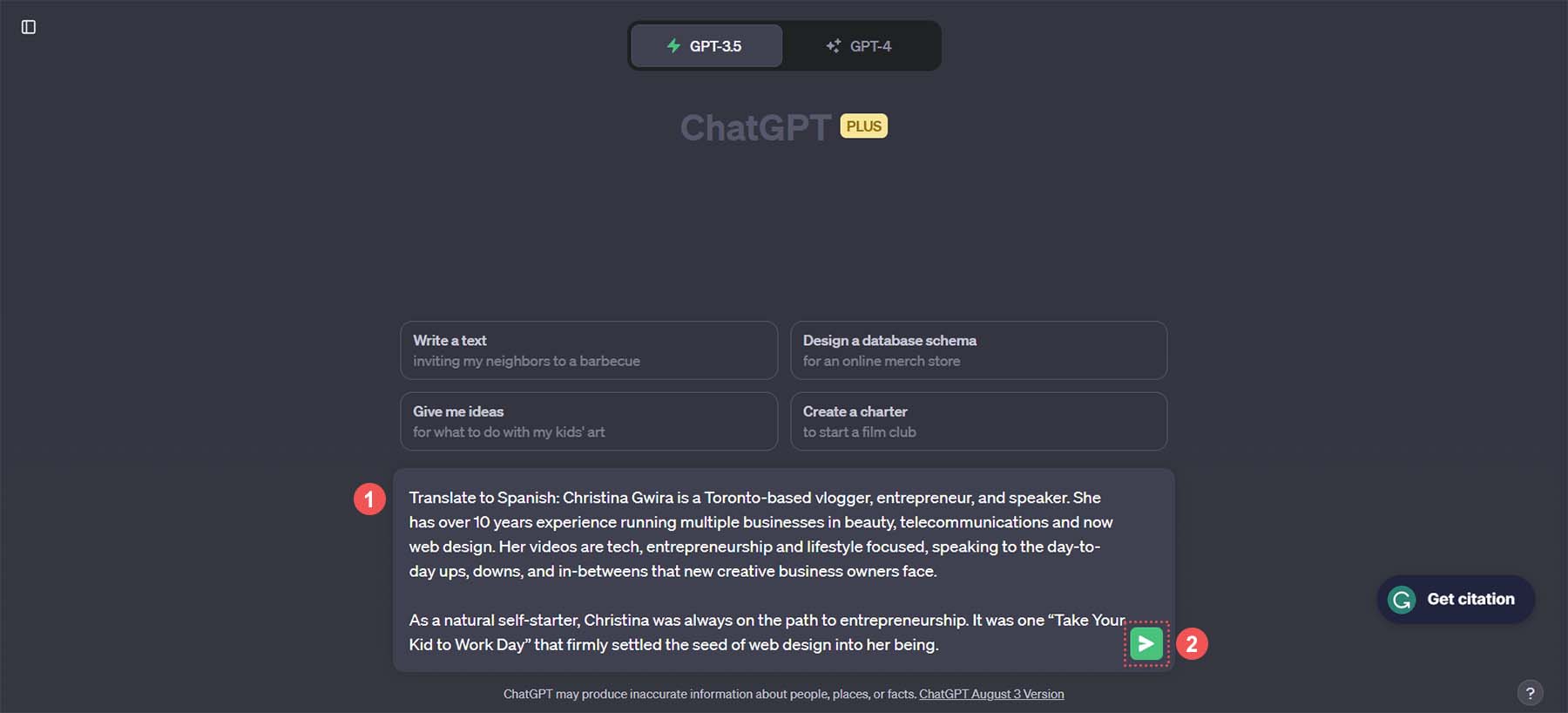 Now, watch ChatGPT use AI to translate your copy: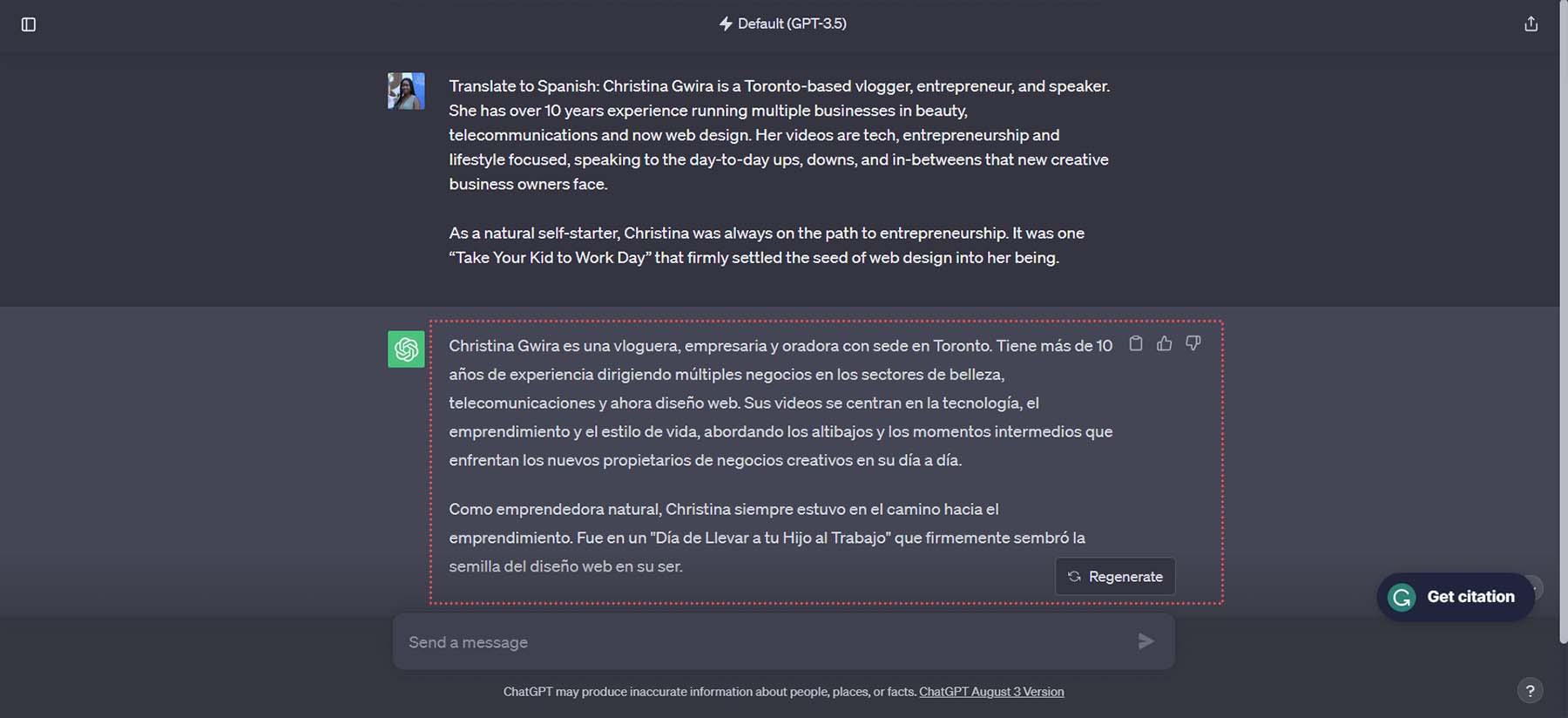 We have our copy translated into a different language in a few seconds. We then copy and paste this content from ChatGPT and put it back into the Block Editor.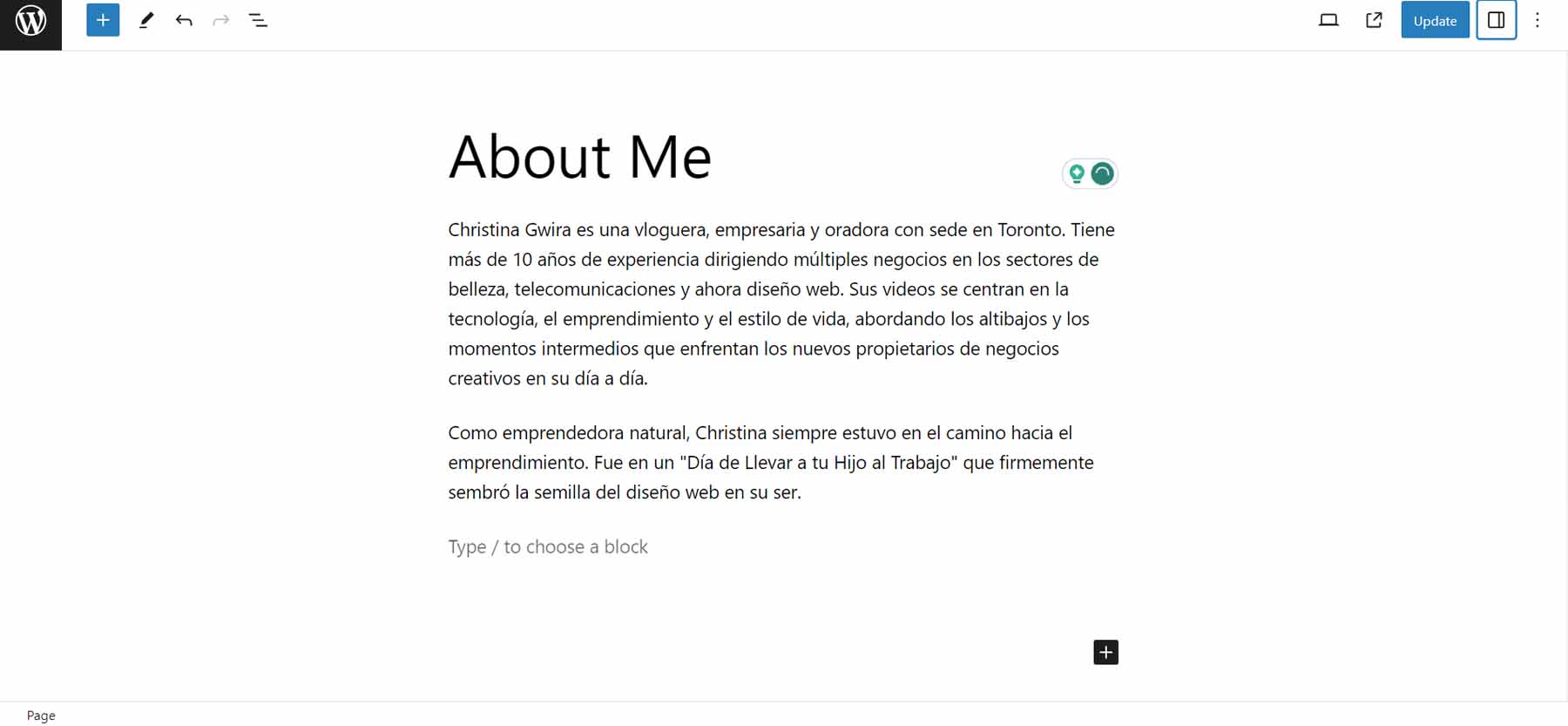 Let's also do this for the page and menu title. Again, we enter a command to ChatGPT to translate our page title: Translate About Me to Spanish.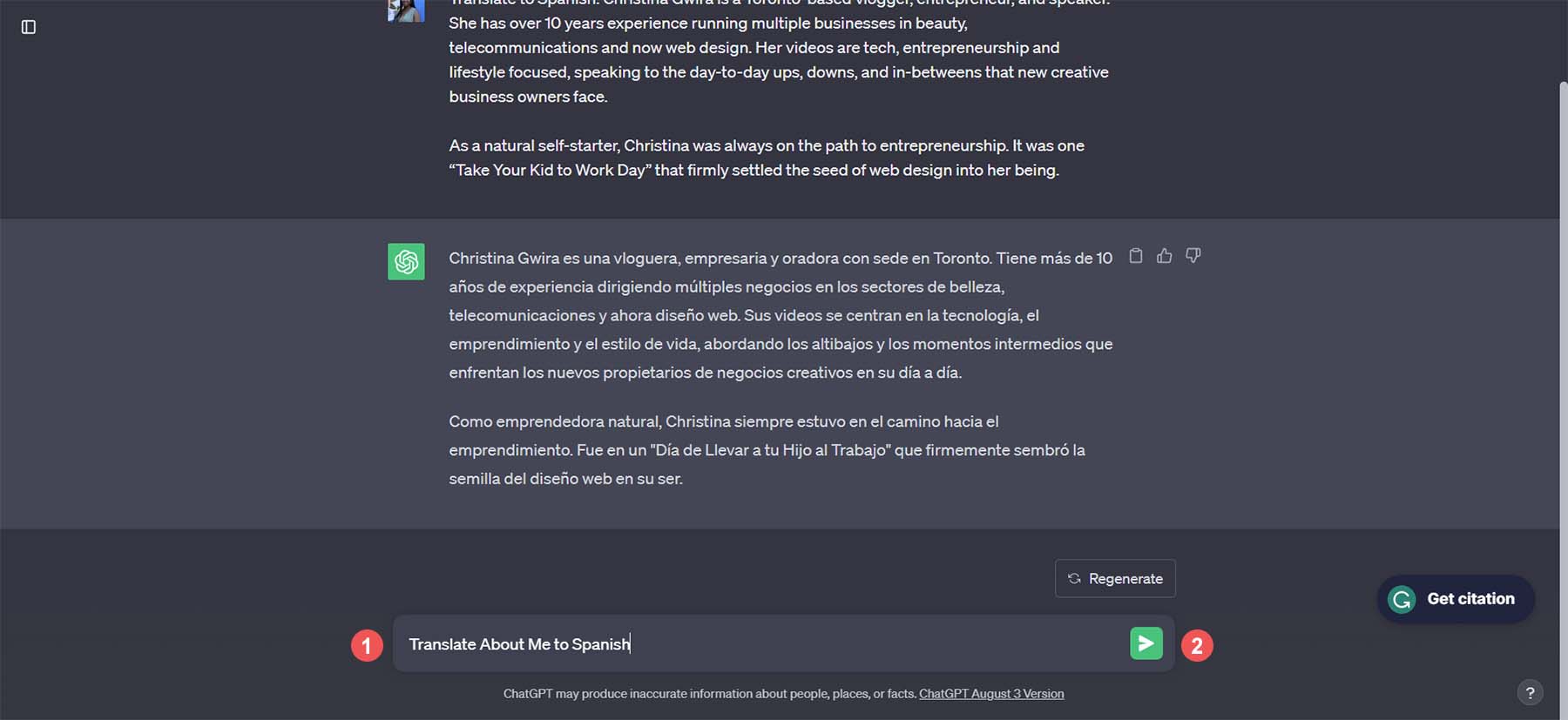 We can now use this translated string for our menu and our page title in WordPress: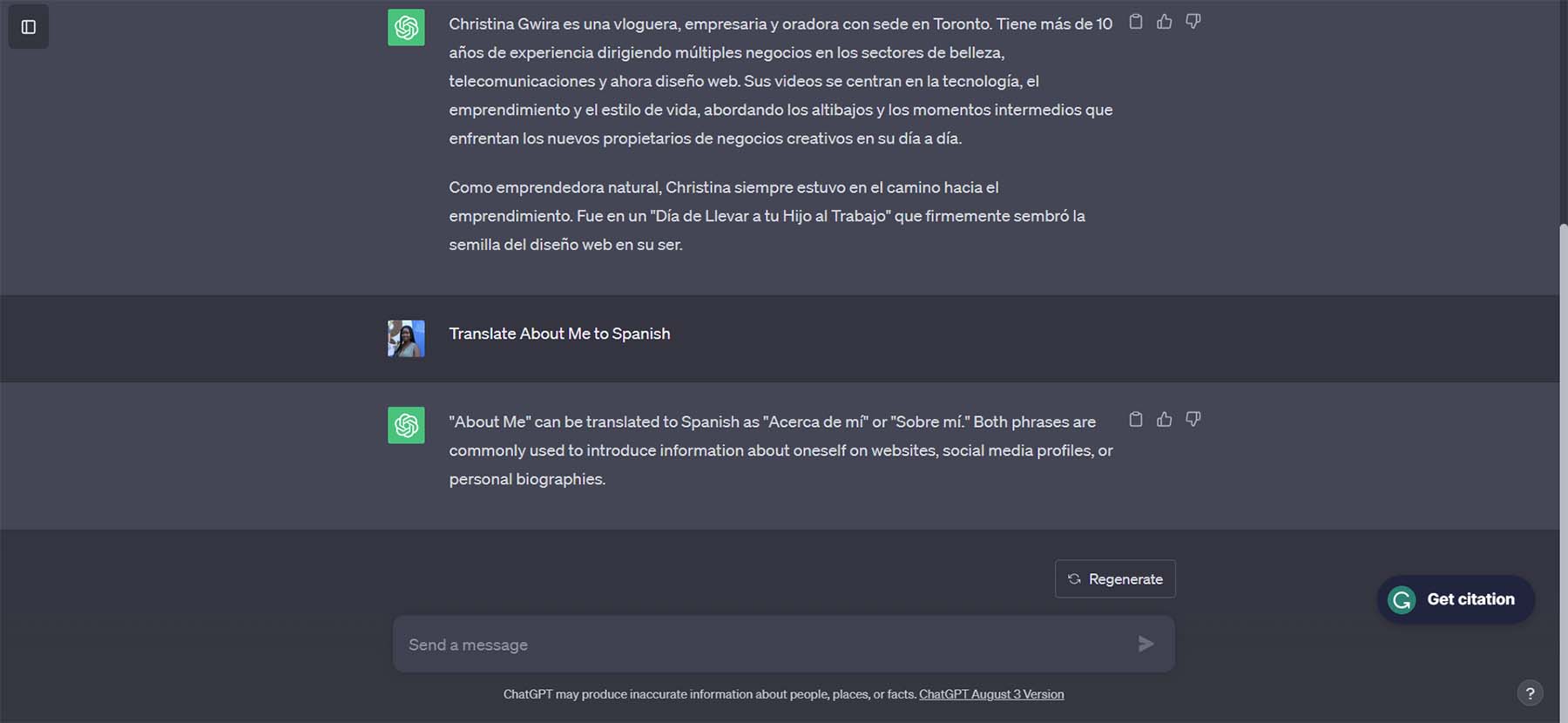 ChatGPT even goes ahead and provides us with various options for our translation and explains the use of each. Now, we can copy and paste these translations into our WordPress website.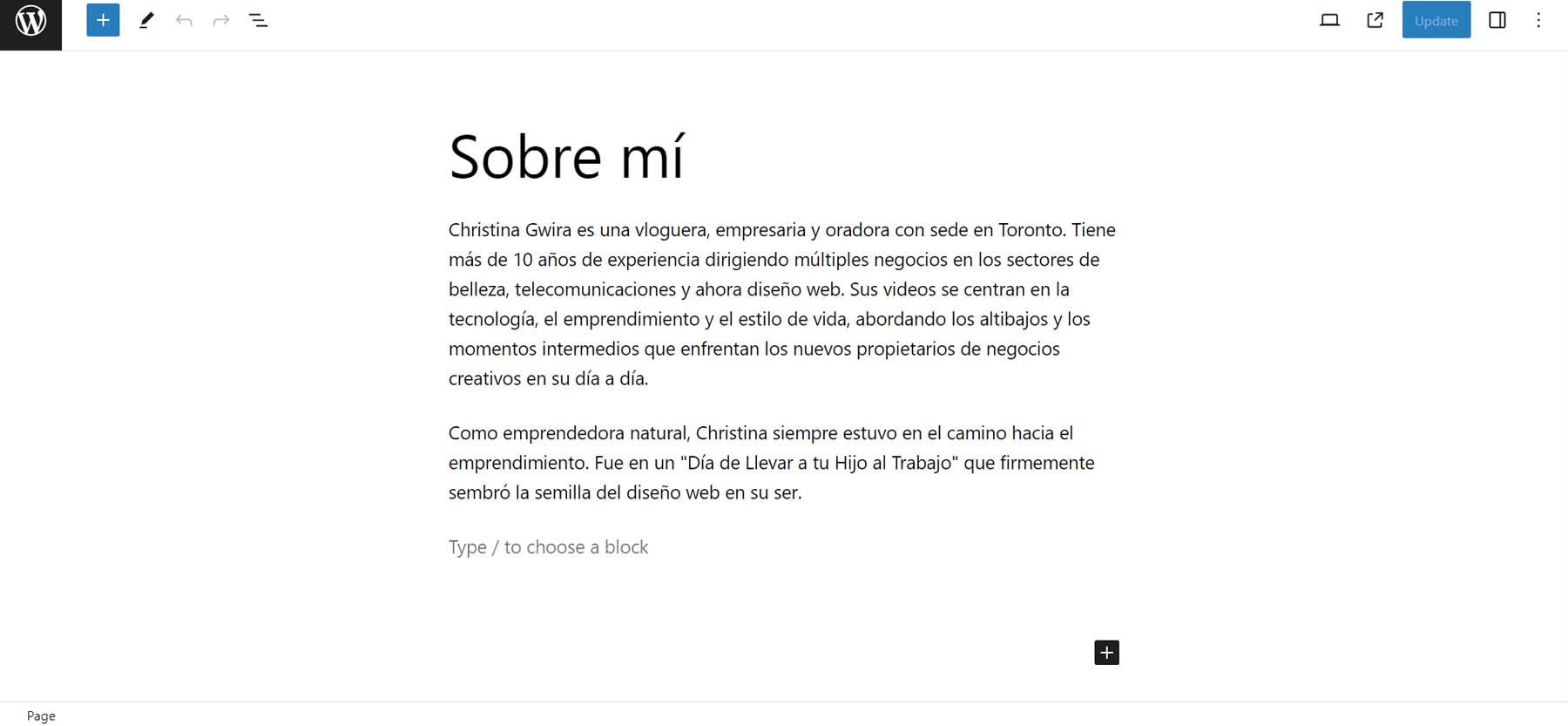 We've copied and pasted our page title, menu title, as well as our page's content. While this was a quick way to translate our content in WordPress, we can become more efficient with better tools in our process. One such AI translation tool is Divi AI.
Using Divi AI to Translate Your WordPress Website Content
In our previous example, we used ChatGPT to translate a page from our WordPress website. However, we would still need to design our page and style the content we brought from ChatGPT. When you switch between sites to copy and paste content, errors are more likely. This is where Divi AI comes in. Divi AI empowers you to design, create, and translate content using one straightforward interface – the Divi Builder.
What is Divi AI?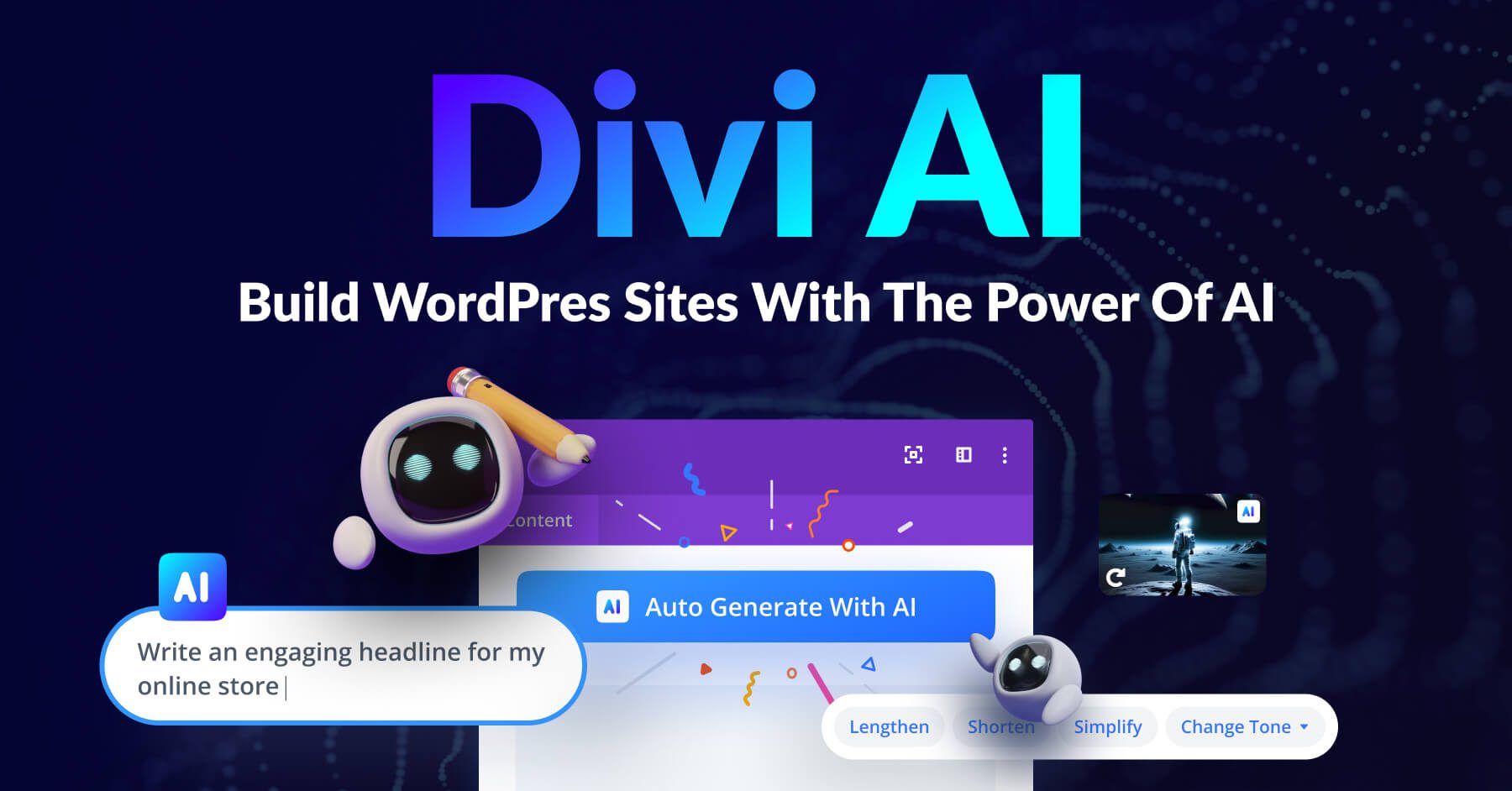 Divi AI is integrated into Divi, our powerful WordPress Theme and page builder plugin. It works as an AI assistant for web design, allowing users to generate AI images and text content on the fly within the context of your page. One of the standout features of Divi AI's text generator is translation. With support for over 20 languages, it enables you to translate your pages, posts, and custom types at the click of a button. Instead of using external AI translation tools like ChatGPT, Jasper AI, or Writesonic, Divi AI streamlines the process, saving you from the hassle of juggling between applications.
ChatGPT vs. Divi AI
ChatGPT offers free access to Open AI models GTP 3.5 and GPT-4 for premium users. Divi AI uses the GPT-4 model out of the box, which is a significant improvement over the free GPT-3.5 version, primarily due to its access to current data and improved multilingual capabilities. However, the primary difference between ChatGPT and Divi AI is native WordPress functionality. In WordPress, Divi and Divi AI allow you to translate content in the same environment where you write and design. This promotes a smoother workflow for website construction.
Getting Started with Divi AI
To begin translating your WordPress website with Divi AI, you must join the Divi family first!
You can enjoy a free trial of Divi AI when you sign up for a Divi membership. You can choose the yearly option or the lifetime access to get access to Divi. To enjoy unlimited use of Divi AI, you should have an additional Divi membership subscription.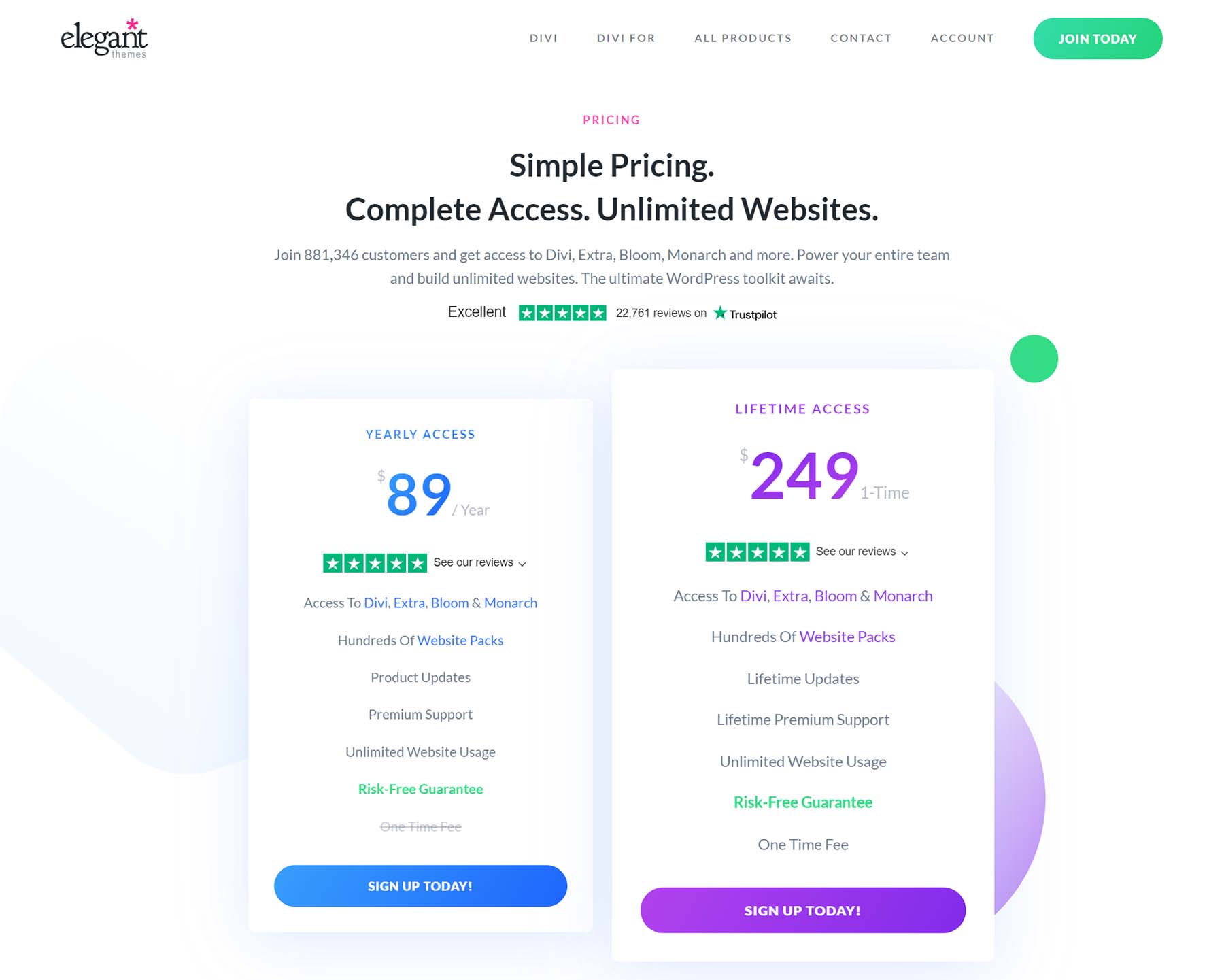 Once your account has been created, you can download and install Divi on your WordPress website. Download and install the Divi Builder plugin from your Divi membership portal if you want to use Divi AI with another WordPress theme. No extra steps are needed to activate Divi AI once the builder or theme is installed and activated. Now, you can begin with the design and translation of your website.
It is important to note that Divi AI is most effective with a Divi website or any WordPress theme that utilizes the Divi Builder for building its pages and posts. If you have an existing website and desire to employ Divi AI for translation, ensure that all areas you want to be translated use the Divi Builder. We delve deeper into this topic in our section, Translating Other Website Elements throughout Your Website with Divi AI.
Let's begin this tutorial with the Event Coordinator Services Layout from the Divi Layout Library. To install this layout and preview other available layouts, visit the Event Coordinator Divi Design Initiative post.
Translating Your Page Content with Divi AI
Divi AI is accessible wherever text or images can be inserted within the Divi Builder. Any Divi element, such as sections, rows, columns, or any Divi Module that allows for text inputs or image uploads, can use Divi AI. To activate the Divi AI generator, hover over an input box and select the Divi AI button in the top right corner of the input box. We'll show you how to do that in our walkthrough down below.
After you've installed your layout, we can begin translating the modules on our page. We will start with the first two titles within our title section.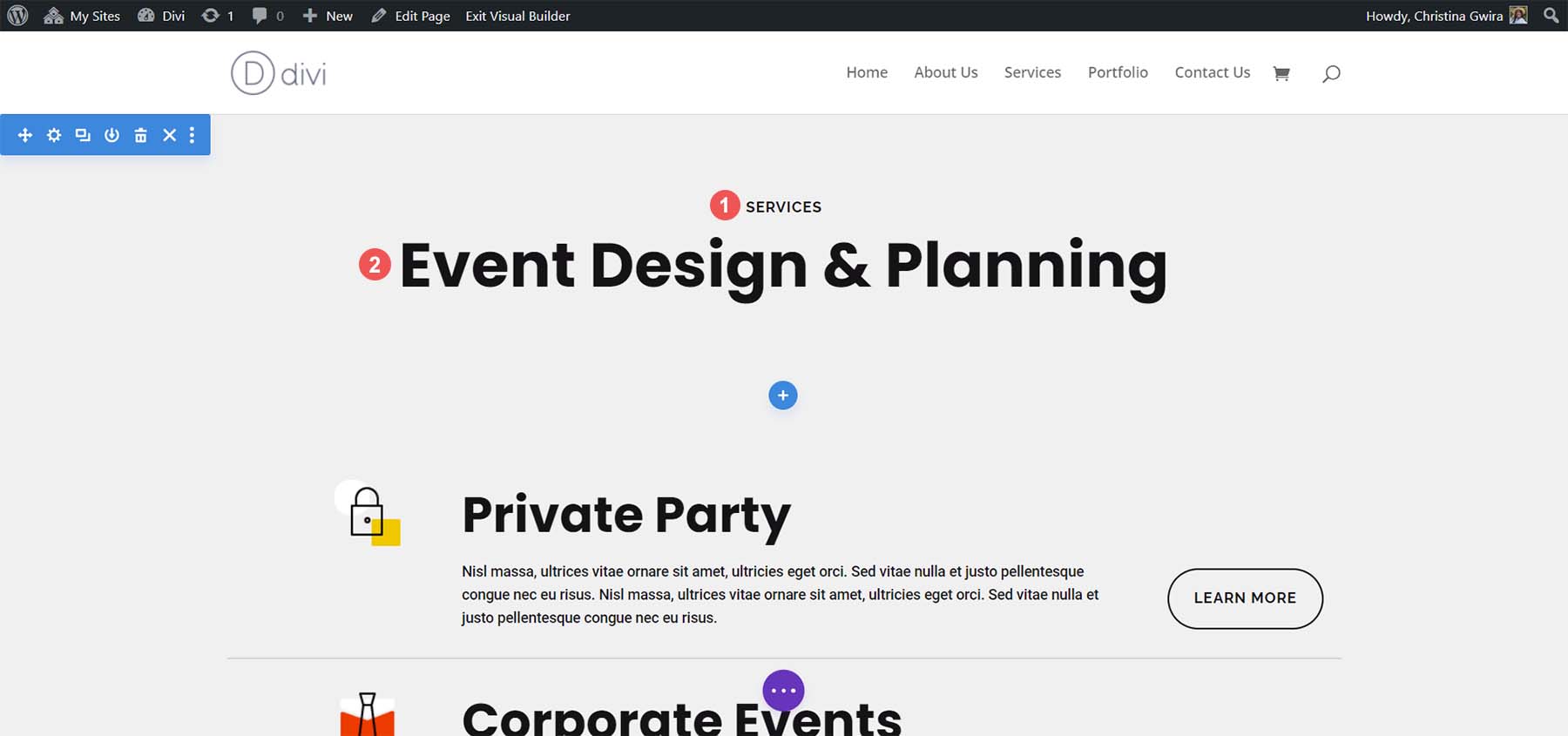 Right-click on the main title's Text Module. Then, click the gear icon to open the module's settings.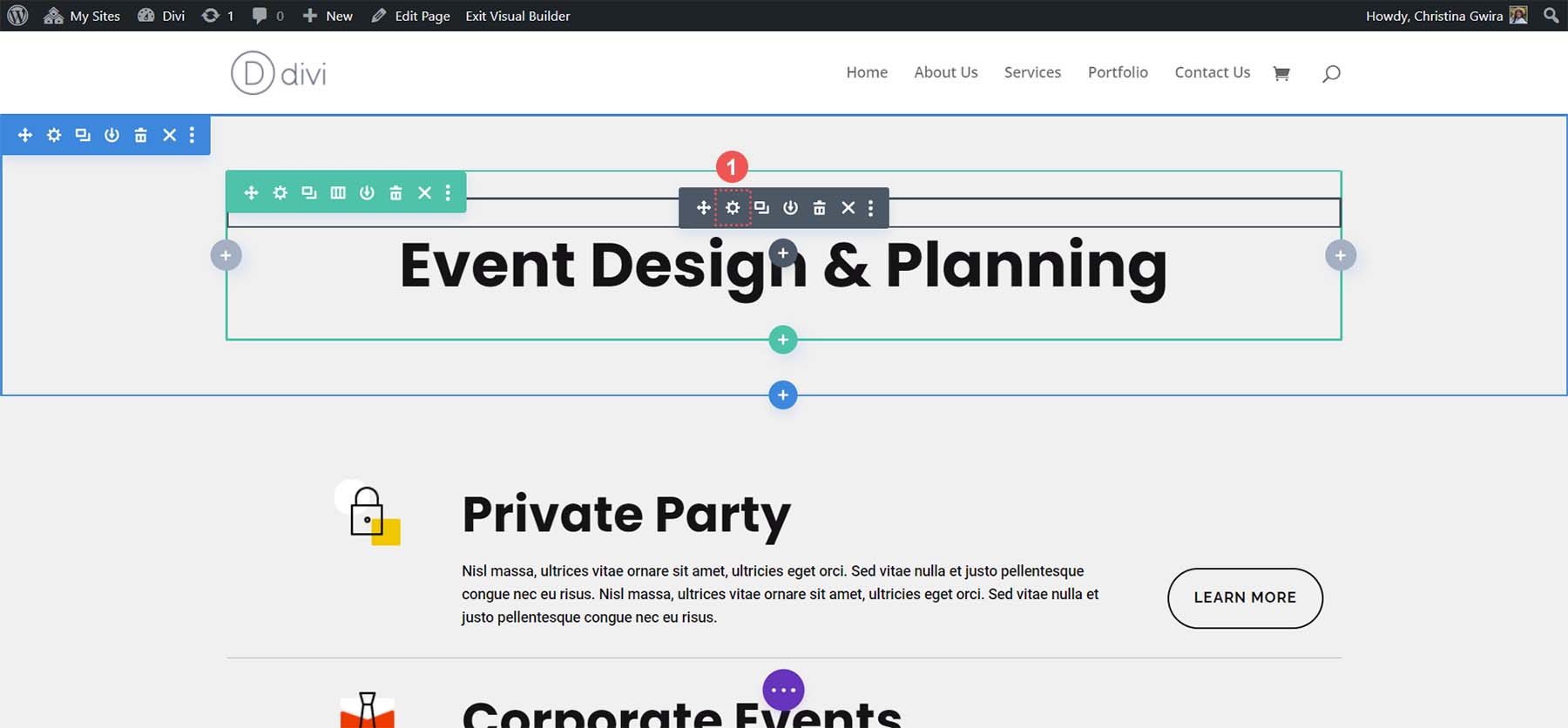 Then, click on the Divi AI button to initialize Divi's powerful AI tool. Following that, click the Translate menu option. From there, you can search for the language of your choice or scroll through the 20+ options available.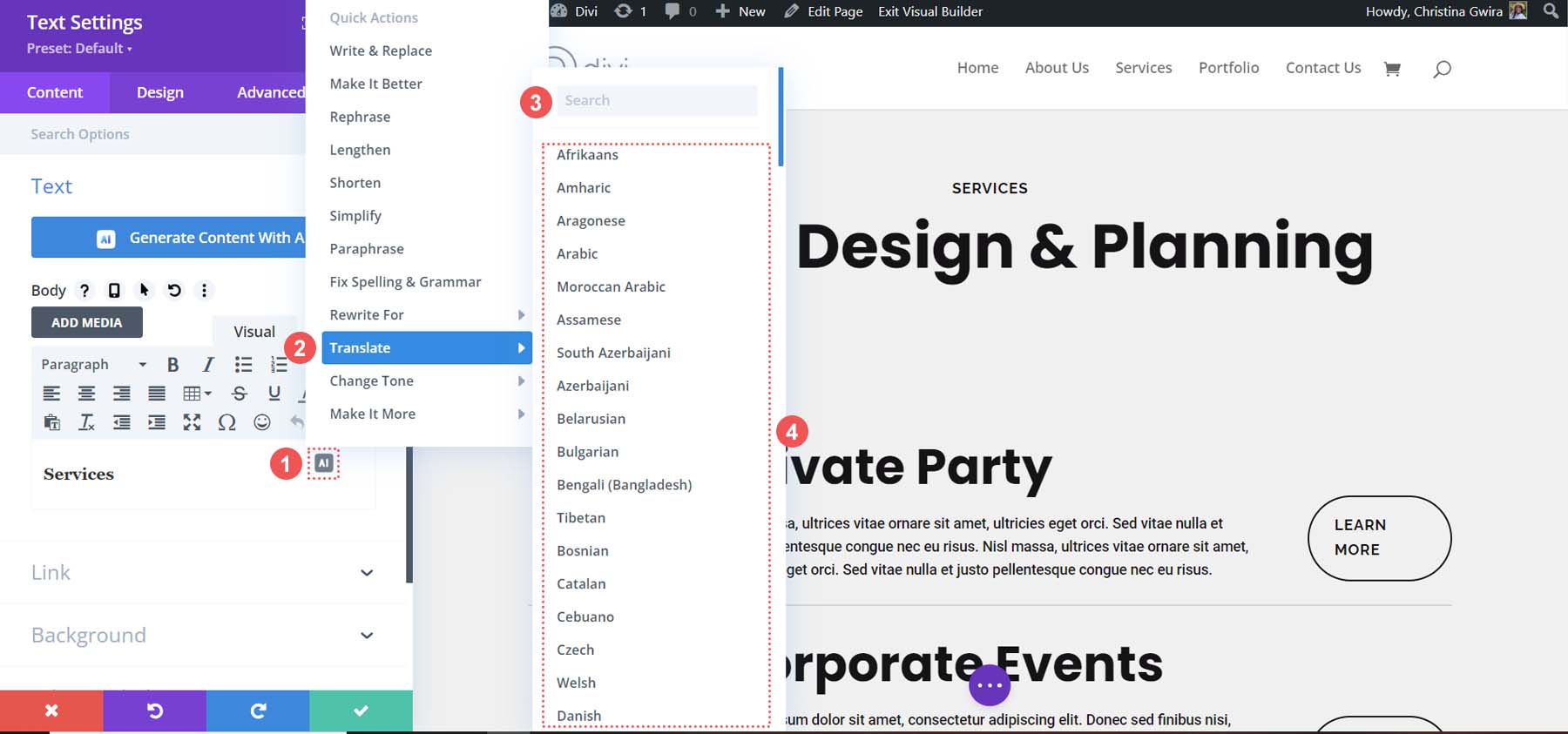 Once you've chosen your language, Divi AI will work quickly to translate your text into your language of choice: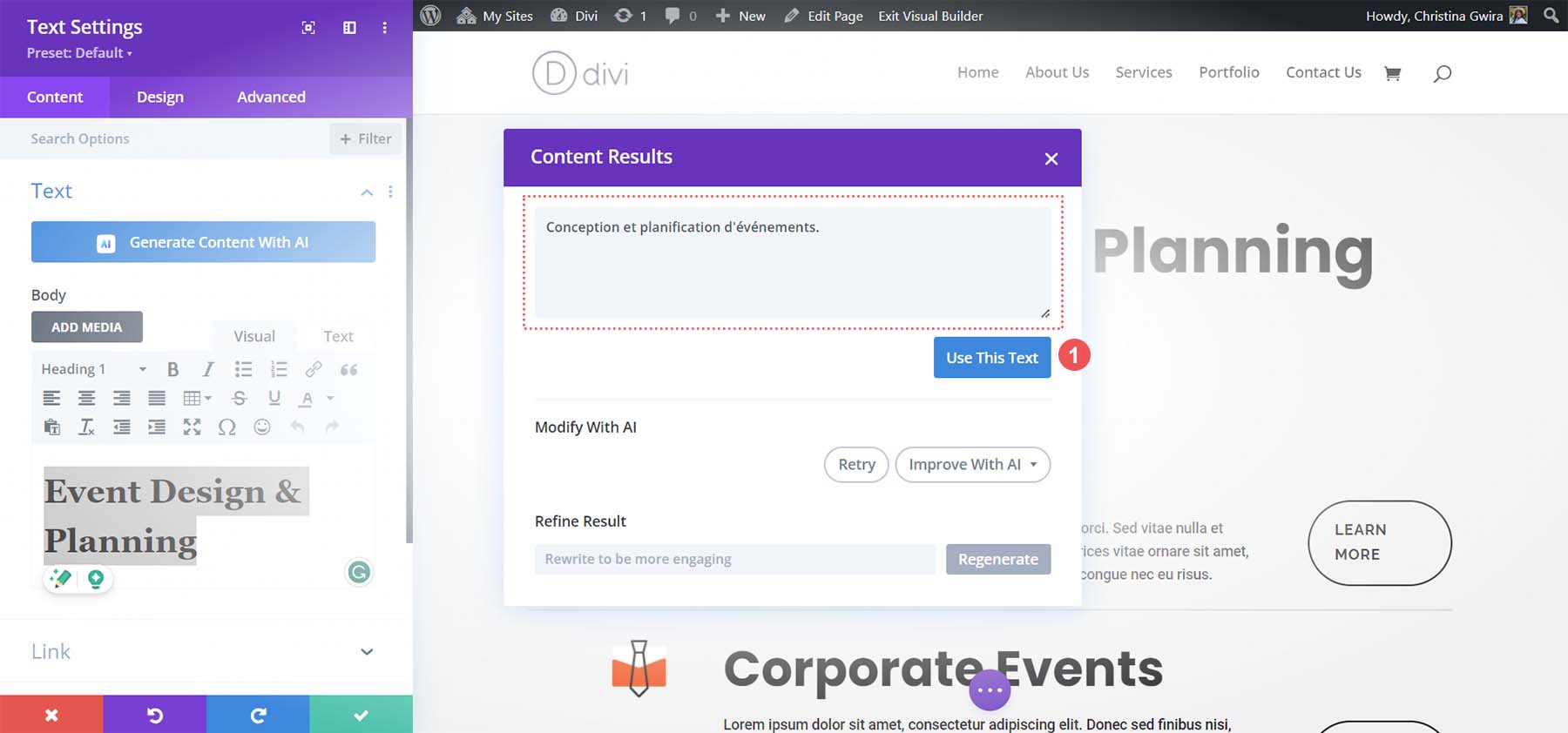 Once your text has been translated, click the blue Use This Text button to enter your new translation directly into your design!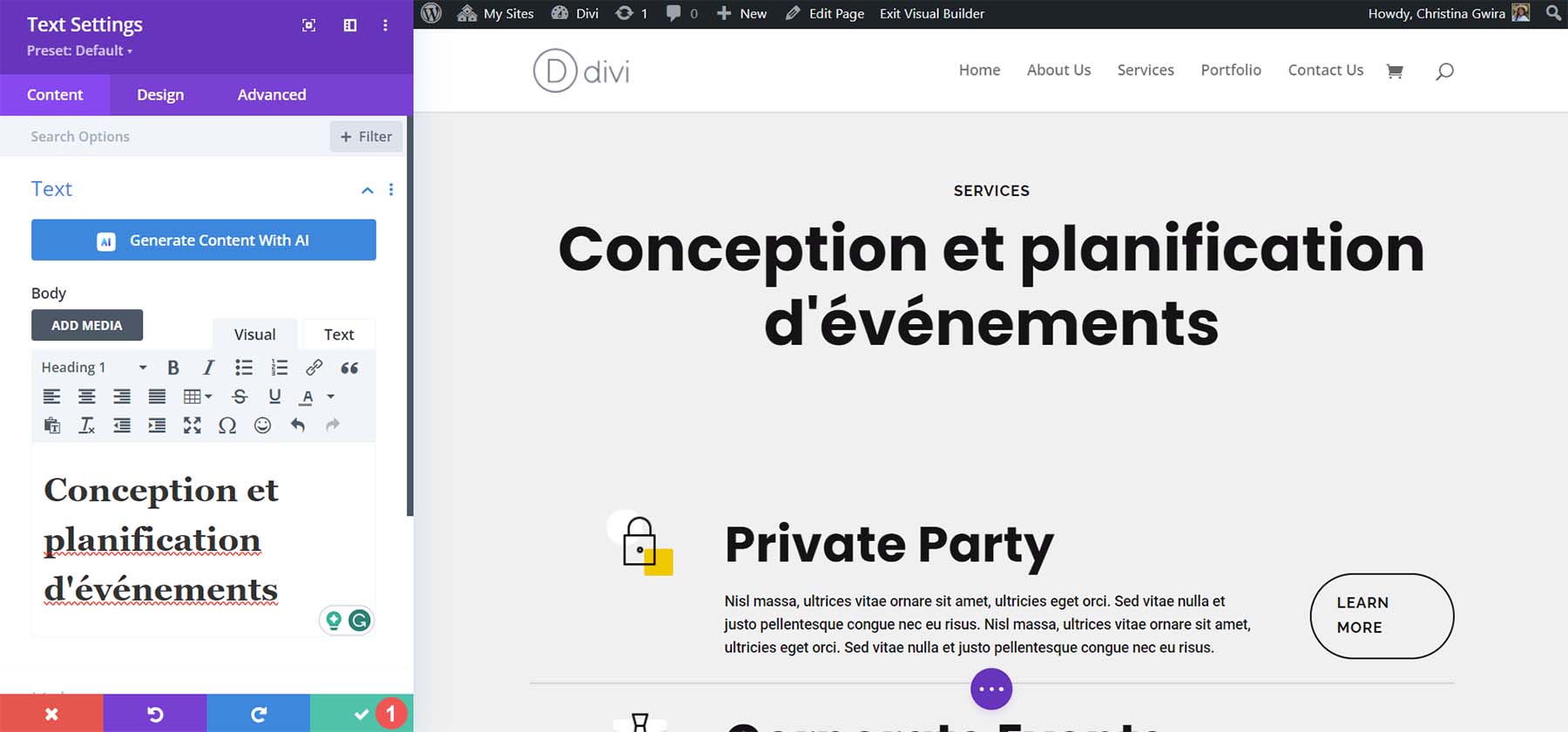 Divi AI could take our title, translate it, and insert it back into our page design without us leaving the Divi Builder or the WordPress backend. We can continue to translate the other titles on our page in the same easy and efficient method: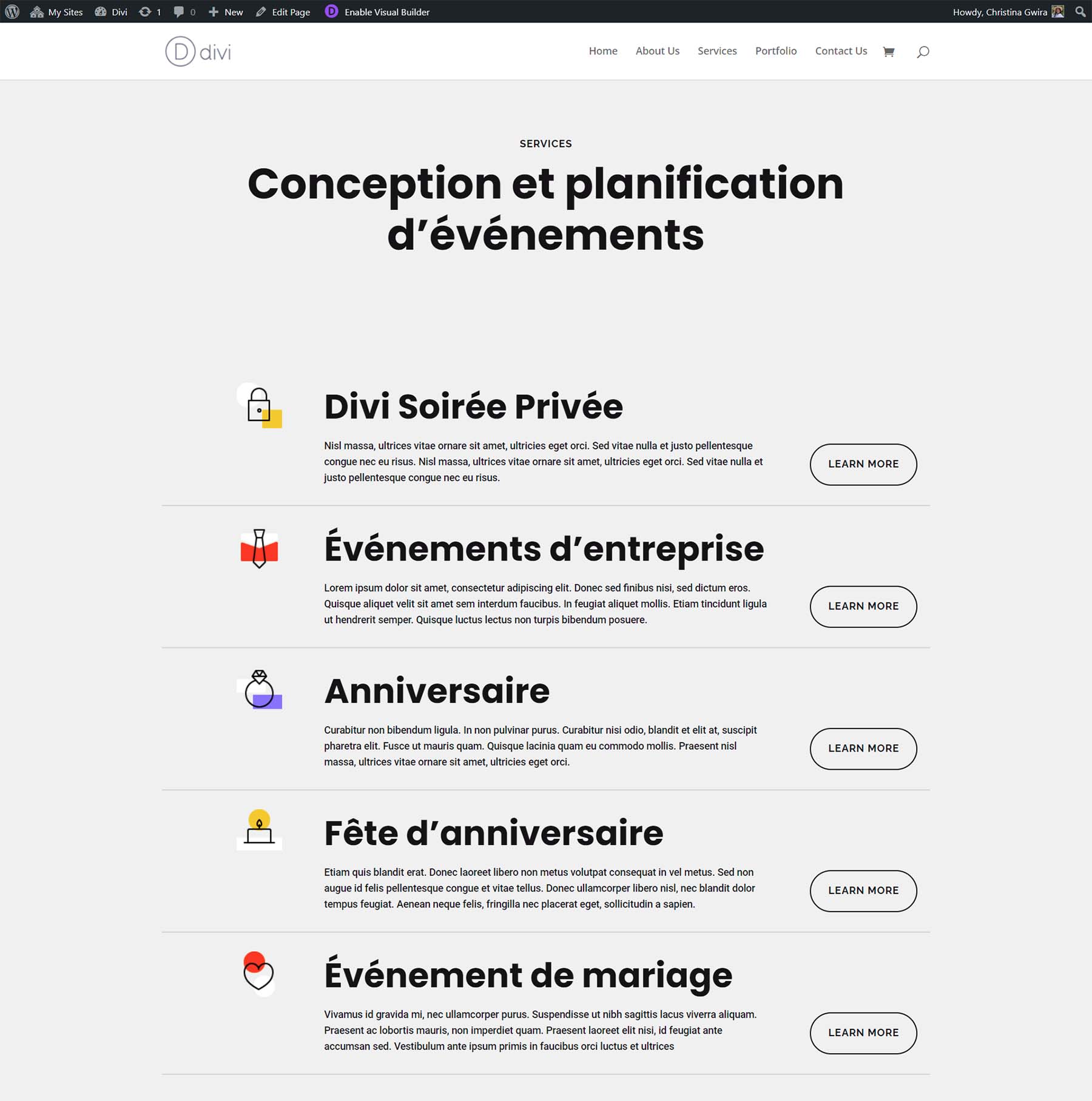 Divi AI translated all these titles in a few seconds. Notice how the styling of each module was preserved? There was no need to copy and paste or import translations from Google Docs or some other interface. Our translation and styling were done from one place: the powerful Divi Builder. Now that we've seen what Divi AI can do with titles let's create some text and even translate some call-to-actions.
Translating Your Body Text Modules with Divi AI
It's best to optimize and modify your AI-generated content in Divi AI before translating it. To start translating our body copy with Divi AI, as before, click the Divi AI icon. Then, click Translate. Finally, search for or select your language of choice.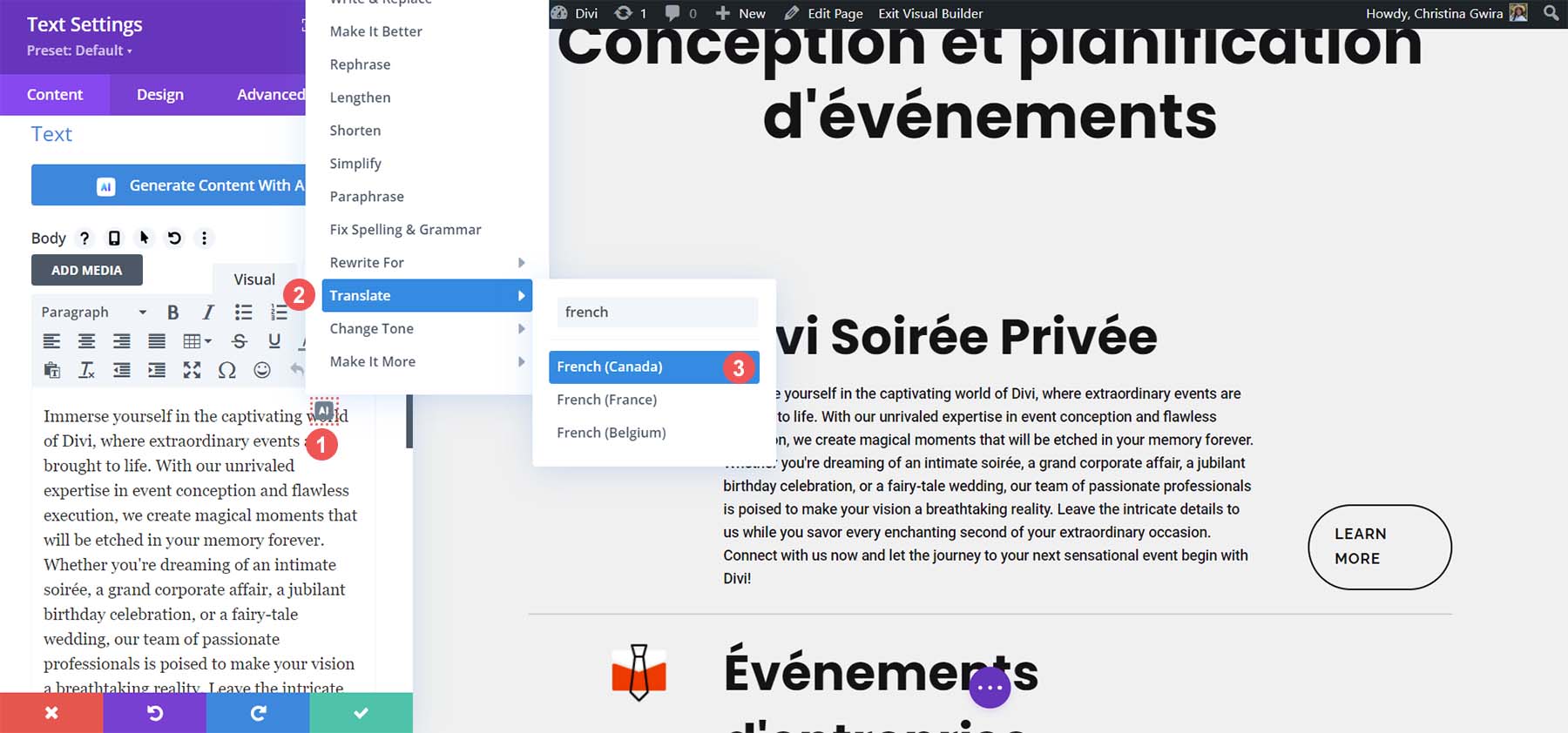 This is what Divi AI was able to do with our copy:
Divi AI effectively streamlines and converts our text into our chosen language. With Divi, there's no need for another AI translation tool to translate your website's content! So, let's move forward with translating and generating content for the remaining sections of our page.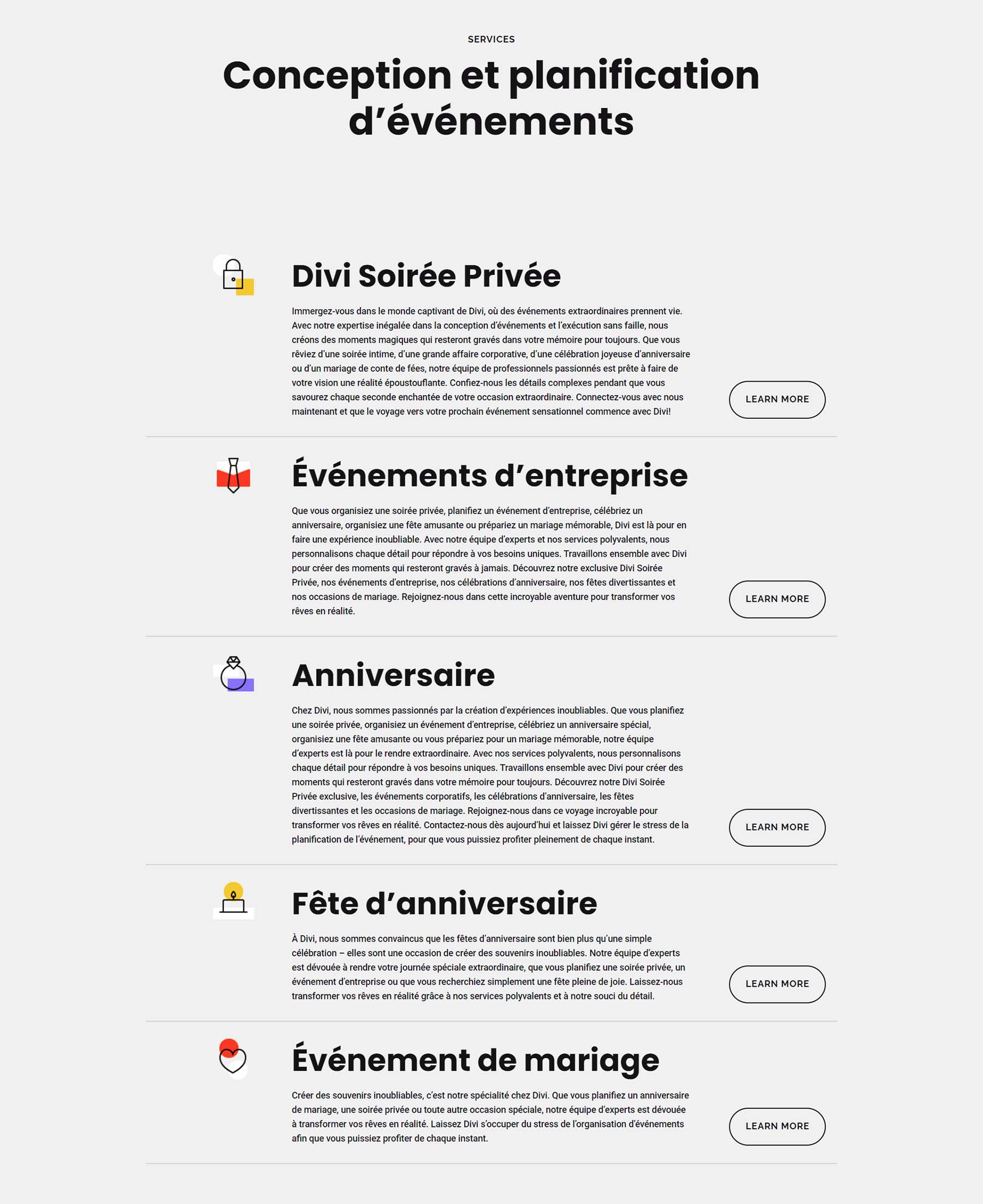 Each service has undergone translation, and we have also translated the body text of each service using Divi AI.
Divi AI translation works within all Divi Modules that support text content. Basically, any text in any module can be translated. For a quick example, we'll demonstrate how to translate the text on Divi's Button Module. To begin, click on the gear icon for the first Button Module on our page.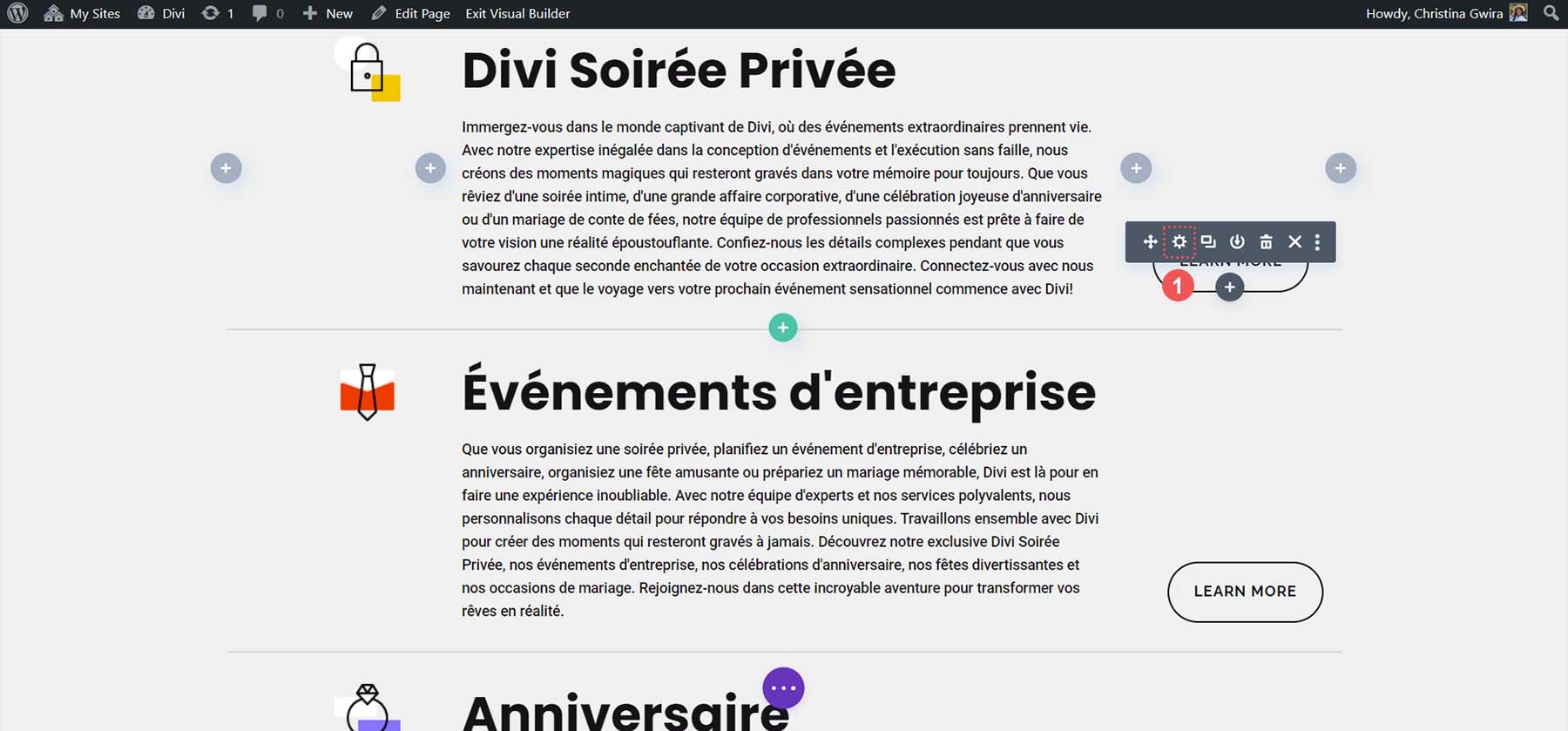 Next, click the Divi AI icon.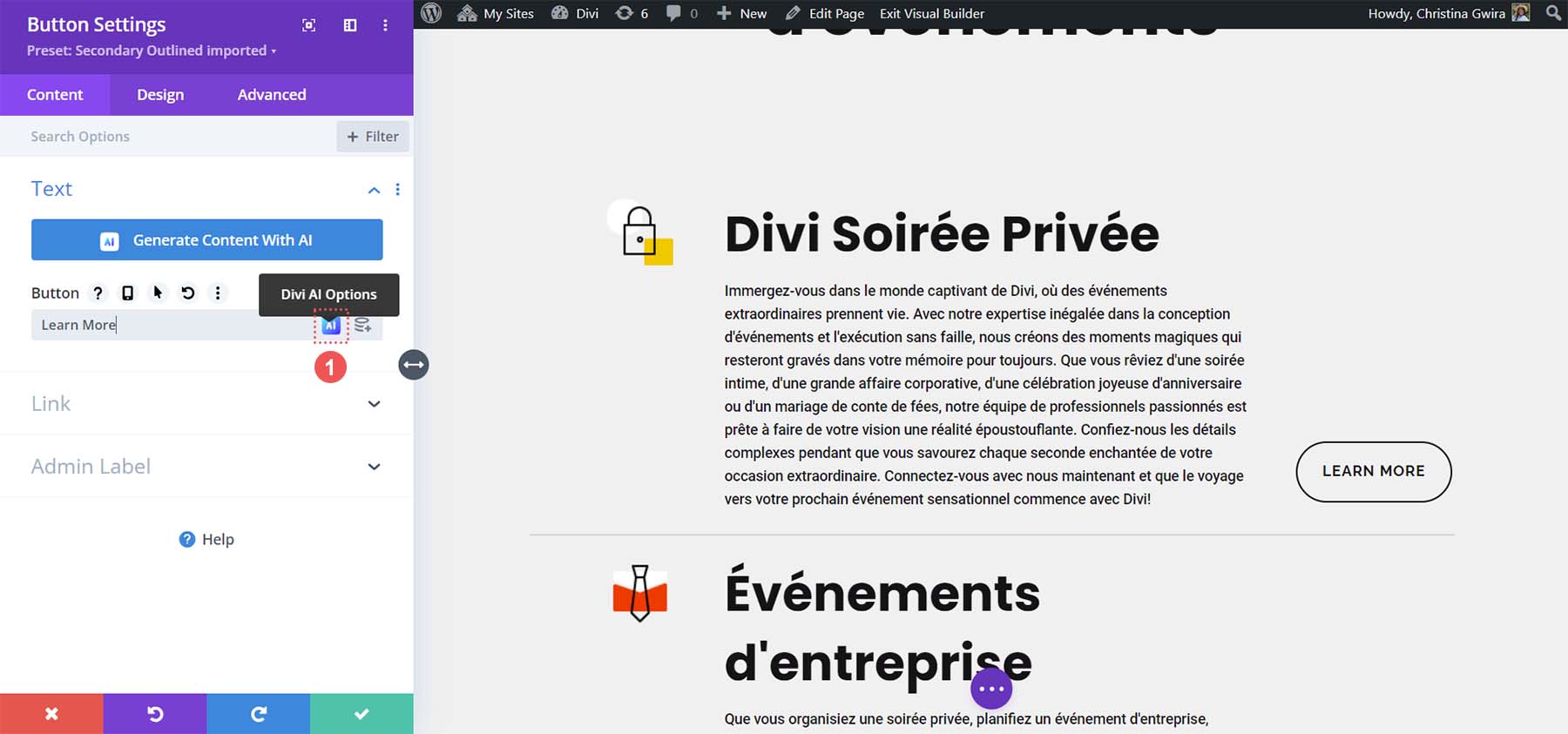 Then, click the Improve with AI button. Now, click Translate and search or select your language of choice.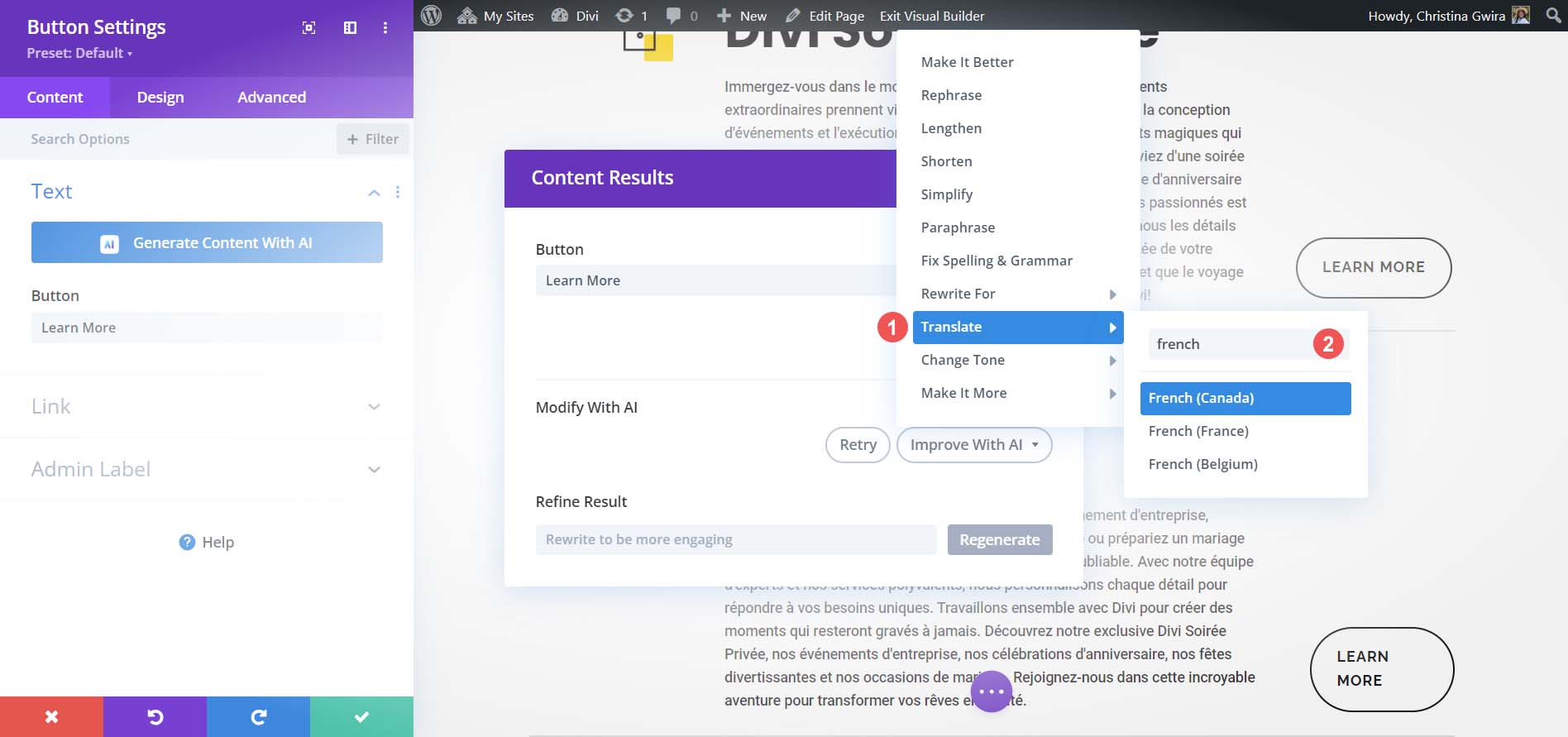 Almost instantaneously, Divi AI provides you with your button text translated. If you want to make your text more creative or add some edits, it's best to do this with Divi AI before translating it.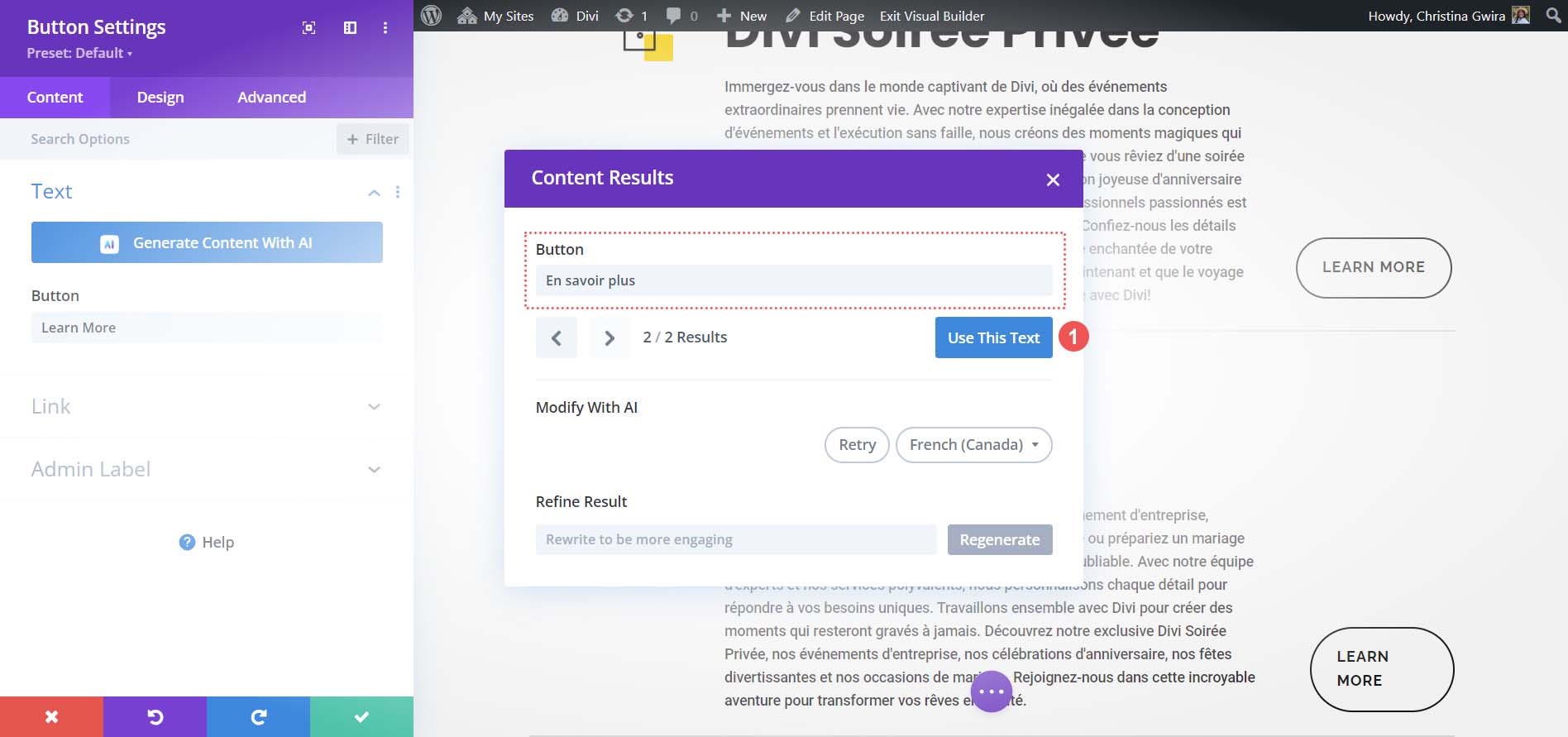 Once your button text has been translated, click the blue Use This Text button.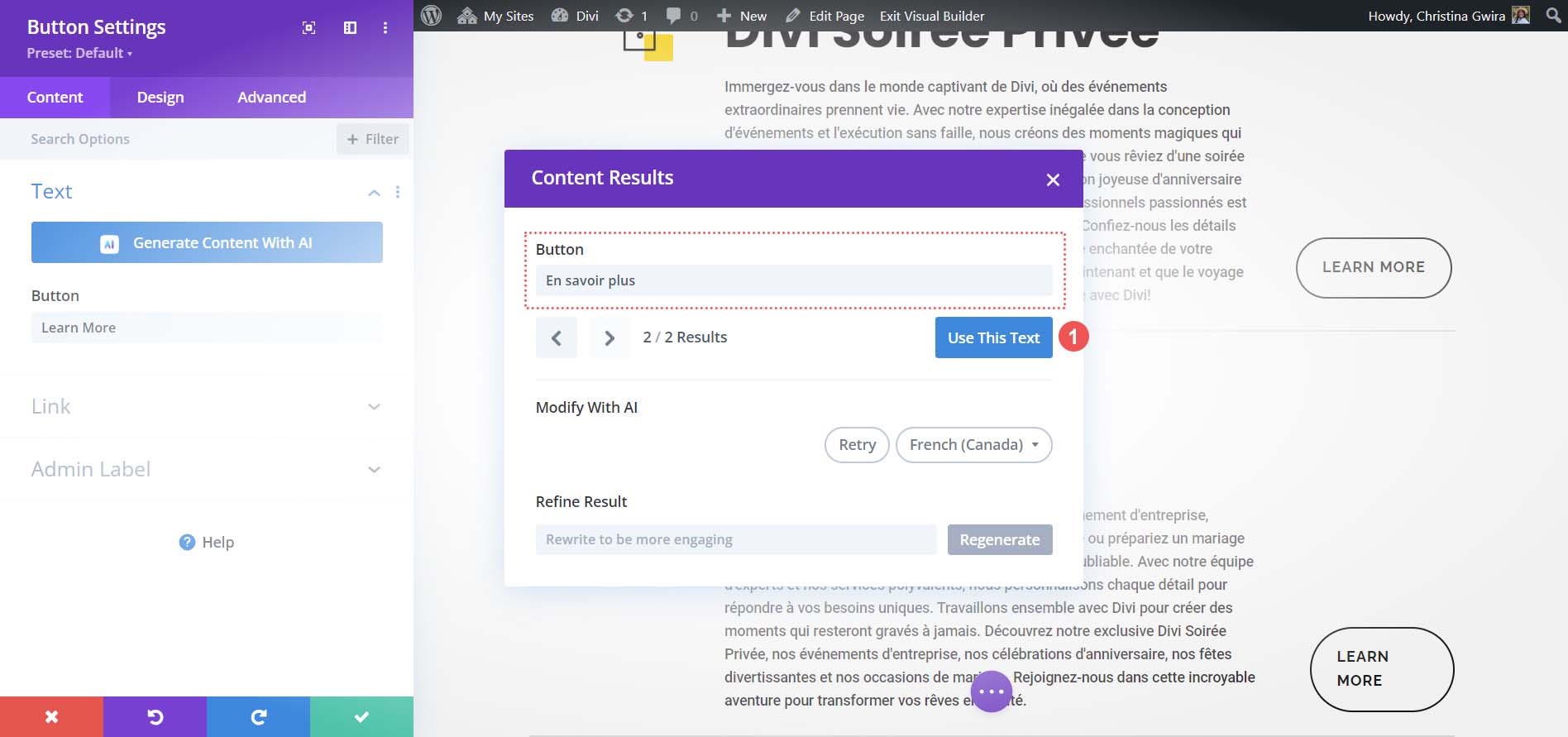 Finally, click the green check mark to save your changes.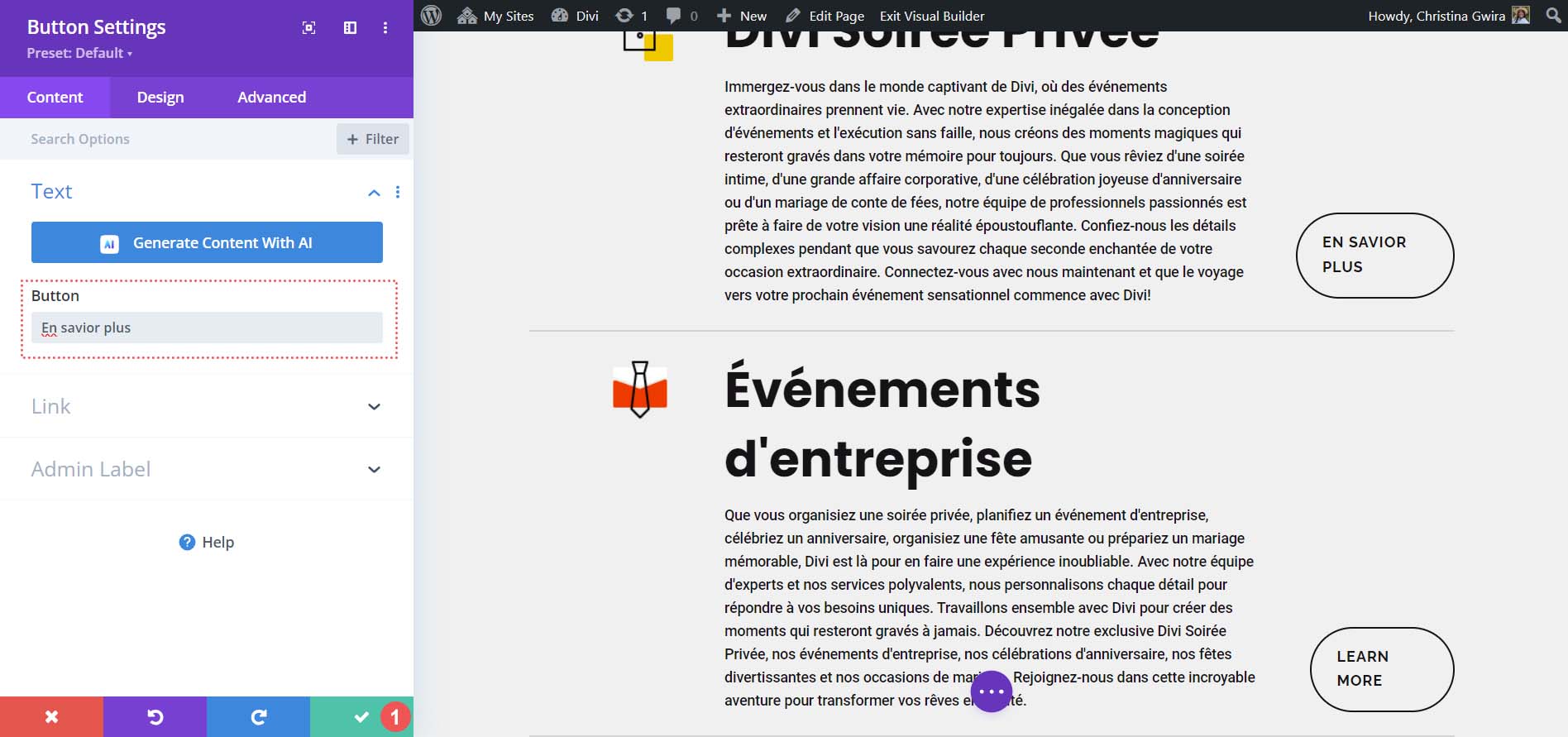 Having translated our initial button, we can apply these modifications to other buttons on our page using Divi's user-friendly extend feature or by copying and pasting the translation.
Here's how our page appears after a complete translation in the Divi Builder with Divi AI: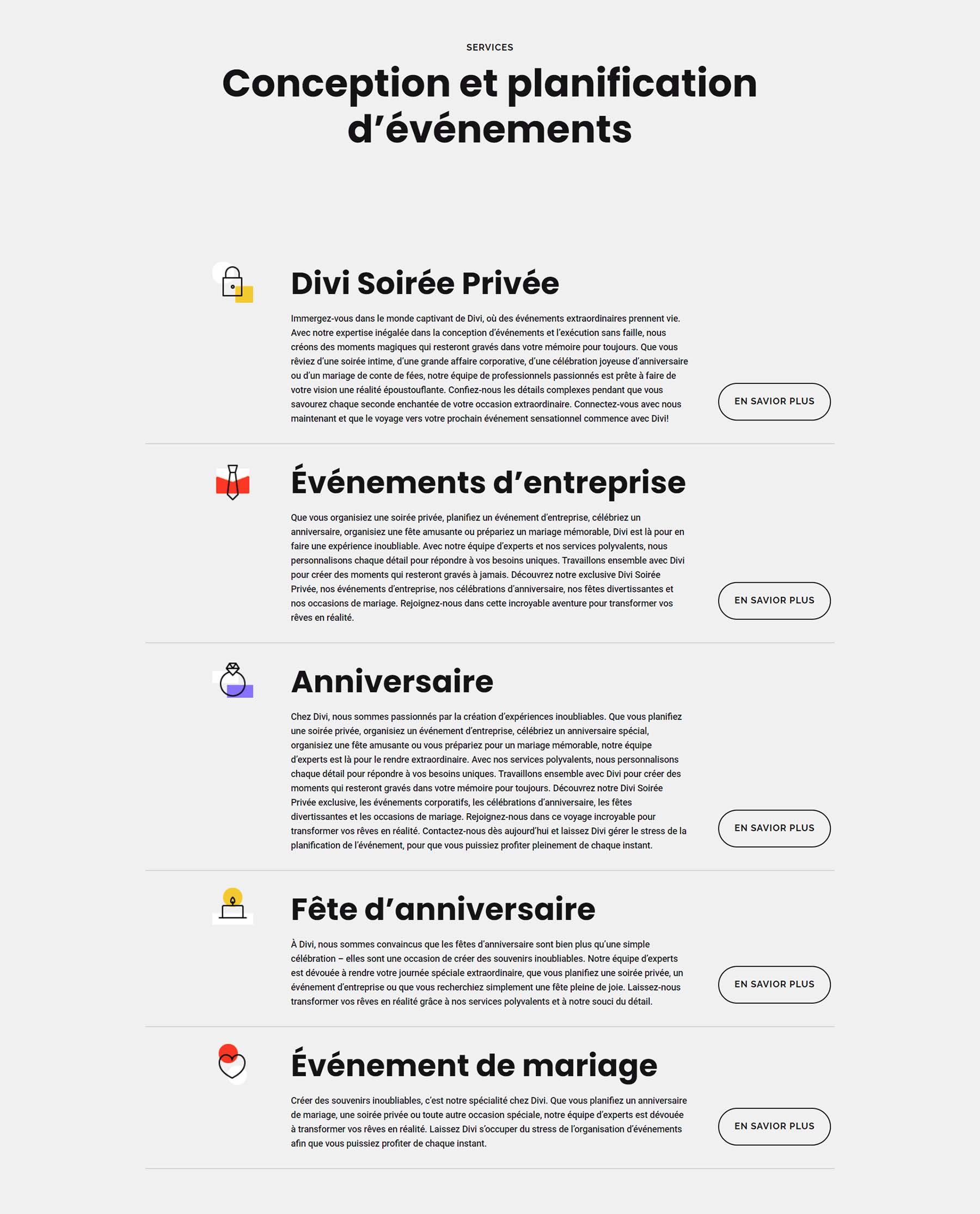 Divi AI successfully translated the text within our page and various modules, from our page titles to buttons. Let's explore how we can utilize Divi AI to translate custom post types in WordPress and features such as menus.
Translating Other Website Elements throughout Your Website with Divi AI
You can harness the translation capabilities of Divi AI anywhere you can activate the Divi Builder. This includes headers, footers, and other templates made with the Divi Theme Builder. This extends to custom post types such as events, Divi's native projects, and even those you create using tools, for example, the popular plugin Custom Post Type UI.
For instance, inside your Divi Theme options, you can activate the Divi Builder and subsequently use Divi AI on your custom post types.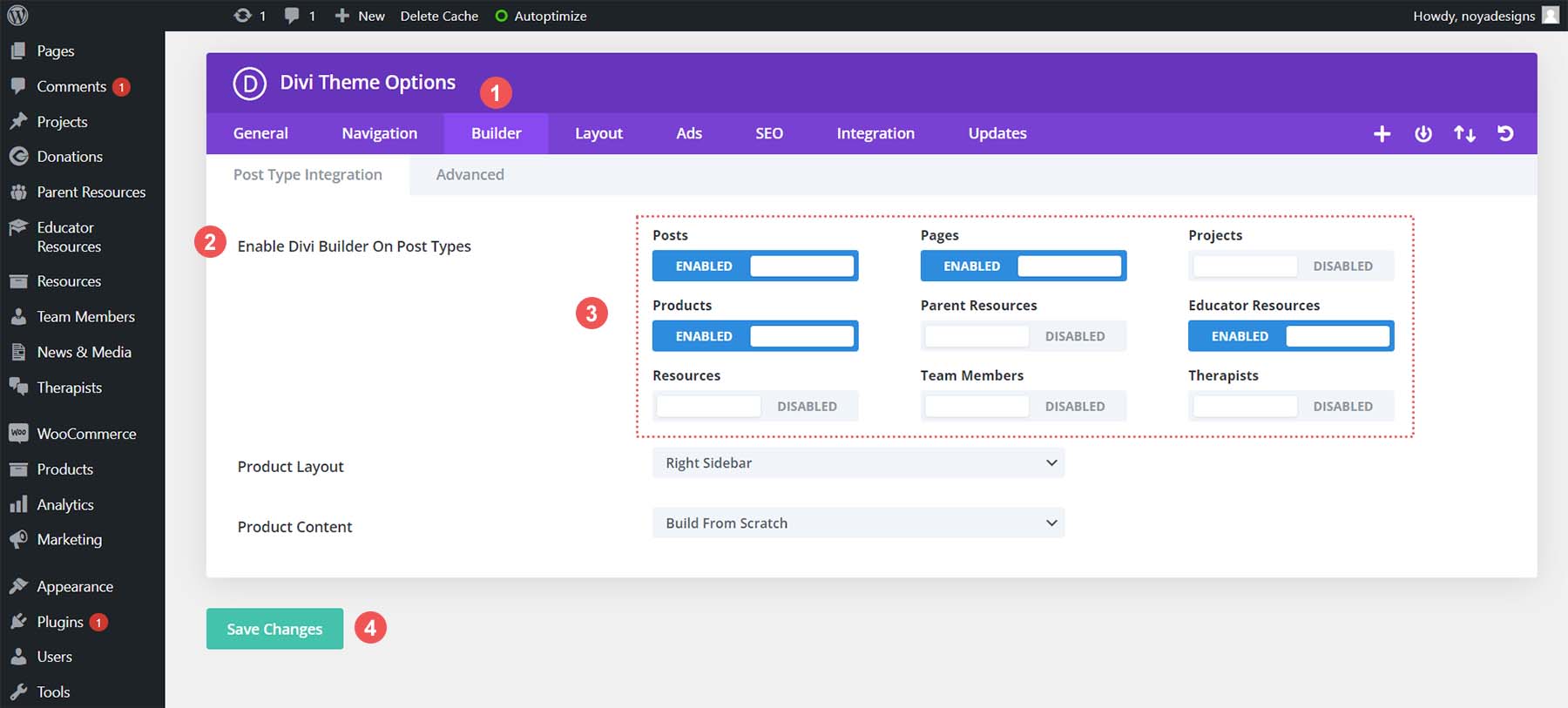 Considering everything, Divi AI is an excellent tool for translating your WordPress website manually using AI. This tool comes in handy, especially when you're dealing with numerous posts, intricate page configurations, or unique post types. Divi AI can expedite your content translation, enabling you to display your website in a language that your audience comprehends.
How to Translate Your WordPress Website Automatically with Google Translate
Using Google Translate is the quickest method to translate your WordPress website, leveraging Google AI. Though it may not provide the most accurate or SEO-friendly translations (at least in the free version), for a swift solution to introduce multiple languages to your site, consider using the GTranslate plugin.

We begin by installing the GTranslate plugin. Hover over the Plugins menu item. Then, click Add New. Next, search GTranslate from the plugin search box. Finally, click Install Now, then Activate to complete the installation of this plugin.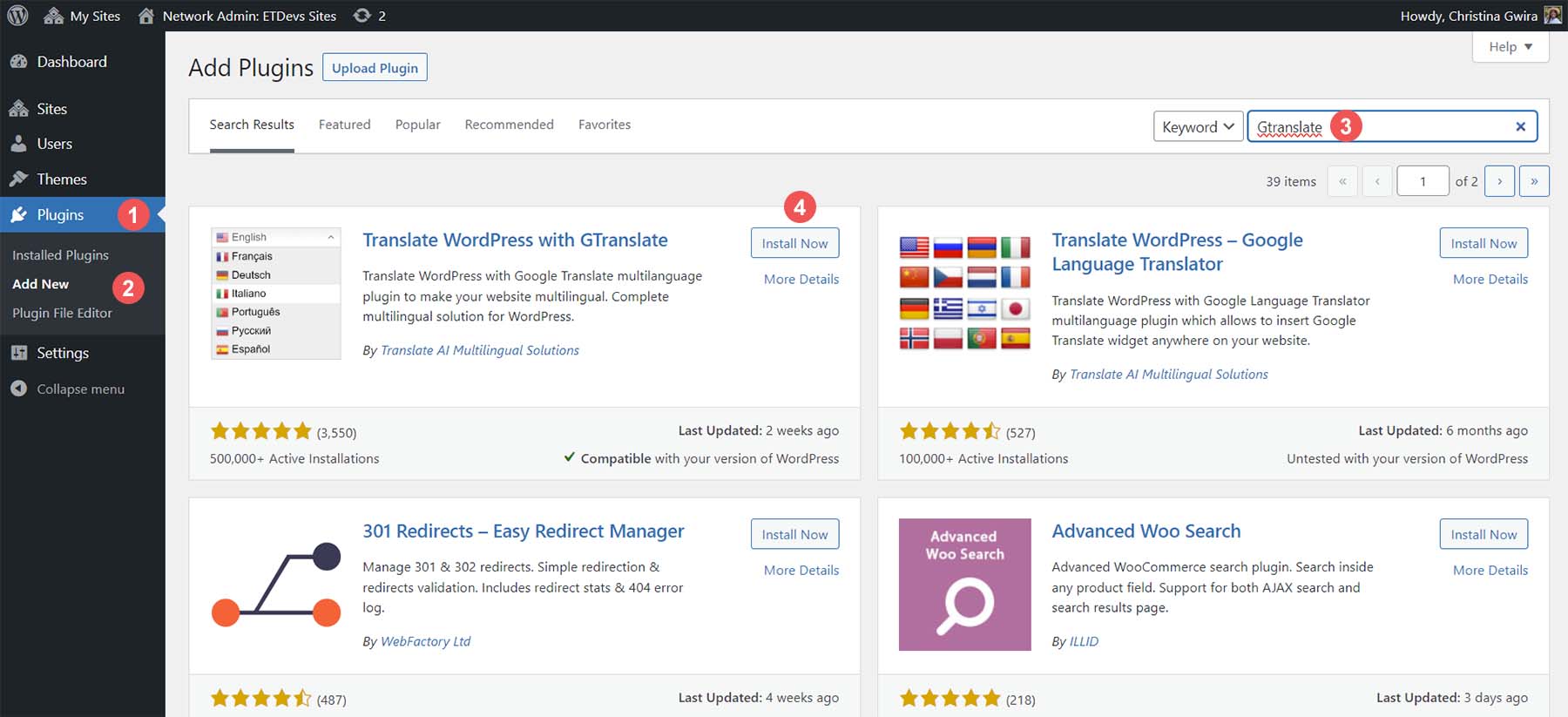 After installing GTranslate, you can adjust your preferences by visiting the settings page. Simply click on Settings, followed by GTranslate. This is the page where you decide the number of languages you want your site to accommodate. Additionally, you can choose to display country names and decide on the style of the country flags. Here, we have outlined a few settings you might want to consider first.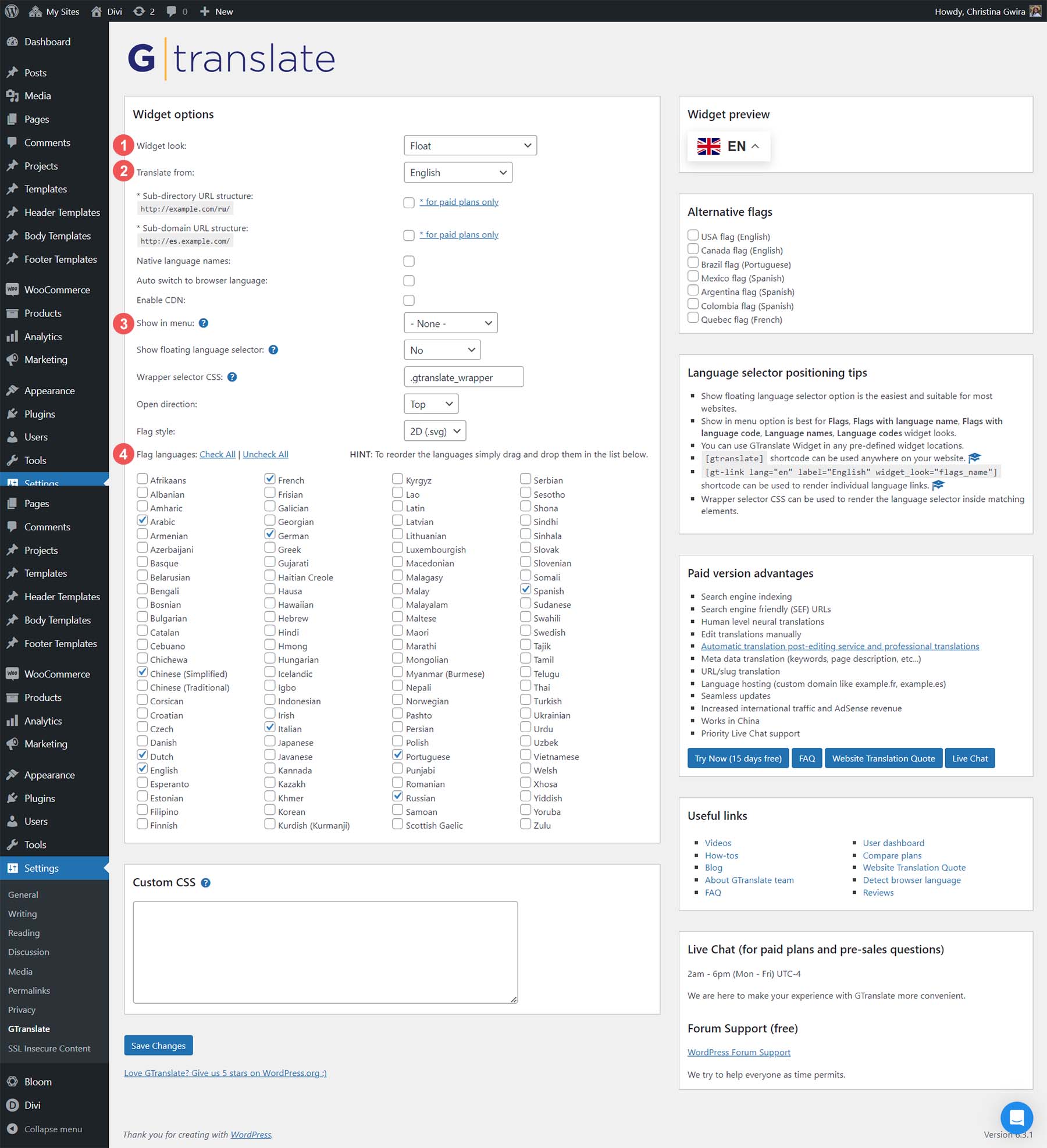 After you've set your GTranslate up, depending on where you want your widget to be, you can check the front end of your site to watch the automatic translation take place. In our example, we created a language switcher widget in the menu of our website: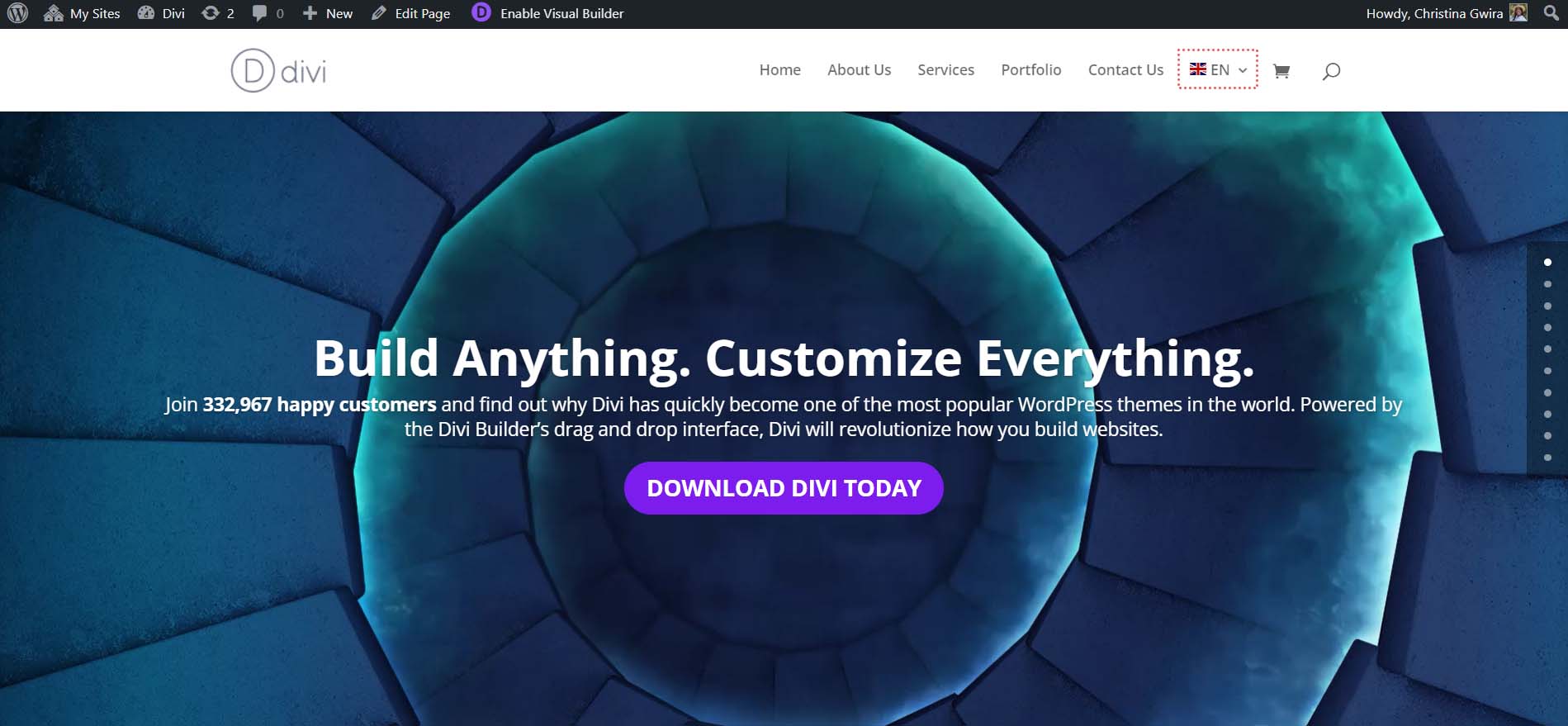 And once we switch its language, every site's menu item, button, title, and content is automatically translated.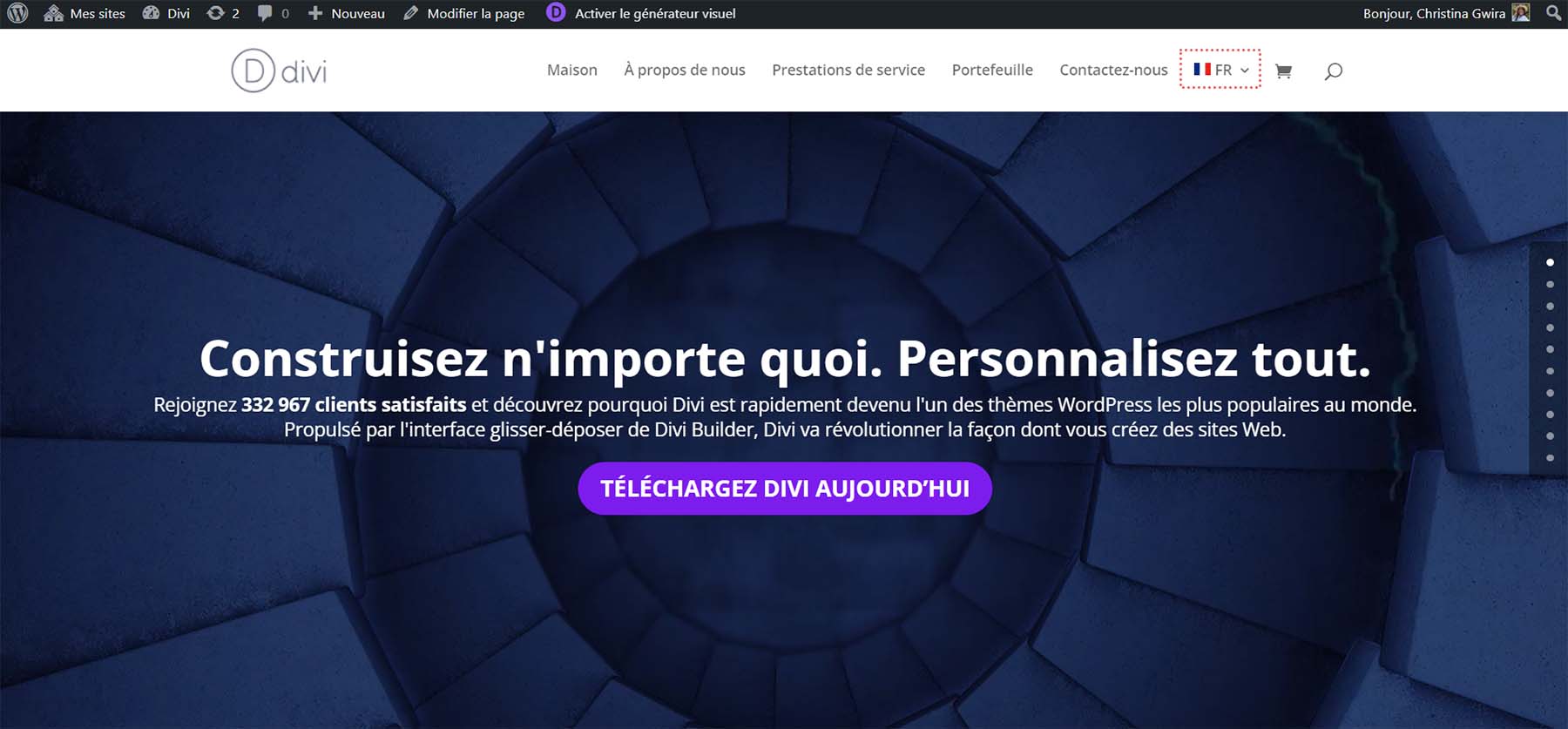 Don't Forget About SEO
This automatic translation solution can boost the user experience and accessibility of your site. However, since the translation occurs on the browser side, your website content isn't being translated or indexed by Google. Plus, there may be some issues with the accuracy of the translation without the ability to change it on your end. So, it is recommended to upgrade to the premium version of GTranslate or find another plugin that supports more SEO-friendly solutions for translating your website if needed.
On the bright side, there is another viable option for website translation. It involves creating a multilingual website aided by artificial intelligence, which can considerably enhance the overall process.
Using AI to Create a Multilingual Website
If you are looking to create a complete multilingual website in WordPress with all the bells and whistles, there are some AI-powered multilingual website plugins that can simplify the process. One of the major advantages of creating a multilingual WordPress website using an AI-powered translation plugin is it allows a combination of human translation with AI translation. So, you can have AI translate your entire site and make edits to those translations if needed. Plus, most multilingual plugins support up to 100 different languages. And their built-in tools can streamline the process of making sure your translated content is indexed by Google and SEO optimization.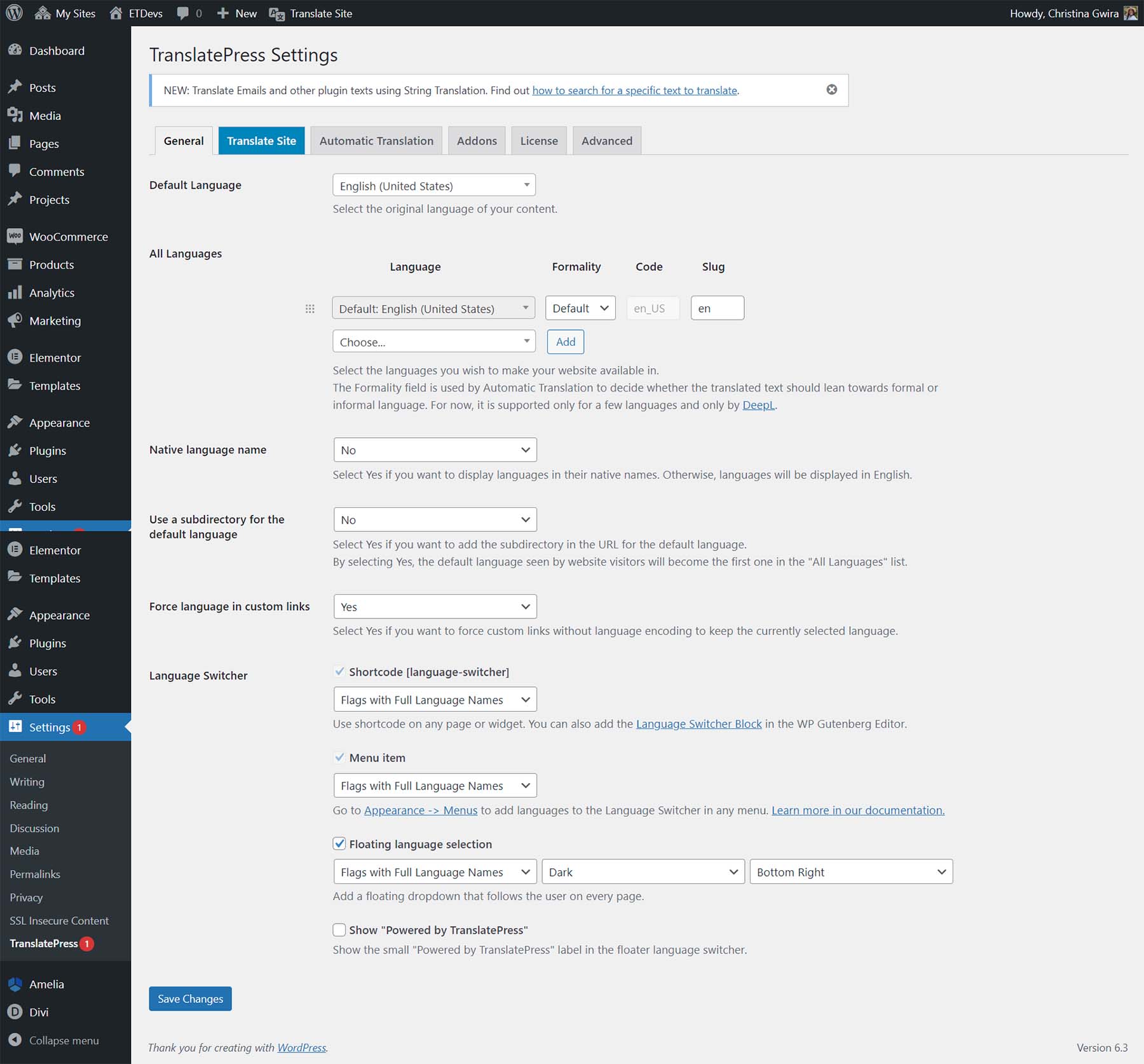 Plugins such as WPML and Polylang have been the go-to options for translating WordPress, but newer plugins like TranslatePress and Weglot harness AI and utilize APIs like Google's Cloud Translation API to equip your WordPress websites with multilingual features.
We've prepared an excellent tutorial that guides you through the process of how to translate your Divi website with Weglot.
For those looking for an easy way to get a multilingual site up and running, check out our beginner's guide to translating WordPress websites.
Conclusion
To wrap up, numerous approaches exist to using AI to translate your WordPress website. You could manually use tools like Jasper AI and ChatGPT for translations. Alternatively, you might consider a plugin like GTranslate for a swifter solution. WordPress flexibly allows you to offer your site in multiple languages to your audience. Divi AI presents a balanced option that integrates translations smoothly into your design process. No matter what method you select to translate your WordPress site, there are helpful tools that will enable you to create a stunning, translated website—searching for more multilingual plugins? How about WordPress plugins powered with AI? Explore our best WordPress plugins collection for a more extensive range of research.