When it comes to website maintenance, the importance of security can't be understated. With so many risks threatening sites today, making sure yours is protected is critical. Unfortunately, choosing the best WordPress security plugin can be challenging.
In this post, we'll explain why you might want a dedicated tool to strengthen your site. Then we'll introduce you to seven of the best WordPress security plugins, discussing their key features and pricing.
Let's get started!
Why You Might Want to Use a WordPress Security Plugin
Unfortunately, many people don't spend much time or effort on website security until it's too late. As a site owner, one of the worst things you can do is put safety on the back burner.
Between malware, data breaches, and the dozens of other threats plaguing the internet today, taking website security seriously should be a priority for all business owners. If you fall victim to an attack, it can compromise your customers' data and your brand's integrity and reputation.
Of course, being proactive about protecting your website is often easier said than done. This is why we recommend using a WordPress security plugin. Doing so can add protection to your site and reduce your chances of being hacked.
A WordPress security plugin can help with a wide range of functions. Those include:
Strengthening passwords and enabling Two-Factor Authentication (2FA)
Updating and backing up WordPress and database files
Adding file permissions and user role configurations
However, it's important to note that your entire site's security shouldn't depend on one plugin (nor could it be). Instead, you can think of a WordPress security plugin as a critical way to accomplish specific tasks rather than a complete solution.
You may want to keep this in mind when considering the following list of security plugins. It's important to consider what security features you already have access to and what you're lacking. For example, if backups aren't something your hosting provider handles, backup functionality may be a priority.
The Best WordPress Security Plugins

Subscribe To Our Youtube Channel
The Best WordPress Security Plugins Listed In Order
Expand List
Now that we've discussed why site security is so important, it's time to look at some tools that can help. For the following list, we've compiled seven WordPress security plugins that cover a wide range of features and functionality. We've also factored in ratings and reviews, customer support and updates, and pricing to ensure we're presenting you with the best options possible.
1. iThemes Security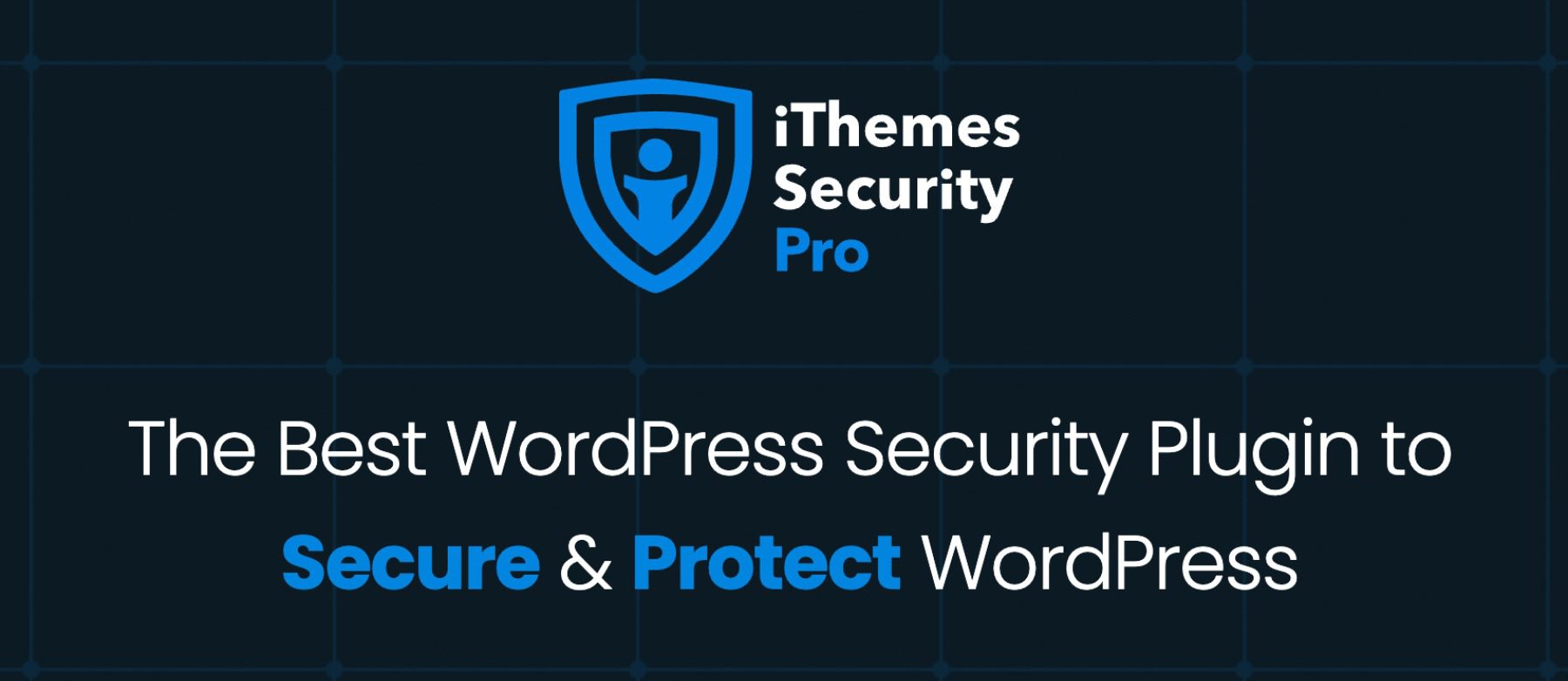 iThemes Security, formerly known as Better WP Security, is another robust tool that deserves a spot as one of the best WordPress security plugins. It comes in free and premium versions, with multiple tiers available depending on your needs.
This solution helps to secure your site in over 30 different ways, including through password protection, user activity monitoring, and more: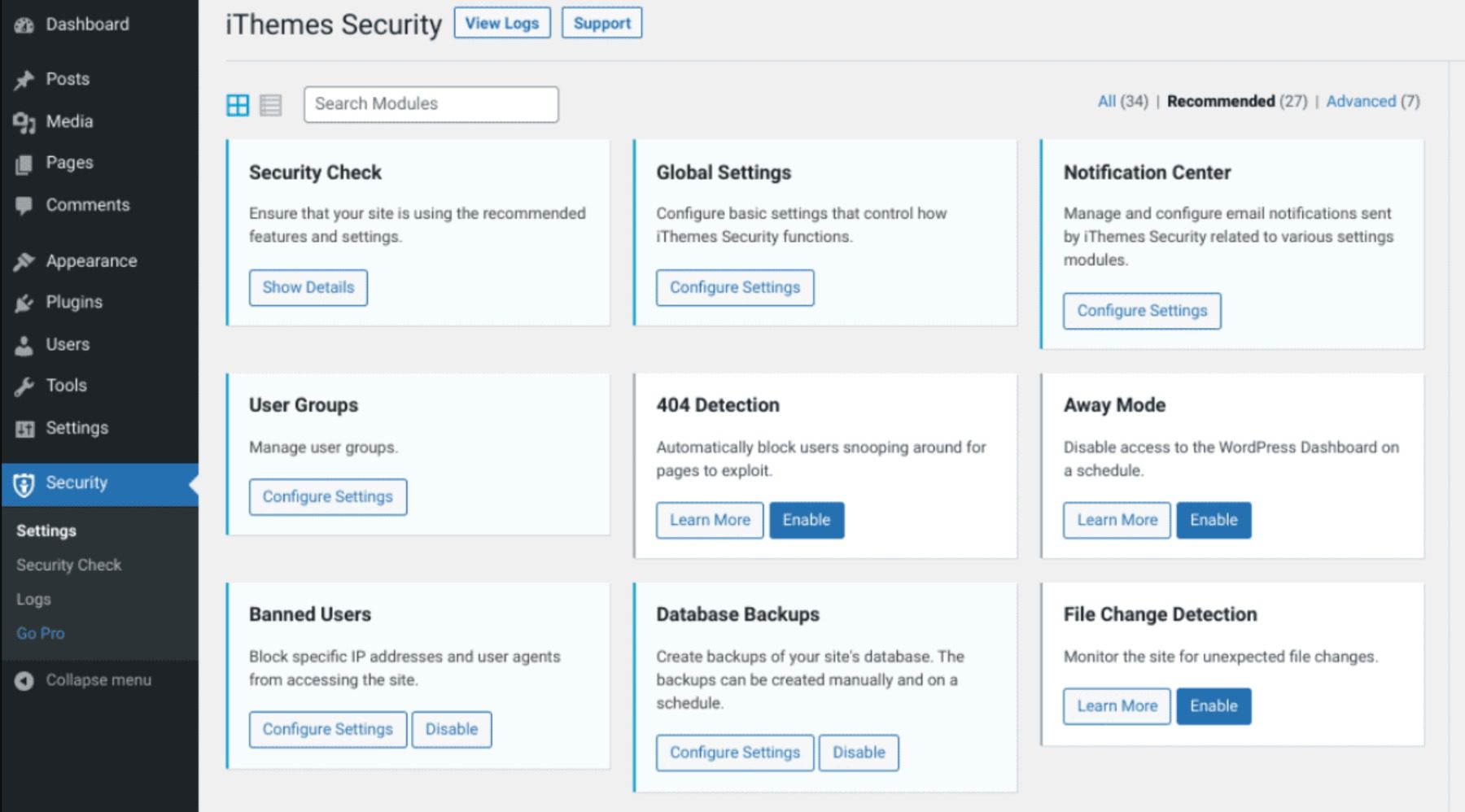 If you upgrade to the paid version, you will get regular site backups. You'll also be able to remotely manage multiple WordPress sites with the iThemes Security Pro features.
Key Features for iThemes Security:
Brute-force attack prevention
Hidden login and admin pages
Limited login attempts
2FA
Control over user roles and file permissions
Scheduled backups
Email alerts
404 error detection
Google reCAPTCHAs
iThemes Security if for you if…
… you want a beginner- and user-friendly plugin with standard yet powerful security features. It's also helpful if one of the main tools you're looking for is backup functionality.
It's worth noting that the developers behind the iThemes Security plugin also created the popular BackupBuddy plugin. Also, although this plugin doesn't include a firewall or malware scanner, it does use Sucuri's malware scanner, which we'll discuss in more detail in the next section.
Price: Free, with premium plans starting at $99 per year.
2. WP Activity Log

WP Activity Log is a plugin slightly different from the others on this list. Rather than offering an all-in-one solution that includes various features, this tool aims to serve a specific purpose: to help you keep track of every change and activity occurring on your site.
With this freemium plugin, you can leverage comprehensive activity monitoring to heighten your site's security:

This tool can be particularly helpful if you manage a network of sites, making it a useful multisite plugin. For example, if you manage a team of users, having an easy way to monitor their activity can help keep your site protected from malicious behavior.
Key Features for WP Activity Log:
Real-time user activity logs
Event enabling and disabling
Notifications and reports
User activity and site change monitoring
WooCommerce, Yoast SEO, and WPForms extensions
Multisite support
HTML and CSV reports (premium only)
Free and premium support
WP Activity Log is for you if…
… you're looking for an activity logging and monitoring solution. It's an excellent choice if you want to gain more insight into your site activity, which can be especially useful if you have a multisite network or need to manage multiple users. However, it's probably not the best tool if you lack a firewall, malware scanner, or other essential security features.
Price: Free, with premium plans starting at $99 per year.
3. Sucuri Security

Like Wordfence, Sucuri Security is a popular plugin that can help you with a wide range of security-related tasks on your WordPress site. This includes scanning for malware and running checks: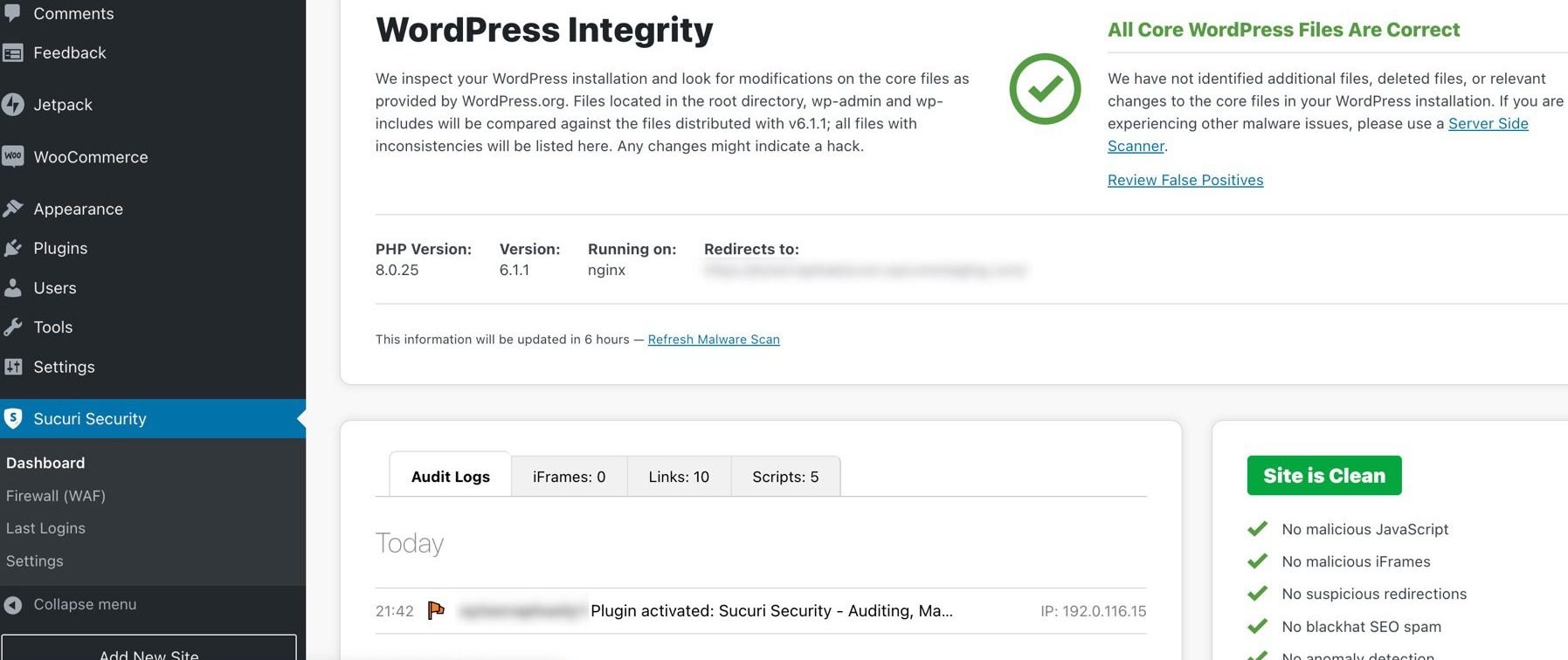 One thing we want to note about this plugin is that because it runs a Domain Name Server (DNS)-level firewall, it's a bit more effective than plugins such as Wordfence that use a built-in WordPress firewall. Therefore, if site performance is of particular concern, Sucuri is an option worth exploring.
Key Features for Sucuri Security:
Malware scanning and removal
Website hardening
Application Program Interface (API) key connection
Web Application Firewall (WAF) with a premium license
Login security, password protection, and user tracking
Site tracking (file changes, failed login attempts, etc.)
Malicious traffic blocking
File integrity and blacklist monitoring
Quick and easy setup
Sucuri is for you if…
… you're interested in a WordPress security plugin that operates almost entirely offsite. The free version offers a powerful scanner that you can use directly from your WordPress dashboard. However, suppose you don't mind paying for the paid version (which we highly recommend). In that case, you can get a comprehensive security solution with even more features, including WAF, Secure Sockets Layer (SSL) certificate support, and much more.
Price: Free, with premium plans starting at $199 per year.
4. Wordfence Security

With over 4 million active installations and a 4.5 out of 5-star average rating, Wordfence Security is one of the best WordPress security plugins. This freemium tool lets you scan your site for malware and other suspicious activity, such as code injections. Everything is easily managed from the custom Wordfence dashboard: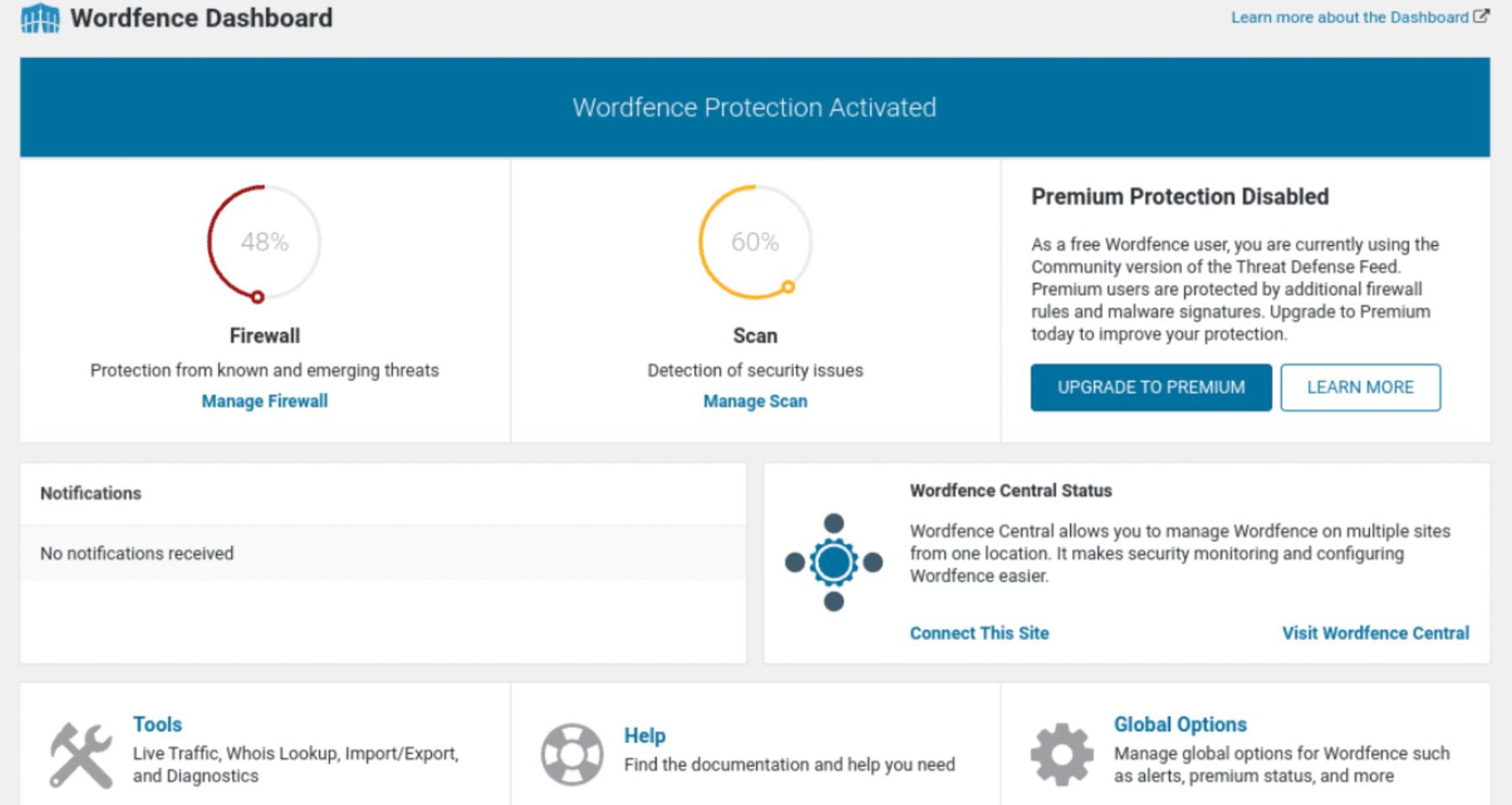 With the paid version, you can access even more features, including advanced, coordinated scanning. Also, because this plugin is so widely used, you can expect to find a great deal of online support if needed.
Key Features for Wordfence Security:
Endpoint firewall
Scans for file changes
IP address blocking
Threat assessment features
2FA
Monitoring for visits and hack attempts
Breached password alerts and custom email notifications
Login attempt limits to prevent brute-force attacks
Country blocking and redirects (premium only)
Wordfence is for you if…
… you're looking for a premium tool with flexible pricing. The cost varies depending on how many licenses you'll need. As such, it's a solid option if you plan to use it on multiple websites or for your clients' sites.
The more sites you plan to use this plugin for, the less expensive the premium version becomes. Of course, the free version also comes with many helpful features and can be a great solution.
Price: Free, with premium plans starting at $119 per year.
5. All-In-One WP Security & Firewall

All In One WP Security & Firewall is not as popular as this list's first three WordPress security plugins. However, it's still a high-quality option worth considering, especially if you want a free tool. It's incredibly user-friendly and presents information in visual graphics broken down into three main categories (Basic, Intermediate, and Advanced):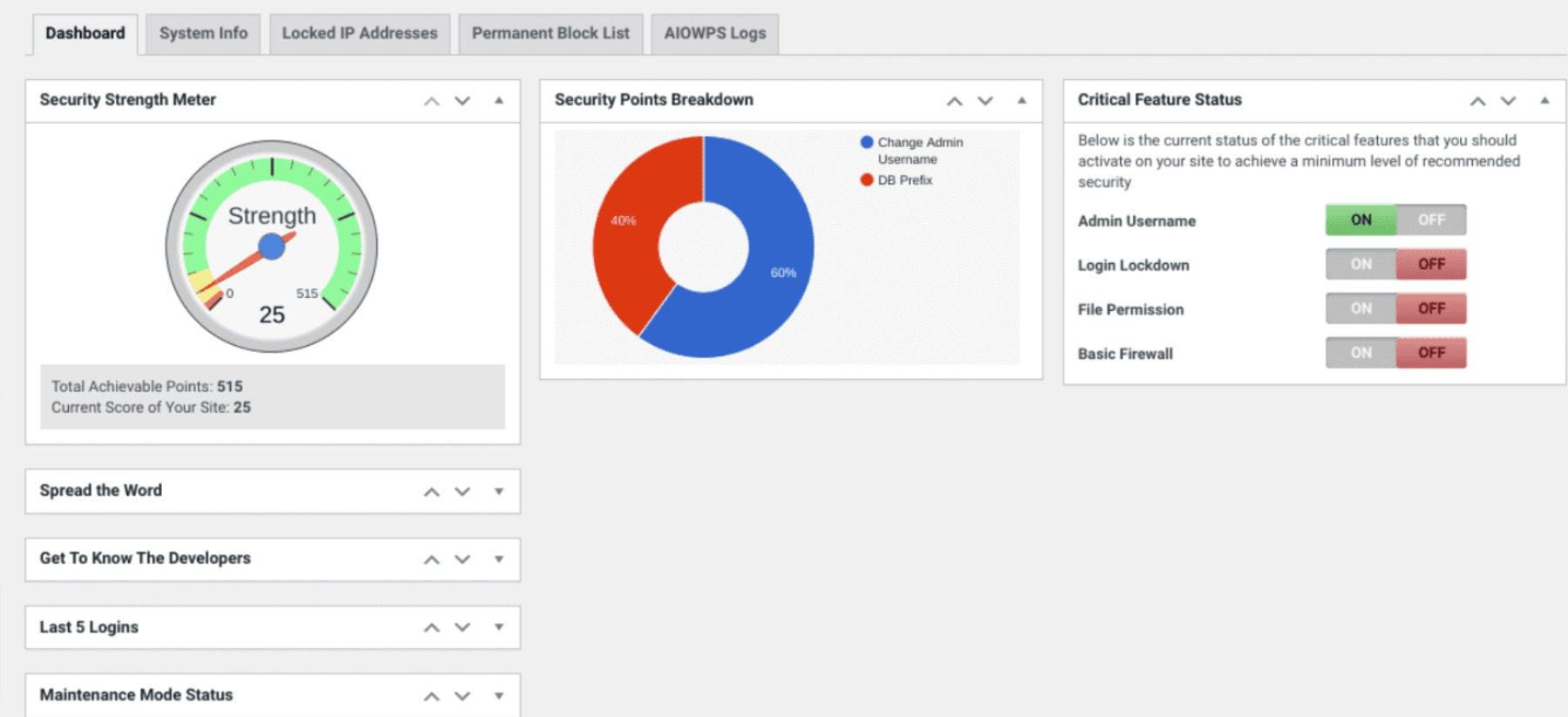 This plugin also provides a handful of handy and robust features, especially considering you don't have to pay anything. This includes brute-force attack prevention, firewall protection, comment spam filtering, and more.
Key Features for All-In-One WP Security & Firewall:
Login Lockdown feature for protecting against brute-force attacks
Firewall protection
File change detection
File backups and restoration
Comment spam prevention
User account monitoring
IP filtering
All In One WP Security is for you if…
… you want a free, easy-to-use WordPress plugin to help secure your site. It's an excellent choice if you only have one (relatively simple) website to manage and don't need any overly advanced bells and whistles. It's also a strong contender if you're looking for a quick and easy way to understand where your site can be improved, thanks to its grading system.
Price: Free, with a premium license for $70 per year.
6. Jetpack

Next up, Jetpack is one of the most popular and commonly used WordPress plugins out there, so chances are you've probably already heard of it. It can be used for a wide range of features, from performance to marketing purposes. However, a few features you may not know about make it one of the best WordPress security plugins.
This freemium tool offers intuitive, beginner-friendly security solutions that include real-time backups, malware scanning, and spam protection: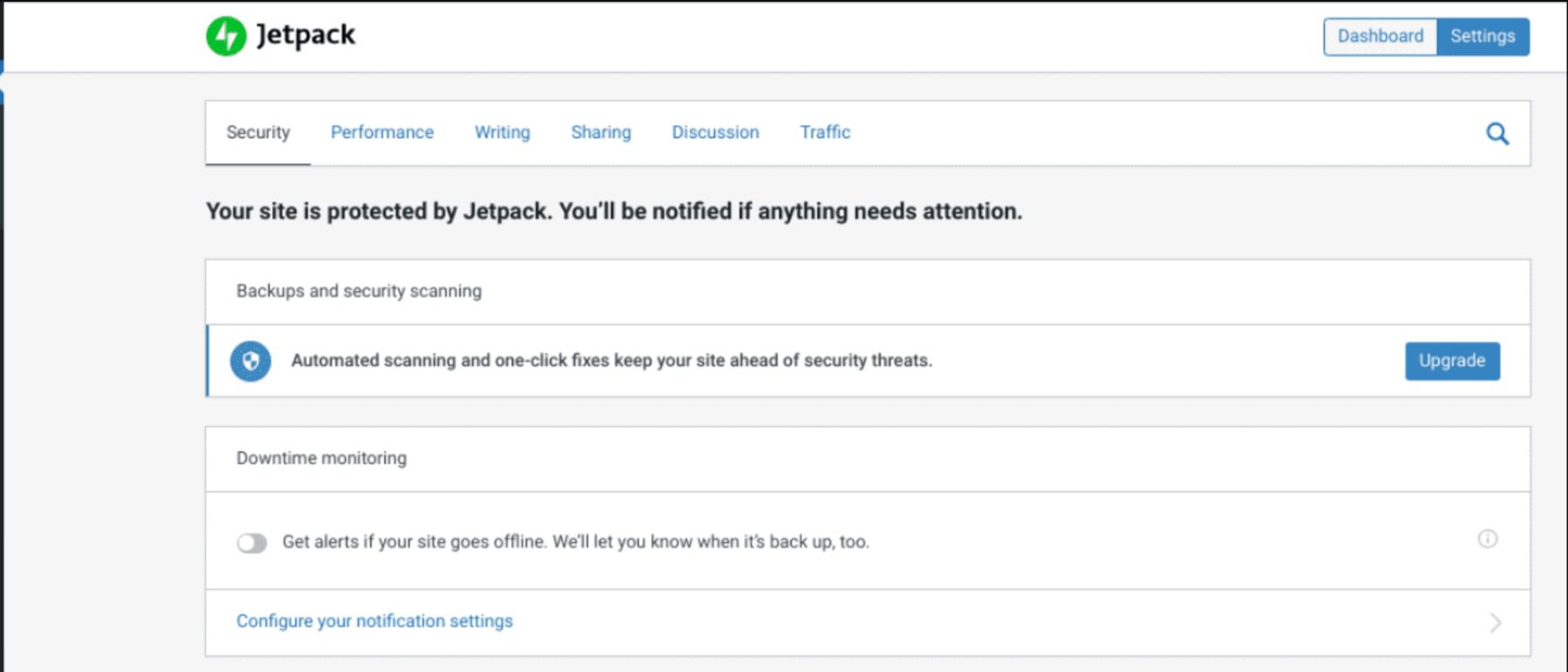 It also helps with brute-force protection and uptime monitoring. Best of all, these features are included in the free plan. It's also worth noting that this plugin is made by the team behind WordPress.com (Automattic), so you can feel confident knowing it's safe, secure, and reliable.
Key Features for Jetpack:
Automatic, real-time backups and restores
Malware scanning
Spam protection and blocking
Brute-force protection
2FA
Plugin updates
Jetpack is for you if…
… you're looking for a cost-effective plugin that can be used for a wide range of purposes. However, if you plan to use it for its security features specifically, we suggest upgrading to the premium version. It's also a solid option if you're looking to enhance your site's performance.
Price: Free, with premium plans starting at $20 per month (billed annually).
7. Defender

Defender is a relatively new but promising WordPress security plugin that has received over a million downloads. Installing and configuring the plugin only takes a few clicks, and it starts defending your website immediately.
Defender provides an astonishing array of security capabilities without any cost. It offers a firewall with IP blocking enabled for free, just like Wordfence. Malware scans, brute-force login protection, threat notifications, and two-factor authentication via Google are also included in the free edition.
Key Features of Defender:
2-Factor Authentication
Brute force attack prevention
Blacklisting features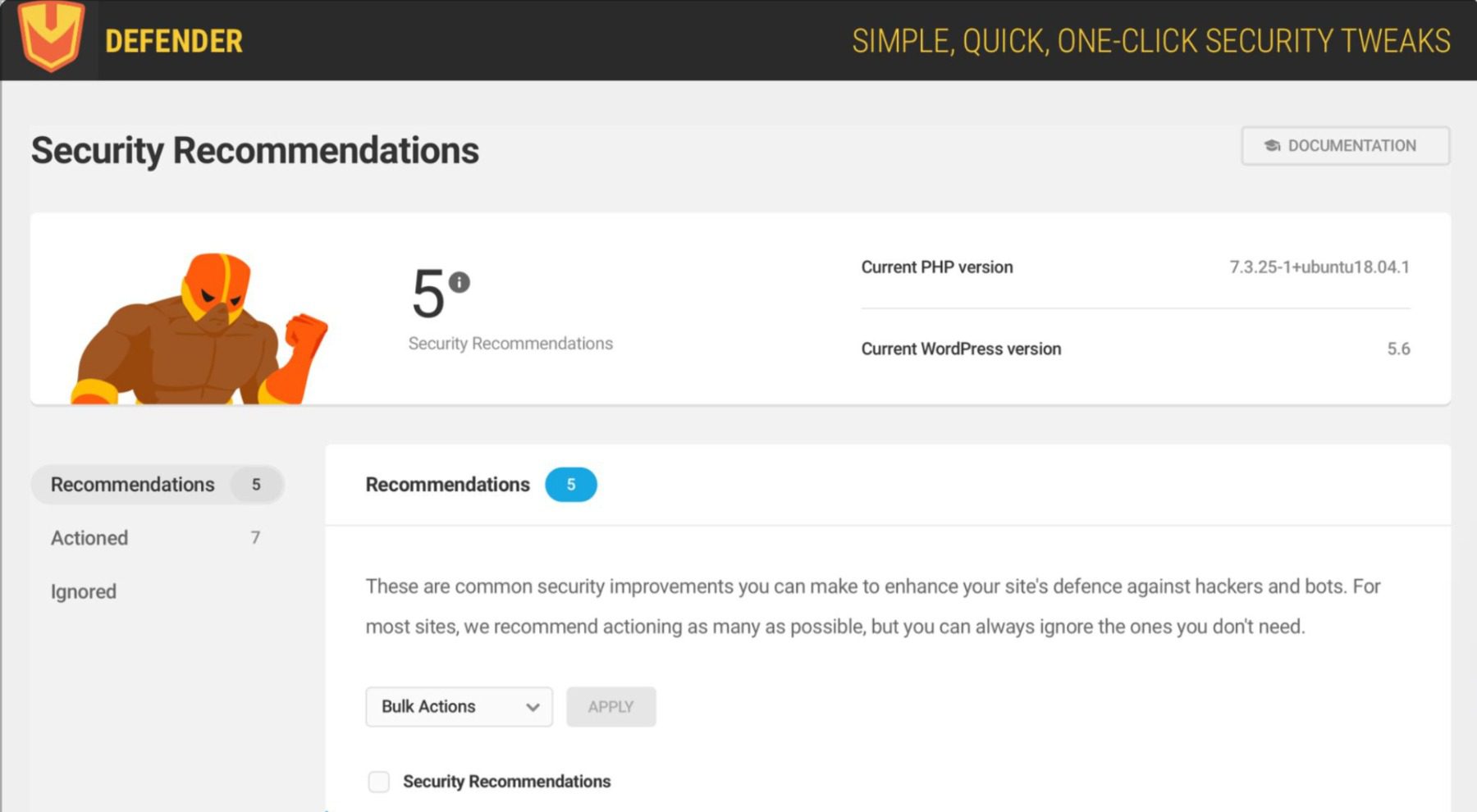 This plugin provides many of the critical security features you might want to implement; it sports a five-star rating with over 70,000 active users, so you can be confident that this solution can provide you with the security your website needs.
Defender is for you if…
…you want to enhance the security of your WordPress website by implementing various security measures such as malware scans, two-factor authentication, brute force protection, and other security enhancements in a simple and user-friendly manner.
Defender Pricing: Free, $7.50 per month for the pro version.
Comparing the Best WordPress Security Plugins
Website security is not something to take lightly, so it pays to stay informed. We've gone through each plugin one by one and now we'll look at more direct comparisons starting with price.
Security Plugin Price Comparison
Since price is a major consideration for website security, here's a list of all our featured plugins and their starting price points, and whether or not they offer a free version (they all do).
Security Plugin Feature Comparison
Here is a feature-by-feature comparison of our top three choices. A reference to there being a feature in a certain plugin indicates that the feature is present but doesn't compare that feature to its counterpart in other plugins.
🥇

iThemes Security

🥈

WP Activity Log

🥉

Sucuri
Starting Price
$99/yr
$99/yr
$199/yr
Security Activity Auditing
✔️
✔️
✔️
Remote Malware Scanning
✔️
❌
✔️
Blocklist Monitoring
✔️
❌
✔️
Post-Hack Security Actions
✔️
❌
✔️
Security Notifications
✔️
✔️
✔️
User Activity Log
✔️
✔️
❌
Website Firewall
❌
❌
✔️
WordPress Core File Comparison
✔️
❌
✔️
IP Blocking
✔️
❌
✔️
Website Backups
✔️
❌
✔️
Active Installations
1+ million
200,000+
800,000+
Community Rating
4.6/5
⭐⭐⭐⭐⭐
Read Reviews
4.6/5
⭐⭐⭐⭐⭐
Read Reviews
4.2/5
⭐⭐⭐⭐ ★
Read Reviews
Get iThemes Security
Get WP Activity Log
Get Sucuri
What is the Best WordPress Security Plugin?
We suggest looking into iThemes Security if you're searching for a freemium, all-in-one solution. It offers primary security tools like brute force protection, virus scanning, and more sophisticated capabilities if you subscribe to a premium license. We also recommend checking out  WP Activity Log. This plugin approaches security from a different angle, monitoring user activity and file changes so that you can more easily identify anything suspicious (and hopefully stay one step ahead of bad actors).
Frequently Asked Questions (FAQs)
Before we wrap up, let's answer some of your most common questions about WordPress security plugins. Do you have a question that we didn't answer? Leave a comment so that we can respond!
What is the best WordPress security plugin?
iThemes Security
is a top choice for WordPress security. It protects your site in many ways, including password security and user tracking. It has a large, happy user base, proving it's a trusted tool for keeping WordPress sites safe. This makes iThemes Security an excellent pick for website security.
What is the best free security plugin for WordPress?
WordFence
is the best free security plugin for WordPress. With 4 million+ active installations, it has garnered 3,600+ positive reviews. This is a testament to its effectiveness in safeguarding WordPress sites. Its comprehensive scanning and robust firewall protection make it a great security solution for any WordPress site.
Is WordPress secure?
WordPress itself is very secure. It powers around 40% of the web and has thousands of contributors improving it year-round. The most common way that WordPress websites get hacked is through theme and plugin vulnerabilities. Security plugins can help protect you against these flaws.
How do WordPress security plugins protect my site?
There are various ways that security plugins help protect your website, such as: 1) Monitoring for outdated plugins and misconfigurations. 2) Filtering requests through a firewall with managed WordPress rules. 3) Scanning your website regularly for malware.
Do I need a security plugin for WordPress?
It's essential to keep your software up to date, implement a firewall with managed rules, and perform regular malware scans. There are different ways to do these things, but installing a security plugin is one simple way to cover your bases.
Do security plugins slow down WordPress?
Security plugins certainly do some heavy lifting when it comes to filtering all requests through a firewall, logging activity, and scanning your entire website for malware. However, they can also speed up your website by blocking bots and freeing up server resources. For the most part, a properly configured security plugin won't noticeably slow down your website.
How much do WordPress security plugins cost?
WordPress
security plugins range in price
. Many offer free versions, which can be a good start for simple sites. However, upgrading to premium versions is advisable for more complex or business-critical sites, such as eCommerce websites. These usually provide advanced features for enhanced security and support.
What is the best security plugin for eCommerce websites?
For eCommerce sites,
Sucuri Security
is a top choice. It's an all-in-one security solution that scans for malware, offers a powerful web application firewall, and even blocks malicious traffic. Its comprehensive feature set makes it a trusted option for securing eCommerce platforms on WordPress.
Which WordPress plugin offers backup and security features together?
iThemes Security
 stands out for offering both backup and security features. It protects your WordPress site in numerous ways and allows regular site backups if you upgrade to the paid version. It's a comprehensive solution for website safety and recovery.
What are some common security features provided by WordPress security plugins?
WordPress security plugins offer malware scanning, brute-force protection to prevent attackers from guessing your password, file change detection for spotting unauthorized modifications, firewall protection to block harmful traffic, security alerts, 2-factor authentication, and IP blocking.
How do I decide which security plugin is best for my WordPress site?
Deciding on the best security plugin for your WordPress site depends on your specific needs. If you need features such as brute-force protection, file change detection, scheduled backups, and user activity monitoring, then a comprehensive and easy-to-use plugin like
iThemes Security
could be a perfect fit for your site.
How can I implement content security in WordPress?
To enhance content security in WordPress, consider these steps: install a reliable security plugin like
iThemes Security
. Regularly update WordPress, themes, and plugins. Establish a robust backup system. Limit user permissions and use strong passwords.
How do I secure a WordPress website without plugins?
You should regularly update your WordPress core, themes, and plugins. Use strong, unique passwords for all accounts. Limit login attempts to prevent brute-force attacks. Regularly back up your site to ensure easy data recovery. Use secure hosting and implement HTTPS.
Featured image via marketinggraphics/shutterstock