WordPress is a great platform for building a website for realtors and real estate agencies. All required features are readily available, and many themes have the features already built in. But, the vast number of themes can make finding the perfect theme for your real estate website challenging.
In this article, look at some of the best real estate WordPress themes available today.
Why Choose a Real Estate WordPress Theme?
The best themes for real estate agents and agencies include helpful features such as property listings, easy and advanced searching of listings, maps to show locations, galleries to show multiple images, multiple agent profiles, featured listings, and MLS/IDX integration.
These features can be added to most themes using plugins, but real estate themes would have them built-in and ready to use. The layouts are designed specifically to showcase real estate properties, and the integrations are smooth with no compatibility issues. However, it should be noted that for deeper features, you may want to look into the various IDX or real estate plugins available for WordPress. For a review of some of the top real estate plugins, see the best WordPress Real Estate Plugins. Additionally, check out these IDX plugins if you're looking for MLS/IDX integration.
The Best Real Estate WordPress Themes
Here's our list of the best real estate WordPress themes. They cover a variety of uses in the real estate field. For the individual realtor or the property manager, the mortgage broker, or the real estate startup, we've got a theme for you.
1. Realtyna WPL Pro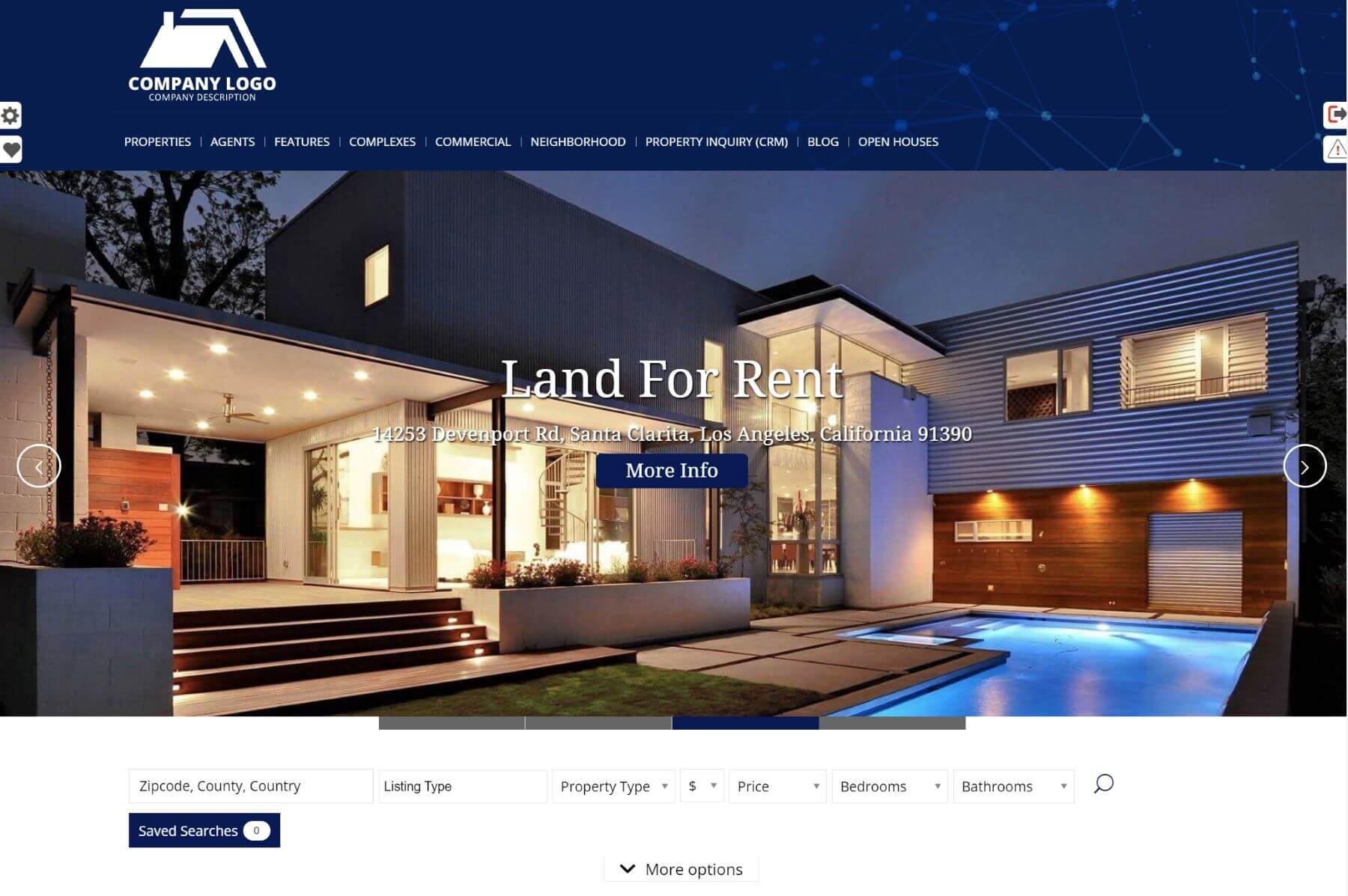 WPL Pro is a real estate platform by Realtyna that provides the most powerful real estate themes available for WordPress. In fact, we rated the Realtyna WPL plugin as the top pick for WordPress real estate plugins! Theme 28 and Sesame Theme are both native themes that come free with WPL Pro. But there are other premium themes as well. Each of the themes for WPL Pro has all the features and add-ons needed to create a robust real estate listing website that looks great and is easy to manage. The built-in listing management system allows you to manage all your data in one place.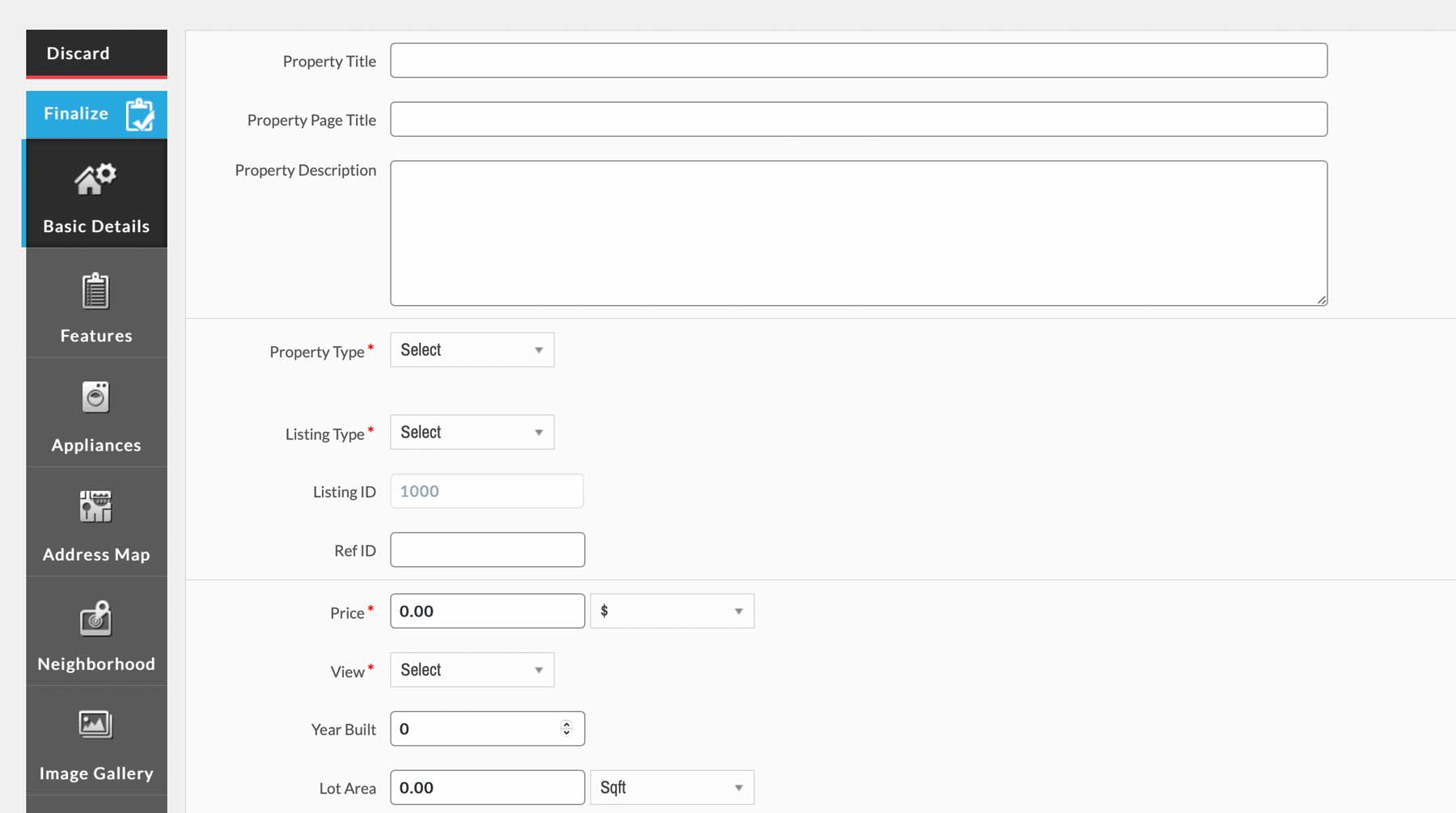 Adding MLS functionality, advanced search, and agent/broker management are all easily handled with the WPL Pro platform and themes. The platform includes a dynamic location system for displaying listings on interactive maps. You can add new content using custom widgets for displaying custom listings, search bars, carousels, agents, and more throughout your website. And it has page views and templates for displaying property listing details dynamically by pulling data from the backend.
WPL Pro is also compatible with popular website builders like Divi and Elementor, which brings drag-and-drop functionality to your real estate website so you can focus more on sales and less on coding.
Key Features:
Listing management system within WordPress theme
Advance search bar with dynamic search parameters
supports an unlimited number of users
Can handle 100,000+ listings on most servers
Plenty of premium add-ons for flexibility
Built-in SEO settings
Supports organic MLS/IDX integration for WordPress
Pricing: $199 (one-time fee)
2. EstateEngine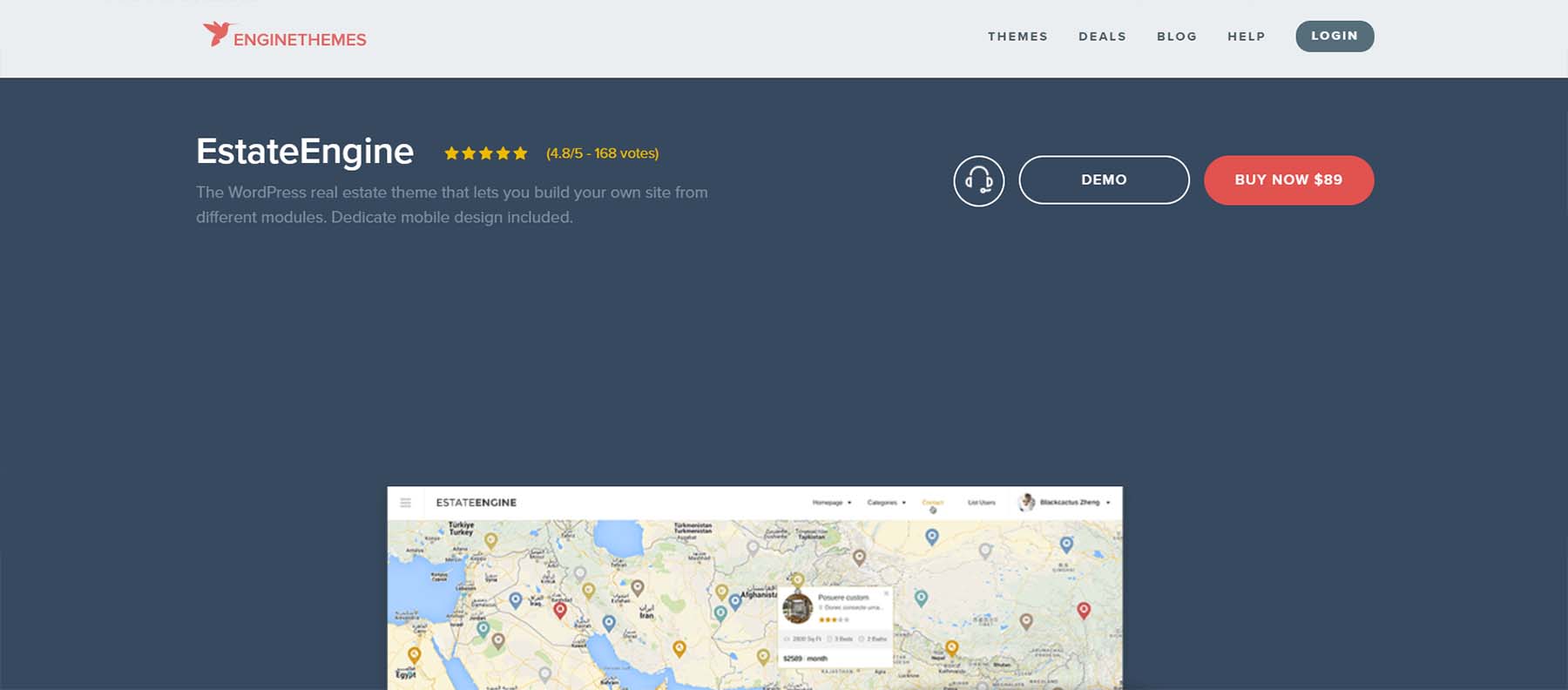 EstateEngine is a WordPress real estate theme that allows you to list, manage, and monetize your properties from your WordPress website. Easily manage various property listings and build a feature-rich real estate website. Its Google Maps integration allows for deep customization of maps at various points on your site. Users of your site can submit, claim and manage their property listings on your site. You can also charge a fee to list or claim a property. Alternatively, you can set up your ad network on your site, allowing users to pay you for ad space on your website. Regarding the best real estate WordPress themes, EstateEngine is a force to be reckoned with.
Key Features:
Advanced search bar settings and configurations
Property list and grid view, plus image and video galleries
Property details (number of rooms, area, etc.)
User/realtor profile pages with frontend property submission
Charge users to list with custom payment plans or through a native ad network
Pricing: Paid plans start at $89 per year
3. Divi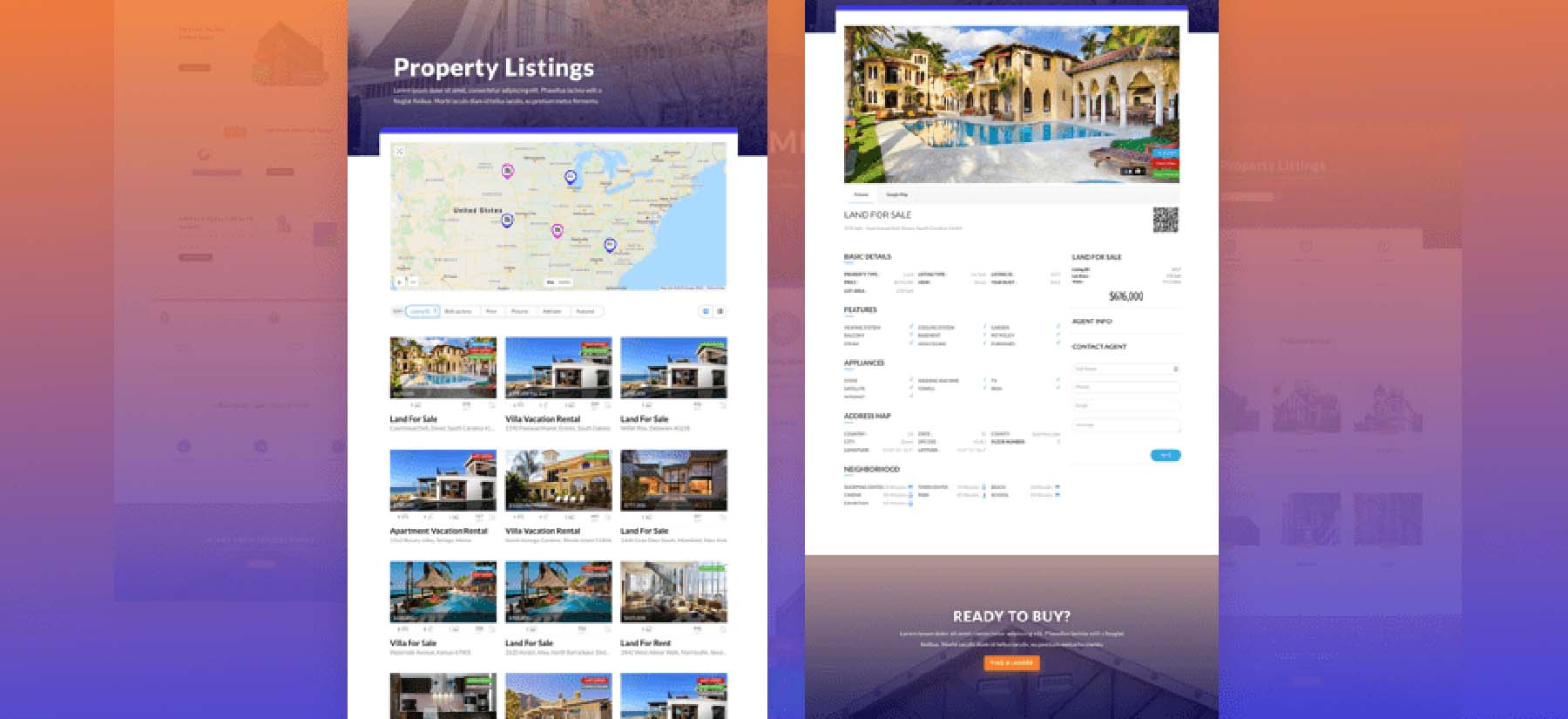 To build the best custom real estate website, we'd recommend using our powerful Divi Theme. In addition to being the ultimate website builder for WordPress, Divi's flexibility and integrations can take your real estate website to greater heights.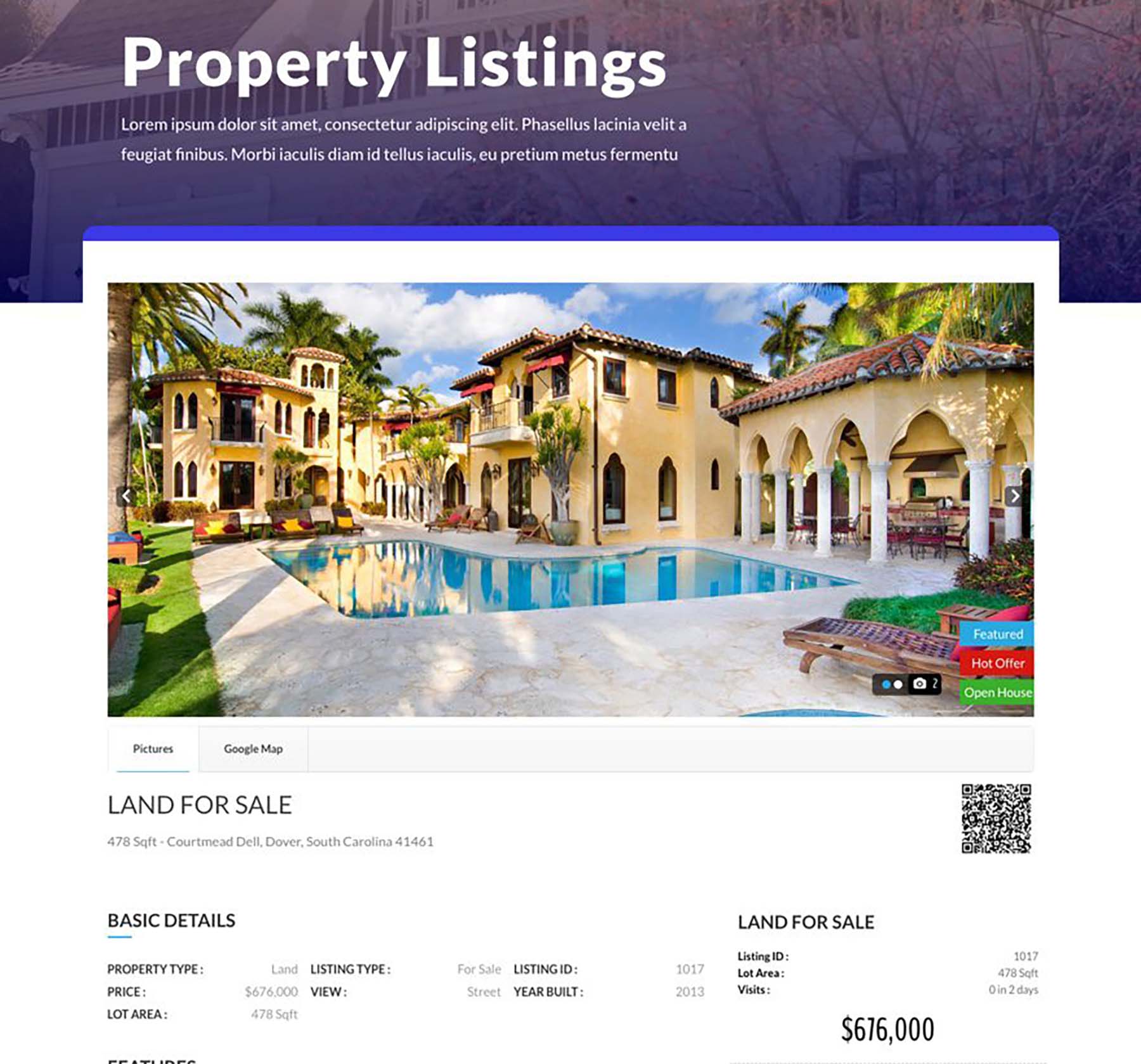 When coupled with extensions like Toolset and Realtyna, you're on the road to building a dynamic, unique real estate website for your next project. In this tutorial, we show you how to use Divi and Realtyna to add property listings to your Divi site. This tutorial also customizes several layouts within our Real Estate Layout Pack. With the power of WPL Pro and the freedom of design with Divi, you can build a real estate website that matches your needs and your branding.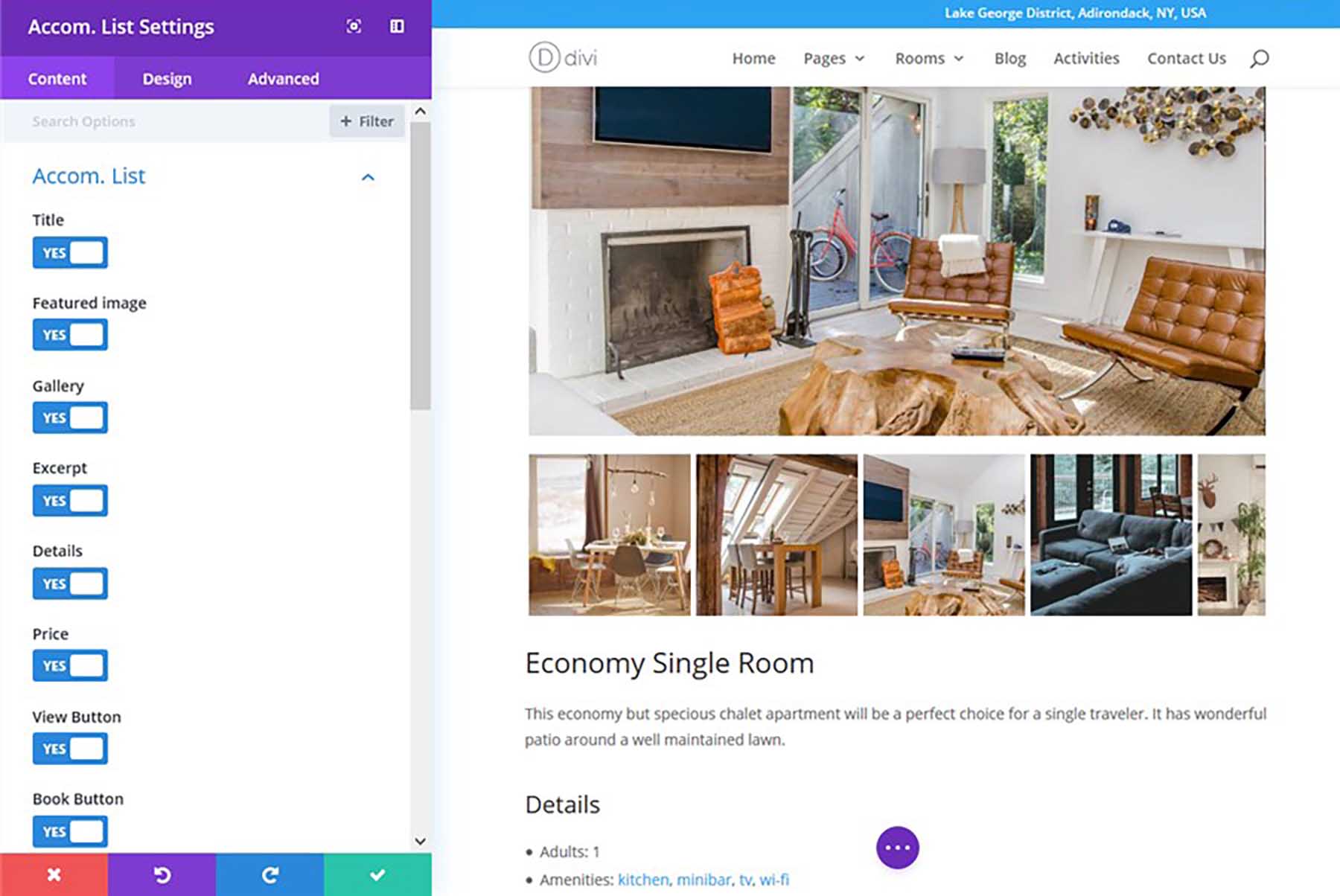 If you want to take bookings on your website, our integration with Motopress will help you! The MotoPress Divi plugin helps users easily book, list, and handle rental properties on their Divi site. This lightweight add-on seamlessly converts MotoPress shortcodes into bespoke Divi Modules with its innovative functionality. These modules are convenient tools to incorporate and manage all your listings and booking content on your website.
Ultimately, with an arsenal of dynamic extensions and limitless design capabilities, Divi is the clear choice for the real estate professional who values functionality and form for their website.
Key Features:
10+ real estate-specific page layouts
20+ Woocommerce-specific modules
200+ page builder modules
Visual click-and-drag page and Theme Builder
Deep integrations with real estate-specific plugins and tools
Pricing: Paid plans start at $89 per year
4. Listable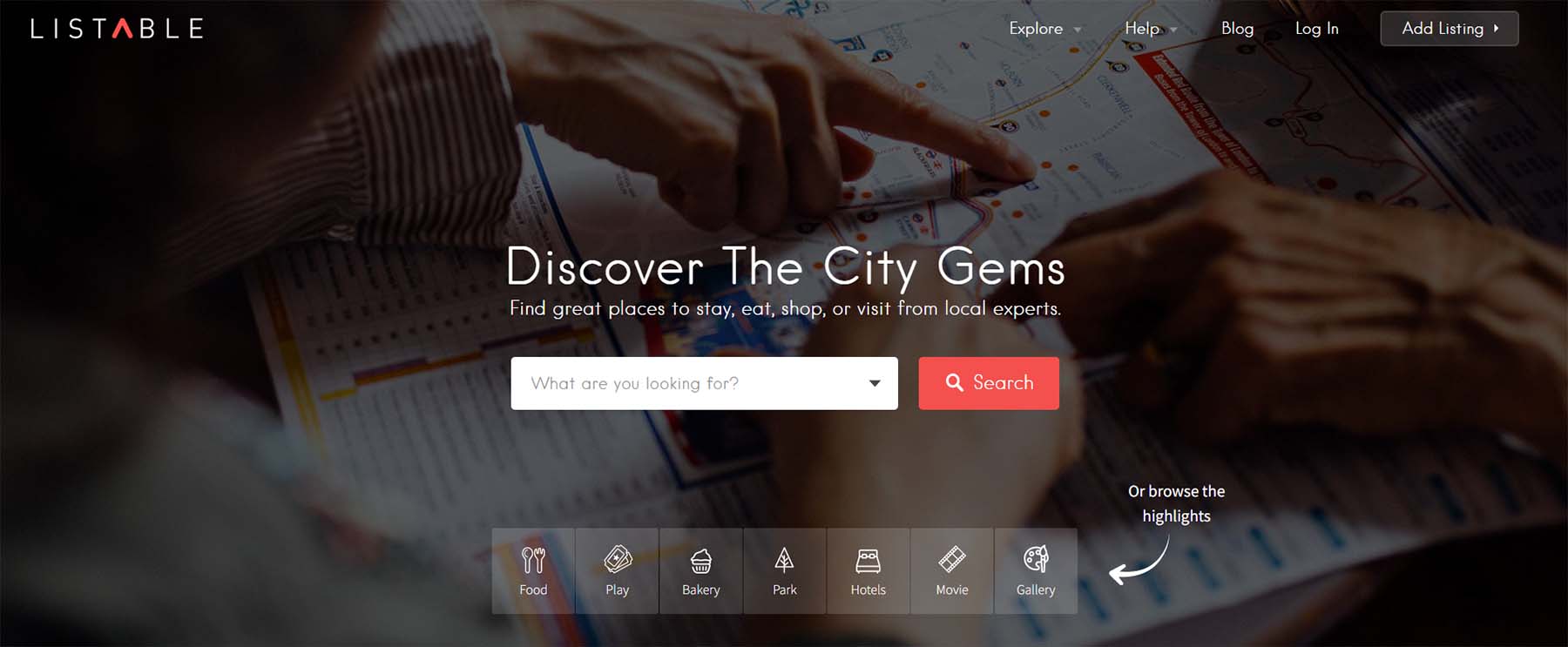 For a modern take on the real estate directory theme, Listable is for you. With customization tools that allow you to switch your branding and typography, Listable combines beauty with functionality for your real estate website theme. Whether you want to build a site for your locality or are thinking global, this WordPress real estate theme can help you build a beautiful site. Monetization is also a key feature of Listable. You can charge a fee to users for listing. Or, you can claim a percentage of their service fee. In each case, you can generate revenue from your real estate website. Build a solid real estate website with Listable and enjoy the benefits of one of WordPress's best modern real estate themes.
Key Features:
Powerful listing cards system
Multiple ways to monetize your site
Advanced search and interactive filtering system
Drag and drop layout and listing page builder
Fast-loading and SEO-friendly
Pricing: Paid plans start at $85 per year
5. Oikia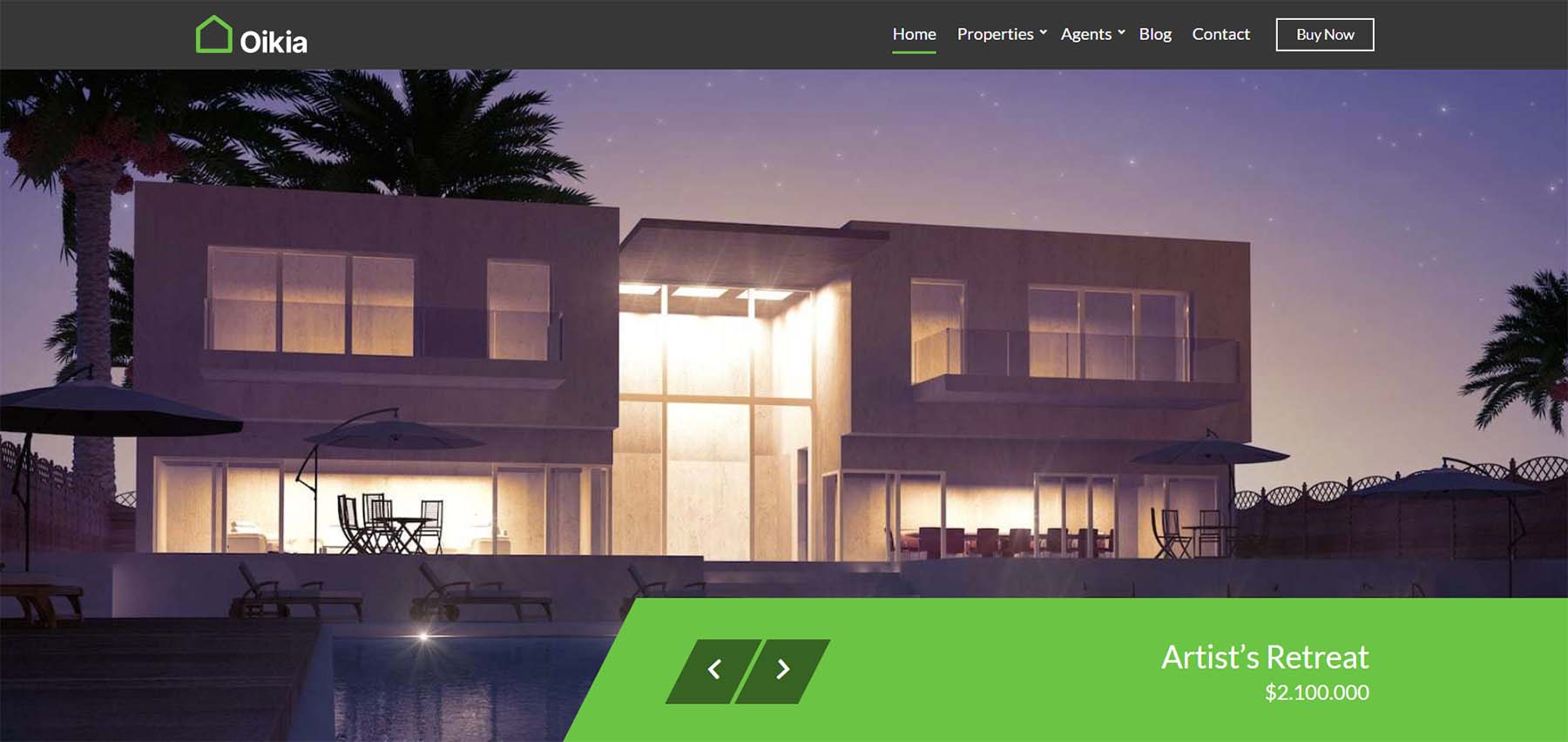 Integrations are where Oikia stands strong. Use your favorite plugins like WPForms, Yoast SEO, Toolset, and more to amp up the power of this WordPress real estate theme. You can visually build your real estate website with the Block Editor or the popular page builder plugin Elementor. As such, you have access to an extensive library of elements and block patterns that you can use to create custom post, page, and listing layouts for your site. Create unique property page listings and utilize the extensive list of taxonomies that Oikia has made available. Users can browse through the listings of realtors or agents on your site and go on to contact them directly.
Key Features:
Integration with Elementor and Gutenberg
Property custom post type
Numerous real estate taxonomies
Built-in property search and filtering system
Attach agent profiles to profiles
Pricing: Paid plans start at $49 per year
6. RentalHive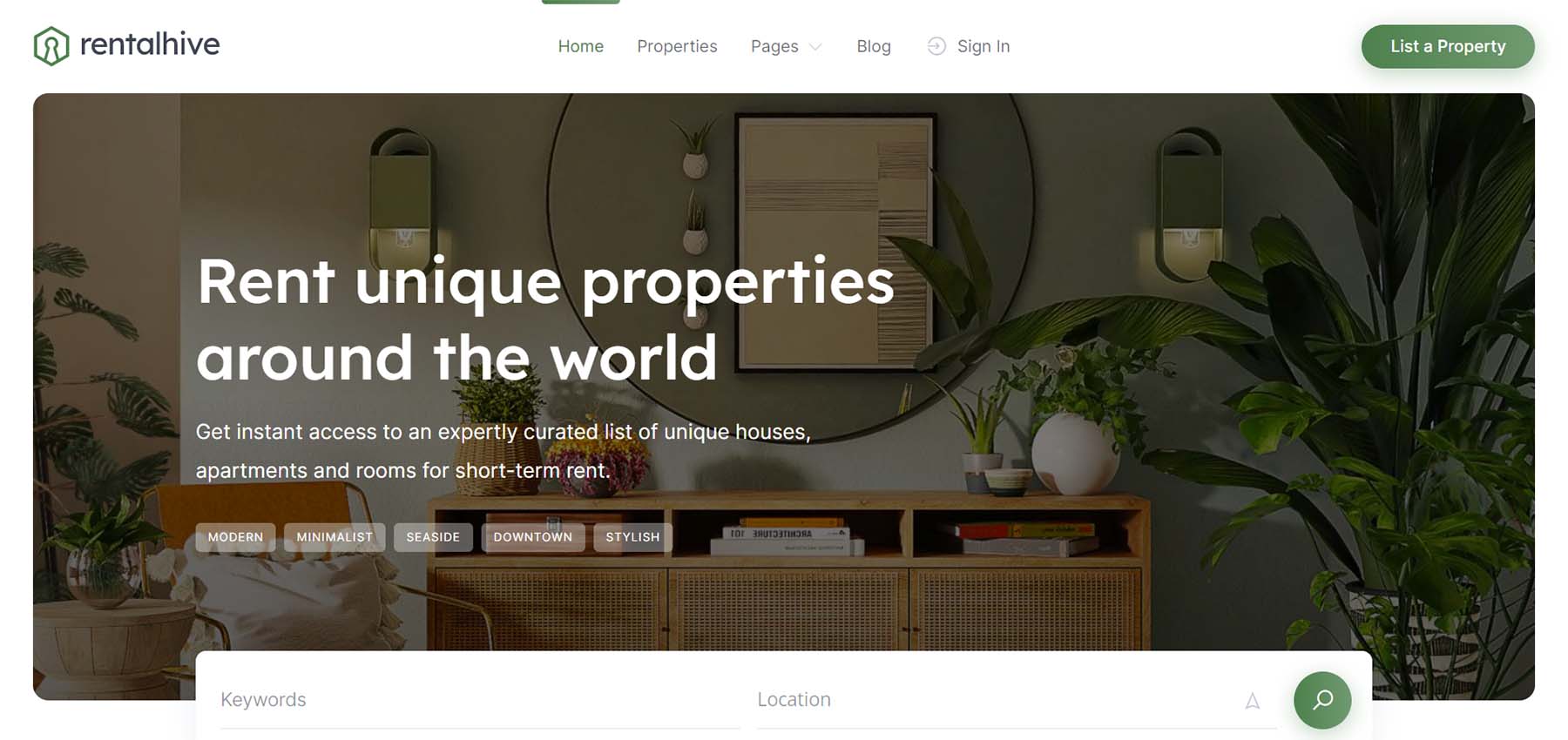 RentalHive makes it easy to create a rental marketplace website. If you want to build a website similar to Airbnb, RentalHive is the real estate WordPress theme you need. RentalHive makes it easy for your users to book their rentals on your website. They can search listings by distance, location, and availability. They're able to message listings owners and leave feedback after their stay. As an admin, you can make it simple for your vendors to manage their bookings and listings. With a front-end management dashboard, your vendors will be happy that they chose to use their site for their short-term listings. As the admin, you can modify the RentalHive theme to make it your own. And you can do all this without using a single line of code!
Key Features:
Vendor management portfolio
Monetize your website through custom fees, booking confirmation fees, vendor payouts, and more
Custom booking forms and fields
Allow users to book and sell listings
Users can bookmark, message, rate, and review listings and listing owners
Pricing: Paid plans start at $178 per year
7. WordPress Real Estate Theme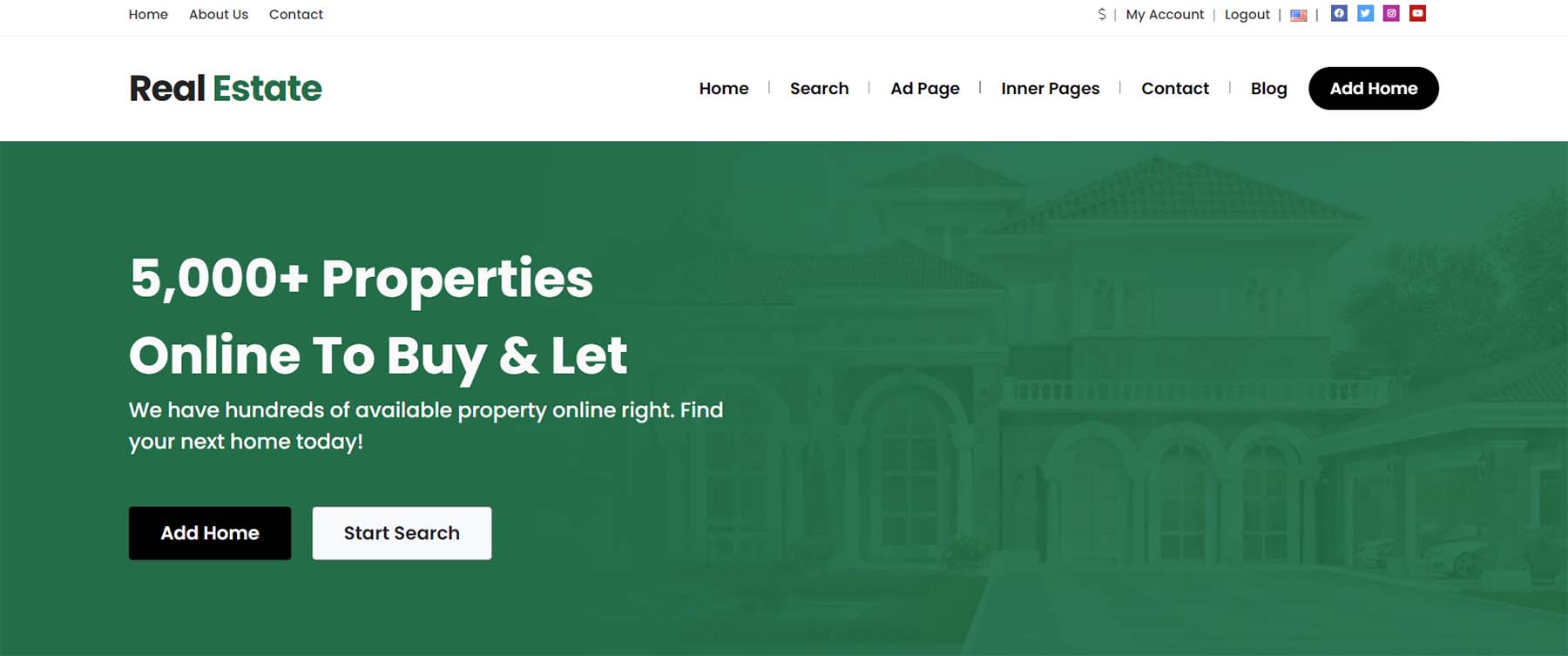 PremiumPress' WordPress Real Estate Theme lets you make a website similar to Zillow. The theme comes with advanced search and filtering functionality, making it easy for your users to find the properties they are searching for. This theme has a powerful search and filtering system that you can customize to turn features on and off. Alternatively, you can add your custom fields to match your business case. The theme is also mobile-friendly and will work on various screen sizes. You can personalize the members' area for agents and users of your site easily. Property listing pages can also be customized using the native drag-and-drop builder or crowd favorite Elementor. With 1,000 components, more than 250 page sections, and 300+ admin customization options, this theme is for you if you want to build a complex real estate-focused site quickly.
Key Features:
Built-in bookings workflow automation
Agent profiles and descriptions
Pricing tables, upgrades, and memberships
Advanced Ajax search and filtering system
Dedicated members area with analytics and more
Pricing: $99 per year
Get WordPress Real Estate Theme
8. Houzez

Houzez is a full-featured real estate WordPress theme with powerful customization features for search, profile pages, and more. Of all the themes on our list, Houzez takes customization to the highest level. Take, for example, the Houzez Search Builder. This tool allows you to build a custom search bar with the specific queries, options, and taxonomies you need. Secondly, this theme has numerous calculators, customizable email notifications, and a built-in CRM.
Houzez has a library of pre-built websites for real estate brokerages, individual agents, or real estate professionals. All of which can be edited without coding via the popular page builder Elementor. Truly, Houzez is one of the best real estate WordPress themes available today.
Key Features:
85+ real-estate specific drag-and-drop widgets
Feature-rich Houzez search builder
Advanced filters with Ajax search
Lead generation and property page forms
Mortgage calculator and currency switcher
Pricing: $138 per year
9. WP Residence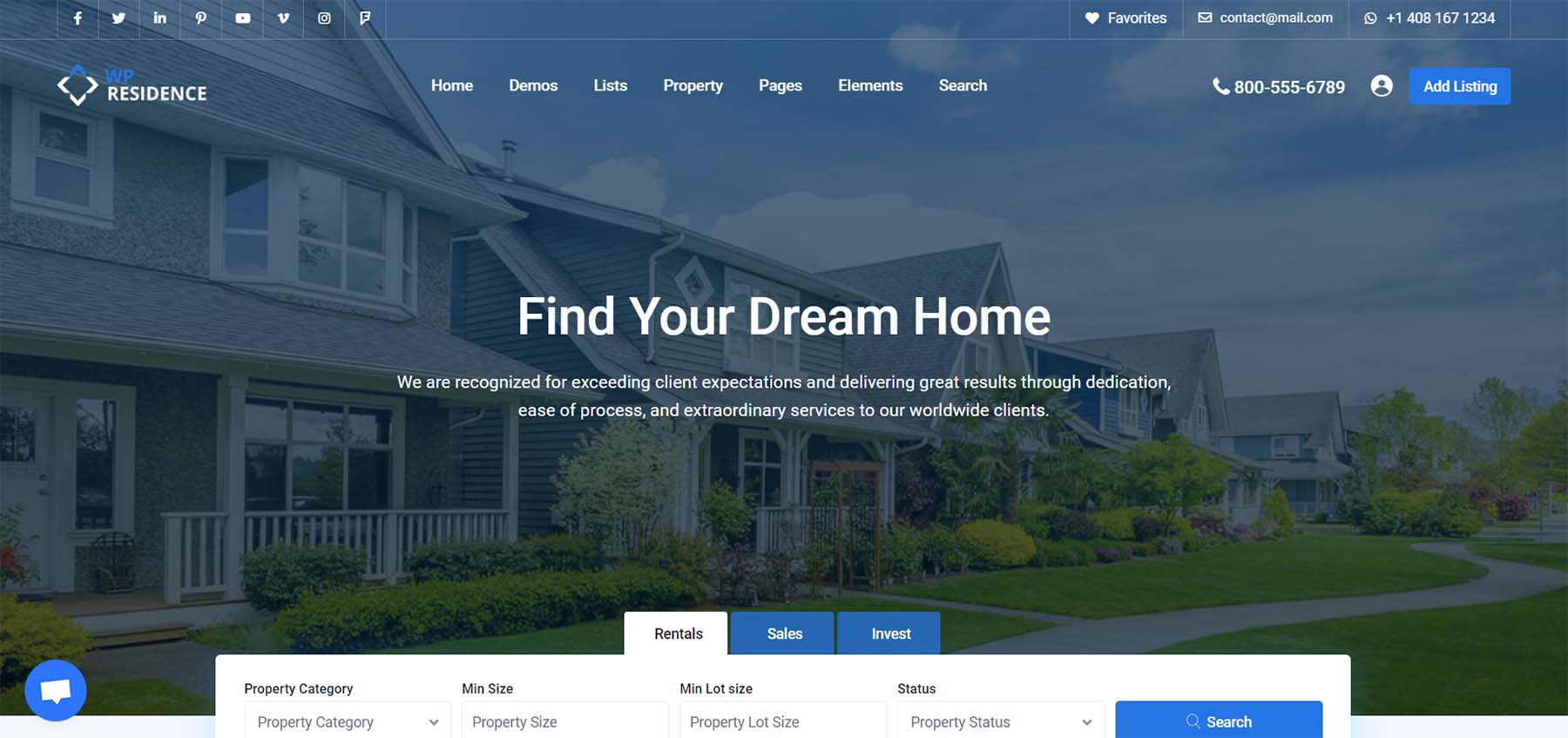 WP Residence was designed for both independent agents and real estate agencies. You can place property location markers on Google Maps. It has an advanced properties search feature with custom fields and a dynamic URL. Agents can submit properties and floor plans through the front end. You can allow users to upload for free or by a fee-based membership system that's included. Payments can be accepted through PayPal or Stripe. Property searches can be filtered using AJAX filters. Users can receive email alerts for saved searches. It also has 37 included full-site demos for you to build your real estate website quickly. WP Residence is integrated with Elementor, so you can use the page builder to fine-tune each demo and build beautiful, expansive property listing pages and other aspects of your site.
Key Features:
90+ real-estate-specific Elementor widgets and modules
IDX/MLS Sync
Extended Google Maps integration
Supports multiple payment processors through WooCommerce
WpEstate CRM with Hubspot integration
Pricing: $118 per year
10. RealHomes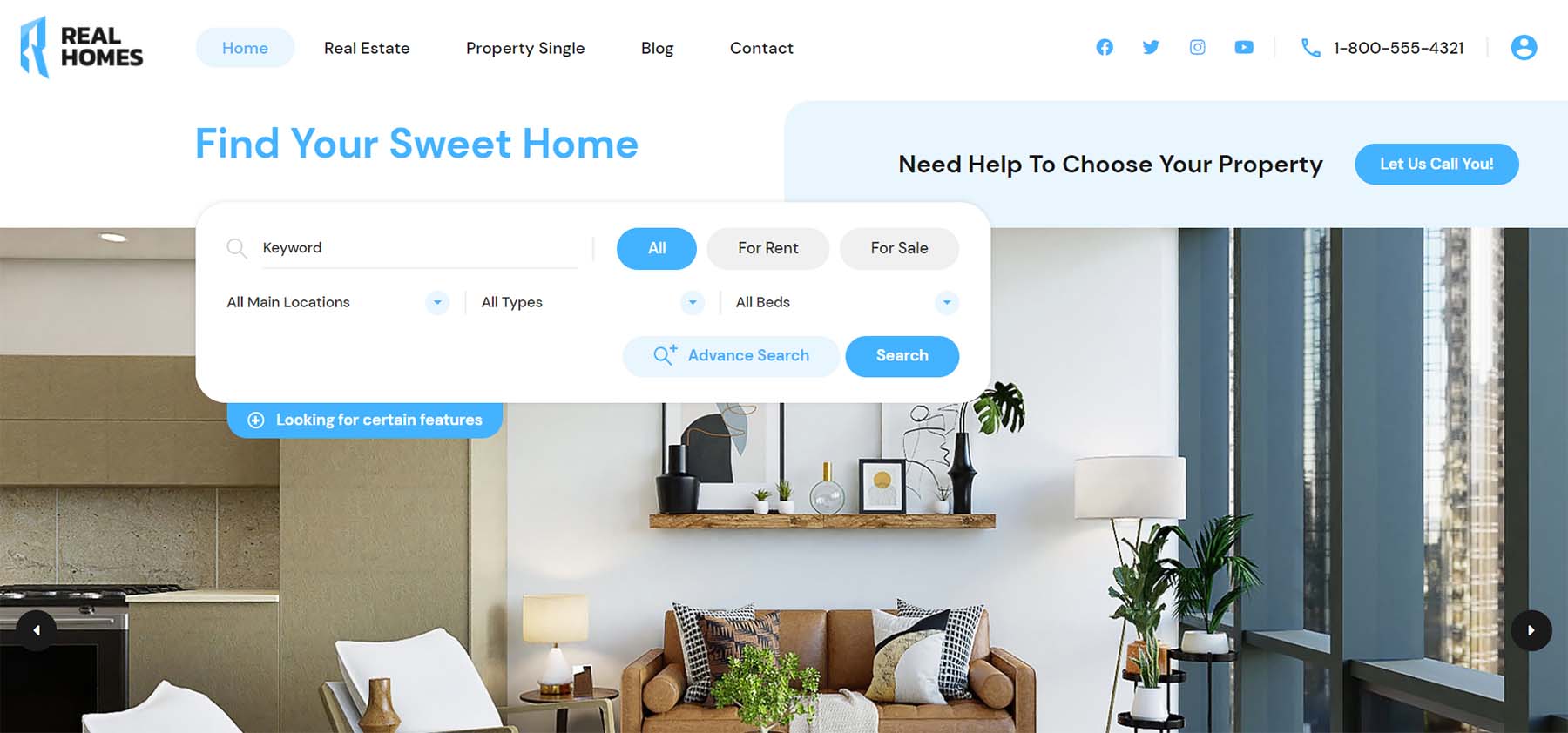 RealHomes is another popular WordPress real estate theme from the Themeforest marketplace. More than 30,000 users call RealHomes the best WordPress real estate theme for their uses, and with good reason. The theme is a powerhouse for real estate developers, agents, agencies, or anyone who wants a real estate booking solution. RealHomes allows you to monetize your site by charging a fee for accepting listings, among other ways of revenue generation from the site. Additionally, RealHomes has a robust property management system. This allows frontend property management by your website users, acceptance of payments through WooCommerce, and deep frontend dashboard features. Powered with Elementor, you can build your headers, footers, listings pages, and more with the visual builder chosen by many. This theme suits those who want a high level of features that they can customize with little to no code.
Key Features:
50+ real estate-specific Elementor widgets
Advanced search form design with Elementor
Handle bookings, rentals, and appointments natively
Build custom listings and property pages
Expansive property management system
Pricing: $138 per year
11. WP Rentals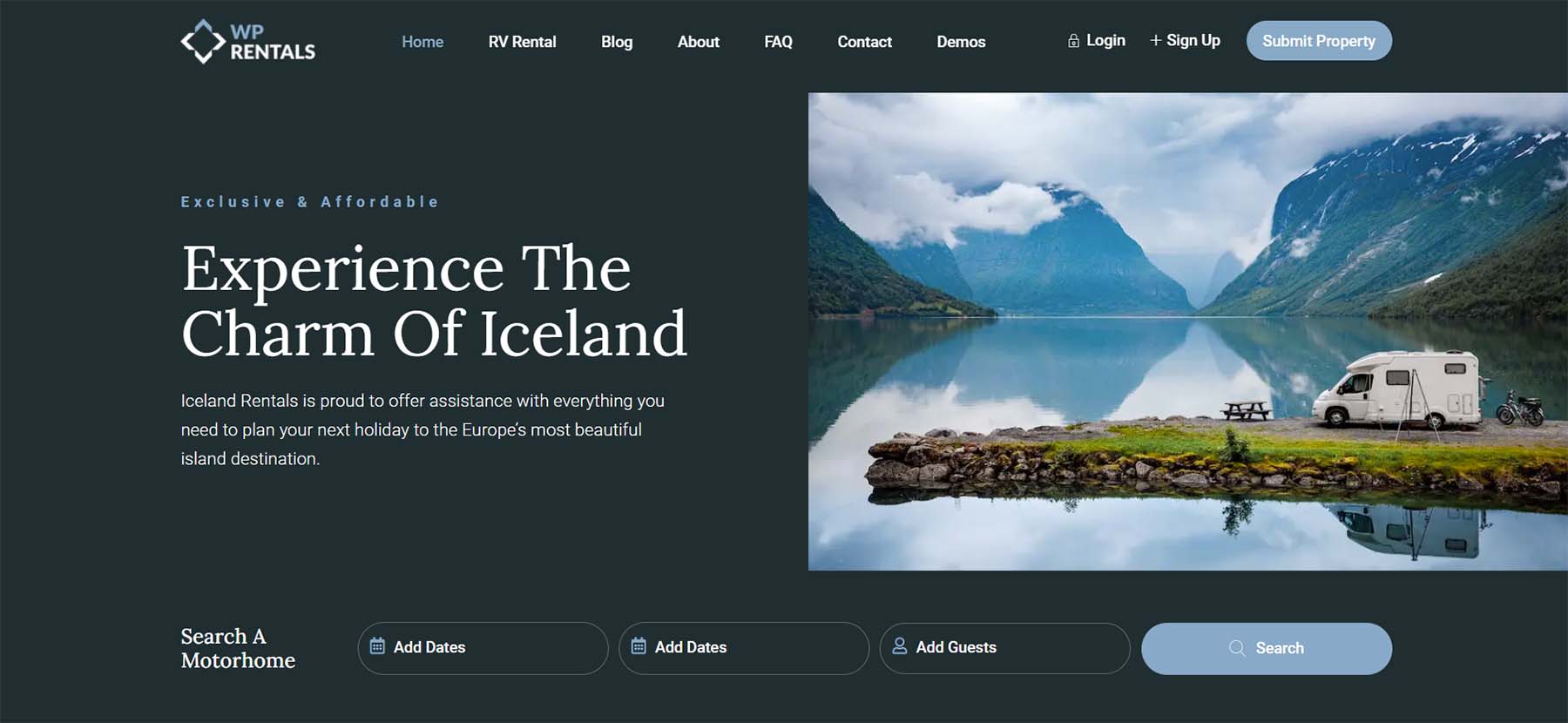 When building a powerful real estate booking site, WP Rentals is one of the best WordPress real estate websites you can use. For starters, the customization options for your booking calendar are endless: you can set pricing per day or hour; you can require a minimum number of days per stay… and that's just the tip of the iceberg! Additionally, this is one of the few real estate themes that integrates with Google Maps and Open Street Map, providing you with an open-source map alternative. Like many themes on our list, you can get creative with your pages using popular drag-and-drop builders Elementor and WP Bakery. WP Rentals is truly a powerhouse of a theme for those who want to maximize their options for setting up rentals for their properties.
Key Features:
15 ready-to-use website demos
Elementor and WP Bakery are ready
Advanced booking system with extensive customizations available
Advanced Google Maps and Open Street Map integrations
SMS Twilio integration for text notifications
Pricing: $138 per year
Who are the Best Real Estate WordPress Themes?
That's our list of some of the best real estate WordPress themes. All these themes have what you need to build a great-looking real estate website with WordPress and get your website running quickly. Whether you need a website for a few rental properties or a fully staffed real estate agency, you will find what you need from this list.
Consider using Divi as your theme (since it is so flexible) and a real estate plugin (instead of a theme) to get you all the necessary functionality. This may be an excellent way to future-proof your website. If you're looking for a solid directory theme for your real estate business, EstateEngine is your theme. For the more modern among us, check out Listable. Its attention to detail, vast branding options, and unique style make it a top choice for those looking to build a sleek, feature-rich real estate website.
If you're looking for more WordPress theme recommendations, check out our main post on the best WordPress themes.
Frequently Asked Questions (FAQs)
Before we wrap up, let's answer some of your most common questions regarding the best real estate WordPress themes. Did we miss one? Leave a question below and we will respond!
What is the best real estate theme for WordPress?
Realtyna WPL Pro
stands out among other real estate themes. It seamlessly integrates with popular page builders like Elementor and
Divi
, boasting an inbuilt search bar and stats, MLS/IDX integrations, and SEO settings. Additionally, it offers the flexibility to extend its functionality through premium add-ons.
What is the best free real estate theme for WordPress?
Realtyna WPL
is the ideal choice for a free real estate WordPress theme. It comes with a plethora of essential features, such as unlimited listings, location search, basic SEO settings, and customization.
Can I make a real estate website with WordPress?
Yes, it is possible to make a real estate website using WordPress. WordPress offers several themes and plugins specifically designed for real estate websites. With these tools, you can create a professional and functional website that showcases your properties and attracts potential buyers. WordPress is also user-friendly and customizable, allowing you to create a unique website representing your business and brand.
Which WordPress real estate theme support MLS/IDX integration?
Real estate brokers can leverage the power of Multiple Listing Services (MLS) to easily access each other's property listings and connect interested parties. Meanwhile, Internet Data Exchange (IDX) empowers real estate professionals to showcase their websites' latest and most comprehensive property listings. Realtyna
Realtyna WPL Pro
and
WP Residence
themes have built-in capabilities to integrate MLS/IDX feeds seamlessly.
Which WordPress real estate theme has built-in SEO features?
Your business can increase its online visibility and attract potential customers by implementing SEO strategies. Some popular WordPress real estate themes, including
Realtyna WPL Pro
,
Divi
, and
Oikia
, come with built-in SEO settings or are compatible with well-known SEO plugins like
RankMath
and Yoast.
Which WordPress real estate themes integrate with WooCommerce?
WooCommerce is a free and open-source e-commerce platform built by the makers of WordPress. Themes such as
Divi
,
WP Residence
, and
RealHomes
integrate with WooCommerce out of the box.
Do I need a website as a realtor?
Yes, having a website can be beneficial for a realtor. It provides a platform to showcase properties, provide information about the realtor and their services, and allows potential clients to contact the realtor directly. A website can also improve the realtor's online presence and credibility, making it easier for potential clients to find and trust them.
How do I create a successful real estate website?
To create a successful real estate website, focus on providing a user-friendly experience with clear navigation and high-quality visuals of properties. Include detailed property descriptions, neighborhood information, and up-to-date market data. Optimize search engines and integrate social media for wider exposure. Regularly update content and engage with visitors through blog posts and interactive tools.
Is WordPress good for real estate agents?
Yes, WordPress is a good platform for real estate agents as it offers various themes and plugins tailored specifically for real estate websites, making it easy to showcase properties and attract potential clients. Its user-friendly interface also allows agents to update and manage their listings easily.
How do I optimize my real estate website?
To optimize the speed of your real estate website, compress images and minimize HTTP requests. Use a content delivery network and enable caching. Limit the use of plugins and optimize your code. Test your website regularly and make necessary improvements. A fast website leads to a better user experience and higher search engine rankings.
Do you have a favorite theme for realtors and agencies? Let us know in the comments.
Article thumbnail image by Boyko.Pictures / shutterstock.com